canoo
canoo
Electron Transport, a Los Angeles startup founded by alumni of electric automaker Faraday Future and military technology firm Anduril, is raising a $28 million funding round, per regulatory filings.

Dubbed a "stealth electrification startup" by its founders, Electron Transport has closed on $24.7 million and aims to raise nearly $3.5 million more, according to an SEC filing. The firm is developing an electric truck chassis, dot.LA has learned.
A number of companies are working to electrify trucks, including Irvine-based Rivian and Detroit heavyweight Ford. It is unclear whether Electron Transport is focused on pickup trucks, like the aforementioned brands, or commercial-use vehicles.
The one-year-old startup's founders include Phillip Weicker, who co-founded Canoo—the electric vehicle maker that recently left Los Angeles for Bentonville, Ark. He and his co-founders, John Henry Harris and William Eberts, all previously worked for L.A.-based Faraday Future.
When reached by dot.LA, Harris—who is also an alumnus of electric truck maker
Xos
—declined to comment on the funding round.
After a two-year pandemic-induced hiatus, the L.A. Auto Show is returning with a crush of Southern California electric vehicle makers debuting cars ahead of next week's show and new ones announcing they will enter the local market for the first time.

While there's a handful of new cars being introduced at this year's show, local automakers have yet to deliver any vehicles to customers and are planning to do so within the next five years.
One of the newest local entrants is Vietnamese electric automaker VinFast. The company bills itself as a higher-end car. It announced this week it would establish a headquarters in L.A., its first American outpost and a key foothold for the company as it looks to bring its electric vehicles to a Western market.
Another newbie in the region's brimming EV industry is Brea-based Mullen Automotive. Launched this year, the company is going after the middle market, with the price on their Mullen FIVE SUV starting at $55,000. It was one of the only electric carmakers to boast its manufacturing is entirely based in the United States –most other builders with local footprints opt to manufacture overseas and then ship to the States for further fine-tuning or regulatory adjustments.
Here's a look at some of the wheels made by local carmakers being showcased at this year's Auto Show next week, Nov. 19-28.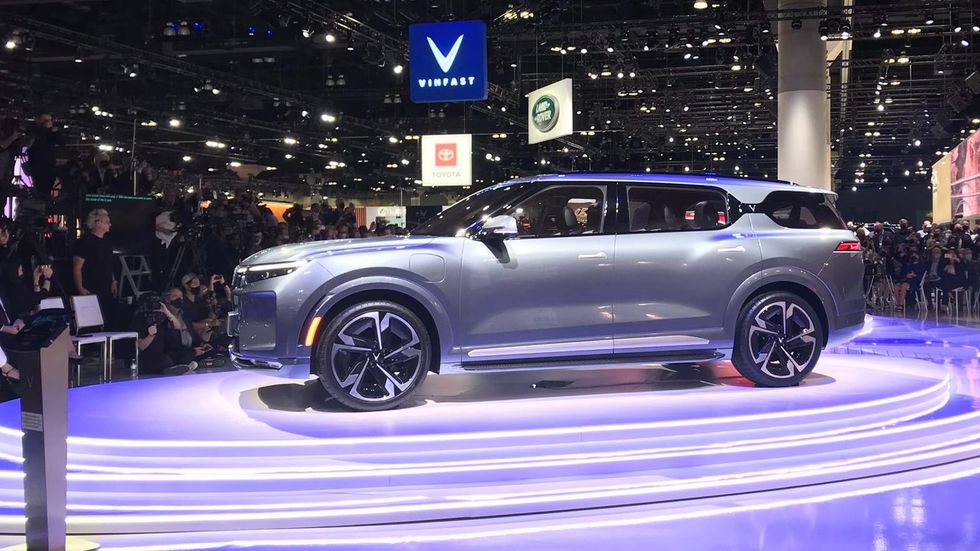 VinFast will debut two electric SUVs, the VF e35 and VF e36
VinFast
VinFast is a subsidiary of Vingroup, a Vietnam conglomerate that's the country's largest publicly listed company. The firm is trying to make a splash at its first Auto Show this year, springing for a large billboard outside the Los Angeles Convention Center and opting for one of the biggest reveals during the press days.
VinFast will sell two electric SUVs, the VF e35 and VF e36. The company's global CEO Michael Lohscheller said during a presser one of its core values is speed, and not just in terms of miles per hour -- both vehicles will be available for pre-order in the first half of next year, and deliveries are planned to begin in fourth quarter 2022.
The VF e35 is around the size of the Tesla Model Y, and it will have an estimated range of 250 miles. The VF e36 is slightly larger and more powerful, with a range of about 340 miles. Internally, both cars are reminiscent of Teslas, with a focus on minimalist features and a large, central screen. VinFast hasn't yet set pricing for either car.
VinFast is opting for a unique model with its batteries -- it will lease them to customers with the promise of replacing them once they are less than 70% charge and believes that this model can help lower the price point for buyers.
VinFast launched in 2017 and announced this week that it will establish its U.S. headquarters in Playa Vista. The company's manufacturing will be done at its newly-constructed facility in Vietnam, where nearly everything is automated and roughly 1,200 robots control 90% of the production line. Lohscheller also said VinFast plans to have some production facilities in North America by 2024.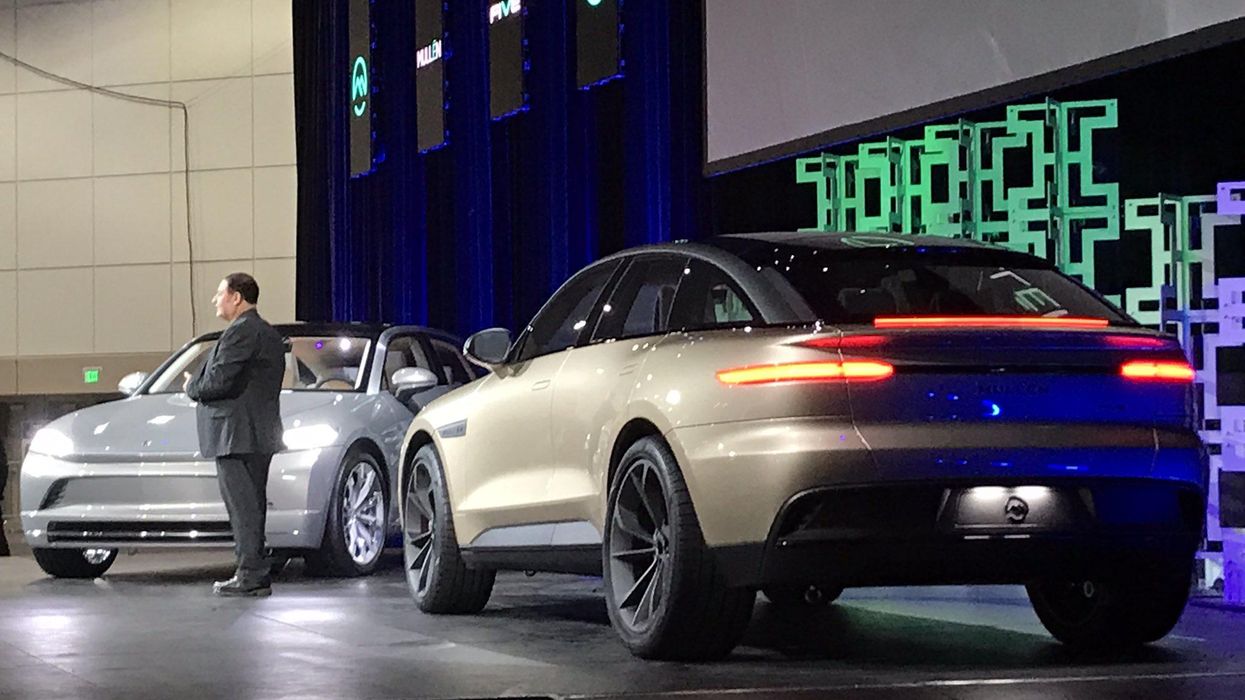 Mullen FIVE model
Mullen Automotive
Los Angeles-based publicly traded automaker Mullen will reveal its first vehicle at the Auto Show, the Mullen FIVE crossover SUV.
With a range of roughly 325 miles and max speed of 200 miles per hour, the Mullen FIVE could be one of the fastest EVs on the market -- and it'll boast a rapid acceleration time of 0-60 in a mere 1.9 seconds.
The Mullen FIVE will cost between $55,000 and $75,000 before incentives and CEO David Michery said during the presser production is scheduled to begin in fourth quarter of 2023. The vehicles aren't expected to begin shipping until second quarter 2024.
Mullen is also working on a line of electric fleet vans and its Dragonfly electric sports car is already available for reservations after debuting in 2019. The car's max speed is a roaring 125 miles per hour and its range is about 236 miles.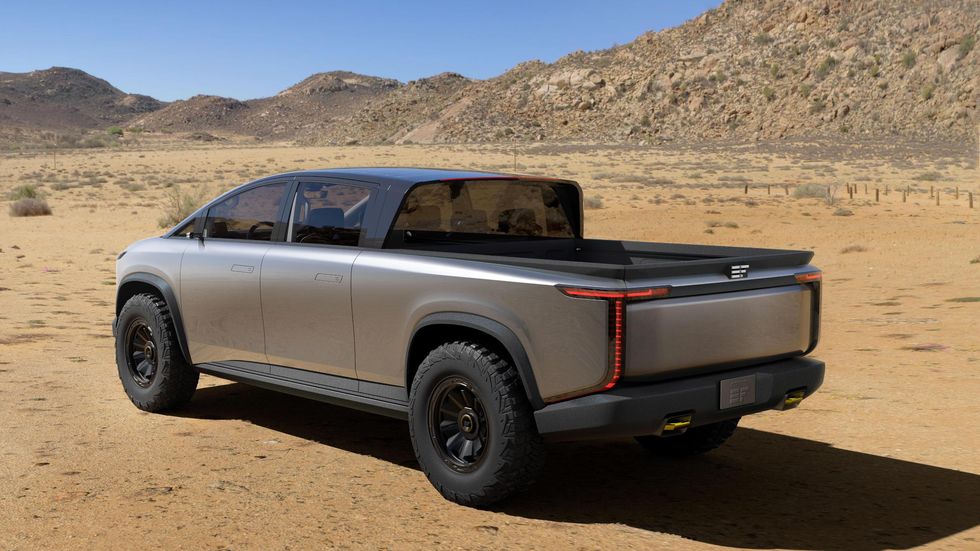 Edison Future's EF1-T electric pickup truck
Edison Future
Anaheim-based Edison Future will be at the Auto Show to showcase its two vehicles, the EF1-T electric pickup truck and the EF1-V electric delivery van.
Both vehicles are solar-powered in addition to being charged electrically, a feature Edison hopes will reel in more customers who might be worried about running out of battery while far from a charging station.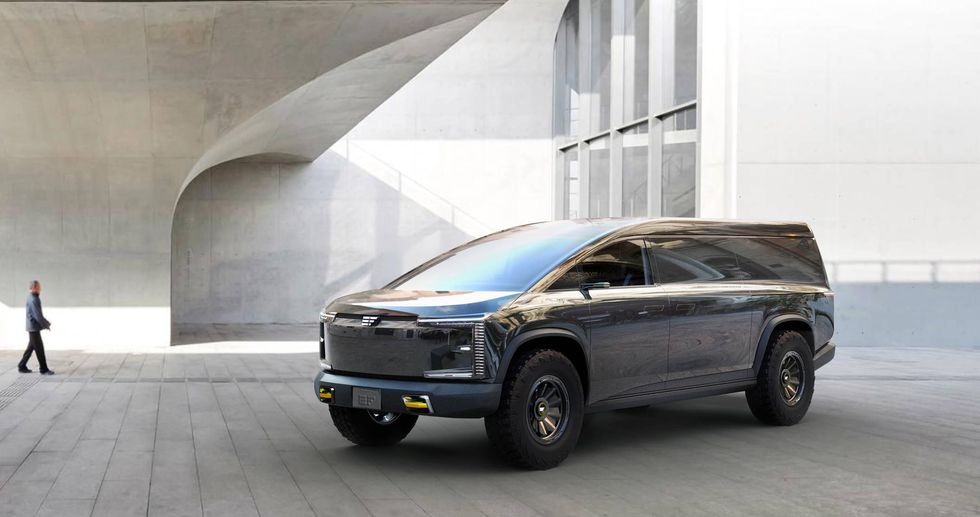 Edison Future EF1-V electric delivery van
Several models of the EF1-T will be available, with a distance range of 300 miles to 450 miles on a full charge. Edison Future hasn't yet disclosed pricing for the electric truck or delivery van, and it didn't disclose a range for the van either.
Edison Future said during a press conference that it'll begin accepting reservations as soon as this month, and aims to deliver its cars starting in 2025.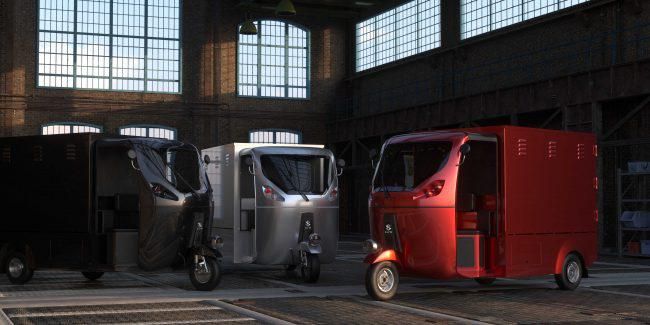 Bilit Electric's GMW Taskman
Biliti Electric
Biliti Electric, a new company which launched this year and is based in Culver City, debuted an electric delivery vehicle at the Auto Show, called the GMW Taskman.
The vehicle is designed for commercial deliveries like Amazon and some models are already in use -- CEO Rahul Gayam said in a press conference Taskman vehicles have already delivered 12 million packages.
The vehicle has a range of 80-90 miles, but that can be greatly expanded thanks to a fold-out solar panel, which Gayam said can provide an added 110 miles. "You can rely on the sun for a 100% recharge," Gayam said.
The three-wheeled Taskman can carry loads of up to 1,500 pounds and is being produced by GMW Electric in India. Earlier this month, Biliti announced it raised $400 million from new investor GEM, which it said it will use to grow the business and accelerate its manufacturing to sell on a global scale.
Biliti said it will sell the Taskman in the U.S., U.K, Japan, Europe, U.A.E., India and Africa, with tiered pricing ranging from $4,000 to $8,000 per vehicle depending on the country purchasing (a lower price is available for India and other developing countries, Gayam said).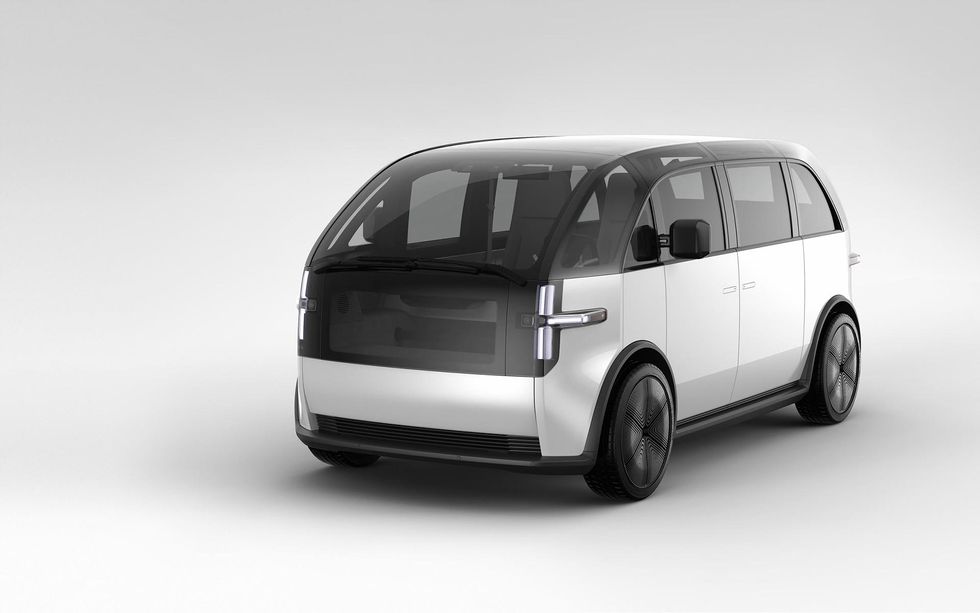 Canoo's electric van
Canoo
Canoo makes several electric vehicles including a loft-inspired lifestyle vehicle, a larger multi-purpose delivery vehicle, a pickup truck and one car that's yet to be named or revealed.
This year Canoo decided not to present at the Auto Show, perhaps because it's in the midst of some corporate transitions -- the formerly Torrance-based company announced this week it would move its headquarters to Bentonville, Arkansas and add factory capacity in Pryor and Tulsa, Oklahoma.
Canoo opted for a smaller display at this year's show than usual, showcasing a demo of its lifestyle vehicle that it'd previously debuted several years ago. The company's stock rallied this week after it reported Q3 earnings and CEO Tony Aquila said it would accelerate its delivery timeline, beginning assembly of its vehicles a year ahead of schedule in 2023.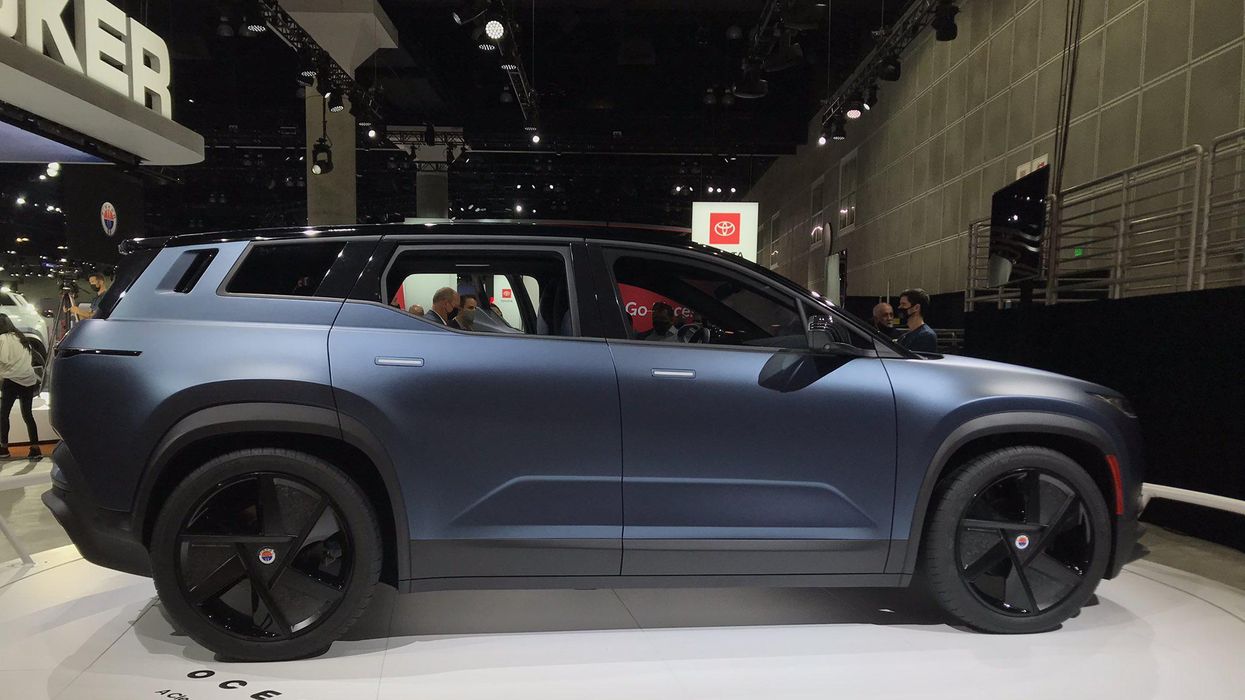 Fisker's Ocean SUV
Fisker
The Torrance-based car company founded by Henrik Fisker in 2016 will spring for a large display of several of its vehicles including the flagship Fisker Ocean SUV. Fisker said it will start production on the vehicles beginning in 2022.
On Wednesday the company debuted several versions of the Fisker Ocean vehicle, which it's been hyping up for several years. The Fisker Ocean One will be the company's first produced vehicle, limited to 5,000 units and retailing for about $69,000. The Ocean One will reach a range of 350 miles per full charge.
The full-wheel drive Fisker Ocean Sport is Fisker's lowest-priced offering, retailing for around $37,500 and packing 275 horsepower and a range of 250 miles on a full charge.
Fisker will also sell the Fisker Ocean Ultra, which will retail for roughly $50,000 and can go 0-60 miles per hour in a mere 3.9 seconds. The all-wheel drive car will have a range of up to 340 miles and 540 horsepower.
For speed enthusiasts, Fisker is lastly offering the most expensive version of the Ocean, the Ocean Extreme, which will feature a rotating center display and adds 10 miles of charge and 10 extra horsepower to the Ocean Ultra model.
The Ocean cars will begin production one year from today, Nov. 17, 2022. Fisker is contracting a production facility in Austria run by Magna Steyr to do the manufacturing and will then ship worldwide.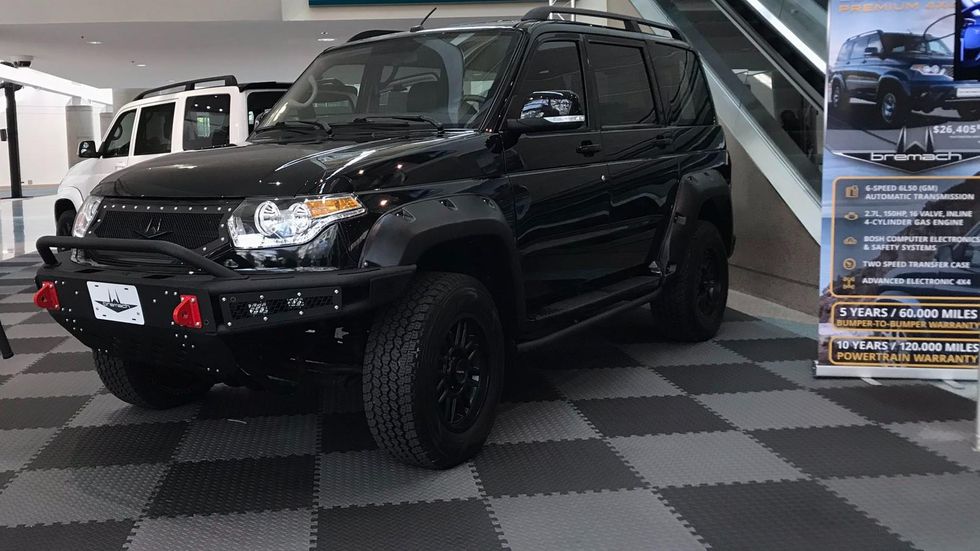 Bremach's 4x4 electric SUV
Bremach
A European-based automaker with an outpost in Costa Mesa, Bremach manufactures its SUVs and pickup trucks in Russia and then assembles and adjusts them for local regulations at its Southern California facility. It's the only company on the list that has a gas-powered vehicle.
Bremach's cars include a 4x4 SUV which will retail for an eye-poppingly low price of around $26,405.00. Its BRIO electric pickup truck is expected to retail for $27,882.00.
Neither car has been released to dealers but Bremach is taking pre-orders now for a planned delivery of 2022.
Unlike most other vehicle sellers, Bremach CEO and co-founder Ray Hoogenraad said the company will sell its cars through dealerships exclusively, so customers can get the full test drive experience. "I don't think it does the vehicle justice when you see it on the internet," Hoogenraad said during the press conference.
Editor's note: An earlier version of this story said Bremach's vehicle was an electric car. It runs on gas.
Photo courtesy of Canoo
Electric vehicle maker Canoo is abandoning its Torrance headquarters for Walmart's home turf.
The company announced as part of its third quarter earnings call Nov. 15 that it will soon move its corporate headquarters to Bentonville, Arkansas as it moves up their production timeline.
Canoo CEO Tony Aquila said the electric vehicle maker will also base manufacturing and research and development facilities in Fayetteville, Arkansas and expand existing factory space in Pryor and Tulsa, Oklahoma to handle more of its software development, finance and customer service operations.
"Our discipline continues to be big news or no news. Therefore, we will accelerate our advanced manufacturing production in the U.S. to begin before Q4 2022," Aquila said in an earnings statement.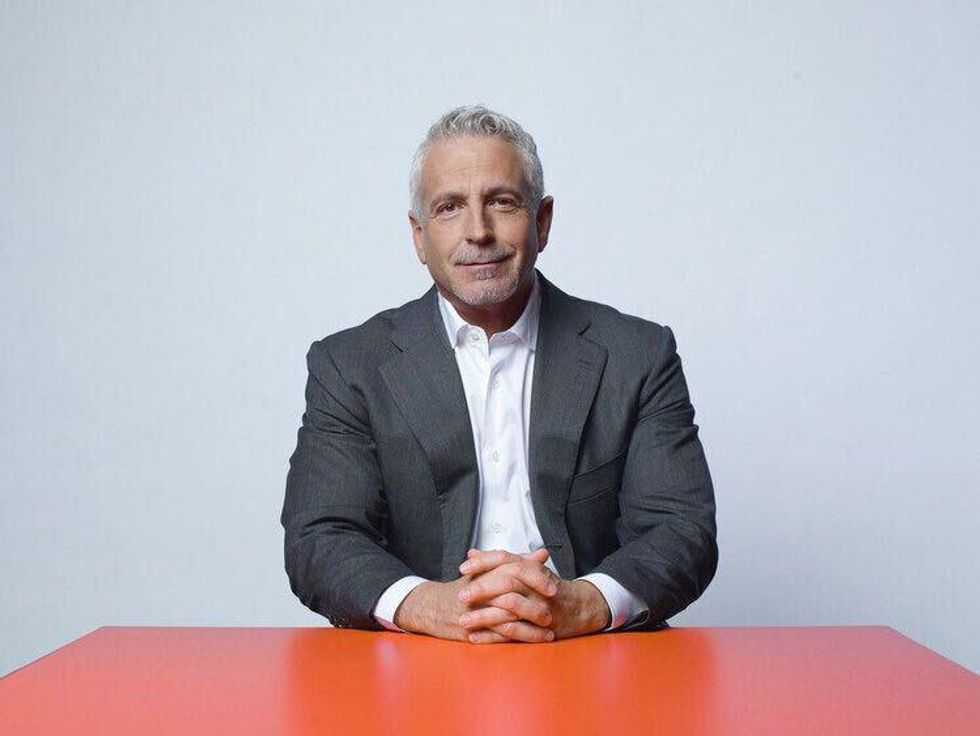 Canoo CEO Tony Aquila
Part of the incentive for Canoo to move operations to these two states is agreements it inked with each of them that would guarantee financial incentives of roughly $400 million. That is on top of an additional nearly $100 million in vehicle orders Canoo expects to come from states and local universities, Aquila said.
Aquia said he expects the facilities to employ 1,200 people in the region.
"We are bigger fans of owning our own facilities than we are contract manufacturing, there are inherent risks with that (and) having it out of your control," Aquila added.

The move is a loss for Southern California, which has been home to a clutch of electric vehicle startup companies including Fisker, Karma and Faraday Future. Canoo still has yet to deliver any of its planned vehicles and is looking for an area that's cheaper than Los Angeles to do business in and cut costs.
Aquila said in the statement Canoo most of the company's manufacturing will happen at a facility in Pryor, Okla. which Canoo announced earlier this year.
To meet production demand, Canoo said it expanded its workforce by 22% to about 800 people by the close of the third quarter. In October, the carmaker said that Panasonic will supply batteries for its upcoming electric SUV.
The company is working on its main car, a boxy, electric "lifestyle vehicle" it describes as a "loft on wheels'' that it aims to begin selling by next year. It's also developing an all-electric pickup truck and multi-purpose delivery vehicle for businesses. In the industrial space, Canoo has a handful of competitors already closer to delivering, though -- including Glendale-based Xos Trucks, which already has an agreement to deliver 120 electric trucks to FedEx Ground by the fourth quarter of this year.
The carmaker reported no revenue this quarter, compared to the same time last year, when the company brought in nearly $2.6 million. Instead, operating losses mounted, increasing to roughly $107 million from roughly $27.2 million in Q3 2020.
Canoo's net loss for the third quarter was roughly $80.9 million, up from a net loss of $23.4 million last year.
Canoo said it expects operating expenses in the upcoming quarter to be between $95 and $115 million, and estimated it'll spend between $60 and $80 million in capital expenditures during that time.
While Canoo's stock was down at market close today, it was up at least 4.7% in after-hours trading to roughly $8.72 per share as the news of its new headquarters and deals outside California reached investors.
To meet production demand, Canoo said it expanded its workforce by 22% to about 800 people by the close of the third quarter.
Editors note: This story has been updated with comments from Aquila.