canoo
Two months after a Canoo co-founder and CEO resigned, the Torrance-based company is looking to bounce back with plans to build an Oklahoma manufacturing plant and clinching a European contract for its electric vans.
Chairman and newly instated CEO Tony Aquila announced Thursday at Canoo's "investors day" that the company has secured a contract manufacturer in the Netherlands to begin assembly of the first 1,000 Canoo Lifestyle Vehicle vans in late 2022.
Canoo also announced plans to build a plant in Pryor, Oklahoma where its vehicles will be assembled and eventually exported. It's targeting 15,000 units in 2023. Oklahoma Governor Kevin Stitt was in attendance at the event, which was held at the Texas Motor Speedway in Fort Worth, Texas.
"Let me tell you, Oklahoma is a step above Texas," Stitt joked while on stage with Aquila, who has a ranch in Texas.
The plant will be on 400 acres and about 45 minutes from Tulsa and four hours from Canoo's executive hub in Texas. The company received a $300 million incentive package from the state of Oklahoma.
A working prototype of the company's customizable electric vehicle platform was driven onto the stage before the speakers appeared. Its frame will underpin Canoo's van and pickup, allowing them to share most of the same components, despite having different bodies.

The basic model of the company's Lifestyle Van starts at less than $35,000 and rises to nearly $50,000, before EV incentives.
Much like Manhattan Beach-based Fisker's agreement with Magna Steyr in Austria, Canoo is looking to its contract partner not only to produce its cars, but guide them on the manufacturing process as well.
Its Dutch partner VDL Nedcar in Born operates in a plant built in 1967 that was once owned by Volvo and then Mitsubishi Motors. Since the manufacturing's parent company VDL Groep took over the facility in 2012, the plant has signed a deal with BMW Group to produce various BMW and Mini models. That agreement is set to expire in 2024.
"Nedcar can build as many as 100,000 vehicles for Canoo if needed,'' Aquila said, but added that the partnership is primarily to get the first deliveries fulfilled and learn the manufacturing processes needed for the Oklahoma factory.
Canoo also has plans to sell its vehicles in Europe, where electrification has been more broadly embraced, thanks to mandates and incentives in countries such as Norway and Germany. Aquila said the van could be available in some European countries shortly after the first Nedcar-built models are produced, and that vehicles would eventually be exported from the United States facility.
Canoo will face stiff competition from Ford. The automaker unveiled the F-150 Lightning pickup truck, an electric version of the best-selling vehicle in the country, last month. Prices for it are expected to start at about $41,000.
Like Fisker, Canoo hopes that after-sales parts, constant over-the-air software updates to keep vehicles fresh for second or third owners, and resales will generate significant revenue.
Canoo has gone through a series of changes since it went public last year in a $2.4 billion SPAC deal. A 2020 agreement with Hyundai Motor Group to cooperate on vehicles based on Canoo's platform was effectively declared dead in March, with Aquila telling investors it would get out of the contract engineering business and primarily focus on products for commercial users.
Aquila brought in a raft of new executives, including some former Daimler and Mercedes-Benz USA officials, and Peter Savagian, who worked on the General Motors EV1 project in the 1990s. But the sudden leadership and business plan changes prompted the U.S. Securities and Exchanges Commission to open an investigation into Canoo, which Aquila revealed a month ago.
Rumors of a collaboration with Apple also came to nothing. Canoo co-founder and former CEO Ulrich Kranz, previously of BMW and Gardena-based Faraday Future, took a job at the Cupertino tech giant this month to shore up the car project.
Aquila acknowledged the consolidation that will eventually occur with EV startups as the market gets saturated with plug-in vehicles. He hopes the new team that's been assembled will keep the company nimble and efficient.
"Consolidation is going to happen, he said. "I like to buy companies but I don't like to be bought."
Canoo shares were down Thursday by 2.65% to close at $9.93.
After a string of funding problems that have delayed the release of its first car, Faraday Future announced Tuesday that production would start by July 2022 at an assembly plant in Central California.
Irvine-based architecture firm Ware Malcomb is set to finalize the building's design and engineering for an automobile plant in Hanford, California. Faraday says the 1.1-million square-foot building can produce 10,000 vehicles per year when it's up and running.
Faraday Future, which announced a $3.4 billion SPAC merger in January with Property Solutions Acquisition Corp (PSAC), said last March a $100 million debt financing would allow it to begin production on the FF91 electric vehicle in Hanford. Until now, it hasn't delivered on its production promises for the consistently delayed luxury EV.
"FF has already completed significant investment at our Hanford manufacturing facility, and with the additional funding from our merger with PSAC, we anticipate that the plant will be up and running in the near future," CEO Carsten Breitfeld said in the announcement.
Faraday Future's Facility in Hanford, California
The luxury FF91 SUV is set to compete with vehicles like the Tesla Model X. Faraday promised the FF91 would go from 0-60 mph in 2.4 seconds, while it featured a tech-heavy interior. Customers were asked to put down $5,000 for a refundable deposit for the car that most recently was supposed to begin production at the end of 2020.

The Gardena-based startup will also work with Tesla manufacturing partner Myoung Shin to make more vehicles in South Korea, including models other than its 1,050-horsepower debut electric car. Faraday said it secured a former General Motors plant there for additional production capacity, although it didn't specify on production capacity.
The company was founded in 2014 and showed a high-performance electric supercar at the 2016 Consumer Electronics Show in Las Vegas. But the following year, it unveiled the more mainstream FF91.
It leased the Hanford facility in 2017 after canceling plans to build a $1 billion plant near Las Vegas, even though construction had already started. But money problems had beset Faraday Future since 2016 and continued to delay the start of production for the FF91 and other models were dropped from its plans. The company furloughed hundreds of workers in 2018 and sold its Gardena headquarters in 2019 to raise cash.
Its co-founder and former CEO, Jia Yueting, was also caught in a financial scandal. His assets in China were frozen and he moved to California permanently, where he spent millions on homes and other purchases. Jia filed Chapter 11 bankruptcy in the United States in 2019.
The controversy with Jia also resulted in then-chief technology officer Ulrich Kranz and chief financial officer Stefan Krause to leave the company. Kranz and Krause later founded Torrance-based Canoo Inc. (Kranz recently left Canoo for Apple).
Faraday Future didn't elaborate on how many additional vehicles it hopes to produce in South Korea or how many additional markets it plans to enter, but the company said it's brought on key people to ramp-up assembly. In March, the company hired a former Jaguar Land Rover executive to establish operations in China.
Electric vehicle startup Canoo is under investigation by the United States Securities and Exchange Commission for the SPAC deal that took it public last year, as well as recent company dealings and the departure of several key executives, according to filings dated Monday.
"We recently received a notice from the SEC that they are conducting an investigation," said Canoo's recently appointed CEO and Chairman Tony Aquila. "They characterize it as a fact-finding inquiry," adding that company officials would not take questions from reporters about it, and that Canoo was, "committed to providing timely updates," about the probe. Canoo's filing stated the SEC is looking into the company's operations, business model, revenue strategy and customer agreements.
The company told investors Monday during its quarterly earnings call that it has cut losses and announced its lifestyle vehicle van, set to start production next year, will start at $34,750 and be one of the least-expensive new electric vehicles available in the United States. The premium model will go up to $49,950 for the Premium model of the van. Canoo also opened reservations for another van model and its pickup truck derivative.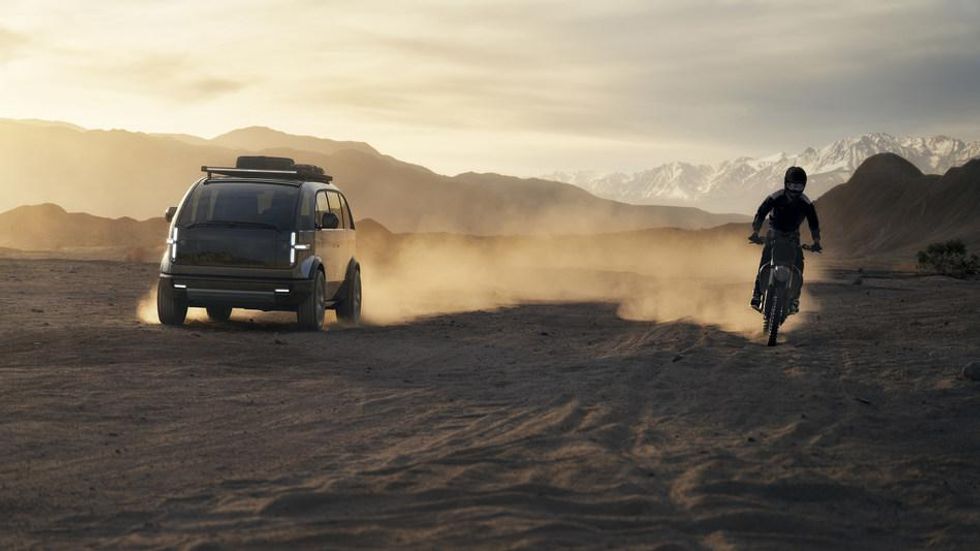 Canoo's lifestyle vehicle van will start at $34,750.Image courtesy of Canoo
Canoo reported net losses of $15.2 million in the first quarter of 2021, compared to $30.9 million in the same period last year. Net operating cash rose to $53.9 million from $23.7 million, while capital expenditures jumped to $12.1 million in the first quarter compared to less than $1 million during the same time in 2020. Aquila said Canoo also repaid a $6.9 million Paycheck Protection Program loan from July 2020.

Share prices for Canoo closed on Monday at $7.55, up 3.42%, before falling by nearly as much in after hours.
After a relatively uneventful public debut in December following an SPAC agreement with Hennessy Capital Acquisition and $2.4 billion valuation, Canoo shares nearly halved by March before its pickup truck prototype was revealed and bumping up the stock. But those gains were erased by the end of that month when the company announced several high-level departures from its executive lineup. Co-founder Ulrich Kranz, previously of BMW, vacated the CEO post in April and was replaced by Aquila.
A deal with Hyundai Motor Group was also declared dead this spring. Canoo agreed in 2020 to develop an EV platform for vehicles that would be derived from the startup's own vehicle designs and be available for use on future Hyundai and Kia vehicles. The announcement caught Canoo investors and the South Korea-based company off-guard.
Prices for the MPDV delivery van unveiled last fall and the pickup truck announced in March will also be revealed later this year, but Canoo opened up reservations Monday to all three vehicles through its website. Customers are required to put down a refundable deposit of $100.
While the company announced back in March it would refocus on the commercial vehicle market and away from the initially planned consumer model, Aquila said Canoo will still offer a subscription model, although it would make up less than 20 percent of sales.
Canoo also said Monday it plans to produce between 500 and 1,000 vehicles by the end of 2022, with 15,000 units projected for 2023. Aquila says Canoo is taking a conservative approach with these estimates.
The company is entering the final rounds of securing a contractor for its first phase of manufacturing and plans to announce a company partner next quarter. It's also in the process of narrowing down a site for a U.S. production facility and will select two finalists by the end of June.