biden administration
Los Angeles has more electric vehicle chargers than any other American city.
There are over 10,000 chargers across the city thanks to the city's own aggressive "Green New Deal" and the resulting partnerships with local EV companies. The move has attracted several companies to the region.
And the effort got supercharged Wednesday when President Joseph Biden laid out his own $2.25 trillion infrastructure plan focused on clean energy that could bring billions of dollars into the electric car economy.

"We're going to provide tax incentives and point-of-sale rebates to help all American families afford clean vehicles of the future," Biden said in unveiling his plan. "Imagine knowing that you are handing your children and grandchildren a country that will lead the world in producing clean energy technology."
Later on Wednesday, Mayor Eric Garcetti spoke in support of Biden's plan, which allocates $174 billion in spending toward electric vehicles and infrastructure.
"This legislation is about winning the future, it's about a just transition for folks working in fossil fuel industries, and electrical vehicle infrastructure that will reduce air pollution here in L.A., and it has justice and racial equity as the centerpiece of all of it," Garcetti said. "L.A.'s fingerprints are all over this legislation, because we've been a model for so much of this work."
For Los Angeles's EV goals, the next challenge will be to actually get Angelenos to buy the electric cars for all those stations.
Mayor Eric Garcetti's office estimates there are 62,851 electric cars being driven around the city. That's less than 1% of the total of cars registered in the county last year, according to the Department of Motor Vehicles.
If Garcetti's is to reach his goal of having a city where 25% of the cars are zero emissions by 2025, tens of thousands of Angelenos will need to buy an electric vehicle over the next few years.
"You can't expect someone who is a low-income resident of Los Angeles to be an early adopter, because cost is still an issue," said Seth Jacobson, the managing director of Climate Resolve, a nonprofit that advocates for policy to combat climate change. "So we really need to not be overly focused on EV single-passenger vehicles as a silver bullet."
Jacobson argues the city's goals don't account for the vast majority of Angelenos who may not be in a position to buy a new car. Eighteen percent of Angelenos live below the poverty line, according to the United States Census, and on average, most new electric cars cost $19,000 more than a gasoline-powered vehicle, estimates the National Resource Defense Council.

Jacobson advocates for subsidies for pre-owned vehicles, but he admits even that has its problems, since older electric cars often need new, expensive batteries.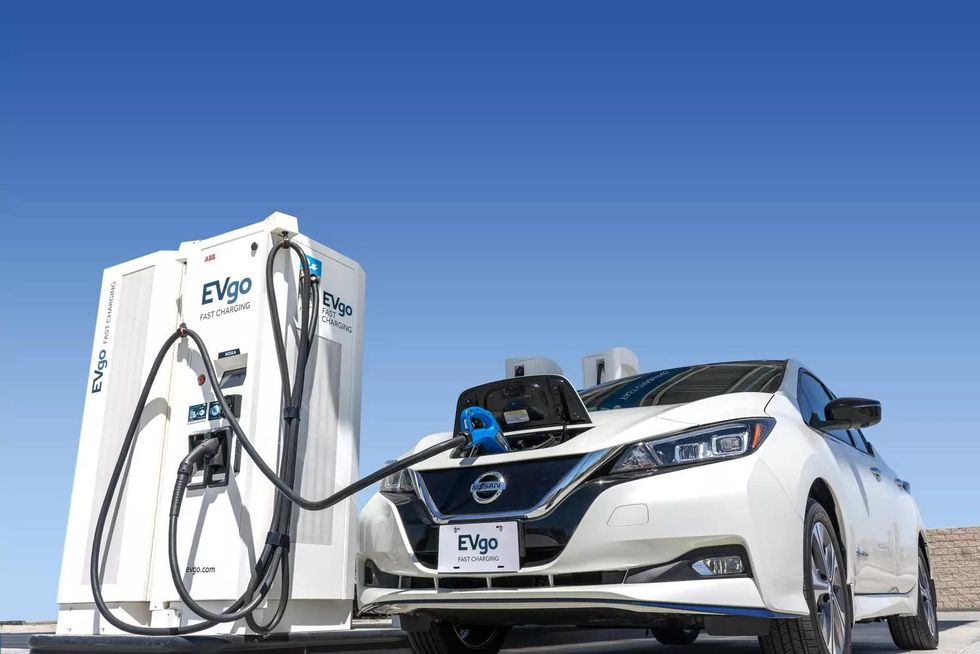 EVgo now has 160 operational stations and 290 chargers across Los Angeles County.
LA's EV Infrastructure Development
Encouraged by the city's bullish stance on electric vehicles, a rush of companies have planted their flag in L.A.; the county is already home to several EV manufacturers, like Canoo, Faraday Future and XOS trucks.
EVgo is one company that saw a big opportunity in public partnership with L.A. The company moved to the city in 2017 and now has 160 operational stations and 290 chargers across Los Angeles County, with several more still in construction. It recently announced a partnership with Uber to launch Uber Green in L.A., providing discounted charging to Uber drivers with electric vehicles.
"As an L.A. company, we see the impacts of EV adoption first hand, with Teslas, Nissan LEAFs, Kia Niros, Chevy Bolts, and more and more models on the roads every day," said Jonathan Levy, EVgo's chief commercial officer. "EVs are no longer a rare sighting in and around L.A., and we've been building out the charging infrastructure to support them."
Greenlots is another EV charging company based in Los Angeles. It was acquired by Shell in 2019, and announced this month a plan to roll out half a million charging stations over the next four years. Like EVgo, one of the company's partners is the city itself.
"Given the size of the market in California and automakers' aversion to manufacturing different vehicles for different U.S. markets, California will lead the whole U.S. market towards electrification," said Tom Ashley, Greenlots' vice president of policy and market development.

Despite upcoming challenges, California remains the largest market for EVs. The state is home to 45% of EVs in the U.S., according to a report by the California Energy Commission
Future EV Goals and Challenges
Los Angeles is now aiming to create another 15,000 charging stations by 2025, according to Julia Thayne from the Mayor's Office of Mobility and Innovation.
Many of the stations are subsidized by the city's Department of Water and Power. The bulk of them — about 8,500 — are located at offices or multi-unit apartment buildings. The city hopes that this encourages residents who don't have access to a charger at home to consider electric vehicles.
"We do need to make sure that that affordability is addressed, and there are programs to make power more affordable for utility customers, and there should be programs in place to make sure that the EVs are more affordable for low income customers as well," said Jacobson.
But, it's hard to say whether the distribution of the public chargers across the city is equitable. Most appear to be located around downtown, but there hasn't yet been quantitative research released as to whether the chargers are serving communities that need and use them.
Despite the challenges ahead, Los Angeles is ahead of the game in comparison to other American cities, to utilize the funds Biden is promising and continue developing electric vehicles and infrastructure.
First it was 90 days, then an additional 15, and then the forced TikTok sale faded from national consciousness as the presidential election altered the priorities of the country and the Trump administration. Now the Biden administration appears to be hitting the brakes. In court filings, government lawyers filed an uncontested motion to postpone the cases related to a potential ban of the popular social media app.
The request also suggests status reports at 60-day intervals, and states the administration plans to conduct its own evaluation of the matter.
"The government will then be better positioned to determine whether the national security threat described in (President Trump's executive orders)...continue to warrant the identified prohibitions," the filing reads.
Joe Biden has previously raised concerns over how the Chinese government may access data that TikTok collects and discussions have reportedly continued between TikTok-owner ByteDance and U.S. security officials.
In an interview with CBS' "Face the Nation" this past Sunday, Biden said China should expect "extreme competition" from the U.S., but that he will not necessarily pursue an adversarial relationship in the way that his predecessor did.
In August last year, President Trump issued a pair of executive orders that would forbid American companies from transacting with ByteDance-owned companies and force ByteDance to divest of its TikTok operations in the U.S. Microsoft, Oracle and Walmart emerged as potential new owners.
The Chinese government retaliated by issuing new rules banning exportation by Chinese companies of certain technologies, which would include TikTok's lauded "For You" algorithm. TikTok also sued the Trump administration.
In mid-September, Oracle confirmed it had been selected by ByteDance to become TikTok's "trusted technology provider," and then-Treasury Secretary Steven Mnuchin said the arrangement would bring 20,000 new jobs to the U.S.
A series of deadline extensions and waivers from U.S. government agencies and courts ensued and multiple federal judges ruled Trump's TikTok ban illegitimate.
On February 18, the U.S. government is due to issue its formal response to TikTok's court challenge against the ban.
In the absence of a ban, ByteDance could still sell TikTok, but anyone negotiating to acquire the company valued at approximately $180 billion, according to Bloomberg, would no longer have the same leverage.

Why is TikTok Facing a Ban? And What May Lie Ahead! www.youtube.com
This story has been updated.
After seven years trying to make it as an entrepreneur, Josh Malone's dreams and savings were running dry. With a growing family, urgency was mounting for his return to the safety and stability of corporate life. Desperate for a final crack, he asked his wife for patience and built one last prototype – a patented device that could quickly fill and tie multiple water balloons at once, which he called "Bunch O Balloons" – and started a Kickstarter campaign.

Malone raised nearly $1 million from 21,000 backers, and was invited on the national TV circuit, including a feature on the "Today Show."
"That's when it blew up," he recalled.
Malone struck a big deal with Zuru, a Los Angeles-based toy company, to exclusively license his patent, and his invention soon lined retail shelves across the country.
But he quickly learned that his patent, which was supposed to grant him legal recourse to prevent others from exploiting his invention for 20 years, hadn't deterred copycats, and that his ability to stop them wasn't as ironclad as he'd expected.
Patents can be the lifeblood of a startup and their immediate future will be shaped by the next head of the U.S. Patent and Trade Office (USPTO), which receives over 600,000 patent applications a year and sets the tone for how the executive branch enforces patent rights. Once small-time players like Google and Intel used patents to shoot ahead in their industries, along with many other founders who've leveraged patents to help raise money and protect investors. If the company fails, they may be able to sell the patents off to others.
Over the last 15 or so years, however, a combination of court decisions, regulatory changes and new legislation has weakened U.S. patent protection, leaving smaller patent owners few ways to prevent others from exploiting their inventions, according to USC law professor Jonathan Barnett.
Since 2006, the trend "has tended to favor the interests of larger firms and firms that use system or platform business models, like Google or Facebook, and disfavor entrepreneurs and firms that focus on innovation but don't necessarily convert those innovations into products for end-users, like Qualcomm, UCLA or BioNTech," said Barnett.
Startups often have a tougher time taking on established companies when patent rights are weakened, Barnett found after examining 116 years of U.S. patent and antitrust history for his latest book.
Patents can help startups raise money and attract partners and open doors to new markets. Established companies, on the other hand, can more easily self-finance commercialization of their innovations, said Bridget Smith, an L.A.-based patent lawyer who recently filed a brief to the U.S. Supreme Court arguing for stronger patent rights. Weaker patent rights often help incumbents fend off new competitors trying to grab a toehold in their market, she said.
As the Biden administration takes office, Smith, Malone and others concerned with how the government wields its patent policies are watching closely to see who will become the new leader of the USPTO.
"There are big debates about who the patent system benefits," said Barnett. Opponents to patent protection argue that patents slow innovation or increase prices, he said, but "empirical data is either uncertain or, in some cases, refutes these claims."
While changes under the outgoing USPTO director have slowly started to tilt the scales back toward stronger patent protection, Barnett said, "it will be interesting to see if the new administration reverts to the policies under the Obama administration, which was more patent-skeptical."
Who Will Be the Next USPTO Director?
It is too early to tell who Biden will pick to lead the USPTO. He has not publicly indicated who his choice will be, and the people he has surrounded himself with so far don't provide many clues about which way his appointee could lean.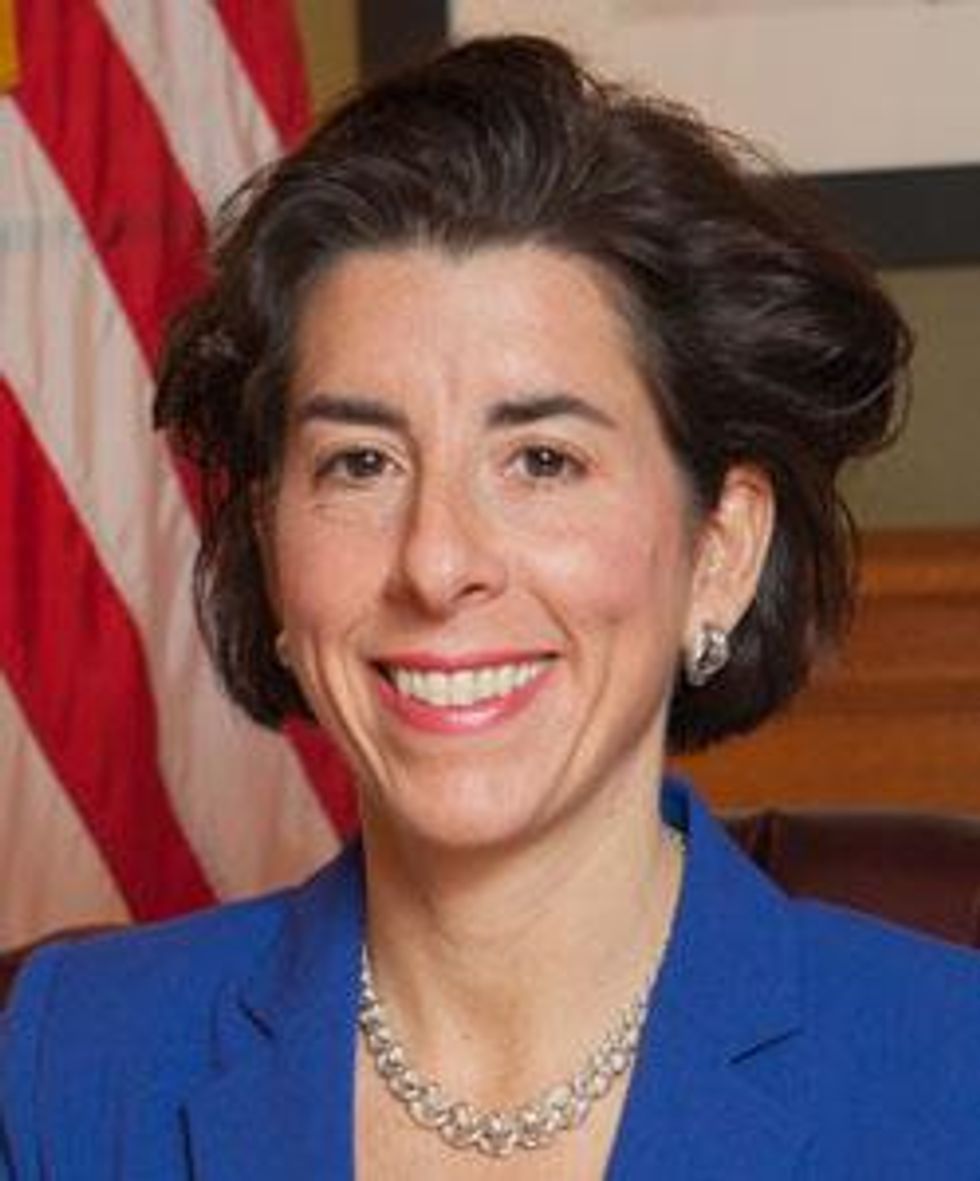 Gina Raimundo is a former venture capitalist and current governor of Rhode Island.
On one hand, Gina Raimundo, a former venture capitalist and current governor of Rhode Island, is awaiting Senate confirmation to lead the Commerce Department, under which the USPTO falls. Based on her past career, she is "familiar" with IP and startups, said former USPTO Director David Kappos, suggesting that Raimundo may lean toward an inventor- and startup-friendly patent regime.
There are also indications, however, that Biden could take a harder line on patent-protection. He appointed UC Santa Clara law professor and former Obama IP-advisor Colleen Chien to his transition team, for instance. Chien has previously opposed the STRONGER Patents Act, legislation carried by Delaware Senator Chris Coons (D), who is now chairman of the Senate Subcommittee on Intellectual Property.
Traditionally, the appointment and confirmation of the USPTO director occurs after the secretary of commerce is confirmed. Should Raimundo's appointment go forward, Kappos said the new USPTO director appointee could enter the extensive vetting process by April and assume the position a few months later. At that point, the director will start to implement the direction that the Biden administration wants to take U.S. patent rights.

The Patent-Protection Pendulum
One key issue that the new director will have to weigh in on, and which has had a big influence on the recent push toward weaker patent protection, is how to subdue "patent trolls" — entities that accumulate patents with the sole purpose of suing companies for infringement. In many of those cases, companies settle out-of-court to avoid prolonged and expensive legal battles.
Ten years ago, in response to what he and others saw as "rampant abuse of the system" by patent trolls, Kappos oversaw the establishment of a new entity at the USPTO empowered to retrospectively invalidate patents. The Patent Trial and Appeal Board (PTAB) was hailed by proponents as an efficient and easy process to clean up the patent system, but critics say it went too far.
Particularly under Kappos' successor, former Google executive Michelle Lee, the PTAB "became a killing field for patents," said Brian Pomper, executive director of the Innovation Alliance, a pro-patent trade group that represents companies including Qualcomm and Dolby Labs.
Pomper said a recent series of rulings by the Supreme Court — motivated in part by a fear of patent trolls — has injected an unwelcome uncertainty over what is and isn't eligible for a patent, a sentiment echoed by multiple sources and shared by numerous current and former judges, appointees and legislators.
Smith and Pomper said the upshot of this uncertainty is weaker patent-rights and lower patent values.
Some politicians have taken note. Senator Coons, for example, has said that "U.S. patent law discourages innovation in some of the most critical areas of technology, including artificial intelligence, medical diagnostics and personalized medicine."
Of Balloons and Slingshots
Much of the support for the weakening of patent-protection has been backed by big tech lobbying at the expense of smaller, would-be competitors, according to critics like intellectual property lawyer Robert Taylor.
"In the matchup between David and Goliath, Goliath didn't need a slingshot; he only had to take David's away from him," said Taylor. "That's what large tech companies are doing with respect to small companies' patents."
It was against this backdrop that Malone's patent litigation battle unfolded.
Not long after Bunch O Balloons had arrived on retail shelves nationwide, TeleBrands – a large firm that invented the "As Seen On TV" method of selling products through pitchmen like Billy Mays – began selling a knock-off product.
From 2015 to 2019, Zuru, the L.A.-based company that had licensed Bunch O Balloons, pumped almost $100,000 a week into litigation and attorney and expert fees to sue TeleBrands, ultimately spending "$20 million in legal costs fighting over a stupid water balloon intellectual property," Malone said.
Ultimately, they prevailed. TeleBrands and several retailers were ordered to pay Malone and Zuru $31 million for infringing on their patent. They were also forced to permanently stop selling the knock-off product. Bunch O Balloons has now done nearly half a billion dollars in total sales.
Malone, who has since gone on to work as a full-time volunteer for patent-protection advocacy group US Inventor, says he is a rare exception. If not for his deep-pocketed backer, he said, he would have been another victim of an intellectual property system that he sees as rigged against the little guy.
"The average patent trial is about $450,000," said Smith. "That's nothing to FAANG companies, but that could eat up a startup's entire funding."
Adding more certainty over patent-eligibility and mitigating the power of the PTAB to invalidate patents are steps that the outgoing USPTO director, Andrei Iancu, took to strengthen patent protection. These decisions, Smith said, helped provide confidence to investors and lawyers working on contingency that it's worth putting up the fight against infringers.
Such changes were never codified into law, however, and the next director could take a new approach.
"There really is a chance to make a break (from weaker patent-protection), or do business as usual," Smith said.
Malone hopes for a course correction from what he and others view as an overreaction. "The problem with the efforts to stop the so-called patent troll is that they have thrown the baby out with the bathwater," he said.
The new USPTO director will inherit that legacy – and the power to decide what to do about it.
From Your Site Articles
Related Articles Around the Web