faraday future
faraday future
Electron Transport, a Los Angeles startup founded by alumni of electric automaker Faraday Future and military technology firm Anduril, is raising a $28 million funding round, per regulatory filings.

Dubbed a "stealth electrification startup" by its founders, Electron Transport has closed on $24.7 million and aims to raise nearly $3.5 million more, according to an SEC filing. The firm is developing an electric truck chassis, dot.LA has learned.
A number of companies are working to electrify trucks, including Irvine-based Rivian and Detroit heavyweight Ford. It is unclear whether Electron Transport is focused on pickup trucks, like the aforementioned brands, or commercial-use vehicles.
The one-year-old startup's founders include Phillip Weicker, who co-founded Canoo—the electric vehicle maker that recently left Los Angeles for Bentonville, Ark. He and his co-founders, John Henry Harris and William Eberts, all previously worked for L.A.-based Faraday Future.
When reached by dot.LA, Harris—who is also an alumnus of electric truck maker
Xos
—declined to comment on the funding round.
Many leading venture capitalists in Los Angeles say they've altered their investment strategy because of climate change, and some are responding to the crisis by pouring more cash into clean-tech startups.

A majority, or 60%, of the more than two dozen investors polled by dot.LA said climate change is affecting how they invest.
The trend is fueling a record-setting year for the sector, as investors put billions behind Southern California-based companies such as electric vehicle maker Rivian and home energy storage firm Swell.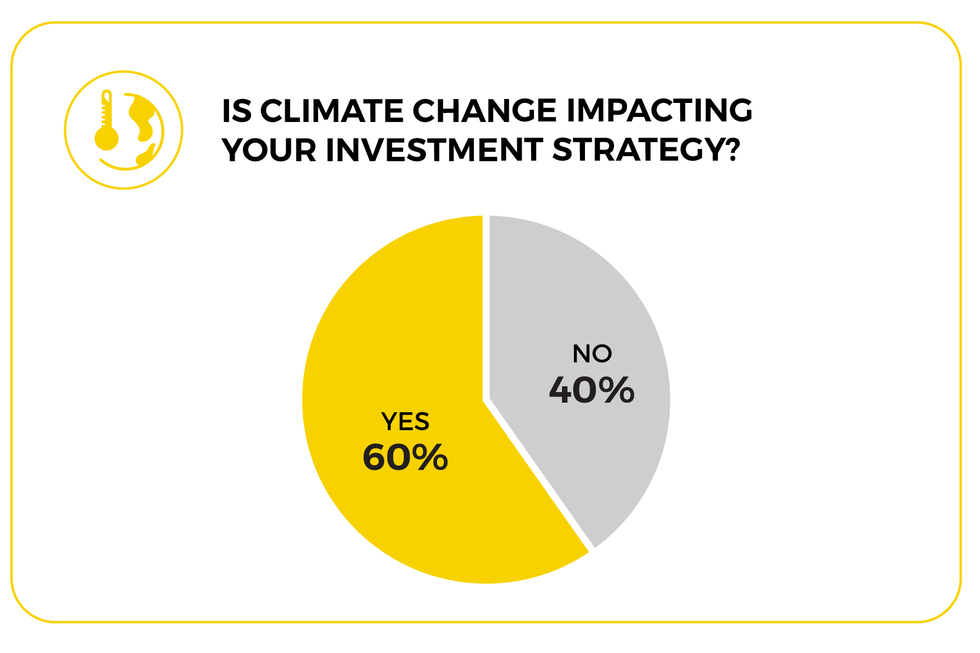 As of late October, Pitchbook tracked $6.4 billion in Southern California "climate tech" deals this year — nearly twice as much as in the entirety of 2020. The expansive sector, as mapped out by the data firm, includes everything from clean-energy generation and electric transportation to the development of plant-based proteins (a.k.a fake meat).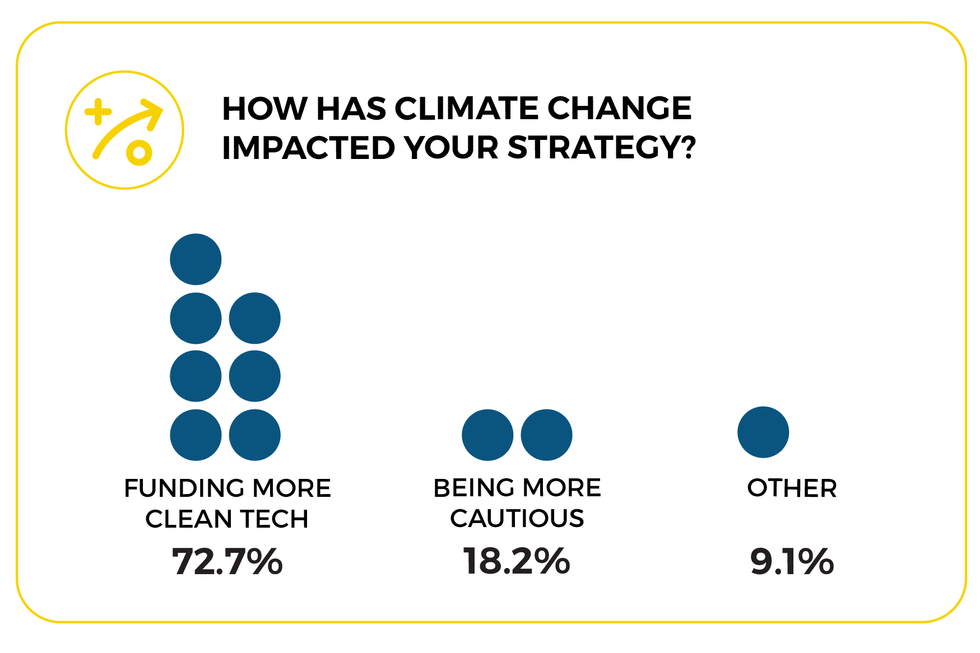 Most of the venture capitalists polled said the climate crisis has prompted them to fund more clean-tech startups. One investor noted they were on the lookout for "more novel solutions to these problems."

Globally, climate investments have skyrocketed. In the third quarter of 2021 alone, Pitchbook tracked a record $30.8 billion in related deals. "The industry could give rise to 500 to 1,000 unicorns in the coming years," Pitchbook added in its recent climate report.
What Can't Tech Do?
The promising fundraising trend comes as the White House argues that yet-to-be developed tech will play a critical role in the response to the climate crisis.
"I am told by scientists that 50% of the reductions we have to make to get to net zero are going to come from technologies that we don't yet have. That's just a reality," U.S. Climate Envoy and former Senator John Kerry said in May.
But like others skeptical of Kerry's optimism, Dr. Deepak Rajagopal, professor at UCLA's Institute of the Environment and Sustainability, views the environmental problem as less a "technological one but more socio-political at an aggregate level and behavioral at an individual level."
For years experts have warned that tech alone cannot solve the crisis, and emerging tech often yields unexpected outcomes.
"My research on life cycle assessment of technologies always has shown every technology has unintended consequences and it is an ethical question whether the unintended consequences are worth it. You cannot find a solution which does not have some type of negative impacts," Rajagopal told dot.LA
Dr. Greys Sošić of the University of Southern California, whose research includes supply chain sustainability, called the rise in clean tech investments "commendable," but urged a holistic approach.
"I am wondering what is happening with the rest of their investments? Are there any trends toward reducing investments in "dirty" startups? Until this happens, we cannot make a lot of progress," said Sošić. "Just adding some clean tech startups in one's portfolio, without doing additional changes, looks more like greenwashing than a serious effort to help the environment."
Largest Southern California Clean Tech Deals by Size
Data from Pitchbook.
Lead image and infographics by Candice Navi.
After a string of funding problems that have delayed the release of its first car, Faraday Future announced Tuesday that production would start by July 2022 at an assembly plant in Central California.
Irvine-based architecture firm Ware Malcomb is set to finalize the building's design and engineering for an automobile plant in Hanford, California. Faraday says the 1.1-million square-foot building can produce 10,000 vehicles per year when it's up and running.
Faraday Future, which announced a $3.4 billion SPAC merger in January with Property Solutions Acquisition Corp (PSAC), said last March a $100 million debt financing would allow it to begin production on the FF91 electric vehicle in Hanford. Until now, it hasn't delivered on its production promises for the consistently delayed luxury EV.
"FF has already completed significant investment at our Hanford manufacturing facility, and with the additional funding from our merger with PSAC, we anticipate that the plant will be up and running in the near future," CEO Carsten Breitfeld said in the announcement.
Faraday Future's Facility in Hanford, California
The luxury FF91 SUV is set to compete with vehicles like the Tesla Model X. Faraday promised the FF91 would go from 0-60 mph in 2.4 seconds, while it featured a tech-heavy interior. Customers were asked to put down $5,000 for a refundable deposit for the car that most recently was supposed to begin production at the end of 2020.

The Gardena-based startup will also work with Tesla manufacturing partner Myoung Shin to make more vehicles in South Korea, including models other than its 1,050-horsepower debut electric car. Faraday said it secured a former General Motors plant there for additional production capacity, although it didn't specify on production capacity.
The company was founded in 2014 and showed a high-performance electric supercar at the 2016 Consumer Electronics Show in Las Vegas. But the following year, it unveiled the more mainstream FF91.
It leased the Hanford facility in 2017 after canceling plans to build a $1 billion plant near Las Vegas, even though construction had already started. But money problems had beset Faraday Future since 2016 and continued to delay the start of production for the FF91 and other models were dropped from its plans. The company furloughed hundreds of workers in 2018 and sold its Gardena headquarters in 2019 to raise cash.
Its co-founder and former CEO, Jia Yueting, was also caught in a financial scandal. His assets in China were frozen and he moved to California permanently, where he spent millions on homes and other purchases. Jia filed Chapter 11 bankruptcy in the United States in 2019.
The controversy with Jia also resulted in then-chief technology officer Ulrich Kranz and chief financial officer Stefan Krause to leave the company. Kranz and Krause later founded Torrance-based Canoo Inc. (Kranz recently left Canoo for Apple).
Faraday Future didn't elaborate on how many additional vehicles it hopes to produce in South Korea or how many additional markets it plans to enter, but the company said it's brought on key people to ramp-up assembly. In March, the company hired a former Jaguar Land Rover executive to establish operations in China.