L.A. Poised for Jobs Jump as Electric Vehicle Industry Surges Across State
Joe Bel Bruno
Joe Bel Bruno is dot.LA's editor in chief, overseeing newsroom operations and the organization's editorial team. He joins after serving as managing editor of Variety magazine and as senior leadership in spots at the Los Angeles Times, Wall Street Journal and Associated Press. He's a veteran journalist that loves breaking big stories, living back in L.A., a good burrito and his dog Gladys — not necessarily in that order.
Mar 02 2020
Los Angeles County is cementing its position as the nation's center of the electric vehicle industry, where some 118,000 jobs working on everything from car design to better batteries.
The Los Angeles Economic Development Corp. said Monday, in its study on the industry, that L.A. controls 43% of California's massive EV industry. The growth helps the state compete with Michigan in what the LAEDC is calling a "hometown industry."
---
Looking ahead, economists predict the state's goal to have five million electric vehicles on the road by 2030 will help the state create more jobs. The LAEDC projects the number Californians working in the EV industry will rise from 275,000 in 2018 to 312,000 by 2023.
"There's no other ecosystem like this in the U.S., and we need to protect, support and build good policy to ensure this ecosystem thrives and continues to create great jobs," said Judy Kruger, Senior Director of Industry Development at the LAEDC.
The report, which was funded from a sponsorship by Southern California Edison and others, also highlighted that the jobs pay well. The average annual wage for EV workers hit $80,900 in 2018, well above the average annual wage of $60,400 across all industries.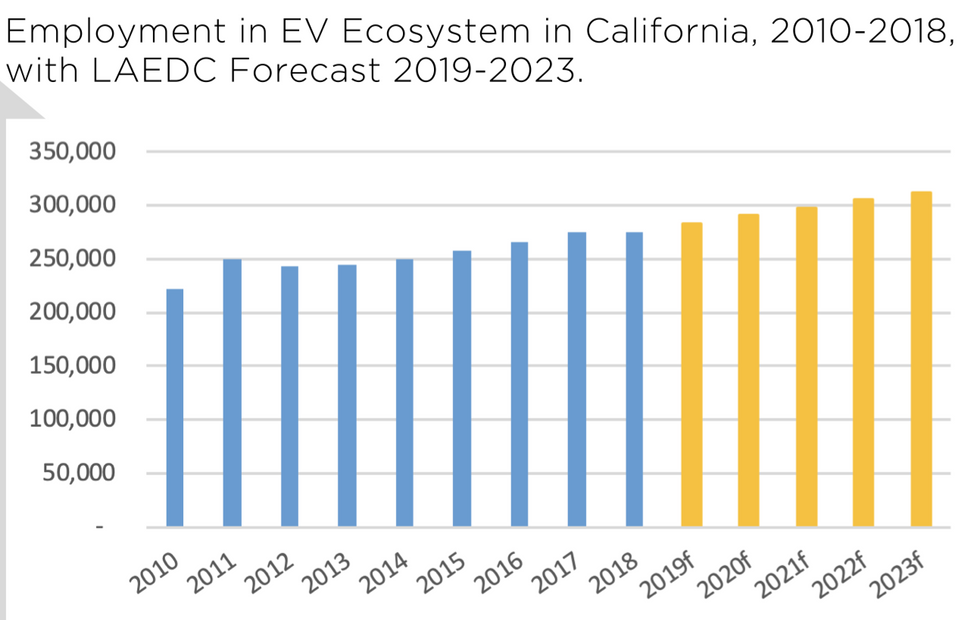 LAEDC
Though, the region's transition into the modern-day Detroit of the electric vehicle world has not come without risk.

Of the six main EV companies operating in L.A., three of them have filed for bankruptcy protection in recent years: Mid City-based Coda Automotive in 2013, Torrance-based Fisker Automotive in 2013, and Irvine-based Karma Automotive in 2014.
Some formerly failed companies have revitalized themselves and come under new ownership. Karma, for instance, was bought for $150 million by Chinese auto-parts maker Wanxiang Group in 2014, and its Karma Revero GT is expected to hit roads this year.
Data provider Pitchbook said in a report last year that it expects the total market for plug-in hybrid and battery powered electric vehicles to exceed $440 billion in 2025, up from $95 billion through the first half of 2019. This would result in an increase in electric vehicle market penetration to roughly 11% of new car sales in 2025 from about 2% through the first six months of last year. "We expect this to be driven by a continuation in declining battery manufacturing costs increasing affordability," according to the report. "The development of charging infrastructure and the entrance of major automakers into the market will in turn increase consumer awareness and drive electric vehicle adoption."
"Clean energy investments, including electrifying transportation, mean thousands of stable, good-paying jobs across the value chain—from skilled and craft to high-tech and innovation positions—for Southern Californians," said Michael Backstrom, managing director of Energy and Environmental Policy for Southern California Edison.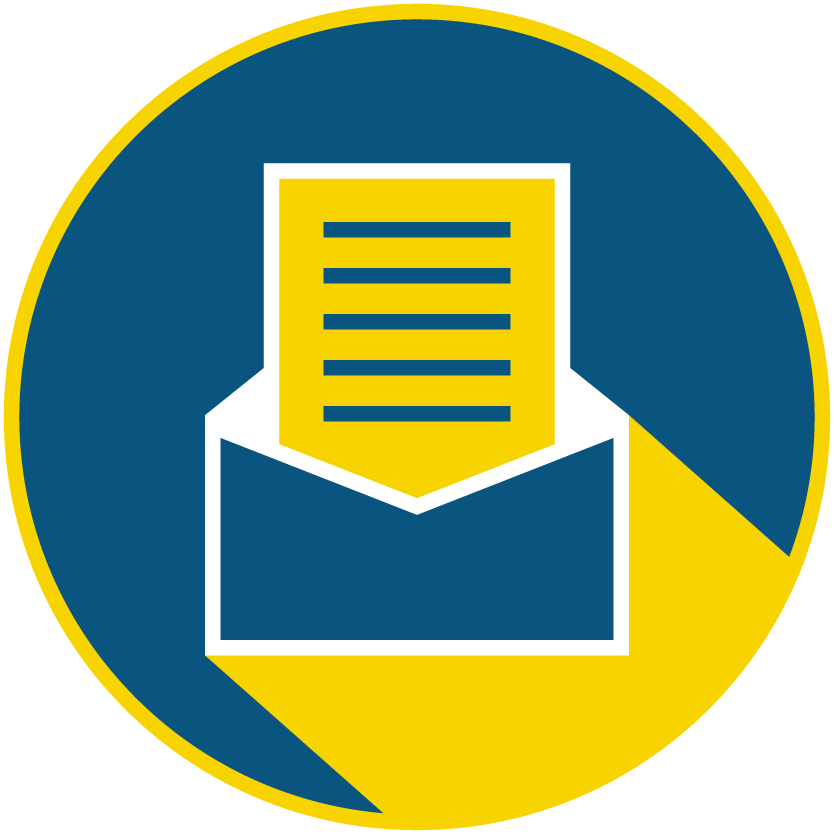 Subscribe to our newsletter to catch every headline.
Here are the latest headlines regarding how the novel coronavirus is impacting the Los Angeles startup and tech communities. Sign up for our newsletter and follow dot.LA on Twitter for the latest updates.
Today:
Amazon Warehouse Worker in L.A. Tests Positive, As Company Struggles with Covid-19
USC Shows (and Ranks) L.A. Neighborhoods With COVID-19 Cases
Gov. Newsom to small businesses: "Let's get ahead of the queue"
L.A. County records 78 deaths, cases top 4,000
Patrick Soon-Shiong wants to buy shuttered hospital, convert to COVID-19 command center
Disney announces furloughs amid pandemic, but employees keep healthcare
At least 30 of the fulfillment centers that power Amazon's e-commerce business have outbreaks of COVID-19, according to news reports and employee accounts. The most recent case in Los Angeles was reported Wednesday, when Amazon confirmed to City News Service that an employee at their warehouse in Atwater Village has tested positive for COVID-19. The mounting cases are sparking walkouts, frustration, and an unprecedented challenge for a tech company that finds itself at the center of the coronavirus pandemic.
Los Angeles locals have always known it is a city of neighborhoods, but this novel coronavirus has made that especially clear. The official lines on where neighborhoods begin and end, and where cases are to be found, have never seemed so murky.
On Thursday, the USC Viterbi School of Engineering released two new COVID-19 data visualizations that aim to make at least where known COVID-19 cases are being found, a little more clear.
The first is an interactive map with reported cases that's broken down by each neighborhood with accompanying statistics that tells people where cases are, how many are out there, and how their neighborhood ranks.
The visualized data is not a complete picture of all COVID-19 cases as testing has thus far been very limited. The data also doesn't break up or provide the total numbers of those tested per region.