EVgo
EVgo
One of the nation's largest charging network operators is rolling out a rewards program for customers and a new pricing plan that will make it more expensive for Californians in certain areas who plug in their cars during peak hours.
El Segundo-based EVgo announced the new congestion pricing plan this week after the state banned minute-by-minute pricing. The company said the new rates will reflect the costs of local utilities and network congestion, which can be higher in certain areas. Los Angeles and San Francisco users will also face additional pricing changes based on where they are charging.
EVgo's fast chargers in California will switch to the new pricing plan next month. It will be based on the time of day, which the company breaks down into early morning (12 a.m. - 8 a.m.), on-peak (4 p.m. - 9 p.m.) and off-peak, and how many kilowatts are used. Previously, the company used a per-minute rate.
The comspany said California will be a testing ground for other markets. It will also consider the impacts to communities hardest hit by pollution, traffic congestion among other factors.
EVgo also announced plans to add another tier to its subscription plan making it cheaper for regular customers. The rewards program will let drivers earn points that can go toward free charging sessions each time they charge.
EVgo went public in July after receiving a $2.6 billion valuation. The company has around 160 charging stations in Los Angeles and over 800 charging stations across the U.S.
From Your Site Articles
Related Articles Around the Web
The road to EV adoption is getting a supercharge — quite literally.
Arcadia-based charging company EVCS announced Wednesday plans to revamp nearly four dozen stations along the so-called West Coast Electric Highway corridor, which runs along the West Coast and into Canada, in a bid to boost long-range electric vehicle driving.
The project consists of 44 existing charging station upgrades and the addition of three new stations in Oregon along Highway 101 and Interstate 5, affecting about 100 EV charging spaces. The Oregon upgrades are mostly funded by a $4 million grant from the Oregon Department of Transportation (ODOT).
"Our goal is to create the most reliable and accessible EV charging infrastructure in the nation," EVCS CEO Gustavo Occhiuzzo said in a statement Wednesday. "EVCS's collaboration with ODOT to upgrade the West Coast Electric Highway will help increase driver confidence in going electric as we seek to combat climate change through our sustainable charging stations."
The Oregon station upgrades will include new hardware for the Level 2 chargers and will add 110-volt, household-style outlets for e-bikes and e-scooters. Higher-power DC Fast Charging stations will incorporate Combined Charging System (CCS) capability — used by most newer EVs — as well as existing CHAdeMO-type chargers that cars like the Nissan Leaf use. An adapter for Tesla cars will also be added at each station.
With fast charging, most compatible EVs can have the battery pack replenished in 30 to 40 minutes.
Opened in 2011, the West Coast Electric Highway project is a public-private network of charging stations developed out of the 2008 Alternative Fuels Corridor Project between California, Oregon and Washington, as well as an independent agreement with British Columbia and Washington. It spans more than 1,300 miles stretching from the Mexico border through British Columbia, along the 101, the 5, and Highway 99 with thousands of Level 2 and DC fast chargers dotted along those roads.

EVCS, which was founded in 2018, also owns and operates the Washington state portion of the electric highway.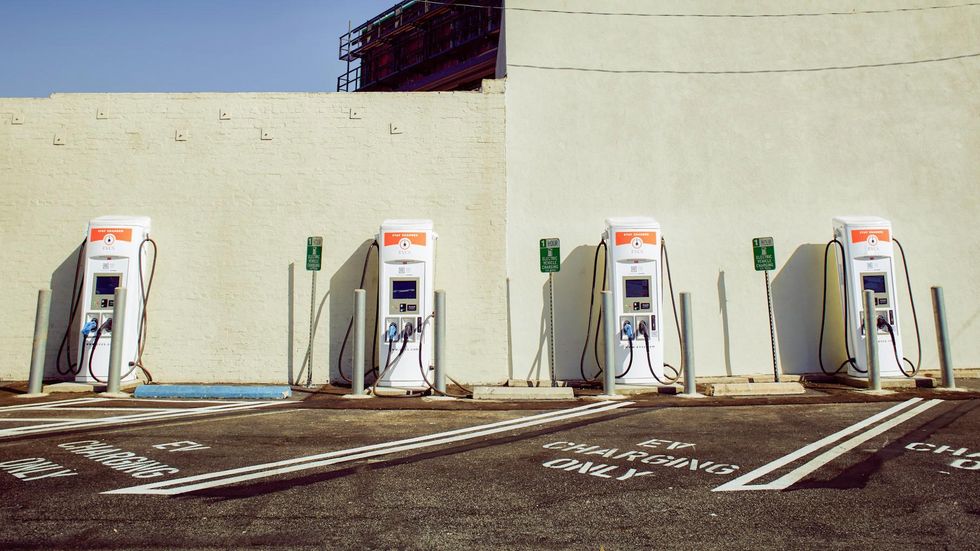 Courtesy EVCS
Upgrades to the network began last year with the goal of providing as much as 100-kilowatts of charging power at certain stations to meet the needs of more powerful EVs with larger battery packs.

Locally, EVCS partnered with the Los Angeles Department of Transportation in 2019 to install charging stations in 57 city parking lots. As of May, the project was about 30% complete, with the addition of four DC fast-charging stations in Lot 656 near the 405 and 10 freeways in West L.A.
This story has been updated.
The fastest electric car charging stations can replenish a battery from empty in about an hour. As carmakers from Volvo to Tesla race to make charges speedier and more powerful, the next 10 years mean added pressure on charging stations, from the plugs in homes to the stands at supermarkets.
But it's a delicate dance for the companies responsible for those chargers. Overheating and degradation has plagued some models over the last decade, and even Tesla has reduced the charging speed on some of its cars based on battery health and how often fast charging was used.
"The majority can't take more than a 50 kW per hour charging, and the charge rate doesn't stay at that and declines even more as the battery heats up," said Ivo Steklac, chief operations and technology officer of EVgo, one of the predominant electric vehicle charging companies in the U.S. "In order to manage this intelligently, we didn't think it was wise to dedicate this level of charger to vehicles when the majority of them can't take it."
With EV technology evolving at such a rapid clip, EVgo is grappling to make sure its charging stations are outfitted to handle the newest and most powerful electric cars. The company has been pouring resources into figuring out not only where and how many chargers should be placed across the country, but also issues that users might face when pulling up to a station to get some juice for their car. In April it opened a 4,000 square-foot Innovation Lab in El Segundo.
Engineers there are trying to work out a number of hardware, software and logistics problems — some of which exist now, and some that might become apparent later, as batteries get bigger and vehicles can charge more quickly to eventually replace the lines at gas stations.
EVgo, which went public July 2 after an SPAC merger with Climate Change Crisis Real Impact I Acquisition Corp. now has more than 800 chargers dotted across the U.S. as the Biden administration tries to jumpstart an electric vehicle revolution. But the market share remains small as Americans groan about range and access to car chargers.
"We created this lab to do a number of tests, from electric to physical and mechanical," said Steklac. "EV manufacturers are placing their charging ports in all sorts of places on the cars so they can reduce the length of wiring for these very high-powered cables."
It follows, then, that one of EVgo's tests at the lab includes a cable reach analysis to figure out not only an acceptable length for a charging cable, but also a manageable weight for not only the average driver, but shorter people or those with disabilities. EVgo wants to banish problems like pulling up to a gas pump when the car's fuel door is on the opposite side.
EVgo's lab engineers are also busy considering EV charging times. When the company was first installing chargers a decade ago, a charging rate of 50 kilowatts per hour was considered more than sufficient for drivers. Today's Tesla's Superchargers have a 120 kWh rate, while Volkswagen-owned Electrify America is building stations with 350 kWh-capable chargers. But only a few EVs on sale now can handle that charge rate, so Steklac said its chargers have to allow for significant disparities between vehicles.
Similarly, EVgo is looking at how extensive fast charging affects the longevity of an EV's battery pack.
"The majority (of models) can't take more than a 50 kW per hour charging, and the charge rate doesn't stay at that and declines even more as the battery heats up," Steklac said. "In order to manage this intelligently, we didn't think it was wise to dedicate this level of charger to vehicles when the majority of them can't take it."
Steklac said designing the next generation of chargers to go with the next generation of electric vehicles is becoming important as the market becomes less of a niche. EVgo's CEO Cathy Zoi said during the company's Wall Street debut that the EV market in the United States is estimated to grow from just over 1% share of the passenger car segment in 2020 to more than 10% by 2030, just before state mandates like California's go into effect for new vehicle sales.
Even without the Biden administration's 500,000 EV charger pledge, Steklac believes there needs to be 50,000 stations just to support the existing market. And that doesn't even include commercial vehicles, ride sharing services like Uber and Lyft or buses and postal delivery vans that are high on the White House's list to electrify.
EVgo's automaker partnerships currently extend to General Motors and Nissan, both of which sell EVs in the U.S., and are about to introduce new, longer-range models. The charging company touts its network as the largest for fast chargers in the country, with 800 stations across 34 states.
In California, Steklac said electric car hotbeds Los Angeles, San Diego and the San Francisco Bay areas are well-served, but acknowledges there are gaps in the infrastructure. He said the innovation lab uses an algorithm and purchase data to determine where EV owners live to determine where to put new charging stations.
Shopping and entertainment centers are EVgo's target for fast charging hubs right now. Kroger and Whole Foods are among its grocery store partners, too.
"The average American goes to the grocery store twice a week and spends 30 to 45 minutes there," Steklac said. "We target those, we target pharmacies, fast casual restaurants where you spend an hour or less. These include malls and parking garages, particularly in urban areas."
Steklac said the company is also talking with regional transit agencies, as well as Amtrak where there are EVgo charging stations at Washington, D.C.'s Union Station, because he said the mentality is still to "partner with anyone and everyone" in this still-early EV era.
Because while automakers and analysts expect home stations to be the way most EV owners will charge their vehicles in the long term, Steklac said that won't be the solution for every household and won't allow for the electrification of vehicles as quickly as lawmakers want. That's why the teams at the Innovation Lab have plenty of work to do over the next decade.
"Public charging is there to augment if you have home charging, but it's there to be a reliable source if you don't," Steklac said.