wndrco
wndrco
As COVID-19 layoffs cost friends and families jobs, Liora Simozar, a product manager at Clutter Inc., and her friend Ranika Kejriwal, put together a crowdsourced list of open tech and startup jobs in Los Angeles.

Simozar and Kejriwal, who head the local chapter of Women in Product and both have jobs, started their nascent effort in a Slack group in early March figuring many of their 500 members would be impacted. Eventually, they blasted it out to hundreds of their contacts and now have nearly 200 local employers looking for candidates on their crowdsourced list. Similar efforts have been playing out across the tech world as others release lists among friends and colleagues.
It's been a reprieve in an otherwise grim job market as companies like Bird and ZipRecruiter slashed their workforce in abrupt and sometimes brutal manners.
"It's tough being a laid off, you go through a lot of different emotions," said Simozar. "I felt a real sense of urgency because when you are losing your job, you are losing your health care benefits and this is a health crisis."
More than 26 million people have filed for unemployment since the pandemic halted normal life. Last week, USC researchers estimated 1.3 million workers in Los Angeles County alone have lost their job since mid-March. Startups and tech companies have seen a reversal of fortunes, cutting jobs that once seemed secure and eliminating six-figure positions. But, the downturn has helped some big tech and smaller thriving companies pick up hard-to-catch talent.
The spreadsheet by Simozar and Kejriwal, who works on Tinder's product team, posts positions for engineers, product designers and data analytics from companies like Jessica Alba's Honest Company, the board game maker Exploding Kittens and Northrupp Gruman. The lists are being shared on LinkedIn, among friends and within tight-knit networks.
"I think a lot of people are encouraged by how many companies are still hiring through the crisis," she said.
One advantage to the list the two put together is that its local companies, as opposed to other ones that include jobs across the county.
"We got more high-quality candidates from this list than from LinkedIn or AngelsList," said Sam Byker, founder and chief executive of downtown-based Atticus, a tech firm aimed at making legal representation more accessible. The firm closed a $4.5 million seed round in December and is more than doubling its 8-person staff. The pandemic has stoked demand for the firm's services. A lot of the company's work is helping disabled people qualify for government benefits and demand tends to spike during downturns.
"It is always hard for us to find candidates that are the right fit," he said. "We are on a lot of platforms but at the end of the day, it was that google sheet that got many of our best applicants."
A few candidates who reached out through the sheet are going through the interview process. "There are a few folks that we are really excited about," he said.
Karan Talati said he turned to the list when he had to layoff two of his eight employees at First Resonance, a small startup that builds software for aerospace manufacturing.
"We have had to make these hard decisions that we don't want to," he said. "Most of our investors have been spending time with portfolio to make sure they are set for surviving and that means cost cutting where needed and unfortunately that means people."
He offered the employees severance and insurance, but he has been sending them leads and lists like this one in hopes that his former employees would find a job.
"If we have to part ways with people that we care about, hopefully can land as quickly as possible," he said.
Jerry Nickelsburg, the director of UCLA's Anderson Forecast, said the good news is that the region's tech sector — which spans an array of industries from logistics to restaurants to software — will likely recover.
"Are there firms in every sector that are struggling and have laid off staff? The answer is yes, but there also are firms in many sectors in finance, in some of the tech businesses, we see it in the distribution of goods that have actually added some employees. Still, not nearly enough," he said. "The tech sector has been growing and growing very rapidly in L.A., and then greater L.A. and Orange County as well over the last decade. Our expectation is that that will continue."
Meanwhile, even those lucky enough to find jobs after a layoff have a bit of survivor's guilt.
"The reality is, I feel super guilty that I gave notice right before layoffs happened, which ended up saving me from said layoffs," wrote recruiter Ashlyn McIntosh about her new job. "Here's the thing my amazing former manager and now friend for life Darren Stewart reminded me of: I hire people for a living. If I keep going, more people have jobs, meaning less people are living in anxiety."
Just days before the posting she watched her 17-person recruiting and human resources team at PatientPop dwindle to three after the company laid off about a quarter of its staff in a round of COVID-19 layoffs, she said. The data science team was also wiped out she said, noting that those are difficult positions to fill.
The company did not respond to a request for comment.
McIntosh who now works at TeleSign said she's seen a rush of applicants to jobs. Other recruiters, who she once competed against, are now calling her and sharing job applicants that they would have guarded before the pandemic. Hard to fill positions now have candidates clamoring.
The dire circumstances have reshuffled the job market for those with the right skills and it has also opened up talent that wasn't accessible before.
Matt Alling, who runs headhunting firm Marius Group, said that in some ways he has felt like a first responder dealing with so many people that have been laid off. Although about 80% of his clients froze hiring, the rest are hiring more than usual and keeping him busy.
"If we averaged 30 new candidates a day, now we are imputing 200 people a day," he said. "We have been working double time to connect with really good candidates."
Companies like Chinese-owned startup ByteDance is looking to hire 10,000 new employees, Bloomberg reported last week. The company's app TikTok is based in Culver City and has been advertising jobs. Other big tech companies like Amazon and Apple have been on a hiring spree as they see an opportunity to pick up hard to find talent.

Arteen Arabshahi, vice president at Jeffrey Katzenberg's WndrCo, which develops and operates consumer technology businesses, said he has seen it play both ways. On the other side are companies sharing lists of employees that have been laid off in hopes of placing talented workers.
"Everyone is trying to make the best of a terrible situation," said Arabshahi, who oversees the firm's venture arm. "These types of initiatives have been really helpful for smaller businesses that are trying to hire. These are amazing for those companies.
Do you have a story that needs to be told? My DMs are open on Twitter @racheluranga. You can also email me.
Billboard advertiser AdQuick raised $6 million in a Series A round as the company looks to expand its market and develop better analytics.
The round — led by Reddit co-founder Alexis Kerry Ohanian's Initialized Capital with WndrCo, Shrug Capital, The Todd & Rahul Angel Fund and MediaLink chief executive Michael Kassan — brings total funding to $9.49 million.
While most companies are pushing to expand their advertising online with social media and digital campaigns, AdQuick is selling space outdoors on billboards, television screens at the gas stations and bus benches. AdQuick doesn't actually own the space, rather it helps digitally native companies like Carvana and Instacart identify the best locations for their campaigns and rent them, taking a commission.
The company also promises to do what large billboard companies don't, provide metrics on consumers looking at the ads and data on how that impacts online advertising.
Chief executive Matt O'Connor said the fresh round of funds will help the company build out its analytic tools that cross references digital and outdoor advertising.
Ohanian used billboards along the 10 Freeway on the way to Palm Springs in 2018 with photographs of their daughter Olympia to welcome his wife Serena Williams back to tennis. She was slated to play her first competitive singles play at the BNP Paribas Open six months after she gave birth.
AdQuick has a database of more than a million outdoor spaces mostly in the United States, although the company has done campaigns in UK and Ireland. The service identifies which locations best target certain consumers and when those consumers engage more online because they were motivated by outdoor advertising.

Founded in 2016, O'Connor who formerly helped launched Instacart in new cities, said he was inspired to start the company after having to spend hours searching online for billboard locations, advertising sellers and data that might help him as he sought to build out a campaign.
"It was extremely frustrating," he said. "We had to do hours of internet research, get a proposal from each. Each was in a different format for the final booking. It was a complete clusterf**k."
"When the campaign went live we heard good anecdotes," he said but Facebook and Google provided metrics. The good feedback "wasn't not enough to double and triple down on the spend." he said.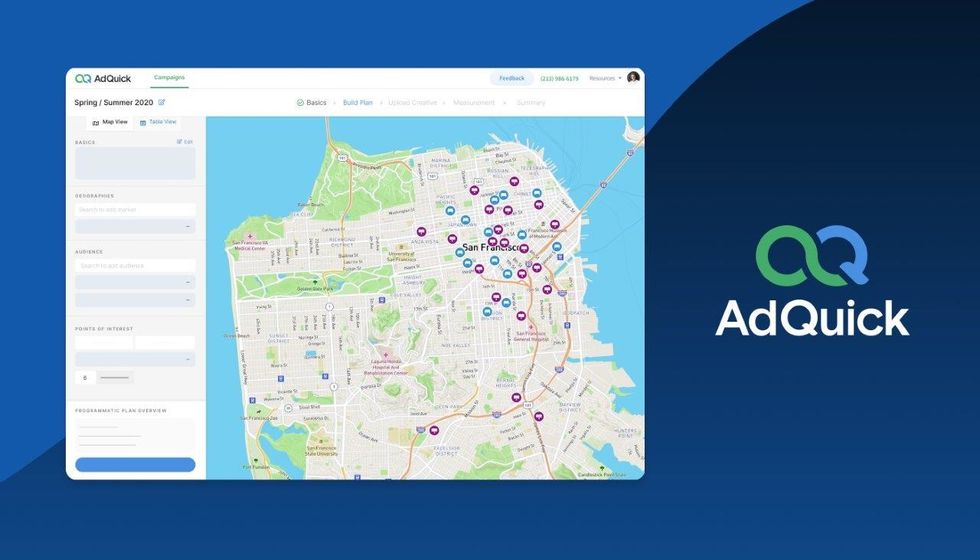 Photo Courtesy of AdQuick.com
From Your Site Articles
Related Articles Around the Web
After WeWork, VC's noticed a major shift in how founders were pitching their companies. Growth and costly customer acquisition strategies are out while profitability is in.
Some VC's, scared off by high valuations, are holding back their dry powder waiting for the market to cool. For instance, PLUS Capital's team compiled a list last year of companies it wanted to invest in if only the price was cheaper.
VC's are excited about employees leaving SpaceX and starting new companies. "That talent is going to be game changing."
As the new decade begins, Southern California's tech scene continues to sizzle. More than 7,000 investors have poured money into 4,768 startups, ranging from a unicorn that aspires to have scooters whizzing through every city on earth to one that has ambitions to colonize Mars to the thousands of smaller companies just trying to get to their Series A, according to data analyzed by dot.LA.

"No one is doubting L.A.'s place in the tech ecosystem anymore," said Arteen Arabshahi, vice-president at WndrCo. "People realize L.A. is meaningful."
Last year ended with what is arguably the most consequential local acquisition to date when Paypal bought Honey for $4 billion. According to Pitchbook, L.A. VC exit deal flow hit $8.4 billion last year, the second highest amount ever after 2017, when Snap went public.
"I don't think Los Angeles will ever be Silicon Valley," said Brian Lee, co-founder and managing director of BAM Ventures. "We don't have grandparents named Fairchild Semiconductor and we don't have aunts and uncles named Google and Yahoo. But we are growing and we do have some great businesses being started here."
Despite all the momentum, there are plenty of headwinds in the broader startup world to keep L.A. entrepreneurs and investors up at night. After WeWork's disastrous flameout and the disappointing IPOs of Uber and Lyft and shelving of IPOs for Postmates and Endeavor Group Holdings Inc., founders are under increased scrutiny to demonstrate they can deliver profits and not just meteoric growth. Meanwhile, Pitchbook data shows deal value fell slightly last year from 2018's record high, to $136.5 billion. Lastly, as this bull market approaches its eleventh year, companies are stockpiling cash to weather a recession, which 58 percent of investors say could happen this year.
To find out where L.A.'s tech scene is headed next, dot.LA interviewed some of the city's top VC's to ask where they are putting their money and what questions they think will shape the beginning of the new decade.
1. What's the right balance of profitability versus growth?
After WeWork, VC's noticed a major shift in how founders were pitching their companies, a trend they expect to continue for the foreseeable future. Growth and costly customer acquisition strategies are out while profitability is in.
"It's the soup du jour," said Amanda Groves, a partner at PLUS Capital. "It's trickled all the way down to the seed stage companies, which I think is healthy for people to be aware of."
Some very young companies are pitching how they will have a sustainable business model even before they've figured out a model for monetization.
"Now it's in decks and presentations and e-mails," said Groves. "That would never have existed before."
VC's say it is still important to focus heavily on growth, which is the point of venture capital afterall. They don't need to see profits right away, but they want to see a realistic way for companies to sustain themselves without burning through cash.
"We are focused on a path to profitability, said Dustin Rosen, managing partner at Wonder Ventures. "When I take companies from pre-seed to seed or series A, I'm coaching them on their presentations to focus on that."
VC's stressed that they have always been mindful of investing in sustainable businesses. It is not as if they only discovered the magic of profitability after WeWork.
Lee, one of the area's most experienced tech entrepreneurs who co-founded LegalZoom in 2001, has seen times when VC's prioritize growth and other times like now when profitability is paramount.
"They shift like the wind and it just drives me crazy," he said. "For me, we just want to build great businesses and it depends on the business model itself and the scale that something has to get to decide whether you want to run for profitability or growth. It should not be macroeconomics that determines that."
VC's should still have a tolerance for burning through cash relative to product fit and the maturity of a management team, according to Kara Nortman, a partner at Upfront Ventures. Still, she says companies are tightening up post WeWork.
"People are caring a lot more about capital efficiency," she said. "There's less tolerance for spending in extreme ways."
It is a shift that Nortman hopes is well-suited to L.A. companies. Nortman says many have long been forced to be more prudent than their Bay Area peers due to the shortage of local VC's like her writing bigger checks.
"In L.A. you've always had to be a bit more capital efficient," said Nortman. "The valuation is much more reasonable every step of the way."
2. Will valuations come back to the earth?
Despite signs of a modest cooling, Pitchbook data shows valuation size set another record last year at every fundraising stage. Checks are ballooning. And what would have been a pre-seed amount a few years ago is now seen in the seed round and what would have been a pre-seed is now series A, and so forth.
"Last year we saw an incredible amount of hubris," said Groves. "We're seeing it come back to earth a bit."
Some VCs, scared off by high valuations, are holding back their dry powder waiting for the market to cool. For instance, PLUS Capital's team compiled a list last year of companies it wanted to invest in if only the price was cheaper.
"The expectation is that if the market were to turn it might create an interesting buying opportunity for some of those companies where those valuations were out of whack," said Groves. "It sounds a little malicious, but is really just about keeping an eye on companies we really love that we couldn't make the numbers work."
While the average size of late-stage deals fell from $11.5 to $10.4 million last year, the size of early stage deals rose from $6 to $6.5 million, according to Pitchbook. (The average size of angel and seed funding deals stayed flat, at $1.1 million.)
"It's tough for price sensitive, early stage funds," said Matt Lydecker, lead investor at Luma Launch. "For us, there's definitely a threshold of valuation we need to be below. We will see a great company with a great founder and we're just priced out."
Investors will likely have to wait some time for valuations to decrease much due to the massive amount of capital flowing into venture capital. Even if Softbank does not succeed in raising $108 billion for its Vision Fund 2, there is still plenty of capital pouring in from nontraditional investors like asset managers and hedge funds. Pitchbook predicts "pre-money valuations will continue to climb in 2020, with the median reaching a decade, if not all-time, high."
"There's a ton of capital chasing alpha, " said Will Coffield, a partner at Riot Ventures. "There's not really going to be a shift."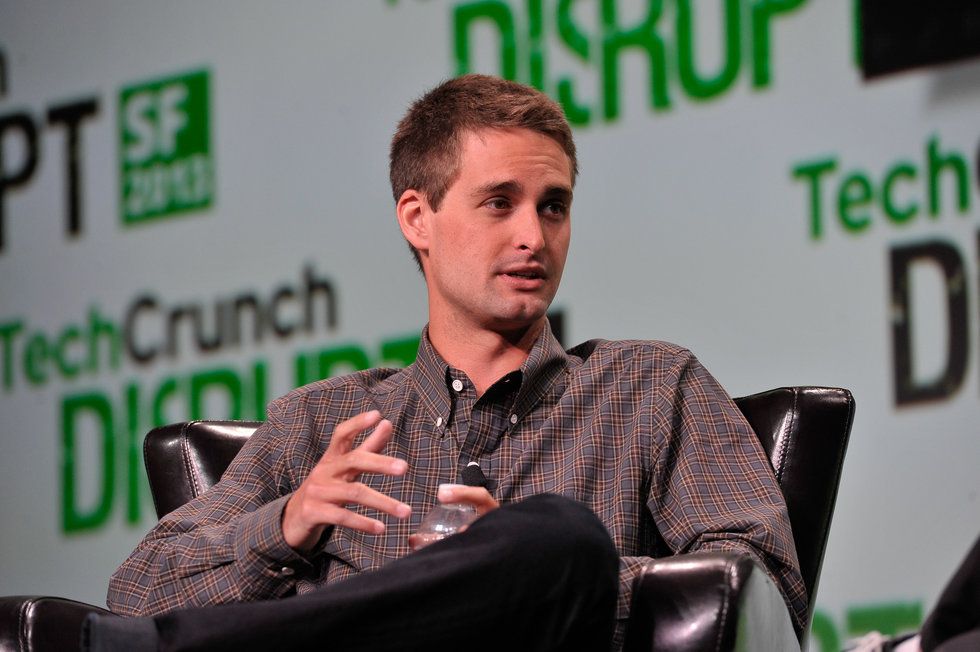 Snap Inc.'s Evan Spiegel at TechCrunch's Disrupt Conference. upload.wikimedia.org
3. How many offices will Sand Hill Road open near the sand?

While L.A. now has a sizable number of VC funds – mostly at the early stage – companies here have traditionally raised heavily from Sand Hill Road. For instance, Menlo Park's Lightspeed Venture Partners led Snap's seed round, turning $485,000 into around $2 billion when the company went public in 2017. Benchmark led Snap's series A, resulting in another multibillion dollar windfall for a Bay Area firm. By contrast, Honey's investors – including Wonder Ventures, BAM Ventures, and Mucker Capital – were primarily L.A. based.
"That demonstrates that if you want to get into the best companies in L.A. you can't just wait for them to knock on your door on Sand Hill Road," said Coffield. "We're seeing more investors from San Francisco have dedicated strategies for how to cover L.A."
At Wonder Ventures, Rosen is noticing the same thing.
"I've never seen more excitement from Bay Area firms looking to do deals in L.A. because they know there are great companies and they know the prices and competition are less than they are dealing with," he said.
Just as many Silicon Valley firms have opened up New York offices but there are also homegrown New York firms, Groves says local VC's can co-exist with ones from up North.
"Silicon Valley has so many more venture funds, particularly ones with certain vehicles that we don't focus on," said Groves. "I think L.A. will mimic what the evolution has been on the east coast."
More Sand Hill Road offices could drive valuations even higher and reduce the discount that VC's still say L.A. early stage startups are priced at compared to the Bay Area. Even so, L.A. VC's say more capital flowing into L.A. can only be beneficial.
"It's absolutely helpful," said Nortman. "It's good for us and good for our founders."
4. What sectors will shine?
L.A.'s tech scene has largely been known for consumer standouts like Riot Games, Snap, and Dollar Shave Club but scores of lesser known, less flashy startups are poised to break through, according to VC's we interviewed.
"I am expecting more deep technology companies to be launched and more enterprise companies," said Groves. "A lot of that is a function of having the Googles and Amazons and some of these bigger organizations opening up offices, which is drawing more talent to the L.A. ecosystem."
Nortman too is focused on enterprise, and also agtech, aerospace, and companies that help with climate sustainability. She's excited to see founders who led successful companies in the Bay Area return to L.A to start their next company.
"They grew up here and are ready to come back," she said.
Rosen is focused on startups working to improve mental health and wellness.
"The effect of digital addiction and digital isolation of less traditional human contact has created a unique set of mental health issues that need solutions outside traditional therapy," he said.
Jamie Montgomery, founder and managing director of March Capital Partners, is looking for more artificial intelligence startups in the area. Up until now, he has found more promising ones in the Bay Area and New York City.
"We haven't done as much in Southern California as we would have liked, but I think that will evolve," Montgomery said.
Coffield thinks local defense, aerospace, and robotics companies are ripe with opportunity.
"There's a whole robotics community developing between downtown L.A. and Pasadena," he said.
He is particularly excited about employees who have left SpaceX to start new companies, like Relativity Space or Elementary Robotics.
"We spend a lot of time trying to track the talent out of SpaceX," Coffield said. "That talent is going to be game changing."