cryptocurrency
Whether Jack Dorsey intended it or not, when the Twitter founder sold his first tweet as a non-fungible token (NFT) for nearly $3 million in March, he helped to bring the blockchain-based financing technology mainstream.
He also gave a the company behind its sale some free, high-profile marketing. On Thursday, that startup announced it had capitalized on it to the tune of $3 million from a stable of celebrity investors.
Cent, the company behind the Valuables platform that mints tokens from tweets, will use the funding to further build out tools to help creators make money through NFTs.
Cent began as a social media platform in 2017 meant to help creators earn money via crypto payments. In late 2020 it launched Valuables, which allows users to identify a tweet they'd like to purchase as an NFT; if the tweet owner accepts, Cent mints the NFT and effects the transaction.
"Their insight was in surfacing the inherent value of the authentic, candid, human artifact," said Ron Martinez, a San Francisco-based intellectual property and digital technology entrepreneur.
Investors include Dreamworks and Quibi founder Jeffrey Katzenberg, Zynga founder Mark Pincus, LinkedIn founder Reid Hoffman, and musician-entrepreneur will.i.am. Galaxy Interactive and In/Visible also participated in the round.
Cent co-founder and chief executive Cameron Hejazi formerly worked in advertising, where he said he saw social media platforms racking up billions while the creators they relied on got peanuts.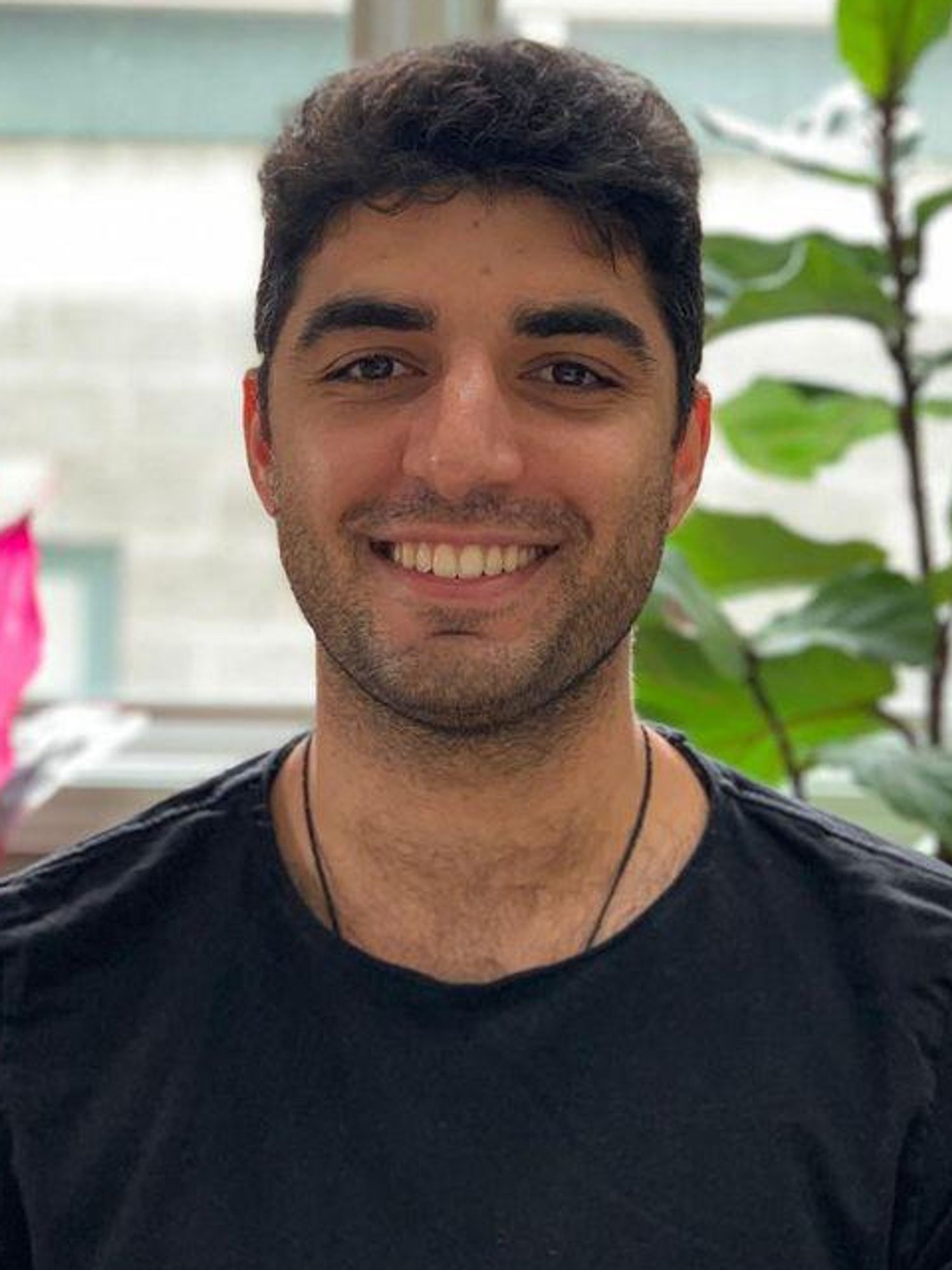 Cent co-founder and chief executive Cameron Hejazi
"My mission is to try to help the people who are spending all this time creating value on the internet turn that into a sustainable source of income for themselves," he said.
Though Cent has offered few concrete details of its plans, Hejazi said he not only wants to help creators profit from their output, but also to be able to own their audience data.
He envisions creators calling on their audiences on platforms like Twitter, TikTok and Instagram to follow them on the Cent platform, where the creators will be able to own the audience data.
"We'd really like to see the proliferation of these open, interoperable systems," Hejazi said. "All the major companies have operated in closed ecosystems, which was appropriate at the time, but is no longer needed."

NFTs enable digital assets like .jpg files, songs and videos to be certified unique and therefore potentially valuable. They reached a fever pitch in March when Christie's, the auction house, helped digital artist Beeple sell one of his works as an NFT for $69 million.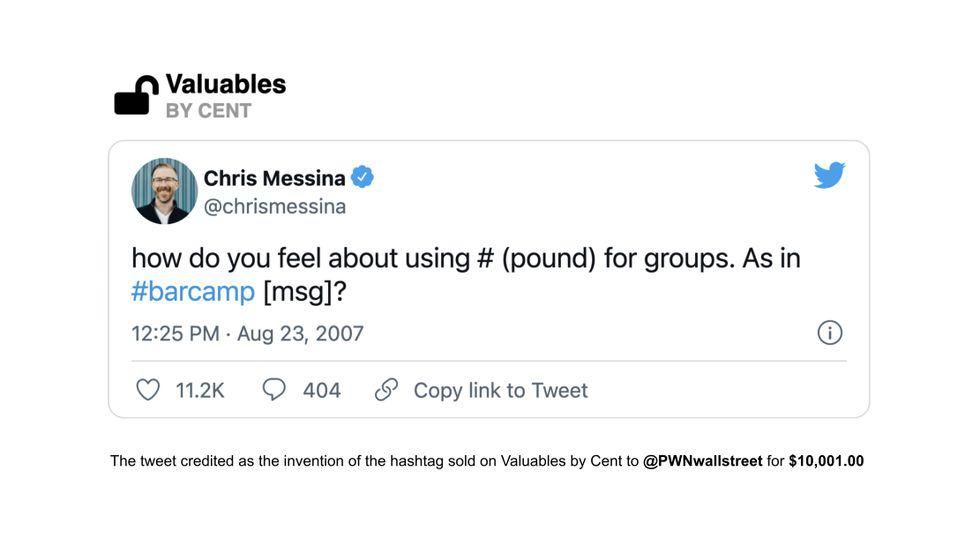 NFT skeptics have gawked at such eye-popping sums, much of which has been fueled by cryptocurrency whales who've made a killing and are incentivized to see the technology grow. More and more ideas have filed in, ranging from using NFTs to unlock in-person experiences to turning human excrement into a collectible.
It remains to be seen if the cynics will be proven correct. Data from NFT analytics site CryptoSlam offers evidence of both a market cooldown and an acceleration.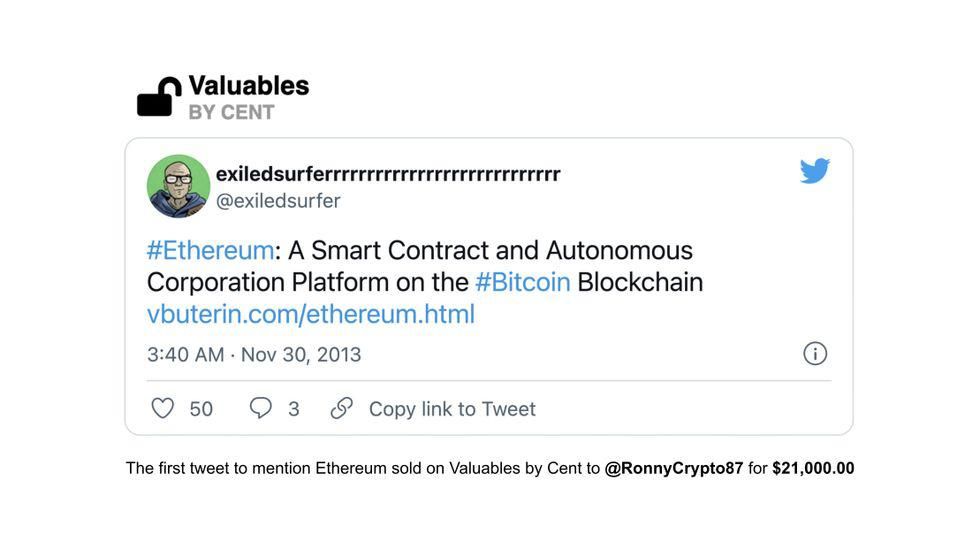 The birth of the hashtag and the launch of Ethereum, minted as NFTs.
NBA Top Shot, which turns basketball highlights into collectibles, stood alongside Beeple as a symbol of the NFT exuberance. It sold over $224 million worth of NFTs in February and another $208 million in March. But by July, sales had plummeted to $22 million.
Others have picked up the slack and then some. AxieInfinity, a gaming platform that allows users to earn money by raising digital creatures that have been minted as NFTs, saw almost $667M of NFT sales in July, according to CryptoSlam. That far surpassed its previous high, set in June, of $122 million. And it's already sold over $135 million worth of NFTs in August.
CryptoPunks, which sells low-resolution character icons as NFTs, has had a similar trajectory. It reached a $98 million peak in March, but saw a new high in July with over $135 million in sales. In the first five days of August it has already sold nearly $90 million worth.
"We're witnessing the first generation of NFTs," Hejazi said. "I think the opportunity is around getting people a footing in what it means to create an NFT and what it means to own an NFT."
Cent earns a 5% commission on NFT sales and 2.5% on any secondary trades. Creators earn the remainder of the primary sale and 10% of the secondary. The company has about 50,000 users on Variables, from which it generates about $20,000 in monthly revenue, Hejazi said. It also earns revenue from its Cent social platform, but he would not disclose how much.
Professionals who work with creatives may welcome the new monetization opportunity.
"I am normally very cynical about this kind of thing and names of celebrity investors don't impress me, but this looks promising," said entertainment-tech lawyer Richard Thompson. "An NFT platform that is oriented toward creative people who have some sort of following is needed now."
dot.LA Explains: What Are NFTs?
This week on the L.A. Venture podcast, hear from Mike Jones, the founder and CEO of studio and venture firm Science Inc. Jones is considered an expert on scaling and robust business strategy. He runs Science Inc. with Peter Pham, Greg Gilman and Tom Dare.
Starting in the late 90s, Jones began creating and managing his own businesses. He created UserPlane, an instant messaging service that was acquired by AOL early in his career. Following that, he was the turnaround CEO of MySpace— helping the company navigate losing its legacy status — and has invested in a number of notable brands, including GoodReads, Maker Studios Inc., HelloSociety and DogVacay.
Science is often considered an incubator. It was also the first investor in Dollar Shave Club and has also helped scale Mammoth Media, Arrive Outdoors, pray.com, Liquid Death and PlayVS. Jones has also been named one of the most influential people in Los Angeles.
Science has a venture funding studio, a blockchain fund and a late-stage SPAC. The company is best known for its venture arm, which is investing out of its $100 million Fund III.
Jones also works with these companies as an advisor. He says it's important to him that the founders he invests in are willing to learn and be highly adaptable to new strategies.
His background at MySpace, he says, gives him a unique perspective on the future of social media. He says he has respect for Snap founder Evan Spiegel, but adds he thinks social media needs to be more empathetic.
"in a world where when you and I meet up in person, we have millions of micro expressions on how we're communicating with each other," he says, "like pheromones, and all the other components that go into two people standing next to each other and actually having a conversation. We have to rebuild that digitally."
This is why he argues that founders' intent and message are so important.
"The thesis of an authentic brand is 'I make this product because I believe it's the right thing to do. And it has a purpose'," he says, beyond profit.
Mike offers his insights on investing, the 2020 ecommerce boom, the future of NFTs and his passion for cyrptocurrency.
"One thing that's 100% true is I've never seen retention correct itself. If you need to change retention substantially, you need to make substantial changes to the business." — Mike Jones
dot.LA Engagement Intern Colleen Tufts contributed to this post.
Want to hear more of L.A. Venture? Listen on Apple Podcasts, Stitcher, Spotify or wherever you get your podcasts.
From Your Site Articles
Related Articles Around the Web
Even Rikin Mantri, whose company launched an NFT exchange on Friday, admits the eye-popping sums being paid for digital artwork, NBA highlights and even Tweets are being fueled by hype.
Mantri, co-founder of Curio, which launched last month, expanded his platform to let fans trade their digital collectibles directly. It will be competing with a bevy of blockchain-backed collectible exchanges including Rarible and OpenSea, which just raised $23 million.
But Curio plans to appeal to the average consumer by targeting dedicated fan bases and partnering with well known entertainment brands. Already, it's struck a deal with Fremantle, which owns the television drama "American Gods" franchise, based on the graphic novel by Neil Gaiman.
"We're definitely seeing a hype cycle," Mantri said. "If you see who's placing the bids, it's based on crypto enthusiasts who've made a lot of money investing early on."
But he still sees a big business in targeting dedicated fans. "We think about (NFTs) as a passport to prove your fandom and also unlock VIP experiences."
So-called "smart contract" technology that underpins NFTs can give the owners of these tokens special access to experiences, like celebrity meet-and-greets.
Mantri thinks most people won't care about the underlying technology of NFTs in the same way they care little about how credit cards work. To appeal to a non-cryptophile audience, Curio accepts payments in normal currency – in contrast to many NFT platforms that require crypto – and also offers a "gallery" feature and enables sharing on social media to allow collectors to "flex" their items.
"Collection is a human condition," Mantri said, noting his old pet rock, trading card and watch collections that have been gathering dust.
Mantri and co-founder Juan Hernandez met in the computer science program at Northwestern University. Hernandez went on to build a blockchain-based financial exchange as founder of OpenFinance Network. Mantri entered the world of entertainment, first at William Morris and later at ABC. Along with Ben Arnon — an early employee at tech startup Wildfire that was later acquired by Google — the two began the company last year to capitalize on their experience across crypto and entertainment. They wanted to ride the tailwind created by NBA TopShot, which first launched in July 2019.
Curio has so far sold 2,350 NFTs connected to seven different American Gods characters. The tokens have been priced between $50 and $100, depending on their rarity, and have in total yielded $130,000 since sales began in late February. Collectors who purchase all seven types unlock one of two bonus items.
Mantri said every NFT "drop" has been sold out within two hours, and some in as little as 90 seconds.
One NFT that was sold originally for $100 later traded for $1,800. Numerous others have traded for six- or seven-times their sales price, Mantri said.
Curio makes its money by taking a percentage from the primary purchase and from any secondary-market trades – which it now enables on its own platform. The intellectual property rights holders receive the remainder.
With Fremantle, Curio is working with its merchandising division, which manages the distribution of earnings to the proper rights holders.
"It's all boats rise; a completely new incremental revenue stream," said Mantri.
The company also plans to offer a service that allows IP owners to create their own NFT platforms.
Earlier this month, Curio announced a $1.2 million raise that it closed in late 2020. It is currently pursuing another round.
Since Hernandez built Curio's platform eight months ago, the company has grown to 12 employees, and plans to expand to 20 next month.
The timing of Curio's future NFT "drops" will largely be determined by its partners' overall marketing strategies – for example, in between show seasons, or to boost one-off content releases.
"It's about fitting into the space in between a fan's experiences," Mantri said.
He thinks these partnerships and a selective strategy of what to offer will help Curio stand out.
"Open Sea and Rarible are more like YouTube and user-generated content; we're more of a Netflix model," Mantri said.