upfront summit
upfront summit
Kara Nortman is already widely regarded as one of the top VCs in Los Angeles. Now, she is getting a promotion to make it official.
Upfront Ventures, the Santa Monica firm with more than $2 billion in assets under management that Nortman joined as partner in 2014, announced Monday she will become Co-Managing Partner.

Nortman will share the new title with Yves Sisteron, who founded the firm in 1996, and Mark Suster, who came aboard in 2007. But Nortman is quick to point out she's not replacing anyone.
"Yves is not going anywhere and Mark is not going anywhere, but he is 10 years older than me, so I have to be pretty good at this hopefully by the time I'm in my 50s," said Nortman, 44. "It really is an apprenticeship."
Nortman says she is taking a more active role in raising capital for Upfront's next $270 million fund (the firm raises a new vehicle every three years.) Citing SEC regulations, she declined to go into specifics but said fundraising is "going great."
As a native Angeleno, Nortman is a tireless cheerleader of the city's growing tech scene. In 2022, she will also be cheering on Angel City Football Club, L.A.'s new women's professional soccer team she co-founded with top celebrities like Natalie Portman and Serena Williams.
Nortman's promotion also makes her one of the few women who have ascended to the highest ranks of venture capital.
She is a founding member of All Raise, a nonprofit advocating for female founders and funders and a board member of TIME'S UP, created by women in Hollywood to fight harassment and discrimination. In an interview Friday, Nortman talked about her new role, how she gets along with Suster and what investments she's most proud of. She also talked about the fate of the lavish Upfront Summit, which normally brings hundreds of investors and founders to L.A. every January for several days of glitzy parties and panels.
What will this new role entail and how will you split duties with the other managing partners?
It will feel like a big shift maybe to the outside, but it's been a very gradual evolution. In a lot of ways I've already been stepping into this role over the last year or so and doing more on the leadership front, like strategy, hiring and building relationships with the LPs, which is an interesting part of the business. I've always met LPs, but it's almost like moving from the trunk to the back seat to the passenger seat to the driver's seat.
From the outside, you and Mark Suster seem to have such different personalities. Can you give us a window into how you work together?
The funny thing is Mark and I have a lot of similarities. How would I describe our working relationship? It's the best I've had in my career. That doesn't mean it's not without friction at times. It doesn't mean in the early years we didn't bump heads when I thought I knew the business really well because I had done it at Battery Ventures for five years a decade earlier and it had changed a little bit. I had to evolve and understand how to operate in a different market at a different time and all those different things. He's been hard on me but in ways that have really helped me learn and evolve. And now we have very productive differences of opinions and he's still probably right 90% of the time. But in a lot of cases, there is no right.
When you say he's been hard on you, what's an example of something that he has changed about you or tried to change?
He cares deeply about giving me real feedback and that's not always been easy to hear. I think about a performance review I had two or three years ago where I think he typed me up a 10-page essay on my strengths and weaknesses with specific examples and it really kind of changed the way I invested.
I almost have this innate, positive energy that I used to call anxiety around making sure I meet the best people that we can invest in. I was so interested in getting in front of everything that I'd say one of the best things Mark did for me was slow me down. It really kind of goes to a place of developing your own point of view. And I think it's an important thing for women in this industry in particular. We want more people of color to be in leadership roles in this industry. But if we're all using the same inputs as everybody else and making decisions in the same way you just chase a little bit better. You're not actually going to leverage the important part of diversity, which is getting different kinds of thinkers with different kinds of networks.
Now that you are one of the few female VCs in a position of top leadership, what do you see as the key to further breaking up the boys' club and diversifying VC firms?
Once you're a woman or a person of color in a VC firm, it is making sure other talented people like you get hired, but also hiring people who are not totally like you. You have to make room for different kinds of people. And how do you empower those people? How do you support their process of making investments so they can win things when they don't have a huge portfolio? How do you bring the weight of the firm behind their process? It's really hard in the beginning. And so those first two years and having an awareness around mentorship and allowing that person to make mistakes and giving them the room to go slowly and get things wrong and really speak and have presence and feel like in their comfort zone is really important.
Over your decade-plus of doing this in L.A., what investment are you most proud of?
That's like asking to pick your favorite child! (laughs).
Is that an unfair question?
Totally! I'll just mention a few different things. When I got to L.A., the first startup I was involved with was Tinder. I recruited Sean Rad into IAC [the holding company that owns brands across 100 countries] to build something totally different, and during a hackathon, he built Tinder. It's turned out to be one of the biggest brands of its time.
Then I would go to a company like Fleetsmith, which was bought by Apple earlier this year in the middle of COVID when no one was buying anything. [The startup automates Apple device management.] I got to know those guys when they were just starting. I did their $7 million Series A and they were talking about things at the time that everybody thought was a little bit nuts. While they were in the Bay Area all three founders were from L.A. and this is a Mac town. I think I got the Mac thesis pretty quickly at a time when it was not as obvious and everyone was like, "if Apple's not doing it, there must be a reason."
A final one I'll mention is Parachute Home, which was my very first investment when I got to Upfront. [It makes modern bedding, bath, linens and other home decor essentials.] I think it reflects all the great parts of L.A. But it is built on technology. The headless eCom platform they built with data science around driving repeat rates and increasing load times is done so incredibly well.
What can you tell us about next year's Upfront Summit?
We are definitely doing something and it's going to be in a different form. Obviously, in a COVID world it's not going to be what it was in in 2020.
How much time are you spending on Angel City?
It's an important part of my life and my community but we have a full time CEO who is exceptional, Julie Irman.
What has surprised me is how much overlap there is between my day job and Angel City. One of those things about L.A. is we can sit at the intersection of tech, business, brand, celebrity and really think about community. I may take things away from my DevOps cloud cyber security companies by how we're building community at Angel City because they're doing very similar things where they're testing open source strategies. It sounds a little bit of a stretch, but I really like to think about systems and how different parts of my life influence my job.
***This interview has been edited for brevity and clarity.
**Upfront Ventures is an investor in dot.LA.
Mark Suster, managing partner of the granddaddy of L.A. venture capital firms and impresario of the annual Upfront Summit, could have chosen from any number of venues to host this year's version of the Coachella of venture capitalism. But why pick an ordinary conference center or hotel when you can rent out the entire Rose Bowl?
Save for the Westsiders grousing about having to trek to Pasadena, it seemed like a good enough idea until winds approaching 40 mph shook the tent Suster had erected to host two days of speakers. And the low wind-blown rumbling got so loud that those on stage, including an ordinarily boisterous Clippers owner Steve Ballmer, had to pause mid sentence and look up, as if to see if the structure was going to come crashing down.
At the end of the more exclusive first day, reserved for limited partners – whose money funds the whole business – and VC's, Suster stood on stage looking out across the tent and saw a crowd exhausted from a day of making deals, or trying to. Attempting to rouse his disciples to rally for a nighttime party at the top of the stadium, Suster demanded someone hand him a beer. When he opened a Stella on stage, it exploded and foamed onto the floor, as good a metaphor for the frothy state of venture capital as you can find.

"Everyone is building a decacorn or bigger!" proclaimed prominent Bay Area investor Jason Lemkin, referring to companies worth more than $10 billion dollars. "No one is talking about a unicorn anymore."
The conference featured Reese Witherspoon, Paris Hilton, Ice Cube, Tyra Banks, marching bands, dance performances, and a zip line whizzing VC's from one end of the field to the other. What does all that have to do with venture capital, which is usually much duller – looking at cap tables or raising money from an obscure pension fund to finance the next enterprise software breakout? Who knows. But Suster certainly knows how to put on a good show.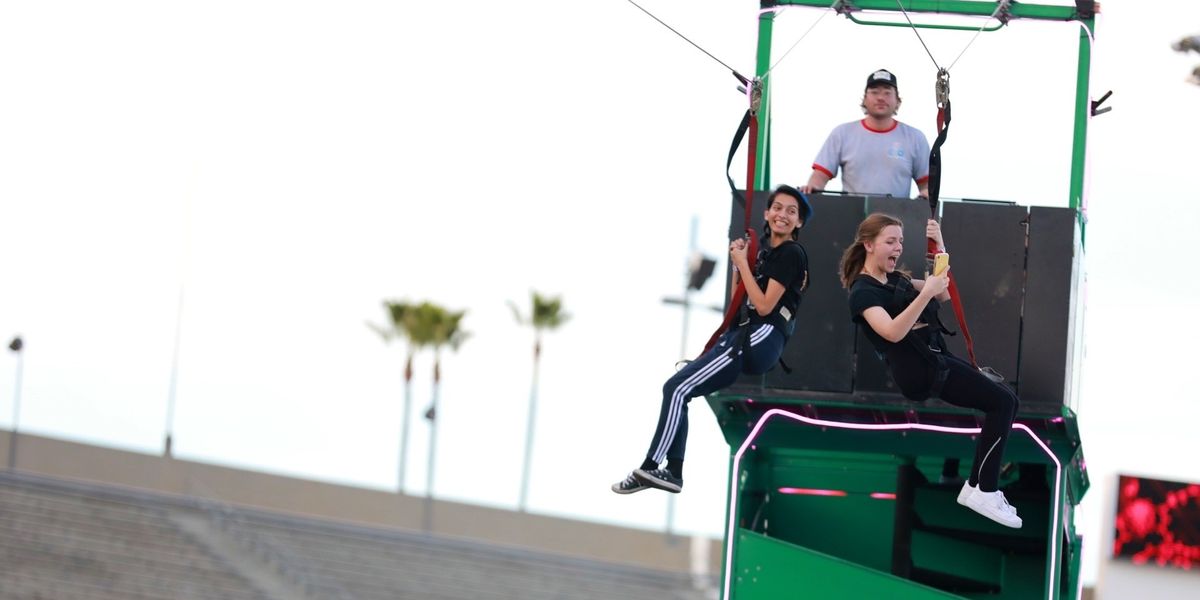 Unfortunately for those outside, it is impossible to buy your way in no matter how rich you are. You have to be invited to one of the three descending tiers: The aforementioned LP/VC day of about 400, the 600 founders who join on day two, and another couple hundred who get to come for the lavish outdoor party where as Axios' Dan Primack noted, the summit ended with a literal bang during an elaborate fireworks display. Afterward, one founder was seen passing out sinister looking bright blue vials of algae to attract investors for his young startup.

There was no dress code. But if there was one it would go like this: Most importantly, don't wear a tie or a suit. Dark jeans are good and make sure you have a gray or black Patagonia nano down jacket or vest to keep you warm when the Santa Ana's whip up. Wear cool sneakers, preferably Allbirds.
Food sustainability was a popular theme on panels but that can wait for another day. From early morning until late at night, a never-ending bounty of meals and snacks rolled out. Scones, quiches and croissants started the day, followed by snacks of mini donuts, trail mix and smoothies. Then there was lunch with nine different food trucks including In-N-Out Burger and Kogi. Just in case you were still hungry in the afternoon there were trays of candy, pretzels with three dipping sauces and more trays of freshly baked cookies.
Hopefully attendees worked up an appetite for dinner because Wolfgang Puck, one of the panelists, did the catering. And after that was a fourth dessert of the day.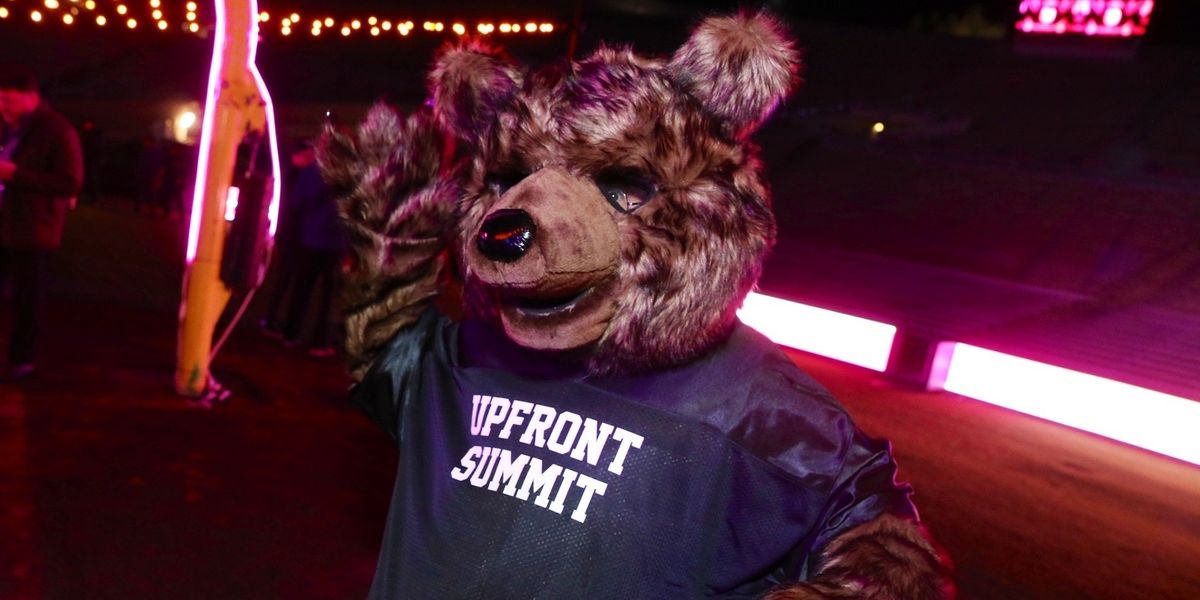 Given the venue, there was a strong football theme with mascots, Rose Parade floats, event staff wearing jerseys, and slickly produced Sunday Night Football style introductions for founders and VC's. It was a curious choice considering the audience.
"The dirty little secret is very few VC's like sports," said Jeff Jordan, managing partner at Andreessen Horowitz. "It's a bunch of nerds."
From Your Site Articles
Related Articles Around the Web
Netflix is now the most nominated film studio at the Oscars. And Ted Sarandos, the streamer's content chief, is doubling down on his push to boost local-language content in the dozens of markets the media company operates in as a direct assault against competitors like Disney Plus, Amazon Prime, and Hulu.
"Our goal is not to just export Hollywood content around the world. We can find a good story from anywhere in the world and make it play anywhere in the world," Sarandos said Thursday at the Upfront Summit at the Rose Bowl, noting that even in the early days of mailing DVDs, the goal was to "take these underdeveloped films and give them a national platform."
Netflix is producing 130 seasons of local language television this year alone, betting heavy on the idea that viewers will want to watch good programming in whatever language it might air. He noted that the U.S. has a wealth of English language programming such that folks don't get very adventurous. But in Brazil, for example, 80% of what people watch is in a language other than Portuguese.
Sarandos said that had he been running a traditional movie studio, he probably would have turned down "The Irishman," for example, because it's three-hours long and can only play in theaters a few times a day. But Netflix doesn't have the same business model.
"A lot of us are recognizing film on Netflix beyond the catalogues licensed in the past," Sarandos said. Plus, "people watch more on Netflix than they go see in a movie theater."
Netflix today has 167 million subscribers globally, Sarandos said, and the studio releases 30 to 40 films a year. Its film "Roma" was in theaters for 15 months in Japan, leaving just last month. "The Irishman" was seen in 200 theaters.
In a bit of a twist of irony, Netflix has also refurbished theaters in Los Angeles and in New York. The New York movie theater was the last single-screen theater in the city and was about to become a pharmacy. (Sarandos says, "I love going to the theater. I remember vividly, "Blazing Saddles" was the first R rated movie I saw when I was 10 years old. I thought I'd robbed a bank, that I'd gotten away with something.")
The studio now holds five to seven premieres a week for its films and movies. And this year it surpassed traditional film studios with its 24 Oscar nominations.
"People want to see these stories that are about people, it's very rare to see a hit movie that takes place on planet earth anymore, where animals don't talk, where there's no super power," Sarandos said. "Movies are a storytelling medium, real human drama. There's a market for it, and you wouldn't guess it by looking at the top 10 movies over the last decade."
Sarandos said that today the goal is to "make the best movie possible," he said, "the movie has to be undeniable."
Netflix decided to jump into creating its own content three years ago because it presumed all the major television stations and studios would move toward streaming their own content and would no longer want the increased competition of having their content on Netflix too, Sarandos said.
He said Netflix is building a "pipeline" to release four to six animated features a year.
"This is the best time in the world to be a lover of movies and TVs, the choices are unbelievable, it's a great time to be a creator, there are a lot of competitive buyers," Sarandos said. "The market's very frothy.
"The chance you're going to have a deep relationship with the content you're watching is better the more choices you have."
___
Do you have a story that needs to be told? My DMs are open on Twitter @latams. You can also email me, or ask for my Signal.
From Your Site Articles
Related Articles Around the Web