Image courtesy of the Upfront Summit
Sign up for dot.LA's daily newsletter for the latest news on Southern California's tech, startup and venture capital scene.
Hollywood film producer Brian Grazer has one particular strategy that he credits with inspiring him to develop and produce award-winning films like "A Beautiful Mind," and it starts with getting out of the office.
At this week's Upfront Summit venture capital conference in Downtown Los Angeles, the Imagine Entertainment co-founder outlined the process he uses to break himself out of a creative slump, which he calls "curiosity conversations." The essence of it, Grazer said, is finding at least one person to interview each week that has experience outside of his area of expertise; the further from the movie business they are, the better.
Graze recalled a recent, impromptu "curiosity conversation" with an Uber driver that evolved into Grazer paying the driver to teach him the Russian martial art of systema. "It's not easy, but I would recommend everyone do something like that," Grazer said. "You're supplementing the [film and television] pitches that you get with those conversations."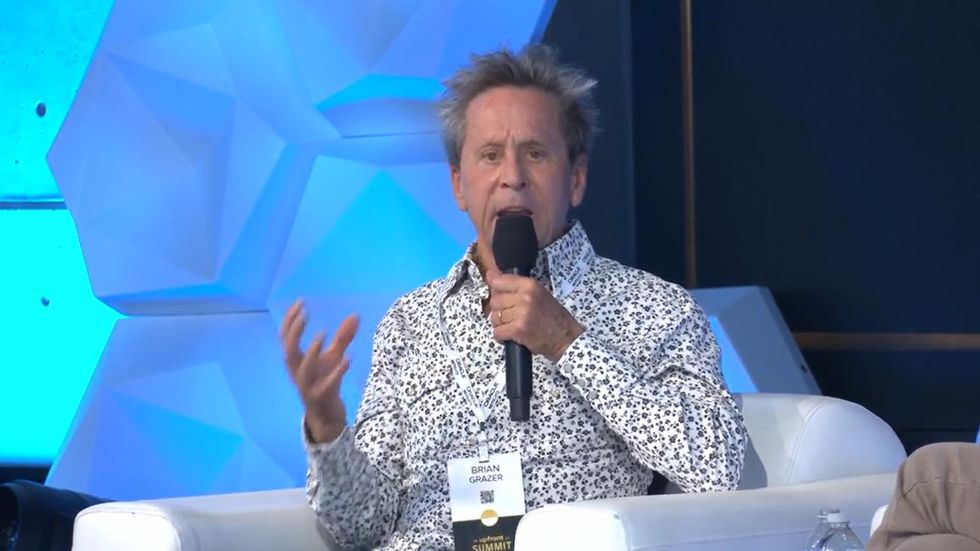 Imagine Entertainment co-founder Brian Grazer at the 2022 Upfront Summit in Downtown L.A. Image courtesy of the Upfront Summit
Grazer's Hollywood connections have granted him the chance to meet with a who's-who of experts in their respective fields, from the late science fiction writer Isaac Asimov to hip-hop legend Dr. Dre. He spoke keenly about his conversations with Elon Musk, who advised him while Imagine was producing the National Geographic sci-fi series "Mars," and also reached out to the late Wu-Tang Clan rapper Ol' Dirty Bastard to broaden his hip-hop knowledge during the production of the Eminem-starring "8 Mile."
"It does give you a better sense of detection as to whether an idea is an old idea, or a new idea, or an old idea that needs a new perspective or refresh," Grazer said. "It helps you understand who is or isn't full of s--- on a particular subject."
Grazer co-founded Imagine with Ron Howard in 1985. The production company is reportedly in talks to sell a majority stake to London investment firm Centricus Asset Management, but continues to produce content at a rapid clip and recently landed two Academy Award nominations for the Andrew Garfield-starring "Tick, Tick… Boom!"
"I think that you have to believe that there's a glow of goodness in the thing that you're trying to make—that people are going to benefit, there's a win-win in the equation," Grazer said about the projects he chooses. "I've chosen to make movies that try to do that, to inspire people [and] empower them."
From Your Site Articles
Related Articles Around the Web