facebook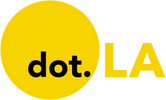 Get in the KNOW
on LA Startups & Tech
X
facebook
It's no secret that I've been in love with social media since its very early days. As far back as 2012, I was called one of the most "social CEOs" in the country.
Back then, being a social CEO meant that you used Twitter and Facebook to communicate with Zillow's employees, users and advertisers. I loved how social media made me accessible to a variety of constituencies and it helped me scale.
To this day, I have three screens on my desk, and one is dedicated to social media.

I'm probably a Twitterphile for life, but I don't use social media the way I did in 2012. Nobody does. Facebook and Instagram boast over 3 billion monthly average users (MAUs) combined. Social media has essentially become the web.
But as these horizontal platforms continue to broaden and amass more users, the harder it becomes to discover or strengthen an authentic human-to-human connection. Oftentimes, the content shared is a curated highlight reel of picture-perfect moments, or your platforms become an algorithmic echo chamber with little room for varied discourse.
Thankfully, these broad-based platforms can be used to amplify concerning world issues and important activism. But when logging onto Instagram becomes more anxiety-inducing than enjoyable (especially for the always-connected Generation Z), users are apt to either log off or look elsewhere for a digital reprieve.
Enter the unbundling of social media. I don't believe Twitter and Instagram are in danger of imminently losing large portions of users, but evidence points to many people finding that human-to-human connection on social media platforms that are dedicated to shared interests.
The Fragmenting Effect
Commonly, a user's connections on horizontal platforms span a wide range of interests. Work friends are combined with workout buddies, closest-knit friend groups with casual acquaintances, and so on. The fragmentation of these groups into category-specific, or vertical platforms feels natural and, in some cases, necessary.
Category-specific platforms are nothing new. LinkedIn, the largest platform for career and professional networking, officially launched in 2003. As of 2020 - it boasted 722 million MAUs. LinkedIn is the place to connect with people interested in your area of work and to manage your career.
These networks have become even more niche over the years.
Strava, founded in 2009, now has 70 million cycling and running enthusiasts on the platform and continues to grow each month. Fishbrain, founded in 2010, now connects over 5 million fishermen and women all over the world.
Doximity was also founded in 2010 for doctors and medical professionals and as of 2018, over 70% of all U.S doctors were on the platform. (Doximity also recently went public - currently trading at a market cap over $10b. So there's clearly incentive to tap into these unbundled audiences.)
The options are endless. Food, fashion, finance, hiking, biking, sports, business, gaming, books, movies, travel, gambling...there could be a vertical social media platform for everyone.
The Vertical Advantages
One major advantage of vertical platforms is the ability to build specific feature sets for the audience. Users of AllTrails, for example, can access a massive database of location-based maps and routes for hiking and outdoor activities.
These maps are crowdsourced, reviewed, and vetted by other enthusiasts - and are a feature you would never find on a broad platform like Instagram.
Vertical networks also provide a safe space for these shared interest communities, allowing users to post and engage without the self-imposed curated confines of broader platforms.
Posting every accomplished (or failed) run on my Facebook seems odd - but on Strava, it is natural.
Another advantage: users are likely to strengthen authentic connections within these shared interest platforms: finding support, encouragement, celebration, and solidarity.
Investing in the Vertical
At 75 & Sunny, we're currently incubating and investing in new platforms based on this vertical social thesis. Squad, for example, is a new way to connect with only your closest friends. Squad encourages authentic communication through a combination of audio technology and habit-creating notifications.
We're also excited about Path, which provides travel recommendations from your trusted friends - and also a new stealth company dedicated to helping you decide what to stream and watch next.
Last month, 75 & Sunny Labs officially launched Recon Food, a food-centric vertical platform. Recon Food is an online community that is entirely devoted to food and drink lovers. It was co-founded by my daughter Sophia and me as a result of all the time we spent together cooking and ordering new foods during quarantine.
Whether it's a homemade masterpiece (or mishap), or a chef-driven night out, Recon Food provides the digital platform to share these experiences, reconnect, and bond over our shared love of food. It also gives a welcome escape from the social media burnout experienced on horizontal platforms.
It is fascinating to follow this unbundling of social media. I look forward to welcoming the next crop of vertical platform innovators and social media disruptors.
From Your Site Articles
Related Articles Around the Web
The prospect of internet fame is no longer enough to bring in the best and brightest. Instead, paying for content has become table stakes for these platforms as they battle one another and compete in the broader attention economy.

Netflix chief executive Reed Hastings made that clear in a recent earnings call, when he called YouTube — rather than other streaming services or theater chains — his company's "second largest direct competitor."
Within the last two years, at least 10 platforms have announced they'll be paying creators for their work, but the size of the purse, what type of content they're funding and how differs by platform.
"These types of funds are what a lot of creators have been waiting forever for, and as soon as one platform starting doing it, the others had to follow suit," said David Rhodes, a multiplatform content creator with over 10 million followers across his 12 accounts, who has earned a few thousand dollars from Snapchat's creator fund.
Whether this new funding will be enough to lure talent and sustain quality content remains to be seen, but the financial arms race has been welcomed by many creators.
Here's a quick look at each:
TikTok has said that within three years, its creator fund will grow to over $1 billion in the U.S. and more than double that globally. Only residents of certain countries are currently eligible, and successful applicants must meet other criteria, including having at least 10,000 authentic followers and receiving 100,000 views in the last 30 days. To apply, users must have a creator account, which is free to make, and submit an application via the app. Payouts are based on video views and engagement, and no caps have been set for outlays per day or to a given user, the company says.
YouTube's "shorts fund" is a $100 million pool that will be distributed through 2022. Available to creators in India and the U.S., it is an effort to boost YouTube's presence in the short-form video market via its new "Shorts" product. Phil Ranta, a social media veteran and CEO of Wormhole Labs, said he has seen lots of creators with relatively modest followings earn "bonkers" views via Shorts. YouTube says it will reach out to creators whose Shorts earn the most views and engagement each month, and called the fund "the first step in our journey to build a monetization model for Shorts on YouTube."
Snapchat is offering $1 million per day to creators on "Spotlight," a TikTok-like video-broadcasting feature launched late last year that heralded Snap's departure from an exclusive focus on peer-to-peer messaging. Anyone can submit clips to Spotlight and be eligible for the funding. Payments are distributed based on an algorithm that checks whether a post passes a "value threshold" within seven days. Snap has said factors the algorithm looks for will vary but may include unique views and performance relative to other users' posts.
Facebook set aside $25 million for a Black creator fund in 2020, available to U.S. residents with at least 10,000 Facebook or Instagram followers. The program launched in August and applications are now closed. Instagram, owned by Facebook, does not have a general creator fund, though its head, Adam Mosseri, has suggested it might create one in the future. Reports have surfaced indicating that Instagram has sought to lure some creators to its platform with lavish payments.
Pinterest has a creator fund that reportedly measures $500,000 and is open for application; participants receive $25,000 in cash and ad credits and participate in a four-week workshop. Clubhouse has indicated it will offer application-based creator grants but has not publicized details, and ran an inaugural creator accelerator program that closed applications in March. Substack offered $25,000 each to four selected writers in 2020 while OnlyFans provided four £20,000 grants to UK-based musicians.
How Some Artists Are Gaming 'Creator Funds'
The largest funds are algorithmic and the factors that trigger payouts are a moving target, but that doesn't mean they can't be gamed.
"There's always an exploit," said Ranta, noting that conversations among creators and agents often include sharing tactics for what seems to be working.
One hack he cited pertains to Snap's Spotlight fund. Some creators with big followings have found they can post to Spotlight as frequently as every five minutes with simple videos such as blowing a kiss to the camera, and earn money for it, Ranta said.
Accessing the funds can also simply mean posting relentlessly.
"The more content you can push out the better," said Rhodes. "Although some videos may do well and some won't, you're still increasing your chances of videos taking off and earning money."
Rhodes said it's key to find "formula," and "ride it out until it stops working — or until the novelty wears off — and then switch it up and try different things until you find a new formula that works, and ride that one, too."
Ranta noted that a good way to know what a platform algorithmically prefers is to monitor the company's press releases and best practices guides.
"You put those two together and you kind of get it," he said.
Conversations about how to hit the moving target also take place on forums like TubeBuddy, in addition to Reddit and Discord. Proceed with caution, though.
"Those are really hit or miss," said Ranta, or downright "unfounded gossip."
Creators will soon be able to set up digital storefronts on Instagram. Facebook CEO Mark Zuckerberg made the announcement on Tuesday along with a slew of other monetization features. The company is trying to lure and keep influencers on its social media platforms amid stiff competition from the likes of TikTok and Twitter, which recently introduced a "tip jar."
"If you have an idea that you want to share with the world, you should be able to create it and get it out there easily and simply across Facebook and Instagram and then earn money for your work," CEO Mark Zuckerberg said. His keynote kicked off "creator week," a three-day virtual event Facebook and its subsidiary Instagram are hosting for influencers, "designed to help them build their careers and personal brand, support their wellbeing, and connect them with their peers," according to a company statement.
The digital storefront feature lets creators sell their own products, as well as link their accounts to Facebook's existing merchandise partners (Bravado/UMG, Fanjoy, Represent and Spring).
Influencers can also recommend products and earn a commission when their followers make a purchase. Those brands set a commission rate; in such cases users will see an "eligible for commission" label on creators' pages. The company said it will be testing this feature over the coming months.
Starting this week, creators will be also able to earn extra cash by attaining "badges" on Instagram and "stars" on Facebook, though the company didn't reveal specifics about how much they'd be paid. The idea is that creators will be rewarded for achieving certain milestones, such as broadcasting for a certain number of hours on Instagram Live.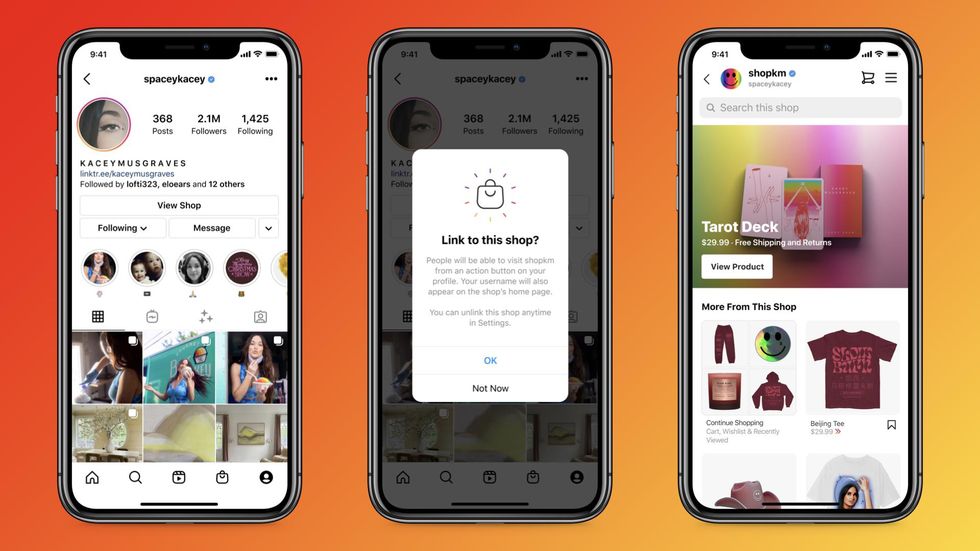 The company has already used badges and stars as a form of tipping, but this new feature adds another layer of compensation.

Facebook has said it will begin taking a cut of creator compensation in 2023, though Zuckerberg noted that its share will be "less than the 30% that Apple and others take."

"I really believe that people are naturally creative and we want to share what we make with others. And a lot of times we want to turn that into a career," Zuckerberg said. "You just need access to the right tools, and that's what we hope to continue to build for all of you."
The new features will further embed ecommerce into the user monetization features of Facebook and Instagram, which already offer a degree of online shopping tools. It is part of a broader trend of social media companies competing to keep their users engaged by attracting content-makers.
TikTok is reportedly testing incorporating ecommerce, for instance, while Snapchat has launched a "creator marketplace" to match brands with augmented reality creators. Platforms are also increasingly offering other monetization options, including ad-revenue sharing and launching funds earmarked for creators.
Instagram head Adam Mosseri, who's led the Facebook subsidiary since he took over in 2018 when Instagram's founders left, also noted that the emphasis on helping creators make money on Instagram is part of a broader "shift in power from institutions to individuals."
He said it was in much the same vein as the rise of fans rooting for athletes rather than teams and the surge of journalists going it alone on platforms like Substack and Patreon rather than relying on publications.