facebook
The prospect of internet fame is no longer enough to bring in the best and brightest. Instead, paying for content has become table stakes for these platforms as they battle one another and compete in the broader attention economy.

Netflix chief executive Reed Hastings made that clear in a recent earnings call, when he called YouTube — rather than other streaming services or theater chains — his company's "second largest direct competitor."
Within the last two years, at least 10 platforms have announced they'll be paying creators for their work, but the size of the purse, what type of content they're funding and how differs by platform.
"These types of funds are what a lot of creators have been waiting forever for, and as soon as one platform starting doing it, the others had to follow suit," said David Rhodes, a multiplatform content creator with over 10 million followers across his 12 accounts, who has earned a few thousand dollars from Snapchat's creator fund.
Whether this new funding will be enough to lure talent and sustain quality content remains to be seen, but the financial arms race has been welcomed by many creators.
Here's a quick look at each:
TikTok has said that within three years, its creator fund will grow to over $1 billion in the U.S. and more than double that globally. Only residents of certain countries are currently eligible, and successful applicants must meet other criteria, including having at least 10,000 authentic followers and receiving 100,000 views in the last 30 days. To apply, users must have a creator account, which is free to make, and submit an application via the app. Payouts are based on video views and engagement, and no caps have been set for outlays per day or to a given user, the company says.
YouTube's "shorts fund" is a $100 million pool that will be distributed through 2022. Available to creators in India and the U.S., it is an effort to boost YouTube's presence in the short-form video market via its new "Shorts" product. Phil Ranta, a social media veteran and CEO of Wormhole Labs, said he has seen lots of creators with relatively modest followings earn "bonkers" views via Shorts. YouTube says it will reach out to creators whose Shorts earn the most views and engagement each month, and called the fund "the first step in our journey to build a monetization model for Shorts on YouTube."
Snapchat is offering $1 million per day to creators on "Spotlight," a TikTok-like video-broadcasting feature launched late last year that heralded Snap's departure from an exclusive focus on peer-to-peer messaging. Anyone can submit clips to Spotlight and be eligible for the funding. Payments are distributed based on an algorithm that checks whether a post passes a "value threshold" within seven days. Snap has said factors the algorithm looks for will vary but may include unique views and performance relative to other users' posts.
Facebook set aside $25 million for a Black creator fund in 2020, available to U.S. residents with at least 10,000 Facebook or Instagram followers. The program launched in August and applications are now closed. Instagram, owned by Facebook, does not have a general creator fund, though its head, Adam Mosseri, has suggested it might create one in the future. Reports have surfaced indicating that Instagram has sought to lure some creators to its platform with lavish payments.
Pinterest has a creator fund that reportedly measures $500,000 and is open for application; participants receive $25,000 in cash and ad credits and participate in a four-week workshop. Clubhouse has indicated it will offer application-based creator grants but has not publicized details, and ran an inaugural creator accelerator program that closed applications in March. Substack offered $25,000 each to four selected writers in 2020 while OnlyFans provided four £20,000 grants to UK-based musicians.
How Some Artists Are Gaming 'Creator Funds'
The largest funds are algorithmic and the factors that trigger payouts are a moving target, but that doesn't mean they can't be gamed.
"There's always an exploit," said Ranta, noting that conversations among creators and agents often include sharing tactics for what seems to be working.
One hack he cited pertains to Snap's Spotlight fund. Some creators with big followings have found they can post to Spotlight as frequently as every five minutes with simple videos such as blowing a kiss to the camera, and earn money for it, Ranta said.
Accessing the funds can also simply mean posting relentlessly.
"The more content you can push out the better," said Rhodes. "Although some videos may do well and some won't, you're still increasing your chances of videos taking off and earning money."
Rhodes said it's key to find "formula," and "ride it out until it stops working — or until the novelty wears off — and then switch it up and try different things until you find a new formula that works, and ride that one, too."
Ranta noted that a good way to know what a platform algorithmically prefers is to monitor the company's press releases and best practices guides.
"You put those two together and you kind of get it," he said.
Conversations about how to hit the moving target also take place on forums like TubeBuddy, in addition to Reddit and Discord. Proceed with caution, though.
"Those are really hit or miss," said Ranta, or downright "unfounded gossip."
Creators will soon be able to set up digital storefronts on Instagram. Facebook CEO Mark Zuckerberg made the announcement on Tuesday along with a slew of other monetization features. The company is trying to lure and keep influencers on its social media platforms amid stiff competition from the likes of TikTok and Twitter, which recently introduced a "tip jar."
"If you have an idea that you want to share with the world, you should be able to create it and get it out there easily and simply across Facebook and Instagram and then earn money for your work," CEO Mark Zuckerberg said. His keynote kicked off "creator week," a three-day virtual event Facebook and its subsidiary Instagram are hosting for influencers, "designed to help them build their careers and personal brand, support their wellbeing, and connect them with their peers," according to a company statement.
The digital storefront feature lets creators sell their own products, as well as link their accounts to Facebook's existing merchandise partners (Bravado/UMG, Fanjoy, Represent and Spring).
Influencers can also recommend products and earn a commission when their followers make a purchase. Those brands set a commission rate; in such cases users will see an "eligible for commission" label on creators' pages. The company said it will be testing this feature over the coming months.
Starting this week, creators will be also able to earn extra cash by attaining "badges" on Instagram and "stars" on Facebook, though the company didn't reveal specifics about how much they'd be paid. The idea is that creators will be rewarded for achieving certain milestones, such as broadcasting for a certain number of hours on Instagram Live.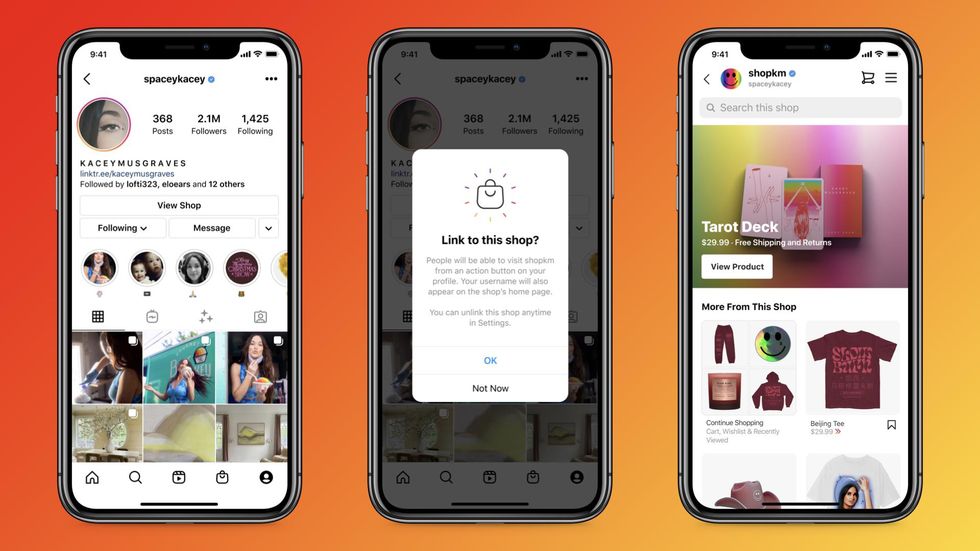 The company has already used badges and stars as a form of tipping, but this new feature adds another layer of compensation.

Facebook has said it will begin taking a cut of creator compensation in 2023, though Zuckerberg noted that its share will be "less than the 30% that Apple and others take."

"I really believe that people are naturally creative and we want to share what we make with others. And a lot of times we want to turn that into a career," Zuckerberg said. "You just need access to the right tools, and that's what we hope to continue to build for all of you."
The new features will further embed ecommerce into the user monetization features of Facebook and Instagram, which already offer a degree of online shopping tools. It is part of a broader trend of social media companies competing to keep their users engaged by attracting content-makers.
TikTok is reportedly testing incorporating ecommerce, for instance, while Snapchat has launched a "creator marketplace" to match brands with augmented reality creators. Platforms are also increasingly offering other monetization options, including ad-revenue sharing and launching funds earmarked for creators.
Instagram head Adam Mosseri, who's led the Facebook subsidiary since he took over in 2018 when Instagram's founders left, also noted that the emphasis on helping creators make money on Instagram is part of a broader "shift in power from institutions to individuals."
He said it was in much the same vein as the rise of fans rooting for athletes rather than teams and the surge of journalists going it alone on platforms like Substack and Patreon rather than relying on publications.
Facebook's Mark Zuckerberg and Google CEO Sundar Pichai brushed off their platforms' role in the January Capitol insurrection, facing a congressional panel on Thursday.
It marked the tech giants' first appearance before Congress since hundreds of people fueled by social media messages stormed the building.
"The responsibility here lies with the people who took the actions to break the law and do the insurrection," Mark Zuckerberg told the Democratic-led House Energy and Commerce Committee via videoconference. "And the people who spread that content," he added. "Including the president."
Twitter's Jack Dorsey was the only social media CEO testifying to admit his platform bears responsibility.
Pichai said his company "always feels a deep sense of responsibility." But in this case, he said, "I think we worked hard. This election effort was one of our most substantial efforts."
Congress members pushed the three executives on platforms' algorithms and their role in spreading false and violent content. The powerful trio is under increased scrutiny as Congress considers revamping Section 230, a law protecting big tech companies such as Facebook, Twitter and Google from taking the hit when it comes to misinformation.
Rep. Jan Schakowsky (D-IL) asked directly about a Reuters interview in which Facebook CEO Sheryl Sandberg said planning ahead of the siege mostly took place on smaller platforms.
"Certainly there was content on our services," Zuckerberg replied. "From that perspective I think there's further work that we need to do to make our services and moderation more effective."
In his written testimony, Zuckerberg urged Congress to consider dialing back Section 230. His proposal would grant liability protections only to companies with systems in place to oversee those posts.
And Dorsey acknowledged that Twitter can "do more" when it comes to building and exposing the platform's algorithms that impact the content users see.
But behind their calls for tighter regulation is an army of lobbyists working to keep the nation's most influential — and profitable —companies on top.
A recent report from the nonprofit Public Citizen found that Facebook and Amazon are the two biggest corporate lobbying spenders in the nation. And 94% of Congress members with authority over antitrust and privacy issues have taken money from a big tech lobbyist or PAC.
Some say the proposals would ultimately benefit the tech giants. Small companies, meanwhile, may struggle to build new systems and teams dedicated to overseeing dicey content. Whatever happens is likely to have profound implications for how users experience social media.
In response to concerns about how the platforms moderated harmful and false posts, the tech titans defended their strategies. Zuckerberg cited the tags added to some 150 million posts that misrepresented the 2020 presidential election. Pichai said YouTube removed 13,000 channels for promoting violence and extremism between October and December 2020.
"There's a lot of impressive numbers in there," Carmen Scurato, president of the advocacy group Free Press, said during a livestream event prior to the hearing. "They're grading their own homework."
"Don't get wowed by these statistics," Dr. Joan Donovan from the Shorenstein Center at Harvard said during the YouTube livestream with Scurato.
Coalitions like the Real Facebook Oversight Board want more than numerical evidence.
The group of advocacy organizations and nonprofits formed in late 2020 to tackle the slew of Spanish language posts that violate Facebook's policies but aren't caught by its algorithms.
"What kind of investment is Facebook making on the different languages to make sure that we have more of an accuracy?" asked Rep Tony Cárdenas, a Democrat representing a heavily Latino portion of the San Fernando Valley.
Zuckerberg pointed to Facebook's international fact-checking program, an initiative he said is "something we invest a lot in and it will be something we continue to invest more in."
But advocates cast doubt.
"We are not convinced one bit by Zuckerberg's empty promises and roundabout answers meant to distract us from the truth," said Brenda Victoria Castillo, president and CEO of the National Hispanic Media Coalition.
From Your Site Articles
Related Articles Around the Web