How the 'Thrift Haul' Boosted Secondhand Ecommerce Platforms
Lon Harris
Lon Harris is a contributor to dot.LA. His work has also appeared on ScreenJunkies, RottenTomatoes and Inside Streaming.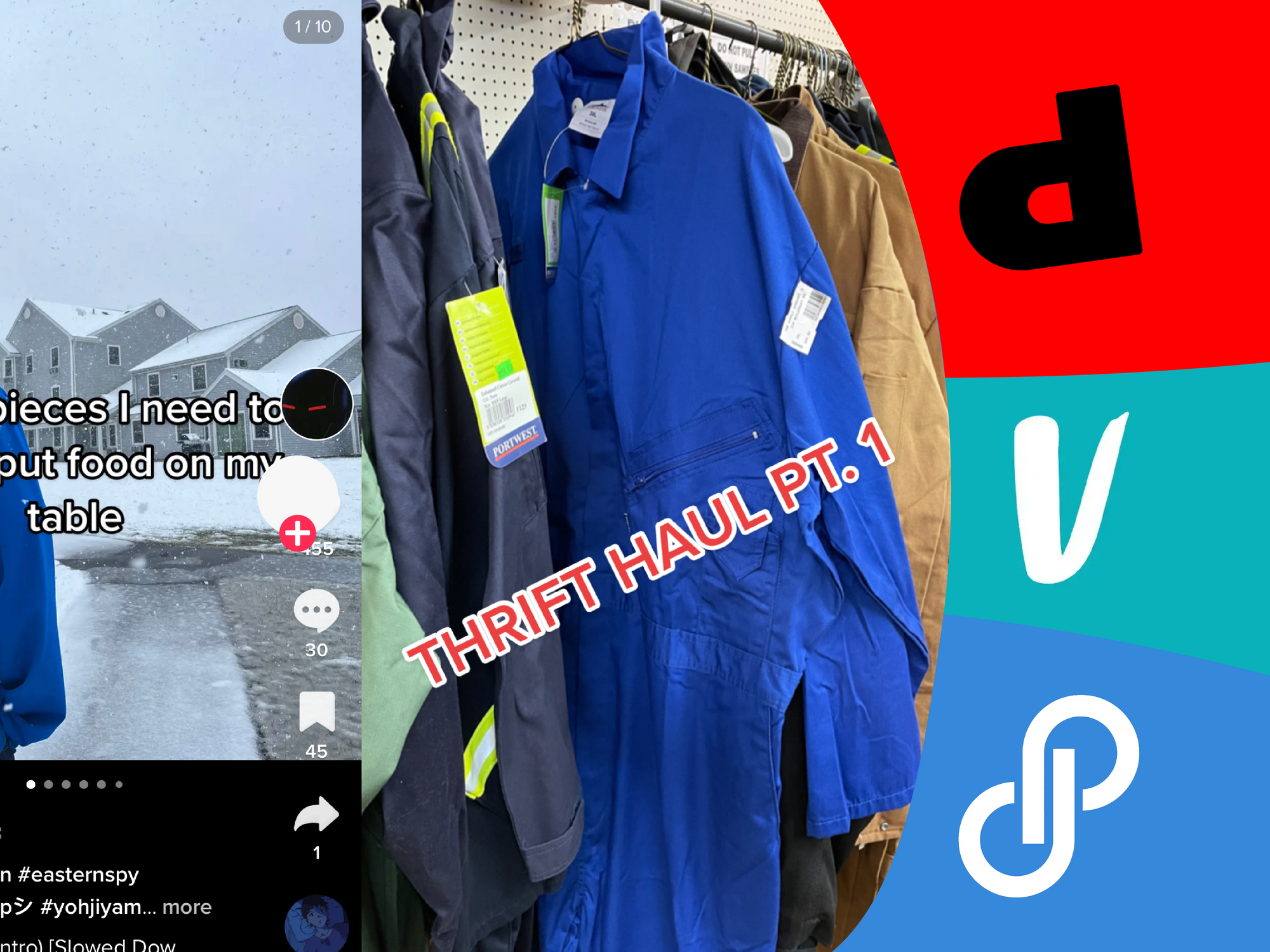 Evan Xie
If you can believe it, it's been more than a decade since rapper Macklemore extolled the virtues of thrift shopping in a viral music video. But while scouring the ranks of vintage clothing stores looking for the ultimate come-up may have waned in popularity since 2012, the online version of this activity is apparently thriving.
According to a new trend story from CNBC, interest in "reselling" platforms like Etsy-owned Depop and Poshmark has exploded in the years since the start of the COVID-19 pandemic and lockdown. In an article that spends a frankly surprising amount of time focused on sellers receiving death threats before concluding that they're "not the norm," the network cites the usual belt-tightening ecommerce suspects – housebound individuals doing more of their shopping online coupled with inflation woes and recession fears – as the causes behind the uptick.
As for data, there's a survey from Depop themselves, finding that 53% of respondents in the UK are more inclined to shop secondhand as living costs continue to rise. Additional research from Advance Market Analytics confirms the trend, citing not just increased demand for cheap clothes but the pressing need for a sustainable alternative to recycling clothing materials at its core.
The major popularity of "thrift haul" videos across social media platforms like YouTube and TikTok has also boosted the visibility of vintage clothes shopping and hunting for buried treasures. Teenage TikToker Jacklyn Wells scores millions of views on her thrift haul videos, only to get routinely mass-accused of greed for ratching up the Depop resell prices for her coolest finds and discoveries. Nonetheless, viral clips like Wells' have helped to embed secondhand shopping apps more generally within online fashion culture. Fashion and beauty magazine Hunger now features a regular list of the hottest items on the re-sale market, with a focus on how to use them to recreate hot runway looks.
As with a lot of consumer and technology trends, the sudden surge of interest in second-hand clothing retailers was only partly organic. According to The Drum, ecommerce apps Vinted, eBay, and Depop have collectively spent around $120 million on advertising throughout the last few years, promoting the recent vintage shopping boom and helping to normalize second-hand shopping. This includes conventional advertising, of course, but also deals with online influencers to post content like "thrift haul" videos, along with shoutouts for where to track down the best finds.
Reselling platforms have naturally responded to the increase in visibility with new features (as well as a predictable hike in transaction fees). Poshmark recently introduced livestreamed "Posh Shows" during which sellers can host auctions or provide deeper insight into their inventory. Depop, meanwhile, has introduced a "Make Offer" option to fully integrate the bartering and negotiation process into the app, rather than forcing buyers and sellers to text or Direct Message one another elsewhere. (The platform formerly had a comments section on product pages, but shut this option down after finding that it led to arguments, and wasn't particularly helpful in making purchase decisions.)
Now that it's clear there's money to be made in online thrift stores, larger and more established brands and retailers are also pushing their way into the space. H&M and Target have both partnered with online thrift store ThredUp on featured collections of previously-worn clothing. A new "curated" resale collection from Tommy Hilfiger – featuring minorly damaged items that were returned to its retail stores – was developed and promoted through a partnership with Depop, which has also teamed with Kellogg's on a line of Pop-Tarts-inspired wear. J.Crew is even bringing back its classic '80s Rollneck Sweater in a nod to the renewed interest in all things vintage.
Still, with any surge of popularity and visibility, there must also come an accompanying backlash. In a sharp editorial this week for Arizona University's Daily Wildcat, thrift shopping enthusiast Luke Lawson makes the case that sites like Depop are "gentrifying fashion," stripping communities of local thrift stores that provide a valuable public service, particularly for members of low-income communities. As well, UK tabloids are routinely filled with secondhand shopping horror stories these days, another evidence point as to their increased visibility among British consumers specifically, not to mention the general dangers of buying personal items from strangers you met over the internet.
Lon Harris
Lon Harris is a contributor to dot.LA. His work has also appeared on ScreenJunkies, RottenTomatoes and Inside Streaming.