youtube
youtube
The prospect of internet fame is no longer enough to bring in the best and brightest. Instead, paying for content has become table stakes for these platforms as they battle one another and compete in the broader attention economy.

Netflix chief executive Reed Hastings made that clear in a recent earnings call, when he called YouTube — rather than other streaming services or theater chains — his company's "second largest direct competitor."
Within the last two years, at least 10 platforms have announced they'll be paying creators for their work, but the size of the purse, what type of content they're funding and how differs by platform.
"These types of funds are what a lot of creators have been waiting forever for, and as soon as one platform starting doing it, the others had to follow suit," said David Rhodes, a multiplatform content creator with over 10 million followers across his 12 accounts, who has earned a few thousand dollars from Snapchat's creator fund.
Whether this new funding will be enough to lure talent and sustain quality content remains to be seen, but the financial arms race has been welcomed by many creators.
Here's a quick look at each:
TikTok has said that within three years, its creator fund will grow to over $1 billion in the U.S. and more than double that globally. Only residents of certain countries are currently eligible, and successful applicants must meet other criteria, including having at least 10,000 authentic followers and receiving 100,000 views in the last 30 days. To apply, users must have a creator account, which is free to make, and submit an application via the app. Payouts are based on video views and engagement, and no caps have been set for outlays per day or to a given user, the company says.
YouTube's "shorts fund" is a $100 million pool that will be distributed through 2022. Available to creators in India and the U.S., it is an effort to boost YouTube's presence in the short-form video market via its new "Shorts" product. Phil Ranta, a social media veteran and CEO of Wormhole Labs, said he has seen lots of creators with relatively modest followings earn "bonkers" views via Shorts. YouTube says it will reach out to creators whose Shorts earn the most views and engagement each month, and called the fund "the first step in our journey to build a monetization model for Shorts on YouTube."
Snapchat is offering $1 million per day to creators on "Spotlight," a TikTok-like video-broadcasting feature launched late last year that heralded Snap's departure from an exclusive focus on peer-to-peer messaging. Anyone can submit clips to Spotlight and be eligible for the funding. Payments are distributed based on an algorithm that checks whether a post passes a "value threshold" within seven days. Snap has said factors the algorithm looks for will vary but may include unique views and performance relative to other users' posts.
Facebook set aside $25 million for a Black creator fund in 2020, available to U.S. residents with at least 10,000 Facebook or Instagram followers. The program launched in August and applications are now closed. Instagram, owned by Facebook, does not have a general creator fund, though its head, Adam Mosseri, has suggested it might create one in the future. Reports have surfaced indicating that Instagram has sought to lure some creators to its platform with lavish payments.
Pinterest has a creator fund that reportedly measures $500,000 and is open for application; participants receive $25,000 in cash and ad credits and participate in a four-week workshop. Clubhouse has indicated it will offer application-based creator grants but has not publicized details, and ran an inaugural creator accelerator program that closed applications in March. Substack offered $25,000 each to four selected writers in 2020 while OnlyFans provided four £20,000 grants to UK-based musicians.
How Some Artists Are Gaming 'Creator Funds'
The largest funds are algorithmic and the factors that trigger payouts are a moving target, but that doesn't mean they can't be gamed.
"There's always an exploit," said Ranta, noting that conversations among creators and agents often include sharing tactics for what seems to be working.
One hack he cited pertains to Snap's Spotlight fund. Some creators with big followings have found they can post to Spotlight as frequently as every five minutes with simple videos such as blowing a kiss to the camera, and earn money for it, Ranta said.
Accessing the funds can also simply mean posting relentlessly.
"The more content you can push out the better," said Rhodes. "Although some videos may do well and some won't, you're still increasing your chances of videos taking off and earning money."
Rhodes said it's key to find "formula," and "ride it out until it stops working — or until the novelty wears off — and then switch it up and try different things until you find a new formula that works, and ride that one, too."
Ranta noted that a good way to know what a platform algorithmically prefers is to monitor the company's press releases and best practices guides.
"You put those two together and you kind of get it," he said.
Conversations about how to hit the moving target also take place on forums like TubeBuddy, in addition to Reddit and Discord. Proceed with caution, though.
"Those are really hit or miss," said Ranta, or downright "unfounded gossip."
Los Angeles tech startup Jellysmack has joined the unicorn ranks for its AI-based software that drives viewers to YouTube creators like MrBeast and Brad Mondo.
The company announced Wednesday an undisclosed Series C funding round led by SoftBank Vision Fund 2, whose portfolio spans the buzziest consumer platforms from ByteDance to Cameo.
Using up to 30 "multivariate tests," Jellysmack said it can determine what titles and editing tricks will help videos rack up views and engagement across Facebook, Instagram, TikTok, Snapchat and Youtube.
About 200 content creators use the service, like YouTubers like PewDiePie, MrBeast and Bailey Sarian. The startup trims down the length of their videos and edits thumbnails and subtitles. Once videos go live on YouTube, Jellysmack runs paid advertisements and targets "an audience that is highly likely to be interested," said spokesperson MK Glenning.
Take Brad Mondo, a hairstylist and social media personality with nearly seven million YouTube subscribers. A year after joining Jellysmack, the company said his Snapchat followers grew by ten times and his Facebook followers by four.
"Media consumption has pivoted massively in recent years with mobile video content rapidly outpacing TV," Yanni Pipilis, managing partner at SoftBank Investment Advisers, said in a statement. "There are now 50 million creators but only 0.1% are able to make a full-time living from their content.
The startup, founded in 2016, boasts 10 billion global video views and 125 million viewers across social platforms each month. It also publishes videos on Jellysmack's own social channels, spanning beauty, soccer, gaming and entertainment.
Jellysmack went profitable in 2020, and doesn't charge creators. Instead, it makes money instead through a revenue share model using income generated from the social platforms under their management.
And it wants to go global. The investment from Softbank's CEO and Chairman Masayoshi Son will help the company expand internationally. Glenning would not disclose the amount of this funding round, but prior to it, said the unicorn had raised $40 million.
The creator of YouTube "channels" launched a new online video platform for learning on Tuesday, taught by a roster of iconic artists and celebrities from Madonna to Deepak Chopra.
Bright is the L.A.-based brainchild of Guy Oseary — investor and music manager for acts including Madonna and U2 — and Michael Powers, who was behind "channels." Their new platform focuses on livestreamed, interactive teaching sessions.
At launch, Bright boasts over 200 hosts, whose source of fame and following spans the traditional to the digital. Madonna, Ashton Kutcher, Amy Schumer, the D'Amelio Sisters, Judd Apatow and Deepak Chopra are among current instructors.
"At YouTube, we saw that 20% of video views were learning content from individual creators," Powers said in a statement. "There is an incredible appetite to learn from other people and I wanted to develop a platform that provided more interaction and intimacy."
Initial courses include a "Tell Your Story" guest interview program hosted by actress Laura Dern and "Champions Talk" with basketball analyst Kenny Smith, who will interview athletes about their competitive psychology. The stars of reality show "Property Brothers" offer a course on home design, and Ronnie2K — known for offering tips for winning video games — offers tips on how to build a gaming career.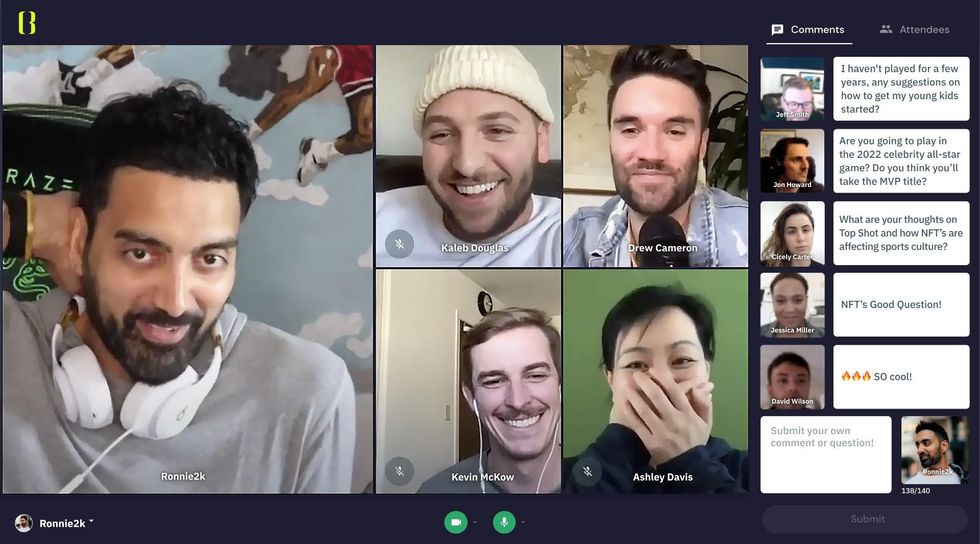 Hosts on Bright will develop a curriculum and set the schedule, class-size and price, of which Bright will take a 20% cut. Courses will fall into one of six categories: body, mind, culture, home, money and craft.

The company was founded in mid-2020. Oseary's Sound Ventures, which he co-founded with Ashton Kutcher, is the lead investor. RIT Capital, Norwest, Globo and Slow Ventures also participated in the seed round. The company did not disclose how much it has raised.
There's no shortage of competing platforms. MasterClass also sells celebrity-led courses, and just raised a $100 million Series E round of funding. Bright is seeking to differentiate itself by offering live, interactive sessions it bills as more akin to conversations, and Oseary is leveraging his rolodex to power the company.
Powers, intimately familiar with Google-owned YouTube, thinks Bright can provide a boost to creators and celebrities that other platforms cannot.
"The fact that creators don't even know who their core audience is, because these ad-driven platforms won't tell them, means they can't take their business to the next level," he said.
In addition to its 200 initial hosts, Bright says it has over 1,500 more on its waitlist. Apart from a handful of them who are company advisors, they did not receive financial incentives to join.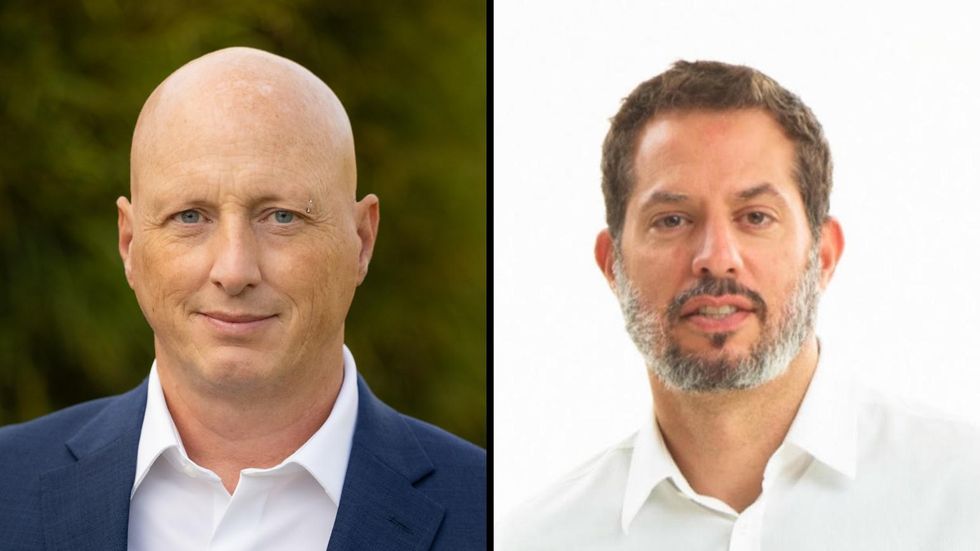 Bright is the L.A.-based brainchild of Guy Oseary (right) — investor and music manager for acts including Madonna and U2 — and Michael Powers, who was behind YouTube "channels."
Instead, Powers said, what attracted them is the opportunity to expand their business of being a celebrity and strengthen their fan relationships. When Bright users opt-in to updates about a host's courses, they also consent to sending their contact information.

"That allows the creators to then take those people to their mailing list. They can take them to their Shopify shop," said Powers. "Whatever they have going on in their business, they can connect those people into that bigger universe of things they're doing."
It's a contrast to what many other video platforms do, particularly those whose business is selling ads.
"When you have an ad-driven platform from the beginning, the ownership of the relationship of your audience is fundamentally with the platform," said Powers.
"Is a Google sales team going to truly value an individual high-profile creator on their platform?" he added, implying their primary constituent of interest is the advertiser.
Bright is built atop Zoom, using the video chat company's software development kit through its partnership program. Bright will add customized features that, for example, allow hosts to invite users to speak with them "on stage."
Working under Powers, who will be Bright's CEO, is a team with experience at numerous tech companies, including Caffeine, Instagram, Pinterest, Apple and Facebook.
"I was there at the beginning of the creative economy coming in on YouTube," said Powers, "and now it's time for them to go even further."
From Your Site Articles
Related Articles Around the Web