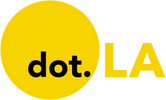 Get in the KNOW  
  on LA Startups & Tech  
X
Courtesy of Santeri Viinamäki
Remote Work Means More Demand for Privacy Tools — Bitwarden Is Answering the Call
Christian Hetrick
Christian Hetrick is dot.LA's Entertainment Tech Reporter. He was formerly a business reporter for the Philadelphia Inquirer and reported on New Jersey politics for the Observer and the Press of Atlantic City.
04:11 PM | September 06, 2022
Bitwarden, an open-source password manager, has raised $100 million as the rise of remote work and our increasingly online lives boosts demand for digital security tools.
Growth equity firm PSG led the funding round and was joined by Battery Ventures, an existing investor in Bitwarden. The raise is Bitwarden's first publicly-disclosed external funding since the Santa Barbara-based company launched in 2015.
---
Between work and personal needs, people must manage a growing number of online credentials. Too often, people reuse the same passwords across several accounts, putting consumers and businesses at risk of fraud and cyberattacks. Bitwarden offers free and paid tools to more safely store unique credentials, generate hard-to-guess passwords and transfer sensitive data to other people.
The 125-person company competes against incumbents like LastPass and 1Password in a market that's expected to nearly quintuple to more than $7 billion by 2030, according to Straits Research. Tech titans like Apple and Google also offer password management tools within their browsers and devices—with Apple recently announcing plans to eventually ditch passwords altogether.
Bitwarden aims to stand apart by offering free and cheaper plans than its rivals, with premium subscriptions starting at $10 per year for individuals and $5 per month per user for enterprises. The company also makes its software open-source, so people can examine the security of the platform themselves. Bitwarden pays for third-party audits and partners with a company to regularly scrutinize the code, all in an effort to showcase to customers that the software is sound, Chief Customer Officer Gary Orenstein told dot.LA.
"[Open-source] is the only way that you can provide 100% transparency, to get you to the maximum amount of trust in the relationship of customers using your software," Orenstein said. "If it's not open source, how do you know it's secure?"
The company plans to use the fresh funds to develop its tools, grow its global customer base and secure more with partnerships with tech resellers and other third-parties. In addition to password management, the firm has expanded into services like Bitwarden Send, which lets people send encrypted text and files that can self-delete. Bitwarden is also among the companies working to expand passwordless security options, such as using fingerprints or codes sent to devices instead of remembering a single password.
Orenstein said Bitwarden saw a boost in business when companies sent their employees home to work remotely during the pandemic. That trend, along with high-profile data breaches, has businesses and individuals seeking out security tools like Bitwarden's, Orenstein said.
"We've seen recognition from the business IT teams that we're dealing with people who are going to be in different places, connecting over different networks, and we need to enable them to provide the most appropriate security," Orenstein said.
Christian Hetrick
Christian Hetrick is dot.LA's Entertainment Tech Reporter. He was formerly a business reporter for the Philadelphia Inquirer and reported on New Jersey politics for the Observer and the Press of Atlantic City.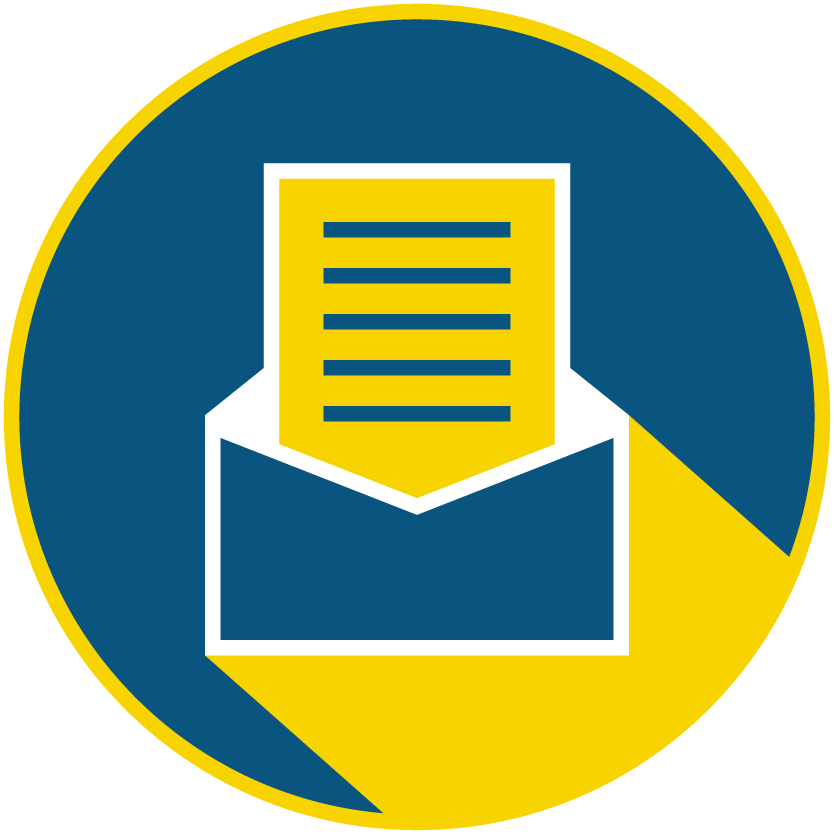 Subscribe to our newsletter to catch every headline.
05:00 AM | January 31, 2022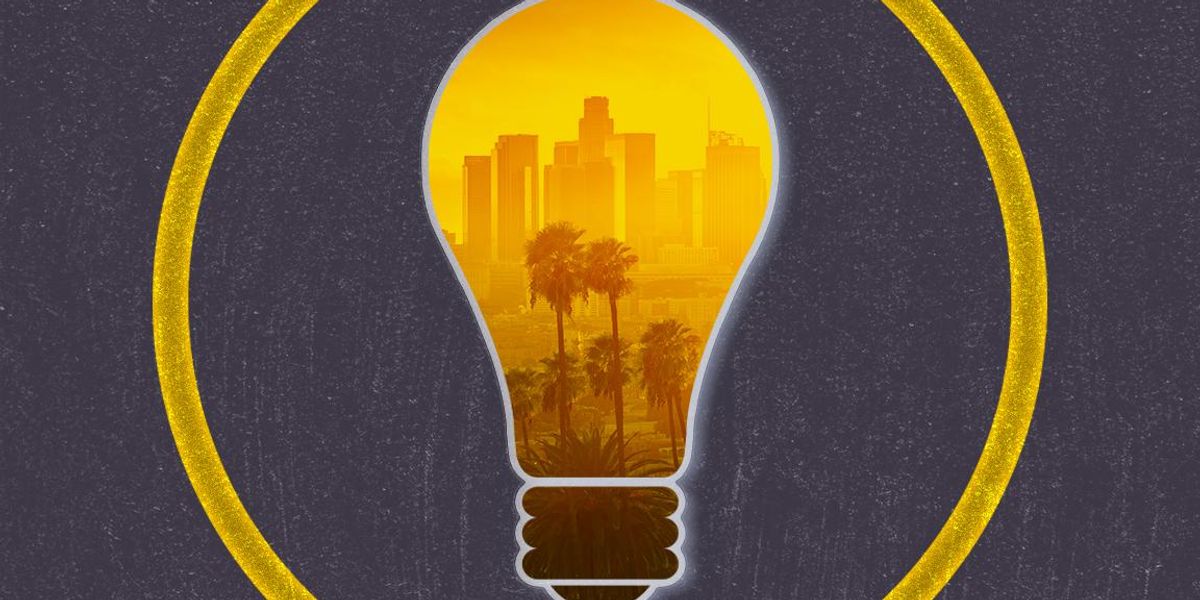 Illustration by Ian Hurley
In Los Angeles—like the startup environment at large—venture funding and valuations skyrocketed in 2021, even as the coronavirus pandemic continued to surge and supply chain issues rattled the economy. The result was a startup ecosystem that continued to build on its momentum, with no shortage of companies raising private capital at billion-dollar-plus unicorn valuations.

In order to gauge the local startup scene and who's leading the proverbial pack, we asked more than 30 leading L.A.-based investors for their take on the hottest firms in the region. They responded with more than two dozen venture-backed companies; three startups, in particular, rose above the rest as repeat nominees, while we've organized the rest by their amount of capital raised as of January, according to data from PitchBook. (We also asked VCs not to pick any of their own portfolio companies, and vetted the list to ensure they stuck to that rule.)
Without further ado, here are the 26 L.A. startups that VCs have their eyes on in 2022.
Harri Weber
Harri is dot.LA's senior finance reporter. She previously worked for Gizmodo, Fast Company, VentureBeat and Flipboard. Find her on Twitter and send tips on L.A. startups and venture capital to harrison@dot.la.
05:31 PM | August 01, 2022
Image courtesy Arkive
Historical documents, records and important artifacts are sometimes locked away in vaults (until a museum or library wants to showcase them), and under restricted access. Thomas McLeod believes that these artifacts hold great value and have the potential to impact communities, so he founded Arkive, the first decentralized, physical museum.
The inspiration for Arkive came from McLeod's previous company, Omni, a physical storage company acquired by Coinbase in 2019.
"We thought it would always be like utility items and we started getting full sneaker collections, vintage posters, records, comic books that were valuable and we kind of had a panic attack," McLeod told dot.LA. "The business [Omni] was built around storing bikes, and you can't put a vintage record next to a dirt bike. They just don't store in the same manner."
McLeod was fascinated by the items and collections that came through the door. To him, it felt like browsing a museum of curated items that everyday people collect.
That's when McLeod knew he was onto something.
McLeod has built startups before. Past projects included Pagelime, acquired in 2015 by SurrealCMS, and in 2012 LolConnect was acquired by Tencent.
The items in Arkive's collections are hand-selected by members who vote on what items they want to acquire. The organization currently has 300 active users, and there are hundreds on the waiting list. McLeod confirmed to dot.LA that they will increase the number of members admitted to 50 people each week with plans to cap admissions at 1,000 for the first phase. He added that while membership is free today, that will likely change in the future.
People interested in becoming members must apply on Arkive's website, where they will answer individual questions about their interests and occupations.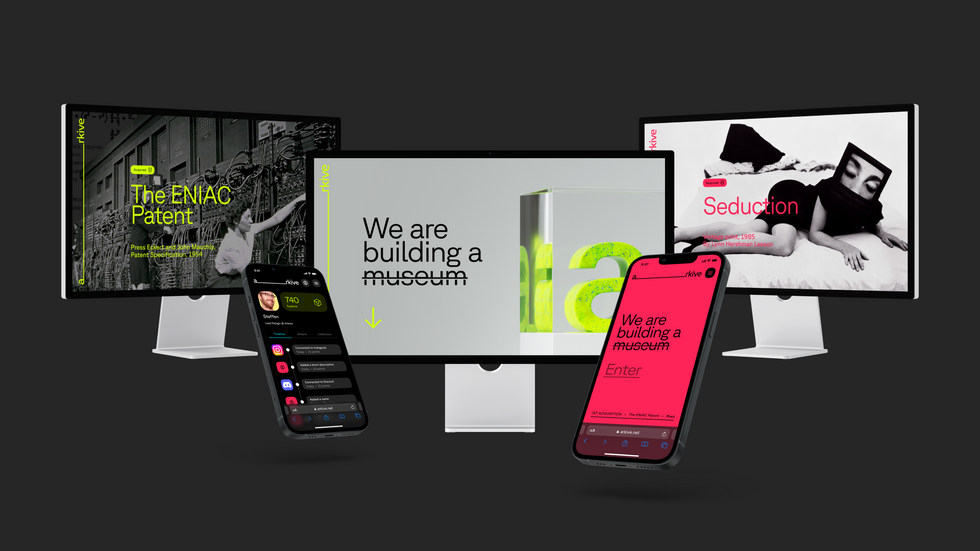 Arkive's physical, blockchain-inspired museum is coming to Santa Monica. Courtesy of Arkive
Just as museums have a lobby, Arkive has its "atrium." In this space, every member enters and registers their cryptocurrency wallets. Once registration is complete, members can vote on the blockchain for the artifact or piece of art they want Arkive to acquire. Prior to voting, to ensure they are well informed, members will have the opportunity to learn about each artifact from the artist, the gallery or the collector who previously held the item.
Since there is a surplus of artifacts around the world, Arkive's team of curators handpick options that are relevant to the current theme: "When Technology Was a Game Changer." While each round of voting is different, McLeod said the voting window for members usually lasts five days (M-F).
Arkive has acquired two items since coming out of stealth mode, the first one being the original patent for the ENIAC – known as the world's first programmable, electronic general-purpose computer. In addition to ENIAC's patent, members also voted to acquire Seduction (1985), a vintage print by Lynn Hershman Leeson, which will be part of Arkive's first public exhibition at the Art Basel Miami Beach in December 2022. Once items are acquired, they will be loaned to museums or galleries to be placed on display for the public to enjoy—at locations Arkive members believe have the most significant cultural impact.
"For instance, the ENIAC patent, we would love it if it lived at the Computer History Museum in San Mateo. If we acquired a Frida Kahlo, we would love it if it was in Mexico City or somewhere that mattered to her art or the family that she was a part of," McLeod said.
The Santa Monica-based startup announced last week that it raised $9.7 million in a seed funding round led by Offline and TCG Crypto. Other participants included NFX, Freestyle Capital, Coinbase Ventures, Not Boring Capital, Precursor, Chainforest, Coil, Julia Lipton, Joe McCann, Chris Cantino, Marty Bell and Paul Veradittakit.
"People who committed were all the way in and did not hesitate to support and be a part of the journey," McLeod said. "It got us the right people that are in it for the long haul and really care about not just the business but the potential cultural impact that it could have. So having the right investors to me is more important than just money."
Some of the funding will be allocated towards expanding the team, but a majority of the capital raised will go into acquiring more artifacts. McLeod said Arkive has three more acquisitions lined up in the next three months, but the eventual goal is to acquire two pieces a month.
Correction: An earlier version of this piece misspelled Thomas McLeod's last name.
Decerry Donato
Decerry Donato is a reporter at dot.LA. Prior to that, she was an editorial fellow at the company. Decerry received her bachelor's degree in literary journalism from the University of California, Irvine. She continues to write stories to inform the community about issues or events that take place in the L.A. area. On the weekends, she can be found hiking in the Angeles National forest or sifting through racks at your local thrift store.