3d printing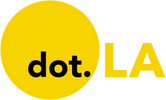 Get in the KNOW
on LA Startups & Tech
X
3d printing
Courtesy of Divergent Technologies.
Divergent Technologies wants to radically change automotive manufacturing with 3D printing, smarter software and an entirely new approach to assembly. A new $160 million round of funding should help the Torrance-based startup on that mission.
Divergent unveiled the Series C round on Monday, announcing investors like businessman (and 2020 Democratic presidential candidate) Tom Steyer and former Goldman Sachs president John L. Thornton, who has joined the company's board of directors (Thornton also currently sits on Ford Motor Co.'s board). Bloomberg reported that London-based investment firm Hedosophia also participated in the round, which values Divergent at more than $1 billion and adds to $200 million in previous funding from the likes of Horizons Ventures and Altran Technologies.
The company's technology combines generative design and 3D printing to create custom-tailored components for auto parts manufacturers. Its software inputs the volume of the part, where it needs to connect to the rest of the vehicle and what kind of loads it needs to tolerate. The computer then calculates the optimal shape and design for the final product; designs can be optimized for weight, strength, cost and other parameters. Once a design is selected, it's constructed, layer by layer, by one of Divergent's printers, and then assembled autonomously.
"It's an entirely new production system that we've created from scratch," Divergent senior vice president Lukas Czinger told dot.LA. "If your cost target changes, or your mass target changes, or your design volume changes, or you want to quickly introduce a variant to your car. Within days, literally, we can design, print and assemble that new design."
Czinger was tight-lipped about which specific auto manufacturers the company is working with—but said Divergent would be making announcements this summer, and that three of the original equipment manufacturers (OEMs) it is working with "are within the five largest OEMs in the world." Czinger confirmed that some of the car models that Divergent is designing for are electric vehicles.
In addition to making auto manufacturing cheaper and faster, Divergent also claims its system can reduce the industry's carbon footprint by reducing waste and improving efficiency. Steyer—an environmentalist who made climate change a major part of his presidential campaign platform—said Divergent is "one of the companies I'm most hopeful will have an important impact on our ability to combat climate change" in a statement.
"Zero-emissions vehicles are an important part of a greener future, but if we can't reduce the environmental costs of building them in the first place, their impact will never be fully realized," Steyer said. "Divergent's technology can change that."
Divergent said it will use the funding to scale up its manufacturing facilities, with plans for new factories in the U.S. and Europe "starting in 2024."
From Your Site Articles
Related Articles Around the Web
NASA/JPL-Caltech
When Perseverance arrives on Mars early next year, it will be the first landfall for a rover carrying 3D-printed metal parts and a small victory for proponents of the technique in the high-cost, high-risk world of the U.S. aerospace program.
NASA's Jet Propulsion Laboratory, nestled in the foothills of La Cañada Flintridge, has seen a slow cultural shift over the last decade toward the adoption of 3D printing techniques, more formally known as "additive manufacturing," in spacecraft design. The technology uses lasers to melt metal powder that is layered to precise computer modeling, until that metal takes the shape of whatever engineers need.
For years, 3D printing has been relegated to the realm of nerdy hobbyists, but its adoption by startups and big business has helped push NASA leaders toward accepting more innovation despite the risks. These days, 3D printing has been used on airplane engines, houses, hearing aids, chocolates, Tesla car components and even a pair of Adidas shoes.
"I have seen a 3D printed burrito, and it didn't look as delicious as Chipotle," said Scott Roberts, a JPL materials technologist, with a laugh.
The evolution has been decades-long, and partly propelled by the private sector push of aerospace companies like SpaceX, Relativity Space, Blue Origin, Maxar Technologies and Lockheed Martin.
While no panacea, some of the benefits of 3D printing come from its ability to save time in the otherwise time-consuming machining process and to engineer bespoke components that cut down on mass and simplify parts. All are crucial, as aerospace missions are often timed to planetary alignment and can cost millions more dollars per kilogram.
The goal is to use additive manufacturing to enhance performance, solve problems and make parts "you just can't make any other way," Roberts said. "If your schedule is slipping and all of a sudden you have to wait two years, the monetary cost is enormous."
JPL technologists are still working on understanding its uses and how to improve it. But there remains a culture and learning gap that's prevented its widespread adoption. The largest barrier, however, is the worry by old timers: Why risk screwing up a historic mission and ruining future opportunities by replacing tried-and-true manufacturing techniques?
NASA's 3D Printing Technique www.youtube.com
The Nuts And Bolts of Printing Rover Parts
Amid planning for the Mars rover mission, Andrew Shapiro, who manages technology formulation at JPL, said he was interested in which parts made sense to manufacture additively and which didn't.
When Shapiro checked out work on MOXIE, which is testing a technology to produce oxygen on the Red Planet carried by the rover, engineers told him they had a problem sealing its crucial heat exchanger, a complex system with lots of very fine channels.
"It was very expensive to machine, they were going to blow their budgets and schedules, and it was going to take months," Shapiro said. "My office has advanced technology experiments, so I said, 'I'll fabricate one using additive for you, see if it works. If you like it, use it.'"
The part was far less expensive to print than it would have been to create through traditional manufacturing methods — and it solved the MOXIE engineers' problems.
The Perseverance rover, which lands on Mars on Feb. 18, 2021, carries 11 metal parts that were 3D printed. Five of those are on its PIXL instrument, which is about the size of a lunchbox and will be used to help the rover search for signs of fossilized microbial life by shooting out X-ray beams.
The instrument was designed with a two-piece titanium shell that has to be extremely thin, which made traditional machining methods very challenging, time consuming and therefore costly. Using metal 3D printing, JPL outsourced the work to Carpenter Additive, in Camarillo, Calif., which created components that were several times lighter than they would have otherwise been able to achieve.
The MOXIE heat exchanger, however, was 3D printed in-house at Caltech, which manages JPL. Rather than welding together two separate parts, JPL's engineers 3D printed it in one single piece.
Andre Pate, the group lead for additive manufacturing at JPL, called the use of 3D metal printing on the rover "a big win for us at JPL."
"We are trying to convince our own people here who are more conservative and less willing to take on risk -- rightfully so," Pate said. "We're trying to prove that, that there isn't as much risk or that there's ways to mitigate that risk."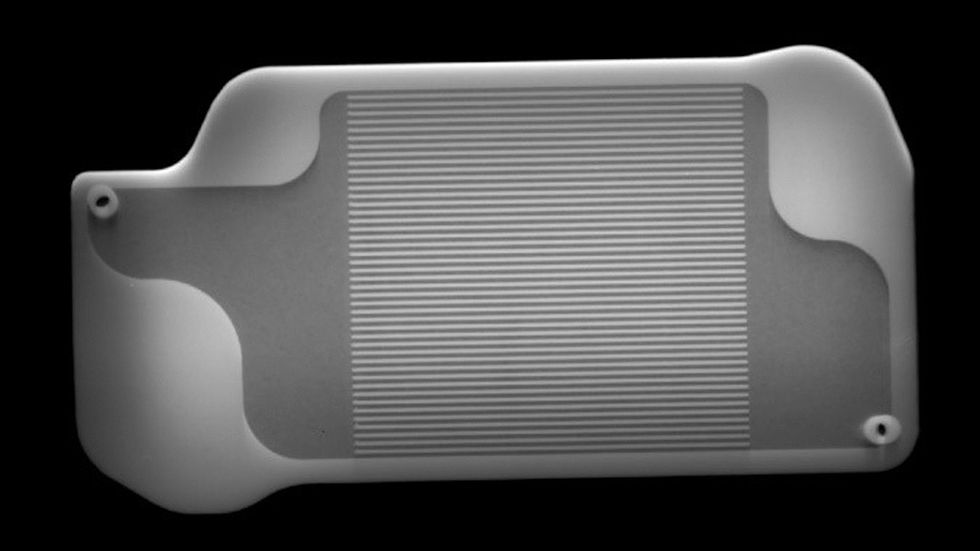 This X-ray image shows the interior of a palm-size 3D-printed heat exchanger inside Perseverance's Mars Oxygen In-situ Resource Utilization Experiment (MOXIE)NASA/JPL-Caltech
The Private Sector Forges Ahead
In the meantime, a broader ecosystem of startups is pushing ahead with incorporating additive techniques.
SpaceX is hiring for multiple roles, including a materials engineer and a manufacturing technician, who can "support 3D printing technology for production of components used on both the Falcon 9 rocket and the Dragon spacecraft." Its rocket resupply, which recently traveled to the International Space Station, had 3D printed parts, Shapiro said.
Canoo, the electric vehicle company, is also hiring an additive manufacturing lead as it prepares for its first vehicle launch. And of course, Relativity Space is 3D printing rockets with the ultimate goal of doing so on Mars.
"JPL is very slow moving in this way," Shapiro said. "Places like SpaceX or Maxar, they 3D print dozens of parts. [These] other companies have been quicker to adopt the technology. Interestingly enough, I think we know more about the technology than they do because SpaceX isn't willing to pay a lot of universities to develop models and that kind of thing."
Plus, Shapiro added, "they all want to keep their stuff secret and don't want to share it with the rest of the world. But the rest of the world passes them by when they do that."
Regardless, as more of its subcontractors and other aerospace companies use 3D manufacturing techniques, JPL has been pushed to gain a better understanding, and it has shared that expertise with the companies even if lab leadership is less willing to incorporate it themselves, Shapiro said.
"JPL will actually adopt things more easily from the outside than the inside," Shapiro said. "So it's easier for me to go buy a part from a subcontractor using additive than it is for me to say 'we should design this using additive'."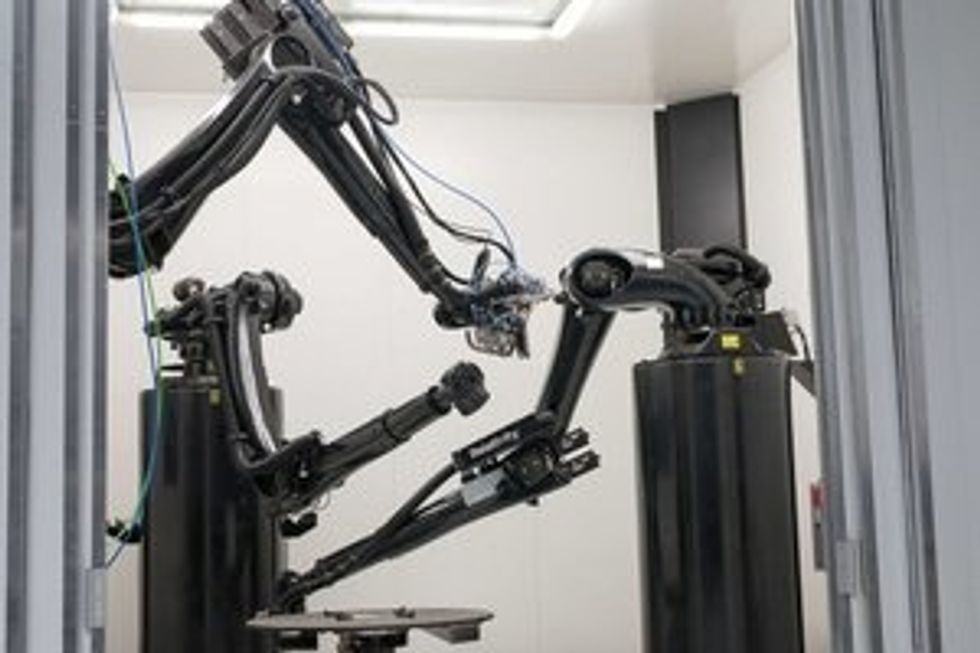 Relativity Space hopes to make Mars-bound rocketships with 3D printing. assets.rebelmouse.io
Part of the reason is that NASA management is still reluctant to adopt new untested technologies for building parts that have otherwise been effectively created using longstanding conventional manufacturing processes.
"So when someone says 'would you...risk a billion dollar mission on it'? You have to argue, it isn't really that risky," Roberts said.
Several years ago, JPL vendor Lockheed Martin built the spacecraft Juno to collect data and take photos of Jupiter. Lockheed slipped in a couple additive parts into that spacecraft, Shapiro said.
"They didn't tell us until after it had launched," Shapiro said, noting that "our vendors are willing to go a little further than we are."
It became the first planetary spacecraft to make use of 3D printed parts, specifically titanium metal brackets.
A Slow Start
The first time Andrew Shapiro — now a JPL thought leader in additive manufacturing — was approached by a colleague about using 3D printing for metal parts was around 11 years ago, when he was the chief technologist of the engineering enterprise division. Shapiro was aware of the tech, but it was not taken seriously for space flight.
"I told him to go away," Shapiro said. "I said, 'Naw, I don't think this will ever work.'"
Shapiro said he gave in to his colleague's persistence and traveled to a spin-off company of nearby Sandia Labs in Albuquerque, New Mexico to take a look. Soon, JPL was studying how to create a gradient of metal from, say, steel on one end of a part to titanium on the other, enabling the steel ends of two separate parts to be bolted together more effectively if need be.
"It turns out this is not easy to do. It took us about 10 years to figure it out," Shapiro said. "That's because that transition between the two metals can create brittle structures that break or fracture."
JPL ended up sponsoring a slew of studies at universities, with Shapiro urging professors to look into how additive manufacturing works. At the time, Shapiro said, JPL realized nobody understood the process. JPL worked with the universities to set standards so that results were comparable and compatible. Today, every major university with an engineering program in the country has a significant program modeling additive processes.
Adopting and proving out the technology also required computer power to improve to study variables like air vortices created by a laser hitting metal powder and massive temperature gradients that go from a couple thousand degrees to room temperature in a tiny area, Shapiro said.
"I don't think the culture is there yet," Shapiro said. "It's being selectively adopted still [but] we haven't turned our whole design force into using additive."
Roberts said that sometimes it's a matter of an engineer saying " 'Oh man, we need this part,' and to make it traditionally is going to take two years" and that's when additive manufacturing, which can instead make the part in six months, gets its chance.
Known Unknowns
Another problem is there aren't great classes out there for teaching 3D printing at JPL's level.
And, the reality is that some people are intuitively very good, while other engineers just don't think that way, Shapiro said. "Designing parts of a spacecraft really shouldn't be just left to intuition," he said.
Shapiro said he believes the future of 3D printing includes integrating functions — much like today's phone is a combination of telephone, calendar, calculator and notepads. One example of this might be printing the antenna on a spacecraft directly as part of its structure. But no one knows how to design for this yet, Shapiro said, there's no guidebook or design rules. That's why he is working with colleagues to put together a course and some guidelines.
A 3D printer head scans over each layer of a part, blowing metal powder that is melted by a laser. - NASA/JPL-Caltech s3.amazonaws.com
"It's quite complex, and it's probably going to take me another 10 years to come up with it," Shapiro said. "We've just scratched the surface in terms of what the capabilities are."
For now, Shapiro believes JPL will continue to put more 3D-printed pieces into spacecraft, but doing larger prints like an entire space craft requires a major shift in culture and engineering understanding.
"It's difficult to answer when will people change their minds," Shapiro said. "JPL management tends to reflect NASA management, and NASA management is extremely risk averse, because they don't want to spend billions of dollars on a spacecraft, have it fail, and have a congressional hearing on why their multi-billion dollar spacecraft failed."
Even though many in JPL management would like things to progress faster, there are concerns that proposals that include 3D printing won't get the necessary buy-in, and could potentially put JPL's competitive edge at risk for NASA projects.
Still, Roberts is optimistic:
"We didn't have the computational power to do it until 10 to 15 years ago," he said. but with that power, "it's going to change the way we design things in the future."
__
Are you using 3D printing in new ways? My DMs are open on Twitter @latams. You can also email at tami[at]dot.la, or ask for my Signal.
A company that has its sights set on 3D printing rockets on Mars has gained another literal foothold toward making its launches reality.

Los Angeles-based Relativity Space announced Wednesday an agreement with the U.S. Air Force's 30th Space Wing to develop rocket launch facilities at Vandenberg Air Force Base's Building 330 and an adjacent area, bringing its launch capabilities to both coasts. The military base, which is also used by SpaceX for launches, is located roughly 2 ½ hours north of Los Angeles.
Relativity co-founder and CEO Tim Ellis said in an interview with dot.LA that the agreement, which took years of "intense vetting," is evidence of "signs of confidence from the U.S. Air Force and U.S. government" regarding the company's 3D printed rocket technology.
Relativity also said Wednesday it had secured a new launch contract with Iridium Communications Inc. that takes advantage of the new West Coast launch site at Vandenberg to deliver its satellites into orbit using Relativity's 3D printed launch vehicle Terran 1.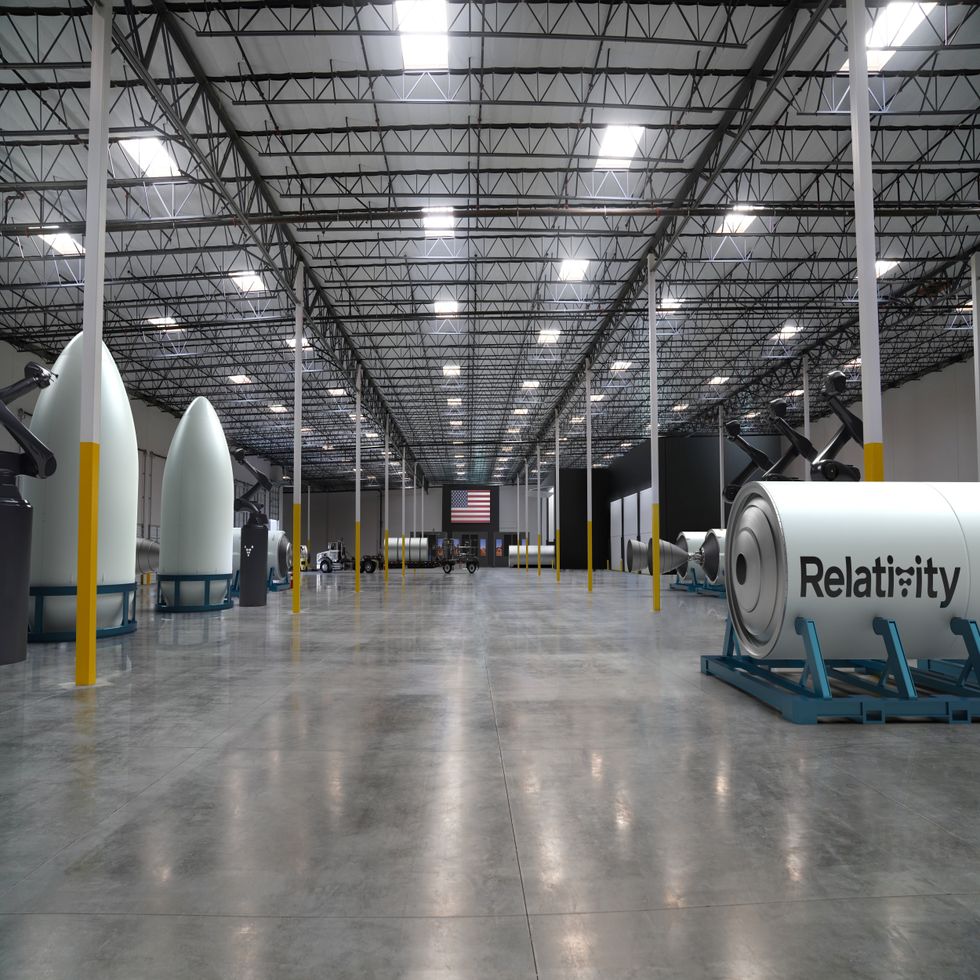 The contract with Iridium is for up to six launches to deploy spare satellites from storage into low-Earth orbit if needed. The constellation of 66 satellites provides low-frequency satellite connectivity for people and things on Earth. These launches aren't planned to take place before at least 2023.

Matt Desch CEO of Iridium said in a statement that though the satellite constellation is operating well, "it's prudent to have a cost-effective launch option for future spare delivery."
Relativity already has a launch site agreement at Cape Canaveral Launch Complex-16 that was granted last year, and an exclusive-use agreement for rocket engine test sites at NASA's Stennis Space Center in Mississippi. The company has done more than 300 individual engine tests, Ellis said.
But Vandenberg specifically helps open up the ability to launch rockets on a southern trajectory over the open ocean into polar orbits and sun-synchronous orbits. Sun-sync orbits are helpful for satellites engaged in Earth imaging, analyzing weather patterns and surveillance because they keep the angle of sunlight on Earth's surface consistent to track changes over time.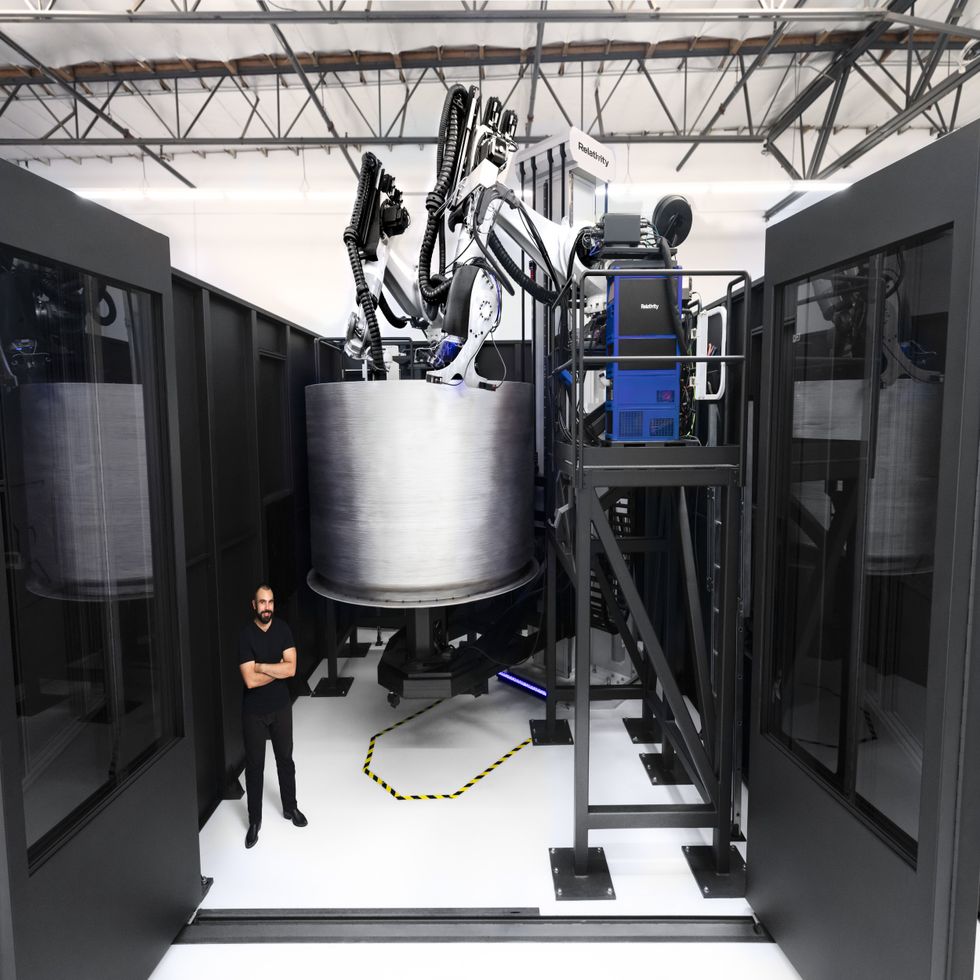 The B330 site is also strategic because it is the southernmost spot on Vandenberg, which means that Relativity's rockets would not fly over any active launch sites and the company anticipates having the fewest scheduling conflicts from there.

"We are impressed by Relativity's innovative approach to reinventing aerospace manufacturing via 3D metal printing and robotics," said Col. Anthony J. Mastalir, the 30th Space Wing commander, in a statement. "We look forward to working with Relativity as its West Coast launch partner for many years to come."
The 30th Space Wing of the Air Force also manages the Department of Defense's space and missile testing.
Relativity boasts the largest 3D metal printer in the world that uses a specially developed custom alloy that's stronger than traditional aluminum to build its Terran 1 rocket. A traditional rocket takes years to make and is comprised of about 100,000 individual parts, only a single digit percentage of it may be 3D printed. By comparison, Relativity's rocket is made up of less than 1,000 parts with about 95% of the rocket 3D printed and can be built from raw materials to launch-ready in less than 60 days, Ellis said.
Relativity's New Partnership with Iridium Communications
Though they haven't yet launched a 3D printed rocket, the new contract with Iridium is the company's fifth publicly named launch customer — along with Momentus, Spaceflight, mu Space and Telesat — since April 2019. Relativity declined to discuss other contracted public-private partnerships that it has signed.

The COVID-19 pandemic has not seemed to slow Relativity's launch plans; it's still on track for its first orbital launch by the end of 2021 out of Florida, Ellis said. One factor in keeping those launch plans through the pandemic: the company's Stargate factory and Terran 1 rocket are all designed, built and operated in the United States.
In February, the company announced it would be moving its staff to a new, 120,000 square feet headquarters in Long Beach that will be the site of the first-ever autonomous rocket factory.
During the pandemic, the company has added roughly 25 new members to its team, bringing the total employee count to 165 people. Its staff members have been working from home since early March with a single person per building at the factory who has been able to run 3D printers remotely.
Among the new hires in June are new CFO Mo Shahzad, who left his role as CFO at The Honest Company, and Zachary Dunn, who was a SpaceX executive responsible for production and launch and is now Relativity's VP of factory development for the new 3D printing factory.
Relativity closed its $140 million series C funding round led by Bond and Tribe Capital in October. The company is also backed by investors Playground Global, Y Combinator, Social Capital, and Mark Cuban.
__
Do you have a story that needs to be told? My DMs are open on Twitter @latams. You can also email me at tami(at)dot.la, or ask for my Signal.