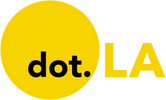 Get in the KNOW  
  on LA Startups & Tech  
X
Can More Accessory Dwelling Units Fix LA's Housing Shortage?
Amrita Khalid
Amrita Khalid is a tech journalist based in Los Angeles, and has written for Quartz, The Daily Dot, Engadget, Inc. Magazine and number of other publications. She got her start in Washington, D.C., covering Congress for CQ-Roll Call. You can send tips or pitches to amrita@dot.la or reach out to her on Twitter at @askhalid.
12:58 PM | October 19, 2022
Can more accessory dwelling units help a city with a chronic housing shortage?
A wave of new ADU startups that are based in L.A. or serving the region are betting on it. ADU companies like Otto (formerly known as Homestead), which focus on converting pre-existing structures (such as a garage) into housing, serve as a one-stop shop that will help homeowners with financing, design, permitting and labor. Other companies like Azure Printed Homes, Cover, United Dwelling and Villa Homes offer factory-built ADUs that are constructed off-site — also known as "prefab" ADUs. Others still, such as Cottage (based in San Francisco) partner with local contractors and help homeowners design, build and attain permits for their own custom ADUs.
ADUs (also known as granny flats, in-law apartments or backyard homes) describe a category of small, in most cases self-contained homes that can be built beside the original property. A prospect that's currently trending in Los Angeles, where a chronic housing shortage and sky-high rents coupled with a 2017 state law forcing cities to relax their ADU regulations.
But as novice ADU builders soon discovered, constructing a small house isn't a small task.
"I wouldn't say [..building an ADU] is exactly easy, almost anywhere," said Celeste Goyer, the policy director of Casita Coalition, an L.A.-based organization focused on expanding the use of ADUs for affordable housing throughout the state. "You can't just go home and pick up a hammer, and have your cousin help you build your ADU. And so expectation management for everyone involved is important."
The process of getting approved for an ADU normally takes months.
"Generally, many people struggle with the length and complexity of the permitting process and feel like their jurisdictions impose unnecessary red tape in the permitting process," said Alex Czarnecki, founder and CEO of the custom ADU firm Cottage.
But a number of additional laws may make ADU construction easier in California. Last year Governor Gavin Newsom signed SB 9 into law, which allows California homeowners to build a second house on a single-family zoned lot. Another law known as AB 221 requires local authorities to act on ADU permit applications within 60 days otherwise it's automatically approved.
"It's common for certain municipalities to take longer than that to respond to an application or provide incomplete sets of comments," said Czarnecki. "This drags out timelines for permitting and ultimately impacts the pace at which we can add housing."
Despite the new laws, few homeowners, Czarnecki said, should attempt to build an ADU by themselves.
"The fact remains that the average homeowner is not a land developer and is not trained or prepared to oversee and manage the design and construction of a new unit on their lot," added Czarnecki.
To that end, the heads of some ADU companies still believe more has to be done to improve financing the expensive building projects — as well as making them more affordable to low-income and moderate-income individuals. A typical prefab ADU ranges anywhere from $140,000 to $300,000. Custom ADUs are even more expensive. Converting a garage is cheaper, but in L.A., the process can easily approach six figures. None of which factors in the extra costs of permits, which ADU firm Modal estimates costs anywhere between $4,000 to $8,000 in Los Angeles.
There are few mainstream financing options for ADUs available, and renovation loans or cash-out refinancing often don't cover the entire cost of the project. In a 2021 survey of homeowners by UC Berkeley, nearly 62% said they relied on cash savings or money from a friend or relative to pay for their ADU.
ADU advocates often tout it as an "affordable housing" solution — assuming that property owners will rent them out as an extra source of income. But with the median price of a single-family dwelling in L.A. County almost nearing $1 million, building an ADU is likely an opportunity reserved for more high-income individuals.
"Financing is really the only thing I think of that the city of L.A. and everywhere else really needs to work on. I think L.A. has been doing great with ADU use, and hopefully it will get better," said Ross Maguire, CEO of Azure Printed Homes.
Samuel Schnieder, the CEO of Otto, said that ADU financing is a major barrier to expansion. Adding that, "It's often a Catch-22 that the people who are the best equipped or the most enthusiastic about getting an ADU are the ones who can't necessarily afford it."
The California Housing Finance Agency this year began offering up to $40,000 in grants for such individuals, but it only covers new ADU "pre-construction" costs, which include everything from impact fees to permits to site prep. In Los Angeles, homeowners with an income below $180,000 qualify for such grants.
A total of 840 people in California have received grants since September — with all but a fraction receiving the full amount, a CHFA spokesperson confirmed to dot.LA.
First launched in 2019, Azure Printed Homes, based out of Culver City, relies on robotic printers to speed up the construction process. The company said it can 3D-print the walls of a 120-square foot unit in less than a day.
Maguire told dot.LA that Azure — which opened up reservations earlier this year — has received pre-orders for 167 units from 119 customers, totaling over $19 million in pre-orders.
But it's unlikely you'll see most of these units advertised as new rentals on Craigslist. Maguire says that most of Azure's customer base desire an ADU to have more space for themselves or to house relatives, rather than to rent out as an additional source of income.
As such, some homeowners opt for factory-built ADUs instead of a more customized option, opting to shorten the timeline for inspections.
"Because our units are pre-approved with the State of California, there's not a building and safety check that needs to happen on a local level with the city or county of L.A.," Maguire told dot.LA..
However, even pre-fab ADUs have to be inspected on-site by the local planning authority. "(...the L.A.) Planning Department needs to look at how those modules interact with a specific site themselves, a process that can't be pre-approved as they are site specific," confirmed a spokesperson for Azure.
In an effort to make the ADU permitting process faster, last year, the city of Los Angeles launched a set of "Standard Plans" that were pre-approved by LADBS. But such plans aren't cheap — and won't exempt homeowners from inspections.
"It should be noted that regardless of what pre-approved plan you choose, pre-approved plans still must go through the normal site-specific checks in order for the project to receive a permit," said Czarnecki.
And if homeowners have the misfortune of building a Standard Plan ADU on an oddly-shaped lot or somewhere with atypical characteristics, they may have to go back to square one. In other words, their ADU will no longer be considered "pre-approved" and will have to go through the longer permitting process.
"Although the Standard Plans are a good jumping off point for creating a product that anyone can use -- at the end of the day, they're mostly more expensive plans from what I've seen," said Otto's Schneider.
Casita Coalition and groups like California YIMBY are calling for better financing options for ADUs, particularly those that benefit individual cash-poor homeowners. At present, new ADUs are predominantly built in wealthier, whiter areas. In order for ADUs to actually help bridge the racial-wealth gap, policy experts say they have to actually be a viable option for the less affluent.
"I would be very pleased if more financing options [..for ADUs] developed from credit unions and community financial institutions to provide ADU-tailored loans to help lower income and moderate income home owners build ADUs," Goyer told dot.LA.
Until then, the dream of Angelenos generating income from their backyards may remain just that.
Amrita Khalid
Amrita Khalid is a tech journalist based in Los Angeles, and has written for Quartz, The Daily Dot, Engadget, Inc. Magazine and number of other publications. She got her start in Washington, D.C., covering Congress for CQ-Roll Call. You can send tips or pitches to amrita@dot.la or reach out to her on Twitter at @askhalid.
https://twitter.com/askhalid
08:58 AM | March 06, 2023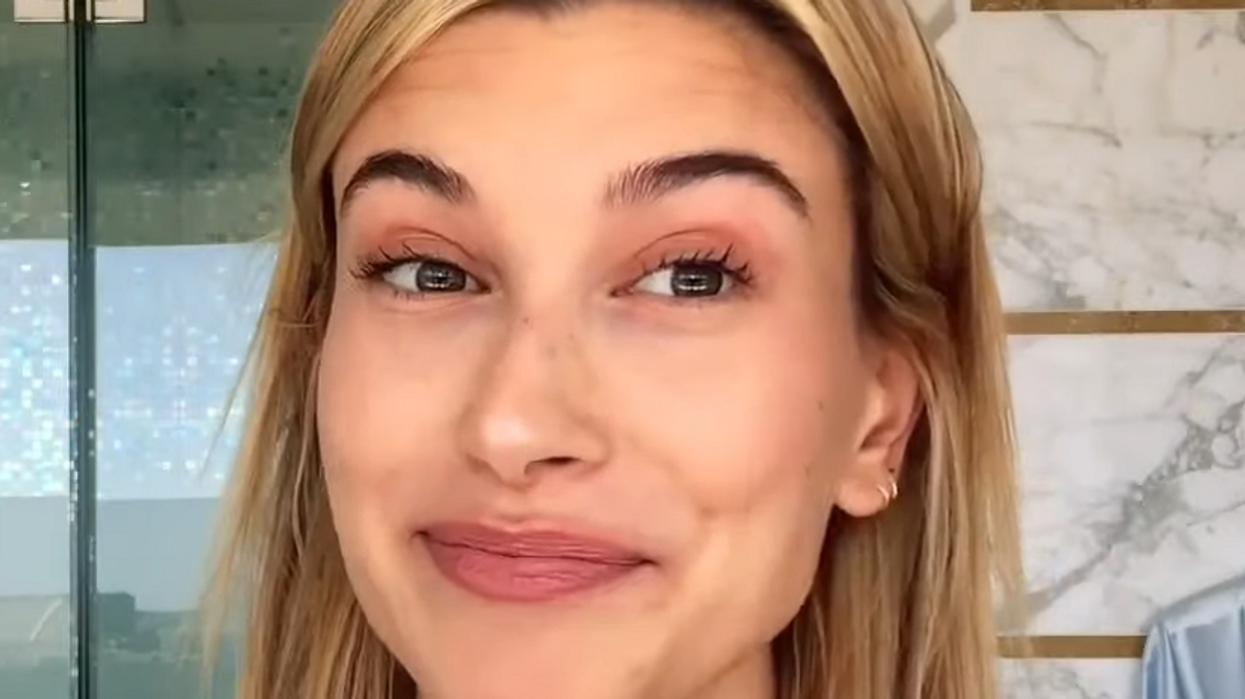 When Hailey Bieber launched Rhode skincare last June, the release was coupled with YouTube videos detailingeachproduct. Bieber has since fully integrated the skincare line into her content, bringing on other beauty influencers to discuss it and highlighting it in get ready with me videos on her channel.
Bieber's efforts paid off—Rhode has since become one of the most talked about skincare brands online, and the products often sell out. At The Upfront Summit last week, Bieber joined OBB Media CEO and founder Michael Ratner, who produces her YouTube series "What's In My Bathroom" and "What's In My Kitchen," to discuss how she has merged her content creation with her business endeavors.
"YouTube is a great home because, most importantly, we're able to reach Hailey's audience," Ratner said, adding that they can "cut out the middleman" of a traditional streaming service.
Bieber isn't alone in utilizing her online platforms to start a beauty company. Kylie Jenner launched Kylie Cosmetics in 2014, and the line consistently receives high social media engagement thanks to intentional influencer marketing. But even influencers without the celebrity status of Jenner and Bieber have become entrepreneurs. Beauty YouTubers like Michelle Phan and NikkieTutorials have turned their expertise into makeup companies, while TikToker Hyram Yarbro did the same with skincare.
So how does the content creator to skincare mogul pipeline work?
Oftentimes, outside companies approach influencers about launching their own brands. Beauty and makeup brand incubator Madeby Collective, for example, was seeking a Gen Z star to be the face of a new line in 2020, and TikTok darling Addison Rae was the obvious choice. After approaching the influencer, they gave her the title of co-founder and Chief Innovation Office before launching Item Beauty later that year.
Bieber is trying to shove Rhode to the front of a field that even she admitted is incredibly crowded. Despite this, Bieber didn't have a compelling answer when moderator Kobie Fuller asked how Rhode can stand out.
"To me, Rhode is a whole world. It's a world of me, essentially" Bieber said. "In order for people to understand my vision for the brand, they would have to understand me."
Bieber has become known for her various "glazed donut" looks, which range from nail designs to her skincare line. Multiple TikTok and YouTube tutorials re-created these looks as the trends swept through online beauty communities. And it doesn't hurt when the person manufacturing these trends can use these platforms to show exactly how she gets these results—and promote her brand along the way.
Still, closely tying one's company to one's public perception is risky. On the extreme end is influencer Jeffree Star, who launched his cosmetics company in 2014 and often used elaborate YouTube videos to promote products. His items sold out quickly. But accusations of racism and sexual assault caused sales to decline. The fallout extended beyond him—beauty company Morphe, which rose to popularity through collaborations with Star, recently closed all of its U.S. locations due to low sales. Dragon Beauty, a company launched by YouTuber Nikita Dragon, was put on hiatus last month following the influencer's arrest.
To that end, Bieber is currently embroiled in her own internet drama, having lost over one million Instagram followers after seemingly re-igniting her feud with Selena Gomez. Obviously, this is not comparable to the situations with Star and Dragon. But it does point to how even a slight misstep can have ripple effects on an influencer's business and the fragility of someone's online reputation.
The panel didn't touch on this topic, and it's unclear how the scandal has impacted Rhode's sales—but the brand has become tangled with it. When Bieber re-posted someone's Instagram story about Rhode that included a song featuring Gomez, fans noted that she changed the song to the version without Gomez. In turn, Gomez fans are urging people to stop buying Rhode products.
Even without pushback from vitriolic fan communities, influencer-led brands have struggled in recent months. In January, Sephora stopped carrying both Rae and Yarbro's products after sales slowed down. Now, expertsare wondering if this is the beginning of the end for influencer-backed brands. Some have managed to produce products that can stand on their own—ironically, Gomez's makeup line Rare Beauty has become the gold standard in this area. But Bieber's philosophy of creating "aesthetically pleasing products that work" isn't all that different from her competitors.
Still, it's unlikely that influencer-led brands will die out considering
92% of Gen Z adults
make their purchasing decisions based on influencer recommendations. But influencers are finding that getting people to spend money is a more difficult task than getting them to watch a video. And when influencer-entrepreneurs like Bieber are unable to quickly articulate what makes their brands stand out, it's understandable why viewers aren't buying what they're selling.
Kristin Snyder
Kristin Snyder is dot.LA's 2022/23 Editorial Fellow. She previously interned with Tiger Oak Media and led the arts section for UCLA's Daily Bruin.
https://twitter.com/ksnyder_db
02:16 PM | March 02, 2023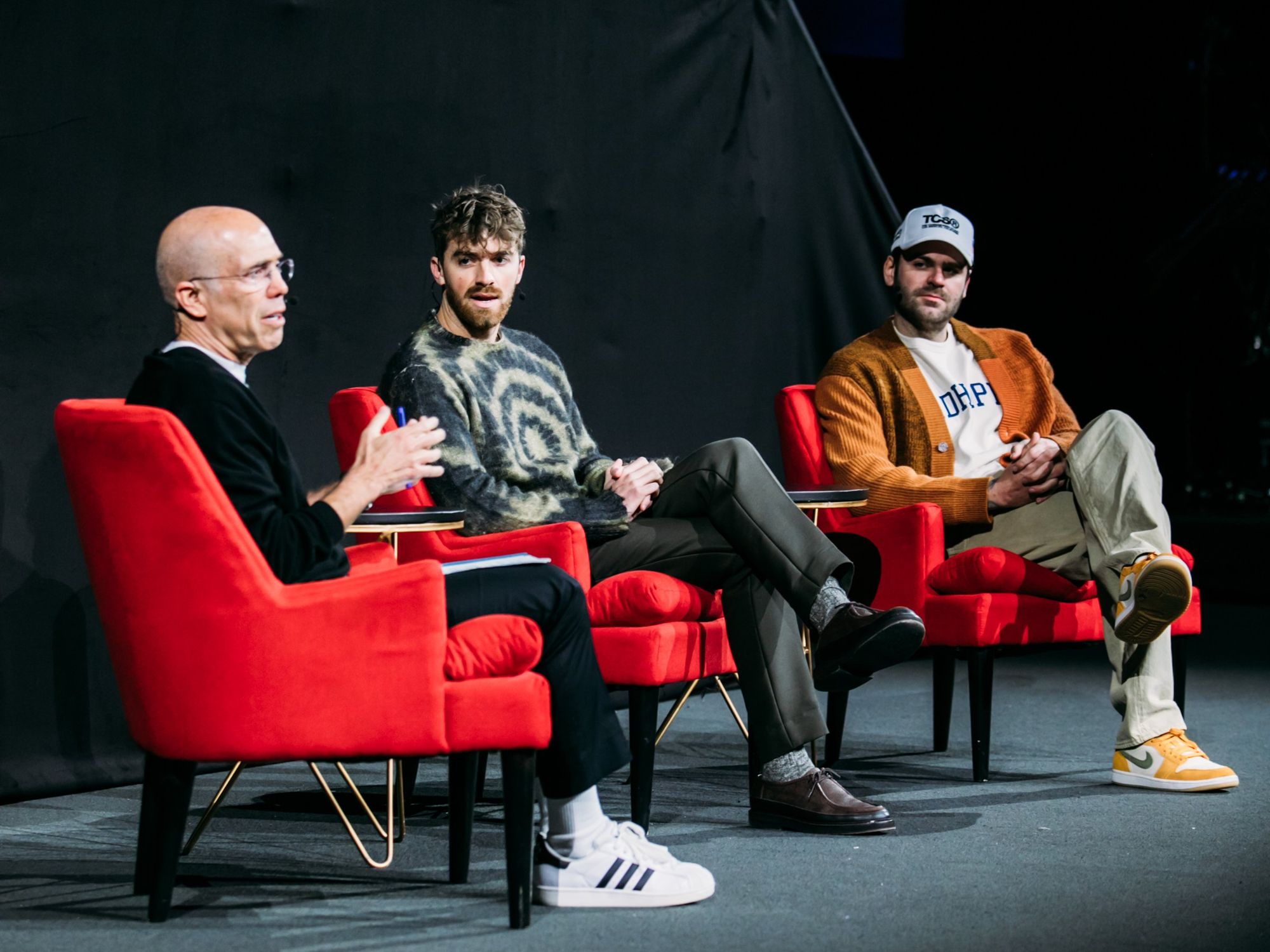 Clark Studio
On Thursday, Upfront Ventures hosted its 2023 Summit and music icons Alex Pall and Drew Taggart of The Chainsmokers hit the stage, not to perform, but instead to discuss their venture journey.
The duo launched MantisVC, a Marina Del Rey-based early stage tech venture fund in 2019.
Pall and Taggart shared the stage with WndrCo's managing partner Jeffrey Katzenberg to dive deeper into what their music career has taught them and how it translated over to their venture firm.
Here are some of the most important takeaways:
The duo believes hustle is more important than talent to achieve success.
"There's just so much content out there that's just happening all the time for no reason," Taggart said. "There's just so much to pay attention to and if you have to wake up every day, and think out what your angle is going to be, try stuff, have it not work. You have to accept defeat so frequently and still get up and do it."
Creating music was their foray into building communities.
"I think we have some real insight into how to build that community and tell that story because essentially, that's all we're trying to do," Pall said. "No matter what your business is, you're telling the story about something that you think is important that someone else needs and will enjoy."
Building connections and having conversations with pioneers in the space helped them launch MantisVC.
"Humility and being self aware are two of our strengths," Taggart said. "I think knowing what we don't know is a big part of how we've gotten to where we are, and with the support of people around us, and the relationships we built, we understood that we were going to have to go out and prove to the world that we were serious about this and we respected the people that have come before us and the people that are doing it right now."
VCs should offer all their founders support.
"When you're building something early on, you want that support, that hands-on feeling and the purpose of Mantis isn't necessarily right now to replace the incredible institutional investors that exist out there and have been around for a while," Pall continued.
"But we want to be the Robin to their Batman, and we think there's a way that we can kind of partner with everybody in the space and provide our founders that holistic support they need. It's inspiring to work alongside people that share that same energy and we're constantly working on ourselves and I feel like it takes a really special type of human being to be successful in this world. Level of grit and determination and something that's continually fueled us and we want to invest in people like that."
Feedback is necessary and essential to create successful products and businesses.
"Similar to products or services that you're building, it's important to get real life feedback out there and iterate on those things," Taggart said. "And there's really just no substitute for that."
Pall added, "I think for some reason in our culture, it's become an issue for people just to be straightforward and say no, about things and give honest feedback and, and move on. I think we can all learn a lot from just having more honest conversations with each other."
Never lose sight of your core audience and mission as a company.
"Never forget what your core product is and what people love about that and make sure that every piece of innovation is derivative of that," Taggart said. "I see a lot of friends of ours that have had really successful companies start to build ancillary projects that don't really feed their core audience that they're just making to compete with their competition. We do the same thing in songwriting, and you can never lose sight of what people love about you."
Decerry Donato
Decerry Donato is a reporter at dot.LA. Prior to that, she was an editorial fellow at the company. Decerry received her bachelor's degree in literary journalism from the University of California, Irvine. She continues to write stories to inform the community about issues or events that take place in the L.A. area. On the weekends, she can be found hiking in the Angeles National forest or sifting through racks at your local thrift store.