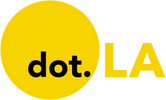 Get in the KNOW  
  on LA Startups & Tech  
X
Photo courtesy of HeyPal
Meet HeyPal, the Language App Using Social Media Influencers To Spread the Word
Christian Hetrick
Christian Hetrick is dot.LA's Entertainment Tech Reporter. He was formerly a business reporter for the Philadelphia Inquirer and reported on New Jersey politics for the Observer and the Press of Atlantic City.
06:00 AM | June 29, 2022
Katy Johnson, a reality TV star and globe-trotting travel blogger, has lately offered some advice to her more than 100,000 Instagram followers.
"I urge you to learn a new language," the model has told her fans, noting how locals in the foreign countries she has visited appreciate the effort. "It's essential to be able to connect with people as much as possible while I travel," she wrote in another post last month. Johnson, a former contestant on the TV show "Joe Millionaire," has repeatedly suggested one particular way to study a new language: HeyPal, a one-year-old language-learning app.
---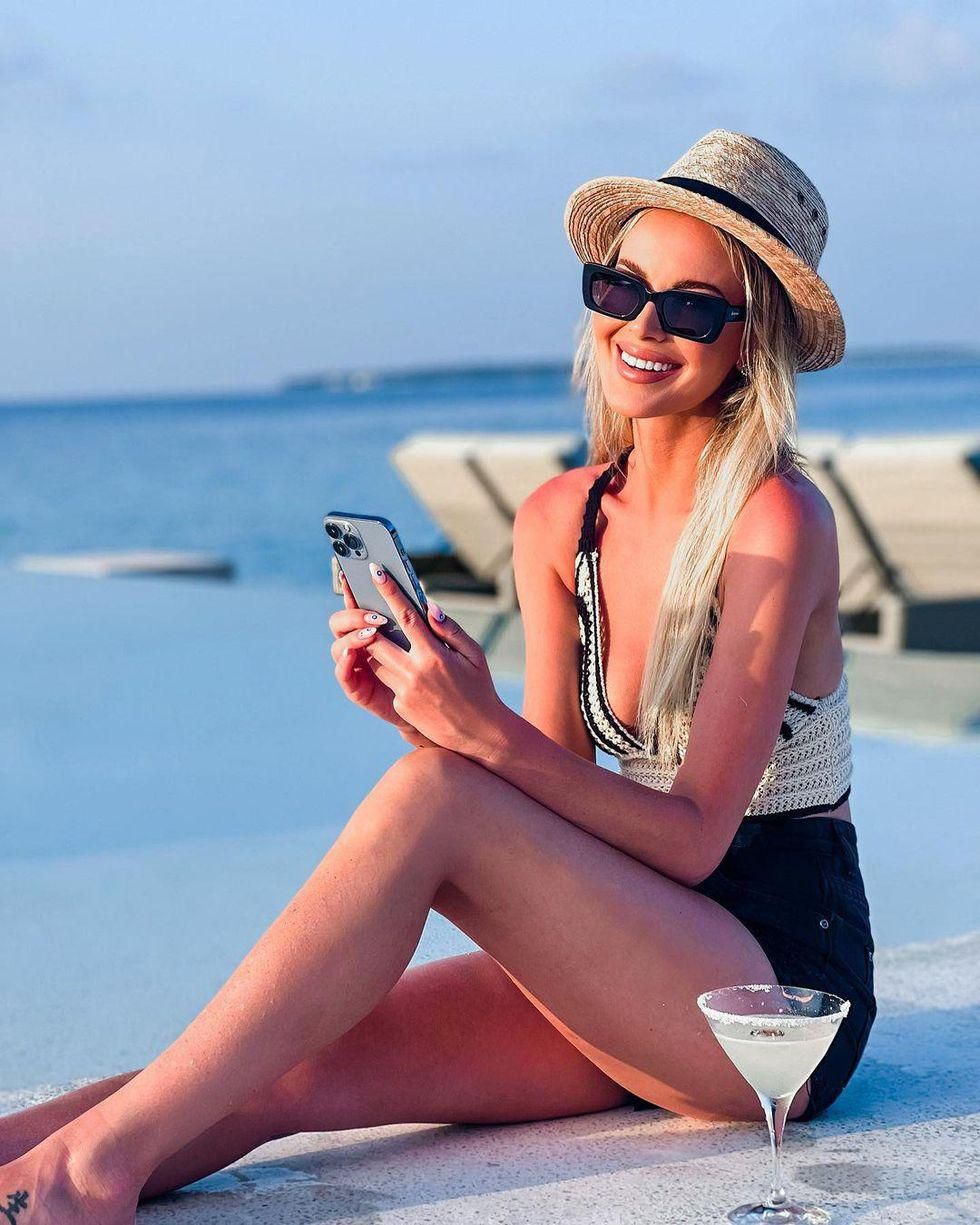 A photo from Johnson's Instagram account, which she's used to promote HeyPal.
Photo courtesy of HeyPal
"Today I wanted to work on some Arabic slang, so I literally can pull out the phone and use the app anywhere, anytime!" read a caption to one photo of Johnson sitting near the Indian Ocean with a smartphone in her hands and a cocktail nearby.
At first glance, her casual endorsements may look like mere tips from a travel expert. But the Instagram posts, sprinkled between photos of the model posing in exotic tropical locations, are part of a paid campaign by HeyPal, which is owned by Beverly Hills-based digital app developer ClickStream.
HeyPal—which promises to help users learn new languages through social media posts and online chats with native speakers—has made content creators like Johnson a key part of its marketing and growth strategy. The app is currently paying three influencers, including Johnson, to spread the gospel by showcasing glamorous real-life examples of how people can benefit from the platform.
HeyPal, which has racked up more than 1 million downloads since going live last June, is hardly the only brand turning to influencers. Spending on influencer marketing has exploded in recent years, jumping from only $1.7 billion in 2016 to $16.4 billion this year, according to research from Influencer Marketing Hub.
In some ways, influencer marketing is not much different from traditional celebrity endorsements where actors, artists and athletes hawk products in advertisements. But online influencers often forge deep relationships with their fans, making their endorsements more effective, according to experts. That's especially true if the products or services they're marketing naturally fit with the content they're creating—such as Johnson highlighting a language-learning app as a travel blogger.
"At the end of the day, influencer marketing works because the audience trusts the creator," Brad Hoos, CEO of influencer marketing agency The Outloud Group, told dot.LA. Hoos noted that customers acquired through influencers tend to stick with brands longer than those lured by other campaigns.
Launched in 2020, HeyPal aims to help people learn new languages by conversing with native speakers through social media features like chats, posts, comments and media uploads. HeyPal offers both free and paid versions of the app; the latter is available in two subscription tiers ($9.99 or $14.99 per month) and includes additional features like unlimited translations on posts and a "PenPal" feature that matches users who can teach each other new languages.
HeyPal CEO Jonathan Maxim, a marketing veteran who ClickStream hired for the role last year, told dot.LA that Johnson and the app's other influencers bring credibility to the platform. Those other influencers include Jessica Killings, an actress, model and angel investor who, like Johnson, has a large Instagram following.
HeyPal CEO Jonathan Maxim. Photo courtesy of HeyPal
HeyPal has worked with roughly 20 influencers to date, though it has only struck paid partnership deals with three, according to Maxim. ("The other 20 or so are just enthusiasts of the mission," he noted.) The company declined to share how much it pays influencers to market its app.
In addition to boosting the brand's visibility, HeyPal's influencers are able to steer people to the app or channels like its Instagram account, through which the company can later retarget them with ads or push notifications, Maxim said. HeyPal can measure reach, click-through rates and number of app downloads by influencer, and can optimize its ads accordingly.
"Influencer marketing serves the top of the funnel for us," Maxim said. "Katy creates engaging content, brings people to the middle of the funnel, and then we retarget them and bring them to the bottom of the funnel—which is conversion and engagement in the app."
Johnson's Instagram endorsements don't dig into the details of the app, but they subtly suggest the perks of learning a new language. An Instagram Reels video she made in March shows Johnson dancing and posing for selfies with people around the world—activities presumably made possible by her ability to speak different languages.
"These types of posts help people dream—to see a country and the beauty, the food, the people," said Jamie Gutfreund, chief marketing officer for Los Angeles-based Whalar, a creator economy company that works with influencers and brands. "They can imagine what their experience could be, especially if they have learned the language."
Creators have to tread carefully when it comes to corporate partnerships, however. Although brand deals may provide more stable income than platform ad revenue, creators have to ensure they don't harm their authenticity by constantly promoting products, experts said. About 13% of fans say they have unfollowed a creator because they included too many ads in their content, according to a recent survey.
Johnson is keenly aware of that balancing act: She said she sends just a few promotional posts per month and doesn't endorse anything on Instagram "unless I really believe in it." Asked how she makes her promotional posts seem authentic, Johnson said she doesn't need to.
"I don't really make it look like anything—it is authentic," she told dot.LA, pointing to videos she shared of her playing with children in Kenya or receiving some help putting on a hijab in Egypt.
"Those are all real moments that I've had," she added. "And some of these moments can be helped when I'm learning language from language apps."
Christian Hetrick
Christian Hetrick is dot.LA's Entertainment Tech Reporter. He was formerly a business reporter for the Philadelphia Inquirer and reported on New Jersey politics for the Observer and the Press of Atlantic City.
05:00 AM | February 15, 2023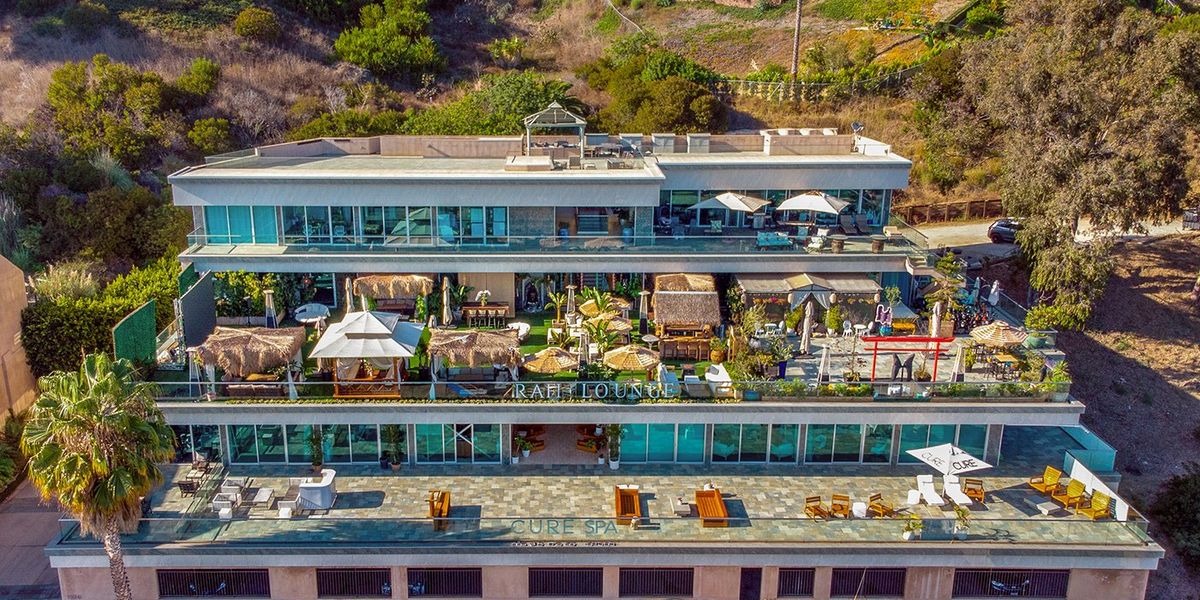 Photo: Rafi Lounge
Set in the foothills of Eastern Malibu across the street from Robert de Niro's Nobu, the Rafi Lounge, a NFT-powered wellness center and coworking space, somehow looks like both a beachfront country club and a swank monastery. On a clear day, you can see Catalina Island across the ocean. The sign above the entrance says, "Welcome, please allow us to reintroduce you to yourself."
Pushing through the braided rope entryway and passing a tranquil stone Buddha head waterfall, I arrived just after a yoga class former playboy model-turned "Dancing With the Stars" host Brooke Burke finished. The central open space that usually houses yoga mats or stationary bikes has been cleared off, and the giant projection screen behind the small stage is playing a tranquil plant video – an hour earlier, a larger-than-life Burke was on it helping clients "booty burn."
The building – which used to belong to a venture capital firm – has been totally transformed to look like nature's reclaimed it, dotted with lemon trees and cloaked in ornamental faux grass carpeting. Buddha statues are in every corner, some larger than five feet. On the way to one yoga room, there's a small shop selling pricey essential oils, Rafi Lounge merch, and CBD gummies. On the wall of the shop hang three breathtakingly detailed portraits of indigenous peoples made by the founder with charcoal. There's some construction ongoing, as they're converting former corner offices into hot yoga saunas and a spa.
On the day of my visit, the place is bustling with staff who are lugging boxes of Himalayan salt panels to install in the hot yoga room. Israeli-born Kung-Fu master and former monk Rafi Anteby, the founder of the eponymously named space, tells me that after our chat he plans to paint them all black to match the walls. No detail is too small to notice, something evident in his Mandala work.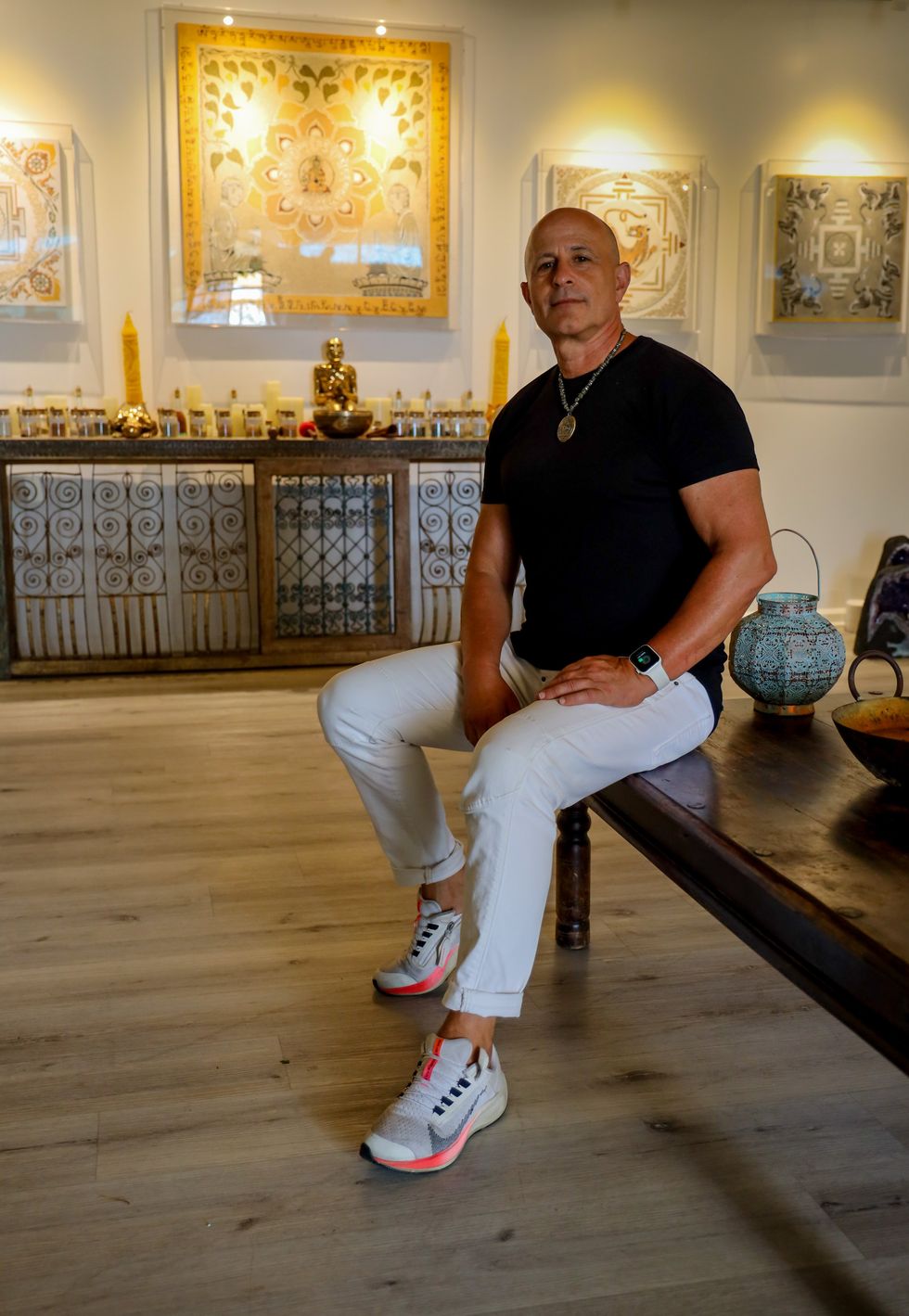 Rafi Lounge founder, Rafi Anteby, pictured here with his Mandala and sand collections. Photo: Rafi Lounge
The Rafi Lounge opened last year on November 10—the day before crypto exchange FTX went bankrupt. "Everyone said Rafi, go into a shutdown, don't do it," Anteby said. "I said I can't, because I pre-sold to members and I promised them [the launch is] what will happen."
Still, Anteby felt he couldn't renege on his promise to open the lounge to those who did buy in, so he forged ahead. So, what do NFTs have to do with a wellness center?
Each, according to Anteby, corresponds to a level of access. The least expensive, Unity, is the lowest tier and gives holders access to virtual classes. The second tier, Mindful, encompasses physical and virtual access to the Lounge. And the highest tier selling for $5,500, Awakened, are the ones Rafi is selling individually that act as an all-access pass to the Lounge and its benefits and events (including, Anteby said, "spiritual yacht parties"). Both Mindful and Awakened NFTs are lifetime memberships to Rafi Lounge, and include free access to annual retreats it hosts.
But facing the changing seasons of the crypto market and unwilling to sacrifice his brand by letting the Rafi Lounge tokens be resold to oblivion on public markets, Anteby took the drastic step to control his NFT inventory – buying up the remainder a mere day after the minting.
Anteby admitted he "lost a quarter of a million dollars" between creating and buying the NFTs back. But he said it was worth it: "I'm going to take each because I want to control who's coming to my lounge. I want to know that they will be my advocates as well."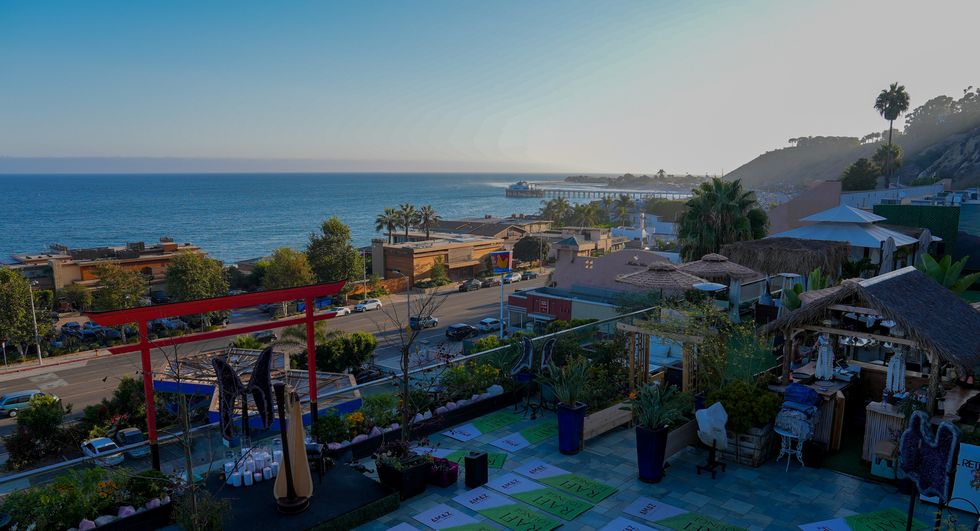 A view of the Rafi Lounge in the afternoon, before a yoga class. Photo: Rafi Lounge
Currently, there are 100 members, 55 of which are lifetime NFT holders. The 6,000 square-foot rooftop lounge is also open to the public. Which is to say, anyone can buy a 10-day pass for $250, pay the $40 fee for individual classes or come to public events. One of those people is Amie Yaniak who was diagnosed with stage four cancer last May that has since metastasized into her bones.
"I've never been anywhere like this. This was the first class I've done since the cancer, and it was just so cleansing," Yaniak says. While she's not a member, Yaniak told me she was interested in returning for more classes.

In addition to people like Yaniak, Anteby is also curating a more select crowd of well-to-do celebrities that can act as brand ambassadors for the lounge. He said he wants it to be a sort of more laid-back SoHo house, where top minds converge on the Pacific Ocean to make deals and network. Some of the names dropped during my tour of the property included Jamie Foxx (who Anteby calls a good friend), Chris Noth, Gladys Knight, and Equinox co-founder Lavinia Errico, whom I actually briefly met, since she's a member of the Lounge's advisory board.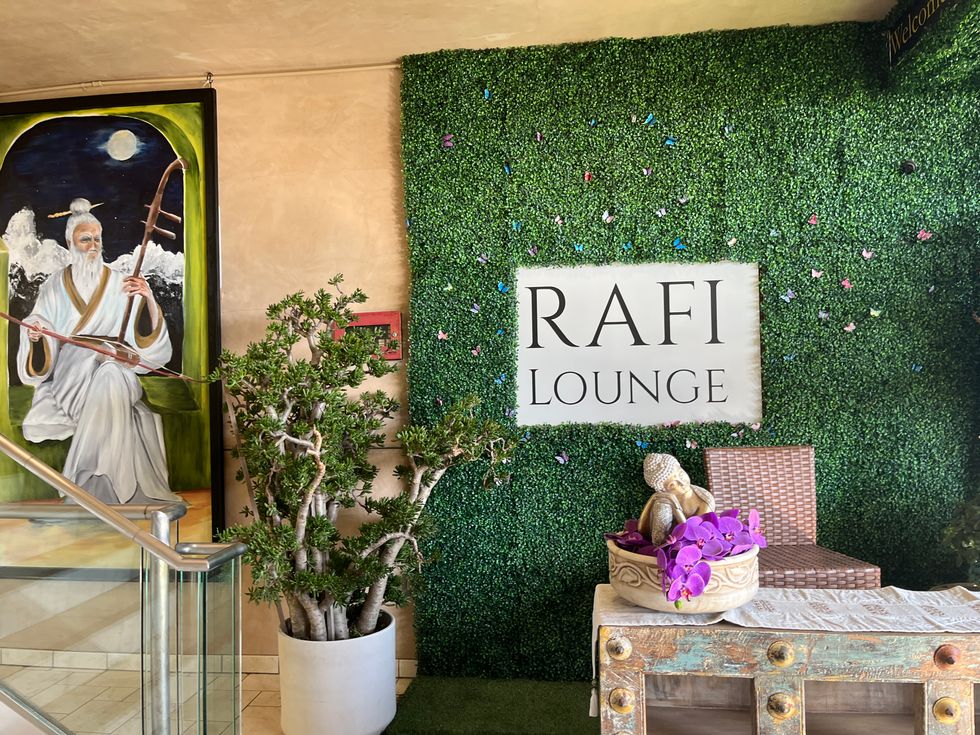 The lounge's entryway and check-in. Photo: Samson Amore
As Tame Impala wafts from the lounge's speakers, Anteby tells me stories of getting Taoist monks drunk at karaoke bars and studying medical qigong and tai chi in China. Anteby hung the intricate mandalas on the walls of a yoga room and he says they take around two years to complete as he carefully places individual grains of sand and uses tree sap to preserve their form. The mandalas are meant to be a contemplation of man's relationship with nature, which is partly why Anteby designed the NFT versions of them to resemble a sort of elemental fusion that combines water, fire and earth.
Owning an NFT also corresponds to owning a fraction of the Malibu Mandala Rafi made that hangs in the lounge.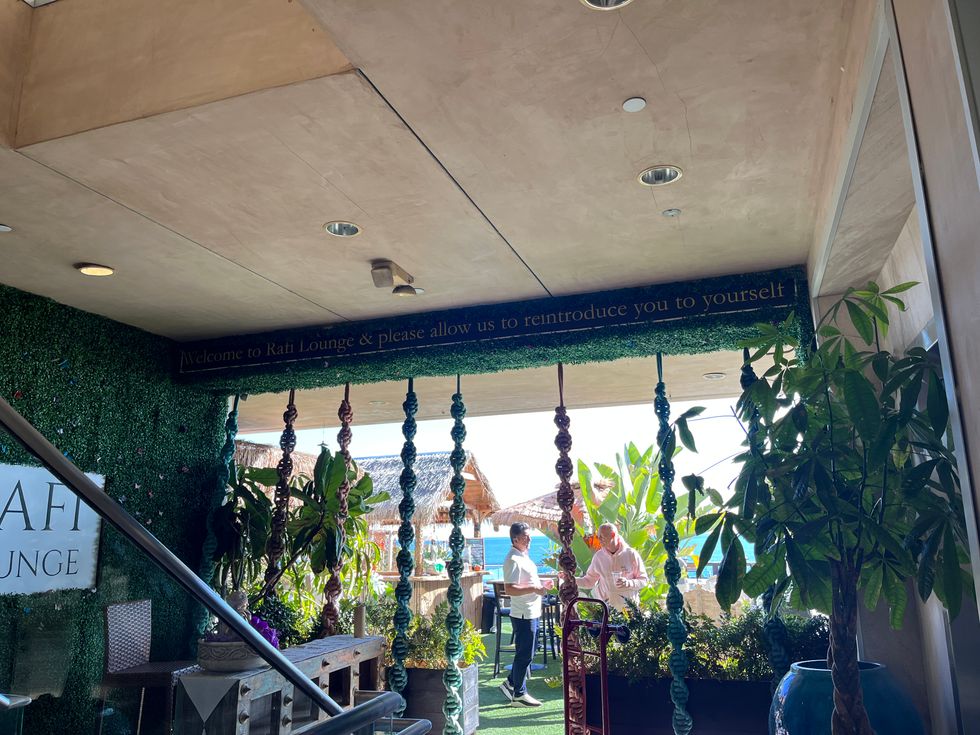 Anteby, right, speaks with a partner at his lounge in Malibu.Photo: Samson Amore
While Anteby admits the launch hasn't netted him any profits yet and said he's out around $1 million launching the place, he's determined to turn the Rafi Lounge into a franchise and has plans to open future locations in other cities big into tech and wellness like Miami, Scottsdale, Ariz., Newport Beach, and Austin.
Besides the obvious cases like Yaniak's, Anteby said he thinks the larger tech community needs a breather. "They all have digital burnout," he said. "It's more than just me helping you to breathe. You need to take care of yourself, and here people do that all the time."
Samson Amore
Samson Amore is a reporter for dot.LA. He holds a degree in journalism from Emerson College and previously covered technology and entertainment for TheWrap and reported on the SoCal startup scene for the Los Angeles Business Journal. Send tips or pitches to samsonamore@dot.la and find him on Twitter @Samsonamore.
https://twitter.com/samsonamore
samsonamore@dot.la
02:00 AM | February 13, 2023
Photo: Astroforge
One of the most-used elements in industrial work on Earth is disappearing.
Popular for industrial use because of its resistance to corrosion and heat, platinum sells for over $1,000 an ounce and is in everything from wedding bands to medical devices to a number of auto parts.
And retrieving what little of the element does remain, will only exacerbate the ongoing climate crisis – resource extraction was the source of half the world's carbon emissions and 80% of its biodiversity loss in 2019 and that number has likely only risen.
The problem's been known for awhile; back in 2016 the Massachusetts Institute of Technology predicted demand would outpace supply of platinum and palladium. At that time, the college estimated we'd run out of platinum by 2050, a mere 27 years from now.
There's also the issue that what platinum remains is in the hands of powers adversarial to the U.S.
Russia accounts for up to 30% of the world's palladium supply, and up to 10% of its platinum, and its war in Ukraine has pushed export prices higher. MIT also estimated that China, another stockpiler of industrial metals, could stop selling its platinum stores to the greater globe as soon as 2034.
So what is there to do?
The answer could lie thousands of miles from our planet, in deep space, according to Astroforge CEO and former Virgin Orbit veteran Matt Gialich. Gialich is certain that in the near future, it'll be commonplace for companies to operate refineries in space that can sort and send back elements crucial for construction on earth.
"We know that these concentrations are super high in space," Gialich said. He said Astroforge is starting with platinum metals, but it does have "a future roadmap that's much, much bigger than that," but wouldn't share more about what other materials the company hopes to mine in space. It's reminiscent of the old California Gold Rush – the minute you tell someone there's platinum in them there asteroids, others with means will want to rush in first.
Astroforge is developing technology to mine and refine minerals in deep space. The company will face a vital test in its mission to mine asteroids for minerals this April, when it tests its in-space refinery technology for the first time.
In particular, Astroforge is looking at retrieving palladium and platinum from asteroids. The shrinking store of these metals makes it easier to understand why going to space to mine more might not be such a far-fetched plan.
Gialich pointed out the emissions problem and noted, "part of that is platinum group mining… not all, but a big part of it. When it comes to mining metals, there's just no way to solve that; you can do things to reduce it, but we're running out of ore on the earth as we continuously mine."
He noted that a while ago, it wasn't feasible to undertake these sorts of missions, but said that mission price continues to drop as more companies enter the private space race and offer rideshare missions for lower and lower costs.
"As we continue to run out of ore and as access to space becomes cheaper, we think we're actually past the inflection point of when this makes more economic sense to do," Gialich said.
But, it'll take a lot of cash and crafty partnerships – NASA spent $800 million to retrieve only 60 grams during a similar project. Two other space mining firms, Planetary Resources and Deep Space Industries, were bought out before reaching their goals. This is why Astroforge raised $13 million in May, but it'll likely need much more than that for future missions and anticipates future fundraises. Gialich wouldn't disclose if Astroforge has any customers signed up for future missions or to buy space ore yet.
This upcoming mission in April will see Astroforge's small in-orbit refinery hitch a ride to space on SpaceX's Falcon 9 rocket, in partnership with British small satellite launcher OrbAstro. The plan is to test the refinery capabilities in space first by supplying the refinery with an "asteroid-like material" (so, a rock, but not an asteroid) that the tech will then vaporize and sort into its elemental components while in orbit. It's a vital test of if the refinery can function in space, and if all succeeds, a critical part towards Gialich's overall mission – becoming the first company to successfully mine asteroids.
"We have gone to asteroids before," Gialich said. "We've landed on them, we've taken samples from them, we've done every step of the way, scientifically, multiple times. We just haven't added that refining piece in, but that is actually very simple. You can prove that out on Earth, there's not a big difference [in space]."
And Gialich really, really wants to be first. After all, whoever is,will have their pick of lucrative contracts as other private and public players rush in to gather up their share of the valuable asteroid minerals. NASA is leading a mission to explore an asteroid that some have joked could be worth $10 quintillion.
"We're going to be the first commercial company to explore that frontier," he promised. "There's enough space out there for a ton of companies to exist and be successful. We're still going to do it first."
That, of course, remains to be seen. The SpaceX launch doesn't yet have a window open. But when it does, it'll be a crucial test of Astroforge's system. And, it could eventually lead to an overhaul of our centuries-old mining system that might very well one day help the planet. At least, that's Gialich's overall goal.
"We're going to save the planet, and to save the planet we need to have big, audacious ideas that really solve a critical problem we have on Earth, and we have a resource problem on Earth," Gialich said. "Now that we're a globalized world, there's nowhere else to grow. There's not an option here, this has to be done."
Samson Amore
Samson Amore is a reporter for dot.LA. He holds a degree in journalism from Emerson College and previously covered technology and entertainment for TheWrap and reported on the SoCal startup scene for the Los Angeles Business Journal. Send tips or pitches to samsonamore@dot.la and find him on Twitter @Samsonamore.
https://twitter.com/samsonamore
samsonamore@dot.la