spencerrascoff com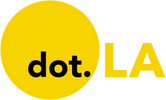 Get in the KNOW
on LA Startups & Tech
X
spencerrascoff com
Earlier this year, Spencer had an opportunity through the Navy's Distinguished Visitors Program to visit the USS John C. Stennis, an aircraft carrier. During his time aboard the ship, Spencer met Rear Admiral Michael Wettlaufer, who's spent 32 years serving in the Navy. Throughout his career, Admiral Wettlaufer has received multiple medals for his service, logged 3,500 flying hours, flown 49 different aircraft types and made over 800 arrested landings. To say he's a brave and accomplished leader is an understatement. In this episode, Spencer returns to the USS Stennis for a conversation with Admiral Wettlaufer about leadership. The two cover a lot of ground, including the Admiral's impressive career in the Navy, the importance of teamwork and how to build a culture that's committed to excellence.
Press Play to hear the full conversation or check out the transcript below. You can also subscribe to Office Hours on Apple Podcasts.
Rear Admiral Michael Wettlaufer: So the opinions that I may give are my own and not those of the United States government, the United States Navy or the Department of Defense. How about that.
Spencer Rascoff: All right. The lawyers are satisfied. Admiral, it's amazing to be back here. I was here for, I guess, two nights a couple months ago, somewhere in the Pacific at an undisclosed location. You never did tell me where we were exactly, but we were at sea, and I had an extraordinary time getting to know you a little bit, getting to know your staff, and speaking with so many sailors. I felt like I learned more about leadership and management in those two days at sea than anyone could learn sometimes in a career. I'm grateful that you let me come back here and get some of these learnings on tape, so thank you.
Admiral Wettlaufer: Well, I'm happy to have you back, and it's great that you had some time between then and now as well so you can think about maybe what you saw and the fact that as you came out, and I described earlier to some of the folks in the room, as you come out and you go to the aircraft carrier you think, "I'm gonna see the coolest, this cool giant machinery," right?
But in the end, none of the machinery works without all those young leaders who are at various stages of learning to lead, which part of that is learning how to follow, right? It's an amazing experience, and I am honored every single day just to be involved with those people.
Spencer: So let's start with your career and sort of take a step back. You've had a 33-year, 32-year career in the Navy. Just walk us through, even at the very beginning, why did you join the Navy? Then give us some career highlights to bring us to the present.
Admiral Wettlaufer: It's a great question 'cause it's one I ask myself. You look back after this amount of time. I was a microbiology major in college, and I did not wanna be in a laboratory ever again after I finished my degree. I was thinking about that, what do I do that's gonna be exciting?
Spencer: At traditional college or at Navy?
Admiral Wettlaufer: No, university, Colorado State.
Spencer: OK.
Admiral Wettlaufer: So when I finished school and had a great time learning, loved to learn, but I wanted to change what I was doing, and I have a lot of family members, my dad's family and my mom's family, who were in the military. A doc that my dad worked with asked me the question about a year prior, said, "What are you really gonna do?"
So end of school, graduate, and I went to the recruiting office in downtown Denver, parked in the back, walked in the side door. The first office I came to was Navy officer programs, and I went in and said, "I have this microbiology degree; I don't wanna use it. What do you have?" So two weeks later I take an aptitude exam. A week later, 'cause this was prior to computer-based testing, a week later they call back and say, "Hey, you did well on that test. Do you wanna be a pilot?" I said, "How much does it pay?"
So that's 32 years ago, 32-and-a-half years ago, and I have been challenged and intrigued, curious and rewarded, with great opportunity ever since.
So I started off, went to flight school in Pensacola, Florida. I came out of there flying off the USS America, A-6 Intruders. We were based on the East Coast. Three deployments, two sets of workups, Desert Storm kind of in the middle there, and then I went to the test world, and I had the opportunity to become a U.S. Navy test pilot, so I went to school again. Got to use all the physics and calculus that I had previously, and so I went to test pilot school. Again, great challenges.
Totally different than what I was doing prior to that; not totally, but different in the way you approached it. Got to spend a lot of time operating off ships as well. So a year of school, two years of doing test work, and then I transitioned to the F-18 at that point, and I flew F-18 Charlies operationally. At test pilot school and during the test business I flew 22 to 25 different airplanes, which wasn't unusual at the time.
So I went to Japan and I operated off the USS Independence and the Kitty Hawk flying F-18s, and then I went to the UK and I got an opportunity to fly with the British at their test pilot school as an instructor or tutor, as they say, and did some test work for her majesty on exchange from the United States Navy. And then I went to the Naval War College after that, and so I went and got a master's degree in national security and strategic studies. While I was a test pilot I was fortunate enough to go to the University of Tennessee as an away student and had a master's of science in aviation systems.
So a lot of school along the way, a lot of interesting and diverse experiences, and then I worked in a think tank for the CNO, the Chief of Naval Operations, called the Strategic Studies Group at the time. So our job was to look out in the future and see what future stuff was there and how do we pull it in closer, how do we get there faster. So for CNO Clark, Adm. Clark at the time, that was his focus for us and a great opportunity to work with scientists, see behind some of the doors in our federally funded research and development institutions around the United States, as well as U.S. government labs.
And following that I was fortunate enough to get selected to command an F-18 squadron. Went back to Japan as the XO and then the commanding officer on a VFA-195, the Dambusters in Japan, and operated off the carrier for a few years there, underway a lot, and then was rewarded.
Spencer: Underway; you just used some terminology.
Admiral Wettlaufer: At sea. So underway at sea. If you see the Navy around the United States, we're probably not doing our primary mission. We play the away game, so we play the away game 24/7 so there's some aircraft carrier strike group ships out there, independent strike group.
Spencer: What is that sound that we're hearing?
Admiral Wettlaufer: It is 11:30, so we have to mark the time with the bells traditionally. If you were standing watch and back in the day the tradition is you didn't have a watch.
So the ship lets you know what time it is, and if you're on a four-hour watch you wanna hear those bells get to higher numbers of bells as the time goes on 'cause that marks your watch. So there's 30 more minutes in somebody else's watch.
Spencer: Punctuality. Just one of the many reasons I love the Navy. So here we are, we're sitting on the USS Stennis, an aircraft carrier. You command Carrier Strike Group 3.
Admiral Wettlaufer: That's correct.
Spencer: Approximately 7,500 people?
Admiral Wettlaufer: Right.
Spencer: The Stennis is obviously the largest ship in the strike group, and then how many other ships are attached to the Stennis?
Admiral Wettlaufer: So attached to the strike group I've got five destroyers and the cruiser Mobile Bay, USS Mobile Bay, which, by the way I, deployed with Mobile Bay back in the late '80s and early '90s on the East Coast. You see ships around for quite a number of years, and aircraft carriers are typically around for about 50 years, but that's a little beside the point. The ships that will deploy with us, we won't deploy with all of those destroyers.
One of them is already deployed now by itself, independently deploying forward, doing a number of missions in the Pacific and farther to the west. So we're gonna deploy with some number of those ships. In the past year or so we've been training for that process.
Spencer: By the way, one of the really interesting themes of your career is something that I heard when I spoke with other officers when I was on the ship, which is continuous education. It seems like the career of a naval officer involves a lot of returning to school and then returning back into the force and sort of transitioning between academic and practical.
Admiral Wettlaufer: Absolutely, and not all of it — there's a lot of formal education from flight school or a junior sailor going to learn the first part of his trade, whether he or she is working as a mechanic or electrician or maybe working on computer systems, right? They're gonna get some training initially and then we do a lot of on-the-job training.
So a naval aviator or a junior sailor coming to the ship or coming to a squadron is gonna be in a continuous training process. A lot of that is formal. It's formalized in books or via computer system, or it's formalized by the fact that I've got to sit down with somebody else who knows the subject, and I've got to do a give-and-take education process, on-the-job training. If you're training me on something, you've got to be satisfied that I understand it before you sign me off.
Spencer: There are many misconceptions that civilians like I had or have about the military, one of which is that the career path is a straight up-and-down ladder. You do a certain number of years in a position, you get promoted to the next position, next rank, etc. The naval career feels a lot more like the corporate world, especially in technology. We use this metaphor that your career is like a jungle gym, not like a ladder.
You go up a little bit, to the side, down, over, up some more. Would you agree with that description?
Admiral Wettlaufer: A jungle gym; I would certainly say there's a career path. Don't get it wrong. We have a designed career path, a very typical career path, whether you're a Surface Warfare Officer or Submarine Officer, Aviator, Supply Officer, there's gonna be some typical jobs you have to get, but they're not all in the same place. So similar in the corporate world to your IT analysis or comparison is that you're gonna move laterally, out of one organization, over to another.
You're still in the Navy, but you may work with another Navy or you're gonna move from a seagoing billet to learn maybe more about how the shore side works. It also gives you a break from being in the deployed status to being not so much of a deployed status. So there's some stability aspects of the career that go with that, but there isn't stability in — it's very unusual for somebody to be in one place for a long period of time. So you're gonna move laterally up and down just like you described in the jungle gym.
Spencer: So I wanna talk about teamwork for a moment and how this whole organism fits together. You said something fascinating to me when I was here a couple months ago. I expressed surprise at frankly how much transparency there was about the operations of the ship, and I said, "Don't foreign governments, don't the Chinese or the Russians or whomever, aren't they trying to copy this aircraft carrier?"
And you said, "Firstly, we have a lot of technologies that you're not seeing on this tour, but more importantly it's not about the technology that creates this aircraft carrier. It's about the teamwork that the way this strike group works together and the way the entire Navy works together, and it will take generations for other navies, other countries' navies, to recreate that.
Admiral Wettlaufer: Well, it's a culture, right? Every organization has a different culture.
This organization, particularly the culture around excellence. We can't operate forward in a dangerous environment. You saw on the flight deck one of many dangerous environments we work in, but it's perhaps the most dangerous environment in the world when you're operating the flight deck and we're not getting shot at necessarily up there on the flight deck. It's people, metal, it's machinery, it's a dynamic environment. It's high paced and there's not much room for error because a single error can have catastrophic effects.
So it's that culture that you have to build and maintain, and we've been doing this for a number of years, at least as you looked at the aircraft carrier. We've been fortunate enough to operate and learn over time. None of it's static. We're continuously learning and we're bringing people into that culture a few at a time. It's not like we don't – we don't start from Jan. 1 and we're gonna bring in a whole bunch of new people, we're gonna bring in 5,000 new people to be on the aircraft carrier with the air wing, or 7,500 people start over in the strike group.
It's this continuous process of maintaining that culture and training people into it, acculturating them, and then standards. So the standards have to be owned, learned and owned at the lowest possible level, and you want to have decisions made at the lowest possible level of execution, level of responsibility that you can so that you can have those decisions made rapidly. You saw the flight deck, right? Perhaps one of the most interesting ballets without ballet shoes on.
Spencer: This is fighter jets landing and taking off on an aircraft carrier.
Admiral Wettlaufer: Right. Fighter jets, helicopters; the synchrony of that, the maintenance that goes on, the cyclic nature of that business. And you saw as you described it the team of teams that could potentially be separated and maybe are in the building-up phase as we get ready to start to get underway from maintenance to operations, and you start training in smaller groups or single-ship units, single squadrons.
As you bring that together, the key is that synchrony that occurs when you bring these separate teams together, and the culture has got to be there to allow that to happen. Otherwise, you have stovepipes of excellence and they don't cross.
Spencer: You handed me a little index card here with a quote, which you sometimes do, handing leadership and other quotes out to people here on the ship. It's an Aristotle quote. It says, "We are what we repeatedly do. Excellence then is not an act but a habit." So what does that mean to you? What does a culture of excellence mean? How do you achieve it?
Admiral Wettlaufer: So it's got to start with knowing what the goals are, and you have to translate that. You have to communicate. Communication, I believe, is the hardest thing we do. It's absolutely very, very difficult. It takes continuous attention, and you have to use every medium that you possibly have to communicate: verbally, face-to-face verbally, on a loudspeaker, clock.
The chiming of the clock, right? And so if we don't communicate the mission, the short-term, medium-term and long-term goals in a continuous way, people stop paying attention, right? What do you wanna have? Buy-in. How do you get excellence? Well, you gotta communicate. Gotta know what I'm supposed to be doing. Then you gotta get buy-in. You gotta get past that 51 percent momentum hump if you will, right? You've got to have a self-sustaining momentum, and it's gotta overcome the momentum of sameness.
So the momentum of sameness is we're gonna just sit here and do nothing 'cause I'm perfectly happy in where we are and what we're doing. That's not me. I'm not perfectly happy, right? So you have to have communication to talk about the goals, and you have to have goals, right? You have to have achievable things along the way, and you have to translate those things into action.
So culture of excellence self-assesses. To achieve excellence I wanna shoot really at perfection because if you shoot at perfection you're gonna achieve excellence, right?
It's very hard to be perfect. And you've got to assess, where am I all the time on every single line of effort, and how do you communicate those lines of effort to the newest person in the organization as well as the most senior people in the organization and outside of the organization, 'cause we need support from outside as well.
So that culture of excellence can be self-sustaining if it's self-working. It can't sustain itself without a ton of effort at every single level. So the most junior leader to the most senior leader has to be fully engaged in achieving that mission, whatever it happens to be.
Spencer: I mean so many similarities here to business. The best businesses I think are mission-oriented. Their leadership team constantly communicates to employees why their work is important, how it relates to the broader mission. You have a culture of excellence and standards. In tech we call them OKRs, objectives and key results to try to hold people accountable.
You have some sort of relative advantages and relative disadvantages as compared with companies, I'd say from my point of view. One of the relative advantages is that when you're underway, your employees, if you will, have no access to social media, no access to distractions. They're sort of all yours, if you will, 24/7 to mold them and to lead them.
Corporations don't have that advantage. A disadvantage is that your employees are quite young, I mean 17, 18, 19. I don't know what your median age is on a ship, but it's probably in the early 20s, I would guess.
Admiral Wettlaufer: Right. Most people arrive at the age of 18 to 22 is where that arrival time is, depending on their seniority and what job they're doing, but I see exactly what you're saying and what that view is. Those young people, though, provide the energy and also a challenge. The challenge is to make sure they're engaged in the right direction and make sure there are opportunities, or they came for opportunity. Make sure we're helping them achieve those, reach those goals that we help them set.
So there's a human-to-human contact that we have, as you rightly point out, longer than the eight-hour day, a typical day you may get for a worker in the tech business or a corporation someplace. But that is a great gift because we can communicate whenever we want, we think anyway. But then the challenge is to make sure that they're listening. One of the key challenges is that, as you know, what I say is not what you heard. That's a key challenge. So how do I make sure —
Spencer: What I say is not what you heard. What do you mean by that?
Admiral Wettlaufer: Everybody translates differently, and when are they paying attention or what's the state of their mind as they're paying attention? So what I say is not, or what I wrote is not, what you read necessarily. So how do I find out what I said is what you know?
Spencer: You ask people to play it back to you?
Admiral Wettlaufer: You have to play back, right? So not only can you — you have to push communication. There has to be a return process.
Spencer: And so correct me if I'm mistaken, but you allot a not insignificant portion of your day to management by walking around, talking to sailors, discussing with them what's on their mind, what they're working on. Why is that so valuable?
Admiral Wettlaufer: Because you can skip levels, right? I'm not sure what you might call it in the —
Spencer: We call them skip levels.
Admiral Wettlaufer: So you can skip levels, and to skip a level then you don't have to wait for the filter to give you the information that the filter wants to give you. So one of the big challenges that we had is we are preparing our war fighting skills, our deployment kind of skills; over the past year is understanding where the entire team sees themselves. So I can say something, and if I don't ever go look outside the room, if I don't ever go ask, then I'm gonna get a bunch of smiling faces that said, "Oh yeah, we heard that."
But I haven't checked whether or not that translation what they have heard beneath that level is what I have said, or what I mean — even more importantly, what I mean. So if I don't go out, and any of us, leaders at any level, if we don't go out and engage, then we really don't know what's on the minds and what the state of mind is of the people that we expect to execute, and I think that's important to get past roadblocks in achieving goals. Because if they don't have the same or similar goals in mind, then we're never gonna get there. We won't get to excellence.
Spencer: One of the other disadvantages you have is there's a lot of turnover, sort of by design. In the Navy people start and then they're on a particular shift for, I don't know —
Admiral Wettlaufer: Four, six years, something like that.
Spencer: And actually even certain elements are detached from this ship, right?
Admiral Wettlaufer: That's correct. Yes.
Spencer: So the air wing, which is 1,000-plus people, 2,000 people that fly the planes, it's like you're putting pieces of a puzzle together. They join the ship for some finite period of time, and now these teams of teams are working together, and then the air wing leaves.
Admiral Wettlaufer: Disembarks. Yep.
Spencer: So how do you — with turnover, with these sort of teams coming and going, how do you try to gel the whole organization together?
Admiral Wettlaufer: So that's where you've got to have, well at least in my case, I've got six direct reports. The captain of the aircraft carrier has 20 or 19 direct reports.
Spencer: So because you oversee the strike group you have six ships.
Admiral Wettlaufer: The air wing commander; the destroyer squadron commander, who is responsible for the destroyers; the cruiser commanding officer at USS Mobile Bay; the aircraft carrier commanding officer; the air wing commander; and my information warfare commander. So those are my direct reports.
Spencer: And so the captain of the USS Stennis, this aircraft carrier, has 20 direct reports.
Now you used to have that position, if I'm not mistaken, so that's another challenge of management, is one, you get promoted to the next role and someone else takes your prior role. How do you —
Admiral Wettlaufer: Don't do the other guy's job.
Spencer: How do you let go?
Admiral Wettlaufer: You better let go because he was selected to do that job for a reason. It's the same as skipping levels to figure out what's happening. By the nature of my experience, my experience is similar to his job right now, so I can ask some questions and walk around essentially and get a good idea about what's going on there.
My challenge, as you mentioned with the air wing, is translating, making sure the air wing commander and his commanding officers have heard what I said and I've translated my vision properly so they can execute it. But it's a shared vision, so here's the other advantage is that, that part of the organization, that division, if you will, of an organization has similar goals.
They just have a different way to get there. So we share the end goal. I've just got to make sure I've translated the goals to the air wing commander so he can do it to his squadrons so that when they arrive we are ready to start that synchronization process. We don't have to do stutter steps to break down silos. And it's not just the air wing commander coming on board, it's the air wing commander coming on board with those squadrons that have to leverage the supply system on the aircraft carrier.
They've got to be able to fully integrate with the support mechanisms from laundry to food service to berthing and cleaning to the flight deck operations. So these organizations have to be able to very neatly — this goes back to culture — very neatly interlock without having the stutter steps. If you have the stutter steps, it delays excellence. It could create some challenges in safety and operations that we just don't wanna have.
Spencer: When people enter the Navy typically today, or when I asked sailors, "Why did you join?" their most common answer was, "For a better life." Some version of, "I wanted to better myself because I was kind of stuck. I was in a rut in my life" essentially. Once they're here and then they're part of this organization for three, four, five years, the people that seem to stay for a career, another motivation clicks in. Maybe it's duty, maybe it's personal fulfillment. Walk us through that motivation.
Admiral Wettlaufer: That's a great question. It's probably the success along the way, right? Everybody comes for a different set of reasons and they find things along the way, and that's what we want them to do. We want them to come and contribute to the team and be successful on the way, to take what they didn't have and they wanted and go find it here. That's opportunity.
People wouldn't come if they weren't looking for opportunity, right? So how do we help them get along that path? For some there is an "I'd like to go to higher education and I didn't have the opportunity to do this." A young lady about four weeks ago, five weeks ago, actually it was the 17th. I remember it was the 17th of August. She was leaving the ship. I knew her when she was just arrived here, and she wasn't the youngest person to join the Navy. So she arrived here with three years of college completed, and she came here to get an opportunity to complete.
So she finished her fourth year of college while in the Navy over the four years, and she was leaving here to go on to law school to take advantage of the GI Bill. So there's one motivation, right? But she also had family. She had a child she wanted to take care of, etc. But there are many others. Petty Officer Bloomer, who works in the air department, I've known her since I think when I was XO, when she was first on the ship, so 2011 maybe.
Her motivation is helping out other sailors. So she wants to be a career counselor, and she counsels other junior sailors on how to achieve their goals. And then you've got people that are exceptional, technically exceptional in their particular job, or they enjoy the challenge and the lifestyle of being at sea and doing the nation's business. All those people are patriots. Every single one of them arrived here, they raised their right hand and they said, "I wanna be part of the 1 percent."
They didn't know it necessarily at the time, but they're part of the 1 percent that the 99 percent expects to protect them without question. So that 1 percent; I am honored to work with the 1 percent of America that wants to defend America. So in all of those things that people want, I think what they get out of this, no matter how long they stay, is that they were part of the folks that stepped up and said, "I'm gonna defend the United States of America and what we believe in."
It's a fascinating merging of all kinds of people from all walks of life in the United States, and I'm just honored to have the opportunity to be part of that process, particularly right now.
Spencer: And we're grateful to you and to them. When people leave the military and look for their next career they are — companies like ours work very hard to recruit them.
Veterans face a lot of challenges re: orienting themselves to the private sector and just the world after the military. What would you want companies like ours and other executives listening to this to know about veterans so that we can be better at bringing them back?
Admiral Wettlaufer: Sure. We may have discussed this when you were on the ship previously. I think one of the major things that we deliver from a human being perspective is that people see their own success. OK, this is what I came to do and my team did this and I've succeeded here. And along the way we do what corporate America doesn't necessarily do — and certainly at the entry level in corporate America — is that we train them to lead, right? We train people to step up and take charge.
We have all kinds of training along the way, from just learning how to fight a fire on the ship to make sure that you can save your ship and save your shipmate; and damage-control kinds of things to operating up on the flight deck to managing somebody else's personnel files. These are all key aspects of what we do and what they see. What you see on the outside is somebody who not just knows how to go to work on time; a responsible taxpaying citizen.
They certainly came in and become that, or they were that beforehand, is that somebody who knows how to lead, step into a breach and pick up something that got dropped. So I promise you will hire somebody who can lead when given the opportunity, and they will deliver success in organizations at an earlier age, an earlier time in their career than somebody that doesn't have that military experience necessarily.
Spencer: That has been my experience in my interaction with our veterans. I mean they're extraordinary and I hope we can hire a lot more of them. Thank you for your service, Admiral. Thank you for your time. Thank you for sharing some wisdom. I greatly appreciate it.
Admiral Wettlaufer: Thanks very much for coming out and seeing me again, and I look forward to opportunities to engage with a lot of folks in the world, the corporate world, if given the opportunity.
Spencer: Thank you.
The post Rear Admiral Wettlaufer on Creating a Culture of Excellence appeared first on Office Hours.
Nick Huzar is co-founder and CEO of OfferUp, the largest mobile marketplace in the U.S. The company has reinvented the model for local, peer-to-peer commerce, and its engagement metrics are incredible. In 2017, the company reported that it had over 60 million downloads and 43 million users who use the platform as frequently as popular social media apps. Today, OfferUp is one of the highest valued private companies in the Pacific Northwest, officially gaining unicorn status. In this episode, Nick offers advice for leaders about scaling a company, the importance of building trust and how his leadership style has evolved with OfferUp's growth.
Press Play to hear the full conversation or check out the transcript below. You can also subscribe to Office Hours on Apple Podcasts.
Spencer Rascoff: I'm in Bellevue, Washington today, near Seattle, with co-founder and CEO, Nick Huzar, of OfferUp. Hey, Nick. Thanks for having me.
Nick Huzar: Hey, really nice to be here.
Spencer: So for those unfamiliar with OfferUp, tell us a little bit about the company and the product, from a consumer standpoint, and when you started it, what the mission was.
Nick: Sure. Well, I started OfferUp from a personal pain point. I had a baby on the way, and I literally had a room full of stuff, and I was just thinking to myself, "Kill me. There's gotta be a better way to sell all this," and there really wasn't, so –
Spencer: Pre-baby decluttering, nesting phase.
Nick: Yeah.
Spencer: I'm very familiar with that.
Nick: Yeah. For all the parents out there, they can relate to what I was going through. So what I saw at the time was a huge opportunity. I believed that the smartphone would be something that everyone would have, and at the time – this was seven years ago – not everyone – most people, in fact, didn't have one.
Spencer: Now remind us. There were iPhones, but no App Stores?
Nick: Yeah, and Android was barely a thing, right?
Spencer: Right.
Nick: So I think there was a few assumptions me and my cofounder made. One, everyone would have one of these, which today you look back and say, "Well, duh." Two, we thought the cameras would get better, and three, ultimately we just felt that everyone would pay from these devices. So I think all those trends had started to manifest in some way. So for me, when I was kinda building and designing the initial app, I was really building it for myself.
Spencer: And that's the way the best products are built.
Nick: Yeah, and I still, to this day, you know, a lot of stuff in my house is from OfferUp. My kids, most of the stuff now – I have two kids now. Most of the stuff that they get is all from OfferUp. I don't buy them new stuff because they don't like it very long. So I think the opportunity I saw was big. I think a lot of the existing players that were out there were respectable, but they were built in a desktop era, and I think mobile gave us an opportunity to really reimagine the entire local buying and selling experience.
And so when we think about OfferUp in the long term, our vision is to really help to transform local buying and selling, and we think the opportunity is way bigger than where we are today. Our mission is to be the largest, simplest, and most trusted marketplace for local, and so I think we still have a very long way to go. It's amazing to see how fast we've actually grown. We're one of the top shopping apps in the country, definitely the largest mobile marketplace out there, so OfferUp's really starting to become a household name in a lot of markets around the country, and again, I think there was a lot of people that were like me. They just didn't have the time to deal with the existing solutions, and they found OfferUp to be something easy to use.
Spencer: So I want to come back to growth and scaling and how the company is, which is now a couple hundred employees, has changed since its founding seven years ago. Just to round out the picture of the competitive landscape, I guess in those early days, you were really competing with Craigslist online, on desktop, and then whatever other hacky, offline solutions people found, if it was at college campuses, putting a poster on a board in a shared space or something. And then there's some newer digital competitors as well on mobile, but I mean, do you think of traditional e-commerce, like Amazon for new goods, as a direct competitor as well?
Nick: So, to be clear, we've had competitors the whole way. Every year one will come and go, and it's just been probably, you know. This is kinda how it's evolved over time. I like to really obsess, so – and my belief is it's – we're really expanding the market, so I never went into this business to even convert a single Craigslist user. I believed that the market was way, way bigger. I believed there was more people like me that weren't using it, and we see that today.
We see a lot of people that said, "I never used X, Y, Z platform," and I use OfferUp all the time, because it's simple, and it works, and so 85 percent of commerce is still local, even in the world of eBay and Amazon, all these amazing e-commerce sites, and that's what we're after. We wanna expand into that market. Now, clearly, Amazon's an amazing company, and they'll continue to kind of chip away at that, but I really think of that as the opportunity. Our biggest focus is reducing friction, and our belief is the more we do that, the more people participate in commerce in this way.
Spencer: How competitor focused is your company versus product focus? This is something a lot of startups kind of struggle with, trying to find the right balance.
Nick: Yeah, so I don't think we really obsess or talk about competition hardly at all. We acknowledge them and definitely wanna understand kind of what are they doing out there in the world, but our obsession is really internal in our customers and really building this simplest and trusted experience, so we really obsess over that. And our belief is the more we do that, the more people continue to use OfferUp, and we believe that that's what the winning approach is. You can try all these other marketplaces, but if you're gonna have – whatever one's gonna yield the most success, where you're either buying or selling, is the one you're gonna use the most, so we really obsess over the product quite a bit.
Spencer: Yeah, so I think competitor aware, consumer focused, consumer obsessed is probably the right balance.
Nick: Yeah.
Spencer: I mean I've done two startups, Hotwire and Zillow. Hotwire was competitor focused. When we started it, we were really focused on competing with Priceline in the discount travel space. Zillow was consumer focused. We certainly have competitors, have had competitors, have acquired some competitors, but we've never been overly consumer focused at all, and I will tell you that from an employee standpoint, it is a much more inspirational, aspirational place to work if you're consumer obsessed and not competitor obsessed. It was kind of soul-sucking at Hotwire to – every accomplishment, every metric was always being measured against Priceline, this other competitor, and it was –
Nick: Yeah.
Spencer: Yeah, I guess it was good motivation, I guess, but it wasn't nearly as fun.
Nick: Yeah, really, and in our case, you – the great thing about OfferUp is you have to go meet and talk to people. It's not a product where – you know, our whole office is furnished from OfferUp. The chairs we're sitting in, in the room we're in, and that's great, because as an employee, you get to go meet them, and talk to people, and learn how to make it better, and actually get to interact with people, and I think in most companies you don't have that opportunity.
Spencer: So the product, from a consumer standpoint, is take a photo of this thing in my garage, press a button, post it, find a buyer, and then I meet them in an OfferUp kind of safe community space, which addresses some of the trust and safety issues that other local marketplaces have encountered, and do you charge the buyer or the seller? What's your revenue model?
Nick: Yeah, so today we have an advertising product. We just introduced shipping. There's many other, I think, exciting things we'll be introducing in the future, but it's kind of a combination of an ad model and then there's a small take rate for transactions that do happen on the platform.
Spencer: Let's fast forward to today. You started about sevenish years ago. Today, 2018, how much capital have you raised? How many employees? What other business metrics can you share with listeners so they get a sense of the scale of the company?
Nick: Sure. So we have over 230 employees today. We've probably raised over $230 million in capital, and we've had over 70 million installs in the US, and like I said, if you go into the App Store, under shopping, you'll see that it's usually one, two, or three. We either trade with Wish or Amazon and OfferUp, and so I felt pretty proud considering how well funded and large both those companies are. That we're in good company considering how small we are relative, you know, as a team, and so, you know, people use OfferUp a lot, and we're becoming kind of a – people engage in OfferUp more like social media. People spend on average, 20 minutes a day, almost every other day of the month.
Spencer: Wow.
Nick: And so people are really engaged, and they're trying to find and discover things that are nearby, and I think – or they're selling something, but it's really interesting to see how people engage in OfferUp versus other e-commerce platforms. We were designed to be visual and discovery-based and I think a lot of other marketplaces are just not built for, you know. They weren't built around all the power in the smartphone, and so we just took a different lens and a different approach to all that.
Spencer: Is there even a desktop product?
Nick: What's interesting is our web team, until probably 18 months ago, was one guy, and he's awesome, but we kind of – that's been growing quite a bit. Actually, our web metrics are now growing and usage is continuing to grow there. So we've been investing a lot more there in the recent number of years, but we're definitely a mobile-first company. That's where a lot of our innovation and focus is, but still, spending more time on the desktop than before.
Spencer: Now you're a Seattle-based company. You're in Bellevue, which is sort of suburban Seattle, and yet you are a unicorn. That's kind of a weird term. I don't know if you embrace it or not and you accept that descriptor.
Nick: No.
Spencer: But it seems to me that the way you've built OfferUp is a little different than some Bay Area tech companies. I mean you're very focused on the consumer and consumer PR, for example, but you haven't been as front and center in the tech trade press as a lot of other tech companies at similar stages. Is that fair to say?
Nick: Yeah.
Spencer: And why is that?
Nick: I think historically, our focus is really again, just customer, and really honing in on the business and really trying to get deep local market and kind of penetration and so a lot of this I think was fairly strategic and very, you know, forward thinking, where even after Andreessen Horowitz invested, we said, "Don't put us on your website." Like, "Mark, please don't tweet about us," and that gave us a number of years to grow around the country before we had more serious competition.
And it enabled us to build these beach heads in some of the most important, I think, markets in the country. And so if you live here, you know kind of what markets and the dynamics are, and you're local, and I think being local has a huge advantage. You really know kind of what's going on, and so I think a lot of this was, you know, we always believed there would be big companies trying to come after this space, and there are now, but again, years ago we kind of planned for this, and I think that was very, very important and strategic, so –
Spencer: Interesting. How very Seattle. I like it.
Nick: Yeah. One of the last markets we ever launched, by the way, was the Bay Area, on purpose, like, years, and so by the time anyone woke up in the Bay Area, we were already pretty deep in many markets, like I think where you live in LA, it's a massive market for us.
Spencer: Yeah.
Nick: But that was one of the earliest markets we launched, and so San Francisco actually came a lot later.
Spencer: That's interesting. I mean most tech companies obsess over the number of Recode and TechCrunch mentions that they get, and you've taken a pretty – a very different approach. Okay, so here we are today, late 2018. You're building out your strategic plan for 2019, 2020, and beyond. Put us in your shoes. What are the things that you as the CEO and the founder face? What do you worry about? What's top of mind for you?
Nick: Yeah. So I think a few things. So, one is just scale and structure. And so when you're small, you don't need a lot of structure, because you're all sitting together. Everyone's aligned and understands, but as you fast forward over the next number of years and you've seen this movie more than I have, but you need that.
You need to get ahead of it. You need to kind of lay out mile markers that help everyone be aligned on where they're going. You need to be able to bring in more leadership that's also seeing the moving, so that's a lot of what's top of mind for me, is continuing to elevate my team and the leadership team to help us on the next chapter of growth. I think in many ways I always say that we're Amazon in the book phase. We are nowhere near where I see this company going.
So how do we start to layer in other things that we think are game changing to the business, and so I think there's multiple things that we have incorporated that have been proven, but there's also a lot of things that we've built as a company that we pioneered that no one else has done. And I think that's really critical, so like an example would be all the things we do around trust and safety. So early on, we built out our TruYou program, and we did it because we knew trust really mattered. We're bringing two people together face-to-face.
Well, who is the person that you're actually engaging with? And so how TruYou works is you can opt in for it. First step is you scan an ID. Second step is we ask you to take a selfie, and then we actually do some image recognition, and match that. If you do it, you have a really prominent badge on your profile that says you're a TruYou member, and that's a big endorsement, we think, in the community.
Spencer: It's pretty much everything that Craigslist is not.
Nick: Yeah, they didn't do that, or where do you wanna meet? That's a logistic challenge, and people go back and forth on that. We try to make that simple, so we leverage natural language processing. We actually suggest meetup locations, and as you've seen, we have this in this lobby. We have thousands of these meetup locations around the country, in retail stores, in police parking lots. That's something, again, that we pioneered. We kinda just said, "We wanna make it easier and find well-lit locations to have people transact," and so that's another thing that I think we focused on and we said, "Trust matters, and we're gonna do something that hasn't been done before."
Spencer: Do you find competitors now trying to drop behind that and use those spaces and –
Nick: Not, I think, to the degree that we do. I think that it's easy to say, "Oh, yeah, we care about trust," but I think you have to really kind of look at how much investment and time are you really focused, and we really – it's a core part of our team and our company's trust, so –
Spencer: So for listeners who are scaling their own company and thinking about how to take their company to the next stage, I guess one of the things that I'm hearing is you're very deliberate and thoughtful about this. You're not just a boat kind of letting the waves take you in one direction or another. You're trying to be really circumspect about what do I need to position the company for success over the next couple of years? And what do I need from my management team? What do I need for me? I mean you're probably asking yourself, how do you need to change as a CEO?
Nick: Yeah.
Spencer: I mean, at least when I was at – when my company was at your size, I was in the process of changing things, like what meetings do I go to? How do I communicate? What input do I give? So when you're 30 employees, 50 employees, 100 employees, the CEO, or other executives that doesn't even figure, but as the company gets bigger, I've had to change the way I communicate. Does this resonate? Is this –
Nick: Totally.
Spencer: Yeah, okay.
Nick: [Laughter] Yeah. I'm going exactly through this metamorphosis right now. Yeah, and I think the – sometimes I miss the days when we used to sit at one table with 20 people.
Spencer: Right.
Nick: Like you didn't have communication challenges. Everyone knew what you were doing. The downside, you can kind of limp along at that stage and do one thing. As you get bigger, alignment and communication becomes the challenge, and you have to over-index on that. And so I've had many mentors tell me the same thing. You need to repeat yourself, and again, I feel like I'm treating people like children, but I realize, "Hey, wait. You have new people here. They haven't heard the same message."
Spencer: Yep.
Nick: I find lately I'm kind of evolving into more of a coach role too, where I'm trying to help other people do the same, where they'll get frustrated and say, "Well, I already said this to Bob," and I said, "Yeah, but you need to say it again. We're evolving. Just make sure it's top of mind." And so that's one. I'm very focused on my calendar and my time and wonderful people on my team that are helping me to kind of manage my time, but I'm also – I'm looking at it now and I'm already mapping out next year.
I'm like, "How do I wanna be spending my time?" So I'm trying to be very thoughtful and deliberate on how I want that to change, and then what meetings I need to be in, and how I need to be in them. I think how I communicate, same thing, where words matter. One word – I've got – you're kind of screwed either way sometimes, and I'm like, "Man, I said that one thing and it made that person upset. Now I kinda wanna follow up and say, 'Hey, you know what? Let me elaborate a little bit more.'"
Spencer: Yeah.
Nick: I think part of the challenge also with communication is I don't have a lot of time in a day. I don't have time to read big decks. I don't have time to go into e-mails. I don't have time to explain for 30 minutes what I mean. I have to be succinct and I need information presented to me that's succinct so I can make an informed decision. So I think that's really happened a lot more in the last year, just being sensitive to my time a bit.
Spencer: We've experimented with different decision making rubrics. LinkedIn uses rapid. There's another one called RACI, R-A-C-I, or something. They're all different acronyms for things that basically say when you're trying to make a decision, determine up front who's the decision maker, who provides input, who needs to be informed, et cetera.
Nick: Yep.
Spencer: Because there are a lot of things, as we've grown, that it's just not clear whose decision it is. Is it my decision? Is it someone's decision? I don't know. Nobody knows.
Nick: Yeah.
Spencer: And we definitely struggle with this. On the communication thing, what I've done is I've tried to make a habit of explaining who is – when these words come out of my mouth, or through my keyboard, or my phone, in what capacity am I saying it? I'll be like, "I'm giving this feedback just as a user of the products. Just take it for – as one person's input."
I'm saying, or I'm saying this as the CEO, "Go do it," or I'm saying it as the, you know, someone that's providing input to you who's gonna go make the decision here, and this is just my advice, do whatever you want. And like, giving that context is helpful, mostly helpful, well, certainly helpful for the recipient, but also helpful for me as well, to like, remind myself of – in what form, in what context am I providing this input [crosstalk] that's helpful? Let's just say five years from now, OfferUp doesn't achieve the success, its destiny that you think it's on the path of. What went wrong? What do you think happened?
Nick: I always say that the problems are internal, not external. I believe that, again, I obsess over shaping culture, I think, and developing people, and helping the team to evolve. So I think that's a challenge. It's even harder, rapid growing companies, especially these days, where if you think about companies and financing and the time horizons a decade ago, you could go for years and do, like – there's just more, faster, and I think my obsession is really trying to help elevate leadership and shape culture and really make sure the right people are at this company and are thinking long term.
And I think that's it. I like to think of our phase as the awkward teenage years where we're not quite the adult yet. We've got acne. Our voice is cracking. We're tripping sometimes. So how do we kind of best get through that and kind of hit our stride and really be high performing? I think we're just kind of in that phase. So I think that's the biggest thing I think about.
Spencer: You're an engineer, and you created the product in your own –
Nick: I wouldn't say I'm an engineer.
Spencer: No?
Nick: More designer product guy I would say. I'm a terrible – I coded on the web, but I'm a terrible developer, so –
Spencer: Okay, so you're a product person?
Nick: Yeah, more product.
Spencer: And you created the product in your likeness to solve a problem that you had.
Nick: Sure.
Spencer: How do you think about your ongoing connection to the product? As the company gets bigger, do you decide to step back a little bit from the product and let others exhibit more product ownership so that you can focus on some other things, or is product – is OfferUp you and you will always be OfferUp from a product standpoint?
Nick: That's a good question. So I would say my obsession and where I wanna kinda evolve is I think I'm really good at the end-to-end experience, and so the first product I designed, and I didn't design in a vacuum. I would draw things in Photoshop. I'd ask my wife on the couch, and she's watching TV. She got sick of me showing her designs, and I said, "Okay. I'm gonna go out and just start to talk to people." So I talked to friends and family. I would go talk to local merchants. "What do you think about this?"
And I would constantly get feedback, and I find I've been doing that ever since, and even today, I'm probably one of the top people in the company to find bugs in the product. I definitely have a lot of opinions about the experience and it only gets more complex as the business evolves, so I don't think I'll ever stop obsessing over the end-to-end experience. And I think just given my visibility and what I understand about the market, I think that's my strength, and I think that's what I bring to the table. Where I think I can evolve is going from, you know. I don't have to be in product meetings and going deep for hours on end.
I think that's things I'd be willing to kind of give up, but I do really care about the end-to-end experience, because I think if you stop focusing on that, it becomes really – it can become spaghetti and not great. And I do believe what I tell our team is, "We're not building a marketplace. We're not building an app. We're building an experience," and I don't think there's many things in this world where you think of that.
I think of the iPhone as an experience. I think of the Tesla as an experience. It is something that kinda grabs you, and it's like, you can't explain exactly what it is, but it's so elegant and easy and it just becomes part of your life that it just – you use it every day. And so I think that's my obsession. I think that's where I'm the strongest, which means I gotta give up other parts of the business.
Spencer: And at 250-something employees, have you already started letting go of some of the detail on product, or that you were forward-looking in what you just ______.
Nick: To some degree, but I like to do more, because I think we're definitely more complex now. We have more lines of revenue. We have more things that we're getting into, and it's just not scalable for me, so it's again where I'm looking around at the leadership team and saying, "Okay, great, but we also have gaps and roles we wanna fill."
Spencer: I remember the woman that runs product at Zillow, for Zillow products, when I started pulling back, as you're describing, from some of the detailed product decisions, and I started delegating more, as you need to, to free up more time to do other things. And she said to me – there was a particular decision that I delegated to her and to the team to make. And they made a decision that I didn't agree with. It kinda came out the other end in the product, I don't know, three, six months later. It was a tiny little thing. I don't even remember what it was, and I remember when I went back to her and was kind of, you know, giving her a hard time about it, she was like, "When you delegate a decision, you need to accept the outcome."
And I was like, "Oh, yeah. I guess she's right. I guess I do need to accept the outcome, whether I like it or not." So I mean what I found at this stage, from like, 200 to 400 or 500 employees, as you're going to experience soon, as I started pulling back from some of the product details, that was definitely the right decision. It was the right thing for the company.
Well, congrats on the success of OfferUp so far. I'm excited. I mean, the last time we got together without microphones, I think you were like, 50 employees and the company was a lot smaller. It's amazing to come in today, and see new office space, and an incredibly vibrant culture, and the success that you've had, and I'm excited to see what's next for you.
Nick: Thanks. Well, thanks for having me.
Spencer: Thanks, Nick.
The post OfferUp CEO Nick Huzar on Evolving as a Leader appeared first on Office Hours.
From Your Site Articles
Related Articles Around the Web
In this episode, Russell Wilson joins Spencer at Zillow Group's Seattle headquarters for a live recording in front of employees. Russell is the starting quarterback for the Seahawks, leading the team to its first Super Bowl win in 2014. He's also one of the NFL's most charitable athletes. Russell founded the Why Not You Foundation, which has raised millions to support Strong Against Cancer and other children's charities. When he's not on the field or engaged in philanthropy, Russell is also an entrepreneur; he founded TraceMe, a social media platform, and Limitless Minds, a leadership development company. In this episode, Russell and Spencer discuss Russell's approach to leadership on and off the field, how to overcome adversity, his latest business ventures – and even his proposal to Ciara.
Press Play to hear the full conversation or check out the transcript below. You can also subscribe to Office Hours on Apple Podcasts.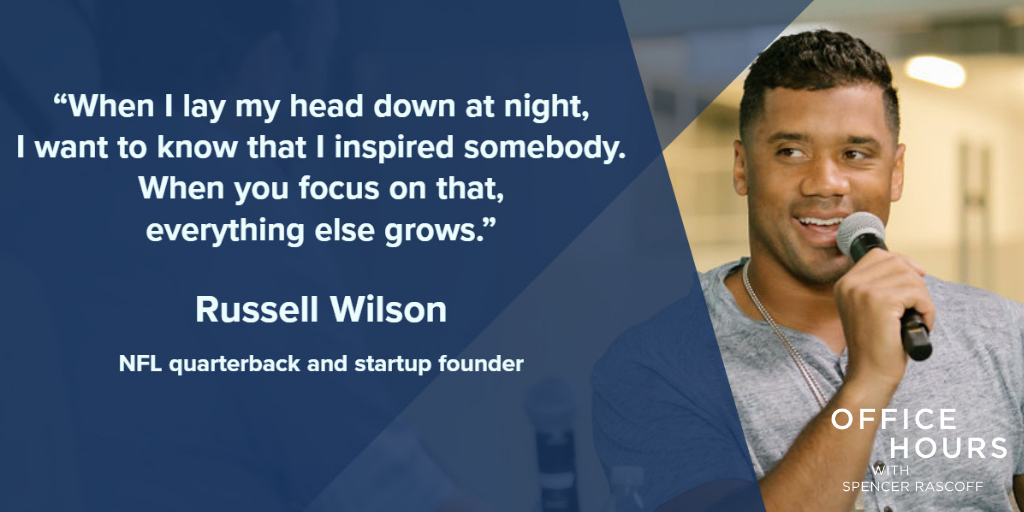 Spencer Rascoff: Let's give a warm round of applause to Wilson. Thanks, Russell.
[Applause]
All right, so we're really honored to have you here. First, I understand that you use our products from time to time, so let's get that out of the way. Tell everyone what you told me when I first met you at a game.
Russell Wilson: So the funny thing is, I had Spencer in the box two years ago. Had him in the box at a game, and afterwards we were talking, and the craziest thing is that I don't think you guys understand I am constantly looking at houses. So a little background story about my life growing up. There's two things that I love outside of sports and God and family and all that, is I love clothes, OK, I love fashion, and I really, really love houses. And let me rewind a little bit, take you back into my history as a child. So growing up, I didn't grow up with anything. I didn't have much at all. Grew up in Richmond, Virginia, and I was fortunate to go to a private school. I was one of the only black kids there. I got a full scholarship to go there, and I was able to go fortunately.
And sure enough, but growing up, we didn't have much so I used to always go see houses, you know. On a Saturday or Sunday in Richmond, Virginia, at the time, they'd have the open house sign and you could just walk in and no big deal. Nowadays you gotta make an appointment, you gotta do all this extra stuff. But anyways, so growing up, I never forget every Saturday and Sunday, we'd drive around, my mom and I and my dad, we'd drive around in a little purple minivan. We'd drive around, I'd hop out of the car to an open house, and I'd run into the house, and I'd give a thumbs up or a thumbs down, like don't come in or come in. And I was the person giving the approval of that. I don't know how.
Anyways, so as a young kid, I always dreamed of being able to do something like that and be successful and everything else. So that was kind of like my young age, 6-, 7-, 8-, 9-, 10-year-old self. And still that's never left me today. I'm fascinated by interiors, I'm fascinated by the exterior of houses, fascinated by where houses are, when they appreciate, when they depreciate, all that stuff. So I am constantly looking all over the world for houses. But anyway, I told him after the game, I said you have no idea how much I'm on your app constantly, and so it's a big thing for me.
[Applause]
Rascoff: All right, so obviously you're an extraordinary quarterback. That goes without saying, but what I wanna talk about is leadership because you're an incredible leader. So talk to us about how you get the most out of your team, how do you get the team to work well together, and in what ways do you lead to motivate people?
Wilson: Well, I think the interesting thing about leadership, and it doesn't matter what type of leader you are. At the end of the day, leaders have what? They have followers. Doesn't matter what type of leader you are. At the end of the day, I think great leaders know how to, in a way, sell what you want, what you wanna do. And I think that for me, I try to be authentic. Every day, it's about a purpose for me. It's about authenticity, the things I love, the people that I care about, it's the things that I wanna do, not that I have to do necessarily, and I try to inspire people through that. And so for me, in terms of a team, like the Seattle Seahawks team, for example, it's important to – first of all, you have to be the demonstration. You know, what you wanna see is what you have to present, you know, and I think that's a daily thing. It can never be anything different. And that's the thing I love about Coach Carroll, for example. He's so consistent. No matter what's going on, no matter how many great games we won, no matter how many tough games, he's always consistent. And I believe that any great leader, whether it's Martin Luther King, whether it's President Obama, whether it's yourself or anybody else, I think the reality is that consistency is crucial, and I think that any great quarterback is obsessively consistent, and I think that's the thing you have to have.
Rascoff: So are you a kind of – sort of motivate by yelling and screaming in the locker room at your peers, or it's more of a sort of one-on-one motivation style? How do you – when you're trying to get the offense to do what you want, how do you get the best out of them?
Wilson: Well, I think there's – you know, the reality is there's different types of leaders, right? There's people – I'll use football as a great example. There's Bill Belichick, right, he has a certain type of way, and there's Coach Carroll. Coach Carroll's chewing gum on the sideline and Coach Belichick's barely moving and he's not saying much, but they're both great coaches and they both are respected, but because they're consistent.
So for me, when times are really, really good, I don't wanna be different. And when times are really, really tough, I don't wanna be different in that moment. And I think – so for me, my personality is I'm definitely very optimistic, but I'm also very neutral, and it's a belief that I have is neutral thinking. My mental coach and I, Trevor Moawad, we constantly talk about the idea of neutral thinking, not being too high, not being too low. You think about some of the greatest athletes, greatest shooters in basketball, baseball, some of the greatest football players, they're always clear-minded. They're very, very focused on what needs to be done, and people can follow that because they know what they're gonna get when they step on the field or in the classroom or in the work field or whatever it may be. So I have – I've been blessed to be able to lead a group of men, a group of people, my family as well, a group of young kids, two kids that I get to lead every day, and that discipline and that consistency through that discipline is everything, and that's what I rely on, that's what I trust most.
Rascoff: So you actually started a consultancy, Limitless Minds, to help translate some of these learnings that you've found on the field into business. Tell us about it.
Wilson: Yeah, it's actually super exciting. We actually just started it, and it's growing pretty fast here. It's pretty exciting. My – Trevor Moawad, my mental coach, little background about Trevor Moawad, he was the director of sports and performance at IMG, which is where all the top athletes from Serena Williams to top NFL combine guys to the best soccer players in the world, they go there, they train and get ready. And then that's where I went to go train. I met Trevor when I was 21 years old and we've been best friends ever since and, you know, he's helped Drew Brees, Eli Manning to huge corporations. He's Nick Saban's right-hand guy at Alabama, Florida State, you know, he's worked with NBA teams for a long time. So he's pretty special.
So anyways, Trevor is a business partner of mine for Limitless Minds and then also my brother, Harry, who was actually – he was in pharmaceutical sales and one of the top managers in the country and doing really well there and, you know, as a salesperson, you have to deal with people all the time – doctors, people – just you have to know how to sell something, and the reality is he was an athlete too as well, played football and baseball. He could have made it in the NFL, got hurt his senior year in football, but he's super bright. He actually gave me a lot of advice growing up in my lifetime. And then also we have another business partner named DJ. And so us four created this company called Limitless Minds, and the thought process is this:
One, we wanna enhance the culture, and at the end of the day, we also wanna optimize human performance. And I think that when you do that, when you can do that and go into a location like this and, at the end of the day, it's not just about you; it's about every single person in this room, it's how they can believe, how can they make Zillow better, how can they go home and make their lives better, how can they lead their children better. 'Cause if you guys do that on a daily basis, then you're gonna make Zillow better. And so the same thing with the Seattle Seahawks. If I can do that same thing in my personal life too, the way that I treat people off the field and on the field and I bring my best self every day, I have that much better of a chance to be successful and that obsession with that.
And one of the things that I'm super, super passionate about – and we just started this three months ago. We're working with a few companies already and some people already and some teams and stuff. It's pretty exciting, but one of the things that I'm really obsessed with, I'm really excited about and what I wanna do with Limitless Minds is that – have you guys ever thought about growing up in school, for example, right?And I remember growing up in middle school and high school and everything else, and if somebody went to the guidance counselor, that person was considered weird, right? I mean, really, that's the truth, right? The kid goes to the guidance counselor, the kid's considered weird. Something's wrong with that one, right? And you know, you think about math, you think about science, you think about all the different things that we get to do in school, but the one thing we don't train is the mind. The one thing we don't train is the mind, how people think through adversity, how people get prepared for the next opportunity, how they overcome a loss, a family loss like me losing my dad or even getting a new job opportunity. How do you prepare for that? From the middle school to high school to collegiate level, how do you dive into that academically and do something different like never before? How do you do that for a great company like Zillow? How do you enhance the culture and optimize human performance?
And I think that in the day, our culture is so competitive. But the reason why, in my opinion, why I think some of the most talented people in the world that I've ever been around, why sometimes they fail,is one simple thing – is their mind. It's their mind. The discipline of their mind, the discipline of being able to do things right and knowing the difference of how to overcome, how to overcome obstacles, how to overcome an injury, how to overcome a loss in a family, whatever it may be. Most people can't do that. But why? It's not because it's that person's fault. It's because, from a society standpoint, we don't get to teach that. We don't implement that at a young age, and so that's what we're doing with Limitless Minds, and that's one of our passion projects, obviously going into big corporations, great football teams, baseball teams, teams across the world, some of the greatest athletes, again, the greatest competitors in the world, but also really the ultimate goal is really to go into our education system starting in Washington maybe, going to all over the country and starting a new thing.
Rascoff: One of the things great leaders do is overcome adversity and get their teams or organizations to get up off the mat and do their best work when times look tough. You've overcome your share of adversity, personal adversity, but also professional adversity. I wasn't gonna talk about the Super Bowl loss unless you wanna talk about it, but I wanna know how you get your team to do their best work after some problem, whether it's a loss or an injury or anything.
Wilson: Well, that's a great question. I think that most people don't understand it. Most people don't understand the thought process of, like, how do you do that? How do you come back again? Well, if it's through success or obviously failure, and I always believe this: It goes back to consistency thought. Your goals and your thoughts and your ideas of who you are and what you wanna become shouldn't be this constant evolution of change and up and down this and I experienced this so this is now what's gonna happen here. The more that you can, one, be very, very clear – and we're all at different stages and ages of our life, and things definitely will happen that change circumstances and goals and all that, but what I mean is the same feeling that I had when we won the Super Bowl and I got to hold up the Lombardi Trophy in New York – great feeling – the same feeling that I had holding that trophy and realizing, looking at the full moon, thinking about my dad and everything else and all the things I've been through and all the people that told me no, I didn't hang onto it very long because I was already thinking about, OK, what's next to do? I need to make sure that I'm prepared for the next moment God gives me.
Fast-forward to next year, we get to go – amazing season, go all the way down to the one-yard line and it doesn't work out. As I'm walking off the field and I go into the locker room and everything else, the same thought comes into my head of what's next to do. And so the emotions and the thoughts don't change because I know that one moment doesn't define who I am and what I'm gonna be. It's a continual growth process of a company, of a group of people, it's a continual growth process of a relationship, it's a continual growth process of a human spirit, and I really believe that, that we all get to face different moments to build us who we're gonna be and who we wanna become. And I think that if you can have clarity in these moments – there are a bunch of moments that happen in our life. People always say, "How do you get ready for the big game?" It's not a big game unless you make it a big game. To me, it's just another great moment. It's just gonna be another great moment, and I'm looking for the next great moment 'cause I know the next great moment's gonna build me up for the next great moment.
Rascoff: How do you deal with self-doubt, though, in situations like that? Let's say you're matched against another team, you think you might be outmatched and might actually lose but you don't want to convey that to the team to shake their confidence. I mean, how do you – is that something you think about, or you always have such optimism you never think that's even possible and you suppress it?
Wilson: I was gonna say. Lose, that's not an option. On a serious note, it's not an option.
Rascoff: All right, good answer.
Wilson: But you know, I think a lot of that honestly is through the confidence of how you prepare. The one thing I fear in life – I don't fear death. The one thing I fear in life is simply not being prepared. It's the only thing I fear in life, is not being prepared. And so for me, I do everything I can to prepare because I know that gives me confidence. And I'll go with – you know, like I said, it's just gonna be another moment, so when the moment comes, it takes you where it goes and you trust it and you feel it and you learn from it and say what did I do really well here and what can I get better at, you know, in whatever that may be.
And so answering your question a little bit more specifically, and I know not everyone thinks that and maybe even in this room that like, well, that's not realistic for us. Well, I think a lot of the realistic situations of things that you can control in this room is one simple thing – your language. Your language controls what you think because if you say, ah, I can't do this or I can't be this, you know, like, think about it. If I told you all to slump down right now and tell yourself, and say these words out loud or say 'em in your head, "I'm not very good. It can't be me. Why me? Man, that happened again? Dang, another mistake." That's your language versus you telling yourself [you're]gonna be great today. I'm here. Today is my day. Today is our day. We're gonna be great. I can't wait for what's gonna happen. Whatever comes, we're gonna be ready for it. There's a big difference between your language, and it's just a glimpse of a moment. When you're at the free-throw line, what you're telling yourself is a big deal, you know, and when you're going into a game, stepping onto a field, the language that you use in a crucial moment, you know, whether you're selling a house to a person or if you're trying to get somebody to create a new app or whatever it may be or if you're trying to _____ your kids at times, you know, if you're trying to tell yourself you're a good parent, not a good parent, the language that you use is going to be the thing that either makes or breaks you. And the great ones have great language.
Rascoff: There's tons of research on this, right, the power of positivity, the power pose, about it becoming self-fulfilling and your own confidence propelling you to better performance.
Wilson: Well, one of the things that Trevor and I always say, and we would say at Limitless Minds, for example, is very simple. You know, I definitely believe in positivity. I'm a firm believer in positivity. I'm one of the most positive people I think you'll meet. But it's not that I don't believe in positivity. What I do believe in is I do believe that positivity does work, but what I do know that really does work is negativity. Negativity is proven that it works. So what's interesting is when I go into Seattle Children's Hospital – and this is mostly my observation here – but when I go to Seattle Children's Hospital, the families and the kids and the young ones that overcome typically, and every circumstance is different, obviously, but most of the time the ones that heal up quicker are honestly the ones that are simply just not negative. You know, sometimes the teams that do the best are the ones where the players, the leaders are simply not negative in tight moments. When you're down 16-0 in an NFC championship game with 2:30 to go, what's your language gonna be?
Rascoff: For example.
Wilson: And so what I believe, though, is yes, I think that positivity does work, and I firmly believe that, but what I do know is that negativity definitely does work. And what I do believe is that the reality is that I think the more that you can be neutral, this idea of neutral thinking is really crucial. You know what, like so, going back to the NFC championship game down 16-0, not much time to go, the truth is I could go around and say, "Guys, we're gonna be just OK." Guys are looking at me, all right, bro. Or it could be like, "Listen, fellas, we've got 2:30 left. What are we gonna do with it? Listen, the reality is," and I always go back to the truth, "The reality is we only need two touchdowns. That's all we need." And go to the truth of it, and that's the neutral thinking versus this being overly positive, you know. But what I do believe is that negative thinking definitely does work.
Rascoff: What impact does what outsiders say have on your mindset? Do you block out the externalities and focus on preparation and what you can control?
Wilson: Well, I believe this. The greater you're great, the more they're gonna hate. And that's just the truth.
Rascoff: The greater you're great, the more they're gonna hate.
Wilson: The greater you're great, the more they're gonna hate.
Rascoff: Taylor Swift said that, right?
Wilson: No. She didn't say that. But she's probably gonna say it now. Give me that credit, Taylor. I think that the reality of, you know, the more success you have and the more growth you have, the more people are interested in trying to find a way to – I won't say mess it up, but more so find a way to figure out the flaws in it, you know, and I think that's just the reality of life and business and everything else. And so to me, I think how you block out negativity and the critics and everything else is that – I think there's actually a famous quote actually about this. I'm not sure, but the reality is that – and this is pretty much true – there hasn't really been any statues built of a critic. And I think that to me, how I block it out during the season, for example, is, one, I do a very simple thing. I try not to watch ESPN. I'm not gonna read the paper and I'm not gonna – unless another game's on and it's Monday Night Football or something like that, that's the only time I'm turning that TV on and watching the game to learn something.
But I'm not just gonna sit there eating lunch or eating breakfast watching ESPN because it's two things. It'll trick you, right? Either they'll tell you that you suck or they'll tell you that, oh, this guy is amazing and blah, blah, blah, and he's gonna be this and that. He's gonna be MVP and blah, blah, blah. And then, you know, and then you start believing it. You start believing it, and the one thing that I believe is that you don't need somebody else to convince you of who you are and what you're going to be. I don't need somebody to convince me. I know who I am because I tell myself who I am, I believe who I am, and I create who I'm going to be by the work ethic and the thoughts and the things that I do on an everyday basis. You know, every movement is purposeful and there's a thought process to it.
And you know, I also think that to be great, you have to have great people around you to make it great. This is not just on me. I have great people around me. This is not just on you. I mean, you have great people around. The reality is that you have to surround yourself around great people and people that are gonna challenge you, people that are gonna encourage you and not discourage you, but challenge you, people that are creative. I love being around creative minds. You know, I have a company, West to East. It's my creative agency, and we basically helped start TraceMe out of there.
Rascoff: Tell people about TraceMe.
Wilson: Yeah, so TraceMe's pretty exciting.
Rascoff: 'Cause you have a startup. You're a startup founder.
Wilson: Yeah, I am. Yeah. So it's pretty exciting. We have some pretty cool people involved, and, you know, we have Jeff Bezos involved; we have Mike Mahan, who's CEO of Dick Clark Productions; we have Joe Tsai, the co-founder of Alibaba; we have Kenny Dichter; we have a bunch of other people, some other people from Seattle area obviously. Some pretty cool stuff, but I'll kinda tell you the background story.
So Ciara and I – you know, I'm in Seychelles, and I don't get nervous, right. I'm about to ask Ciara to marry me, I'm kinda nervous. First of all, I'm carrying this ring around from LA to Paris, from Paris to Dubai, Dubai to Seychelles. I'm in Seychelles, I'm like I'm carrying this thing, I'm carrying this briefcase around everywhere I'm going. She's wondering, like, she's like what are you doing with that briefcase? It's like an old legal briefcase like Dad used to take to the courtroom.
Rascoff: Just the ring in there or –
Wilson: No, there's some other things in there, but I kinda hid the ring in the under front pocket and it was just – bad idea, but I did it. So anyways, so you know, we were in Seychelles and I ask her to marry me and everything else and she said yes, and we kinda – we posted the same video and, you know, I got like 10 million views. I'm like, dang, that's pretty cool. I got 10 million views. That's a lotta views. Meanwhile she gets 20. I'm like, you know, same video, we posted at the same time. We said three, two, one, ding, you know, like how does she get 20 and I get 10? So anyways, I guess people like me have less.
So anyways, so fast-forward, you know, we actually – it's during the presidential debate and I'm wearing – it's Halloween and I'm wearing a President Obama mask, she's wearing a Hillary Clinton mask. I'm not sure if you guys have seen this video ever, but we're dancing to – we're dancing – I'm doing my President Obama, God bless America, God bless America. I'm doing my whole voice thing and everything else, and one of our friends is just shooting it just for fun. We ended up posting it 'cause we thought it was funny and 10 million views, 20 million views or whatever again and it was like, whoa, this is a lot. And I started scratching my head then and fast-forward, she's seven months pregnant and we're at a house in LA. And so we're looking at the house and I'm in the basement and she's upstairs in the kitchen, and when you're married to a singer entertainer, she's always singing and entertaining. And so – and I'm like – she's jammin' upstairs, and so I go upstairs and she's in the kitchen. She's got a huge belly, she's dancing around the house, and she's dancing to "I'm Every Woman" by Whitney Houston. And she's jumping from couch to couch and ____ in the video and everything else. Anyway, we have our film person shooting it and everything else, maybe 20 minutes shooting, right? So anyways, she posted it on Facebook. Twenty-six million people view within less than 48 hours, less than two days. And I'm like, golly, like 26 million people and really no monetization, no way to connect? Like, it's just crazy. How do you measure these views?
So rewinding, backtracking a little bit, we got married in Liverpool, and you know, Vogue magazine was calling E! News, all these different magazine people and everything else wanted to shoot the first picture and all this kinda stuff, and we decided, you know, we're gonna post it ourselves. So we post it and it goes everywhere. It goes all over the world pretty much, and you know, the next morning, we got up probably around 6:30, flew to London, an hour flight. Go have brunch around 10, leave brunch around noon. Coming out, paparazzi people, and we're going through and we're walking down Oxford Street, and there's, you know, the big red buses in London. So we're walking down Oxford Street and there's cars and buses flying by, and next thing I know, I see these two kids wearing Seattle Seahawks jerseys, and they come running across the street and they're like, Russell, Russell, Russell and Ciara, you know. So they come over and, like, can I get a picture, can I get a selfie with you? So we get a selfie or whatever.
So I search – you know, I always bring this little notebook with me and I'm always kinda writing, and I started writing this idea as we're flying back from London to Seattle. I started writing this idea that I believe that 30 percent of celebrities and my followers really do care, you know, from Richmond, Virginia, where I'm from to NC State fans, Wisconsin to Seattle Seahawk fans to NFL fans. They wake up saying, OK, what's going on in that person's world, when they're traveling, when they're moving, football's going on or whatever. The next 30 percent, in my thought process, was that – was very simple. Was that, you know, those people care – I call 'em momentary followers. They follow you in the moment. Just a big moment, big game or they like that song and they wanna follow you in that moment. They don't really care, right? The last 40 percent of followers, in my opinion, are the people that either accidentally click you or they just wanna talk you-know-what about you. So probably '49ers fans, unfortunately. I'm sure there's some in here. Where are you?
But anyways, so on a serious note, though, so I believe that Facebook, Instagram, Twitter, Snapchat, that's for the 100 percent, but TraceMe is really for the 30 percent. How do you give something? I think there's two things that people love. People love VIP experience, and the reality is they love money. But what they really love is they love winning. And so the thought process was very simple. There's 7.5 billion people in the world, and what I believe is that there's 7.5 billion people who are fans of something. So whether you're a fan of myself, whether you're a fan of Ciara, whether you're a fan of the Seattle Seahawks or if you're a fan of fashion, if you're a fan of cosmetics, if you're a fan of – whatever you're a fan of, that's what we want delivered to them. And if you're a fan of looking at houses, you know, how do you do something, how do you create something where fan engagement is actually – there's actually a scoreboard? And that's what we've been able to do, and being able to create has been an awesome process. It's been really, really cool.
And basically you think about fantasy football, what we've been creating is fantasy fan, and it's been a really cool experience. We have some really cool people sign up. We just signed up George Takei, and he just signed up with TraceMe. We have several other people that are gonna be pretty cool. Sounds like we may be signing one of the biggest cricket players in the world here, he's got tons of followers. So it's an exciting time.
Rascoff: Do CEOs qualify as celebrities?
Wilson: Yes. You qualify.
Rascoff: Is there another social media platform I get to manage now? So check out TraceMe to be a fan of Russell's and others.
Let's close with a discussion of Why Not You and your philanthropic efforts and civic engagement. I mean, I think you're perhaps as well-known for the things that you're doing off the field as what you're doing on the field – your involvement in Seattle Children's Hospital, your creation of Why Not You, so give a sense of the scope of your civic activities, and why is it so important to you?
Wilson: Well, I think that, you know, when much is given, much is required. And I've been blessed to be able to meet a lot of amazing kids, amazing people, because of the circumstances that God has given me and because of having big hands and being able to run around and throw a ball and win some football games. It gives me an opportunity to inspire people. And I think that – you know, it's funny, we went to China this year again, and when I went over there, it was cool because fans, you know, they kinda go crazy for you but the cool part is the athletes in particular, the young football players who wanna learn how to play football and everything else. It was funny because they're like, you know, we're a lot like you. And I'm like, what do you mean? And they're like, well you're not the biggest guy in the world. You know, they're – the culture, the people aren't as tall there, and so it was actually very interesting to see that, see how many great athletes they had there.
And I feel like the fortunate part for me is I think that people, for a glimpse of a moment, they – I think they can get a relatability because, in terms of young kids and young athletes, guys and girls, is that they're like, you know what, I'm not 6'8″, I'm not 6'10" so, you know, people look at me and go that's the quarterback of the Seattle Seahawks? Like oh, like I didn't expect that. So you're not that – the one comment I always get is you're not that big in person. I'm like, OK, I'm faster. I'm faster than you. But you know, so I've been fortunate, and I think that, for example, at Seattle Children's Hospital, in particular, you know, my mom was an ER nurse, my dad was always in hospitals because of his diabetes, and unfortunately he passed away because of it. And so I felt like there was a responsibility and a duty for me to go to places that I know what it feels like emotionally to go. And for me, that's always been something that's been important to me to be able to give one little glimpse of hope if I can do that.
And we always say at our camps, for example, you know, we get to coach thousands and thousands of kids every summer, football and everything else across the country, across the world now, and one of the cool things is that every time – I think about Nike. We were just at Nike this summer doing our camp there, and I bring all those coaches, about 100-and-some coaches there, and sit in the circle, and as we're standing there right before camp starts, I always tell them every time, I say, "Listen, the goal is very simple today. If we can change one kid's life today, mission's accomplished. Just have that simple focus. If you can affect one person in your life today, one person that you know, one person you may not know, then the mission's accomplished. You've done something worthy that can actually challenge and change somebody's circumstance." And that's where I think true gratification and true growth comes from is affecting culture and affecting people.
'Cause you all have stories. I'm sure I have a very similar story to somebody in this room that you may not even know. And to be able to dive in and to learn that person's story, to be able to care enough to know that person's story, what else are we here for? I'm not just here just to make a lot of money, I'm not just here just to win a lot of football games. That's all great, that's all good and everything else, and I highly recommend trying to do – be successful, but at the end of the day, you know, when I lay my head down at night, I just wanna know that I inspired somebody. And when you focus on that, that's when I think everything else grows. You can focus on your family, your kids, people you affect in your inner circle, but then expand that inner circle, expand that circumference of atmosphere that you affect, the people that you inspire, the people you may not even know you can inspire, that circle gets bigger and bigger and bigger. And now you've actually done something, so now when it's time to be successful, when it's time to do something new or to create something or whatever it may be, now people, man, like I'm rooting for that guy, I'm rooting for that girl, you know, and people can remember you.
Rascoff: It's great to see a public figure so focused on thinking about the positive impact that you have on other people. Thank you. I think that's – I think we should leave it at that, Russell. Thank you for being here. Thank you so much. Have a great season.
Wilson: Thank you, guys. Let's go. Go Hawks. Pleasure.
The post Russell Wilson: Mindset Matters appeared first on Office Hours.