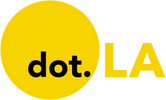 Get in the KNOW
on LA Startups & Tech
X
Irina Kukuyeva, PhD
Irina Kukuyeva is a fractional chief data officer, helping companies grow with product-market fit by leveraging data to make their customers happier. In her spare time, she mentors founders and data professionals and enjoys long-distance running.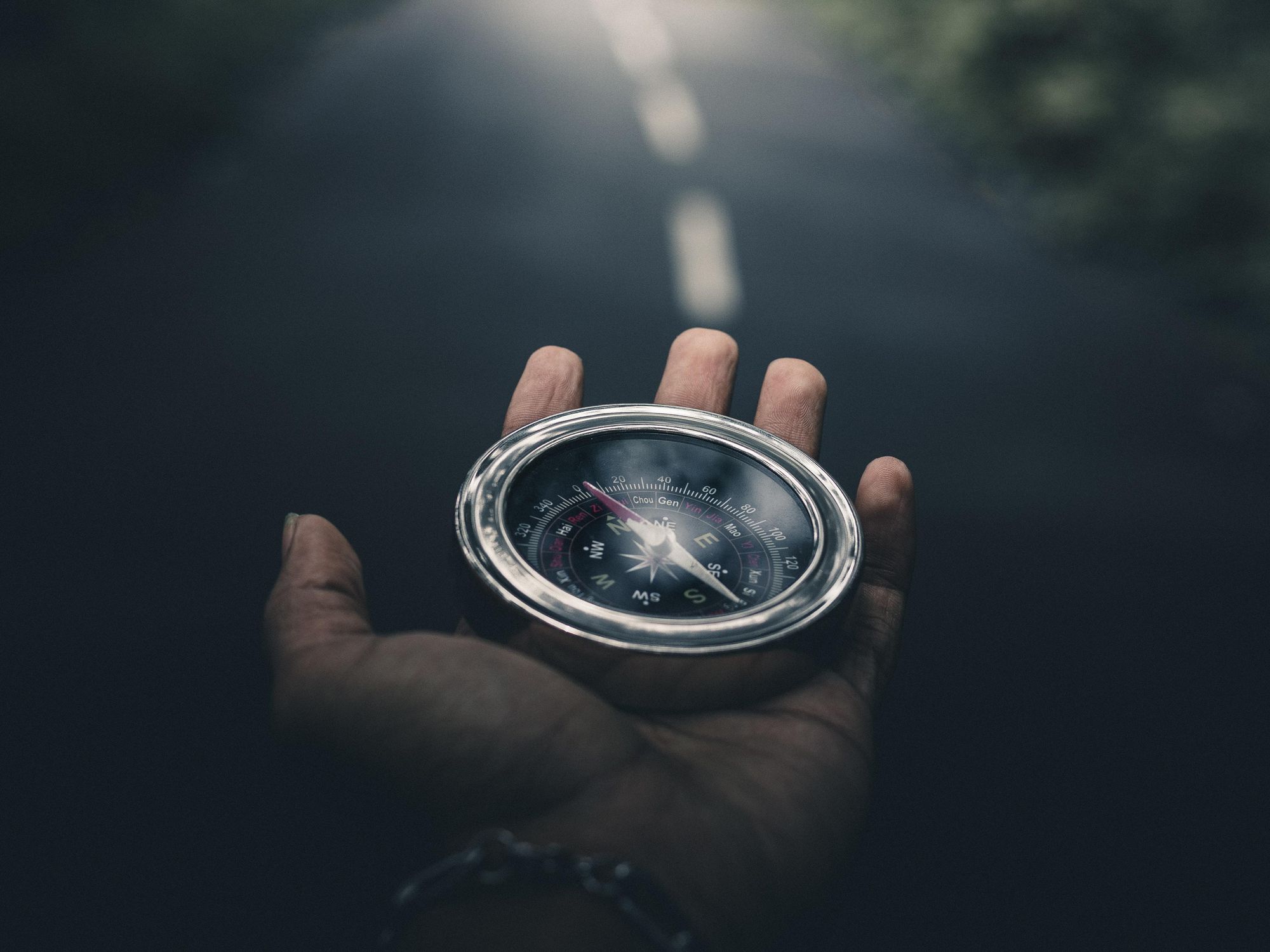 It's just a few months into a new year — and you're already overwhelmed with resolutions and ideas you should be working on; but how can your team effectively prioritize projects and test out new ideas?
Here's one best practice, derived from "The Lean Startup" and my 10 years of expertise helping companies scale with product market fit, to help you in your product development or personal growth.
---
Get on the Same Page about Priorities and Scope
First, make sure you're working toward the same goal. This is one of the biggest challenges companies of all sizes have: teams with seemingly different goals and priorities need to collaborate to deliver a product. Whether you're half of a company working on your product -- or half of a team doing so, here's one way to get alignment that also builds rapport.
Start by having everyone contribute ideas, from most immediate to those pie-in-the-sky outcomes, to the backlog of the company-wide product board. What does success look like for your product in the next 3-6 months? How about for the next 2-3 years? And keep coming back to this step, adding new ideas and evaluating existing ones based on what you'll learn later in this process.
To minimize risk, extend your runway, and identify better directions to take, simplify each brainstormed idea into the smallest first step you can take towards this goal. It should be relatively straightforward to implement (such as a waitlist sign-up page in a Google Form), which will allow you to judge if there's enough demand in the market before it's fully built. We'll call this simplified solution the minimum viable test (MVT).
When everything is high priority, nothing is. One way to select the most viable, simplified idea is to quantify: (1) how much easier other ideas on the list become once this one is complete, (2) the potential profit/mission impact of the change, (3) the effort it would take to test it, and (4) the data required to see if it worked. (Considering the impact of a project indirectly accounts for wide customer reach. Why? If you don't solve the actual customer pain point and create value for your customers, they'll stop using your product.)
One rule of thumb to prioritize ideas is: sorting by those with the largest impact, then by smallest time to deliverable and most data availability, breaking ties by picking ideas that will make other goals easier to accomplish. The first item in the sorted list is your MVT -- and now everyone's on the same page that this is the direction you're going in next.
Agree on What Success Looks Like
This is the second biggest challenge: teams with different ideas on what the outcomes look like.
You and your team are on the same page about your goal and you know what you're testing; now you need to know who'll lead development, and who the key stakeholders are — the ones using this idea to actually create the impact. Work with them on what the test will actually look like once it's built (including inputs, outputs and technical details), how the outputs will be used to make the impact, and how you'll measure it -- to help you decide whether the idea is actually worth pursuing.
The success criteria should be based on: (1) how long you want the test to run, (2) what metric(s) can best summarize what you're looking for and what happened, (3) what the baseline currently is, and (4) what the metric should look like at the end of the experiment.
Build a Test with Clearly Defined Goals
You decided what your MVT looks like and now you get to create it.
Once the MVT is built, share it with a small number of customers to see what is and isn't working by checking your metrics every day, for the duration of the experiment. This makes it more manageable to do damage control when things don't work exactly as expected and catch any customer frustrations early. If you skip this step and something's not working, you won't know about it, your stakeholders may be blindsighted, and customers will go elsewhere.
Let Your Test Decide Next Steps
Now that the experiment is over, take 5-15 minutes to do a post-mortem on the process and results, discussing: what worked, what didn't work and what you'd do differently next time.
Here's a quick flowchart to help you decide what to do next: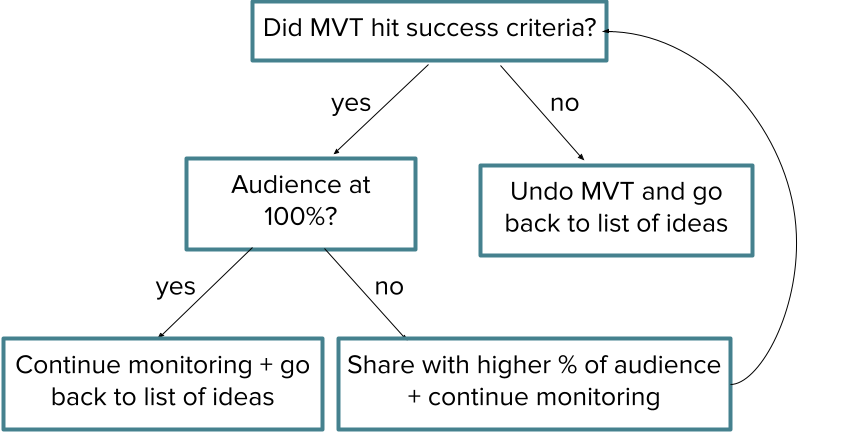 You designed the MVT with clearly defined goals. Did you meet or exceed them in the time frame projected? If yes, then go ahead and share the MVT with more customers, monitoring metrics and responding to customer requests, as before. Share the MVT with more and more of your customers, as it continues to meet expectations — until it reaches 100% of your customers. Continue monitoring and responding to requests, as before. Once your MVT reaches 100%, it's time to get on the same page about scope and priorities for the next MVT, whether that's the next iteration of this idea -- or the first iteration of a new one.

More often than not however, the MVT won't meet the metrics specified in the time frame expected. I've found that the most common reasons tend to be: ambitious metrics, ambiguous customer value, changes in customer preferences, or errors in implementation (of MVT, its dependencies, or metric computations). A post-mortem will help you do better next time, as you and your team go back to prioritize and scope down the next iteration of this cycle.
As you go through this cycle, you'll find that different steps take longer to complete than others; some may feel as if you're stuck there forever. It's all part of the process. Skipping steps can end up with the cycle taking longer, creating more customer frustration, and missing revenue projections.
Here are two examples that walk you through how to apply this framework to:
Now you have a framework to help prioritize your ideas, align your team, minimize business risk and (hopefully) feel less overwhelmed. What idea will you test out next?
Additional Resources
Consider an Opportunity Solution Tree for continuous product discovery
You can incorporate this cycle into your product market fit journey. Here's a slide deck and recording on my talk guiding you through how to think about, benchmark and improve your product market fit.
From Your Site Articles
Related Articles Around the Web
Irina Kukuyeva, PhD
Irina Kukuyeva is a fractional chief data officer, helping companies grow with product-market fit by leveraging data to make their customers happier. In her spare time, she mentors founders and data professionals and enjoys long-distance running.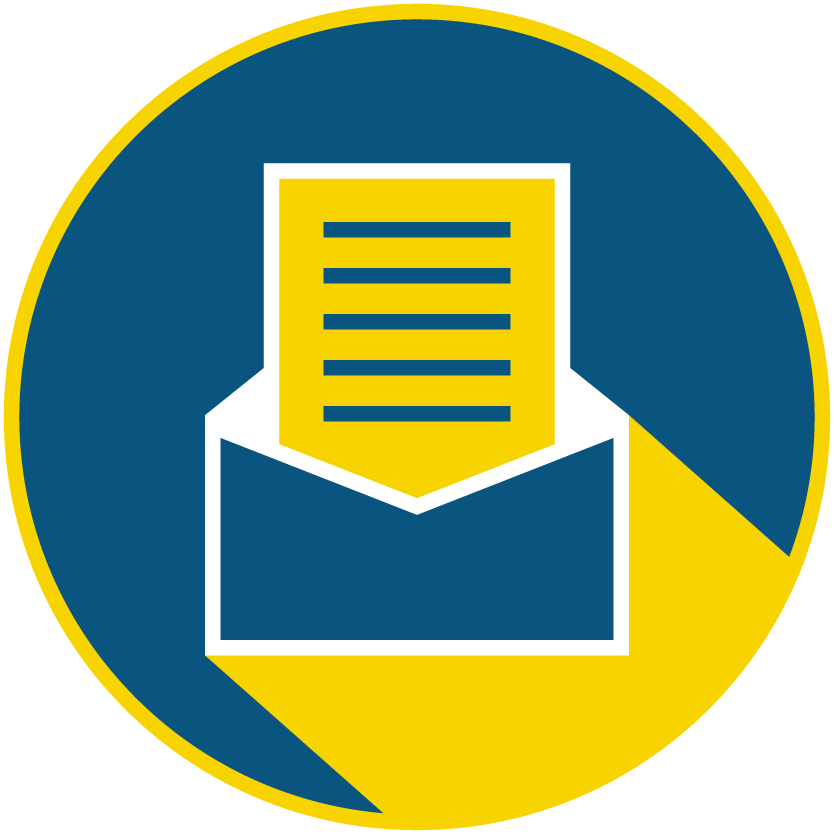 Subscribe to our newsletter to catch every headline.
Christian Hetrick
Christian Hetrick is dot.LA's Entertainment Tech Reporter. He was formerly a business reporter for the Philadelphia Inquirer and reported on New Jersey politics for the Observer and the Press of Atlantic City.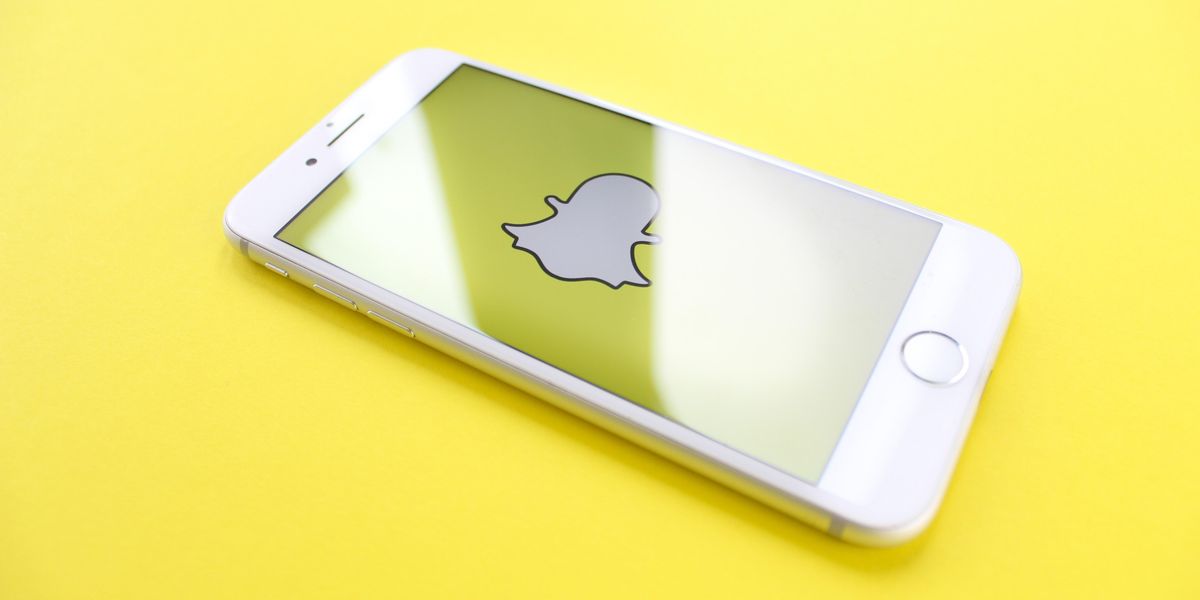 Snap warned on Monday that it will likely report lower-than-expected revenues and profits this quarter—a revelation that sent the social media firm's stock price plunging by 30%.
"The macroeconomic environment has deteriorated further and faster than anticipated," Snap disclosed in a filing with the Securities and Exchange Commission. "As a result, we believe it is likely that we will report revenue and adjusted EBITDA below the low end of our [second quarter] 2022 guidance range."
The Santa Monica-based company was already bracing for another challenging quarter due to economic headwinds like inflation and Russia's invasion of Ukraine, which it said have harmed the digital advertising market. Snap, which generates virtually all of its revenue from ads, is also still grappling with Apple's decision to restrict how users are tracked on mobile devices.
As a result of the gloomy outlook, Snap is set to slow down on hiring. The company now plans to hire another 500 new employees through the end of this year, compared to the 900 employees who have already accepted offers this year and the 2,000 people it added over the last 12 months, according to The Verge, which cited a memo from Snap CEO Evan Spiegel.
"Our most meaningful gains over the coming months will come as a result of improved productivity from our existing team members," Spiegel wrote in his note to staff.
Snap's shares subsequently fell more than 30% in after-hours trading, to $15.71 as of 4:45 p.m. Pacific Time. The company's stock closed Monday's trading at $22.47—down 52% since the start of this year and 73% off its 52-week high in September. (Disclosure: Snap is an investor in dot.LA.)
Christian Hetrick
Christian Hetrick is dot.LA's Entertainment Tech Reporter. He was formerly a business reporter for the Philadelphia Inquirer and reported on New Jersey politics for the Observer and the Press of Atlantic City.
Kristin Snyder
Kristin Snyder is an editorial intern for dot.la. She previously interned with Tiger Oak Media and led the arts section for UCLA's Daily Bruin.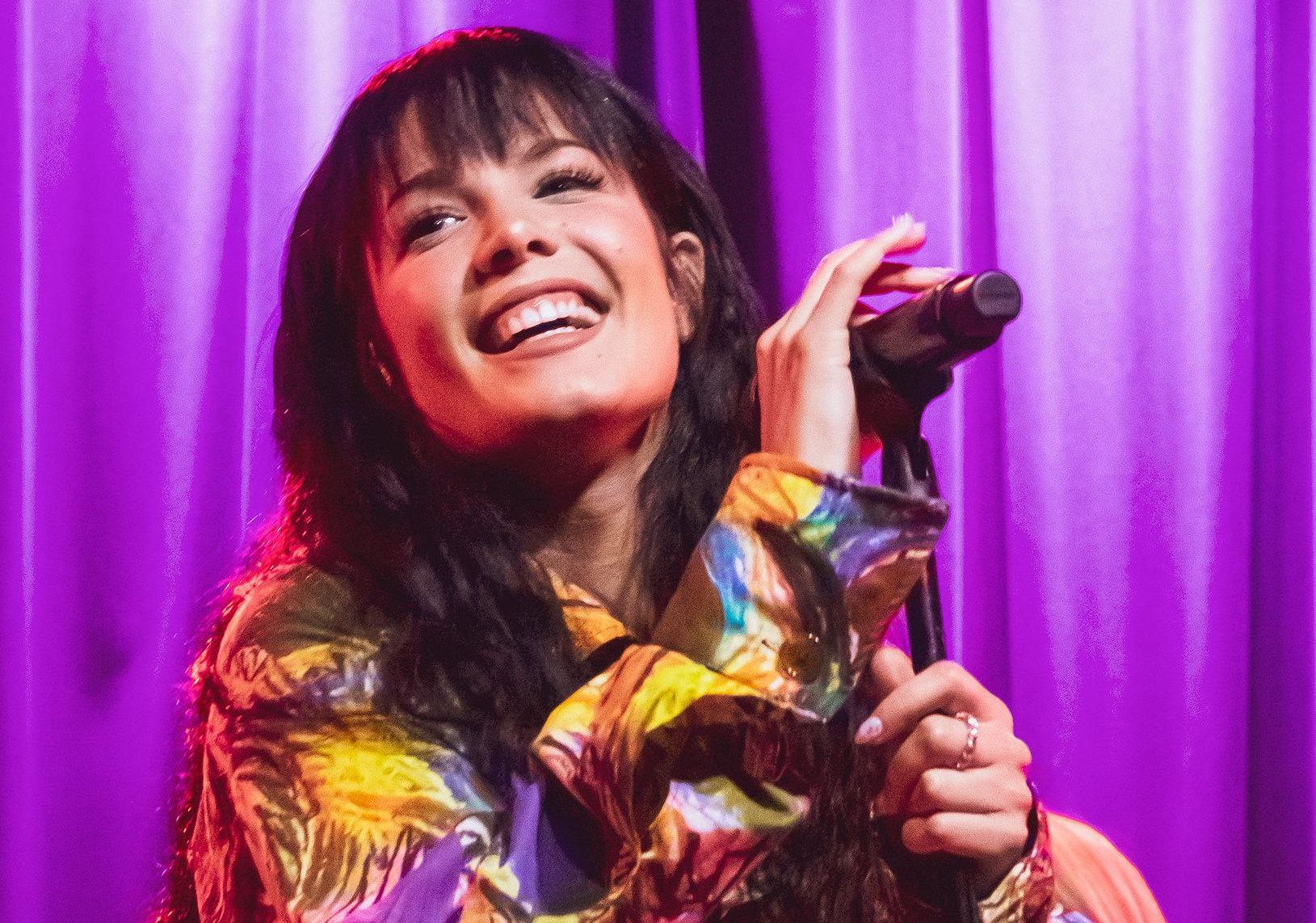 The singer Halsey has claimed that their record label is requiring TikTok momentum before letting them release new music, in comments that draw attention to the video-sharing app's growing influence over the music industry.
In a TikTok video released Sunday, Halsey claimed the Astralwerks-Capitol label will not allow them to release their latest song until "they can fake a viral moment on TikTok." Halsey played the song in the background as they said that "basically every artist these days" is stuck waiting for TikTok virality as they plan music releases. In a subsequent series of Tweets, Halsey said that their TikTok video ironically going viral has not yet resulted in a release date, despite the song having been ready for a month.
The response has ranged from people viewing the video as a disingenuous marketing scheme meant to gain sympathy to others expressing support for the musician.
"Our belief in Halsey as a singular and important artist is total and unwavering," an Astralwerks-Capitol rep told Variety. "We can't wait for the world to hear their brilliant new music."
Other musicians have recently expressed similar complaints. Ahead of Adele's 2021 album, the singer said she shot down her team's request to share her new music on TikTok. But few in the industry have Adele's reach, and artists like Florence Welch, Ed Sheeran and FKA Twigs have all taken to TikTok at their labels' behest.
In April, Lizzo released her latest single "About Damn Time" on TikTok with an accompanying dance; the audio has since been used in over 1 million videos on the app, while the song made it to no. 9 on the Billboard Hot 100 chart. Other music artists are using TikTok stars to promote their material, with singer Harry Styles tapping influencer Brittany Broski to take over his social media ahead of his recent concert.

As artists can now grow their audiences on social media without relying on traditional mainstream media, it's clear that TikTok has disrupted the industry. Take Lil Nas X, who used the app to promote "Old Town Road" and was up for five Grammy awards this year. On occasion, a short singing clip can even lead labels to sign new artists, as was the case with Australian singer Peach PRC.
A viral moment on TikTok can also take an unknown song or music project to new heights. "The Unofficial Bridgerton Musical," a passion project started on the platform, beat theater legend Andrew Lloyd Webber to take home a Grammy earlier this year. Having bought the rights to Universal Music Group's catalog and launched a platform that would allow artists to monetize their music uploaded to the app, TikTok is certainly leaning into its industry impact.
Related Articles Around the Web
Kristin Snyder
Kristin Snyder is an editorial intern for dot.la. She previously interned with Tiger Oak Media and led the arts section for UCLA's Daily Bruin.
Samson Amore
Samson Amore is a reporter for dot.LA. He previously covered technology and entertainment for TheWrap and reported on the SoCal startup scene for the Los Angeles Business Journal. Samson is also a proud member of the Transgender Journalists Association. Send tips or pitches to samsonamore@dot.la and find him on Twitter at @Samsonamore. Pronouns: he/him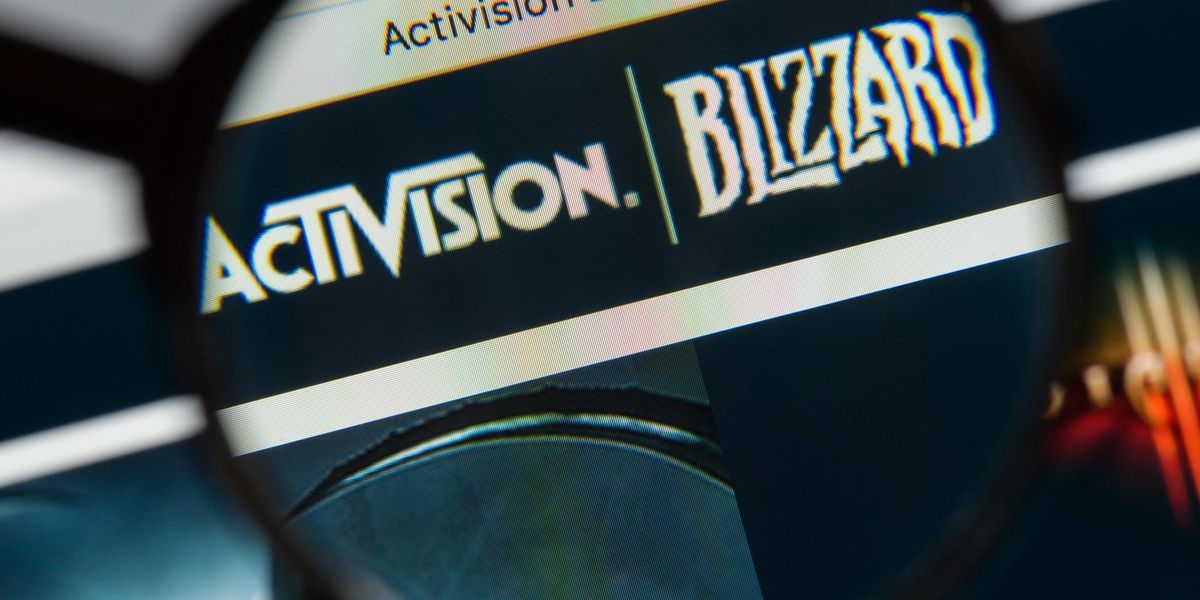 Activision Blizzard Logo Under Microscope
Workers at Activision Blizzard subsidiary Raven Software won their labor union vote today—a move that certifies the first union at a major video game publisher in the U.S., and one that could potentially transform the Santa Monica-based game developer that Microsoft is paying $69 billion to acquire.
Twenty-two employees at Wisconsin-based Raven voted 19-to-3 in favor of ratifying their Game Workers Alliance union in a National Labor Relations Board-sponsored election on Monday. The Raven workers—who do quality assurance testing for popular Activision titles like "Call of Duty"—formed the Game Workers Alliance in January and proceeded with the vote after Activision refused to voluntarily recognize the union.
The vote marks the first time that employees at a AAA game publisher in the U.S. have successfully unionized their workplace. It could also be a key step toward unionizing the rest of Activision's 10,000-person workforce—something that Raven labor organizers told dot.LA earlier this year is part of their larger plan.
"We respect and believe in the right of all employees to decide whether or not to support or vote for a union," Activision spokesperson Talia Ron told dot.LA in an email Monday. "We believe that an important decision that will impact the entire Raven Software studio of roughly 350 people should not be made by 19 Raven employees."
None of Activision's major competitors, such as West Los Angeles-based Riot Games, have unionized employees. Across the entire video game industry, only indie studio Vodeo Games has a labor union—one which became the first certified game workers' union in North America last year.
"This is a huge win for not only the gaming industry but AAA gaming, because this is the first studio you're seeing out of a AAA [publisher] actually unionizing," labor organizer and former Activision quality assurance tester Jessica Gonazlez told dot.LA.
Pro-union Activision employees have long felt that an organized workplace could provide the muscle they need to address issues that have plagued the company and their industry at large—from long, grueling work hours to sexual harassment and discrimination. "I'm very, very hopeful that this is going to be part of a larger wave of unionizing in the video game industry as a whole," Gonzalez added.
While Microsoft executives have said that the Seattle tech giant won't stand in the way of union efforts at Activision, the game developer has taken steps perceived as anti-union among its workers—such as leaving Raven Software employees out of a pay bump for quality assurance testers and proposing contract language that would prevent workers from organizing. Raven workers began organizing after walking off the job in December in protest of Activision's decision to lay off 12 quality assurance contractors.
In a statement, Sara Steffens, secretary-treasurer for the Communications Workers of America labor union backing Raven's Game Workers Alliance, said "Activision did everything it could, including breaking the law, to try to prevent the Raven QA workers from forming their union."
"Quality assurance workers at Raven Software are bringing much-needed change to Activision and to the video game industry," Steffens said. "At this critical time for the company and its employees, these workers will soon have an enforceable union contract and a voice on the job."
From Your Site Articles
Related Articles Around the Web
Samson Amore
Samson Amore is a reporter for dot.LA. He previously covered technology and entertainment for TheWrap and reported on the SoCal startup scene for the Los Angeles Business Journal. Samson is also a proud member of the Transgender Journalists Association. Send tips or pitches to samsonamore@dot.la and find him on Twitter at @Samsonamore. Pronouns: he/him