influencer Economy
Browse the latest news about influencer marketing and the growing economy surrounding social media influencers in Southern California from dot.LA.
As the influencer economy grows, creators are looking for more ways to make money.
The Los Angeles-based Pearpop hopes to help them do just that. On Thursday, it got a $16 million boost to grow its influencer monetization platform.
Pearpop launched in October 2020. Currently integrated into TikTok only, the startup helps social media creators make money by collaborating with other creators, through making a shared video, leaving a comment or incorporating someone's sound clip into a post.
The investment was split between two rounds. One, a $10 million Series A, was led by Alexis Ohanian's Seven Seven Six venture firm with participation from Bessemer Venture Partners. The other was a prior $6 million seed round co-led by Ashton Kutcher and Guy Oseary's Sound Ventures and Slow Ventures, with participation from Atelier Ventures and Chapter One Ventures.
Numerous celebrities have also invested, including Snoop Dogg, Mark Cuban, Kevin Durant, The Chainsmokers, Amy Schumer, MrBeast and Kevin Hart.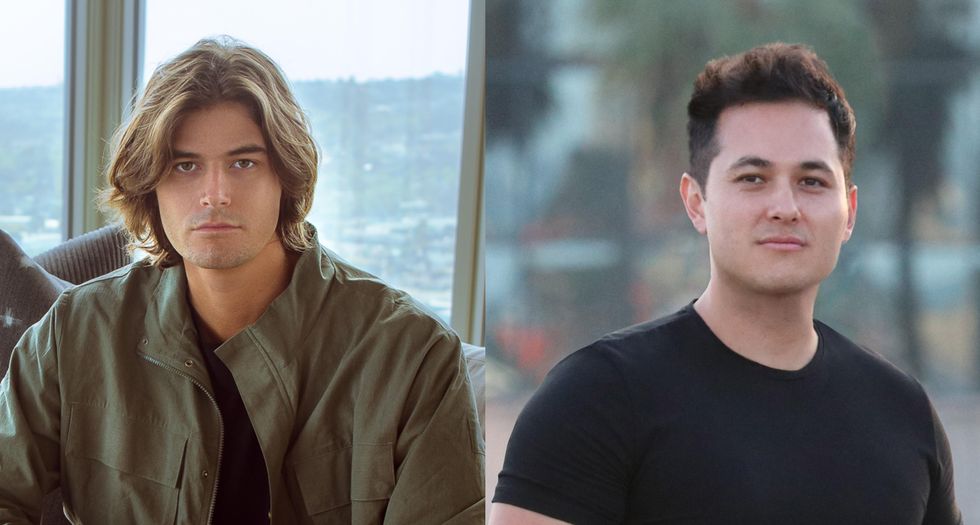 Pearpop founder Cole Mason (left) and president Spencer Markel.Courtesy Pairpop
Pearpop was founded by Cole Mason, who joined the tech industry after a run as a male model.

"The initial concept came out of an obvious gap within the space: no marketplace existed for creators of all sizes to monetize through simple, authentic collaborations that are mutually beneficial," Mason said in a statement.
Pearpop says it has attracted 10,000 creators to the platform, including Snoop Dogg, Tony Hawk and Heidi Klum.
Employing a similar business model as Cameo, payments are negotiated between the two parties, with Pearpop taking a percentage of the transaction. Prices vary depending on the particular request. Snoop Dogg asks $5,000 for a duet and $1,500 for using another creator's sound recording.
Several influencer talent agencies have added their rosters to Pearpop, including TalentX, Get Engaged, Next Step Talent and The Fuel Injector, according to the company's statement.
Along with Pearpop, other startups in L.A. working to grow the influencer economy's financial infrastructure include Promotely, Social Native, and a host of marketing agencies. Snapchat has been paying $1 million a day to users posting videos onto its Spotlight platform and TikTok has set aside a $2 billion fund to pay creators over the next two and a half years.
Add it all up and the many young people who dream of making it big as a social media star may have some cause for optimism.
Related Articles Around the Web
Community, the L.A.-based tech startup whose platform enables mass text-messaging to fans and customers from artists, celebrities and brands, announced Friday it has raised $40 million from Salesforce Ventures.
Community is part of a wave of companies that help consumers build direct relationships with the brands and creators they idolize.
Over 3 billion messages have been exchanged between what Community calls "leaders" – the likes of whom include Tom Brady, Deepak Chopra, Barack Obama and People Magazine – and the "members" who sign up to receive the text messages.
"Our business model and purpose are built on keeping people directly and instantly connected to the conversations that they want to be part of at scale," said founder and CEO Matt Peltier in a statement.
The company has now raised nearly $90 million since launching in 2019. Previous investors include Ashton Kutcher's Sound Ventures, Live Nation and Sony Innovation Fund.
"On other platforms there's a guarantee of instant publishing, but there's no guarantee of instant distribution," Community's head of activation Jake Udell told dot.LA last year.
The company claims that 95% of messages sent by its leaders are opened.
"The idea that you will always be able to reach your fans — this community — via text, is a really empowering thing not just for you personally but for your business," Udell said previously.
In a statement on the role Community plays for brands, Salesforce president and CMO Sarah Franklin said, "Community lives at the intersection of trust, technology and culture, and is a powerful example of how organizations of any size can foster human connection to build meaningful relationships and drive growth."
The pandemic has accelerated the importance of artists engaging with their fans.
"That understanding and that willingness, combined with technology that allows artists to actually know who those superfans are, (and) engage them directly on a sustainable basis, is really starting to redefine how an artist looks at their fandom, and where to put their time, energy and resources," Zach Katz, CEO of music-tech investment firm Raised In Space, recently told dot.LA.
Editor's Note: dot.LA co-founder Spencer Rascoff invested in Community in a previous round.
From Your Site Articles
Related Articles Around the Web
The virtual influencer Miquela Sousa, aka Lil Miquela, whose rise has garnered equal parts uproar and admiration, continued her foray into NFTs on Wednesday with part two of a five-part series that promises to "tell a special story over time."
Brud, the L.A. startup behind Miquela and a handful of other characters with fully fledged digital identities across social media, is doing the free drop to hype up their superstar avatar and expand her narrative. An announcement from the company said the underlying artwork, called "Unseen by eyes but forged in stone," can exist as a standalone piece or as part of a collection that will roll out over the next several months.
Brud appears to be gamifying the collection of tokens to unlock a unique, surprise reward.
"This NFT is part of a larger series featuring Miquela," the company wrote in a Google doc linked in Miquela's tweet announcing the drop. "Each NFT in this series serves as a piece to a larger puzzle. Each piece will work together to tell a special story over time. The only way to access the story before anyone else is to own each NFT and connect them together along the way."
New NFT drops NOW! First 1500 people to reply to THIS TWEET with their wallet address will BE BLESSED and the FULL… https://t.co/7XZdblfZbd

— lilmiquela (@lilmiquela)1617814863.0

Users could claim one of the available 1,500 NFTs by replying to Lil Miquela's tweet with the address to their crypto wallet.
Brud, valued at $144 million, said it will deliver the tokens within 24 hours. Users had to agree to let the company contact them in the future for marketing purposes.
Within three hours the post had received nearly 4,000 comments and been retweeted over 1,600 times.
Upon validation of users' addresses, Miquela's Twitter would post a response.
"Obsessed with u, there's 1481 left!"
"We're making history, TYYY!! there's 1377 left!"
"We're making history, TYYY!! there's 1203 left!"
And so on.
Since debuting on Instagram in 2016, Lil Miquela has picked up three million followers and sponsorship deals from the likes of Supreme and Barney's. Her curated digital identity ostensibly makes her less of a risk than human influencers for brands.
Last year, the digital teenager was estimated to have earned more than $12 million. She's repped by CAA, alongside many real celebrities, and has appeared on a billboard in Times Square.
In November, Brud released her first NFT, tied to a digital artwork entitled "Rebirth of Venus" that sold via SuperRare for 159.5 Ether. At the time, that was worth about $82,000; Ether's value has since nearly quadrupled. The winning bidder of that token appears to be linked to crypto investment fund Divergence Ventures, based on the link in the buyer's SuperRare profile.

It has been a common refrain as NFTs have gone mainstream: the investor behind last month's headline-grabbing $69 million NFT tied to a digital artwork by Beeple also had a financial interest in propping up the legitimacy of cryptocurrency.
The latest Miquela offering is part of an ongoing spree of creative NFT offerings that provide buyers more than just a certificate of digital ownership tied to the blockchain. It also expands the storyline of a 19-year-old who blurs the lines between fantasy and reality as a racially ambiguous, socially conscious teenager.
From Your Site Articles
Related Articles Around the Web