influencer Economy
Browse the latest news about influencer marketing and the growing economy surrounding social media influencers in Southern California from dot.LA.
The prospect of internet fame is no longer enough to bring in the best and brightest. Instead, paying for content has become table stakes for these platforms as they battle one another and compete in the broader attention economy.

Netflix chief executive Reed Hastings made that clear in a recent earnings call, when he called YouTube — rather than other streaming services or theater chains — his company's "second largest direct competitor."
Within the last two years, at least 10 platforms have announced they'll be paying creators for their work, but the size of the purse, what type of content they're funding and how differs by platform.
"These types of funds are what a lot of creators have been waiting forever for, and as soon as one platform starting doing it, the others had to follow suit," said David Rhodes, a multiplatform content creator with over 10 million followers across his 12 accounts, who has earned a few thousand dollars from Snapchat's creator fund.
Whether this new funding will be enough to lure talent and sustain quality content remains to be seen, but the financial arms race has been welcomed by many creators.
Here's a quick look at each:
TikTok has said that within three years, its creator fund will grow to over $1 billion in the U.S. and more than double that globally. Only residents of certain countries are currently eligible, and successful applicants must meet other criteria, including having at least 10,000 authentic followers and receiving 100,000 views in the last 30 days. To apply, users must have a creator account, which is free to make, and submit an application via the app. Payouts are based on video views and engagement, and no caps have been set for outlays per day or to a given user, the company says.
YouTube's "shorts fund" is a $100 million pool that will be distributed through 2022. Available to creators in India and the U.S., it is an effort to boost YouTube's presence in the short-form video market via its new "Shorts" product. Phil Ranta, a social media veteran and CEO of Wormhole Labs, said he has seen lots of creators with relatively modest followings earn "bonkers" views via Shorts. YouTube says it will reach out to creators whose Shorts earn the most views and engagement each month, and called the fund "the first step in our journey to build a monetization model for Shorts on YouTube."
Snapchat is offering $1 million per day to creators on "Spotlight," a TikTok-like video-broadcasting feature launched late last year that heralded Snap's departure from an exclusive focus on peer-to-peer messaging. Anyone can submit clips to Spotlight and be eligible for the funding. Payments are distributed based on an algorithm that checks whether a post passes a "value threshold" within seven days. Snap has said factors the algorithm looks for will vary but may include unique views and performance relative to other users' posts.
Facebook set aside $25 million for a Black creator fund in 2020, available to U.S. residents with at least 10,000 Facebook or Instagram followers. The program launched in August and applications are now closed. Instagram, owned by Facebook, does not have a general creator fund, though its head, Adam Mosseri, has suggested it might create one in the future. Reports have surfaced indicating that Instagram has sought to lure some creators to its platform with lavish payments.
Pinterest has a creator fund that reportedly measures $500,000 and is open for application; participants receive $25,000 in cash and ad credits and participate in a four-week workshop. Clubhouse has indicated it will offer application-based creator grants but has not publicized details, and ran an inaugural creator accelerator program that closed applications in March. Substack offered $25,000 each to four selected writers in 2020 while OnlyFans provided four £20,000 grants to UK-based musicians.
How Some Artists Are Gaming 'Creator Funds'
The largest funds are algorithmic and the factors that trigger payouts are a moving target, but that doesn't mean they can't be gamed.
"There's always an exploit," said Ranta, noting that conversations among creators and agents often include sharing tactics for what seems to be working.
One hack he cited pertains to Snap's Spotlight fund. Some creators with big followings have found they can post to Spotlight as frequently as every five minutes with simple videos such as blowing a kiss to the camera, and earn money for it, Ranta said.
Accessing the funds can also simply mean posting relentlessly.
"The more content you can push out the better," said Rhodes. "Although some videos may do well and some won't, you're still increasing your chances of videos taking off and earning money."
Rhodes said it's key to find "formula," and "ride it out until it stops working — or until the novelty wears off — and then switch it up and try different things until you find a new formula that works, and ride that one, too."
Ranta noted that a good way to know what a platform algorithmically prefers is to monitor the company's press releases and best practices guides.
"You put those two together and you kind of get it," he said.
Conversations about how to hit the moving target also take place on forums like TubeBuddy, in addition to Reddit and Discord. Proceed with caution, though.
"Those are really hit or miss," said Ranta, or downright "unfounded gossip."
Creators will soon be able to set up digital storefronts on Instagram. Facebook CEO Mark Zuckerberg made the announcement on Tuesday along with a slew of other monetization features. The company is trying to lure and keep influencers on its social media platforms amid stiff competition from the likes of TikTok and Twitter, which recently introduced a "tip jar."
"If you have an idea that you want to share with the world, you should be able to create it and get it out there easily and simply across Facebook and Instagram and then earn money for your work," CEO Mark Zuckerberg said. His keynote kicked off "creator week," a three-day virtual event Facebook and its subsidiary Instagram are hosting for influencers, "designed to help them build their careers and personal brand, support their wellbeing, and connect them with their peers," according to a company statement.
The digital storefront feature lets creators sell their own products, as well as link their accounts to Facebook's existing merchandise partners (Bravado/UMG, Fanjoy, Represent and Spring).
Influencers can also recommend products and earn a commission when their followers make a purchase. Those brands set a commission rate; in such cases users will see an "eligible for commission" label on creators' pages. The company said it will be testing this feature over the coming months.
Starting this week, creators will be also able to earn extra cash by attaining "badges" on Instagram and "stars" on Facebook, though the company didn't reveal specifics about how much they'd be paid. The idea is that creators will be rewarded for achieving certain milestones, such as broadcasting for a certain number of hours on Instagram Live.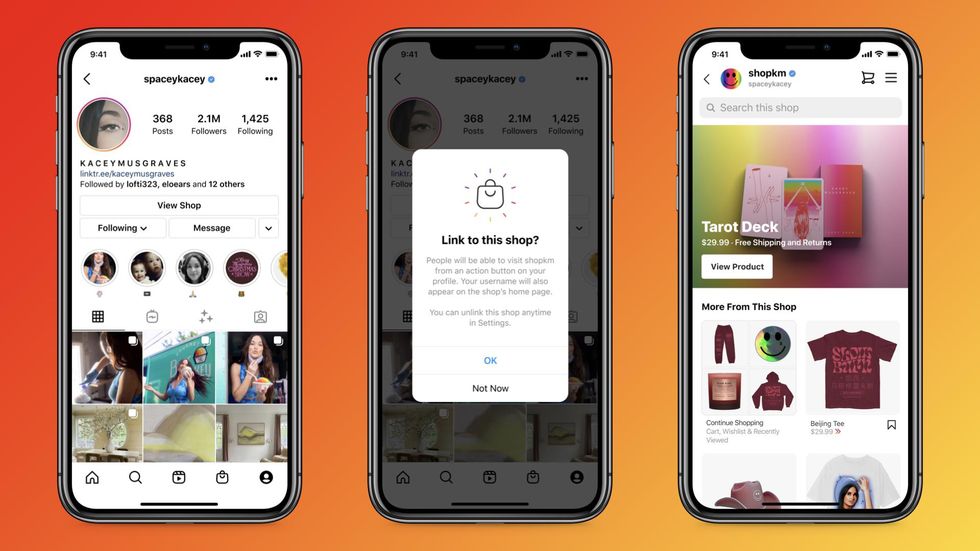 The company has already used badges and stars as a form of tipping, but this new feature adds another layer of compensation.

Facebook has said it will begin taking a cut of creator compensation in 2023, though Zuckerberg noted that its share will be "less than the 30% that Apple and others take."

"I really believe that people are naturally creative and we want to share what we make with others. And a lot of times we want to turn that into a career," Zuckerberg said. "You just need access to the right tools, and that's what we hope to continue to build for all of you."
The new features will further embed ecommerce into the user monetization features of Facebook and Instagram, which already offer a degree of online shopping tools. It is part of a broader trend of social media companies competing to keep their users engaged by attracting content-makers.
TikTok is reportedly testing incorporating ecommerce, for instance, while Snapchat has launched a "creator marketplace" to match brands with augmented reality creators. Platforms are also increasingly offering other monetization options, including ad-revenue sharing and launching funds earmarked for creators.
Instagram head Adam Mosseri, who's led the Facebook subsidiary since he took over in 2018 when Instagram's founders left, also noted that the emphasis on helping creators make money on Instagram is part of a broader "shift in power from institutions to individuals."
He said it was in much the same vein as the rise of fans rooting for athletes rather than teams and the surge of journalists going it alone on platforms like Substack and Patreon rather than relying on publications.
When TikTok proudly announced in 2019 that it would ban political advertisements on its platform, the social networking service was met with widespread praise. At a time when Facebook, Twitter, and Instagram refused to take a stand against political powers, many praised TikTok's commitment to neutrality.

Yet two years later, it's clear TikTok has succumbed to those forces as well: A report published Thursday by Mozilla suggests that misleading political ads and "dark money" have seeped onto the app.
A team of Mozilla researchers found that TikTok influencers in the U.S. are "being paid by political organizations to post content espousing their views," and that not all of these posts are disclosed as paid partnerships.
The report, titled "Th€se Are Not Po£itical Ad$: How Partisan Influencers Are Evading TikTok's Weak Political Ad Policies," charges TikTok with lax oversight and policies that contain loopholes that have enabled these posts to appear.
"TikTok does not effectively monitor and enforce its rule that creators must disclose paid partnerships," the researchers wrote, "nor does the platform proactively label sponsored posts as advertisements."
In response to the Mozilla report, TikTok released a statement on Thursday saying, "Political advertising is not allowed on TikTok, and we continue to invest in people and technology to consistently enforce this policy and build tools for creators on our platform. As we evolve our approach, we appreciate feedback from experts, including researchers at the Mozilla Foundation, and we look forward to a continuing dialogue as we work to develop equitable policies and tools that promote transparency, accountability and creativity."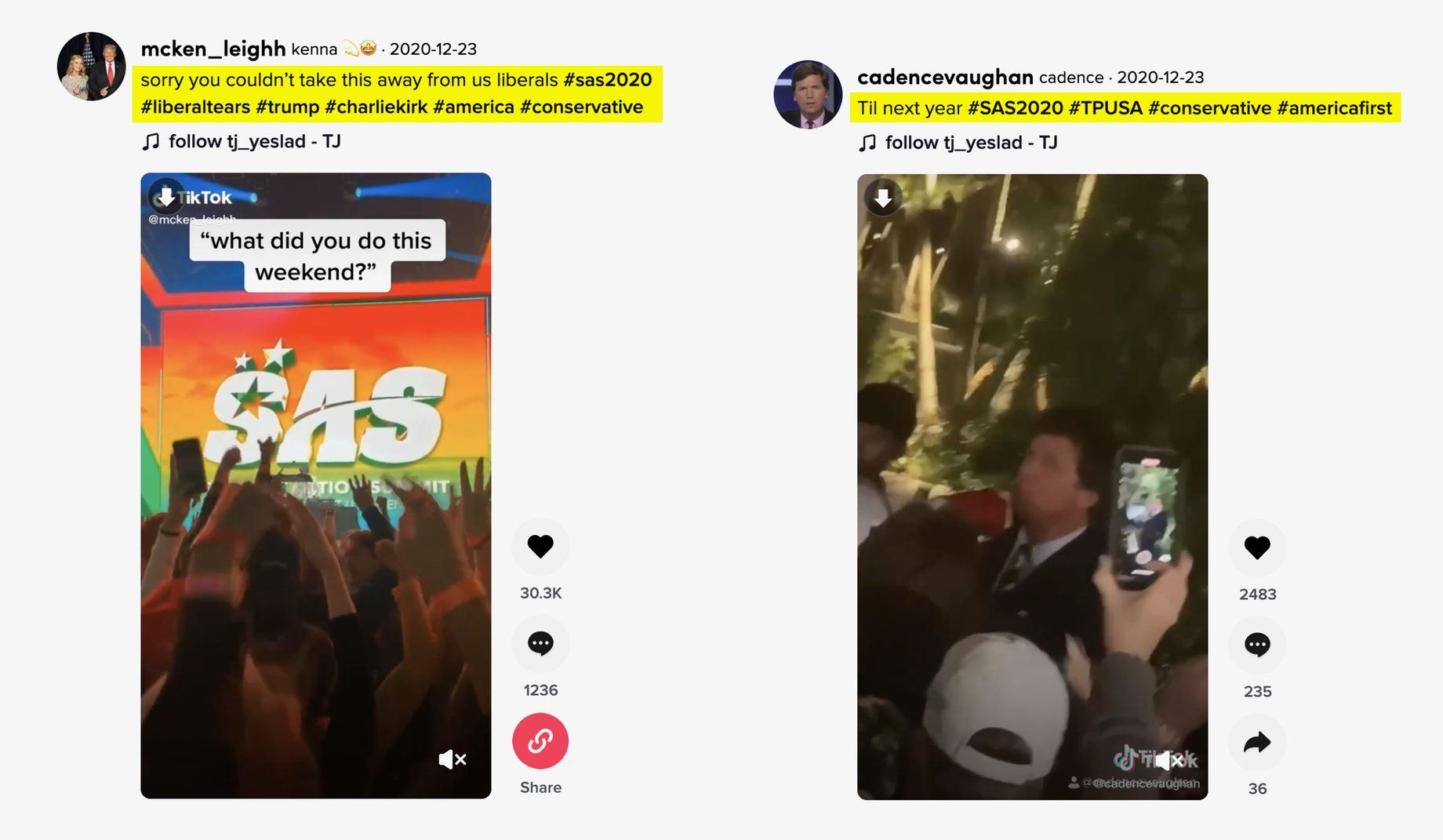 Image courtesy of Mozilla
The use of political ads on social media drew attention following the 2016 presidential election when it was revealed that Russia weaponized social platforms by spreading misinformation in an attempt to influence the election. Facebook banned political ads after the 2020 election "to avoid confusion or abuse following Election Day," but lifted the ban in March.

TikTok, however, said in 2019 that political advertising did not fit the app's "light-hearted and irreverent" experience. The Mozilla report suggests that TikTok has not only failed in this promise, but has eschewed the transparency mechanisms in place that other platforms have adopted in the wake of the attention on the dangers of political ads.
Mozilla found that several right-wing TikTok influencers appear to be funded by Turning Point USA, a tax-exempt nonprofit which has a dedicated influencer program intended to fund conservative content creators on social media.
The report points to one post by a TikTok user with 67,000 followers that appears to have been recorded at a Turning Point USA conference. The post features the hashtags #tpusa and #trump2020, and includes images of people in red Make America Great Again hats and holding Trump flags. It does not include a hashtag that indicates it is sponsored content.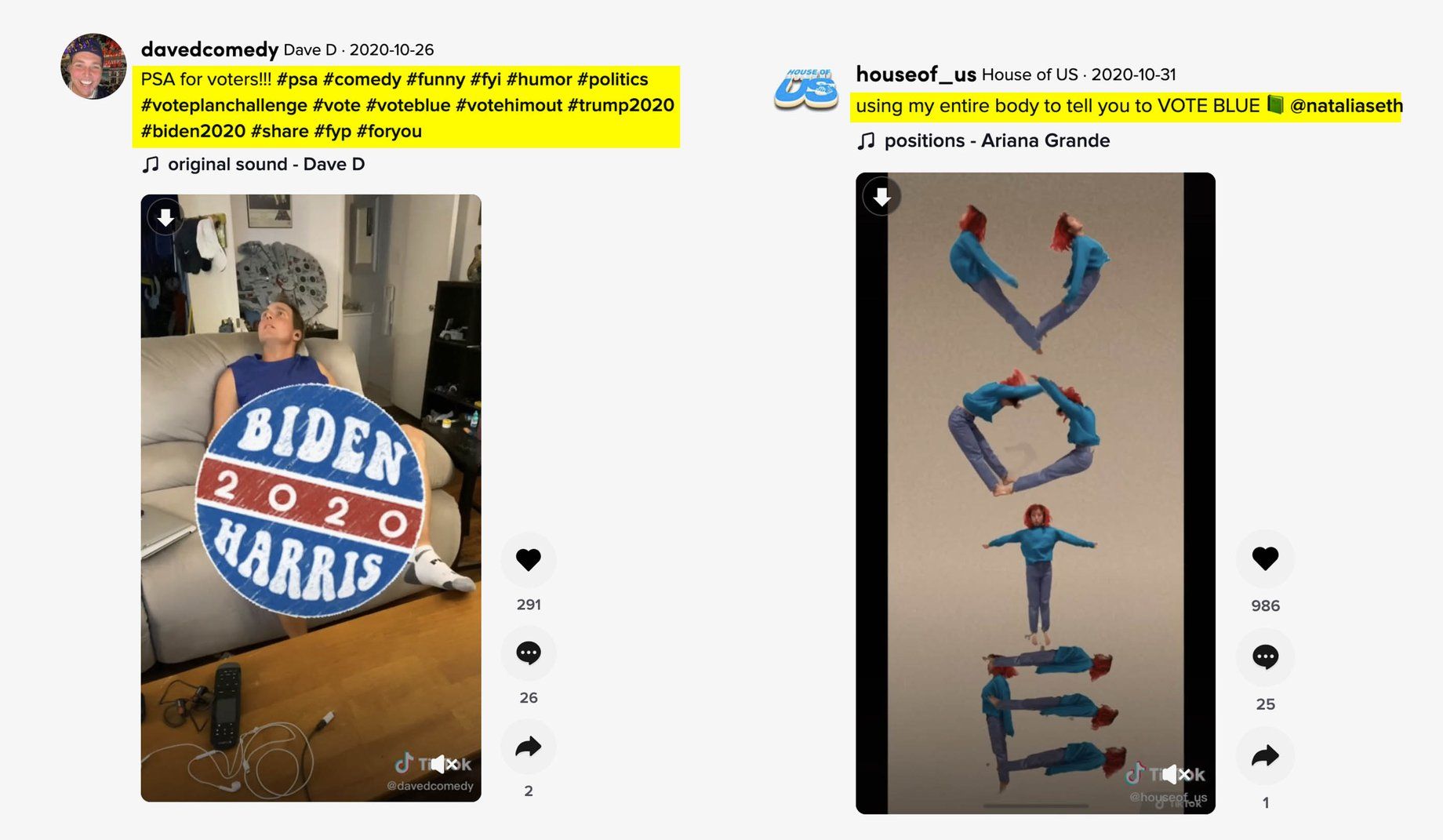 Image courtesy of Mozilla
On the other end of the political spectrum, Mozilla pointed to a report by Reuters that found influencers were paid by a progressive PAC, The 99 Problems, to create pro-Biden TikTok posts without disclaimers.

According to the Mozilla researchers, TikTok doesn't enforce its rule that creators must disclose paid partnerships and it doesn't "proactively" label sponsored posts, saying it "doesn't seem to monitor influencer advertising."
Mozilla queried the TikTok Application Programming Interface to see the metadata associated with each TikTok post. Posts with advertiser-funded hashtag challenges were marked as advertising in the metadata, whereas influencer posts that used the hashtag #ad or #sponsored were not.
Like other social media services, the Federal Trade Commission requires advertising disclosures for social media influencers by using the hashtag #ad. Mozilla says other platforms are better at monitoring these advertisements by offering influencers "straightforward" ways to disclose their partnerships like checking a box on YouTube, disclosing the post is a sponsored video. Instagram also has a tool creators can use to mark their content as branded. (TikTok also differs from other social media platforms in that it doesn't have a publicly-searchable database of advertising data.)
"Of course, it's hard to know exactly how self-disclosure ad policies are being enforced across platforms but TikTok is significantly far behind Instagram and YouTube when it comes to providing tools and enacting clear, strict, and transparent policies," the Mozilla researchers wrote in the report.
The Mozilla researchers made recommendations to TikTok to address these issues it uncovered, such as developing mechanisms for creators to disclose paid partnerships, introducing an ad database that includes paid partnerships, and updating its policies and enforcement processes on political advertisements to ensure they address all ways that paid political influence occurs on the platform.
From Your Site Articles
Related Articles Around the Web