culture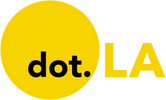 Get in the KNOW
on LA Startups & Tech
X
culture
Earlier this year, Spencer had an opportunity through the Navy's Distinguished Visitors Program to visit the USS John C. Stennis, an aircraft carrier. During his time aboard the ship, Spencer met Rear Admiral Michael Wettlaufer, who's spent 32 years serving in the Navy. Throughout his career, Admiral Wettlaufer has received multiple medals for his service, logged 3,500 flying hours, flown 49 different aircraft types and made over 800 arrested landings. To say he's a brave and accomplished leader is an understatement. In this episode, Spencer returns to the USS Stennis for a conversation with Admiral Wettlaufer about leadership. The two cover a lot of ground, including the Admiral's impressive career in the Navy, the importance of teamwork and how to build a culture that's committed to excellence.
Press Play to hear the full conversation or check out the transcript below. You can also subscribe to Office Hours on Apple Podcasts.
Rear Admiral Michael Wettlaufer: So the opinions that I may give are my own and not those of the United States government, the United States Navy or the Department of Defense. How about that.
Spencer Rascoff: All right. The lawyers are satisfied. Admiral, it's amazing to be back here. I was here for, I guess, two nights a couple months ago, somewhere in the Pacific at an undisclosed location. You never did tell me where we were exactly, but we were at sea, and I had an extraordinary time getting to know you a little bit, getting to know your staff, and speaking with so many sailors. I felt like I learned more about leadership and management in those two days at sea than anyone could learn sometimes in a career. I'm grateful that you let me come back here and get some of these learnings on tape, so thank you.
Admiral Wettlaufer: Well, I'm happy to have you back, and it's great that you had some time between then and now as well so you can think about maybe what you saw and the fact that as you came out, and I described earlier to some of the folks in the room, as you come out and you go to the aircraft carrier you think, "I'm gonna see the coolest, this cool giant machinery," right?
But in the end, none of the machinery works without all those young leaders who are at various stages of learning to lead, which part of that is learning how to follow, right? It's an amazing experience, and I am honored every single day just to be involved with those people.
Spencer: So let's start with your career and sort of take a step back. You've had a 33-year, 32-year career in the Navy. Just walk us through, even at the very beginning, why did you join the Navy? Then give us some career highlights to bring us to the present.
Admiral Wettlaufer: It's a great question 'cause it's one I ask myself. You look back after this amount of time. I was a microbiology major in college, and I did not wanna be in a laboratory ever again after I finished my degree. I was thinking about that, what do I do that's gonna be exciting?
Spencer: At traditional college or at Navy?
Admiral Wettlaufer: No, university, Colorado State.
Spencer: OK.
Admiral Wettlaufer: So when I finished school and had a great time learning, loved to learn, but I wanted to change what I was doing, and I have a lot of family members, my dad's family and my mom's family, who were in the military. A doc that my dad worked with asked me the question about a year prior, said, "What are you really gonna do?"
So end of school, graduate, and I went to the recruiting office in downtown Denver, parked in the back, walked in the side door. The first office I came to was Navy officer programs, and I went in and said, "I have this microbiology degree; I don't wanna use it. What do you have?" So two weeks later I take an aptitude exam. A week later, 'cause this was prior to computer-based testing, a week later they call back and say, "Hey, you did well on that test. Do you wanna be a pilot?" I said, "How much does it pay?"
So that's 32 years ago, 32-and-a-half years ago, and I have been challenged and intrigued, curious and rewarded, with great opportunity ever since.
So I started off, went to flight school in Pensacola, Florida. I came out of there flying off the USS America, A-6 Intruders. We were based on the East Coast. Three deployments, two sets of workups, Desert Storm kind of in the middle there, and then I went to the test world, and I had the opportunity to become a U.S. Navy test pilot, so I went to school again. Got to use all the physics and calculus that I had previously, and so I went to test pilot school. Again, great challenges.
Totally different than what I was doing prior to that; not totally, but different in the way you approached it. Got to spend a lot of time operating off ships as well. So a year of school, two years of doing test work, and then I transitioned to the F-18 at that point, and I flew F-18 Charlies operationally. At test pilot school and during the test business I flew 22 to 25 different airplanes, which wasn't unusual at the time.
So I went to Japan and I operated off the USS Independence and the Kitty Hawk flying F-18s, and then I went to the UK and I got an opportunity to fly with the British at their test pilot school as an instructor or tutor, as they say, and did some test work for her majesty on exchange from the United States Navy. And then I went to the Naval War College after that, and so I went and got a master's degree in national security and strategic studies. While I was a test pilot I was fortunate enough to go to the University of Tennessee as an away student and had a master's of science in aviation systems.
So a lot of school along the way, a lot of interesting and diverse experiences, and then I worked in a think tank for the CNO, the Chief of Naval Operations, called the Strategic Studies Group at the time. So our job was to look out in the future and see what future stuff was there and how do we pull it in closer, how do we get there faster. So for CNO Clark, Adm. Clark at the time, that was his focus for us and a great opportunity to work with scientists, see behind some of the doors in our federally funded research and development institutions around the United States, as well as U.S. government labs.
And following that I was fortunate enough to get selected to command an F-18 squadron. Went back to Japan as the XO and then the commanding officer on a VFA-195, the Dambusters in Japan, and operated off the carrier for a few years there, underway a lot, and then was rewarded.
Spencer: Underway; you just used some terminology.
Admiral Wettlaufer: At sea. So underway at sea. If you see the Navy around the United States, we're probably not doing our primary mission. We play the away game, so we play the away game 24/7 so there's some aircraft carrier strike group ships out there, independent strike group.
Spencer: What is that sound that we're hearing?
Admiral Wettlaufer: It is 11:30, so we have to mark the time with the bells traditionally. If you were standing watch and back in the day the tradition is you didn't have a watch.
So the ship lets you know what time it is, and if you're on a four-hour watch you wanna hear those bells get to higher numbers of bells as the time goes on 'cause that marks your watch. So there's 30 more minutes in somebody else's watch.
Spencer: Punctuality. Just one of the many reasons I love the Navy. So here we are, we're sitting on the USS Stennis, an aircraft carrier. You command Carrier Strike Group 3.
Admiral Wettlaufer: That's correct.
Spencer: Approximately 7,500 people?
Admiral Wettlaufer: Right.
Spencer: The Stennis is obviously the largest ship in the strike group, and then how many other ships are attached to the Stennis?
Admiral Wettlaufer: So attached to the strike group I've got five destroyers and the cruiser Mobile Bay, USS Mobile Bay, which, by the way I, deployed with Mobile Bay back in the late '80s and early '90s on the East Coast. You see ships around for quite a number of years, and aircraft carriers are typically around for about 50 years, but that's a little beside the point. The ships that will deploy with us, we won't deploy with all of those destroyers.
One of them is already deployed now by itself, independently deploying forward, doing a number of missions in the Pacific and farther to the west. So we're gonna deploy with some number of those ships. In the past year or so we've been training for that process.
Spencer: By the way, one of the really interesting themes of your career is something that I heard when I spoke with other officers when I was on the ship, which is continuous education. It seems like the career of a naval officer involves a lot of returning to school and then returning back into the force and sort of transitioning between academic and practical.
Admiral Wettlaufer: Absolutely, and not all of it — there's a lot of formal education from flight school or a junior sailor going to learn the first part of his trade, whether he or she is working as a mechanic or electrician or maybe working on computer systems, right? They're gonna get some training initially and then we do a lot of on-the-job training.
So a naval aviator or a junior sailor coming to the ship or coming to a squadron is gonna be in a continuous training process. A lot of that is formal. It's formalized in books or via computer system, or it's formalized by the fact that I've got to sit down with somebody else who knows the subject, and I've got to do a give-and-take education process, on-the-job training. If you're training me on something, you've got to be satisfied that I understand it before you sign me off.
Spencer: There are many misconceptions that civilians like I had or have about the military, one of which is that the career path is a straight up-and-down ladder. You do a certain number of years in a position, you get promoted to the next position, next rank, etc. The naval career feels a lot more like the corporate world, especially in technology. We use this metaphor that your career is like a jungle gym, not like a ladder.
You go up a little bit, to the side, down, over, up some more. Would you agree with that description?
Admiral Wettlaufer: A jungle gym; I would certainly say there's a career path. Don't get it wrong. We have a designed career path, a very typical career path, whether you're a Surface Warfare Officer or Submarine Officer, Aviator, Supply Officer, there's gonna be some typical jobs you have to get, but they're not all in the same place. So similar in the corporate world to your IT analysis or comparison is that you're gonna move laterally, out of one organization, over to another.
You're still in the Navy, but you may work with another Navy or you're gonna move from a seagoing billet to learn maybe more about how the shore side works. It also gives you a break from being in the deployed status to being not so much of a deployed status. So there's some stability aspects of the career that go with that, but there isn't stability in — it's very unusual for somebody to be in one place for a long period of time. So you're gonna move laterally up and down just like you described in the jungle gym.
Spencer: So I wanna talk about teamwork for a moment and how this whole organism fits together. You said something fascinating to me when I was here a couple months ago. I expressed surprise at frankly how much transparency there was about the operations of the ship, and I said, "Don't foreign governments, don't the Chinese or the Russians or whomever, aren't they trying to copy this aircraft carrier?"
And you said, "Firstly, we have a lot of technologies that you're not seeing on this tour, but more importantly it's not about the technology that creates this aircraft carrier. It's about the teamwork that the way this strike group works together and the way the entire Navy works together, and it will take generations for other navies, other countries' navies, to recreate that.
Admiral Wettlaufer: Well, it's a culture, right? Every organization has a different culture.
This organization, particularly the culture around excellence. We can't operate forward in a dangerous environment. You saw on the flight deck one of many dangerous environments we work in, but it's perhaps the most dangerous environment in the world when you're operating the flight deck and we're not getting shot at necessarily up there on the flight deck. It's people, metal, it's machinery, it's a dynamic environment. It's high paced and there's not much room for error because a single error can have catastrophic effects.
So it's that culture that you have to build and maintain, and we've been doing this for a number of years, at least as you looked at the aircraft carrier. We've been fortunate enough to operate and learn over time. None of it's static. We're continuously learning and we're bringing people into that culture a few at a time. It's not like we don't – we don't start from Jan. 1 and we're gonna bring in a whole bunch of new people, we're gonna bring in 5,000 new people to be on the aircraft carrier with the air wing, or 7,500 people start over in the strike group.
It's this continuous process of maintaining that culture and training people into it, acculturating them, and then standards. So the standards have to be owned, learned and owned at the lowest possible level, and you want to have decisions made at the lowest possible level of execution, level of responsibility that you can so that you can have those decisions made rapidly. You saw the flight deck, right? Perhaps one of the most interesting ballets without ballet shoes on.
Spencer: This is fighter jets landing and taking off on an aircraft carrier.
Admiral Wettlaufer: Right. Fighter jets, helicopters; the synchrony of that, the maintenance that goes on, the cyclic nature of that business. And you saw as you described it the team of teams that could potentially be separated and maybe are in the building-up phase as we get ready to start to get underway from maintenance to operations, and you start training in smaller groups or single-ship units, single squadrons.
As you bring that together, the key is that synchrony that occurs when you bring these separate teams together, and the culture has got to be there to allow that to happen. Otherwise, you have stovepipes of excellence and they don't cross.
Spencer: You handed me a little index card here with a quote, which you sometimes do, handing leadership and other quotes out to people here on the ship. It's an Aristotle quote. It says, "We are what we repeatedly do. Excellence then is not an act but a habit." So what does that mean to you? What does a culture of excellence mean? How do you achieve it?
Admiral Wettlaufer: So it's got to start with knowing what the goals are, and you have to translate that. You have to communicate. Communication, I believe, is the hardest thing we do. It's absolutely very, very difficult. It takes continuous attention, and you have to use every medium that you possibly have to communicate: verbally, face-to-face verbally, on a loudspeaker, clock.
The chiming of the clock, right? And so if we don't communicate the mission, the short-term, medium-term and long-term goals in a continuous way, people stop paying attention, right? What do you wanna have? Buy-in. How do you get excellence? Well, you gotta communicate. Gotta know what I'm supposed to be doing. Then you gotta get buy-in. You gotta get past that 51 percent momentum hump if you will, right? You've got to have a self-sustaining momentum, and it's gotta overcome the momentum of sameness.
So the momentum of sameness is we're gonna just sit here and do nothing 'cause I'm perfectly happy in where we are and what we're doing. That's not me. I'm not perfectly happy, right? So you have to have communication to talk about the goals, and you have to have goals, right? You have to have achievable things along the way, and you have to translate those things into action.
So culture of excellence self-assesses. To achieve excellence I wanna shoot really at perfection because if you shoot at perfection you're gonna achieve excellence, right?
It's very hard to be perfect. And you've got to assess, where am I all the time on every single line of effort, and how do you communicate those lines of effort to the newest person in the organization as well as the most senior people in the organization and outside of the organization, 'cause we need support from outside as well.
So that culture of excellence can be self-sustaining if it's self-working. It can't sustain itself without a ton of effort at every single level. So the most junior leader to the most senior leader has to be fully engaged in achieving that mission, whatever it happens to be.
Spencer: I mean so many similarities here to business. The best businesses I think are mission-oriented. Their leadership team constantly communicates to employees why their work is important, how it relates to the broader mission. You have a culture of excellence and standards. In tech we call them OKRs, objectives and key results to try to hold people accountable.
You have some sort of relative advantages and relative disadvantages as compared with companies, I'd say from my point of view. One of the relative advantages is that when you're underway, your employees, if you will, have no access to social media, no access to distractions. They're sort of all yours, if you will, 24/7 to mold them and to lead them.
Corporations don't have that advantage. A disadvantage is that your employees are quite young, I mean 17, 18, 19. I don't know what your median age is on a ship, but it's probably in the early 20s, I would guess.
Admiral Wettlaufer: Right. Most people arrive at the age of 18 to 22 is where that arrival time is, depending on their seniority and what job they're doing, but I see exactly what you're saying and what that view is. Those young people, though, provide the energy and also a challenge. The challenge is to make sure they're engaged in the right direction and make sure there are opportunities, or they came for opportunity. Make sure we're helping them achieve those, reach those goals that we help them set.
So there's a human-to-human contact that we have, as you rightly point out, longer than the eight-hour day, a typical day you may get for a worker in the tech business or a corporation someplace. But that is a great gift because we can communicate whenever we want, we think anyway. But then the challenge is to make sure that they're listening. One of the key challenges is that, as you know, what I say is not what you heard. That's a key challenge. So how do I make sure —
Spencer: What I say is not what you heard. What do you mean by that?
Admiral Wettlaufer: Everybody translates differently, and when are they paying attention or what's the state of their mind as they're paying attention? So what I say is not, or what I wrote is not, what you read necessarily. So how do I find out what I said is what you know?
Spencer: You ask people to play it back to you?
Admiral Wettlaufer: You have to play back, right? So not only can you — you have to push communication. There has to be a return process.
Spencer: And so correct me if I'm mistaken, but you allot a not insignificant portion of your day to management by walking around, talking to sailors, discussing with them what's on their mind, what they're working on. Why is that so valuable?
Admiral Wettlaufer: Because you can skip levels, right? I'm not sure what you might call it in the —
Spencer: We call them skip levels.
Admiral Wettlaufer: So you can skip levels, and to skip a level then you don't have to wait for the filter to give you the information that the filter wants to give you. So one of the big challenges that we had is we are preparing our war fighting skills, our deployment kind of skills; over the past year is understanding where the entire team sees themselves. So I can say something, and if I don't ever go look outside the room, if I don't ever go ask, then I'm gonna get a bunch of smiling faces that said, "Oh yeah, we heard that."
But I haven't checked whether or not that translation what they have heard beneath that level is what I have said, or what I mean — even more importantly, what I mean. So if I don't go out, and any of us, leaders at any level, if we don't go out and engage, then we really don't know what's on the minds and what the state of mind is of the people that we expect to execute, and I think that's important to get past roadblocks in achieving goals. Because if they don't have the same or similar goals in mind, then we're never gonna get there. We won't get to excellence.
Spencer: One of the other disadvantages you have is there's a lot of turnover, sort of by design. In the Navy people start and then they're on a particular shift for, I don't know —
Admiral Wettlaufer: Four, six years, something like that.
Spencer: And actually even certain elements are detached from this ship, right?
Admiral Wettlaufer: That's correct. Yes.
Spencer: So the air wing, which is 1,000-plus people, 2,000 people that fly the planes, it's like you're putting pieces of a puzzle together. They join the ship for some finite period of time, and now these teams of teams are working together, and then the air wing leaves.
Admiral Wettlaufer: Disembarks. Yep.
Spencer: So how do you — with turnover, with these sort of teams coming and going, how do you try to gel the whole organization together?
Admiral Wettlaufer: So that's where you've got to have, well at least in my case, I've got six direct reports. The captain of the aircraft carrier has 20 or 19 direct reports.
Spencer: So because you oversee the strike group you have six ships.
Admiral Wettlaufer: The air wing commander; the destroyer squadron commander, who is responsible for the destroyers; the cruiser commanding officer at USS Mobile Bay; the aircraft carrier commanding officer; the air wing commander; and my information warfare commander. So those are my direct reports.
Spencer: And so the captain of the USS Stennis, this aircraft carrier, has 20 direct reports.
Now you used to have that position, if I'm not mistaken, so that's another challenge of management, is one, you get promoted to the next role and someone else takes your prior role. How do you —
Admiral Wettlaufer: Don't do the other guy's job.
Spencer: How do you let go?
Admiral Wettlaufer: You better let go because he was selected to do that job for a reason. It's the same as skipping levels to figure out what's happening. By the nature of my experience, my experience is similar to his job right now, so I can ask some questions and walk around essentially and get a good idea about what's going on there.
My challenge, as you mentioned with the air wing, is translating, making sure the air wing commander and his commanding officers have heard what I said and I've translated my vision properly so they can execute it. But it's a shared vision, so here's the other advantage is that, that part of the organization, that division, if you will, of an organization has similar goals.
They just have a different way to get there. So we share the end goal. I've just got to make sure I've translated the goals to the air wing commander so he can do it to his squadrons so that when they arrive we are ready to start that synchronization process. We don't have to do stutter steps to break down silos. And it's not just the air wing commander coming on board, it's the air wing commander coming on board with those squadrons that have to leverage the supply system on the aircraft carrier.
They've got to be able to fully integrate with the support mechanisms from laundry to food service to berthing and cleaning to the flight deck operations. So these organizations have to be able to very neatly — this goes back to culture — very neatly interlock without having the stutter steps. If you have the stutter steps, it delays excellence. It could create some challenges in safety and operations that we just don't wanna have.
Spencer: When people enter the Navy typically today, or when I asked sailors, "Why did you join?" their most common answer was, "For a better life." Some version of, "I wanted to better myself because I was kind of stuck. I was in a rut in my life" essentially. Once they're here and then they're part of this organization for three, four, five years, the people that seem to stay for a career, another motivation clicks in. Maybe it's duty, maybe it's personal fulfillment. Walk us through that motivation.
Admiral Wettlaufer: That's a great question. It's probably the success along the way, right? Everybody comes for a different set of reasons and they find things along the way, and that's what we want them to do. We want them to come and contribute to the team and be successful on the way, to take what they didn't have and they wanted and go find it here. That's opportunity.
People wouldn't come if they weren't looking for opportunity, right? So how do we help them get along that path? For some there is an "I'd like to go to higher education and I didn't have the opportunity to do this." A young lady about four weeks ago, five weeks ago, actually it was the 17th. I remember it was the 17th of August. She was leaving the ship. I knew her when she was just arrived here, and she wasn't the youngest person to join the Navy. So she arrived here with three years of college completed, and she came here to get an opportunity to complete.
So she finished her fourth year of college while in the Navy over the four years, and she was leaving here to go on to law school to take advantage of the GI Bill. So there's one motivation, right? But she also had family. She had a child she wanted to take care of, etc. But there are many others. Petty Officer Bloomer, who works in the air department, I've known her since I think when I was XO, when she was first on the ship, so 2011 maybe.
Her motivation is helping out other sailors. So she wants to be a career counselor, and she counsels other junior sailors on how to achieve their goals. And then you've got people that are exceptional, technically exceptional in their particular job, or they enjoy the challenge and the lifestyle of being at sea and doing the nation's business. All those people are patriots. Every single one of them arrived here, they raised their right hand and they said, "I wanna be part of the 1 percent."
They didn't know it necessarily at the time, but they're part of the 1 percent that the 99 percent expects to protect them without question. So that 1 percent; I am honored to work with the 1 percent of America that wants to defend America. So in all of those things that people want, I think what they get out of this, no matter how long they stay, is that they were part of the folks that stepped up and said, "I'm gonna defend the United States of America and what we believe in."
It's a fascinating merging of all kinds of people from all walks of life in the United States, and I'm just honored to have the opportunity to be part of that process, particularly right now.
Spencer: And we're grateful to you and to them. When people leave the military and look for their next career they are — companies like ours work very hard to recruit them.
Veterans face a lot of challenges re: orienting themselves to the private sector and just the world after the military. What would you want companies like ours and other executives listening to this to know about veterans so that we can be better at bringing them back?
Admiral Wettlaufer: Sure. We may have discussed this when you were on the ship previously. I think one of the major things that we deliver from a human being perspective is that people see their own success. OK, this is what I came to do and my team did this and I've succeeded here. And along the way we do what corporate America doesn't necessarily do — and certainly at the entry level in corporate America — is that we train them to lead, right? We train people to step up and take charge.
We have all kinds of training along the way, from just learning how to fight a fire on the ship to make sure that you can save your ship and save your shipmate; and damage-control kinds of things to operating up on the flight deck to managing somebody else's personnel files. These are all key aspects of what we do and what they see. What you see on the outside is somebody who not just knows how to go to work on time; a responsible taxpaying citizen.
They certainly came in and become that, or they were that beforehand, is that somebody who knows how to lead, step into a breach and pick up something that got dropped. So I promise you will hire somebody who can lead when given the opportunity, and they will deliver success in organizations at an earlier age, an earlier time in their career than somebody that doesn't have that military experience necessarily.
Spencer: That has been my experience in my interaction with our veterans. I mean they're extraordinary and I hope we can hire a lot more of them. Thank you for your service, Admiral. Thank you for your time. Thank you for sharing some wisdom. I greatly appreciate it.
Admiral Wettlaufer: Thanks very much for coming out and seeing me again, and I look forward to opportunities to engage with a lot of folks in the world, the corporate world, if given the opportunity.
Spencer: Thank you.
The post Rear Admiral Wettlaufer on Creating a Culture of Excellence appeared first on Office Hours.
Van Jones hosts his own show on CNN, and he's the founder of The Dream Corps, an accelerator that supports economic and environmental innovation. Its #YesWeCode initiative aims to help 100,000 young people from underrepresented backgrounds find success in the tech sector. Van is an important voice on social justice and STEM education, and Time Magazine named him one of the 100 Most Influential People in the world. In this episode, Van joins Spencer at Zillow Group's New York office for a live recording in front of employees. The two discuss Van's impressive background working in communities and promoting green jobs, how to increase diversity in tech and why young people have the power to change the world.
Press Play to hear the full conversation or check out the transcript below. You can also subscribe to Office Hours on Apple Podcasts and PodcastOne.
Spencer Rascoff:Thanks, everybody. We're here in the New York office of Zillow Group. I'm here with our guest, Jones. Please, everyone, give Van a welcome.
Van, thanks for coming on Office Hours. I wanna start by having you walk us through your career. We know you as a public media personality on CNN, but there's a whole career that preceded that. So, tell us how you got there, and walk us through your career.
Van Jones:I think probably the best way to start is just to talk about where I was born and raised, and then just go from there. But I was born in Jackson, Tennessee. I was talking to a friend from Kentucky. I was born in Jackson, Tennessee. My dad had been born in segregation and poverty in Memphis in 1944. So, he grew up basically in a shotgun shack, joining the military to get out of poverty.
Everybody else was running out of the military. My dad ran into the military to get out. When he got out, he put himself through college. He married the college president's daughter, who was my mother, 'cause Willy Jones was bad. My dad was bad.
And then, he put his brother through college. He put his cousin through college. And then worked with my mom, put me and my sister through college. And I'll always point out, when my father died, the picture that we put of him on the funeral program was him standing in front of Yale Law School the day I graduated with his hands in the air —
Rascoff: Proud moment.
Jones:Yeah, proud moment for him, given where he started from. So, but my dad was such an "up and out of poverty guy. He got himself out of poverty, then he was a cop in the military, then he was an educator. And I just felt like my dad helped so many people, including my whole family, get out of poverty really with nothing.
How could I have a Yale law degree and not try to at least beat him, if not best him? So, I became a — 24 years old, graduated from Yale Law School, moved to the Bay Area and started working on criminal justice, police reform. I was woke before y'all had alarm clocks.
Rascoff:I'm guessing most of your Yale classmates pursued a different path?
Jones:You know what's so funny? Everybody I went to Yale with, they wanted to be in politics, and they wouldn't take on any controversial issues. They were worried about their Supreme Court testimony. And when I was just on the left side of Pluto. I was on every issue, every protest, every demonstration.
And I wound up working in the White House, and they didn't. Just saying. Follow your heart, follow your dreams. I started an organization called the Ella Baker Center for Human Rights, and we worked to try to fix the juvenile justice system. We wound up closing five abusive youth prisons in California, and we cut California's youth prison population by 80 percent with no increase in youth violence or youth crime. A big cost savings. Stopped them from building a super jail for kids in Oakland. Reformed the San Francisco Police Department. This is all in the 1990s, early 2000s.
Rascoff:All your early to mid-20s?
Jones:Twenties to early 30s, and I just burned out. It was too hard. A lot of funerals. You work with urban youth. You wind up going to a lot of funerals. You got young people in the caskets, and then old people with white hair sitting up in the pews, which is the reverse of what you expect. And there were so many — I've still gone to more funerals in Oakland than graduations.
And you're in a situation when you have that much bad stuff happening — even little things that you don't think about. Like, there's so many sidewalk memorials that when little, bitty kids see balloons, they sometimes start crying 'cause they think that the balloon is — they associate that with memorials of kids who have gotten killed.
So, just — that kind of stuff, that's just too hard for me. So, I wound up deciding to do something very different, just trying to get jobs for kids coming home from jail. And we had a big solar boom happening in California at that time — now you're about 2005, 2006.
And people were ordering the solar panels for their houses, which you can find on Zillow —
Rascoff:Thank you. Well done. [Laughter]
Jones:But they were ordering solar panels for their houses, but it would take them three months, six months, nine months to get the solar panels up 'cause they didn't have enough well-trained people to do the work. And so, I saw a big opportunity to try to get young folks from the community trained to put up solar panels.
And that became a huge breakthrough because we got money to train youth to put up solar panels, and a woman named Nancy Pelosi, who had just become Speaker of the House, came and saw what we were doing. And she went nuts. She says, "You're fighting pollution and poverty at the same time by getting these young people jobs, cleaning up the environment, bringing in the clean energy revolution."
So, she took me to Washington, D.C. She had me testify in front of almost every one of her committees, and we got a guy named George W. Bush to sign a bill called the Green Jobs Act of 2007 to spread my program across the country. That was a huge victory. And then I wrote a book about it in 2008 — "The Green Collar Economy," available on Amazon. [Laughter]
And that book became a bestseller. A guy named Barack Obama read the book, and so, suddenly —
Rascoff: Did that happen organically? He was a community organizer in Chicago at the time. How did you get on his radar screen?
Jones: He was running for Senate — I mean, he was in the U.S. Senate, and he was getting ready to run for president. And Al Gore at that time was making a huge noise about the climate crisis and depressing everyone because it's just such a big problem, and I was seen as somebody who had a solution.
So, then he brought me to Washington, D.C., to help him, and wound up moving about $80 billion with a B from the federal government into clean and green solutions, $5 billion for solar — $5 billion during the so-called stimulus package. So, it was my job to coordinate that spend out for the president.
After that, I went to Princeton, taught there for a while. Then I wound up on CNN with my second book, and that's where I am. But my TV career is the shortest part of my career. I spent literally 25 years working in communities, doing tough stuff, trying to help people, and I'm mainly known for talking about tweets on CNN.
Rascoff: It's funny how life happens. What are advice to young people and common threads from that career path? What do you pull out as some things that you'd want to make sure a 25-year-old self or 20-year-old self would hear?
Jones: You have a lot more power than you think, that's the main thing I would say. Especially when you're young and you're new. You see a lot of stuff that could be improved. You see a lot of gaps. And often you're almost scared to say anything 'cause you don't want to get in trouble, you don't want to seem like you're a troublemaker.
But my experience has been if your heart's right about it, if you really are trying to, say for instance, make Zillow be the best possible thing or whatever it is, you can actually make a tremendous difference, wherever you are. You don't have to have the big title. You don't have to be the head of stuff. You can actually make a tremendous difference.
I think, number one: Don't underestimate your power and your influence. People said we'd never close a prison in California. They just built 20 of them. They said, "You're never gonna close any prisons." We were just too young and dumb to know any better and wound up closing five and making things better.
Another thing I would say is that I think most people have some calling inside themselves. Almost like secret hope about your life that you might be able to make a difference, help people. You're almost embarrassed to share with people — something you want to write, something you'd love to see happen.
It's almost embarrassing, but it keeps coming back, and it keeps coming back. That's why you were born. That thing. It's why you're here. Now, you're getting skills and experiences and meeting people, doing a lot of other stuff, but that's the thing. And if you can, without getting yourself fired or evicted — which, having had both happen to me, I don't recommend — if you can find a way to just continue to move in the direction of that dream, it's amazing what happens in your life.
All the stuff that makes no sense in your life — the crazy people you've met, the bad things that have happened to you, your nutty family — all that stuff winds up being fertilizer to help you do something really beautiful and really amazing. And I think, more than ever, it's gonna be unlikely people that do awesome stuff.
I think the people I see at the top of the game in Washington, D.C., right now — they're stuck, and they're fighting. I see people in D.C., I see people in Wall Street, I see people in Silicon Valley, Hollywood. The people at the top, they're having a hard time adjusting to all these changes in technology, in society and everything else.
They're really, really struggling, whereas the newer people, they seem to actually have a little bit of an inside track on what's next. If you can combine that generational perspective with a deeper purpose and a deeper calling, I think you can do a lot more than most people would assume.
Rascoff: I wasn't alive in the '60s, but obviously there seemed then to have been this sense of upheaval and of empowerment, and youth were able to make an impact. It does seem like we have a lot of that today, and some of that is because of the democratization of media and social media. Some of it is because of millennials and just young people feel they want to be part of something bigger, connected to some sort of a mission, whether it's at a company or in politics or in society.
It does feel different than it did 10 or 15 years ago.
Jones: Even five years ago.
Rascoff: I'm trying to adapt to that as a CEO of what's it like to run a company in that environment. I think the media's trying to adapt to what's it like to inform people about what's happening in the world around them in that sort of environment.
Jones: I think people have a sense, and they're not wrong, that maybe help is not on the way. And in that situation, you want to do something. And I think, frankly, people who are not in government and who are not in politics are gonna have to do more. It used to be that the future was written in law in Washington, D.C. It was written in law by senators, by congress people, by Supreme Court folks, people who have been democratically selected to figure out the future for America and write the future in law.
Now, frankly, the future is being written in code — computer code — in Silicon Valley and places like this. They're updating your phones right now. You didn't ask them to, they're just busy doing it. If you think about that, what that means is that the private sector — whether it's finance or technology or media — the momentum is there, the power is there, the money is there.
But the people who are sitting in those chairs, in your chairs, nobody's coming to you and said, "You're supposed to save the world." They say, "You're supposed to get your project done. You're supposed to meet these earnings reports." But increasingly, you're gonna feel an urgency about the world. And you don't think you can wait four years to vote on it and hope it works out okay.
And so, this is a new reality, I think, for the private sector — that you actually have the ability to make a change. You have a whole generation that wants to make a change, and there's a big failure at the government level. And not just United States — throughout the West.
That's gonna be something that's important to take seriously 'cause I think to keep your best folks and to get your best work out of your best folks, that social purpose has to get elevated a little bit.
Rascoff: Companies like ours have been pulled into this by their employees really saying, "We want you to be more engaged civically. We want you to either be more philanthropic or more outspoken on political issues or both." And it's complicated managing a company in that type of environment, especially such a polarized, politicized situation.
I know there are things that our employees want me to speak out on, topics that I have chosen not to engage on, where other CEOs have. The litmus test that I've made for myself is does it directly affect our employees or our company?
What have you seen, either guests on your shows or others that you're interacting with in media and business landscape — how are they navigating that?
Jones:The reason I like what you're doing is because it's authentic to you. I think the most important thing is that you do you.
But I think trying to figure out how to let that authenticity bubble up through the rest of the company — that's a more difficult management challenge. I'm looking around at CNN, and I'm new to CNN, but I'm not young. So, I was born in '68, so I'll be 50 years old this year.
I'm new to CNN, but I'm not young. Because I'm new, I have more in common with the younger people, though. And I'm watching all these younger people — they have just brilliant ideas. Just unbelievably brilliant ideas. What they think is newsworthy is not what we are putting on the news.
I think we're leaving a ton of value on the table, just because the thing is just not set up to listen to the 24-year-old who's been there for 18 months. And so, that I think for companies of this size, figuring out some way — you should be authentic to yourself, but keeping your ear big for the authentic voices in your building, which will actually change what you're authentic about, I think that's the big challenge.
Rascoff: The nice thing about young people is — you once were in your mid-20s, started to take on the criminal justice system — is they don't know any better. So, they're hopelessly optimistic and naive.
In my world, in the startup world, that enables them and encourages them to start companies, 'cause they don't know any better.
You focused on criminal justice, then the environment, and then, more recently, STEM and underserved populations or underrepresented populations in technology. So, tell us about #YesWeCode and what you're up to more recently.
Rascoff: Part of the tragedy of what I see happening on is just what I call wasted genius. I spent a lot of time in tough schools visiting prisons, juvenile detention centers. Geniuses, just super ridiculously smart people. Genius is actually pretty uniformly spread out, but opportunity is not.
And so, when I was at Yale, I saw kids doing all kind of drugs and terrible stuff. The cops never got called, nobody went to prison. At worst, they went to rehab. Maybe they had to take a semester off, and that was it. And then, those people went on to become doctors, and lawyers. George W. Bush, president of the United States, that — you could have a bad couple years if you're at a certain income level and a certain zip code.
But a few blocks away, kids doing fewer drugs got seven years, 13 years, 22 years in prison. And so, we're just wasting a ton of genius, some of those young people who are behind bars right now could be the Mark Zuckerbergs, or they could start the Zillows or whatever, but they just won't have that shot.
And so, we started #YesWeCode as really an opportunity to try to connect some of the brilliant urban youth that we know in the Oakland part of the Bay Area with Silicon Valley. And Prince, the late rock star, was a person who really wanted us to do that. And so, Prince and I were the co-founders on #YesWeCode.
And it's been a really powerful experience because, just from a physical point of view, Oakland is only about 37 minutes from the Google campus, and I think 41 minutes from the Facebook campus. It's very, very close. But it may as well be on the other side of the moon in terms of somebody who's going to — what used to be Castle Von High School and their thought about the fact that they could ever work at Facebook; it's just completely on the different side of the moon.
Rascoff: What can companies do to improve underrepresented minorities in technology?
Jones: I think a couple things. First, how many people here ever had an internship any place? So, just that. Just doing internships and apprenticeship programs is so important. Because the thing about it is when you try to hire somebody for a job, there's only one of two outcomes. They're either gonna make it, or they're gonna get fired.
And that can be scary for everybody. It's like, "We hired somebody." The thing about an internship: You win if you just complete it. I had an internship — nobody's expected to ace the internship. They just had it, and they did a good job, they made some friends, they learned some stuff, they got some mentorship, their sights got raised.
That is not happening for huge sections of our country. Just literally people can't even get their foot in the door. I think internship programs are important, and then apprenticeship programs, where somebody's paid to work for three months or six months, and they complete the apprenticeship.
Maybe they're great, and they're awesome, and you hire them, you could say. But if not, they at least successfully completed an apprenticeship program. They might be able to go someplace else and get a job. These are the kinds of things that an HR department doesn't want to have to deal with the brain damage and the heartburn around, unless there's a passion in the company and not just the CEO.
By the way, stuff like this — it can't just be the CEO. If the CEO's excited about the internship program and you're not, it'll be the worst internship program ever. If the CEO's passionate about diversity and you're not, or passionate about apprenticeships and you're not, then even the people who see the video and who come will have a miserable experience.
So, it's really about you as a cohort recognizing the importance to yourself of bringing in some of these new voices and perspectives. When I first started doing this, I thought about it more honestly as, "This is great for the young people." I didn't realize how great it was for the companies.
It took, actually, a while for me to realize how great it was for people with completely different perspective, Rolodex, understanding to come in.
We occasionally do these hack-athons through #YesWeCode, and we get urban kids in the same room with engineers from top companies, and every single time we do it, the engineers are blown away by how smart these kids are. We've done it in Baltimore, in Oakland, in New Orleans and all over the country.
And top engineers — they come in, they think they're gonna teach these kids stuff, and within 20 minutes their mouths are hanging open. Not just by how smart the young people are, but also by the kids of problems that young people want to solve using technology.
We did a hack-athon once where a young girl — the problem she was trying to solve was that she was in foster care, African-American, tough background. And she said, "Mr. Jones, when you're in foster care, your parents aren't around, and you just have to wear whatever clothes your foster parents find for you.
"So, sometimes when you go to school, people laugh at you because of the way you look. So, young girls like me, we sometimes do stuff that we're not proud of to get money to buy clothes so we don't get laughed at." Her solution, very simple, "Could we build an app where people who are donating clothes" — 'cause a lot of their clothes are donated — "where the clothes could be found on an app, and we could pick our own clothes, so that way we'd be picking clothes that would be good for us?"
The engineer sitting next to me said, "That's probably a multibillion dollar idea because second-hand, used clothes — that's a global market. And nobody's ever actually even suggested that." And what I said is, "Poor kids have billion-dollar solutions because they've got billion-dollar problems."
And when you start listening to what some people are going through, you'd wind up finding whole other market opportunities — all kinds of adjacent possibilities that just aren't available to you if it's just everybody who went to fancy schools like me.
This whole #YesWeCode experience — and I just appreciate so much your support of it — I didn't realize what an elitist snob I was. I'm just gonna be honest. The first time we did a hack-athon in Oakland I showed up, and you got all these kids, and they're from tough neighborhoods, and some of these neighborhoods don't get along.
And I walk in there, and my first thought is, "I hope there's not a fight." This is anti-racist, civil rights guy. But the bias in my own head, my first thought was, "I hope there's not a fight." And three days later, by the way, when these kids had shown up 20 to 30 minutes early every day — they're sitting there, waiting for us to open up the building, and you can't drag 'em out there at the end of the day. And they've come up with ideas that are 20 times better than anything anybody has come up with from my sector of society. I was embarrassed.
I had to tell 'em, I thought, "Listen, I totally underestimated you guys. And if I'm doing it, Lord knows what other people are doing." And it just made me a complete zealot lunatic about creating more opportunity for folks in those places. And if Zillow can be a place to absorb even a fraction of that talent, there's no telling what can happen here.
Rascoff: I wanna talk about the state of news media. Yeah, I know. [Laughter] It's a fraught topic —
Jones: I thought you liked me.
Rascoff: Probably a year or two ago, if you had said, "The state of news media," the topic of conversation would have been about how difficult it is for print — maybe broadcast — but mostly print to make money in an increasingly digital environment. Now, fast forward a couple years, and it's more about what role does the media play to inform the public? How do politicians interact with the media?
From your perch, where you sit as a media professional, what would you wish that politicians did differently?
And I'm not just talking about Trump. I'm talking more generally to try to make for better discourse.
Jones:I don't know. I wouldn't necessarily blame the politicians. I sometimes feel like I work in the tobacco industry. Like, "Don't use our product; it's bad for your health." Sometimes, I feel that badly about the way that the media has responded.
I don't blame the politicians; they do what they do given what's available to them. I blame, really, us in the media system. There's another round of innovation. We now have a system based on the phones in your pocket — a ton of data, no wisdom at all. That's how I would describe it.
You are overwhelmed with data, and you can't find wisdom no matter what you do. And it's really the lack of wisdom that I think is causing the problem. I don't know what's gonna happen, but this is not working.
Because for CNN, I get to go into red states and red counties, talk to Trump voters all the time. The way we're talking past each other is just heartbreaking.
Rascoff: That seems sort of — I have a hard time convincing myself that will ever change. That seems sort of inevitable, given the fragmentation of media and the echo chamber that we put ourselves into, and the way that digital advertising and Facebook personalization propagates that ideology bubble that we all live in. We seem to inevitably be on this course towards more and more polarization.
Jones: And thank you very much.
Rascoff: How do we fix it? Come on, Van, what's the solution?
Jones: Hey look, I don't know what to do. I think I know how to be in the face of it. Less arrogant, less insistent that I'm right about everything, less committed to treating the red states the way that colonizers treat Third World countries.
It's very tough to lead a country you don't love. It's very hard to win people over when you don't respect them at all. And the one thing I know we need to stop doing is having this attitude, "You are an idiot and a bigot and a fool and a chump. Vote for me." That's less persuasive than you might think if you listen to NPR and CNN and MSNBC.
I think trying to insult people into joining our cause is ill-considered. I think that the idea that we're supposed to have empathy for everybody except Trump voters, that as liberals and progressives and — not putting you in that mix, but I'm just saying for myself — as liberals and progressives, we're supposed to have these big, open arms and big, open hearts, except for half the country?
That is not gonna work.
Rascoff: I strongly agree with one thing you said, which is that regardless of whether you're a Republican or Democrat, dismissing people on the other side of the aisle, if you — that is a recipe for disaster. We have to be respectful of people of all different walks of life and all different political persuasions.
Jones:Basic human rights and human dignity should be a threshold. We shouldn't attack people because of where they're born and their sexuality, their race, their gender, all that kind of stuff. In kindergarten, you can't do that. So, I think it's perfectly fine to decide to fight for that.
But to then extend that and dismiss half the country as, to make up a word, deplorable because they disagree with you, that is also — you gotta throw a flag on that as well. And also, let me just say this, we need each other. People forget that. We need each other. I'm a liberal. I think you need me in society. I got a big heart, I care about people who don't have big PACs and don't have lobbyists and can't give you any money, but I'll fight for 'em anyway.
I think you need me. But you don't want me writing a budget by myself. You don't because a conservative will say, "Van, I appreciate your bleeding heart, but how much does this cost, and who's gonna pay for it?" And I never think about that. I just say, "Feed the babies!" I'm not that worried about that.
It's in that back and forth —
Rascoff: Again, the importance of diversity, political and otherwise.
Van, you're a do-good machine, spawning all these different organizations, and thank you for talking with us. Thanks a lot for sharing thoughts about the future of media and just explaining your perspective and the impact that you're making. Thanks a lot, congratulations. You have the last word, please.
Jones:Look, I just want to say, you weren't born to do normal stuff. It's not a normal time. It's not business as usual. And you can have a much bigger impact than you usually let yourself believe. And the fact that you're here in New York City, you're working for a major tech company — look, my kids live in LA. The first thing they do is Zillow each other's houses to figure out the pecking order.
Till a year ago we were renting, so we didn't get a chance to play. But true story — but that's a big deal. The fact that you work for a company that every kid in America has heard of, or a lot of them have heard of, gives you standing. It gives you a legitimacy. It gives you a credibility.
And you might feel confused, and you might feel frustrated, and you might feel a bunch of things, but when you walk out of this door, you mean something to people. You mean something to people you went to school with, you mean something to your families, you mean something to your communities.
And you don't have to have all the answers. You just have to have some of the right questions like, "How can I help? What's going on? Maybe I know somebody; let me see if I can be of some use." You got people behind you in line who look like you or who don't — who don't have one mentor, not one person who's willing to tell them one thing.
And you can change that person's life without a raise, without changing a single other thing — you can change that person's life. Somebody did it for you, so I wish that people in national media and national politics could come here and say, "Here's how we're gonna fix everything and pass every bill and pass every program." We're a long way from that.
That is going to be the outcome of something else, and the something else is ordinary people giving a damn. Ordinary people reaching out to each other. Ordinary people doing one more thing than they would have done, and that begins to create an accumulation that can get us out of this thing.
There's something in this room, there's something in this company, there's something that could be very powerful, very beautiful, very impactful for ordinary people. I just encourage you to keep seeking for it because it can be really, really special. So, thank you.
Rascoff: Thank you.
The post CNN's Van Jones: Genius is Everywhere appeared first on Office Hours.
Stewart Butterfield is the co-founder and chief executive officer of Slack, a collaboration hub beloved by more than eight million daily active users. In this episode, Spencer joins Stewart at Slack's San Francisco headquarters to discuss their recent partnership with Atlassian, Slack's unique origin story, managing through growth and adversity, and how Slack is fundamentally changing communication at work.
Press Play to hear the full conversation or check out the transcript below. You can also subscribe to Office Hours on Apple Podcasts and PodcastOne.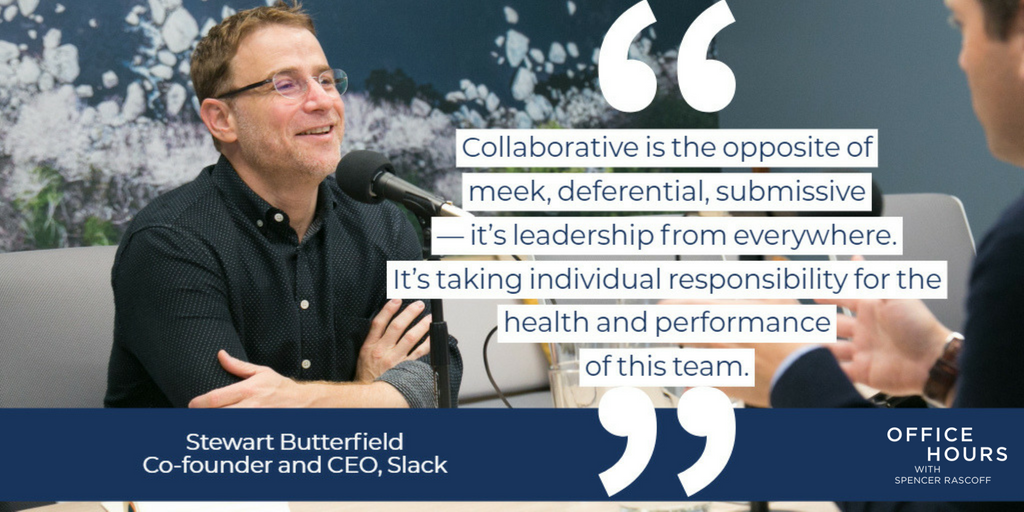 Spencer Rascoff: Today I'm in San Francisco in the offices of Slack, and I'm with Butterfield. Stewart, thanks a lot for having me. It's great to have you here.
Stewart Butterfield: My pleasure.
Rascoff: So, congratulations, first of all. The timing of this worked out great. There was some huge news that came out about Slack and HipChat. Why don't you just share the news, and we can talk about it.
Butterfield: Sure.
Rascoff: What did you announce?
Butterfield: We've been working with Atlassian for a couple of years now on general partnerships. So, we make Slack the hub for collaboration or messaging for work or however you want to characterize it, and they make Jira, which is a really popular bug and issue tracker ticketing system used for all kinds of things. They make Confluence, which is like a Wiki/knowledge management tool, Bitbucket, source code control kind of like GitHub, and a whole bunch of other products.
And they also had a product called HipChat traditionally, and then about a year ago they introduced a new product called Stride which was their replacement for HipChat, and both HipChat and Stride were competitive with Slack. We still worked with them really well because we collectively had, at this point, hundreds of thousands of organizations who were using Slack with at least one Atlassian tool, like — I forgot to mention — Trello, task management application.
And we had no problem competing with them and cooperating, and they didn't either, but I think they came to the realization that the resources that they were investing in those products was probably better invested in their core products, which are, you know — in terms of market share, in terms of revenue — are much, much larger and go deeper on the partnership. And I think that was a really smart move, you know, very well-rewarded by the market and analysts. I got a lot of congratulatory emails saying that was brilliant, and I said, "We executed well, but I've got to give them credit for the idea." And I think it was a really unusual move for someone to make.
Rascoff: Yeah. I've never seen — so, what they basically did was they said they were gonna wind down HipChat and sell you the customer list and the IP —
Butterfield: Mm-hmm. Not even the customer list.
Rascoff: OK.
Butterfield: We're working together with them. So, we built a whole migration tool. They're messaging all of their customers, and definitely no one is being forced to migrate, but we wanted to extend the same pricing that they had to all those customers and just make it as easy as possible for people to move over.
I think there's a long history — if you go back to, like, what Microsoft looked like to IBM in 1982, or what Google looked like to Microsoft in 2001, or what Facebook looked like to Google in 2006-2007 — of a smaller, focused start-up with traction versus a larger incumbent that has multiple lines of business, and there's just a real advantage, I think, that you get in terms of the experience you can provide to customers and the kinda clarity and focus. So, I think there's — that's not always true, sometimes the big company squashes the smaller one, and in fact maybe that's more often true — but there's definitely a handful that make it out. So, I mean it feels good, but it doesn't feel good because that came at the expense of someone else, you know.
Rascoff: Right.
Butterfield: That feels good because we have thousands — tens of thousands of customers tweeting stuff, like, every day, posting to Facebook, telling their friends, insisting at their new employer that they evaluate Slack 'cause they used it at their old employer because they really like it.
Rascoff: I get the sense that the culture is not a competitor-focused culture, it's more of a persona-focused culture, customer-focused.
Butterfield: Yeah.
Rascoff: Employees come here every day trying to do the right thing by your users, and sort of whatever happens in the competitive landscape happens. Is that fair to say?
Butterfield: Yeah. No one will ever get fired because they were too good to a customer.
Rascoff: Right.
Butterfield: Including "good" in the sense of lost revenue opportunities or deferred revenue for us. We really believe in the long run — and I want to be doing this for the next 20 or 30 years, and, you know, it'd be great if the company existed for a couple hundred thousand years, couple hundred million years, who knows. In the long run, the measure of our success will be how much value we created for our customers. 'Cause you can always be the exploiter, you know, you can always be extracting more value than you can create but not for long. That just doesn't work for the universe for very long.
Customers are not gonna consistently choose Slack every year, every year, no matter what happens in the marketplace, no matter what other products arise, what other systems, if we're just trying to suck more money out of them and not make it actually something that's worth their while. I mean, the ideal case is for every dollar they spend with us they're getting back $10 or $100 or who knows in value. So yeah, we're definitely not focused on what competitors are doing, we're aware — we actually have a saying inside, "Competitor aware, customer obsessed."
Rascoff: I like that.
Butterfield: Yeah.
Rascoff: So, my first start-up, Hotwire, was very competitor focused. We were really focused on Priceline, and Zillow, my next start-up, is not so competitor focused. We're really consumer focused and persona focused. And it's a much more inspiring place to work when you're persona focused and not competitor focused. It's a little bit — I don't know, it's a little bit hollow, almost, to be overly competitor focused.
Butterfield: Yeah. I think it's easier for us to take that position than many other companies. If you're one of, I don't even know, let's say 1,200 restaurants in SoHo, in New York.
Rascoff: Right.
Butterfield: People have a lot of choice, and they're also not gonna go to your restaurant every time. And for Hotwire and most other travel sites, it's like it's a purchase-by-purchase decision, and people might have three tabs open —
Rascoff: It's much more zero-sum, yeah.
Butterfield: Yeah, and they're looking all over the place. Whereas — and certainly people can evaluate all kinds of software that they might use in the enterprise, but the commitment to actually make a purchase or invest is, like, something that happens over the course of months, you know.
Rascoff: Right.
Butterfield: And it's a much bigger just in terms of, like, literally the calories, like the glucose burned in their frontal cortex of the human beings who are doing this — is, like, a million times greater 'cause you have to shift the behavior of, you know, depending on the size of the company, dozens of people, hundreds of people, thousands of people, against habits they had formed over, like, the last decade or two.
Rascoff: So today, Slack is incredibly successful, of course, riding high from this recent announcement, but that's just a proof point. You know, so we don't need to dwell on it. It wasn't always that way. So, Slack rose from another company that was not as successful, so can you describe the founding story and sort of the early days of how Slack got started?
Butterfield: Sure. Here is the fastest possible version. Back in 2002, in, like, the really dark days — post-9/11, post-WorldCom and Enron, post-dot-com crash, NASDAQ down 80 percent, S&P 500 down 65 percent — we started a web-based massively multiplayer game company, which was not very well-timed. That ended up turning into Flickr through other means. Flickr got bought by Yahoo. A group of us went to go work for Yahoo.
Nine years — or sorry, seven years — later, 2009, we decided to try it again. We started another web-based massively multiplayer game company, which also failed. After about three and a half years, we had 45 people working on it and a pretty eclectic group because there's, like, some really serious, hardcore back-end engineering challenges, but there's also writers and artists and animators and musicians, and there is, of course, a business operations team and customer support.
And over the course of those three and a half years, we had started using a pretty ancient Internet technology called Internet Relay Chat, or IRC, which predates the web by a couple of years. And over the course of that three and a half years, just, like, one at a time and a pretty jury-rigged, hacky fashion, fixed the things that we thought were really annoying, like the kind of — the most irritating problems and challenges we had around internal communication or, conversely, the opportunities for improvements that seemed most obvious.
And then over the course of these years, we had this system for internal communications where it was a real virtuous circle; the more people paid attention to it, the more information we would route into it.
Rascoff: What did you call it internally?
Butterfield: It didn't even have a name. I think this is one of the reasons it had such incredible product market fit is there was, like, no ego involved in this. There was no speculation about what a user might want or like. This was just, like, how can we spend the minimum number of minutes to fix or improve this and then go back to what we were supposed to be doing and —
Rascoff: And it was just used for employees, the 45 employees that were working on this game that was not finding traction in the marketplace.
Butterfield: Yeah. Like, I don't even know if you — or if I did an interview at that time and someone said, like, "How do you all work?" I probably would have mentioned it, but it wouldn't have seemed very significant. At the end of the process, though, when we decided to shut down the game, we realized, "Hey, we would never work without something like this again, and probably other people would like it."
So, we had this blueprint which we executed against, and as soon as we put it in the hands — I mean not as soon as, 'cause the first couple customers are almost impossible to get. We had to beg our friends to please try it, please try it. 'Cause one of the challenges for Slack and things like it is you can't unilaterally decide — I mean, you maybe can 'cause you're the CEO — but one can't typically unilaterally decide that they're gonna use Slack to communicate with their team; everyone has to agree. Whereas somebody like, say, Dropbox — I've been paying for Dropbox for seven years or something like that. I'm a very, very happy customer — I didn't want to have to back anything up. I have multiple computers, seemed like a great solution. I just did it, but you can't do that with Slack, right? You need to get at least two people —
Rascoff: Right, you need buy-in from the rest of your —
Butterfield: Yeah, yeah.
Rascoff: Right.
Butterfield: And that needs to happen not, like, sequentially over the course of a year but more or less around the same time, and it's disruptive 'cause it's a change to how you communicate internally. So, I don't want to underplay that as a challenge. But once we did get groups using it, we found they just kept on using it, and the usage inside those companies grew, and people were very happy. And the same thing happened for them as happened for us: the more information you routed into it the more attention people paid, and the more attention people paid the more information you added into it, until, like, finally there was one kind of focal point for where work happens across the whole organization.
Rascoff: So, when you pivoted this gaming start-up to an office collaboration technology start-up, were there some people that either said, "Hey, I'm not in on that next mission," or people that weren't a good fit for what you needed?
Butterfield: Oh no, I mean — the actual shutdown — I'm glossing over the trauma.
Rascoff: OK.
Butterfield: It's pretty brutal. I mean, there was 45 people, we laid off 37 of them.
Rascoff: OK.
Butterfield: And, you know, for entrepreneurs in the audience who have been doing it for a while I'm sure they'll recognize the ups and downs. But I mean, first of all, it's humiliating personally 'cause, you know, I put a lot of my own credibility on the line, and I talked to press and investors and saying we're gonna do this and that, and then it doesn't work. And that feels bad for me individually. But much worse is the fact that I convinced most of these people to come work at the company and to give up some other opportunity that they had.
Rascoff: Right.
Butterfield: In some cases, to move to a different city. I mean there was a moment when I was announcing it internally where I kinda was just looking around the room while I was talking. First of all, I started crying almost immediately, before I got the first sentence out, but then I, like, locked eyes with one guy who, just a couple months ago had moved from a different city, away from his in-laws who were helping take care of his at that point, I think 18-month-old daughter and buy a house in this new city. And then I was telling him, "Sorry, you don't have a job anymore."
So, happy ending on that one because we hired him back about six or nine months later and he was a very early Slack employee and happy. But yeah, I mean, we don't have a big need for musicians at Slack or animators or level designers or a lot of the disciplines. So, that was, like, a — it was a pretty dark time for a while and took us a few months to — because we had money left, we were able to do it in a relatively elegant way, so a couple months to kinda clean it up.
Rascoff: Right.
Butterfield: So, offer our customers their money back, or we could donate it to a charity on their behalf, or we could keep it, to put a lot of effort into making sure that people got other jobs. We built, like, this whole website with everyone's resume and portfolio, and we did some interview coaching and wrote reference letters and got everyone else a job.
Rascoff: This was in Vancouver mostly.
Butterfield: This was, yeah, Vancouver and San Francisco, but Vancouver was the larger office at that time, and then — so, that's the end of 2012, beginning of 2013, and we start making Slack middle of 2013. We had started using it ourselves and we tried to get some friends to use it. August of 2013, we did private beta, which we called a "preview release" 'cause we didn't want people to think it was flaky. February of 2014, so four and a half years ago, we officially launched it and started charging and stuff like that. So, it was really fast, like 14 months.
Rascoff: Right.
Butterfield: And by the time we launched it, there was about 15,000 daily active users, and the teams were really sticking and there was just — like I said, this incredible product market fit out of the gate, which, to be honest, I think has propelled us to where we are today, four and a half years later.
Rascoff: I mean, managing through adversity for a leader but also for the whole company frequently makes the company all that much stronger and better. Probably somewhere in the Slack DNA, and definitely in your management DNA, are lessons learned from that period.
Butterfield: Yeah.
Rascoff: As the company has scaled to today — to 1,000 employees, eight offices — what are some lessons that you've learned as a leader through that growth period? How have you changed as a leader and as a manager? You know, what are some things that other listeners can learn from having managed through that growth?
Butterfield: It's more like what hasn't changed? I mean, I have been making software for about 25 years, like professionally, and I'm 45 now, and I'm good at product design, good at software development. I'm probably not gonna get any better at this point, not because I'm so great at it but just because, like, now I'm relatively old, and I've been doing it for so long that if I was gonna get better it would have happened in the last 25 years. And I'm sure I have other significant skills as well, but I feel like that was the strength in my career that got me to where I am, and now that's largely irrelevant. How good — I mean, I'm sure —
Rascoff: Because you have a team that's doing the —
Butterfield: Yeah, 'cause there's 1,200 employees.
Rascoff: Right.
Butterfield: And I'm not gonna make any — you know, like, I could make 10 basis points and, like, one-tenth of a percent worth of the significant decisions on the product development side, and hopefully I make a contribution on strategy, but my job is just completely different, and it took me a long time to figure it out. And I'm sure I wouldn't have said this to you at the time, but if you asked me two years ago what my job was, I would have thought inside my head, very secretly, only to myself, that my job is to be smarter than everyone else and to make all of the really important decisions.
And I didn't mean that, like, coming from an egotistical place, I just felt the pressure of, like, I need to be able to approve anything that's happening. I need to be able to, like — when there was an irreversible, very significant decision for the company, I had to be the one to make it, which, you know, I think actually is still a little bit true today. But when there was irreversible-but-unimportant decisions or reversible-but-important decisions, I didn't need to be the one making those.
So, it took me a long time to figure out what the job actually was, and to me there's three components. So, one, set the strategy and vision for the company, which sounds very lofty, but it isn't super time consuming. We had a great vision out of the gate. We had a great strategy out of the gate. Like, we haven't changed our pricing. In fact, we have set the — the pricing was proposed before we even started developing Slack, and we haven't changed it, and maybe there's better pricing, but it must have been pretty close 'cause it's working.
And the kind of — the positioning we put ourselves in, which is we want to build up to the edges of other software but not necessarily compete with them. We don't want to make document-editing tools, we're not gonna make calendaring tools, we're not gonna make, like, a bug or issue tracker, but we want to make your experience at each of those tools which you already use better because you use Slack.
The second thing is kind of a basket of governance, administrative, supervisory duties, and we have a great GC, we have a great CFO, so that actually doesn't take that much of my time either.
Which leaves a third bucket, which should be almost all of my time, which is ensuring that the performance of the organization, as a whole, is as high as possible. And I didn't think about that as my job, and because I didn't I also didn't delegate that. So, I think we were in a position a year ago, and I think we're still working out of this, where most of the executive team was making most of the decisions, you know. We would spend time, collectively, looking at spreadsheets where each row was a thing that someone was working on and saying, "Is this thing higher or lower priority than that thing? Is it the right team working on it?" And that actually would be fine at 100 or 200 people — it doesn't work at the scale that we're at now, and it's certainly not gonna work at the scale that we're gonna be at at a year and a half or two years from now.
Rascoff: So, setting the vision, but most importantly up-leveling the organization. A lot of that is around motivation, communication, employee comms.
Butterfield: Yeah.
Rascoff: So, the culture at Slack is — it seems very similar to ours. I mean, you have this phrase, "Work hard and go home." What does that mean, and how would you describe the culture here?
Butterfield: So, yesterday I did a new hire welcomes — I do, like, every two weeks — it's like the batch of people who started, and I tell them about that. I don't really actually know if we have it up at our new office, but we will at some point — we definitely had it up at our old office. And I say we had this thing up on the wall that says, "Work hard, go home." Pause, beat, beat. Everyone understood the "go home" part, and everyone laughs.
The work hard part — the point of the whole thing was we want to be able to hire all kinds of people.
Rascoff: Yes.
Butterfield: And some people got kids, and they can't stay till 8 p.m. or 9 p.m. or 10 p.m. Some people have other stuff. They're active volunteers in their community. Their church is important to them. They have hobbies that are significant. And if we can be disciplined, professional focused while we're at the office and really take the best advantage of those, I don't know, four to maybe six hours of really creative, kind of focused intelligent work, then we could all just go home earlier and do other things and rest up and kind of be prepared to do this for years and years — as opposed to play foosball for 45 minutes in the middle and then have a two-hour lunch and spend a lot of time talking about TV shows or going to karaoke that night or whatever it is. That was really important to us.
It took me awhile, until really recently, to think, "You know, we have mission and vision, strategy — we have values," but the thing that became most significant for me in thinking about what kind of culture we wanted to build were these four attributes that someone else mentioned to me, a guy named Suresh Khanna, who last I heard was the CRO at AdRoll, a retargeting company. And I was going for a walk with him once, and he mentioned just in an offhand way that he looks to hire people who are smart, humble, hard-working and collaborative. And for some reason that combination, that phrase really stuck with me.
So, like, a year or maybe two years later, I'm not even — I guess probably two years later, I realized, "Wow, that's, like, a really magical combination." And it's not that those are four important attributes and hopefully you have at least one of them as a strength but those in combination. So, you have probably worked with people who are smart and hard-working but neither humble nor collaborative, and there's certainly an archetype that comes to mind when I say that. Conversely, people who are collaborative and humble but neither smart nor hard-working — another different archetype that comes to mind.
Rascoff: Right.
Butterfield: And that's the thing that we want to cultivate. So, smart in the sense of being not high IQ, although that's a bonus if you have it, but oriented towards learning.
Rascoff: Growth mindset.
Butterfield: Yeah, and realizing that your intelligence and creativity are relatively precious things, and if you're going to be spending mental energy on something it shouldn't be something that is routine, that could be made into a checklist, that is kind of — like, there's no point trying to remember that stuff. Computers are relative to humans, perfect at remembering things. And humans are relative to computers; basically, we don't remember anything. Like, we don't — literally nothing. I don't know who I am, where I am, why we're in this room, like, just no memory. Computers can do arithmetic 100 trillion times faster than human beings — and by the way, with perfect accuracy — whereas no matter how good you are at doing math in your head, you're gonna get things wrong once in a while. So, I mean, those are kind of obvious ones. But how quickly can you improve the way that you work, and how steadily can you improve the efficacies? That's smart.
Humble is pretty obvious. Hard-working is pretty obvious. Although I have to point out that humility is kind of a fundamental one in the sense that being smart like that — understanding when you make a mistake and figuring out how to improve it — requires an element of humility. But the one that I think is gonna be least well understood is collaborative 'cause it's a pretty open word. It has a lot of connotations. It's kind of — it's difficult to know what someone means when they say that this person is collaborative, and here we mean something really specific.
Rascoff: That's very hard to evaluate in an interview as well.
Butterfield: Yeah, yeah, it is. So here, we don't mean like meek or submissive or deferential. We don't mean like you have a tendency to go along with what other people want, which I think is what comes to mind when people say "collaborative," at least sometimes. It's kinda the opposite.
But the difference between the best and the worst performing teams, I think, is much, much wider. Like 100 times wider than the difference between the best and the worst performing individuals. So, as long as you're hiring people who are basically competent, you're not hiring, like, completely incompetent people or, like, a bunch of thieves or something like that. You're gonna have better and worse employees, and better typically means not so much they have more talent at fulfilling the tasks — like their role-specific function, like they're better at Excel than the other people in finance — but that they elevate the people around them.
Rascoff: Right.
Butterfield: That they're an important contributor. They're kind of glue for the team. They drive more clarity and alignment. They give good feedback, and they're receptive to feedback and a bunch of other stuff. You think about, like, people that you've had to fire over the course of your career, or people you know of got fired — people do get fired for incompetence sometimes. The overwhelming majority is they didn't work well with other people.
Rascoff: Right, personal issues, yep.
Butterfield: Yeah.
Rascoff: In their relationships.
Butterfield: So, going back, the collaborative sense here is the opposite of those meek, deferential, submissive — it's leadership from everywhere. It's that you take individual responsibility for the health and performance of this team. So, when there are problems you help clear them up. When there is, like, low trust you help drive up trust. When there is a lack of accountability, when there's a lack of clarity around goals or objectives, you take responsibility for driving those up, regardless of who you are. So, I don't even mean just, like, the manager — I mean everyone.
And if there's a real, deep commitment across the organization to improve the performance of the team, everyone as an individual is better off, 'cause would you rather work on a high performing team or a low performing team? And obviously the whole company is much more successful as well.
Rascoff: I feel like I am a much better CEO today in my mid-40s than I was 15 or 20 years ago, because I agree with everything you just said, and I think it's super important, and when I was in my mid-20s I did not.
Butterfield: Yeah.
Rascoff: I didn't understand any of that.
Butterfield: Yeah. Well, I'm — good news, I'm mid-40s as well and would say exactly the same thing. Yeah, 'cause there's a real tendency to believe that it is, like, the heroic contributions of one genius software engineer or, like, one amazing marketer or something like that, and obviously individual contribution matters a lot, but —
Rascoff: Well, you know, it's nice. I mean, your product also speaks to this, right? Your product is about team collaboration, so it's obviously embedded in the culture of the DNA. As is sort of, like, you know, LinkedIn takes really seriously all these issues because the product is about that — it's about working well with others and collaboration and kind of being your best self at work, and Slack likewise has, you know, the product is that vision. But that's your philosophy background coming through, huh?
Butterfield: Yeah, it definitely is. There's actually one more kind of higher level thing that's going on, and that's over the last 30 years the tools for people to get their individual work done have improved dramatically. So, you imagine, like, how a recruiter gets stuff done in 2018 with LinkedIn, with an applicant-tracking system, you know, with tools to check their — well, resume scoring but also job description, language checkers and all this kind of stuff. Compared to walking into an office building and, like, with a pad of paper and writing down the names of all the companies and then going back to your desk and start making phone calls. Or a salesperson who has a CRM and has marketing automation tools and has lead scoring and has LinkedIn sales navigator, software engineer, you just go through the whole list.
Rascoff: And so, because they have more software to help them be more effective at work, what? Collaboration is more important?
Butterfield: Yeah. I think collaboration becomes the limiting factor.
Rascoff: Why? Oh, I see.
Butterfield: So, you think about it from your perspective, as CEO, if you could hire a magic consultant who would come in and through, like, GTD, time management, life hacks, whatever, would make everyone 10 percent more effective at the completion of their individual tasks, which is a significant component of their work, obviously. But people spend at the low end 30 percent of their time and at the high end 100 percent of their time on communication.
So, if you could have that 10 percent improvement in individual worker productivity, or the same magic consultant would drive a 10 percent increase in shared consciousness, like, knowledge of what people across the organization are doing, or 10 percent better understanding of goals, 10 percent more alignment. I mean, those things are harder to measure perhaps, but obviously more significant 'cause more incremental improvements in individual worker productivity are probably not gonna result in as much of a net change because nothing has happened over the last 50 years, with one exception: to improve the way that we communicate and the way we collaborate and the way that we share knowledge and the way that we get to that point where the team is working really well, and that's email.
And mail was a very, very significant step compared to, you know, mimeograph machines and taking paper and rolling it up into a little tube and sticking it into a cubby or interoffice mail or any of those kinds of things. But I think there is a second really significant change that we're part of — and by the way, if this was the industrial revolution, it's like 1870 —
Rascoff: And that change is improving communications in the office.
Butterfield: Yeah.
Rascoff: Email is — you think email is pretty outdated and not interactive, but messaging communication has —
Butterfield: It's a layer of communication that will be around for tens of thousands of years, probably. Like, it'll outlive most of us. And I mean this in a complimentary way, as the lowest common denominator form of communication.
Rascoff: Right.
Butterfield: Like, you can more or less guarantee that every other human being has an email address. But for internal communication, I think it's a pretty terrible choice, and the Outlook window for most people at most companies is that window they have into the workflows across the organization. It's, like, how budgets get approved, how job offers get made, how contracts go back and forth between legal teams, how decisions are communicated and memorialized. Like, it's just — it's almost everything. Your awareness of what's going on happens through that email window, and email is an individual-first mode of communication.
Rascoff: Stewart, thank you so much for the discussion, I really appreciate it. Congratulations on all Slack's success, and I am a happy user, and I look forward to continuing to be for many decades to come.
Butterfield: Yeah, thank you so much.
The post Slack's Stewart Butterfield: Collaboration Means Leadership From Everywhere appeared first on Office Hours.