Courtesy of Xos Trucks.
Xos Trucks revealed two new EVs on Tuesday aimed at shifting everything from local delivery vehicles to long-distance haulers away from internal combustion engines. The new models come as the race to get more truck fleets and delivery services using electric vehicles, especially at Southern California's overwhelmed ports.
Xos showed off its Class 6 and 7 MDXT, a medium-duty delivery vehicle, and the Class 8 HDXT semi truck. Both have between 230 and 270 miles of range on a full charge and are completely electric, according to the company, and in more than a few ways said to be more capable and better haulers than their gasoline or diesel-powered equivalents.
The Atwater Village-based company, which launched in 2016, has already made some inroads with its SV05 Stepvan that was unveiled four years ago and adopted by companies such as Amazon and FedEx — which were represented by attendees at the San Pedro "Fleet Week" event that had the Port of Los Angeles as a backdrop. It comes as the ports of Los Angeles and Long Beach struggle under the pressure of a backlog of goods that are stacked at the two busiest ports in the country — and as the state tries to figure out how to significantly improve air quality.
CEO Dakota Semler said Tuesday evening the vehicles marked the completion of the first phase of the company's mission of building environmentally-friendly vehicles for fleets and companies that are trying to become more sustainable — a move all companies will eventually have to make amid increasingly stringent emissions standards for all vehicles.
"The next phase is helping fleets scale zero-emissions vehicles across their entire operations," he said. "We've already started to pave the way for the future we've envisioned."
Xos' HDXT model trucks will most likely be the ones coming to and from the country's ports. The vehicles can drive an estimated 230 miles on a full charge. Xos said they also have the most torque of any Class 8 semi truck available, at more than 36,000 foot-pounds.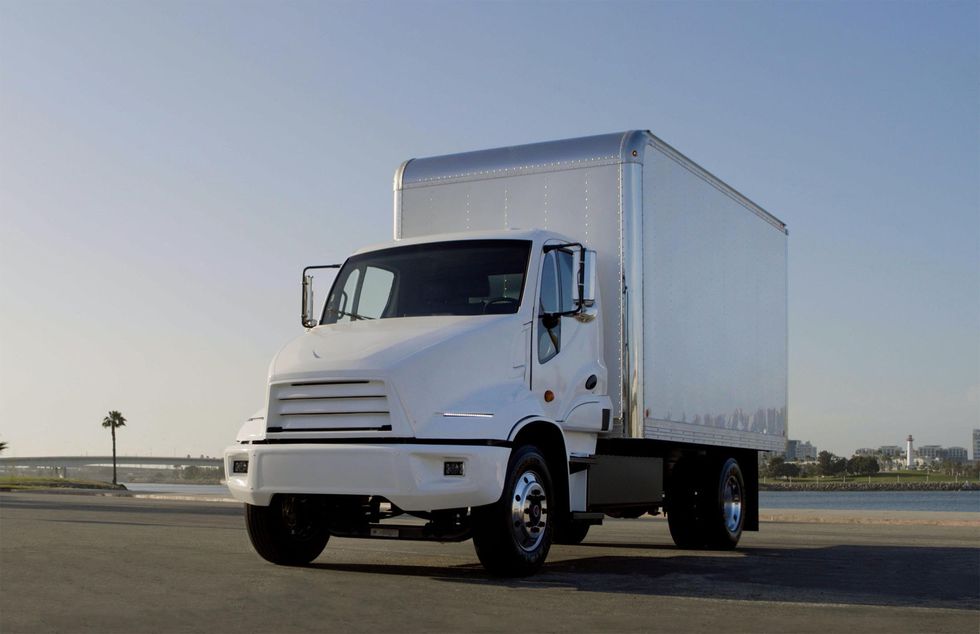 Xos showed off its Class 6 and 7 MDXT, a medium-duty delivery vehicle.Courtesy of Xos Trucks
Indiana-based Allison Transmission developed its eGen dual electric motor powertrain that powers the rear axle of the truck itself, freeing up much of the space under the hood that would normally be occupied by a large diesel engine. Total system output from the motors is 798 horsepower.
The medium-duty MDXT is a Class 6 or 7 vehicle that Xos will offer as a box truck, refrigerated truck and a flatbed vehicle and is intended for more local or mid-distance use. It also boasts an impressive-for-its-class 16,000 foot-pounds of torque, as well as up to 270 miles of range and competitive hauling capabilities.
Both vehicles have interiors that are mostly familiar to truck drivers. However, there's a prominent touchscreen in the center of the dashboard that's also central to Xos' fleet ambitions, and what Semler called an introduction to the company's next phase.
Crucial to that is a connected vehicle platform for fleet management called Xosphere, which the company also unveiled at Tuesday's event. Xos says its proprietary software can actively monitor vitals on the MDXT and HDXT including vehicle battery charge and health and estimated vehicle range. It can also determine whether it has enough of a charge to complete its route and even perform over-the-air updates. Managers can also use the stats to evaluate energy and maintenance costs for the fleet.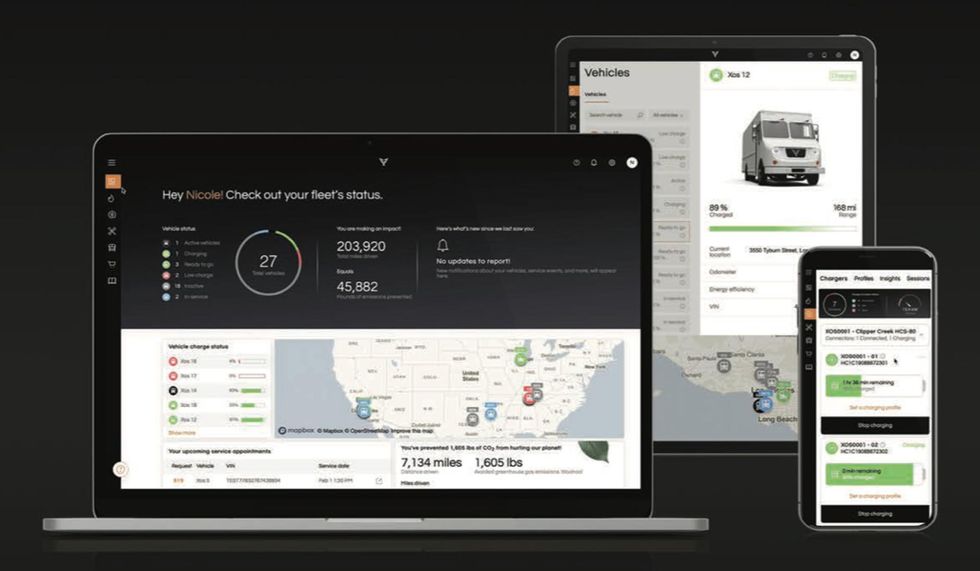 Xosphere actively monitors vitals on fleet vehicles, including vehicle battery charge and health and estimated vehicle range.Image courtesy of Xos Trucks
COO Giordano Sordoni said the platform's ability to update and perform maintenance remotely would allow vehicles like the MDXT and HDXT, as well as future Xos vehicles, to be on the road longer and reduce the juggling fleet managers sometimes do with conventional trucks, which have to be taken off the road to be serviced by a technician.
"We designed the Xosphere to be ridiculously intuitive," he said to the audience of fleet managers. "You shouldn't need a background in computer science to access powerful insights to your fleet."
Other players in fleet management software include Fleetio, Rhino Fleet Tracking and AUTOsist, some of which have several years on Xos' platform. But while the Xosphere is most likely optimized for Xos' vehicles, it's available to all fleets regardless if they use electric or internal combustion trucks.
Both vehicles already have initial orders. Texas-based supply chain and distribution services company McLane is taking the first 10 HDXTs as part of its "Green Advantage" initiative. The company says it's invested more than $230 million to reduce its carbon footprint and make its fleet more environmentally friendly.
Wholesale beverage distributor Republic National Distributing Company, also based in Texas, has ordered five MDXT vehicles. The company operates in more than 30 states. The Xos vehicles will be its first electric vehicles.
And Massachusetts-based UniFirst is already using Xosphere software to manage its fleet's service history and maintenance needs.
"We are building the fleet of the future. The new vehicle platforms go farther, last longer and cost less for all types of fleets," Semler said. "We will continue to bring innovative fleet solutions to market in an effort to provide customers with safer, more sustainable and more cost-efficient products."
Xos might have a head start on actually getting EVs to fleets, but much larger companies are trying to do the same with everything from commercial vans to Class 8 haulers.
In 2020, Toyota launched a pilot program with 10 hydrogen fuel cell-powered Class 8 trucks at the ports of L.A. and Long Beach using Kenworth vehicles. This week, Hyundai Motor said it would expand its XCIENT fuel cell truck program to the Port of Oakland next year. That program started in Switzerland in 2020.
And at a Hawthorne event in November 2017, Tesla revealed its Semi truck prototype. Initially expected in 2019, CEO Elon Musk has most recently estimated to start production in 2023 in either Nevada or Texas. The EV company claims more than 700 orders for the vehicle, including from companies such as Walmart, PepsiCo and UPS.