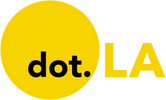 Get in the KNOW
on LA Startups & Tech
X
Zac Estrada
Zac Estrada
Zac Estrada is a reporter covering transportation, technology and policy. A former reporter for The Verge and Jalopnik, his work has also appeared in Automobile Magazine, Autoweek, Pacific Standard, Boston.com and BLAC Detroit. A native of Southern California, he is a graduate of Northeastern University in Boston. You can find him on Twitter at @zacestrada.
Courtesy of Xos Trucks.
Xos Trucks revealed two new EVs on Tuesday aimed at shifting everything from local delivery vehicles to long-distance haulers away from internal combustion engines. The new models come as the race to get more truck fleets and delivery services using electric vehicles, especially at Southern California's overwhelmed ports.
Xos showed off its Class 6 and 7 MDXT, a medium-duty delivery vehicle, and the Class 8 HDXT semi truck. Both have between 230 and 270 miles of range on a full charge and are completely electric, according to the company, and in more than a few ways said to be more capable and better haulers than their gasoline or diesel-powered equivalents.
The Atwater Village-based company, which launched in 2016, has already made some inroads with its SV05 Stepvan that was unveiled four years ago and adopted by companies such as Amazon and FedEx — which were represented by attendees at the San Pedro "Fleet Week" event that had the Port of Los Angeles as a backdrop. It comes as the ports of Los Angeles and Long Beach struggle under the pressure of a backlog of goods that are stacked at the two busiest ports in the country — and as the state tries to figure out how to significantly improve air quality.
CEO Dakota Semler said Tuesday evening the vehicles marked the completion of the first phase of the company's mission of building environmentally-friendly vehicles for fleets and companies that are trying to become more sustainable — a move all companies will eventually have to make amid increasingly stringent emissions standards for all vehicles.
"The next phase is helping fleets scale zero-emissions vehicles across their entire operations," he said. "We've already started to pave the way for the future we've envisioned."
Xos' HDXT model trucks will most likely be the ones coming to and from the country's ports. The vehicles can drive an estimated 230 miles on a full charge. Xos said they also have the most torque of any Class 8 semi truck available, at more than 36,000 foot-pounds.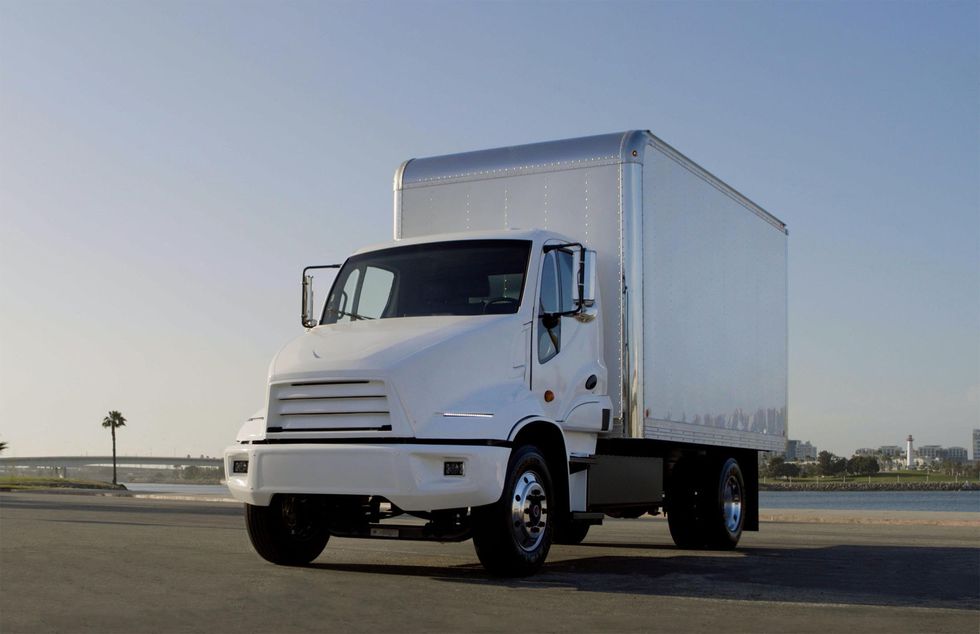 Xos showed off its Class 6 and 7 MDXT, a medium-duty delivery vehicle.Courtesy of Xos Trucks
Indiana-based Allison Transmission developed its eGen dual electric motor powertrain that powers the rear axle of the truck itself, freeing up much of the space under the hood that would normally be occupied by a large diesel engine. Total system output from the motors is 798 horsepower.
The medium-duty MDXT is a Class 6 or 7 vehicle that Xos will offer as a box truck, refrigerated truck and a flatbed vehicle and is intended for more local or mid-distance use. It also boasts an impressive-for-its-class 16,000 foot-pounds of torque, as well as up to 270 miles of range and competitive hauling capabilities.
Both vehicles have interiors that are mostly familiar to truck drivers. However, there's a prominent touchscreen in the center of the dashboard that's also central to Xos' fleet ambitions, and what Semler called an introduction to the company's next phase.
Crucial to that is a connected vehicle platform for fleet management called Xosphere, which the company also unveiled at Tuesday's event. Xos says its proprietary software can actively monitor vitals on the MDXT and HDXT including vehicle battery charge and health and estimated vehicle range. It can also determine whether it has enough of a charge to complete its route and even perform over-the-air updates. Managers can also use the stats to evaluate energy and maintenance costs for the fleet.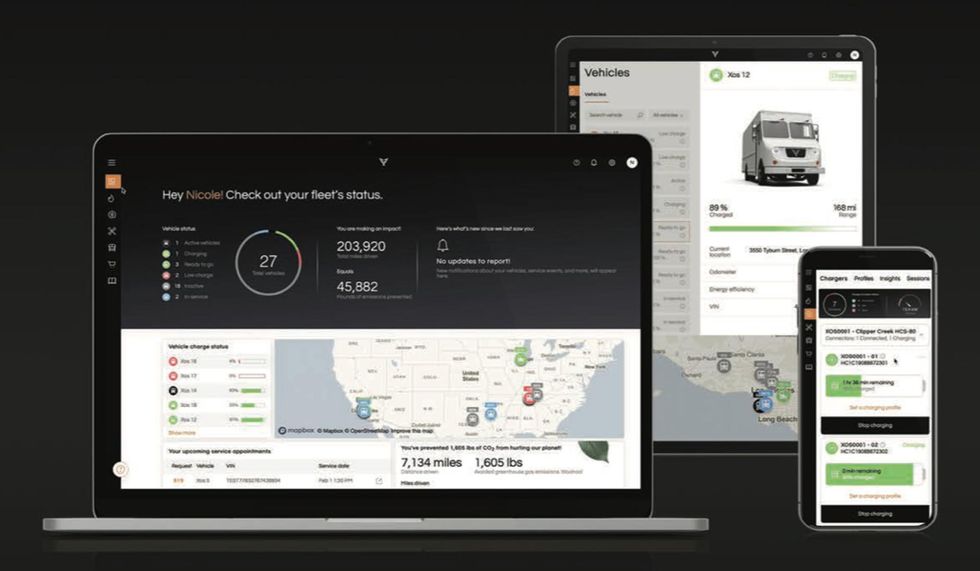 Xosphere actively monitors vitals on fleet vehicles, including vehicle battery charge and health and estimated vehicle range.Image courtesy of Xos Trucks
COO Giordano Sordoni said the platform's ability to update and perform maintenance remotely would allow vehicles like the MDXT and HDXT, as well as future Xos vehicles, to be on the road longer and reduce the juggling fleet managers sometimes do with conventional trucks, which have to be taken off the road to be serviced by a technician.
"We designed the Xosphere to be ridiculously intuitive," he said to the audience of fleet managers. "You shouldn't need a background in computer science to access powerful insights to your fleet."
Other players in fleet management software include Fleetio, Rhino Fleet Tracking and AUTOsist, some of which have several years on Xos' platform. But while the Xosphere is most likely optimized for Xos' vehicles, it's available to all fleets regardless if they use electric or internal combustion trucks.
Both vehicles already have initial orders. Texas-based supply chain and distribution services company McLane is taking the first 10 HDXTs as part of its "Green Advantage" initiative. The company says it's invested more than $230 million to reduce its carbon footprint and make its fleet more environmentally friendly.
Wholesale beverage distributor Republic National Distributing Company, also based in Texas, has ordered five MDXT vehicles. The company operates in more than 30 states. The Xos vehicles will be its first electric vehicles.
And Massachusetts-based UniFirst is already using Xosphere software to manage its fleet's service history and maintenance needs.
"We are building the fleet of the future. The new vehicle platforms go farther, last longer and cost less for all types of fleets," Semler said. "We will continue to bring innovative fleet solutions to market in an effort to provide customers with safer, more sustainable and more cost-efficient products."
Xos might have a head start on actually getting EVs to fleets, but much larger companies are trying to do the same with everything from commercial vans to Class 8 haulers.
In 2020, Toyota launched a pilot program with 10 hydrogen fuel cell-powered Class 8 trucks at the ports of L.A. and Long Beach using Kenworth vehicles. This week, Hyundai Motor said it would expand its XCIENT fuel cell truck program to the Port of Oakland next year. That program started in Switzerland in 2020.
And at a Hawthorne event in November 2017, Tesla revealed its Semi truck prototype. Initially expected in 2019, CEO Elon Musk has most recently estimated to start production in 2023 in either Nevada or Texas. The EV company claims more than 700 orders for the vehicle, including from companies such as Walmart, PepsiCo and UPS.
From Your Site Articles
Related Articles Around the Web
Image courtesy of Zac Estrada
While the electric scooter market might appear flooded based on how many of the vehicles are scattered along sidewalks in major U.S. cities, there is yet another company on the block trying to make the case for alternative mobility solutions across the country, including here in Los Angeles.
Founded in Cambridge, Mass., in 2013, transportation robotics startup Superpedestrian launched its LINK e-scooter network in its hometown (which is also home to Harvard and MIT) in early 2020—just as the coronavirus pandemic put the brakes on demand for shared services like ride-sharing, bike-sharing and, of course, e-scooters.
That may have helped LINK gain a footing in L.A. and other locales, however, as Superpedestrian has now expanded the service to nearly 50 cities around the world.
"At the beginning of the pandemic there were a lot of people who went out and bought their own cars because they thought it would be a safer way to get around," Superpedestrian policy and business development manager Sharon Zhang told dot.LA. "But now they're seeing how much it costs to own a car."
Superpedestrian's LINK scooters arrived in L.A. in August 2021 through a program with the city's Department of Transportation. There are currently about 3,500 of the company's electric scooters dotted around the city—from Downtown to the San Fernando Valley and in neighborhoods like Koreatown, Eagle Rock and Highland Park—and LINK plans to ramp up to 5,000 scooters on city streets this year. Superpedestrian has also parked some of the scooters around USC and UCLA, in the hopes of building ridership among college students.
Superpedestrian deployed its first vehicles in neighborhoods that it identified as either popular for other e-scooter companies, or as having less-than-adequate bus or light-rail service and ripe for micromobility solutions. While LINK initially appealed to recreational riders, it's increasingly being used by riders to commute to work and school or to connect with other transportation options, according to Zhang. LINK says the average scooter ride in the city is 1.4 miles and less than 15 minutes long. (Rides cost $1 to unlock the scooter, plus 39 cents per minute.) So far, the company has attracted more than 400,000 rides in L.A. covering over 540,000 miles.
Of course, LINK has to compete in a crowded e-scooter market that has exploded in popularity since the mid-2010s. The L.A. area is dominated by Santa Monica-based Bird, which went public through an SPAC deal last year, and San Francisco-based Lime. Ride-hailing companies Uber and Lyft have also stepped into the market—though Ford-backed Spin announced this month that it was "beginning to exit nearly all open permit markets globally" in a bid for profitability. There are also various bike-sharing services to account for, like the one run through L.A.'s Metro system.
"We've been asked in other markets why we'd want to be there when there were 6 or 7 other [e-scooter] companies," Zhang said.
The ace up LINK's sleeve, she noted, is that Superpedestrian designed and manufactured its own scooters, rather than outsourcing to a third-party company as some of its competitors do. Superpedestrian engineered the LINK scooters to be larger and heavier than some competing models; that makes them more stable on pothole-stricken streets and allows for a larger battery than other scooters, with an estimated 61-mile range in typical conditions.
Zhang said the reinforced chassis on the scooters not only provides stability but also lowers the costs of deploying them. Superpedestrian uses its own staff to charge and service the scooters—rather than employing contract or gig workers—at two L.A.-area facilities. That staff, part of a roughly 55-person team that the company employs in the area, can swap out different parts that might be damaged, rather than scrapping the whole scooter. And while the scooters are expected to last for several years on the streets, their batteries are expected to outlive other hardware pieces and can be reused with new scooters.
Vandalism is still the largest threat to LINK's scooter fleet. Superpedestrian said they've received reports of the vehicles being recovered from across state lines and, in some cases, after being thrown into water; in the latter instance, some of the scooters were able to dry out and still function.
Superpedestrian also leans on its "vehicle intelligence" technology to run more than 1,000 system checks on individual scooters, which can inform technicians whether there's a low charge level or power delivery and braking problems. Its system can also determine if a scooter is left in an unsafe location—such as blocking a sidewalk or access point—or if it's entering an area where e-scooters are banned, in which case it will flash lights on its handlebars before eventually coming to a stop.
Later this year, Superpedestrian plans to incorporate a pedestrian defense system, which it says can determine if riders are on the sidewalk when they shouldn't be or violating other traffic laws based on regulations. The scooters, which can reach speeds of up to 20 miles per hour, are regulated to a 15-mile-per-hour maximum, and are slowed even more when the scooter's sensors detect it is entering a no-ride zone, such as Dodger Stadium.
Zhang said Superpedestrian is encouraged by the inroads LINK has made in L.A. and is looking to expand to other markets. In California, LINK also operates in San Diego and Bay Area cities including Oakland and San Jose.
But with e-scooters having rubbed many local communities the wrong way, Zhang added that LINK and other micromobility operators need more buy-in from stakeholders beyond city government officials. That includes not just city councils and local transportation departments, but also neighborhood councils and colleges and universities.
"Our goal is to continue to expand," Zhang said. "L.A. is an open market for e-scooter permits, though—and the whole area can be like swiss cheese in terms of regulations."
From Your Site Articles
Related Articles Around the Web
Residents of Santa Monica will be able to have their food delivered by robotaxi next year.
Boston-based advanced driverless company Motional announced Thursday it would collaborate with Uber Technologies on a program to deliver meal kits to customers using a fleet of modified autonomous-capable Hyundai cars. Motional is also planning to launch its robotaxi service in Las Vegas sometime in 2022.
When the delivery service first rolls out though, the tech won't work with any Santa Monica restaurant within a given delivery radius. Rather, customers who want food delivered by a robotaxi will go through the Uber app, where they will find an option to select a Motional vehicle with a curated selection of meal kits.
A Motional spokesperson told dot.LA it would announce more details of the contents of the kits that are also part of the Uber partnership.
While the company called the program "an expansion into driverless delivery," Motional confirmed to dot.LA it does not have a permit with the California Department of Motor Vehicles to operate vehicles on public roads without a driver. As a result, all of their delivery robotaxis will have a human operator inside.
In a post on the Motional website on Thursday, President and CEO Karl Iagnemma cited the rapid growth of delivery services — roughly doubling since the start of the Covid-19 spread and pandemic-instigated shutdowns in March 2020 — as the company's reason for getting into the space. Iagnemma predicts the driverless food delivery service market to exceed $115 billion by 2030.
The robotaxi announcement is Motional's latest announcement about its Santa Monica hub. In August, the company announced it would significantly expand its Santa Monica operations after moving to a larger space to accommodate staff and the anticipation of vehicle testing on public roads. The company said then there would be more than 100 employees at the Santa Monica location by the end of 2021.
Founded in 2020, the young company has been making significant moves apart from expanding staff and testing. Hyundai, which has its American operations in Fountain Valley, will play a significant role in testing vehicles for future autonomous or driverless testing and implementation for ride-hailing services.
It sealed the deal with the automaker last March when it was announced Hyundai's all-electric Ioniq 5 small SUVs would be fitted with the tech company's light detection and ranging (LiDAR) and other equipment necessary for detecting road objects.
While Motional has been testing the Ioniq 5 in other markets, the Santa Monica Uber program will be the first time it will be deployed for public use, ahead of a fully driverless ride-hailing pilot program in Las Vegas set to start in 2022.
The $40,925 Ioniq 5 also just went on sale to the U.S. public; the first vehicle was delivered to an L.A. resident on Wednesday.
From Your Site Articles
Related Articles Around the Web