Zac Estrada
Zac Estrada is a reporter covering transportation, technology and policy. A former reporter for The Verge and Jalopnik, his work has also appeared in Automobile Magazine, Autoweek, Pacific Standard, Boston.com and BLAC Detroit. A native of Southern California, he is a graduate of Northeastern University in Boston. You can find him on Twitter at @zacestrada.
Canoo's fortunes took a sharp turn this week after a shake up in their C-suite with their chief financial officer abruptly leaving and a partnership with Hyundai Motor Group falling apart.
On Tuesday, the Torrance-based automaker's shares plummeted as much as 25%, erasing the gains it made after its latest product was revealed earlier this month.
The news came after the company's first investor call as a public company, in which CEO Ulrich Kranz was absent and Chairman Tony Aquila announced a shift in strategy to consumer sales that suggested the company's contract with Hyundai Motor Group is no more.
The announcement took analysts on the call by surprise.
"You're obviously de-emphasizing engineering and engineering services," Roth analyst Craig Irwin told Aquila during the call. "So that seems to imply that the original SPAC model is no longer guidance going forward. Is that accurate?"
Aquila tried to assure Irwin and other analysts throughout the call that the company was on steady ground but was met with skepticism.
"To be a contract engineering house is just really not going to drive the best shareholder value," he told them.
Canoo went public last December in a SPAC agreement with Hennessy Capital Acquisition valuing the company at $2.4 billion.
In February 2020, it announced an agreement with Hyundai to develop a "skateboard-like" battery electric vehicle platform for Hyundai and Kia-branded products similar to Canoo's for its own vehicles. It positioned itself as a company that legacy brands could turn to for design and engineering work.
The deal was widely viewed as a huge boon for Canoo, which started in 2017. It would also give Hyundai a way to quickly deliver more electric cars and commercial vehicles to meet its own goals.
Both companies have also recently been connected to assist in the fruition of the long-rumored Apple Car. But talks with the Cupertino-based electronics company amounted to nothing. Hyundai Motor America and Kia Motors America are based in Orange County. A Hyundai representative was not immediately available for comment on Tuesday.
The startup automaker revealed Monday in its 2020 earnings report and investors call that Chief Financial Officer Paul Balciunas was no longer with the company. Instead, Aquila installed five new executives, including an interim CFO, chief technology officer and chief marketing officer on Monday. Kranz is "still currently the CEO of the company," he said later in the call.
"The majority of this team has worked together for more than 17 successive quarters and never missed consensus estimates," Aquila said in Monday's statement. "As Canoo became a public company and expands from engineering to commercialization, we wanted to bring in an executive team that not only had experience but had experience working together."
Aquila also said Canoo was in the process of looking at finalists for a joint venture on producing its products, but added that any deal would be dependent on state deals and any assistance from the Biden administration for electric vehicle projects.
Canoo's stock (GOEV) closed at $9.30, dow 21.2%. On March 15, it hit a high of $15.70.
Canoo's month started more optimistically as it unveiled a dramatically-styled pickup truck it plans to start producing in 2023. Shares soared on the announcement. It already announced last year its plans for a delivery van based on the same platform aimed at the commercial market.
"These are significant surprises on the call today, and that's not ideal after a SPAC IPO process," Irwin told Aquila. "I just wanted to underline that."
From Your Site Articles
Related Articles Around the Web
The electric pickup truck market is charging up even before the first models have hit the road.
Last week, Irvine-based Alpha Motor Inc. and Torrance-based Canoo unveiled their versions that they hope will compete with legacy companies like Ford and General Motors.
The Alpha Wolf Utility Truck, like Canoo's pickup, is a much smaller version than the gas-powered vehicles on the market. The two-seat pickup truck is just 188 inches long, about a foot shorter than the smallest gasoline-powered pickup currently on sale in the U.S. Alpha plans to offer two and four-wheel-drive versions of the Wolf with a 75-85 kilowatt-hour lithium-ion battery and projects a range of about 275 miles on a full charge.
It will be priced between $36,000 and $46,000 when it goes into production as early as 2023. With the current $7,500 federal tax credit for EVs, as well as the current $1,500 California Clean Fuel Reward, an Alpha Wolf would not only be one of the least-expensive new pickups, but also cost a fraction of what large electric trucks from General Motors and Amazon-backed Rivian Automotive are expected to sell for.
"If priced right, I feel pretty confident and excited about both," said Robby DeGraff, an auto industry analyst for Tustin-based AutoPacific.
DeGraff said both Alpha and Canoo's offerings are unlikely to sway traditional truck buyers away from brands like Chevrolet and Ford, though. But the Alpha Wolf's styling — which runs against the traditional macho image of full-size pickups — might make it attractive to outdoor enthusiasts who currently drive brands like Subaru. The Alpha Wolf would also appeal to buyers looking for vehicles in the upper-$20,000 to upper-$30,000 range, an area underserved by current pickup offerings.
"The vast majority of the hype I've been hearing or seeing about the Canoo and Alpha Wolf EV pickups is coming from friends and colleagues who partake in active outdoor recreation," DeGraff said. "They want to take the Canoo electric pickup camping deep into the woods. They want to throw a pair of mountain bikes in the back of the retro-looking Alpha Wolf and depart ASAP to Moab."
With a 65-inch-long bed, the Wolf would be short on cargo-hauling compared to the midsize pickups currently on sale. But Alpha will be able to tow up to 3,000 pounds and get from zero to 60 mph in 6.2 seconds, about a second faster than a V6-powered Toyota Tacoma. Other features promoted by Alpha were multiple charging ports inside the Wolf's interior, along with a minimalist design for the dashboard and two large digital displays, and multiple outlets for charging electronic devices.
The Alpha Wolf is the latest in Alpha's spree of product announcements, the first of which was the Icon Electric Utility Vehicle unveiled in December. Designed for both consumer and commercial use, Alpha says the Icon is meant to be adapted as an SUV, van or truck thanks to its "skateboard-like chassis."
Earlier this year, the company announced The Jax Crossover Utility Vehicle and shares the Wolf's battery components but is styled to look more like an SUV rival and is estimated to cost between $38,000 and $48,000. The Ace Coupe was announced earlier this year with two levels of performance, available all-wheel drive and a projected $32,000 starting price. Reservations for the Ace, Jax and Wolf are open on Alpha's website, but unlike other EV startups, they aren't taking deposits.
Alpha joins a growing group of both legacy and startup automakers trying to establish the electric pickup truck market, even though none of the models have yet to reach customers.
Canoo Inc. revealed its radically shaped compact pickup truck concept last week, packed with innovative storage solutions, about 200 miles of range and a projected 2023 on-sale date. Rivian expects first deliveries of its $75,000 R1T pickup truck and related R1S SUV as early as June, and plans to open a showroom in Laguna Beach later this year.
Ford Motor Company, also a Rivian investor, is expected to unveil an all-electric version of its full-size F-150 as soon as this year, along with a small pickup truck with an internal combustion engine. Archrival GM's GMC Hummer EV, announced last October, is expected to reach customers this fall with as much as 1,000 horsepower and an initial price of at least $112,000. Elon Musk said in January production of the Tesla Cybertruck, previewed in 2019, could start by the end of this year, but volume sales will likely begin in early 2022.
From Your Site Articles
Related Articles Around the Web
With streamlined styling, innovative packaging and a slew of novel features, Canoo Inc. released a first look at its electric truck. The Torrance-based company is set to produce a compact pick-up in 2023, entering an emerging market that includes Tesla and Rivian, but also General Motors and Ford.
"Our pickup truck is as strong as the toughest trucks out there and is designed to be exponentially more productive," Tony Aquila, executive chairman of Canoo, said in an announcement. "We made accessories for people who use trucks — on the job, weekends, adventure."
Canoo said its yet-to-be-named pickup truck would be available to pre-order in the second quarter of 2022.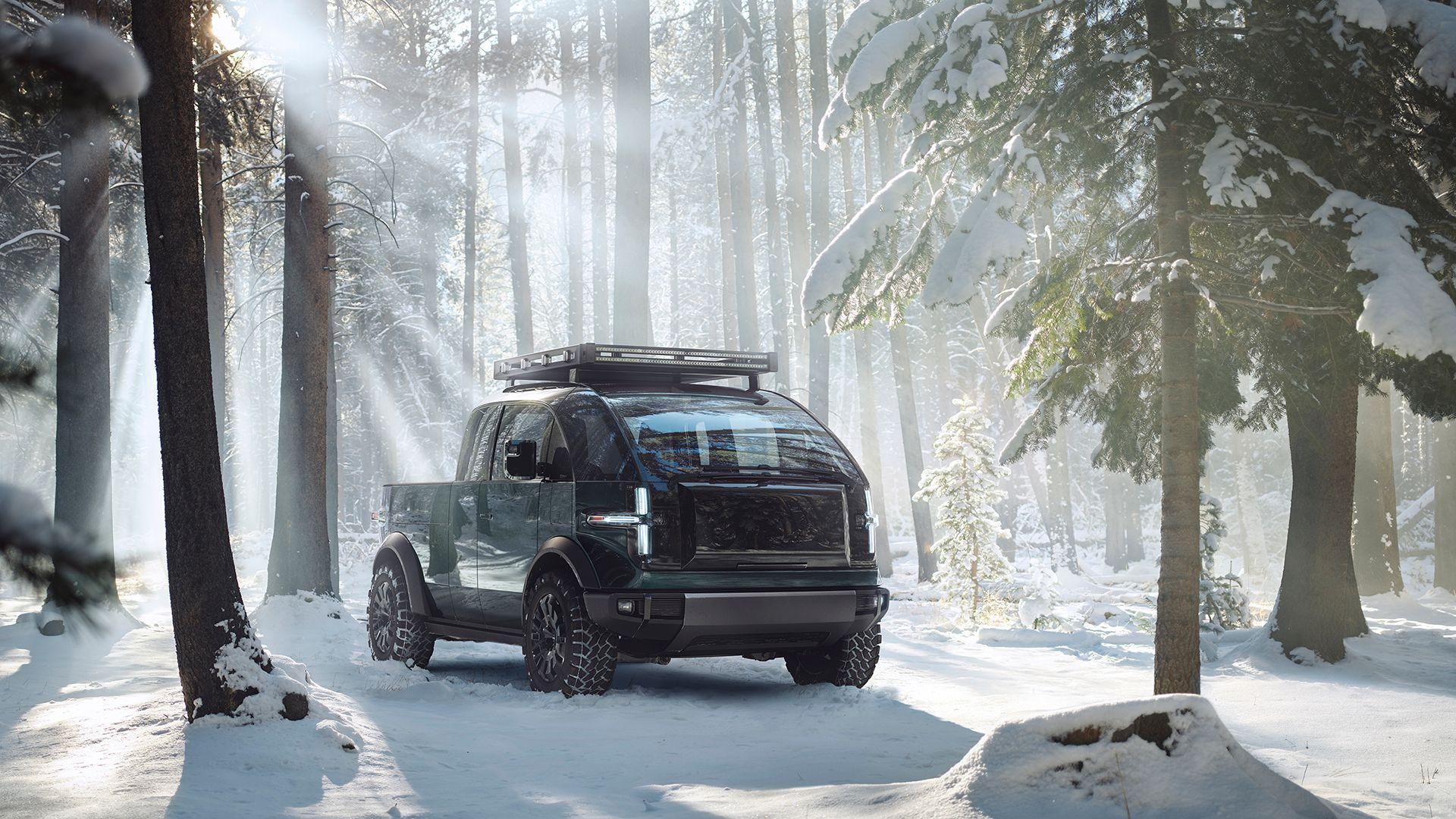 Canoo's yet-to-be-named pickup truck would be available to pre-order in the second quarter of 2022.
Its payload capacity is also expected to be 1,800 pounds, which falls between midsize pickups like the Toyota Tacoma and full-size models like the Ram 1500. But at 184 inches long when the tailgate is closed, the Canoo pickup truck is expected to be nearly two feet shorter than the next smallest pickup truck on sale today. In terms of size, Canoo would fill a market that was largely abandoned by the 2000s as pickup buyers flocked to large, V8-powered full-size models.
That's due in part of the "cab-forward" design that puts the front wheels as far forward as possible. The electric components are under the cab of the truck, eliminating the need for a long hood and maximizing interior space for passengers and cargo. In place of a Tesla-like "frunk" cargo area in front, the Canoo truck has a fold-down desk and small storage cubby as a mobile workspace.

Canoo also said its truck will have innovations in the bed area, with flip-out picnic tables, storage dividers, household-style electrical outlets, a side-step to access the bed and even a built-in extender to accommodate longer items. A roof rack will be offered, as well as a camper shell that could also fit a small tent on it.
The company will offer single and dual motor configurations, giving the Canoo pickup truck either two-wheel or all-wheel drive, and up to 600 horsepower. Canoo did not disclose price targets for its pickup truck, although similarly sized gasoline rivals start around $26,000. But its 200-mile expected range is below that of many modern EVs, such as the Chevrolet Bolt and Tesla Model Y.
Canoo will enter a field that's nonexistent now, but is set to grow immensely in the first half of this decade. Amazon-backed Rivian, which also has operations in Carson and Irvine, unveiled its R1T pickup truck and R1S SUV in November 2018 at the Los Angeles Auto Show. It opened its online configurator and reservation book in November 2020 and targeted the first cars would roll off of an assembly line in Illinois in June. Prices range from $67,500 to $75,000, with an estimated range of between 300 and 400 miles on a full charge.
And there's also Tesla, which showed its boldly styled Cybertruck in November 2019, with reservations exceeding 250,000 by the end of that month. On an investors call in January, Tesla CEO Elon Musk said there would be, "a few deliveries of the Cybertruck in 2021," on target with the timeline from the reveal. While the Cybertruck is expected to be produced at a new Gigafactory in Austin, Texas, rather than with other Teslas in Fremont, it's still unclear if the radical styling and "unbreakable" glass will reach production. Target range is between 250 and 500 miles, with a $40,000 starting price.
Also in the offing are GM with the GMC Hummer EV due to start production in the fall with about 350 miles of range and an initial $113,000 price tag before less expensive variants arrive. Ford is also expected to show an all-electric version of the F-150 full-size pickup truck as early as next year.