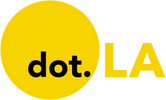 Get in the KNOW  
  on LA Startups & Tech  
X
Image courtesy of Wheels
Can WeHo-Based Wheels Get More Underserved Angelenos to Ride E-Bikes?
Maylin Tu
Maylin Tu is a freelance writer who lives in L.A. She writes about scooters, bikes and micro-mobility. Find her hovering by the cheese at your next local tech mixer.
08:00 AM | March 18, 2022
When Los Angeles launched its micromobility pilot in 2019, it had big dreams for improving transportation equity for all Angelenos.

Three years later, less than 3,000 people make use of micromobility programs aimed at helping poorer sections of the city, despite stringent requirements on companies to provide these options and programs to help raise awareness. At issue, experts said, is a patchwork of rules and regulations between municipalities that can be a logistical headache for riders, infrastructure that doesn't offer much protection for scooter and bike riders in these areas and a public outreach campaign that has failed to gain traction.
---
"It's a big challenge because when you drive your car, for example, people don't pay attention to municipal boundaries. They just want to get from point A to point B in the most seamless way possible," said Will Sowers, director of public affairs at Wheels.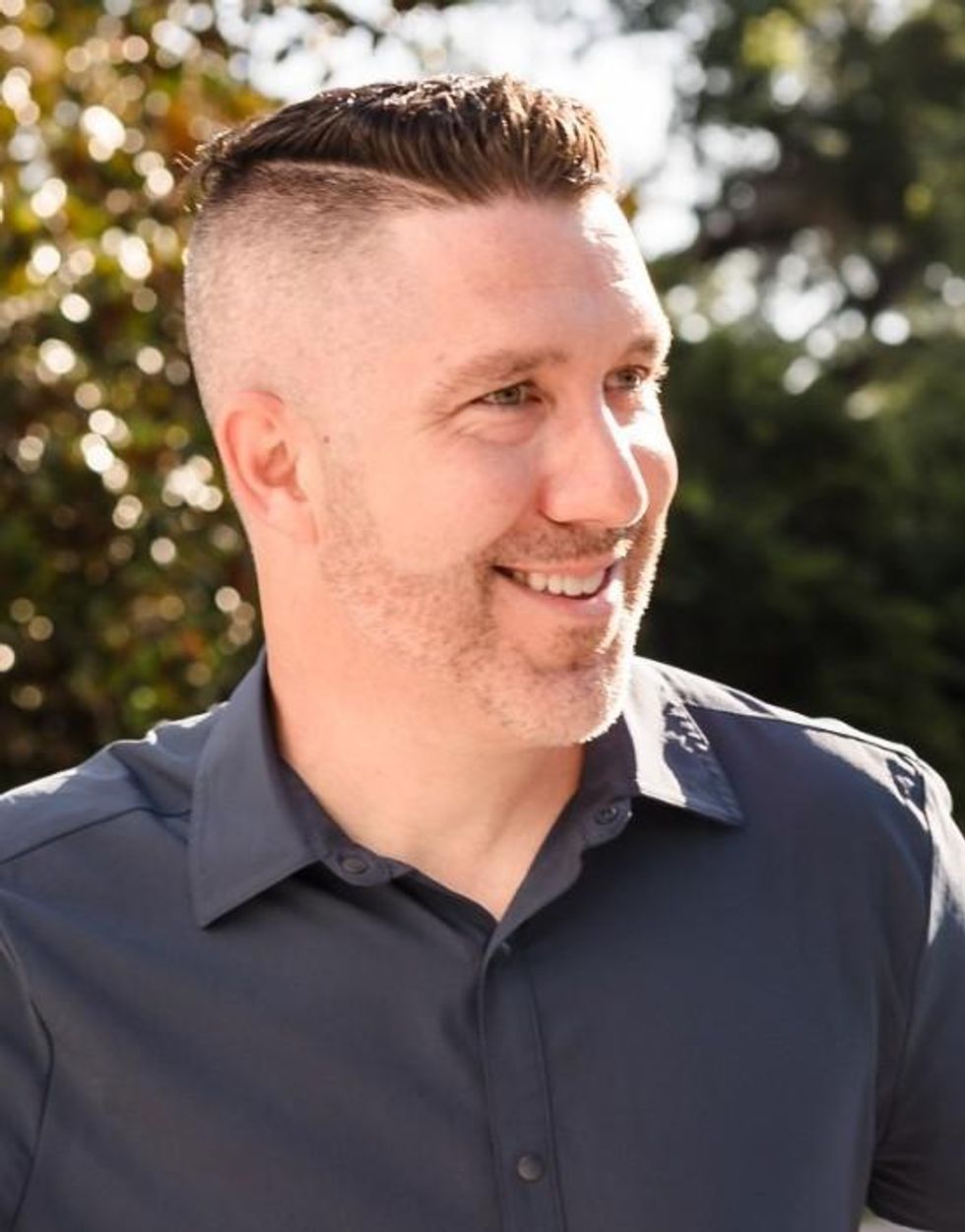 Wheels Director of Public Affairs Will Sowers.
Image courtesy of Wheels
While each city has its own equity requirements, the city of L.A. established its current program in 2021. Any operator deploying vehicles in special operation zones (including Venice, Hollywood and Downtown) is required to deploy 20% of its fleet in equity zones. There is no trip fee for rides that begin or end in these zones. The city also requires operators to offer a low-income option for riders, attend meetings with neighborhood councils and other local stakeholders, provide a non-credit-card and non-smartphone option for payment and partner with a community-based organization.
But those efforts haven't made as much an impact as the city might have hoped.
As of October 2021 there were 2,915 active users enrolled in low-income programs across all operators, according to information provided by L.A.'s Department of Transportation. That's just 17 more riders than the city reported a year and a half earlier–in a report which also noted that 85% of users did not know that equity programs were available.
Riders in L.A.'s underserved neighborhoods use micromobility differently than those in more affluent areas, according to Sowers. While a rider in Venice might ride to the beach or to a restaurant, riders in underserved areas often use e-scooters as a way to get from a transit stop to work and vice versa.
"We've even seen examples of people using our device as a courier," he added, "where they may — with one of many delivery apps — grab a short shift."

Wheels Plan to Go Further
Wheels is trying something different. The company has made an effort to design its scooter for the way that lower-income riders use them, and is one of the few scooter companies able to thread the requirements of multiple municipalities in L.A.
It currently boasts it has the most interconnected micromobilty network in the L.A. metro region, with permits to operate in the city of L.A., Santa Monica, Culver City and West Hollywood, as well as plans to launch in Glendale.
Practically speaking, that means a user could ride a Wheels device between municipalities to get to work or school without worrying about landing in a no-parking zone (Beverly Hills, for instance, is geofenced and off-limits for scooter riding and parking).
Wheels was founded in 2018 in West Hollywood by Jonathan and Joshua Viner, who previously co-founded pet-walking startup Wag. The company's scooters are designed for traveling longer distances. While a typical standup scooter goes one mile per ride, a Wheels seated mini-bike goes about one and a half miles. Along with its app-based service, the company also offers monthly rentals.
So far, the company has raised $96.3M in funding..
As part of its "Wheels for All" program, riders in all four municipalities who use state or federal benefits can ride at a steep discount. Currently, Wheels devices are $1.10 to unlock and then $0.39 per minute to ride. But underserved riders get unlimited rides of 30 minutes or less, paying only the unlocking fee.
The program is also more expansive than L.A. requires. In addition to low-income riders, people with disabilities and older adults who the city designates as "underserved populations," Wheels program is also available for unhoused people.
To qualify, applicants fill out a form online and provide proof of enrollment in a state or federal program.
In comparison, its competitor Lime offers rides for $0.50 to unlock plus $0.07 per minute plus tax through its Lime Access program; Bird offers 50% off rides for low-income Angelenos through its Community Pricing program.
Although Wheels has the most interconnected equity program, enrollment is low. Only about 1,000 riders are signed up across the greater L.A. area. The program has provided just over 23,000 rides in the last year.
Sowers said this is an issue his company is doing its best to address. He added that he frequently talks to social service workers and organizations to help spread the word. Many, he said, are initially skeptical of recommending micromobility options to their clients.
One such person called him after seeing someone with a disability riding a Wheels device:

"They called me and were like, 'That makes sense to me. It makes sense that someone can sit down and potentially have an accessibility challenge, but still be able to ride your device'."
Berkeley professor and co-director of the Transportation Sustainability Research Center Dr. Susan A. Shaheen told dot.LA over email that Wheels' approach to equity has potential.
"It could provide a more affordable alternative to private vehicle use, particularly during these times of high gas prices," she said.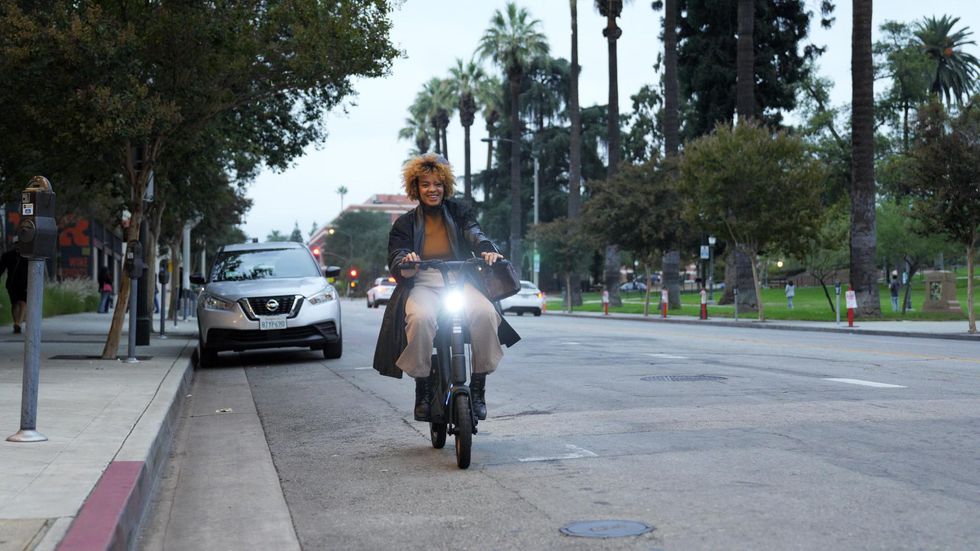 Image courtesy of Wheels
No Equity Without Infrastructure
Another challenge that Wheels, like its competitors, deals with is infrastructure. California law bans e-scooters from operating on sidewalks. But not everyone is comfortable riding an e-scooter or e-bike in the street, especially where there are no bike lanes and little infrastructure to keep riders safe. That's especially true in many low-income neighborhoods.
"If you want to prioritize equity, you need to build infrastructure for micromobility in the places that are the most dangerous to use micromobility, which is in the least-invested communities," said Michael Schneider, founder of advocacy group Streets For All. He added that providing equity means building interconnected cycling infrastructure throughout the city, especially along L.A.'s high injury network.
The city has said it's trying to address the disparity.
Los Angeles has brought in $4 million over two fiscal years through its micromobility permit program, according to the city's Department of Transportation. It's using some of that money to fund a redesign of the 7th Street corridor, including protected bike lanes, after data showed that this segment of Downtown was one of the busiest for e-scooters and e-bikes, Public Information Director Colin Sweeney said via email.
In the future, Sowers sees the potential for L.A. to use that funding, along with the data it collects from operators, to build better infrastructure in underserved areas.
"If someone in a transit desert is riding one of our devices, and I give the city good data and say, 'Hey, I've got tons of rides in this neighborhood, but there's no protected bike lanes,' then that creates a reason for the city to build that."
Maylin Tu
Maylin Tu is a freelance writer who lives in L.A. She writes about scooters, bikes and micro-mobility. Find her hovering by the cheese at your next local tech mixer.
05:00 AM | February 15, 2023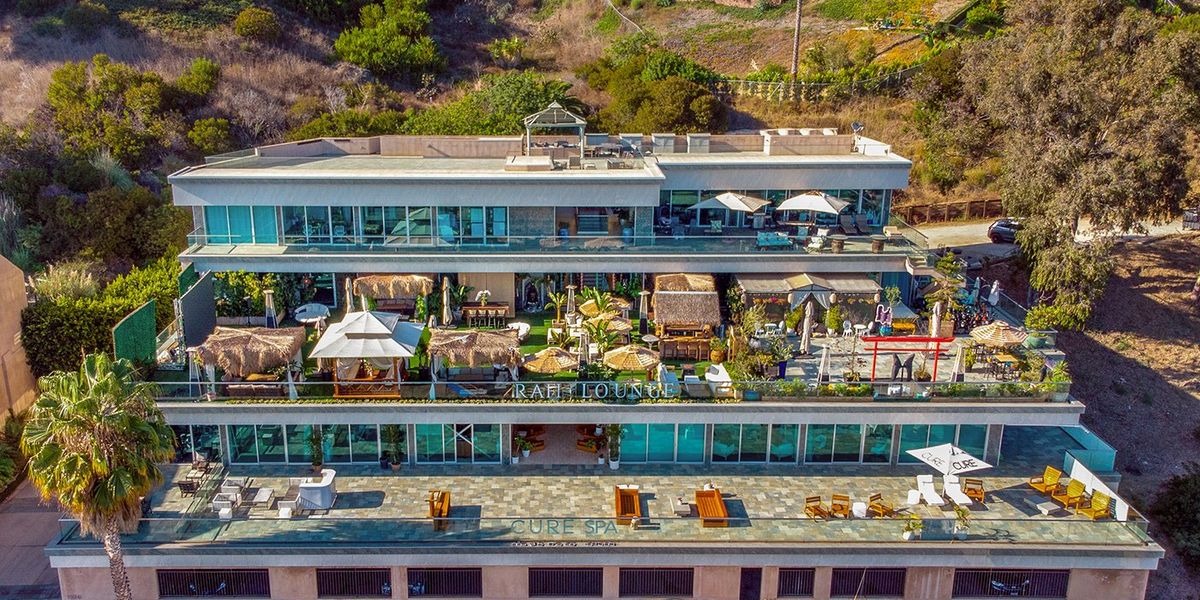 Photo: Rafi Lounge
Set in the foothills of Eastern Malibu across the street from Robert de Niro's Nobu, the Rafi Lounge, a NFT-powered wellness center and coworking space, somehow looks like both a beachfront country club and a swank monastery. On a clear day, you can see Catalina Island across the ocean. The sign above the entrance says, "Welcome, please allow us to reintroduce you to yourself."
Pushing through the braided rope entryway and passing a tranquil stone Buddha head waterfall, I arrived just after a yoga class former playboy model-turned "Dancing With the Stars" host Brooke Burke finished. The central open space that usually houses yoga mats or stationary bikes has been cleared off, and the giant projection screen behind the small stage is playing a tranquil plant video – an hour earlier, a larger-than-life Burke was on it helping clients "booty burn."
The building – which used to belong to a venture capital firm – has been totally transformed to look like nature's reclaimed it, dotted with lemon trees and cloaked in ornamental faux grass carpeting. Buddha statues are in every corner, some larger than five feet. On the way to one yoga room, there's a small shop selling pricey essential oils, Rafi Lounge merch, and CBD gummies. On the wall of the shop hang three breathtakingly detailed portraits of indigenous peoples made by the founder with charcoal. There's some construction ongoing, as they're converting former corner offices into hot yoga saunas and a spa.
On the day of my visit, the place is bustling with staff who are lugging boxes of Himalayan salt panels to install in the hot yoga room. Israeli-born Kung-Fu master and former monk Rafi Anteby, the founder of the eponymously named space, tells me that after our chat he plans to paint them all black to match the walls. No detail is too small to notice, something evident in his Mandala work.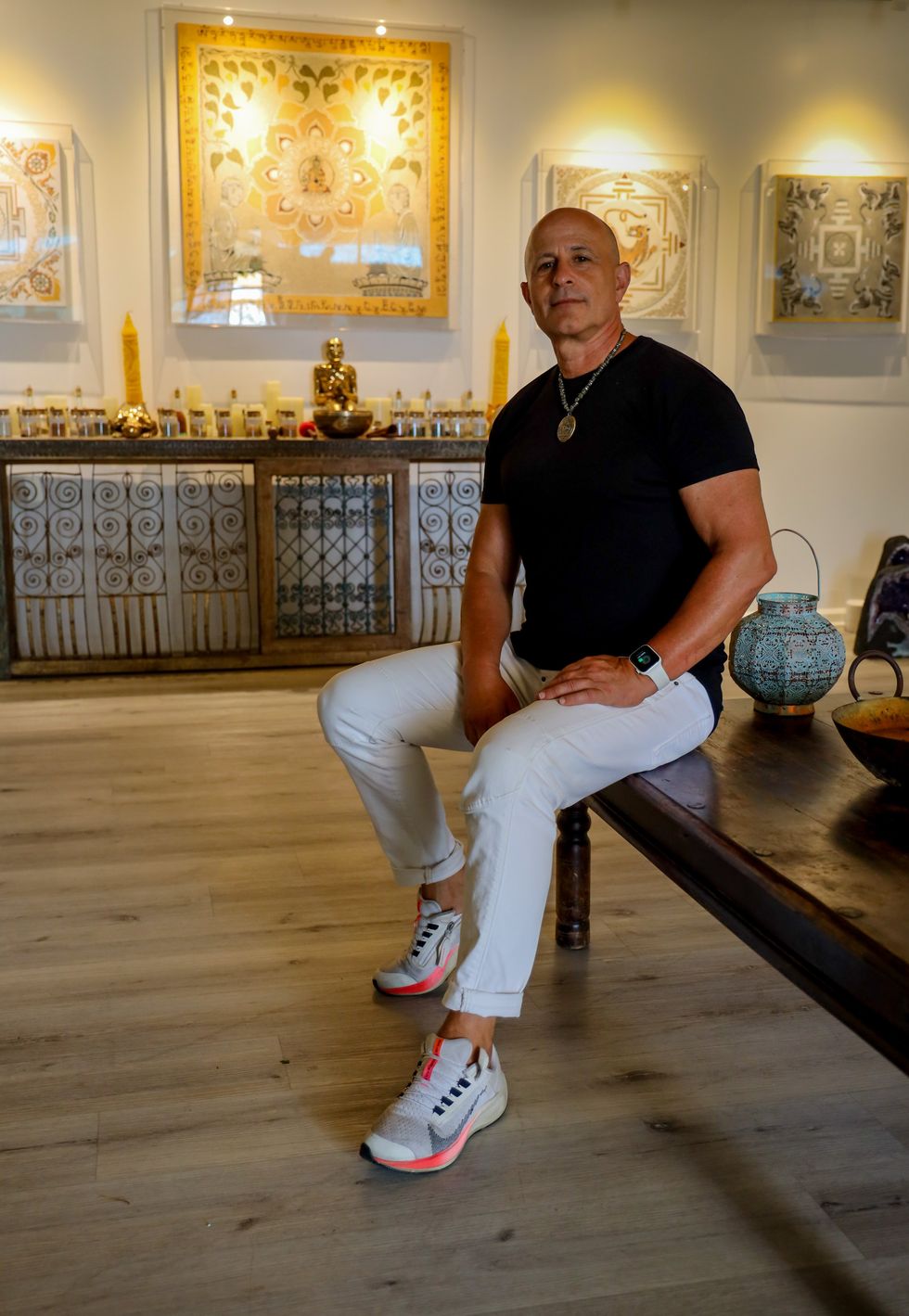 Rafi Lounge founder, Rafi Anteby, pictured here with his Mandala and sand collections. Photo: Rafi Lounge
The Rafi Lounge opened last year on November 10—the day before crypto exchange FTX went bankrupt. "Everyone said Rafi, go into a shutdown, don't do it," Anteby said. "I said I can't, because I pre-sold to members and I promised them [the launch is] what will happen."
Still, Anteby felt he couldn't renege on his promise to open the lounge to those who did buy in, so he forged ahead. So, what do NFTs have to do with a wellness center?
Each, according to Anteby, corresponds to a level of access. The least expensive, Unity, is the lowest tier and gives holders access to virtual classes. The second tier, Mindful, encompasses physical and virtual access to the Lounge. And the highest tier selling for $5,500, Awakened, are the ones Rafi is selling individually that act as an all-access pass to the Lounge and its benefits and events (including, Anteby said, "spiritual yacht parties"). Both Mindful and Awakened NFTs are lifetime memberships to Rafi Lounge, and include free access to annual retreats it hosts.
But facing the changing seasons of the crypto market and unwilling to sacrifice his brand by letting the Rafi Lounge tokens be resold to oblivion on public markets, Anteby took the drastic step to control his NFT inventory – buying up the remainder a mere day after the minting.
Anteby admitted he "lost a quarter of a million dollars" between creating and buying the NFTs back. But he said it was worth it: "I'm going to take each because I want to control who's coming to my lounge. I want to know that they will be my advocates as well."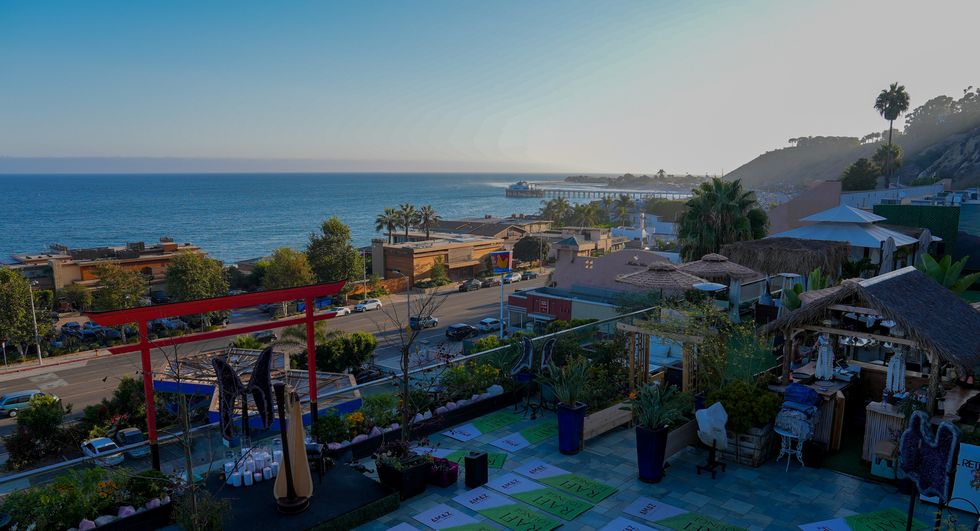 A view of the Rafi Lounge in the afternoon, before a yoga class. Photo: Rafi Lounge
Currently, there are 100 members, 55 of which are lifetime NFT holders. The 6,000 square-foot rooftop lounge is also open to the public. Which is to say, anyone can buy a 10-day pass for $250, pay the $40 fee for individual classes or come to public events. One of those people is Amie Yaniak who was diagnosed with stage four cancer last May that has since metastasized into her bones.
"I've never been anywhere like this. This was the first class I've done since the cancer, and it was just so cleansing," Yaniak says. While she's not a member, Yaniak told me she was interested in returning for more classes.

In addition to people like Yaniak, Anteby is also curating a more select crowd of well-to-do celebrities that can act as brand ambassadors for the lounge. He said he wants it to be a sort of more laid-back SoHo house, where top minds converge on the Pacific Ocean to make deals and network. Some of the names dropped during my tour of the property included Jamie Foxx (who Anteby calls a good friend), Chris Noth, Gladys Knight, and Equinox co-founder Lavinia Errico, whom I actually briefly met, since she's a member of the Lounge's advisory board.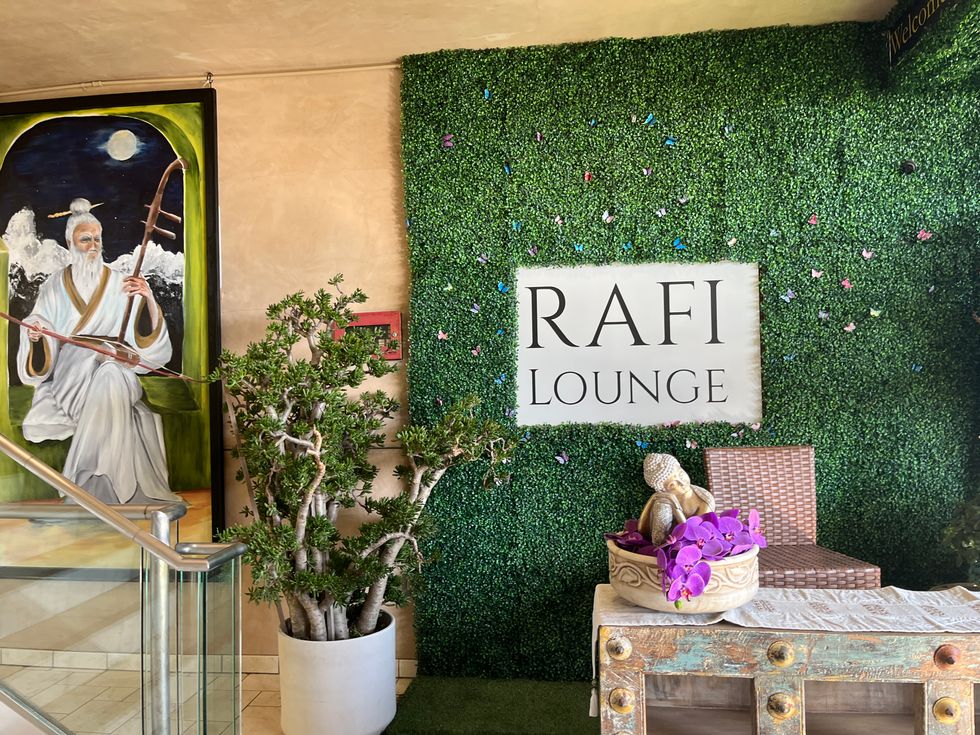 The lounge's entryway and check-in. Photo: Samson Amore
As Tame Impala wafts from the lounge's speakers, Anteby tells me stories of getting Taoist monks drunk at karaoke bars and studying medical qigong and tai chi in China. Anteby hung the intricate mandalas on the walls of a yoga room and he says they take around two years to complete as he carefully places individual grains of sand and uses tree sap to preserve their form. The mandalas are meant to be a contemplation of man's relationship with nature, which is partly why Anteby designed the NFT versions of them to resemble a sort of elemental fusion that combines water, fire and earth.
Owning an NFT also corresponds to owning a fraction of the Malibu Mandala Rafi made that hangs in the lounge.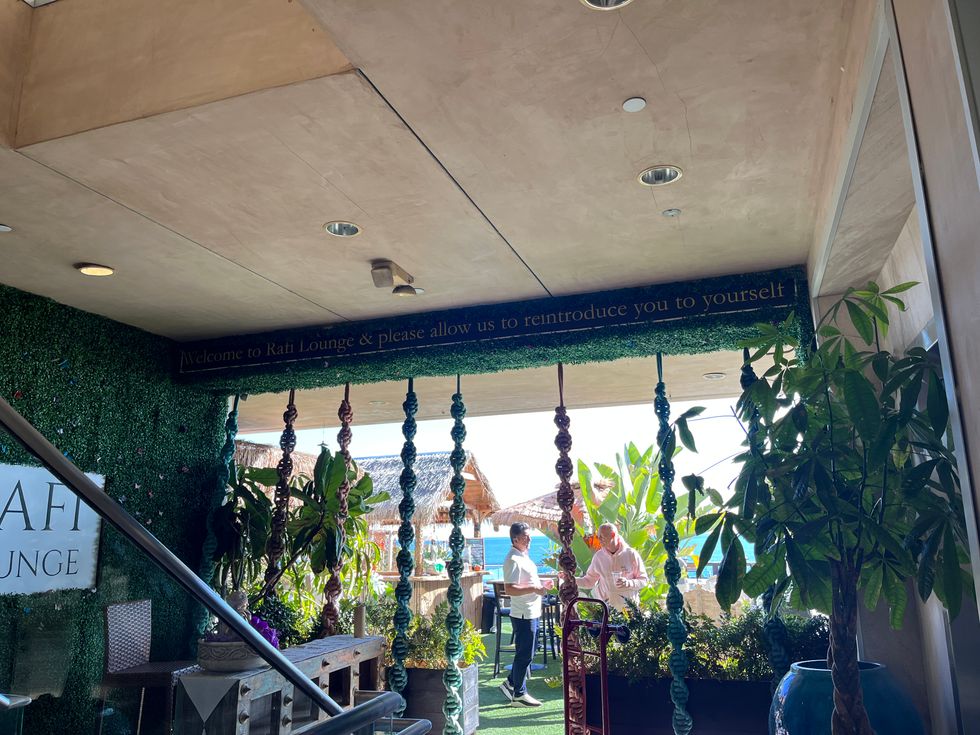 Anteby, right, speaks with a partner at his lounge in Malibu.Photo: Samson Amore
While Anteby admits the launch hasn't netted him any profits yet and said he's out around $1 million launching the place, he's determined to turn the Rafi Lounge into a franchise and has plans to open future locations in other cities big into tech and wellness like Miami, Scottsdale, Ariz., Newport Beach, and Austin.
Besides the obvious cases like Yaniak's, Anteby said he thinks the larger tech community needs a breather. "They all have digital burnout," he said. "It's more than just me helping you to breathe. You need to take care of yourself, and here people do that all the time."
Samson Amore
Samson Amore is a reporter for dot.LA. He holds a degree in journalism from Emerson College. Send tips or pitches to samsonamore@dot.la and find him on Twitter @Samsonamore.
https://twitter.com/samsonamore
samsonamore@dot.la
02:16 PM | March 02, 2023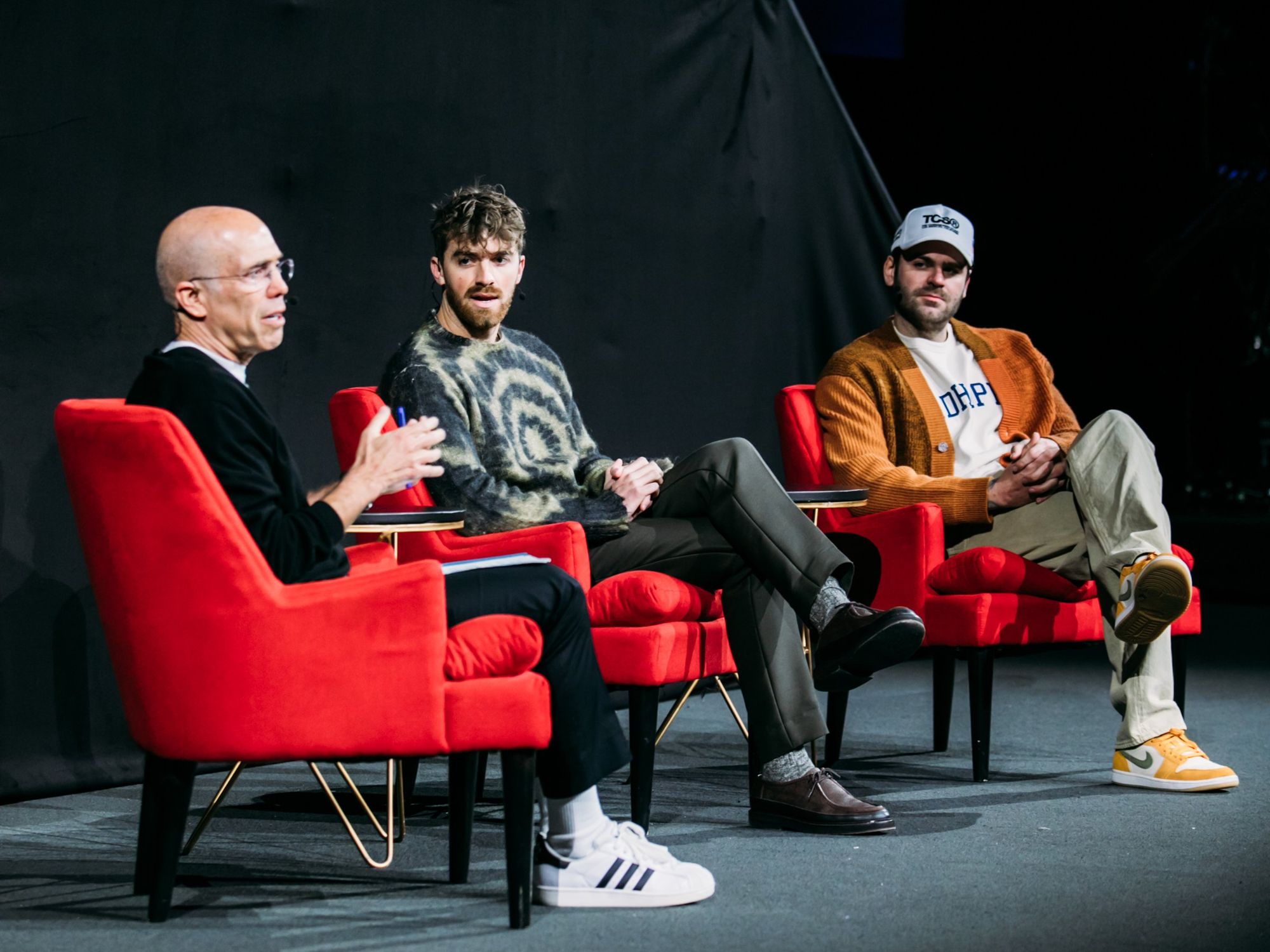 Clark Studio
On Thursday, Upfront Ventures hosted its 2023 Summit and music icons Alex Pall and Drew Taggart of The Chainsmokers hit the stage, not to perform, but instead to discuss their venture journey.
The duo launched MantisVC, a Marina Del Rey-based early stage tech venture fund in 2019.
Pall and Taggart shared the stage with WndrCo's managing partner Jeffrey Katzenberg to dive deeper into what their music career has taught them and how it translated over to their venture firm.
Here are some of the most important takeaways:
The duo believes hustle is more important than talent to achieve success.
"There's just so much content out there that's just happening all the time for no reason," Taggart said. "There's just so much to pay attention to and if you have to wake up every day, and think out what your angle is going to be, try stuff, have it not work. You have to accept defeat so frequently and still get up and do it."
Creating music was their foray into building communities.
"I think we have some real insight into how to build that community and tell that story because essentially, that's all we're trying to do," Pall said. "No matter what your business is, you're telling the story about something that you think is important that someone else needs and will enjoy."
Building connections and having conversations with pioneers in the space helped them launch MantisVC.
"Humility and being self aware are two of our strengths," Taggart said. "I think knowing what we don't know is a big part of how we've gotten to where we are, and with the support of people around us, and the relationships we built, we understood that we were going to have to go out and prove to the world that we were serious about this and we respected the people that have come before us and the people that are doing it right now."
VCs should offer all their founders support.
"When you're building something early on, you want that support, that hands-on feeling and the purpose of Mantis isn't necessarily right now to replace the incredible institutional investors that exist out there and have been around for a while," Pall continued.
"But we want to be the Robin to their Batman, and we think there's a way that we can kind of partner with everybody in the space and provide our founders that holistic support they need. It's inspiring to work alongside people that share that same energy and we're constantly working on ourselves and I feel like it takes a really special type of human being to be successful in this world. Level of grit and determination and something that's continually fueled us and we want to invest in people like that."
Feedback is necessary and essential to create successful products and businesses.
"Similar to products or services that you're building, it's important to get real life feedback out there and iterate on those things," Taggart said. "And there's really just no substitute for that."
Pall added, "I think for some reason in our culture, it's become an issue for people just to be straightforward and say no, about things and give honest feedback and, and move on. I think we can all learn a lot from just having more honest conversations with each other."
Never lose sight of your core audience and mission as a company.
"Never forget what your core product is and what people love about that and make sure that every piece of innovation is derivative of that," Taggart said. "I see a lot of friends of ours that have had really successful companies start to build ancillary projects that don't really feed their core audience that they're just making to compete with their competition. We do the same thing in songwriting, and you can never lose sight of what people love about you."
Decerry Donato
Decerry Donato is a reporter at dot.LA. Prior to that, she was an editorial fellow at the company. Decerry received her bachelor's degree in literary journalism from the University of California, Irvine. She continues to write stories to inform the community about issues or events that take place in the L.A. area. On the weekends, she can be found hiking in the Angeles National forest or sifting through racks at your local thrift store.