creator economy
For freelance workers, getting paid is anything but certain. That's especially true for social media influencers who can wait weeks or months for the checks to come in, if they get paid at all.
Fintech company Willa promises to make the payment process simpler and more reliable for creators.
Targeted toward established social media influencers, Willa's IOS app pays gig workers immediately after they file an invoice, in exchange for a 2.9% transaction fee. It's one of several emerging fintech companies that are challenging the old ways of banking.
Services like PayPal also offer semi-automated invoicing tools for freelancers, but unlike PayPal, Willa pays creators directly and immediately, sidestepping the wait time and taking on the risk if a contractor doesn't dole out cash.
Other fintech companies offer advances on paychecks that help strapped workers cover the financial gap.
"There's so many things that just don't work for creators today that we want to solve," said CEO and co-founder Kristofer Sommestad.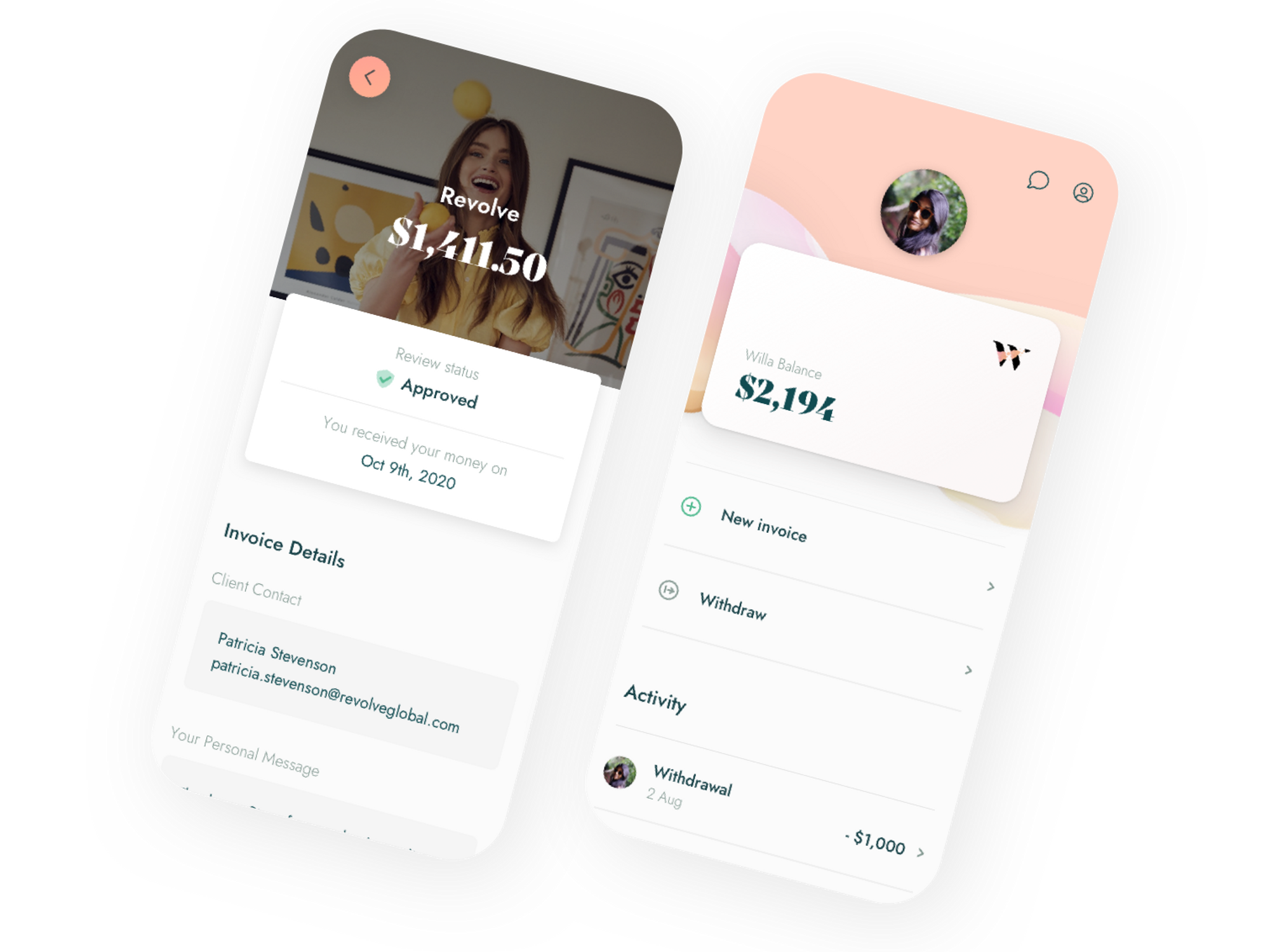 Users can join Willa by applying through the company's app, though it may take a while. The company already has a waiting list of over 150,000 freelancers.

Sommestad declined to comment on the exact criteria Willa uses to accept users, but said the services are tailored to creators who make money primarily off brand collaborations and users who have an average of more than 30,000 social media followers.
The company — which is headquartered in Los Angeles and Stockholm, Sweden — announced on Wednesday it raised an $18 million Series A round, bringing its total funding to $21 million. The round was led by FinTech Collective and included Entrée Capital and EQT Ventures.
Created by some of the early members of the Spotify team, the founders want to expand its user base beyond social media influencers to the broader freelance market.
There are around 60 million freelance workers in the U.S., and that figure is only expected to grow. By 2027, about half the U.S. workforce is expected to take on some freelancing work, according to Statista.
Sommestad said Willa is also considering offering other financial services, like credit or lending, to creators. That's because creators — with their multiple contract gigs — often can't get loans or other services from traditional financial institutions which look for a single employment history, he said.
"I think there's a big opportunity and a need for someone like us to come in and be on their side ... and actually create services that are adapted for their needs," Sommestad said. "If you go to the bank and want to get a good mortgage to buy a house, [banks] don't really trust [freelancers] because you haven't held a proper job, from their perspective, ever."
Mattia Cuttini's "Produkt Hi-res-50-10" is a culmination of the Italian visual artist's 12 years of creative experimentation with rubber stamps and Xerox machines, which he sold earlier this year for over $5,000 on digital art marketplace SuperRare.
But Cuttini cannot take sole credit for the piece. Some is due to the artificial intelligence software that he fed with dozens of abstract images he's crafted over the years and which synthesized them into the new creation.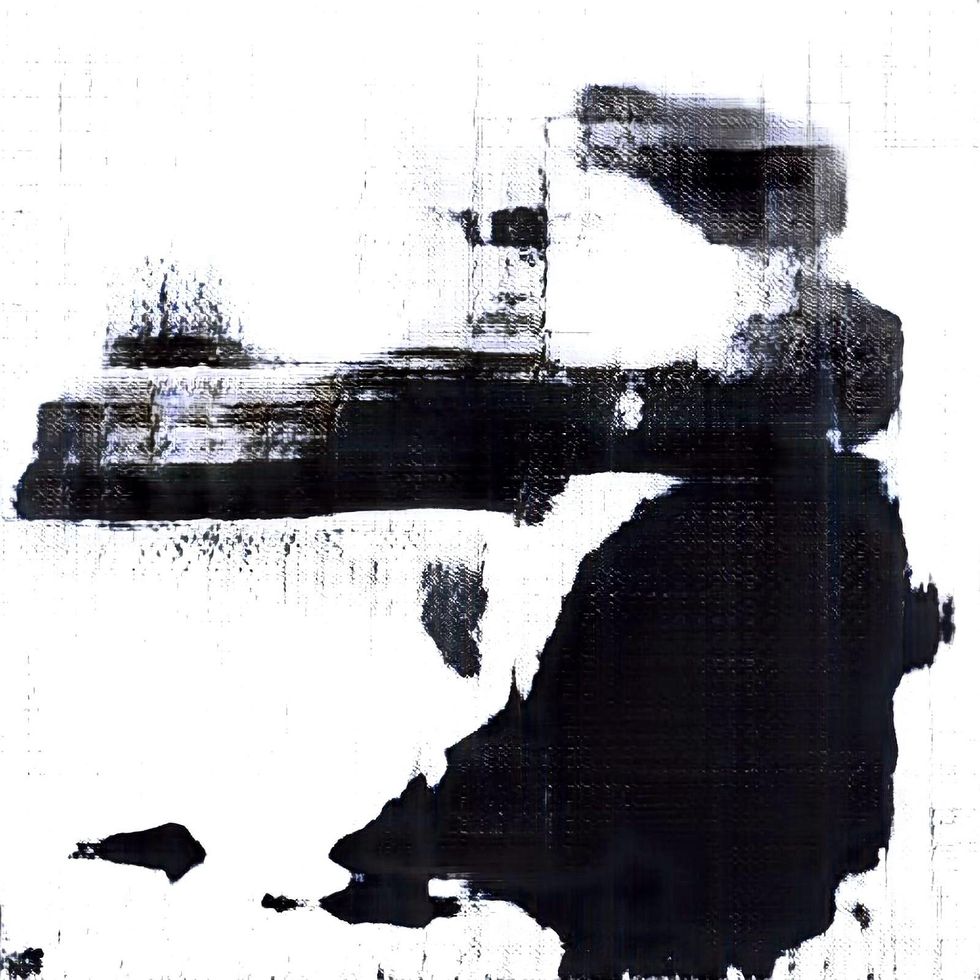 Mattia Cuttini's "Produkt Hi-res-50-10"
Playform, the company behind the software, wants to provide more visual artists with technology that serves as a creative partner and can generate novel digital artworks based on the artist's previous works. Backed by Khosla Ventures, the company's technology stems from founder Ahmed Elgammal's research.
Now the startup is shifting its center of gravity to Los Angeles.

"What we want to do is create a world in which artists can make a living doing what they love," said Jennifer Chang, the Southern California native who the company announced Friday will take over as CEO.
Formerly head of marketing for the remote company, Chang inherits the mantle from outgoing CEO Ahmed Elgammal, a computer science professor at Rutgers who will remain the company's chief technology officer.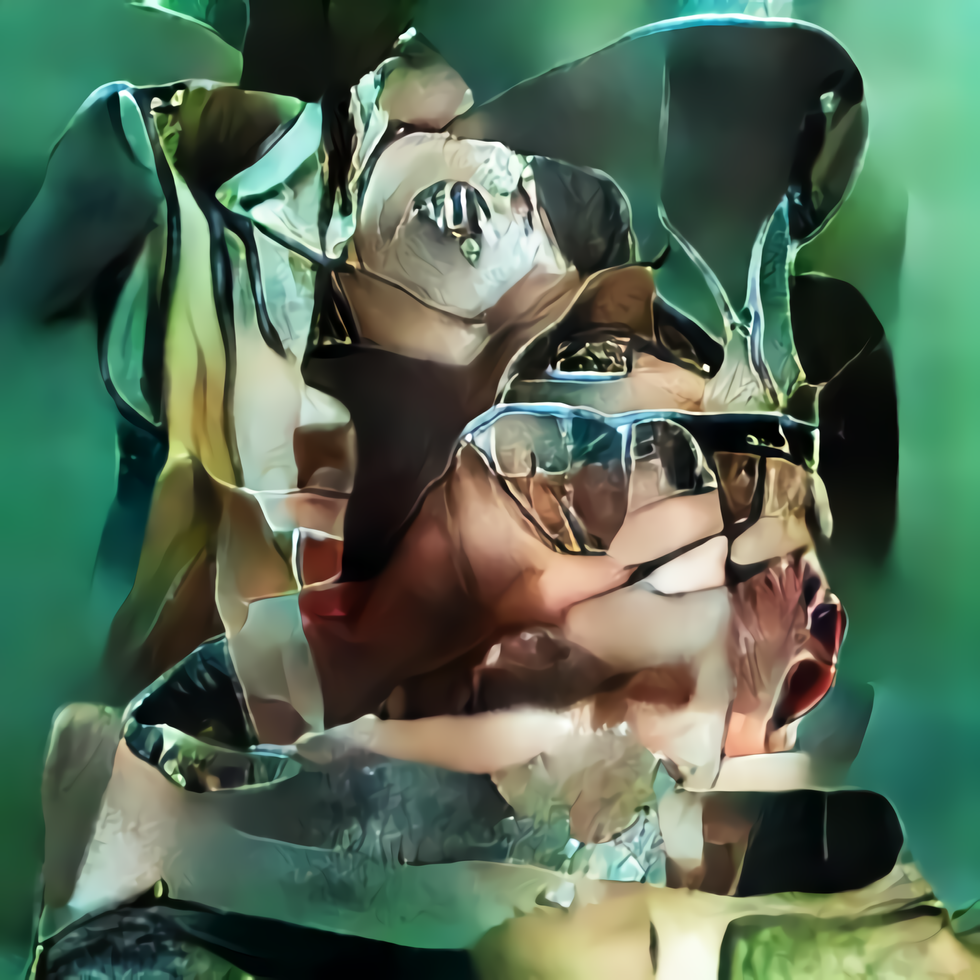 A work by Chris Trueman created with Playform
The rising popularity of NFTs has provided digital artists with new financial opportunities, enabling their works to more easily be certified as authentic, thanks to the blockchain.

Cuttini is one of about 15,000 artists who've used Playform, Chang said. He's also one of about 35 who've worked with the company as part of its residency program, through which Playform provides artists access to its software, co-markets the output, and takes a percentage of the sale.
"Between all these new, emerging technologies like AI, which is creating new ways of producing artworks, and blockchain, which is creating new ways of selling artworks, this is the time of the artist; they're in a position that just wasn't accessible before, other than to a very select few," Chang said.

Playform is one of several generative AI tools available to artists. Some, like Runway ML, are available for free with limited features. Many require some degree of technical know-how.

To use Playform, artists need not know how to code. They feed a set of images to the software, which uses a type of AI invented in 2014 called a "generative adversarial network" to create novel pieces. The model can work with as few as 30 inputted images, a relatively low input volume for GANs. Processing time varies depending on the variety of the inputted images, but can take as little as 30 minutes, Chang said. The software includes several features for artists to guide the output.
The company charges $5 per hour of usage, or a monthly subscription fee.
Copyright ownership can get murky when human artists work alongside machines to generate new creations, but Playform gives artists full control of the IP.

"We're committed to empowering artists and helping them succeed," said Chang, who earned her MBA from USC and considers creativity the consistent theme in her career path.
The new CEO has worked in Disney's ABC division and at numerous startups focused on helping creative people develop monetization opportunities. For her, Playform is a new opportunity to bolster creative people through technology.
Artificial intelligence poses an ever present threat of replacing humans in any realm where it is deployed. But Chang sees Playform, along with technologies like the blockchain, as tools poised to help rather than harm artists.
"This new ecosystem provides the infrastructure necessary to really enable digital artists to thrive," she said.
Chang inherits a company with 10 full-time employees distributed across North America and Asia, but anticipates growing her team through her L.A. network and capitalizing on the region's artistic community.
"This is a very creative city and it's full of really creative talent," she said, "and I'm really excited to be building a business here."
The prospect of internet fame is no longer enough to bring in the best and brightest. Instead, paying for content has become table stakes for these platforms as they battle one another and compete in the broader attention economy.

Netflix chief executive Reed Hastings made that clear in a recent earnings call, when he called YouTube — rather than other streaming services or theater chains — his company's "second largest direct competitor."
Within the last two years, at least 10 platforms have announced they'll be paying creators for their work, but the size of the purse, what type of content they're funding and how differs by platform.
"These types of funds are what a lot of creators have been waiting forever for, and as soon as one platform starting doing it, the others had to follow suit," said David Rhodes, a multiplatform content creator with over 10 million followers across his 12 accounts, who has earned a few thousand dollars from Snapchat's creator fund.
Whether this new funding will be enough to lure talent and sustain quality content remains to be seen, but the financial arms race has been welcomed by many creators.
Here's a quick look at each:
TikTok has said that within three years, its creator fund will grow to over $1 billion in the U.S. and more than double that globally. Only residents of certain countries are currently eligible, and successful applicants must meet other criteria, including having at least 10,000 authentic followers and receiving 100,000 views in the last 30 days. To apply, users must have a creator account, which is free to make, and submit an application via the app. Payouts are based on video views and engagement, and no caps have been set for outlays per day or to a given user, the company says.
YouTube's "shorts fund" is a $100 million pool that will be distributed through 2022. Available to creators in India and the U.S., it is an effort to boost YouTube's presence in the short-form video market via its new "Shorts" product. Phil Ranta, a social media veteran and CEO of Wormhole Labs, said he has seen lots of creators with relatively modest followings earn "bonkers" views via Shorts. YouTube says it will reach out to creators whose Shorts earn the most views and engagement each month, and called the fund "the first step in our journey to build a monetization model for Shorts on YouTube."
Snapchat is offering $1 million per day to creators on "Spotlight," a TikTok-like video-broadcasting feature launched late last year that heralded Snap's departure from an exclusive focus on peer-to-peer messaging. Anyone can submit clips to Spotlight and be eligible for the funding. Payments are distributed based on an algorithm that checks whether a post passes a "value threshold" within seven days. Snap has said factors the algorithm looks for will vary but may include unique views and performance relative to other users' posts.
Facebook set aside $25 million for a Black creator fund in 2020, available to U.S. residents with at least 10,000 Facebook or Instagram followers. The program launched in August and applications are now closed. Instagram, owned by Facebook, does not have a general creator fund, though its head, Adam Mosseri, has suggested it might create one in the future. Reports have surfaced indicating that Instagram has sought to lure some creators to its platform with lavish payments.
Pinterest has a creator fund that reportedly measures $500,000 and is open for application; participants receive $25,000 in cash and ad credits and participate in a four-week workshop. Clubhouse has indicated it will offer application-based creator grants but has not publicized details, and ran an inaugural creator accelerator program that closed applications in March. Substack offered $25,000 each to four selected writers in 2020 while OnlyFans provided four £20,000 grants to UK-based musicians.
How Some Artists Are Gaming 'Creator Funds'
The largest funds are algorithmic and the factors that trigger payouts are a moving target, but that doesn't mean they can't be gamed.
"There's always an exploit," said Ranta, noting that conversations among creators and agents often include sharing tactics for what seems to be working.
One hack he cited pertains to Snap's Spotlight fund. Some creators with big followings have found they can post to Spotlight as frequently as every five minutes with simple videos such as blowing a kiss to the camera, and earn money for it, Ranta said.
Accessing the funds can also simply mean posting relentlessly.
"The more content you can push out the better," said Rhodes. "Although some videos may do well and some won't, you're still increasing your chances of videos taking off and earning money."
Rhodes said it's key to find "formula," and "ride it out until it stops working — or until the novelty wears off — and then switch it up and try different things until you find a new formula that works, and ride that one, too."
Ranta noted that a good way to know what a platform algorithmically prefers is to monitor the company's press releases and best practices guides.
"You put those two together and you kind of get it," he said.
Conversations about how to hit the moving target also take place on forums like TubeBuddy, in addition to Reddit and Discord. Proceed with caution, though.
"Those are really hit or miss," said Ranta, or downright "unfounded gossip."