Tucked away in Redondo Beach is a spacious Spanish-style mansion, complete with a majestic common area, stained glass windows that flood each room with light and a Spanish-tiled hot tub that glows under string lights on the mezzanine. In nearly each room hangs a sign: Brazen Bio.

Brazen Bio, an incubator program with logo borrowed from the 'parental advisory' sticker affixed to profanity-laced CDs, has a mission: to help scientists become CEOs.
Shawn Carbonell co-founded it, inspired by his own experience building a startup. Burned by the venture capital system, he wanted to create a place where other scientists could learn how to master that system.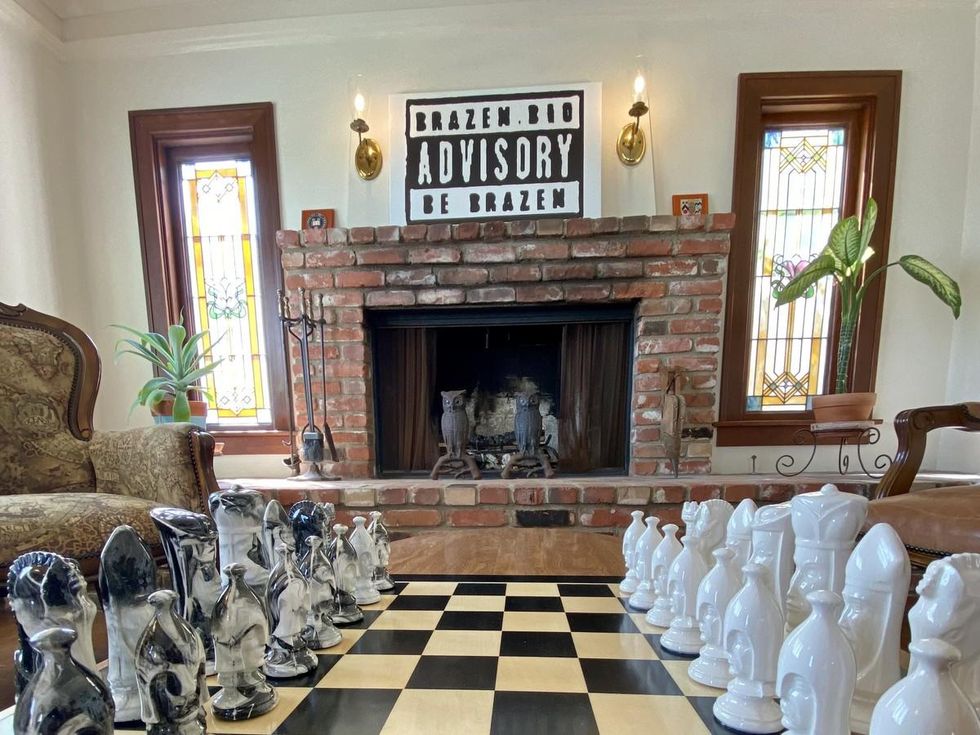 Carbonell started OncoSynergy, a company to develop a drug to treat brain cancer, after spending 15 years in academia intending to become a neurosurgeon. Though the drug was intended for a niche market of patients, he said the venture firms he worked with tried to push him toward the much larger market for lung cancer or breast cancer drugs, which could mean bigger returns for them. After seven years, a chance meeting with a venture capitalist helped him gain funding for the company's Series A round and launched it into clinical trials. Now, that drug is being tested on humans before it goes to the FDA for approval. He said he wanted to use his success to help others.
Carbonell started working on Brazen Bio in March. He and his co-founder Brent Witgen, an expert in drug filings, incorporated the company in May.
"Getting out of academia requires a certain brazenness, if you will," Carbonell said, referencing the house mantra, "Be brazen."
Shawn had long been trying to convince Witgen to work with him — first at his neurosurgery residency, then his oncology startup. The pair, who have long been friends, came up with idea over many talks and quickly crowdfunded $280,391 through Wefounder.
After advertising on social media, they got dozens of applications for its 12-week incubator program. This first cohort, which starts in mid-October, includes four startups. For three months, they will have 24/7 access to lab space at the Lundquist Institute to build out their products, meetings with mentors and venture capitalists in the industry, and housing at the Brazen House.
Brazen Bio declined to name the four companies, but said they span from diagnostics to the microbiome to antibiotic resistance.
Carbonell's goal is to help scientists like himself become CEOs, breaking a longtime paradigm that relegates those who discover a new company's drug or a treatment in its research division, rather than elevates them to chief executive.
There are sometimes good reasons for that. Most bioscience startups are spun out of discoveries made at research universities, and the scientists behind that research are often best suited to oversee the science part of the startup once it gets venture capital funding.
Being a CEO, especially at an early-stage bioscience startup, requires extensive knowledge on how to raise capital and budget for unforeseen events, as well as tiptoe through painstaking FDA regulations. It's a full-time job, and most scientists can't focus on research while also trying to figure that out. Scientists often also have to commit to stepping back from the research world if they want to be CEO, which also entails stepping away from a stable research job at a university and embracing the uncertainty of the startup world.
But Carbonell said CEOs without a science background are more apt to push the founder's vision to the side and focus on profits over patients. He saw this firsthand at OncoSynergy.
"I had to basically fight the consensus of everyone else and maintain my desire to to build this drug for brain cancer patients," Carbonell said.
Venture firms are slowly embracing scientist CEOs, according to Arye Lipman, an investor at the science-focused VC firm MarsBio. Venture capitalists used to be more supportive of having a chief executive with a business background run bioscience startups, but that perspective is shifting as companies that were built organically by the founders see more success. Most recently, Gingko Bioworks, the brainchild of PhD students, went public 13 years after the students spun their research out of MIT. One of the students remained its CEO throughout the process.
"I think there's kind of a cultural shift happening where the concept is sort of that really anyone should be able to start a company and the market will tell whether they're good or bad," Lipman said.
Correction: An earlier version of this post misstated the size of of chess set in Brazen Bio's common room.