Nurses at East Los Angeles Doctors Hospital using translation service Cloudbreak's device to communicate with patient. The company pivoted to telemedicine amid the outbreak.
Will This be the Tipping Point for Telemedicine in the U.S.?
Rachel Uranga
Rachel Uranga is dot.LA's Managing Editor, News. She is a former Mexico-based market correspondent at Reuters and has worked for several Southern California news outlets, including the Los Angeles Business Journal and the Los Angeles Daily News. She has covered everything from IPOs to immigration. Uranga is a graduate of the Columbia School of Journalism and California State University Northridge. A Los Angeles native, she lives with her husband, son and their felines.
06:01 AM | April 08, 2020
As the chief medical officer overseeing four Los Angeles County hospitals, Vincent Green is looking at some grim realities.

The emergency room doctor is running low on ventilators, the supply of personal protective equipment is dwindling and many on his medical staff are over 60 years old, making them a higher risk for dying should they contract the novel coronavirus.
"There are times when I wake up and I can't get back to sleep," said Green, an executive at El Segundo-based Pipeline Health, which owns the Memorial Hospital of Gardena, East Los Angeles Doctors Hospital, Coast Plaza Hospital and Community Hospital of Huntington Park along with two others in Dallas and Chicago. He keeps going over in his mind what he can do to help protect his staff from changing intubation procedures to procuring gowns before the expected surge of patients hits. "We're trying now to get prepared and ready so that when that crazy volume comes in, we're able to try to be as safe as possible for everybody."
Green isn't alone. Other tech savvy medical professionals are turning to telemedicine to save lives and companies that provide it have seen usage skyrocket.
---
A few weeks ago, Green made a decision to use the translation equipment provided by El Segundo-based Cloudbreak, an interpretation service which is now providing telemedicine, to help reduce face-to-face visits with patients and in turn save protective gear that might otherwise be used for visits with COVID-19 patients.
Tapping telemedicine is one way doctors, policymakers and administrators like Green hope they can preserve resources and keep staff safe. At least two health care workers in Los Angeles County have died due to the virus and 324 have tested positive. And medical staff around the country are scared as reports of sick nurses and doctors stack up and a shortage of protective equipment persists.
Green and others have begun to deploy technology from smartphones and computers to remote patient monitoring tools in an effort to limit COVID-19 exposure. Meanwhile, jittery patients are flocking to companies that offer remote services rather than risk going into an infected doctor's office. But, telehealth has its limits and doctors can't diagnose everything via a screen.
Cloudbreak's service lets patients talk to doctors from monitors that are carted into their rooms. Like many executives facing the pandemic, the head of Cloudbreak, Jamey Edwards, switched the company's focus as the virus began to ravage the country to one more relevant to the times: telemedicine. Now, demand is booming and he is looking at more services that can help doctors reach patients on their cellphones and beyond. Green has 16 of Cloudbreak's carts in his Los Angeles-based hospitals and ordered another 20 in anticipation of an onslaught of COVID-19 patients.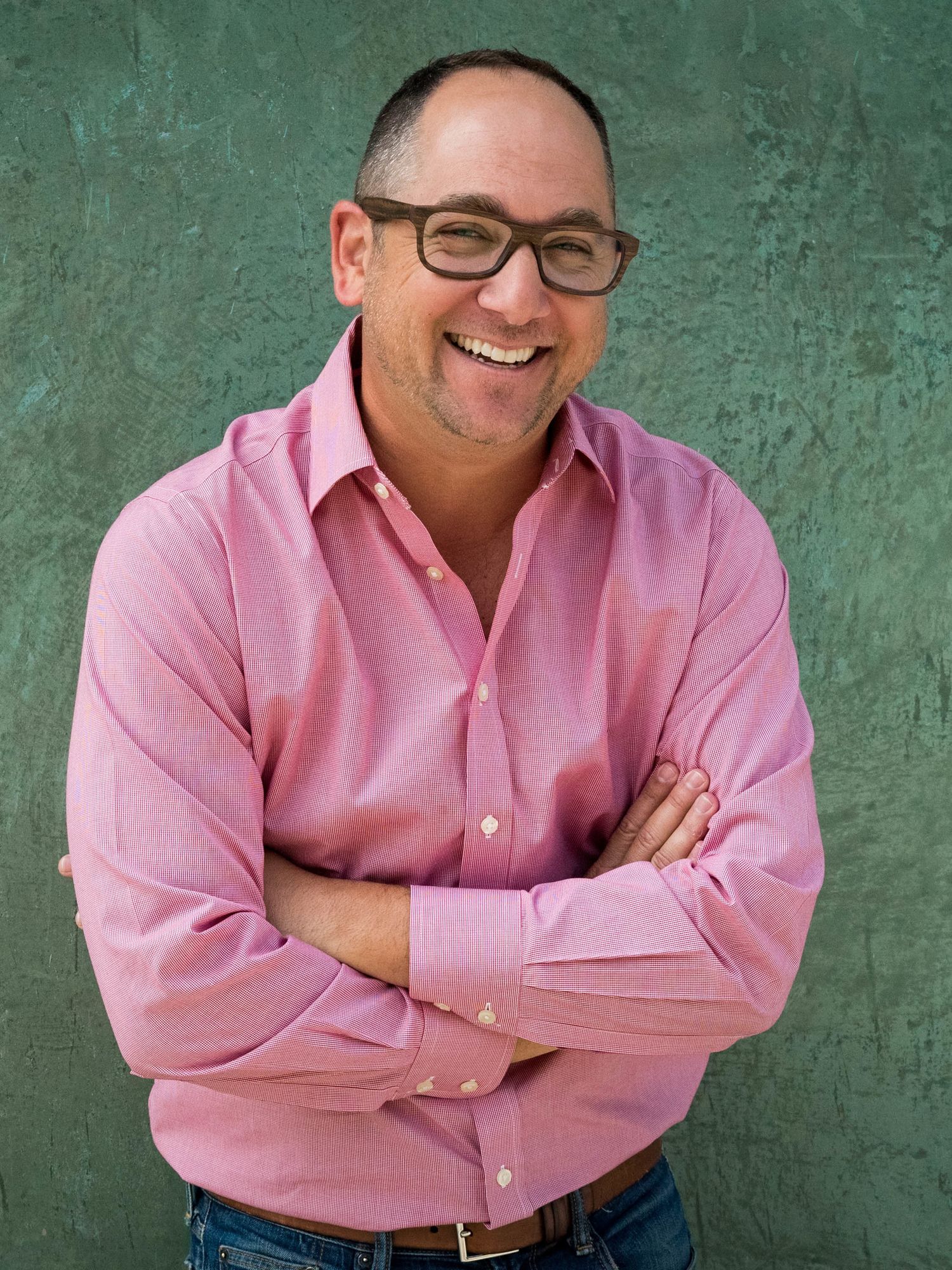 Jamey Edwards, CEO of Cloudbreak
It may sound like a small gesture, but the video conference could slow the burn of hospitals' protective equipment by 10% to 15%. Not only is the protective gear more difficult to acquire as demand jumps, but prices are rising just as hospitals and clinics like his are getting squeezed financially as they forgo elective surgeries and other treatments they rely on for revenue.

The standard N95 masks used by doctors previously cost less than $1, but are now being sold for six times the price in some cases.
"This provides another layer of safety to my elderly physician staff as well as just to the rank and file employees," Green said. "They are nervous and rightfully so, because they have never had to unnecessarily risk their own life while treating patients."
At the Gardena hospital, which has a large population of uninsured and nursing home residents, Green said he is looking to use it for COVID-19 patients in the ICU that might normally require consistent monitoring from nurses, saving medical staff from constantly going into check on them.
At Martin Luther King Jr. Community Hospital, Dr. Stanley Frencher who is the medical director of surgical outcomes and quality, says many of these carts will be used in tents outside the hospital to evaluate possible COVID-19 patients, and there will also be one in nearly every room inside the facility. The hospital now has 60 with another 80 on order and a goal of getting to about 160 in the coming weeks.
"You have all these different ways in which telemedicine can be leveraged to ultimately manage this short term need to physically distance ourselves from one another," he said. "In doing so, we will definitely be saving lives by using telemedicine."
Expansion of Telemedicine
To encourage telemedicine use and slow the trajectory of the fast-moving virus, President Donald Trump earlier this month waived restrictions allowing doctors to operate across state lines and relaxed HIPAA compliance allowing doctors to use their own phones to free up hospitals and doctors for COVID-19 patients. This week, the Federal Communication Commission unveiled a $200 million fund to boost telehealth services for hospitals.
Use of remote health services has been surging amid the pandemic.
Companies like Los Angeles-based Heal, a primary healthcare service offering home doctor visits from a network of physicians, has seen usage jump 640% over the past month as patients turn online instead of risking going to a doctor's office. The San Francisco-based Forward, a health care subscription service with clinics in Los Angeles, launched a COVID-19 screener. At GoodRx, which acquired HeyDoctor last year, telehealth visits have soared.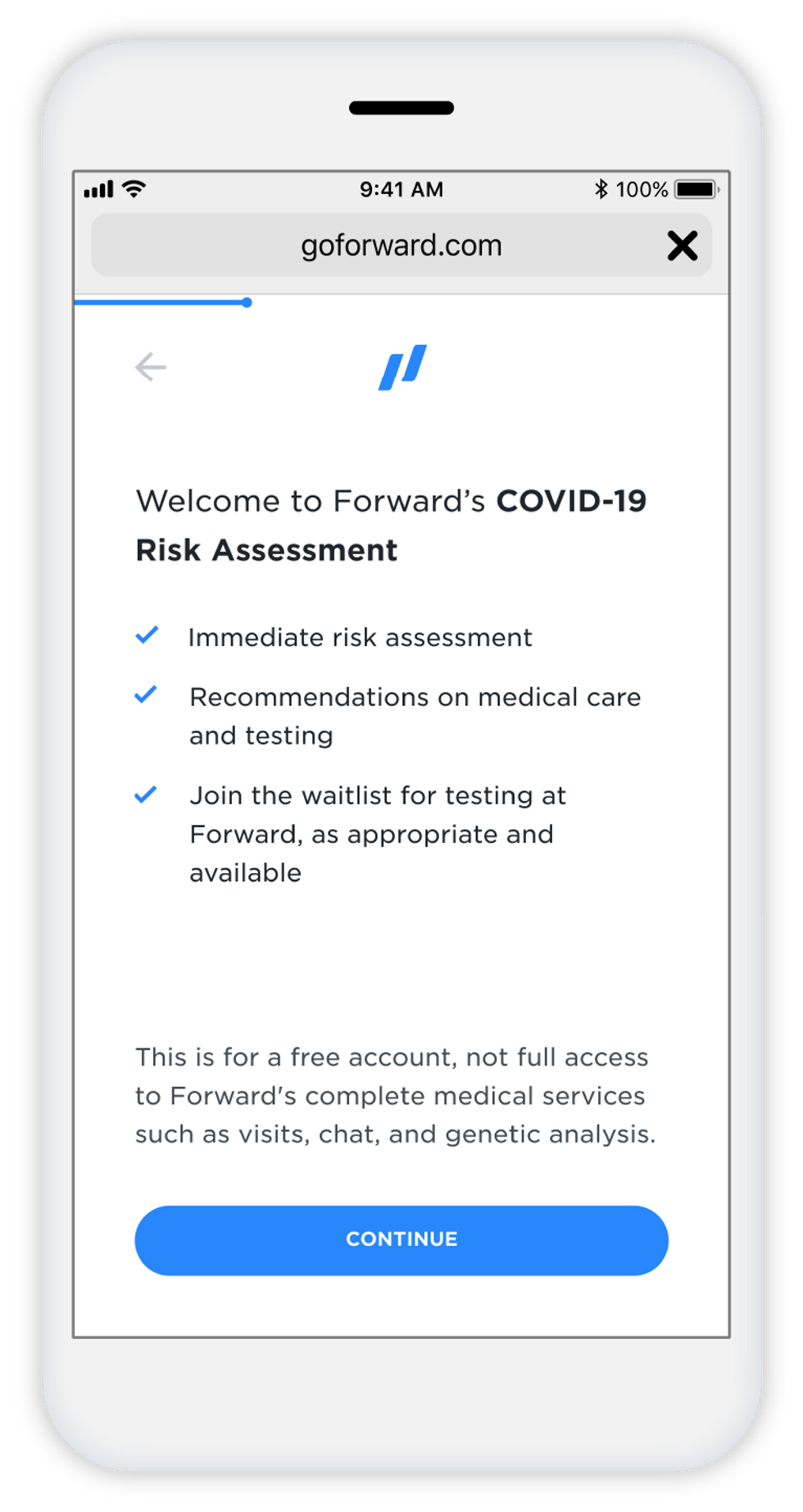 "We think this is going to be the new normal for 2020," said John Asalone, who heads telehealth at GoodRx. "People are not going to their primary care doctors right now, but as health issues are still happening (and) they still need their medication, they will either skip care or find it elsewhere."

The $5.6 billion telehealth market in the United States has struggled for years to take off with people reluctant to connect with doctors online, but recently more companies like e-commerce giant Amazon have looked to telehealth to offset the high cost of employee medical coverage. The pandemic has forced people with chronic conditions like diabetes to check in with their doctor online or by phone as clinics and hospitals across the country cancel routine visits and elective surgeries.
"This could almost ironically be the tipping point for telehealth," said Jay Goss, general partner at Pasadena-based venture capital firm Wavemaker Three-Sixty Health that has several telehealth companies in their portfolio. "The core thing these companies do is more valuable today than it was before the pandemic.
"There's a cultural willingness now to do something that for the longest time was just done in person," Goss said.
Limits of Remote Doctors
There's also a dire necessity, but it's an imperfect tool. Doctors can't administer important tests or touch patients. There's technical issues that can pop up. And then, even Cloudbreak's carts that are rolled into ICUs must be sanitized by a human.
Despite this, Alex Fredrick, an analyst at Pitchbook, expects the pandemic will force rapid adoption of telemedicine. He points to companies like InTouch Health, a Santa Barbara company acquired by New York-based Teladoc in January that was used to treat what is believed to be patient zero in Washington.
He expects to see more robots being used to administer services as the sector develops. But that isn't helping people now who cannot be tested remotely.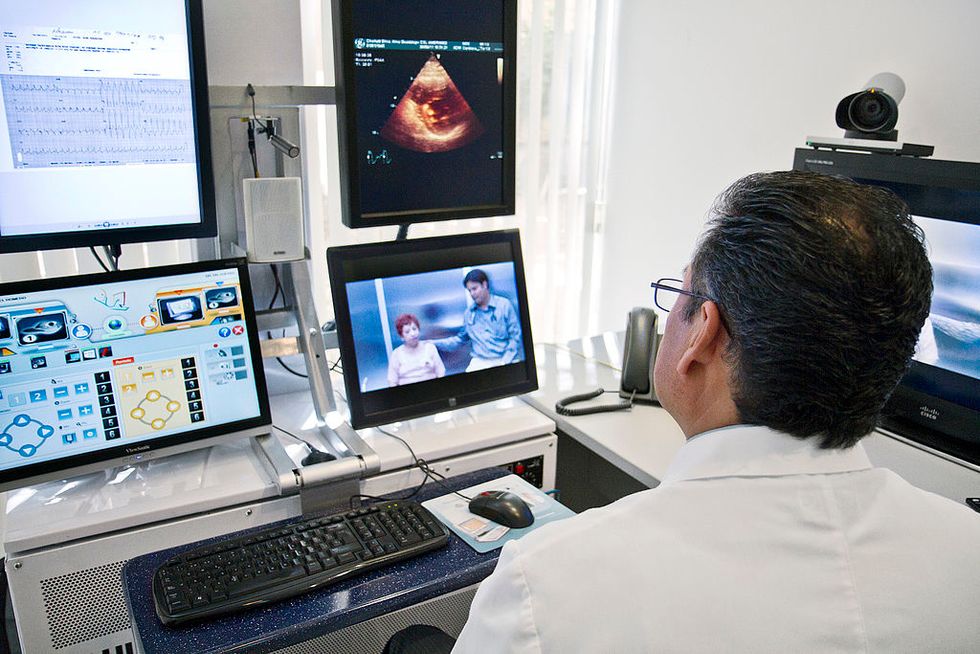 The $5.6 billion telehealth market in the United States has struggled for years to take off with people reluctant to connect with doctors online. Photo courtesy of Wikimedia Commons
Forward, the subscription health service, tries to bridge some of the gap with their remote tools to monitor patients. But even the clinics in Los Angeles had to set up two drive-thru locations in Glendale and Newport Beach this month in an attempt to prevent carriers of COVID-19 from entering their clinics. And doctors there say there is no substitute for hearing and touching a person up close.

"Sometimes when you are talking to a person over the phone, you think, 'gosh, I really need to listen to this person's lungs. I need to examine them'," said Keith DesRochers, a primary care physician at Forward's clinic in Century City. "People have switched in his world to thinking COVID yes or no 100 percent of the time, but people still get pneumonia, people still get asthma exacerbations, they still get the flu. We need to make sure that we aren't missing those things."
But coming into work is a frightening proposition these days.
"To be honest, primary care doctors aren't used to being fully on the frontlines and putting ourselves at risk," he said. "It's scary, we are all trying to do the best we can to take care of our patients."
***This story was updated April 8 at 1:46 p.m. to reflect the most recent rates of COVID-19 infections and deaths among health care workers as reported by L.A. County health officials.
Reach out to me on Twitter @racheluranga, where my DMs are open, email me at rachel(at)dot.la.
Rachel Uranga
Rachel Uranga is dot.LA's Managing Editor, News. She is a former Mexico-based market correspondent at Reuters and has worked for several Southern California news outlets, including the Los Angeles Business Journal and the Los Angeles Daily News. She has covered everything from IPOs to immigration. Uranga is a graduate of the Columbia School of Journalism and California State University Northridge. A Los Angeles native, she lives with her husband, son and their felines.
https://twitter.com/racheluranga
rachel@dot.la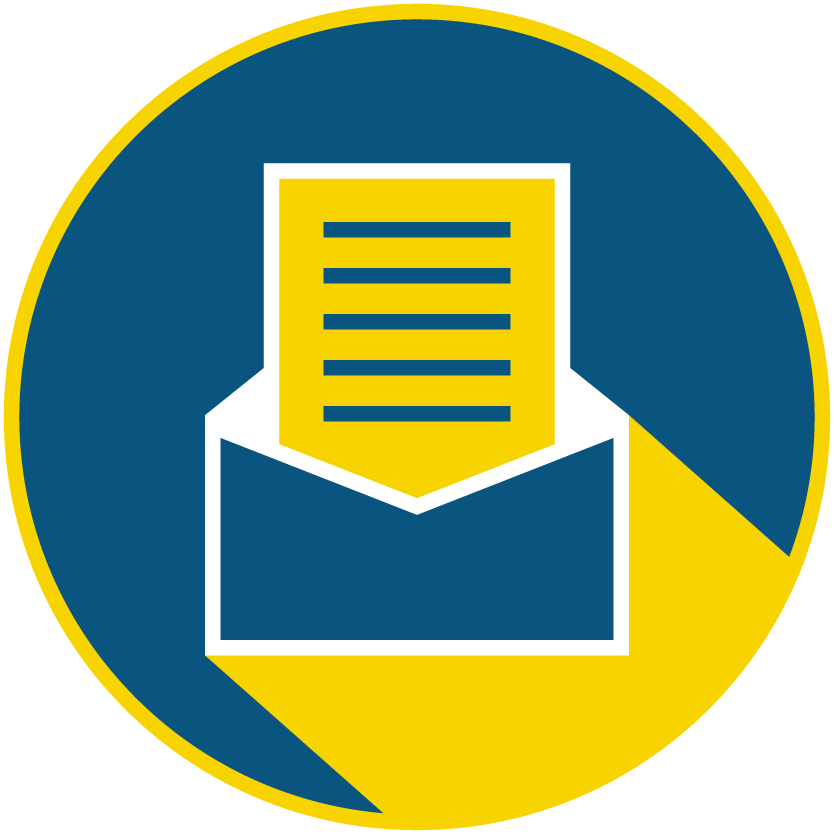 Subscribe to our newsletter to catch every headline.
07:28 AM | January 04, 2021
Despite — or in many cases because of — the raging pandemic, 2020 was a great year for many tech startups. It turned out to be an ideal time to be in the video game business, developing a streaming ecommerce platform for Gen Z, or helping restaurants with their online ordering.
But which companies in Southern California had the best year? That is highly subjective of course. But in an attempt to highlight who's hot, we asked dozens of the region's top VCs to weigh in.
We wanted to know what companies they wish they would have invested in if they could go back and do it all over again.
Startups were ranked by how many votes each received. In the case of a tie, companies were listed in order of capital raised. The list illustrates how rapidly things move in startup land. One of the hottest startups had not even started when 2020 began. A number doubled or even 16x'd their valuation in the span of a few short months.
To divvy things up, we delineated between companies that have raised Series A funding or later and younger pre-seed or seed startups.
Not surprisingly, many of the hottest companies have been big beneficiaries of the stay-at-home economy.
PopShop Live, a red-hot QVC for Gen Z headquartered out of a WeWork on San Vicente Boulevard, got the most votes. Interestingly, the streaming ecommerce platform barely made it onto the Series A list because it raised its Series A only last month. Top Sand Hill Road firms Andreessen Horowitz and Lightspeed Venture Partners reportedly competed ferociously for who would lead the round but lost out to Benchmark, which was an early investor in eBay and Uber. The round valued PopShop Live at $100 million, way up from the $6 million valuation it raised at only five months prior.
Scopely, now one of the most valuable tech companies in Los Angeles, was also a top vote getter.
The Culver City mobile gaming unicorn raised $340 million in Series E funding in October at a $3.3 billion valuation, which nearly doubled the company's $1.7 billion post-money valuation from March. It is no coincidence that that was the same month stay-at-home orders began as Scopely has benefited from bored consumers staying on their couch and playing ScrabbleGo or Marvel Strike Force.
The company's success is especially welcome news to seed investors Greycroft, The Chernin Group and TenOneTen ventures, who got in at a $40 million post valuation in 2012. Upfront Ventures, BAM Ventures and M13 joined the 2018 Series C at a $710 post-money valuation.
Softbank-backed Ordermark, which flew more under the radar, also topped the list. The company's online ordering platform became a necessity for restaurants forced to close their dining rooms during the pandemic and raised $120 million in Series C funding in October.
On the seed side, two very different startups stood out. There was Pipe, which enables companies with recurring revenues to tap into their deferred cash flows with an instant cash advance, and Clash App, Inc., a TikTok alternative launched by a former employee of the social network in August.
We will have the list of Southern California's top seed startups out tomorrow.
Lead art by Candice Navi.
Ben Bergman
Ben Bergman is the newsroom's senior finance reporter. Previously he was a senior business reporter and host at KPCC, a senior producer at Gimlet Media, a producer at NPR's Morning Edition, and produced two investigative documentaries for KCET. He has been a frequent on-air contributor to business coverage on NPR and Marketplace and has written for The New York Times and Columbia Journalism Review. Ben was a 2017-2018 Knight-Bagehot Fellow in Economic and Business Journalism at Columbia Business School. In his free time, he enjoys skiing, playing poker, and cheering on The Seattle Seahawks.
https://twitter.com/thebenbergman
ben@dot.la
04:00 AM | October 29, 2021
Pejman Nozad, a founding managing partner at Pear VC, joins this episode of LA Venture to discuss Pear VC's current initiatives, including its accelerator and fellowships. He's seen as one of the most successful angel investors in the area, and for good reason: he has made more than 300 investments in his lifetime.
"I'm a child of revolution and war and difficult times," said Nozad of his upbringing in Iran during the revolution.
Nozad went to college before dropping out. That's when his brother told him about his dream to go to America. After his brother was denied a visa multiple times, Nozad went himself to the embassy and got lucky; the woman in charge of the process liked him enough to approve him.
"When you're in [your] early twenties, you don't analyze much of the future. And then your risk-takers. I came to America in 1992 with $700 and I didn't speak any word of English," said Nozad.
Nozad went from working at a carwash, then a yogurt shop, to a (now famous) Persian rug store in Palo Alto. Many of his clients happened to be CEOs and venture capitalists; Nozad wanted to be part of that community.
"I was very lucky because I had access to people who normally nobody can see them, but I was hanging out with them at Sunday barbecues while selling carpets," said Nozad.
In his early days as an investor, Nozad bet on companies that included Dropbox and DoorDash. He said he took inspiration as a venture capitalist in lessons he learned from his time playing professional soccer in Iran.
"In soccer, you can score minute one, or you can score at minute 90. Both of them [are] one goal and you can win the game. So, when you go to fundraise, don't get disappointed if you hear a lot of nos, because the yes could be the last meeting after the whole two months," he said.
Want to hear more L.A. Venture? Listen on Apple Podcasts, Stitcher, Spotify or wherever you get your podcasts.
dot.LA Engagement Intern Joshua Letona contributed to this post.
From Your Site Articles
Related Articles Around the Web
Minnie Ingersoll
Minnie Ingersoll is a partner at TenOneTen and host of the LA Venture podcast. Prior to TenOneTen, Minnie was the COO and co-founder of $100M+ Shift.com, an online marketplace for used cars. Minnie started her career as an early product manager at Google. Minnie studied Computer Science at Stanford and has an MBA from HBS. She recently moved back to L.A. after 20+ years in the Bay Area and is excited to be a part of the growing tech ecosystem of Southern California. In her space time, Minnie surfs baby waves and raises baby people.