mammoth media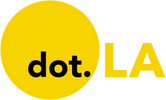 Get in the KNOW
on LA Startups & Tech
X
mammoth media
In 2012, Evan Britton founded a website premised upon what the web arguably does best: help people obsess over celebrities.
Britton launched his first site in 1999 as a senior in college and has since made his living monetizing web clicks.
When he created Famous Birthdays as a sort of Wikipedia of celebrities nine years ago, TikTok wasn't even born and Snap had barely launched. The term "influencers" had yet to seep into the mainstream. But as social media created a new form of celebrity, the site has morphed into a pillar of the teen-centric world of online personalities and creators.
This month the company said it will surpass 35 million unique monthly visitors across its app and website. Third-party data providers, which use various methods to estimate web traffic, peg that figure anywhere between 4-6 million (Comscore) and 29 million (Similar Web). Many of those users are teens who use the site to browse celebrity profiles, contribute to popularity rankings and see who's trending.
"It's a pulse of the Gen Z community," said Talia Kocar, VP of Content at Mammoth Media, a Gen Z-focused mobile entertainment studio.
And as that community has expanded and entrenched its online presence, Famous Birthdays has ridden the wave. Britton's profitable website makes money from billions of programmatic ads that are generated from places like Google and Amazon and it has become a useful resource for the growing industry of monetizing online celebrity.
In April it will launch its third international off-shoot in French, joining Spanish and Portuguese, as the company anticipates the spread of influencer fever beyond America.
"Famous Birthdays is essentially the Wikipedia of influencers," said Ryan Detert, CEO of Influential, a leading influencer marketing firm. "It has become a very valuable tool within the influencer industry to do quick research on creators and it's also very popular with young fans. They have found a unique niche in the fact that influencers are the new celebrities for Gen Z."
Britton hadn't originally intended on serving that niche. He'd started Famous Birthdays with A-listers in mind and a user-first focus on growth. The plan was to add new profiles to the database based on users' search patterns.
"The internal search data guides our roadmap," he said. About 90% of user searches on Famous Birthdays yield a hit. The other 10% help to indicate what else users want.
"We built technology around analyzing those missed searches," Britton said, adding that Famous Birthdays' search engine now receives over 1 million inquiries a day. "It lets us know before anyone else what's happening."
Early on, it became apparent that users wanted something more than A-listers.
They wanted social media celebrities. So Britton and his now team of 30, including freelancers, took to reaching out to up-and-comers that the data suggested were on the rise.
In late 2018, for instance, Famous Birthdays contacted Paige Mackenzie, an Arkansas-based teen who at the time had about 600,000 followers on still-nascent TikTok.
"I was like 'oh my god'; I had a fangirl moment," Mackenzie said. "I was a normal girl with a couple of followers, and they want to know about me? That was the coolest thing."
Mackenzie has since grown her TikTok following to 7.5 million. She typically regales her fans with comedic videos she describes as "relatable," like when "your brother annoys your mom right when you're about to ask something important."
When Mackenzie was added to the platform, Famous Birthdays had about 20 million users. That has since exploded beyond Britton's imagination.
"The platform has evolved quite a bit over the years – much like how Gen Z's (and my) definition of a celebrity has," said Kocar, who added that Mammoth "constantly references" Famous Birthdays to inform its content decisions.
"TikTok has been a wave that's really grown our platform," Britton said, noting that stars on the social-video stalwart are his site's most popular searches. "There's been a huge momentum for the creator economy and we've been on that wave because we were seated as the platform beneath all of that."
That momentum has led Britton to recalibrate his expectations.
"Six months ago, I would have thought our ceiling was maybe 50 million users, but I think we're gonna be there by the end of next year, based on how things are going," he said.
The company's Spanish-language version launched in July 2019 and now comprises about 15% of Famous Birthdays' total traffic, Britton said. The Portuguese version launched in October 2020 and the French version will launch in April 2021.
Britton hopes to replicate his platform's success in those new markets. In the U.S., arriving on Famous Birthdays has come to be seen by creators as a veritable badge of honor.
When Duke Depp was invited to bring his online persona Willy Wonka to Famous Birthdays in July, he bragged about it to his nearly 18 million followers.
"Check it out my dear children, I finally made it on Famous Birthdays," he said. The post has since been liked over 412,000 times and received over 4,000 comments.
In September, Grandad Frank told his nearly 5 million TikTok followers that "Something crazy happened!!!!" He'd made it onto Famous Birthdays.

Famous Birthdays currently hosts around 210,000 profiles, along with some 15,000 pages for shows, movies, bands and web groups. The team receives over 1,000 user-submitted edits and updates per day, Britton said, which they manually review and verify.

Using inputs like search volume and user engagement, Famous Birthdays also provides several popularity rankings.
The company has never raised outside capital and doesn't plan to start.
"Our vision is to build the Wikipedia for the Digital Generation," said Britton. "Given the scale we already have, we're confident that we'll be able to do it without raising VC."
From Your Site Articles
Related Articles Around the Web
Snap Inc unveiled a flurry of new features and products at its partner summit on Thursday. The Santa Monica company held its event virtually this year due to the coronavirus.
Chief Executive Evan Spiegel kicked things off with brief remarks, including an announcement that Snap is partnering with Headspace, also based in Santa Monica.
"Soon, directly in Snapchat, Headspace will offer meditations and tools that help Snapchatters check in with their friends and family, and stay healthy," Spiegel said.
Yesterday, Headspace closed a $47.7 million raise, part of their Series C that was $53 million in equity and $40 million in debt.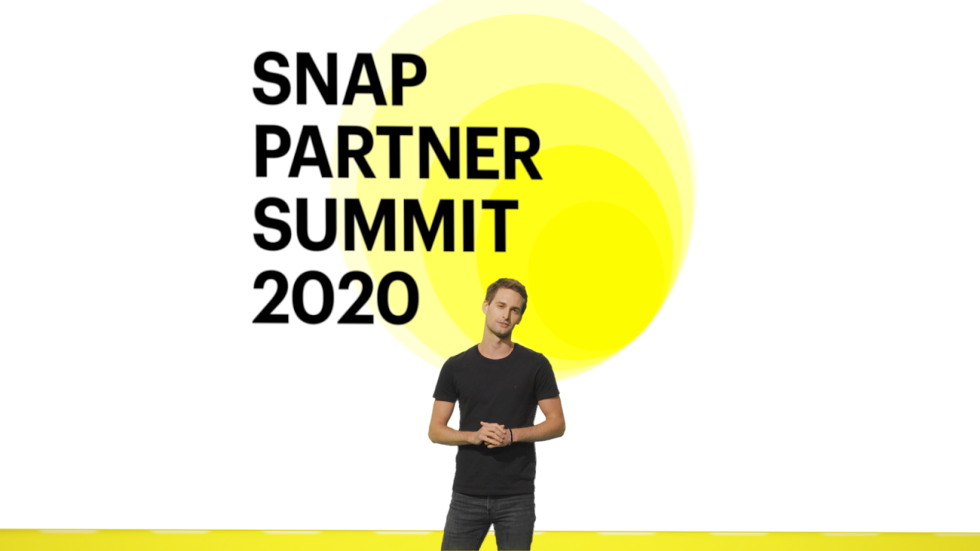 Snap Inc. Chief Executive Evan Spiegel kicked off this year's partner summit, which was held virtually due to coronavirus fears.
Spiegel also noted that the Snap app will soon feature a new toolbar with tabs for chat, maps, camera, friends and its Discover platform.

Much of the presentation centered around AR, which the company has been building on for eight years. That work shows up on Snap's app in the form of "lenses," which overlay digital features onto a camera's subject. Lenses are developed by Snap and also by independent users.
Snap claims about 1 million lenses are available in total and that over 170 million users engage with them on a daily basis, nearly 30 times each day.
A procession of Snap executives followed Spiegel in rapid succession, introducing new features and partnerships related to their divisions. Here are a few of the highlights:
Snap's AR Lenses Get Supercharged
Snap's Lens Studio, a desktop app for third-party developers and artists to develop their own lenses, will now allow developers to upload their code into the studio platform and use their own machine learning models to create lens designs.
New "local lenses", meanwhile, will use 360 image capture, user snaps, and other data in conjunction with 3D-reconstruction, machine learning and distributed cloud computing technology to "build a representation of the physical world...and map whole city blocks", allowing a new level of AR mapping onto users' surroundings.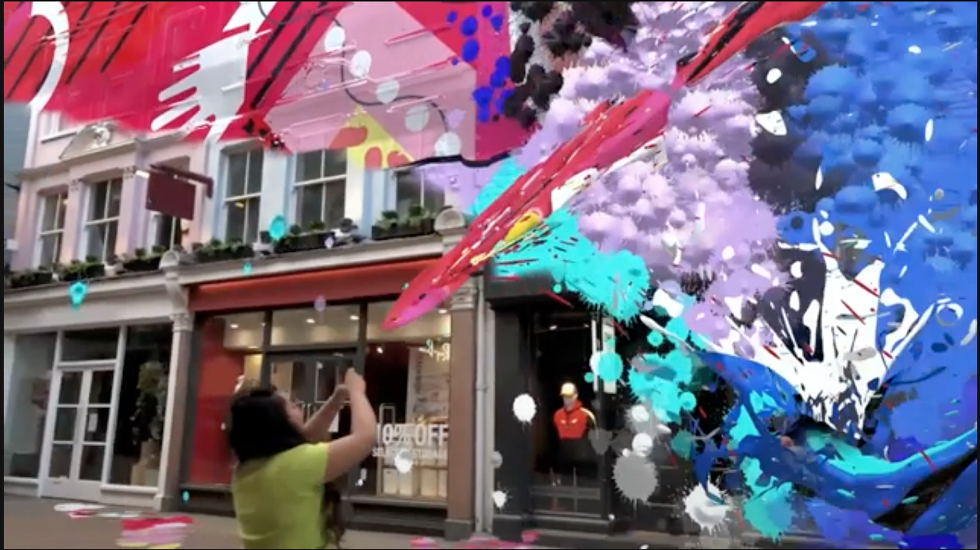 Snap's local lenses will allow users to transform cities with AR
Snap's scanning feature will soon enable users to point their cameras at plants, dogs, nutritional labels and brands to get more information, such as the type of plant, dog breed, health information and company histories. Scan will also begin accommodating voice activation. Users will be able to ask Snapchat to add on AR features like a new hot-pink hairdo or a cuddly bearhug.

"Today Scan helps you learn more about what you're seeing in front of you," a Snap executive said. "Tomorrow, it will give you results based on what you're saying."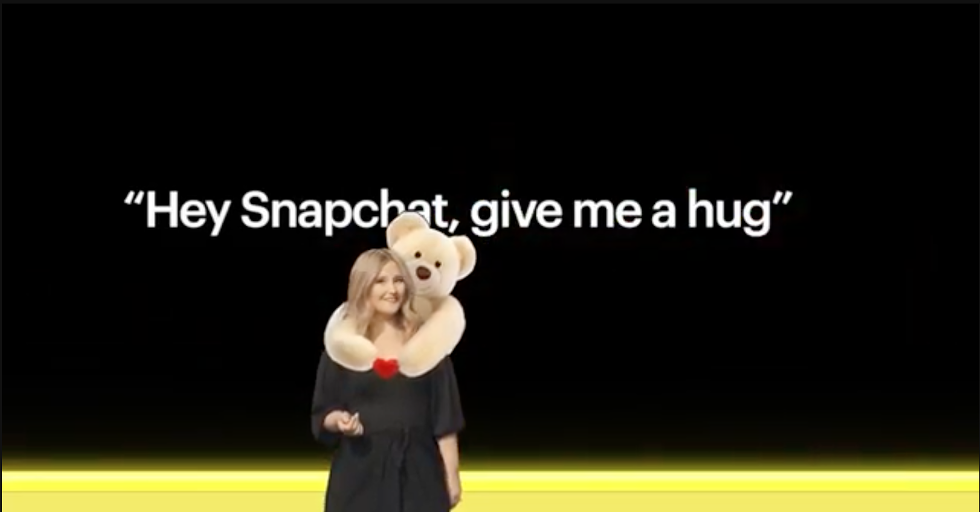 Snap's scanning technology got an upgrade
Snap's Discover Platform Inks New Partnerships with Disney, ESPN and Sports Leagues

Snap announced expanded partnerships with Disney, ESPN, NBCUniversal, ViacomCBS, the NBA and the NFL for its Discover platform. These multi-year deals will reportedly include shows repurposed for mobile viewing, original content, and highlights.
The company also introduced Happening Now, "aimed to be the fastest way for Snapchatters to consume breaking news." Updates from partners including the Washington Post, Reuters and Bloomberg will appear in mobile-friendly format.
Snap announced several new shows as well, including unscripted, scripted and docuseries formats. It also renewed four original series.
Snap Ramps Up Integration With Brands and Companies
Snap Minis, designed by third-party developers, are new utility features that integrate into Snap users' chat windows. As The Information reported last month, this functionality resembles Chinese chat platform WeChat, which takes a cut of in-app purchases. In an interview with The Verge, Spiegel explained that Minis represent Snap's expansion into e-commerce.
The initial slate of Minis includes partnerships with L.A.-based Atom Tickets, which will make it easier for Snap users to plan a group movie theater outing, and L.A.-based Mammoth Media, which will allow users to share predictions with their friends. Quick meditations from Headspace, flashcards for studying from Saturn Technologies, and coordination planning for Coachella are also among the new Mini features.
The Next Small Thing from Snapchat...Minis! | Snap Partner Summit 2020
Minis will begin to roll out next month, the company said.

Separately, Snap will also allow other applications to incorporate its AR tech.
"We built one of the world's most powerful AR cameras so you don't have to," an executive said.
Apps that will integrate Snap's AR functionality include Triller, which allows users to create their own music videos; MLB's Ballpark app, wherein teams will offer customized lenses for fans; and a new app from Nike that challenges users to reach their fitness and wellness goals.
And through "dynamic lenses," Snapchat will import lenses from other apps, including Houseparty and Yahoo! Fantasy Sports.
Snap's Maps Functionality Allows Friends to Find Each Other and Local Businesses
"In an effort to help out local businesses," Spiegel said, "we're rolling out Places on the Snap Map, highlighting places that are popular with our community and easily allowing the places we love to let people know they're open for business."
Snap Unveils A New Slate of Games
Finally, Snap announced several third-party games that will now allow users to bring in their Bitmoji digital avatars, including Scrabble Go, developed by Culver City-based Scopely Inc.
Snap also introduced 10 new games that will be available on its platform. Bitmoji Paint, for example, designed by Snap's internal studio, "is a global canvas where millions of players in the Snapchat community come together to contribute to one massive collage," an executive described.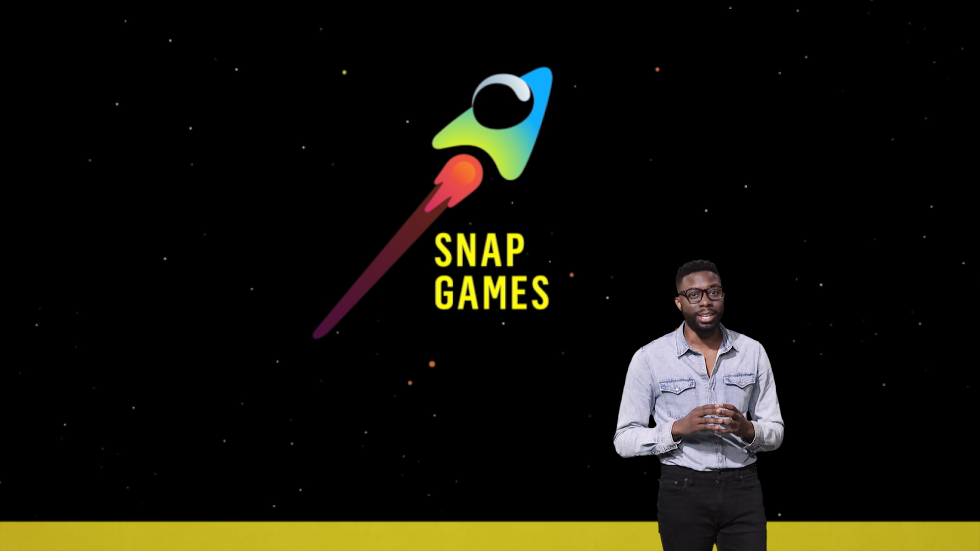 Snap's slate of games continues to grow
Spiegel returned to the stage to close out the keynote section of the summit before it dispersed into several virtual rooms to elaborate on specific announcements.

"We believe that the Snapchat generation will help create a world built on real friendship, shared success, positivity and possibility – putting people, the environment and our values first," he said in his closing remarks. "We are all kind, smart and creative and we will build a brighter future together."
The summit comes as Snap has found itself at the center of a fraught back-and-forth with the president. Earlier this month, the self-described camera company made headlines by deciding to stop promoting President Donald Trump's account on its Discover platform, where users watch Snap-curated content. The company did not directly address the issue on Thursday.
In response to Snap's announcements, Credit Suisse wrote that it is "feeling incrementally more optimistic about the company's ability to maintain or even gain time spent with its user base."
Snap's stock fell over 7% on the day at the market close, on a day when the S&P 500 index dropped nearly 6%.