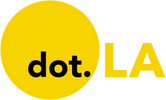 Get in the KNOW  
  on LA Startups & Tech  
X
Courtesy Crypto.com
'Crypto Winter' and the Future of Sports Sponsorships
Steve Huff
Steve Huff is an Editor and Reporter at dot.LA. Steve was previously managing editor for The Metaverse Post and before that deputy digital editor for Maxim magazine. He has written for Inside Hook, Observer and New York Mag. Steve is the author of two official tie-ins books for AMC's hit "Breaking Bad" prequel, "Better Call Saul." He's also a classically-trained tenor and has performed with opera companies and orchestras all over the Eastern U.S. He lives in the greater Boston metro area with his wife, educator Dr. Dana Huff.
04:52 PM | August 04, 2022
Between 2020 and 2021, a cryptocurrency boom led several crypto-oriented companies to ink deals with athletic organizations like the NBA and UFC. One of the bigger deals was blockchain giant Crypto.com signing a $700 million deal with the Staples Center—one of the world's largest sports and entertainment venues—in Los Angeles. The Singapore-based company also signed agreements with the UFC and Formula 1 for promotion at various sports venues and on athletic equipment.
Crypto.com wasn't the only crypto company to extend its reach into sports or entertainment. In exchange for naming rights to the Miami Heat's arena for 19 years, FTX, a cryptocurrency derivatives exchange, paid $135 million. And in an exclusive deal, Coinbase became the exclusive cryptocurrency exchange for the WNBA, NBA, and NBA G League.
Rolling into 2022, there was little warning that crypto winter was coming.
Winter Is Here
In May, the major stablecoin TerraUSD lost its peg to the US dollar. In one day alone, TerraUSD lost $60 billion in value. After that, major crypto lender Celsius suspended withdrawals, citing liquidity problems. The company followed up by filing for bankruptcy.
They were just among the first dominos to topple in the crypto world, and many others soon fell. As a National Research Group (NRG) report about the state of the cryptocurrency industry noted, the market has gone "down over 70% from the highs it reached towards the end of 2021, and many of the most popular coins are trading at less than half of where they were at the beginning of the year."
As the NRG report also notes, the crypto market has undergone "dramatic" corrections before. Is the current crypto winter that different? And more importantly, will crypto winter freeze the budding love affair between entertainment, pro sports and cryptocurrency?
According to NRG, "crypto winter" has affected the public view of cryptocurrency in various ways.
For example, NRG reports that "70% of consumers feel they have at least a 'moderate' understanding of cryptocurrencies." If accurate, that's a notable change from a YouGov survey conducted in June 2021 which found that 69% of Americans agreed with the statement, "I don't really understand cryptocurrency."
On the other hand, at least 61% of people surveyed said they were aware of the "crypto crash" or "crypto winter." It seems the heavy and negative news coverage of crypto winter over the last three months has considerably boosted consumer awareness—of the crashing market.
NRG notes, "This isn't a technological novelty anymore; increasingly, having some knowledge of crypto and how it works is seen as an element of baseline financial literacy."
Even though consumers have been exposed to a large number of crypto news stories, however, NRG reports that few bother to do deeper research. Bitcoin remains the most well-known name, and consumer awareness of other coins like ETH, Dogecoin or even popular meme coin Shiba Inu hasn't increased much since the beginning of 2022. Even with the media's attention to TerraUSD de-pegging from the dollar (arguably one of crypto's most significant events in recent memory), only 7% of consumers are familiar with the term "stablecoin."
Crypto Sponsorships Continue… Mostly
Crypto.com's Al D'Agostino gave a succinct response to dot.LA when we reached out for further comment on the company's association with the Staples Center: "Crypto.com remains fully committed to its sports sponsorships. We are well financed and these are multiyear contracts, which will continue to play a crucial role in our mission to accelerate the world's transition to cryptocurrency."
While the New York Post reported in late June that FTX had backed out of sponsorship negotiations with the Los Angeles Angels, the crypto exchange has taken on new sponsorship obligations with a $210 million naming deal for pro esports team TSM, aka Team SoloMid.
But as recently as August 2, the Voyager cryptocurrency exchange backed out of a multi-year sponsorship deal with the U.S. National Women's Soccer League (NWSL). In addition, the exchange is facing bankruptcy after its CEO made millions at the 2021 peak of the cryptocurrency boom.
In comments accompanying its crypto winter report, NRG's Global Head of Insights, Marlon Cumberbatch, said "that the crypto crash hasn't done much to dampen Americans' enthusiasm toward cryptocurrencies – for investors, the recent crash is just the latest in a long series of ups and downs, rather than the start of a terminal decline."
Cumberbatch also offered advice on how companies as big as pro sports teams and small as local businesses might strategize to survive crypto winter. "Start engaging openly and constructively with policymakers," Cumberbatch said, "continue to invest in educating consumers about the technology and promote practical use cases for crypto…"
Cumberbatch also encouraged better cryptocurrency education for everyone. From the C-suite to the penny crypto investor in the street, people need to understand better what they're getting into. "Recent media coverage has done a lot to increase consumer awareness of crypto," he said, "it's not the same as increasing understanding. It's critical that consumers know enough about the technology to be able to make informed decisions and protect themselves from unnecessary risk."
Cumberbatch did not respond immediately after dot.LA reached out for specific comments about crypto company sponsorships such as the Crypto.com and Staples Center deal.
Where Do We Go From Here?
The NRG report on the general state of crypto did not predict doom and gloom but noted that the crypto landscape "is vast, complex, and constantly in flux."
"More than anything else," the report continued, "recent events in the crypto market have made it clear that there's a need to educate potential investors. Before they buy-in, it's vital that consumers understand the technology on more than just a surface level—and that they know enough about crypto to be able to make informed decisions and protect themselves from unnecessary risk. And today's leading crypto firms will have a pivotal role to play in facilitating that educational journey."
Cryptocurrency exchanges have benefited more from their sponsorships than the sponsored organizations, and at minimum, the crypto winter has put a dent in more multimillion-dollar deals for now. But if the National Research Group's report proves prescient, this may be a temporary lull in cryptocurrency-oriented companies paying big money for widespread name recognition. Crypto.com arena is here to stay…for now. If crypto winter gives way to a crypto spring, we could see more Coinbase stadiums and Bored Ape Yacht Club restaurants soon.
Steve Huff
Steve Huff is an Editor and Reporter at dot.LA. Steve was previously managing editor for The Metaverse Post and before that deputy digital editor for Maxim magazine. He has written for Inside Hook, Observer and New York Mag. Steve is the author of two official tie-ins books for AMC's hit "Breaking Bad" prequel, "Better Call Saul." He's also a classically-trained tenor and has performed with opera companies and orchestras all over the Eastern U.S. He lives in the greater Boston metro area with his wife, educator Dr. Dana Huff.
steve@dot.la
06:00 AM | January 01, 2023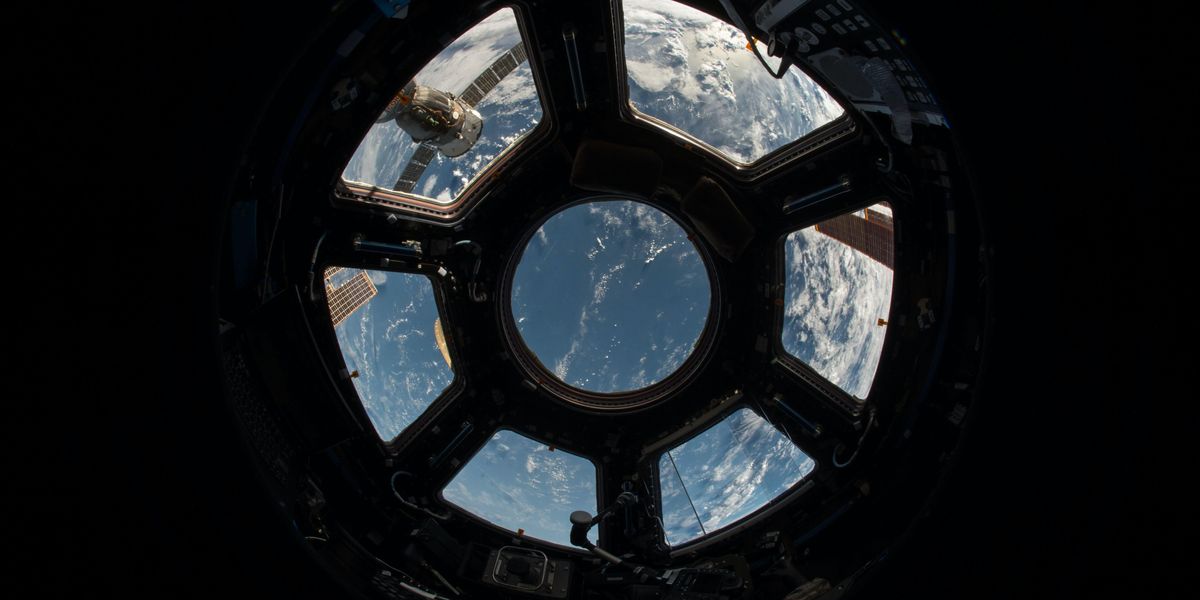 As human space tourism ramps up, and we continue to explore deeper into the cosmos, one alarming fact is becoming more evident: Despite decades of human spaceflight, we still have very limited information about how going to space, or staying there for sustained periods of time, affects our bodies.
So far, flights to low Earth orbit are relatively stable, and thankfully no one has perished on a trip yet. But there's also more to come; Virgin Galactic is planning more space tourism trips next year and beyond that, longer-term missions like Elon Musk's pet project to colonize Mars could come with some serious health risks. And, like any mission to space, nearly every variable has to be considered before launch to ensure the people undertaking these journeys are as healthy as possible.
That's where private industry comes in. There's a handful of startups that are focused on developing technology to make it easier to monitor human health in space. And while it may seem like a far-away pipe dream, they'll be the first to tell you that having startups begin to develop health care products for space-related exploration is key to ensuring there aren't mass casualties.
"The truth is, there is little that is more complex than space, and biology, and these are not things that have fast development times," said Elizabeth Reynolds, a biologist and director of the Starburst Aerospace Care in Space Challenge. The challenge recently awarded six winning startups (three were local to Southern California) a $100,000 investment from pharmaceutical company Boryung, support for on-orbit experimentation by Axiom, a Houston-based company making private space stations, and acceptance into Starburst's 13-week accelerator program.
"As we talk about deep space exploration, that is a point where we get into high amounts of cosmic radiation and it's an environment that will kill us," Reynolds said. "We need solutions that are completely untethered from Earth." Reynolds said she was "less concerned" about space tourism, and more focused on long-term habitation.
Reynolds did note that there's one easy option, one that NASA's relied on heavily up until now: send robots into space to do human work. That's possible, but she noted, "I cannot imagine a future where we continue to only explore space by robots."
There's a myriad of issues that people face when spending long durations of time in space. Some side effects can range from motion sickness to radiation poisoning to heart and muscle atrophy. Others include bodily fluid shifting due to zero gravity, changes in vision, loss of muscle strength and changes in gut biome behavior. Of course, there's also a host of potential mental side effects too, including depression or anxiety. A 2021 study published in the Journal of Clinical Nursing noted that these effects can also persist even after a person comes back from orbit.
Kay Olmstead, CEO of San Diego-based NanoPharma Solutions, was one of the companies selected by Starburst. She told dot.LA the company is working on a way to deliver drugs to people in space to maximize their effects.
Olmstead told dot.LA., NanoPharma "uses [a] nanocoating method developed by NASA to nanosize drugs to improve biosorption – [the] smaller the particle size, better solubility of [the] drug, hence better absorption into our body which is mostly water."
The importance of nano-soluble drugs is key, since it could limit side effects that come from typical ingestion of drugs, such as liver and kidney damage, or systemic toxicology (when a drug is absorbed by or distributed to other parts of the body besides the specific target area), Olmstead explained.
She added that NanoPharma is working on using vacuum pressure in low Earth orbit to deliver drugs to diseased organs without needles, a potential groundbreaking solution since right now, most life-saving drugs need to be administered via IV and that's "not suitable for space travelers." Instead, NanoPharma is working to patent several methods of drug delivery including a nano-nasal spray and a nano-inhaler.
Olmstead noted that there's a number of companies working on private space stations – besides Axiom, she also cited Northrop Grumman, Nanoracks and Sierra Space, who all have "grand plans of infrastructure building in space for private space travelers and in-space manufacturing."
There's a couple dueling local companies with ambitions to build private space stations as well: Vast Space, and Orbital Assembly.
Olmstead noted that there will have to be construction workers in space overseeing building of these outposts, and added, "Care for these space travelers and workers is the most important concern of these aerospace companies aside from the station building/maintenance." She also said that outposts on the moon, which will likely be built after stations in low Earth orbit, come with "even more severe health hazards."
Another local startup that won the Starburst challenge was Vibo Health. Based in Los Angeles and led by physicist and CEO Gil Travish, Vibo develops wearable health tracking technology that uses wrist scanning to give users insight into their health, with the goal of finding health risks without invasive tests.
Right now, Vibo has a growing business terrestrially, but Travish told dot.LA he's eager to see how the tech could be applied to astronauts. "It is a niche, of course, but it's a growing niche," Travish said. He noted that Vibo hopes to do in-space testing within the next two years.
For now, though, both Vibo and NanoPharma said they will continue developing and testing their technology on the ground with the goal of bettering patients' lives here on earth. Travish said he's optimistic that the work will not only better conditions for space-faring humans, but also unlock information about the human condition.
"It's not just about going to space, it's about learning more about ourselves," Travish said.
Samson Amore
Samson Amore is a reporter for dot.LA. He holds a degree in journalism from Emerson College. Send tips or pitches to samsonamore@dot.la and find him on Twitter @Samsonamore.
https://twitter.com/samsonamore
samsonamore@dot.la
02:16 PM | March 02, 2023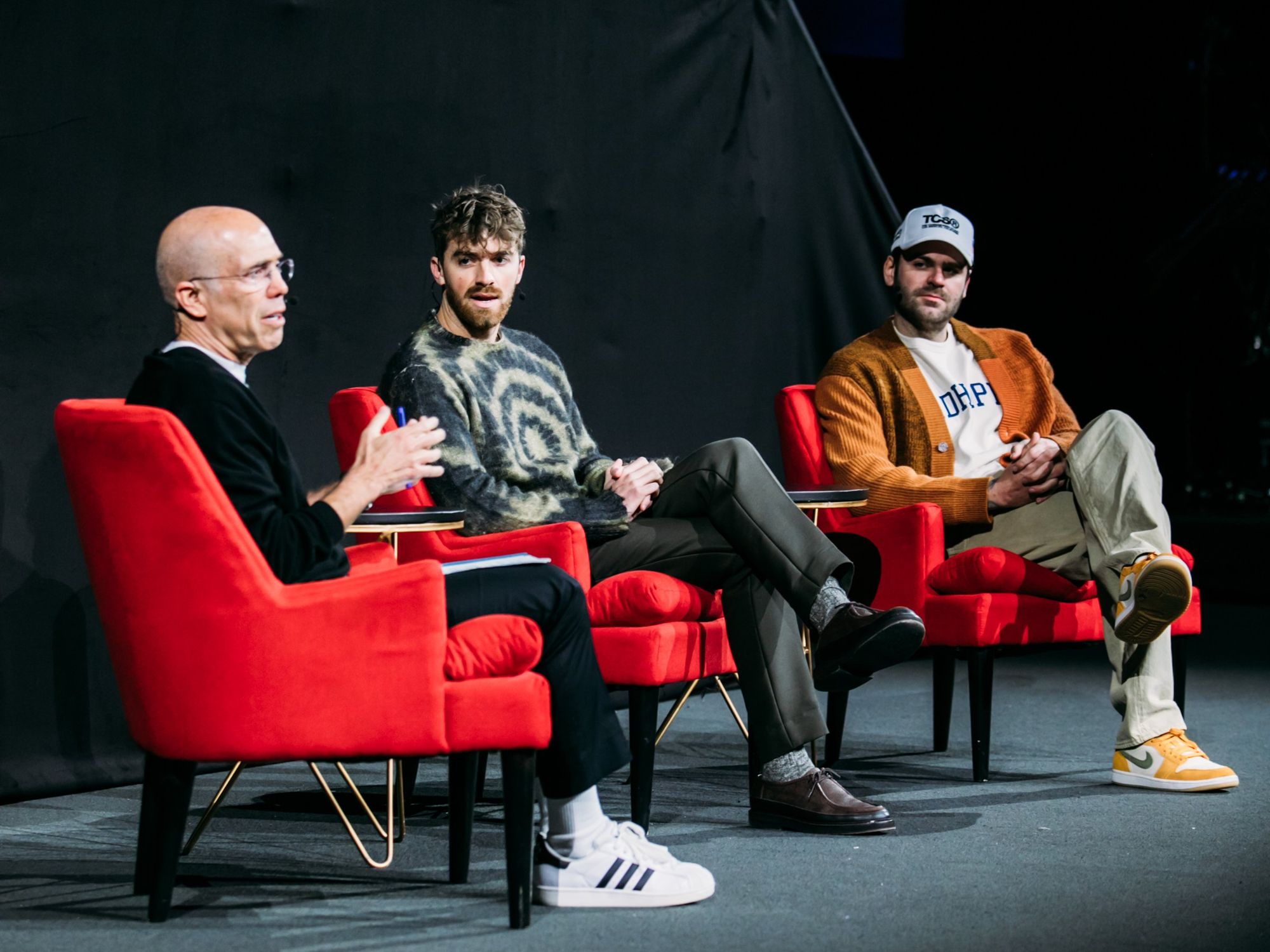 Clark Studio
On Thursday, Upfront Ventures hosted its 2023 Summit and music icons Alex Pall and Drew Taggart of The Chainsmokers hit the stage, not to perform, but instead to discuss their venture journey.
The duo launched MantisVC, a Marina Del Rey-based early stage tech venture fund in 2019.
Pall and Taggart shared the stage with WndrCo's managing partner Jeffrey Katzenberg to dive deeper into what their music career has taught them and how it translated over to their venture firm.
Here are some of the most important takeaways:
The duo believes hustle is more important than talent to achieve success.
"There's just so much content out there that's just happening all the time for no reason," Taggart said. "There's just so much to pay attention to and if you have to wake up every day, and think out what your angle is going to be, try stuff, have it not work. You have to accept defeat so frequently and still get up and do it."
Creating music was their foray into building communities.
"I think we have some real insight into how to build that community and tell that story because essentially, that's all we're trying to do," Pall said. "No matter what your business is, you're telling the story about something that you think is important that someone else needs and will enjoy."
Building connections and having conversations with pioneers in the space helped them launch MantisVC.
"Humility and being self aware are two of our strengths," Taggart said. "I think knowing what we don't know is a big part of how we've gotten to where we are, and with the support of people around us, and the relationships we built, we understood that we were going to have to go out and prove to the world that we were serious about this and we respected the people that have come before us and the people that are doing it right now."
VCs should offer all their founders support.
"When you're building something early on, you want that support, that hands-on feeling and the purpose of Mantis isn't necessarily right now to replace the incredible institutional investors that exist out there and have been around for a while," Pall continued.
"But we want to be the Robin to their Batman, and we think there's a way that we can kind of partner with everybody in the space and provide our founders that holistic support they need. It's inspiring to work alongside people that share that same energy and we're constantly working on ourselves and I feel like it takes a really special type of human being to be successful in this world. Level of grit and determination and something that's continually fueled us and we want to invest in people like that."
Feedback is necessary and essential to create successful products and businesses.
"Similar to products or services that you're building, it's important to get real life feedback out there and iterate on those things," Taggart said. "And there's really just no substitute for that."
Pall added, "I think for some reason in our culture, it's become an issue for people just to be straightforward and say no, about things and give honest feedback and, and move on. I think we can all learn a lot from just having more honest conversations with each other."
Never lose sight of your core audience and mission as a company.
"Never forget what your core product is and what people love about that and make sure that every piece of innovation is derivative of that," Taggart said. "I see a lot of friends of ours that have had really successful companies start to build ancillary projects that don't really feed their core audience that they're just making to compete with their competition. We do the same thing in songwriting, and you can never lose sight of what people love about you."
Decerry Donato
Decerry Donato is a reporter at dot.LA. Prior to that, she was an editorial fellow at the company. Decerry received her bachelor's degree in literary journalism from the University of California, Irvine. She continues to write stories to inform the community about issues or events that take place in the L.A. area. On the weekends, she can be found hiking in the Angeles National forest or sifting through racks at your local thrift store.