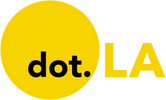 Get in the KNOW  
  on LA Startups & Tech  
X
Image from Shutterstock
Homophobia Is Easy To Encode in AI. One Researcher Built a Program To Change That.
Samson Amore
Samson Amore is a reporter for dot.LA. He holds a degree in journalism from Emerson College. Send tips or pitches to samsonamore@dot.la and find him on Twitter @Samsonamore.
02:28 PM | September 15, 2022
Artificial intelligence is now part of our everyday digital lives. We've all had the experience of searching for answers on a website or app and finding ourselves interacting with a chatbot. At best, the bot can help navigate us to what we're after; at worst, we're usually led to unhelpful information.
But imagine you're a queer person, and the dialogue you have with an AI somehow discloses that part of your identity, and the chatbot you hit up to ask routine questions about a product or service replies with a deluge of hate speech.
---
Unfortunately, that isn't as far-fetched a scenario as you might think. Artificial intelligence (AI) relies on information provided to it to create their decision-making models, which usually reflect the biases of the people creating them and the information it's being fed. If the people programming the network are mainly straight, cisgendered white men, then the AI is likely to reflect this.
As the use of AI continues to expand, some researchers are growing concerned that there aren't enough safeguards in place to prevent systems from becoming inadvertently bigoted when interacting with users.
Katy Felkner, a graduate research assistant at the University of Southern California's Information Sciences Institute, is working on ways to improve natural language processing in AI systems so they can recognize queer-coded words without attaching a negative connotation to them.
At a press day for USC's ISI Sept. 15, Felkner presented some of her work. One focus of hers is large language models, systems she said are the backbone of pretty much all modern language technologies," including Siri, Alexa—even autocorrect. (Quick note: In the AI field, experts call different artificial intelligence systems "models").
"Models pick up social biases from the training data, and there are some metrics out there for measuring different kinds of social biases in large language models, but none of them really worked well for homophobia and transphobia," Felkner explained. "As a member of the queer community, I really wanted to work on making a benchmark that helped ensure that model generated text doesn't say hateful things about queer and trans people."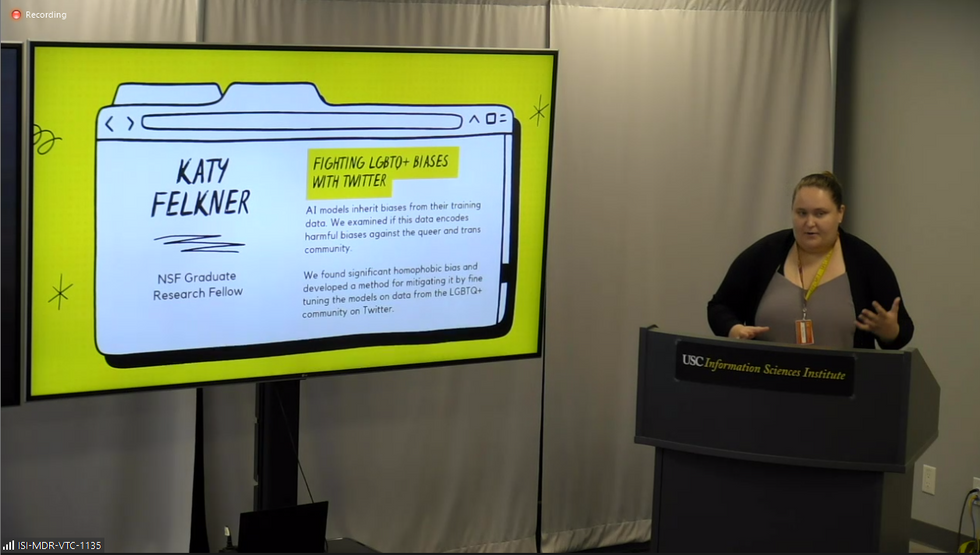 USC graduate researcher Katy Felkner explains her work on removing bias from AI models.assets.rbl.ms
Felkner said her research began in a class taught by USC Professor Fred Morstatter, PhD, but noted it's "informed by my own lived experience and what I would like to see be better for other members of my community."
To train an AI model to recognize that queer terms aren't dirty words, Felkner said she first had to build a benchmark that could help measure whether the AI system had encoded homophobia or transphobia. Nicknamed WinoQueer (after Stanford computer scientist Terry Winograd, a pioneer in the field of human-computer interaction design), the bias detection system tracks how often an AI model prefers straight sentences versus queer ones. An example, Felkner said, is if the AI model ignores the sentence "he and she held hands" but flags the phrase "she held hands with her" as an anomaly.
Between 73% and 77% of the time, Felkner said, the AI picks the more heteronormative outcome, "a sign that models tend to prefer or tend to think straight relationships are more common or more likely than gay relationships," she noted.
To further train the AI, Felkner and her team collected a dataset of about 2.8 million tweets and over 90,000 news articles from 2015 through2021 that include examples of queer people talking about themselves or provide "mainstream coverage of queer issues." She then began feeding it back to the AI models she was focused on. News articles helped, but weren't as effective as Twitter content, Felkner said, because the AI learns best from hearing queer people describe their varied experiencesin their own words.
As anthropologist Mary Gray told Forbes last year, "We [LGBTQ people] are constantly remaking our communities. That's our beauty; we constantly push what is possible. But AI does its best job when it has something static."
By re-training the AI model, researchers can mitigate its biases and ultimately make it more effective at making decisions.
"When AI whittles us down to one identity. We can look at that and say, 'No. I'm more than that'," Gray added.
The consequences of an AI model including bias against queer people could be more severe than a Shopify bot potentially sending slurs, Felkner noted – it could also effect people's livelihoods.
For example, Amazon scrapped a program in 2018 that used AI to identify top candidates by scanning their resumes. The problem was, the computer models almost only picked men.
"If a large language model has trained on a lot of negative things about queer people and it tends to maybe associate them with more of a party lifestyle, and then I submit my resume to [a company] and it has 'LGBTQ Student Association' on there, that latent bias could cause discrimination against me," Felkner said.
The next steps for WinoQueer, Felkner said, are to test it against even larger AI models. Felkner also said tech companies using AI need to be aware of how implicit biases can affect those systems and be receptive to using programs like hers to check and refine them.
Most importantly, she said, tech firms need to have safeguards in place so that if an AI does start spewing hate speech, that speech doesn't reach the human on the other end.
"We should be doing our best to devise models so that they don't produce hateful speech, but we should also be putting software and engineering guardrails around this so that if they do produce something hateful, it doesn't get out to the user," Felkner said.
Samson Amore
Samson Amore is a reporter for dot.LA. He holds a degree in journalism from Emerson College. Send tips or pitches to samsonamore@dot.la and find him on Twitter @Samsonamore.
https://twitter.com/samsonamore
samsonamore@dot.la
05:00 AM | February 15, 2023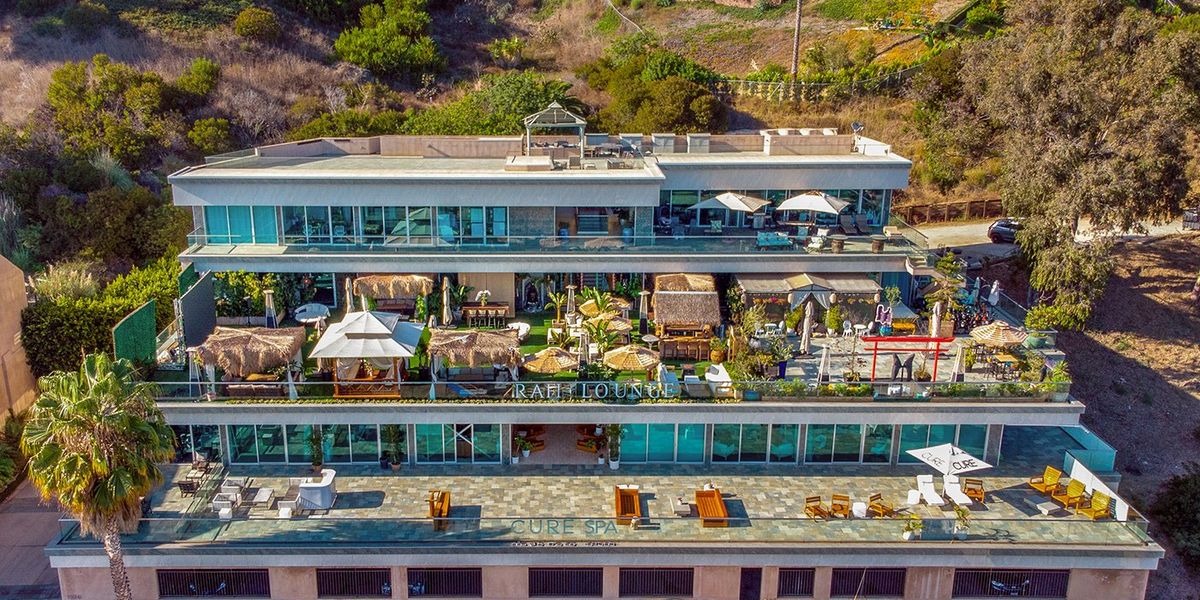 Photo: Rafi Lounge
Set in the foothills of Eastern Malibu across the street from Robert de Niro's Nobu, the Rafi Lounge, a NFT-powered wellness center and coworking space, somehow looks like both a beachfront country club and a swank monastery. On a clear day, you can see Catalina Island across the ocean. The sign above the entrance says, "Welcome, please allow us to reintroduce you to yourself."
Pushing through the braided rope entryway and passing a tranquil stone Buddha head waterfall, I arrived just after a yoga class former playboy model-turned "Dancing With the Stars" host Brooke Burke finished. The central open space that usually houses yoga mats or stationary bikes has been cleared off, and the giant projection screen behind the small stage is playing a tranquil plant video – an hour earlier, a larger-than-life Burke was on it helping clients "booty burn."
The building – which used to belong to a venture capital firm – has been totally transformed to look like nature's reclaimed it, dotted with lemon trees and cloaked in ornamental faux grass carpeting. Buddha statues are in every corner, some larger than five feet. On the way to one yoga room, there's a small shop selling pricey essential oils, Rafi Lounge merch, and CBD gummies. On the wall of the shop hang three breathtakingly detailed portraits of indigenous peoples made by the founder with charcoal. There's some construction ongoing, as they're converting former corner offices into hot yoga saunas and a spa.
On the day of my visit, the place is bustling with staff who are lugging boxes of Himalayan salt panels to install in the hot yoga room. Israeli-born Kung-Fu master and former monk Rafi Anteby, the founder of the eponymously named space, tells me that after our chat he plans to paint them all black to match the walls. No detail is too small to notice, something evident in his Mandala work.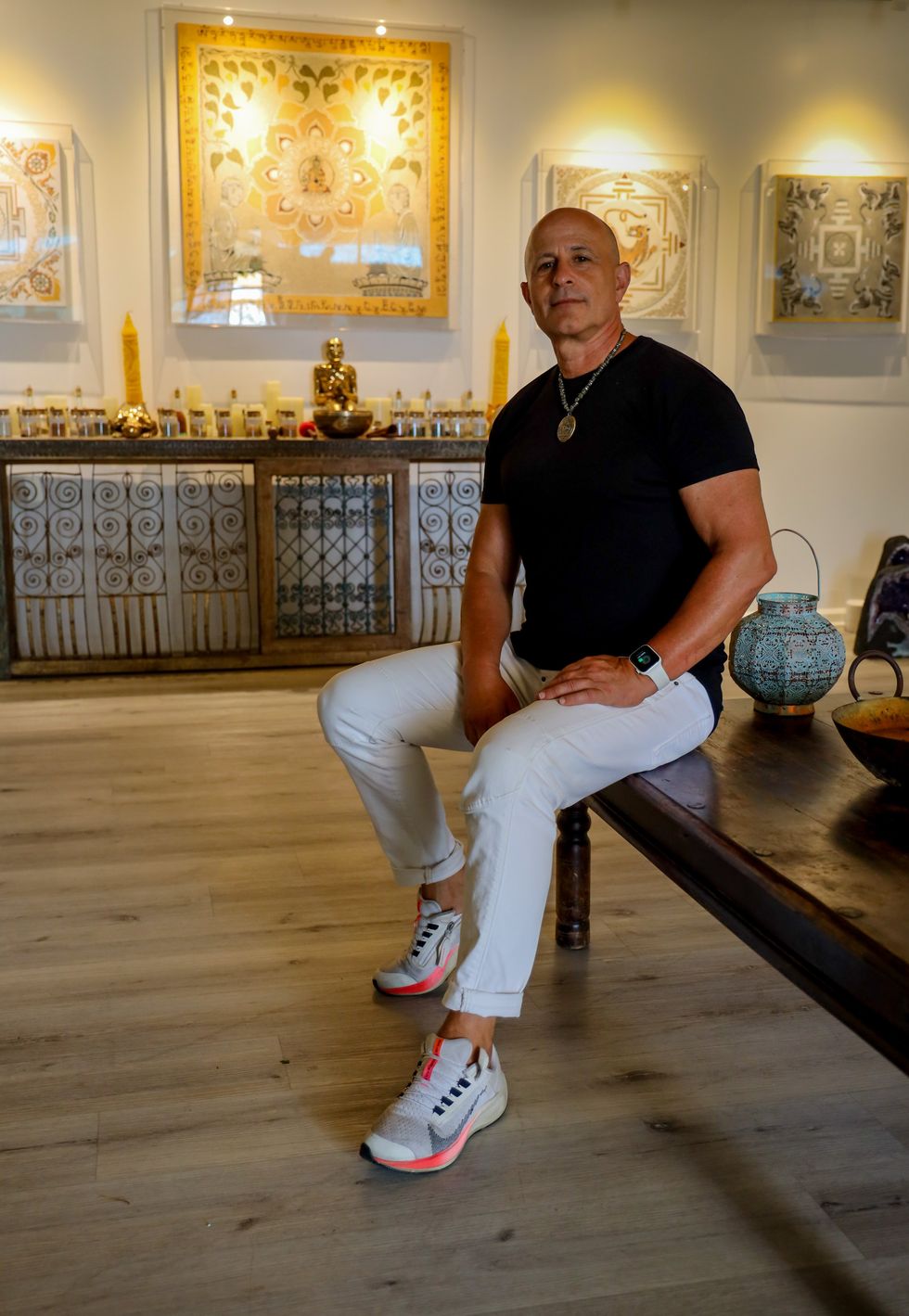 Rafi Lounge founder, Rafi Anteby, pictured here with his Mandala and sand collections. Photo: Rafi Lounge
The Rafi Lounge opened last year on November 10—the day before crypto exchange FTX went bankrupt. "Everyone said Rafi, go into a shutdown, don't do it," Anteby said. "I said I can't, because I pre-sold to members and I promised them [the launch is] what will happen."
Still, Anteby felt he couldn't renege on his promise to open the lounge to those who did buy in, so he forged ahead. So, what do NFTs have to do with a wellness center?
Each, according to Anteby, corresponds to a level of access. The least expensive, Unity, is the lowest tier and gives holders access to virtual classes. The second tier, Mindful, encompasses physical and virtual access to the Lounge. And the highest tier selling for $5,500, Awakened, are the ones Rafi is selling individually that act as an all-access pass to the Lounge and its benefits and events (including, Anteby said, "spiritual yacht parties"). Both Mindful and Awakened NFTs are lifetime memberships to Rafi Lounge, and include free access to annual retreats it hosts.
But facing the changing seasons of the crypto market and unwilling to sacrifice his brand by letting the Rafi Lounge tokens be resold to oblivion on public markets, Anteby took the drastic step to control his NFT inventory – buying up the remainder a mere day after the minting.
Anteby admitted he "lost a quarter of a million dollars" between creating and buying the NFTs back. But he said it was worth it: "I'm going to take each because I want to control who's coming to my lounge. I want to know that they will be my advocates as well."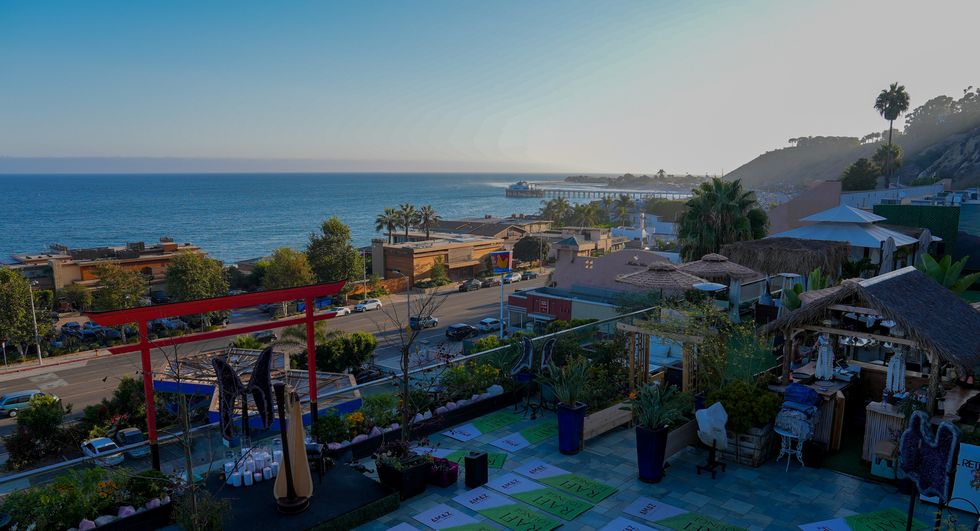 A view of the Rafi Lounge in the afternoon, before a yoga class. Photo: Rafi Lounge
Currently, there are 100 members, 55 of which are lifetime NFT holders. The 6,000 square-foot rooftop lounge is also open to the public. Which is to say, anyone can buy a 10-day pass for $250, pay the $40 fee for individual classes or come to public events. One of those people is Amie Yaniak who was diagnosed with stage four cancer last May that has since metastasized into her bones.
"I've never been anywhere like this. This was the first class I've done since the cancer, and it was just so cleansing," Yaniak says. While she's not a member, Yaniak told me she was interested in returning for more classes.

In addition to people like Yaniak, Anteby is also curating a more select crowd of well-to-do celebrities that can act as brand ambassadors for the lounge. He said he wants it to be a sort of more laid-back SoHo house, where top minds converge on the Pacific Ocean to make deals and network. Some of the names dropped during my tour of the property included Jamie Foxx (who Anteby calls a good friend), Chris Noth, Gladys Knight, and Equinox co-founder Lavinia Errico, whom I actually briefly met, since she's a member of the Lounge's advisory board.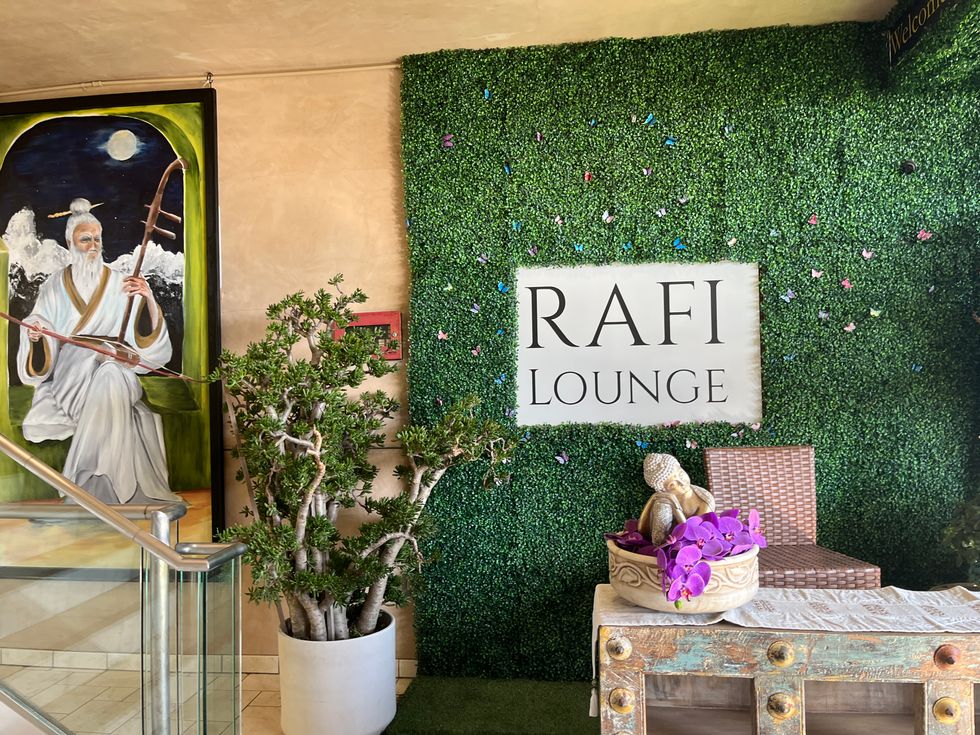 The lounge's entryway and check-in. Photo: Samson Amore
As Tame Impala wafts from the lounge's speakers, Anteby tells me stories of getting Taoist monks drunk at karaoke bars and studying medical qigong and tai chi in China. Anteby hung the intricate mandalas on the walls of a yoga room and he says they take around two years to complete as he carefully places individual grains of sand and uses tree sap to preserve their form. The mandalas are meant to be a contemplation of man's relationship with nature, which is partly why Anteby designed the NFT versions of them to resemble a sort of elemental fusion that combines water, fire and earth.
Owning an NFT also corresponds to owning a fraction of the Malibu Mandala Rafi made that hangs in the lounge.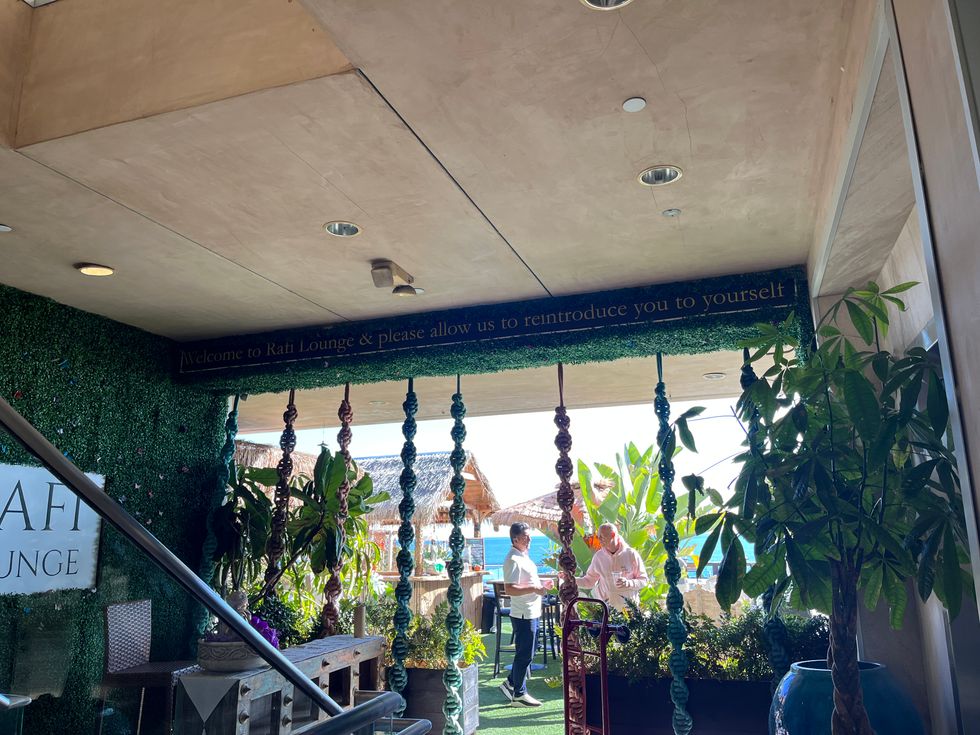 Anteby, right, speaks with a partner at his lounge in Malibu.Photo: Samson Amore
While Anteby admits the launch hasn't netted him any profits yet and said he's out around $1 million launching the place, he's determined to turn the Rafi Lounge into a franchise and has plans to open future locations in other cities big into tech and wellness like Miami, Scottsdale, Ariz., Newport Beach, and Austin.
Besides the obvious cases like Yaniak's, Anteby said he thinks the larger tech community needs a breather. "They all have digital burnout," he said. "It's more than just me helping you to breathe. You need to take care of yourself, and here people do that all the time."
Samson Amore
Samson Amore is a reporter for dot.LA. He holds a degree in journalism from Emerson College. Send tips or pitches to samsonamore@dot.la and find him on Twitter @Samsonamore.
https://twitter.com/samsonamore
samsonamore@dot.la
02:16 PM | March 02, 2023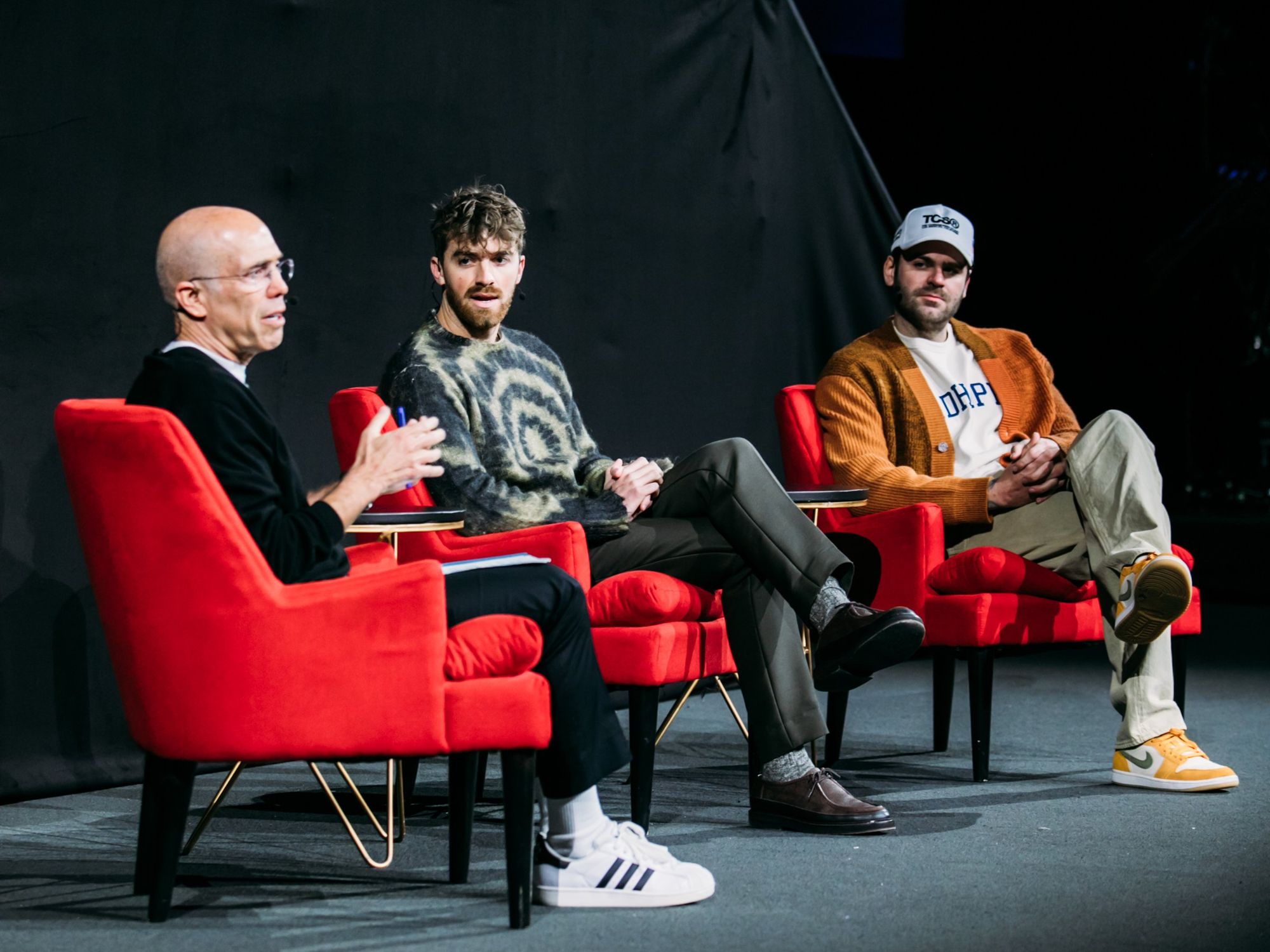 Clark Studio
On Thursday, Upfront Ventures hosted its 2023 Summit and music icons Alex Pall and Drew Taggart of The Chainsmokers hit the stage, not to perform, but instead to discuss their venture journey.
The duo launched MantisVC, a Marina Del Rey-based early stage tech venture fund in 2019.
Pall and Taggart shared the stage with WndrCo's managing partner Jeffrey Katzenberg to dive deeper into what their music career has taught them and how it translated over to their venture firm.
Here are some of the most important takeaways:
The duo believes hustle is more important than talent to achieve success.
"There's just so much content out there that's just happening all the time for no reason," Taggart said. "There's just so much to pay attention to and if you have to wake up every day, and think out what your angle is going to be, try stuff, have it not work. You have to accept defeat so frequently and still get up and do it."
Creating music was their foray into building communities.
"I think we have some real insight into how to build that community and tell that story because essentially, that's all we're trying to do," Pall said. "No matter what your business is, you're telling the story about something that you think is important that someone else needs and will enjoy."
Building connections and having conversations with pioneers in the space helped them launch MantisVC.
"Humility and being self aware are two of our strengths," Taggart said. "I think knowing what we don't know is a big part of how we've gotten to where we are, and with the support of people around us, and the relationships we built, we understood that we were going to have to go out and prove to the world that we were serious about this and we respected the people that have come before us and the people that are doing it right now."
VCs should offer all their founders support.
"When you're building something early on, you want that support, that hands-on feeling and the purpose of Mantis isn't necessarily right now to replace the incredible institutional investors that exist out there and have been around for a while," Pall continued.
"But we want to be the Robin to their Batman, and we think there's a way that we can kind of partner with everybody in the space and provide our founders that holistic support they need. It's inspiring to work alongside people that share that same energy and we're constantly working on ourselves and I feel like it takes a really special type of human being to be successful in this world. Level of grit and determination and something that's continually fueled us and we want to invest in people like that."
Feedback is necessary and essential to create successful products and businesses.
"Similar to products or services that you're building, it's important to get real life feedback out there and iterate on those things," Taggart said. "And there's really just no substitute for that."
Pall added, "I think for some reason in our culture, it's become an issue for people just to be straightforward and say no, about things and give honest feedback and, and move on. I think we can all learn a lot from just having more honest conversations with each other."
Never lose sight of your core audience and mission as a company.
"Never forget what your core product is and what people love about that and make sure that every piece of innovation is derivative of that," Taggart said. "I see a lot of friends of ours that have had really successful companies start to build ancillary projects that don't really feed their core audience that they're just making to compete with their competition. We do the same thing in songwriting, and you can never lose sight of what people love about you."
Decerry Donato
Decerry Donato is a reporter at dot.LA. Prior to that, she was an editorial fellow at the company. Decerry received her bachelor's degree in literary journalism from the University of California, Irvine. She continues to write stories to inform the community about issues or events that take place in the L.A. area. On the weekends, she can be found hiking in the Angeles National forest or sifting through racks at your local thrift store.