watertower ventures
After enduring nearly 14 months of Zoom meetings, phone calls and socially distant walks, Los Angeles venture capitalists held their first major in-person party Thursday night at an expansive estate in Beverly Hills.
The approximately 50 guests had their temperatures checked at the entrance and could choose to affix a bright "I Got Vaccinated" sticker to their wardrobe, which most did.

Elbow bumps replaced handshakes and everything took place outside on an overcast and unusually cool night. But otherwise, the occasion seemed remarkably normal – with only servers, bartenders and valets wearing masks.
"We felt like it was the right time," said Derek Norton, managing general partner of Watertower Ventures, the early stage fund that hosted the event. "We definitely wanted to be on the forefront and be the first to get everybody back, because this is a community and it's a community of friends that are investors and collaborators."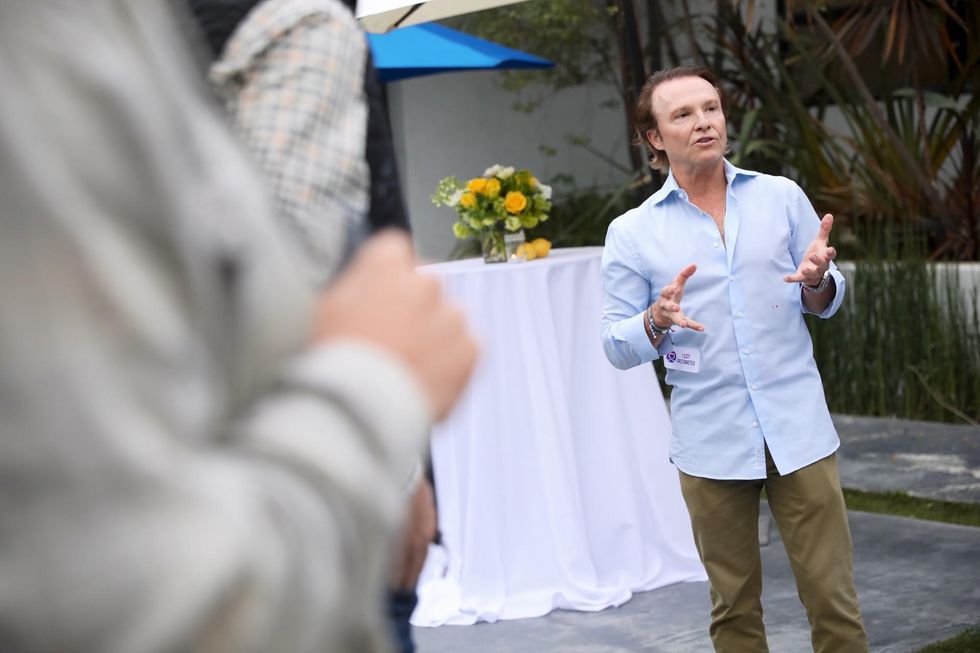 "We felt like it was the right time," said Derek Norton, managing general partner of Watertower Ventures, the early stage fund that hosted the event.
Guests sipped on Aperol spritzes and wolfed down freshly baked margarita pizza from Toscana – the theme of the evening was "A Taste of Italy."

"Since most of us won't be traveling to Europe this summer, we thought we'd bring Italy here," Norton explained.
The crowd included a who's who of the L.A. venture scene, including Bonfire's Mark Mullen, Crosscut's Brian Garrett, MaC VC's Marlon Nichols, East West Ventures' Jaeson Ma, TenOneTen's Minnie Ingersoll, Watertower's Jeremy Milken and Science Inc's Peter Pham, who bounced from group to group wearing silent disco headphones and sipping on the Liquid Death canned water he incubated.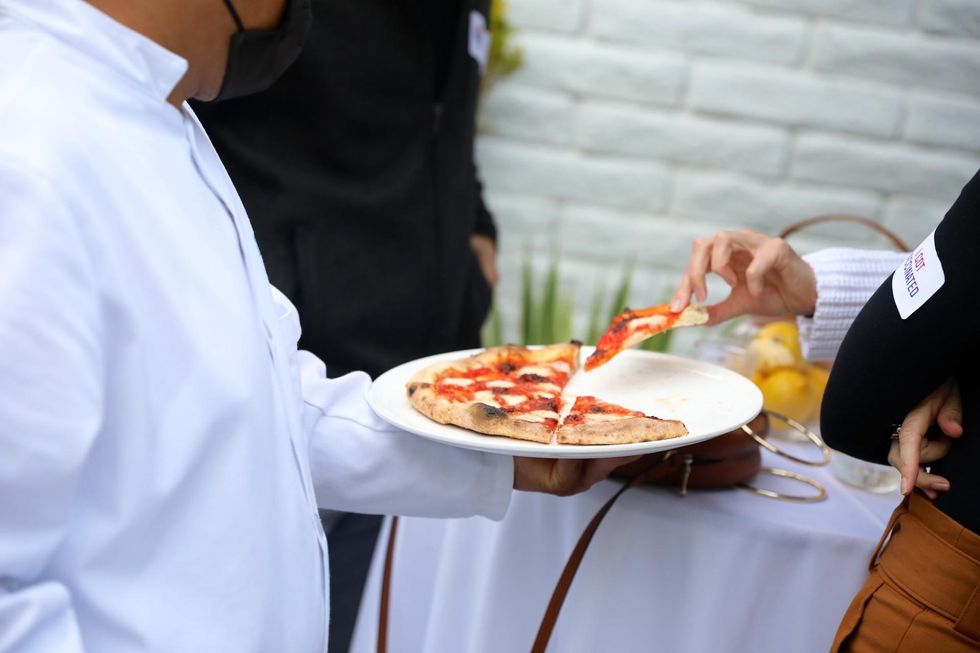 Guests sipped on aperol spritzes and wolfed down freshly baked margarita pizza from Toscana – the theme of the evening was "A Taste of Italy."
The mood seemed positively giddy, thanks to a welcome return to normalcy and the fact that for all the hardship of the past year these have been heady times for tech – with record amounts of deals, new unicorns crowned and IPO's popping off seemingly every week.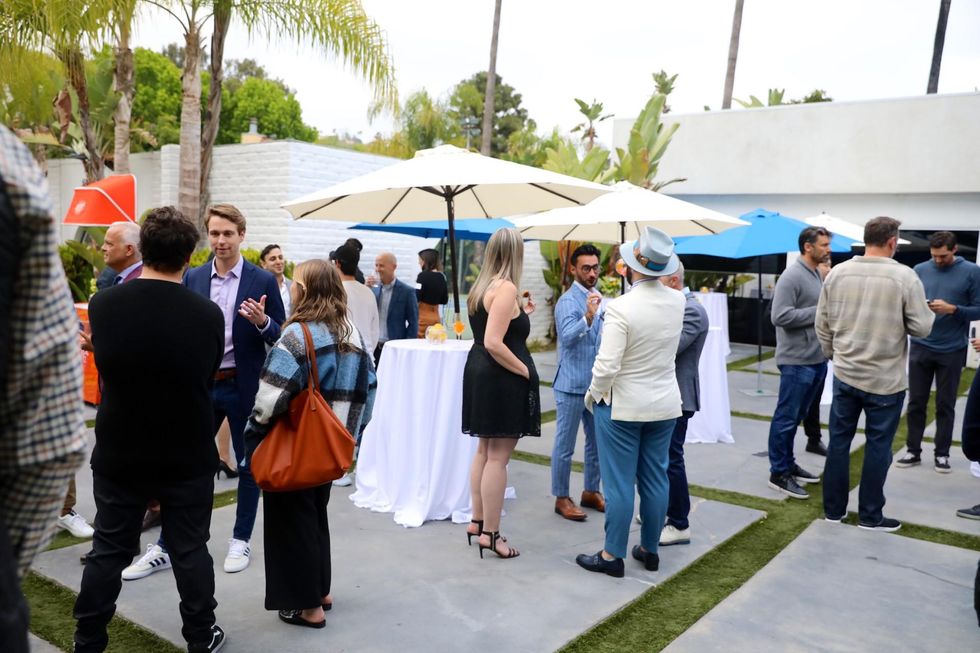 More than one VC remarked that they have never seen such a crazy time in the industry, with even the most far-fetched of business plans able to secure gobs of capital.
For all of the pleasantries and talk about how kids were doing, the event was far by no means purely social. This is an industry after all with no shortage of extraverts which normally revolves around schmoozing and handshakes.
"There are definitely deals and business being talked about tonight," said Norton. "We have tons of stuff to catch up on."
Los Angeles County had reached the least-restrictive "yellow tier" the day before, allowing bars to reopen and indoor stores to increase their capacity. Still, COVID remains a threat; an average 63 people in the county are dying each day.
The L.A. tech and startup community was active as ever this week. dot.LA chief host and correspondent Kelly O'Grady takes you through the key points of the top five headlines:
Green Rush: The Incredible Rise and Fall of L.A.'s Genius Fund
How the WeChat Ban Could Ripple Through California Tech
Ridesharing App HopSkipDrive Announces Layoffs
Watertower Ventures Closes $50M Second Fund
With $5.25M Boost, Valence Aims to Redefine How Black Professionals Connect
Weekly Recap: Cannabis Cautionary Tale, the WeChat Ban, HopSkipDrive Does Lays Offs & Investing News www.youtube.com
Watch to stay smart on what is happening, and follow us on Instagram for daily video content.

From Your Site Articles
Related Articles Around the Web
Watertower Ventures, led by Los Angeles startup veterans Derek Norton and Jeremy Milken, has closed its second fund — a larger and more ambitious sequel to the one they launched three years ago. With $50 million in dry power, they are aiming to be the first institutional money in 35 companies over the next three years, with check sizes ranging from $250,000 to $1 million.
"We have a lot of work to do and it's an aggressive pace," Norton told dot.LA.
The new fund is a significant step up from their $5 million Fund I that focused on the connected consumer with portfolio companies such as the podcasting network Wondery and AllVoices, a service that allows employees to anonymously send feedback to top management. (Watertower also invested in dot.LA.)
Fund II will continue the digital consumer focus while adding something the firm calls "evolving enterprise," a category that includes companies like Slack and Salesforce.
Norton and Milken first met two decades ago when Norton invested in Milken's first gaming startup. The two have been friends and professional acquaintances since. Milken went on to start five more companies while Norton spent most of the last 20 years on the advising side at his boutique investment bank, Watertower Group, which also had an early stage venture capital fund called Watertower Early Opportunity Fund.
"We've been at this for awhile," Norton said. "We bring a 20 year lens."
Norton says they started raising money in late February but it was made more difficult by the pandemic. "I'm not sure I would want to revisit those two months," he said.
As they start deploying the fund, Norton says he is surprised that valuations have barely budged from their frothy pre-pandemic highs. "I would have thought we would have been seeing a reset on valuations that through 2019 got a little ahead of where they should be for seed stage deals," he said. "But we are seeing valuations increasing beyond that."
Norton says the pandemic has expanded the geographic reach of the firm. Previously it focused only on Los Angeles, the Bay Area, New York, and Utah. Watertower recently invested in two companies in Texas out of Fund I. Like every other VC, he has been forced to get used to writing checks to people he has never shaken hands with.
"We used to say we wouldn't invest in a founder without meeting them in person and at least doing a lunch or dinner, but now we've become comfortable on Zoom," Norton said.
From Your Site Articles
Related Articles Around the Web