crosscut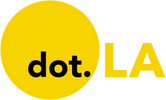 Get in the KNOW
on LA Startups & Tech
X
crosscut
Courtesy of Brett Brewer.
In 1996, when the internet was in its infancy, Brett Brewer and a couple of college buddies decided to start a company from their pad in Manhattan Beach.
What became Intermix Media—which would later give birth to the original social network, Myspace—initially started off as an ecommerce business called Entertainment Universe that sold movies, music and games. It took 18 months for Brewer and his partners to get the venture off the ground and raise any sort of capital; by April 1999, the company went public, just before the dot-com bubble burst.
"What [the dot-com bubble] did, interestingly, is it took most of the well-funded competitors that were losing tons of money and it either put them out of business immediately or put them out of business slowly," Brewer told Minnie Ingersoll on this week's episode of the LA Venture podcast. "We had so little capital anyway; we always had to look at it like, 'We actually need to make money.'"
In 2000, with the dot-com scene in pieces, Brewer and his partners sold off the ecommerce site and began experimenting with low-cost content sites. As well as early forays into online dating and an embrace of performance-based advertising, Intermix also began experimenting with social networking with the help of employees—and soon-to-be Myspace founders—Tom Anderson and Chris DeWolfe.

"I feel like it was yesterday," Brewer recalled. "[Anderson and DeWolfe] came up with a bunch of good ideas we whiteboarded out. And one of them was to… build what we thought would be a version of Friendster except way cooler, and way more control for the user."
The rest was history. Myspace became an early social media behemoth, initially going toe-to-toe with Facebook and luring more than 100 million users; Brewer recalled that the average user would visit the site six-to-eight times a day and view anywhere from 10-to-15 pages. Intermix and Myspace were eventually sold to Rupert Murdoch's News Corp. for $580 million in 2005.
"It really was a roller coaster ride that ended on a high note," Brewer noted. "I was very happy for Los Angeles. I was very happy for everyone that works in Intermix. We had a lot of amazing people over all those years, put blood, sweat and tears into the entity and had that kind of happy conclusion."
In his post-entrepreneur life, Brewer entered the world of venture capital investing and launched Santa Monica VC firm Crosscut Ventures. Outside of work, he has a particular passion for education; in the wake of the pandemic, Brewer launched LA Tech Cares, which provides underserved students with tech and academic resources as well as mental health services.
"I've always been a believer in education and this concept that equality in education is a must," he said. "I think it's sort of the number one thing that, as a society, we need to be delivering."
Hear the full episode by clicking on the playhead above, and listen to LA Venture on Apple Podcasts, Stitcher, Spotify or wherever you get your podcasts.
dot.LA Engagement Fellow Joshua Letona contributed to this post.
From Your Site Articles
Related Articles Around the Web
After enduring nearly 14 months of Zoom meetings, phone calls and socially distant walks, Los Angeles venture capitalists held their first major in-person party Thursday night at an expansive estate in Beverly Hills.
The approximately 50 guests had their temperatures checked at the entrance and could choose to affix a bright "I Got Vaccinated" sticker to their wardrobe, which most did.

Elbow bumps replaced handshakes and everything took place outside on an overcast and unusually cool night. But otherwise, the occasion seemed remarkably normal – with only servers, bartenders and valets wearing masks.
"We felt like it was the right time," said Derek Norton, managing general partner of Watertower Ventures, the early stage fund that hosted the event. "We definitely wanted to be on the forefront and be the first to get everybody back, because this is a community and it's a community of friends that are investors and collaborators."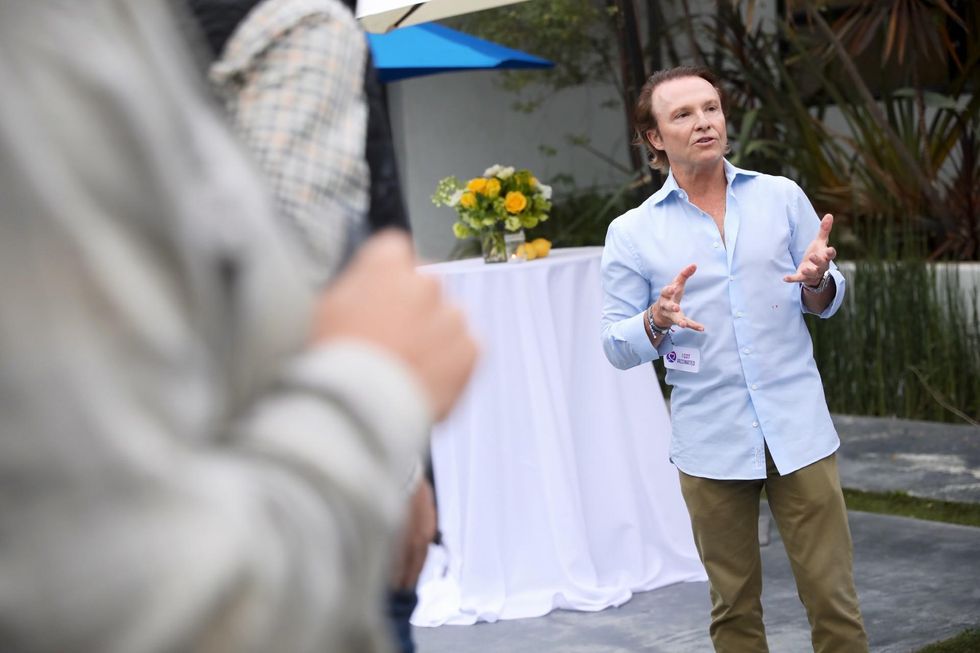 "We felt like it was the right time," said Derek Norton, managing general partner of Watertower Ventures, the early stage fund that hosted the event.
Guests sipped on Aperol spritzes and wolfed down freshly baked margarita pizza from Toscana – the theme of the evening was "A Taste of Italy."

"Since most of us won't be traveling to Europe this summer, we thought we'd bring Italy here," Norton explained.
The crowd included a who's who of the L.A. venture scene, including Bonfire's Mark Mullen, Crosscut's Brian Garrett, MaC VC's Marlon Nichols, East West Ventures' Jaeson Ma, TenOneTen's Minnie Ingersoll, Watertower's Jeremy Milken and Science Inc's Peter Pham, who bounced from group to group wearing silent disco headphones and sipping on the Liquid Death canned water he incubated.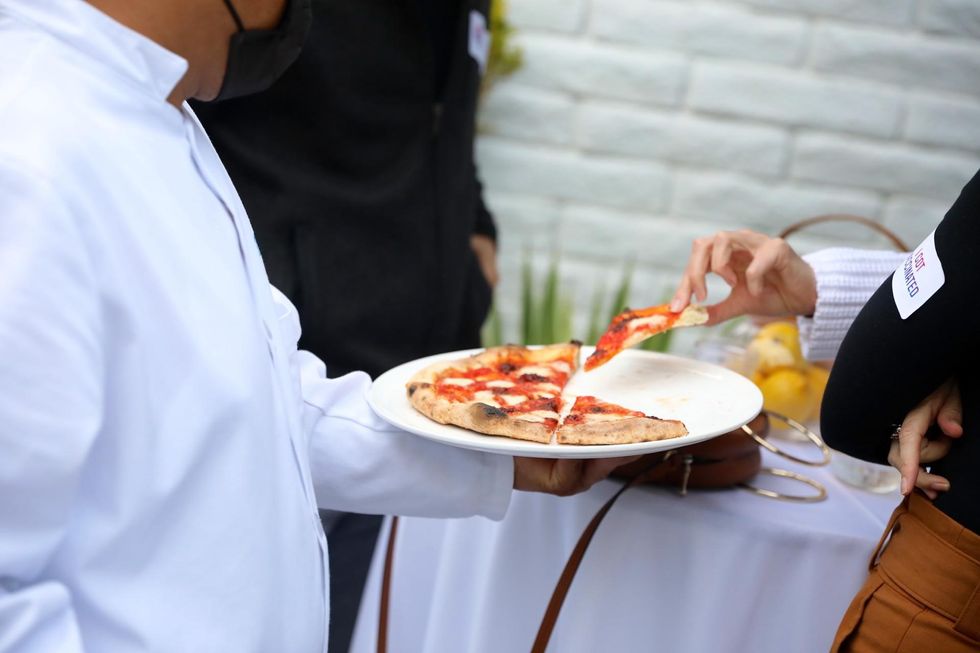 Guests sipped on aperol spritzes and wolfed down freshly baked margarita pizza from Toscana – the theme of the evening was "A Taste of Italy."
The mood seemed positively giddy, thanks to a welcome return to normalcy and the fact that for all the hardship of the past year these have been heady times for tech – with record amounts of deals, new unicorns crowned and IPO's popping off seemingly every week.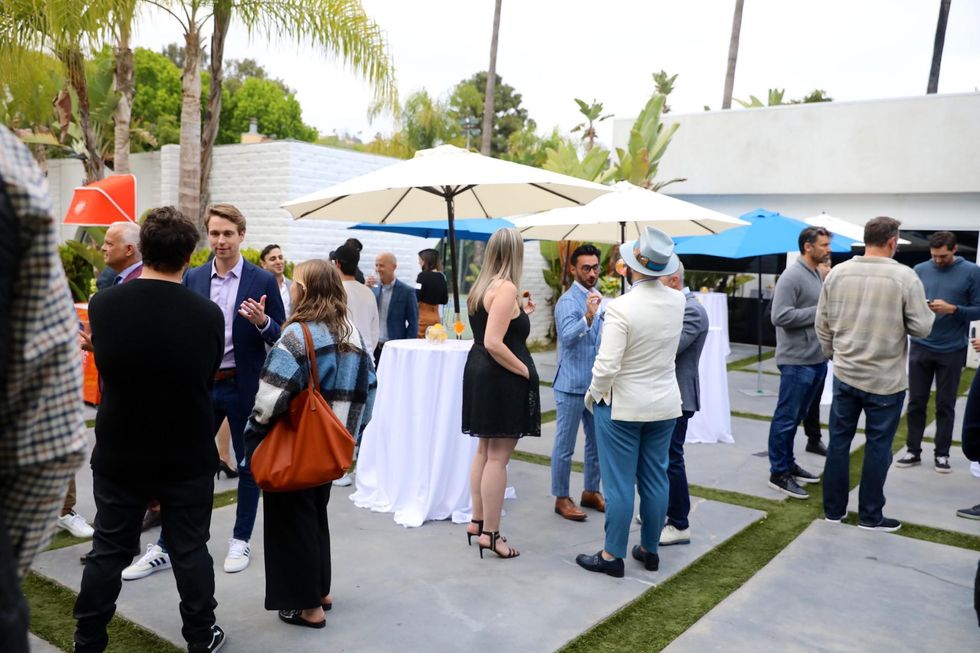 More than one VC remarked that they have never seen such a crazy time in the industry, with even the most far-fetched of business plans able to secure gobs of capital.
For all of the pleasantries and talk about how kids were doing, the event was far by no means purely social. This is an industry after all with no shortage of extraverts which normally revolves around schmoozing and handshakes.
"There are definitely deals and business being talked about tonight," said Norton. "We have tons of stuff to catch up on."
Los Angeles County had reached the least-restrictive "yellow tier" the day before, allowing bars to reopen and indoor stores to increase their capacity. Still, COVID remains a threat; an average 63 people in the county are dying each day.