Survios Steps Outside of Virtual Reality to Build Games That Cross Worlds
Sam Blake
Sam primarily covers entertainment and media for dot.LA. Previously he was Marjorie Deane Fellow at The Economist, where he wrote for the business and finance sections of the print edition. He has also worked at the XPRIZE Foundation, U.S. Government Accountability Office, KCRW, and MLB Advanced Media (now Disney Streaming Services). He holds an MBA from UCLA Anderson, an MPP from UCLA Luskin and a BA in History from University of Michigan. Email him at samblake@dot.LA and find him on Twitter @hisamblake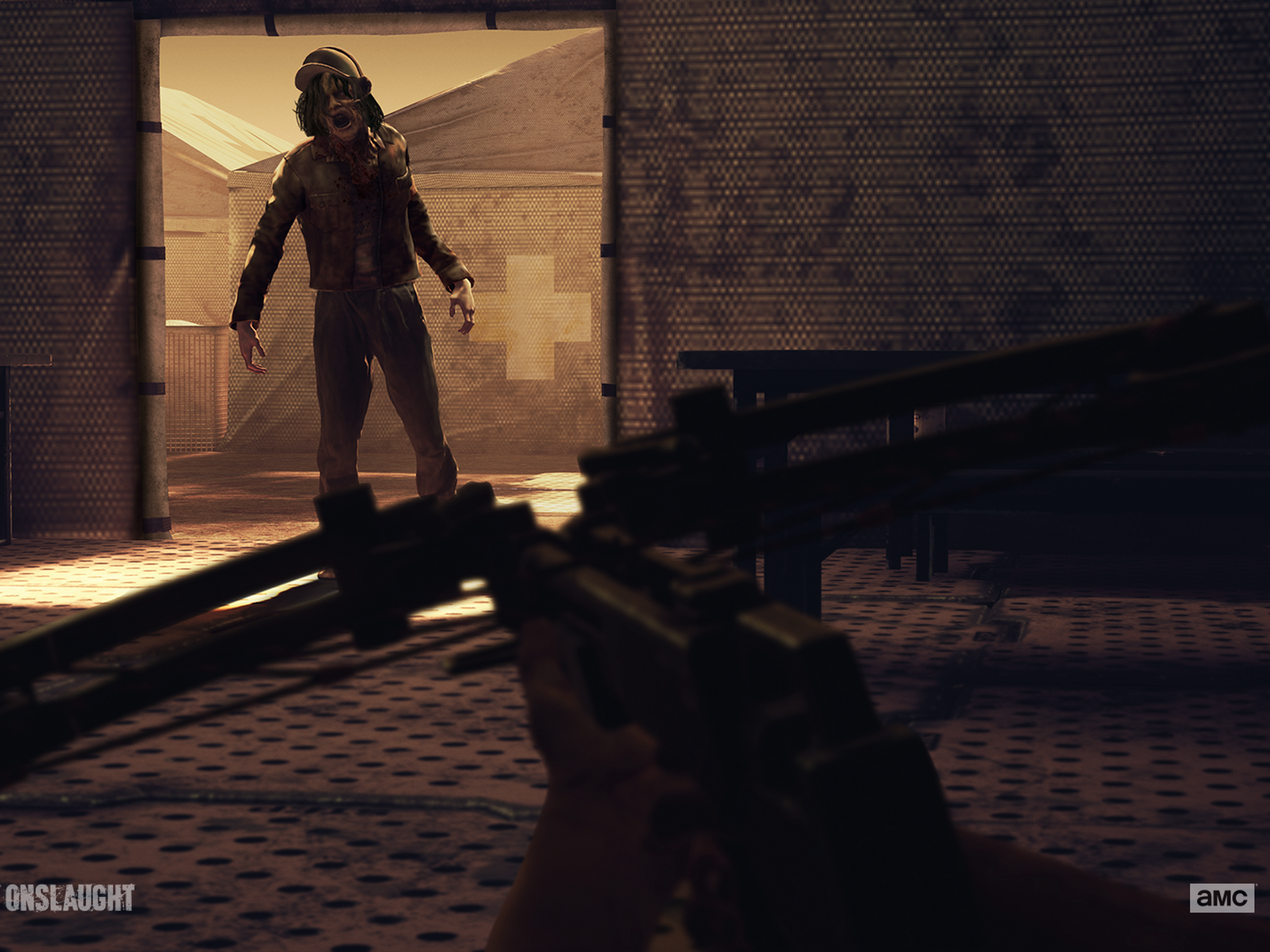 Takeaways:
VR game-maker Survios is expanding beyond virtual reality games as it embraces the idea of a "cross-play" world, where users can play against one another regardless of platform.
The company sees this as part of a broader emerging trend that it calls "cross-reality."
Survios' move is part of a bigger shift in the VR industry, which is recalibrating expectations and extending the timeline for immersive technology's growth.
Culver City-based virtual reality and gaming startup Survios is broadening beyond VR.
The company — creator of such games as "Creed: Rise to Glory," "The Walking Dead Onslaught" and "Westworld: Awakening" – recently announced its first non-VR game: "Big Rumble Boxing: Creed Champions." It hopes to leverage its relationship with MGM Studios, a lead investor of its 2016 Series C fundraise and owner of the "Creed" series IP.
Following its recent $16.7 million Series D funding round, Survios is one of a number of companies taking a fresh look at how users will use virtual reality in the future, and its role in the growth of gaming and the "metaverse."
---
Survios has also made several recent executive hires from non-VR backgrounds. New chief product officer TQ Jefferson was formerly VP of Disney's Games & Interactive Experiences group while Michael Medrano, Survios' new VP of marketing, was previously marketing director at PUBG and brand manager at Blizzard.
"We've been brought on board to help shepherd Survios through this next evolution from scrappy startup to something more formalized," Jefferson told dot.LA. The company has now raised $70.9 million. Its most recent investors included several companies from South Korea, including Irongrey, Woori Technology Investment Co. and Samsung NEXT. Earlier funders included Bay Area-based funds DHVC, Felicis Ventures, World Innovation Lab and Lux Capital.
Survios is betting on the growth of "cross-play," wherein gamers using different gaming systems can play together. The company has a broader vision, though, which it calls "cross-reality" — a seamless connectivity between not just different gaming platforms like Playstation and XBox but also between traditional '"flatscreen" media and immersive tech like AR and VR.
"Six years ago, cross-play was verboten," Seth Gerson, chief executive of Survios, told dot.LA. Fortnite, Epic Games' flagship game and virtual world, he said "broke that dam."
Epic CEO Tim Sweeney's broadside against Apple's app store policies is part of his ongoing crusade to make the gaming world more open and connected. Doing so, Sweeney believes, will more fairly compensate game developers and help the overall industry ecosystem grow bigger and stronger–and bring about a flourishing metaverse. In line with Sweeney's vision, Gerson noted that "people are playing more and paying more."
Media analyst Matthew Ball has described the metaverse as a "quasi-successor internet where everyone and every company can exist, work, socialize, trade and create."
"The 'real world' will become fundamentally integrated into the digital one, and countless new digital services and products will be created," said Ball.
Survios expects people to eventually experience the metaverse primarily through VR. In the meantime, though, in line with its cross-reality vision, it is pursuing a strategy that includes but is not limited to VR, which it hopes will position the company to play an ongoing role as the metaverse develops.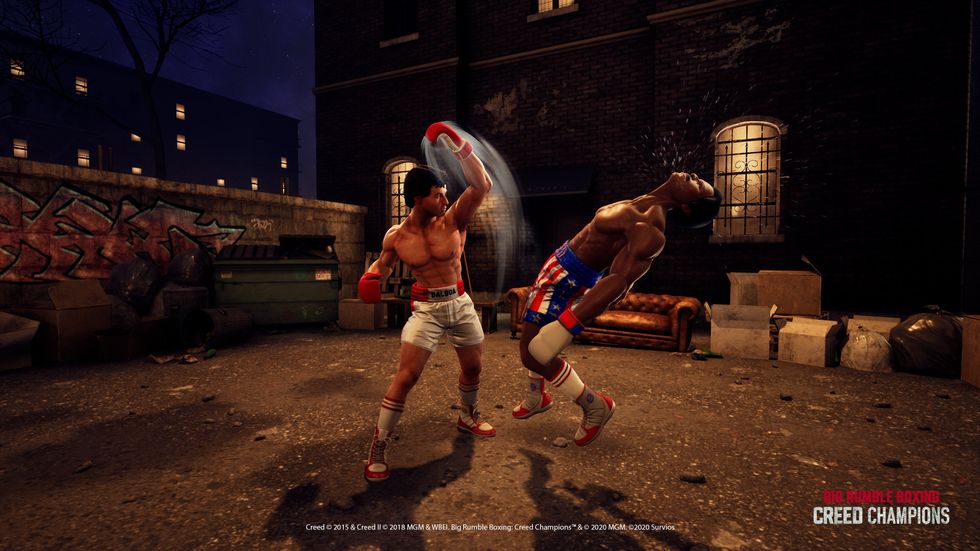 A screenshot from Survios' first non-virtual reality game: "Big Rumble Boxing: Creed Champions."
Virtual Reality: Fad or Future?
The company says it remains bullish on its VR roots. With technological enhancements in VR hardware and an ongoing decline in price – the Oculus Quest 2, due out on October 13, carries a price tag of $299 – about 8 million head-mounted displays are now in the market, Gerson said.
Recounting his former days at Sega, when the Japanese corporation was pushing its Sega Saturn gaming console, Gerson said that "if we had had 8 million units, everybody would've been doing cartwheels down the hall."
Adding in the coronavirus pandemic's boost for VR demand, Jefferson suggested "this is perhaps an inflection point where it breaks open to a larger audience."
Many observers will roll their eyes at that, having heard such proclamations before that failed to deliver.
"Certainly, the promise of VR was expected to arrive earlier than it has," media analyst Peter Csathy told dot.LA.
Ball underscored VR's continual overexuberance by noting that ABI Research, a market research firm, forecasted in 2017 that annual VR revenue in 2021 would be $65B. In 2020, however, the company significantly lowered its outlook, forecasting $25 billion in VR revenue in 2024.
"Imagine how many VR-related start-up decks had that totally baseless, inane 2017 estimate," Ball wrote.
Others are less kind. Media analyst Dan Rayburn flatly calls VR "a fad."
Stepping Back to Build a Broader Universe
Looking back, Survios' Gerson said the VR investment market made two key mistakes.
One is a misunderstanding of how much it costs to make a high-quality VR game. Gerson said VR development is far more complex than, say, mobile games; it can take over 100 developers to make a premium VR experience. "If you don't give the team the funding and the time, they can't build that experience," he said.
Gerson said VR boosters were also mistaken in expecting VR's adoption curve to resemble the exponential growth of smartphones. Instead, he said, VR adoption has been and will likely continue to be more linear, "like color TV."
Tuong Nguyen, media analyst at research firm Gartner, wrote in May that immersive technology (VR and AR) "is still three to eight years from the early majority adoption. In other words, it's in the adolescent stage."
Still, "calling VR 'a fad' is like being negative on the internet," he told dot.LA.
Nguyen wrote that past VR efforts have lacked a viable strategy for reaching consumers. In contrast, businesses have more quickly adopted VR for some applications, like training. But the consumer market remains the larger prize.
In this sense, Survios' effort to meet the consumer where they're at by expanding beyond VR could be a prudent move.
Gerson still believes that VR is the future. He called it the "ultimate iteration" of the metaverse – the parallel digital universe first conceived by science fiction writer Neal Stephenson that is part and parcel of Sweeney's no-barriers vision of the gaming world.
Representatives at market research firm Parks Associates agree with that view.
"2020 has been a good year for virtual reality adoption in the United States," research analyst Kristen Hanich told dot.LA. "With VR headset adoption reaching a critical mass among gamers, and increasing releases of built-for-VR games to the market, the VR market is poised to finally break out."
That vision is firmly in mind at Survios.
The company wouldn't provide specifics on its product roadmap, but Jefferson did say Survios' plans "allow us to edge closer to enabling cross-reality immersion."
"We've built a whole suite of tools...and our goal is to build worlds and allow our customers to participate in those worlds using any platform they want," Gerson said.
For now, Survios will simultaneously focus on adapting to the slower adoption of VR while preparing for a future where it is more widespread.
---
Sam Blake primarily covers entertainment and media for dot.LA. Find him on Twitter @hisamblake and email him at samblake@dot.LA

Sam Blake
Sam primarily covers entertainment and media for dot.LA. Previously he was Marjorie Deane Fellow at The Economist, where he wrote for the business and finance sections of the print edition. He has also worked at the XPRIZE Foundation, U.S. Government Accountability Office, KCRW, and MLB Advanced Media (now Disney Streaming Services). He holds an MBA from UCLA Anderson, an MPP from UCLA Luskin and a BA in History from University of Michigan. Email him at samblake@dot.LA and find him on Twitter @hisamblake
https://twitter.com/hisamblake
samblake@dot.la