It's hard to believe that residents across vast areas of the U.S. are about to enter their third month of quarantine as a result of COVID-19. With millions of businesses forced into complete shutdown during these unprecedented times, there have been few, if any, positive outlooks for any industry.
But hidden amongst dispirited stories across hospitality, real estate, retail and many other markets, there are glimmers of hope for industries that this crisis may actually be a catalyst for. Gaming is undoubtedly one of the markets seeing an uplift during the pandemic.
Xinjie Ma is a co-founder of rct studio.
According to Verizon, video game internet traffic is up 75%, while 95% of the country shelters at home. Meanwhile, Activision Blizzard, one of the gaming industry's largest holding companies, has seen its stock go up around 10% so far in 2020, while the S&P 500 has dropped around 15%.
Well over half of Americans are gamers and during this crisis, which is taking as much of a mental toll as a physical one, there is no better medium for escaping our current reality. However, the amount of time on consumers' hands is increasing their desire for experiences that extend beyond the status quo.
A rct studio survey of 1,000 U.S. consumers found that right around 1-in-3 people are bored of the same entertainment options during the quarantine and are searching out new virtual experiences as they shelter at home. In this sense, gaming will likely be the gateway during this crisis to new VR experiences. In doing so, it may finally bring VR mainstream. Here's three reasons why I think that will happen.
Today's Needs Are Immersing Consumers in VR for the First Time

While the percentage of VR gamers continues to only hover in single-digit percentages, the crisis has shifted the use of VR technology from a nice-to-try to a need-to-have. Can't access your favorite gym? No worries, you can access a better workout with your Oculus Quest.
With movie theatres shuttered, theme parks closed and concert halls muted, it turns out VR is one of the few technologies that can keep the entertainment industry relevant in these trying times. Our own research shows that the use of AR and VR is up 49% during the pandemic. Additionally, the latest Steam data shows over one million active VR users in March alone.
Through their headsets, consumers can embark on exhilarating journeys that may not even be possible in post-COVID-19 times. Whether it's taking in the sites at Machu Picchu or diving into the action-packed survival horror game Half-Life, the relief experienced through VR right now from societal anxieties is enormous.
And for developers of VR headsets, supply is buckling under this unprecedented demand. Devices like the Oculus Quest — which retails between $399.99 and $499.99 — have become virtually impossible to buy without paying a huge markup. These prices will likely continue to rise the further the quarantine is extended and consumers' appetite for novel forms of entertainment grows.
If interacting with our physical communities continues to be a challenge as we respond to COVID-19, we shouldn't expect any of these VR gaming needs or demands to dwindle. More than 7 in 10 online gamers in the UK and U.S. have noted they feel part of a gaming community. Never has this community been as critical as consumers seek out some connection amid lockdown and separation.

New virtual landscapes will offer even more opportunities for connection that feels human. Next-generation VR environments are already being built with new ways for players to communicate and collectively alter storylines in real-time while they explore virtual worlds.
Technology is Finally Here to Build Lifelike Environments At Scale
The VR industry has already had numerous false starts. Many of these problems can be singularly traced back to not combining proper hardware with engaging content. Getting one right has proved difficult, succeeding with both has been impossible. Furthermore, the promise of immersive VR experiences is limitless choice and opportunity. A new world to escape within.
The problem with the first few generations of VR has been the restraints caused by the sloppy intersection of hardware and software. In a VR environment not too long ago, I walked into a wooden cabin during a summer afternoon in Austria. On the surface, the situation existed. However, if you stared at anything in the cabin for more than 10 seconds, you would start to feel its loss of reality. Not so different than slowly shaking out of a dream. Everything in the room, even the room itself, was modeled in such an inadequate way. The only way to accept the experience as reality was to believe that our world is now only seen in 960X1080.
Fortunately, we're at a point where artificial intelligence advancements can address these issues. Deep and reinforcement learning can lessen the budgets and lengthy timeframes needed for developing vast virtual environments, while also solving limitations of pre-mapped narrative paths that existed in first-generation VR. We can even render these environments in real-time without needing to rewrite any code. Just a few lines of text will do.
While gaming and VR companies have utilized AI in the past to improve gaming, we're just getting to a point where we can train machine learning models to make a sequence of decisions that result in narrative-driven AI. Imagine a not-too-distant VR world where there is no need to script every alternative for each scene in advance. Once the main storylines, character descriptions, motivations, and parameters are mapped, AI can create a seemingly endless number of experiences. And unlike the gaming environments today, every non-player character is powered by its own AI model. VR players can essentially enter into their own Westworld.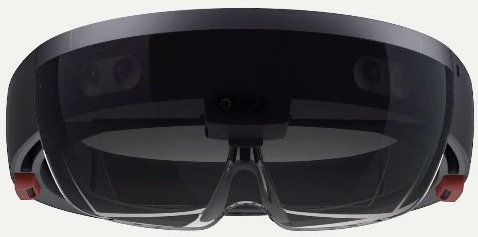 Microsoft has been gaining ground with Hololens and AR for the business world.upload.wikimedia.org
FAANG Shows An Increasing Appetite for VR & AR
As they do in almost all aspects of the technology sector, Facebook, Amazon, Apple, Netflix and Google have veto power when it comes to allowing VR to go mainstream given their chokehold on distribution. For much of the past decade, Apple and Google have been resistant to adopting usages of this technology.
Meanwhile Facebook and Microsoft, if we add the sixth biggest player in technology into the mix, have shown the most interest in becoming leaders in the fledgling market. Facebook, of course, is through its efforts with Oculus. Microsoft, on the other hand, has made the most ground with Hololens and AR for the business world.
However, the two perceived leaders in big tech are beginning to see company in VR and that is likely to increase as the crisis spotlights consumer desire for VR experiences. In April, amidst the growing pandemic, Apple has been rumored to be finalizing a deal to acquire NextVR, a virtual-reality video-streaming service for around $100M. Prior to that, details leaked in March, of a controller for an AR/VR headset that Apple may have in the works.
Netflix, the global leader in streaming content into the homes of Americans, has also started to pick up its interest in VR. Its app on the Oculus store, which allows Netflix users to watch certain content in VR. Likewise, Amazon has made VR content available for its Prime Video users with apps available for Oculus and Samsung's Gear VR.
So while Facebook has been carrying the baton for VR over the last few years it has begun to wake up the rest of the major players to virtual possibilities. While the current market downturn may force some of these companies to refocus on core businesses for the short-term, there's little doubt that these leaders also see the opportunity for VR in the new normal that awaits us on the other side of the crisis. If they all jump in the water, the VR floodgates will open.
Xinjie Ma is a co-founder of rct studio, a next-generation interactive entertainment company harnessing the latest in AI to offer immersive VR experiences. She jointly founded rct studio with other former members of the Raven Tech team, which was acquired by Baidu in 2017.