Watch: Three Gaming Startups Pitch Top Gaming VCs in Our 2nd Startup Pitch Showcase
Apr 23 2020
Our second Virtual Pitch Showcase was devoted to startups in the gaming industry. Founding entrepreneurs from Artie, Squab Gaming and RCT Studio pitched to Peter Levin, managing director at Griffin Gaming Partners and Gregory Milken, managing director at March Capital Partners.
---
About the Companies
Artie is a platform for next-gen interactive content that is hyper-personalized, exponentially engaging, and can be shared and played instantly inside of popular apps like Instagram, Facebook, Snapchat, Twitter, YouTube, and Twitch, with no app download or integration needed. Our team includes AI scientists, engineers, and interactive storytellers from Activision/Blizzard, Infinity Ward, Disney, DreamWorks Animation, Snap, Mozilla, and Facebook. Our seed investors include Scooter Braun's Raised in Space, Jeffrey Katzenberg's WndrCo, Founders Fund, Warner Music Group, Shrug Capital, YouTube co-founder Chad Hurley, angel investor Cyan Bannister, and top executives from Twitter, Amazon, and Square.
rct studio is a next-generation creative studio and interactive entertainment company, harnessing the latest in Artificial Intelligence to offer truly immersive VR experiences. Powered by the company's Morpheus engine, the technology instantly mines millions of data points from a vast repository of storylines and human behaviors to create realistic stories with an almost infinite amount of endings. With the ability to slash production costs and development time, whilst unleashing boundless creativity, rct is revolutionizing the way people tell and consume stories.
Squab Gaming is a marketplace for video game players to hire on-demand gaming partner in 3 clicks. Gamers can easily find their perfect teammates at anytime. Squab Gaming also provides expert players an opportunity to make money from the games they are good at. Squab Gaming essentially fills the gap in the current esports ecosystem and makes it more sustainable.
About the Judges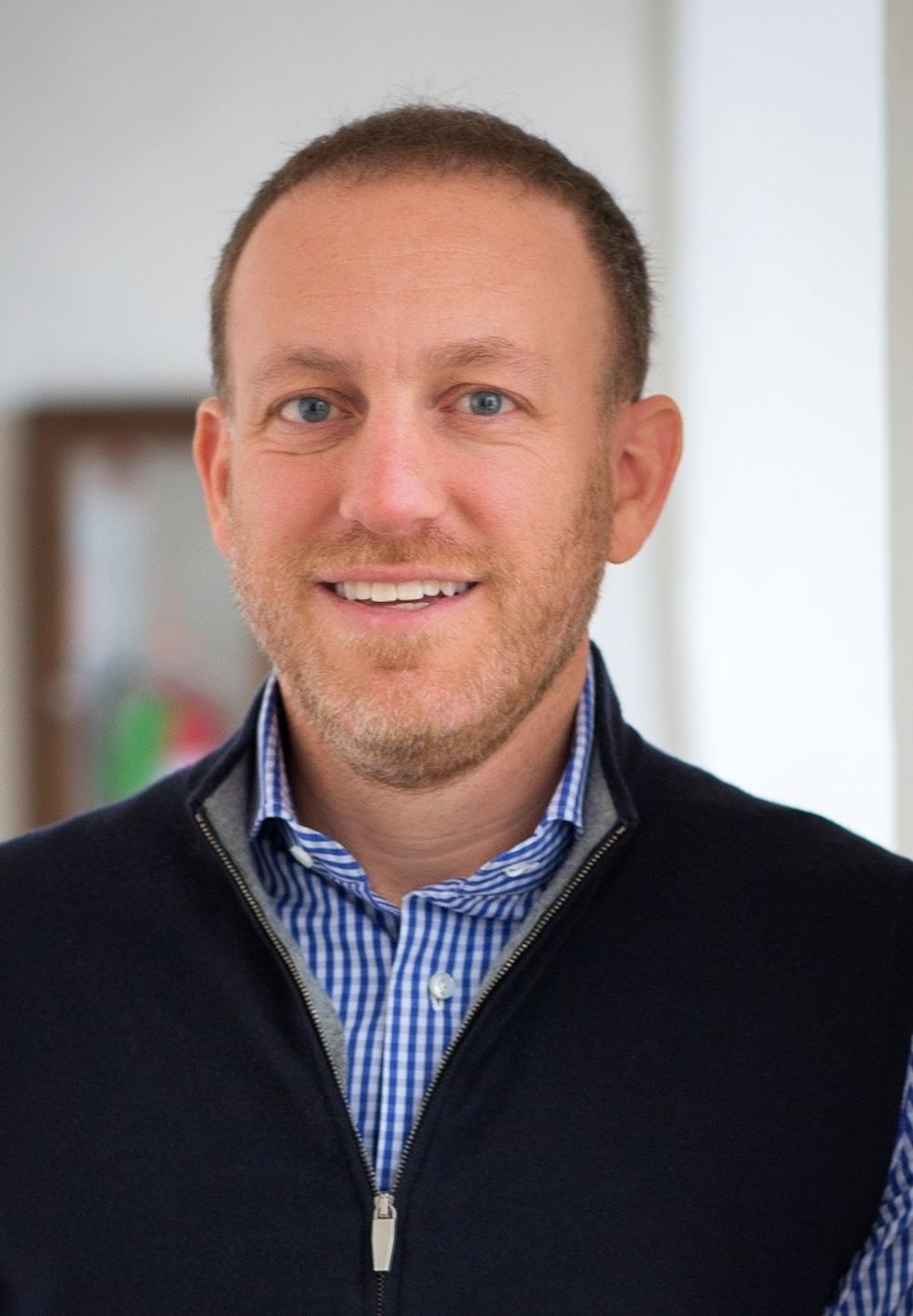 Gregory Milken
Gregory Milken is a Managing Director at March Capital Partners, where he focuses on investments in gaming. Gregory has led March Capital's investments in broadcasting solution Genvid Technologies, esports organization Immortals Gaming Club and game developers Nifty Games, Dorian and Knock Knock.
Prior to March, Gregory was an active angel investor for companies such as Viagogo and Small Giant Games. Gregory has over 15 years of entrepreneurial and operational experience. He was the co-founder and COO of AltEgo, a cloud-based technology and gaming company. Prior to his work in technology, he worked in strategy and operations for Knowledge Universe Education, new business development at Warner Bros. in Hong Kong and London, and at Twentieth Century Fox.
Actively involved in philanthropy, Gregory currently serves on the Board of Overseers for Penn's Graduate School of Education as well as on the boards of the Milken Institute and the Milken Family Foundation.
Gregory received his M.B.A. and M.A. in International Policy Studies from Stanford University, as well as a B.A. in Asian Studies and a B.A. in International Relations from the University of Pennsylvania.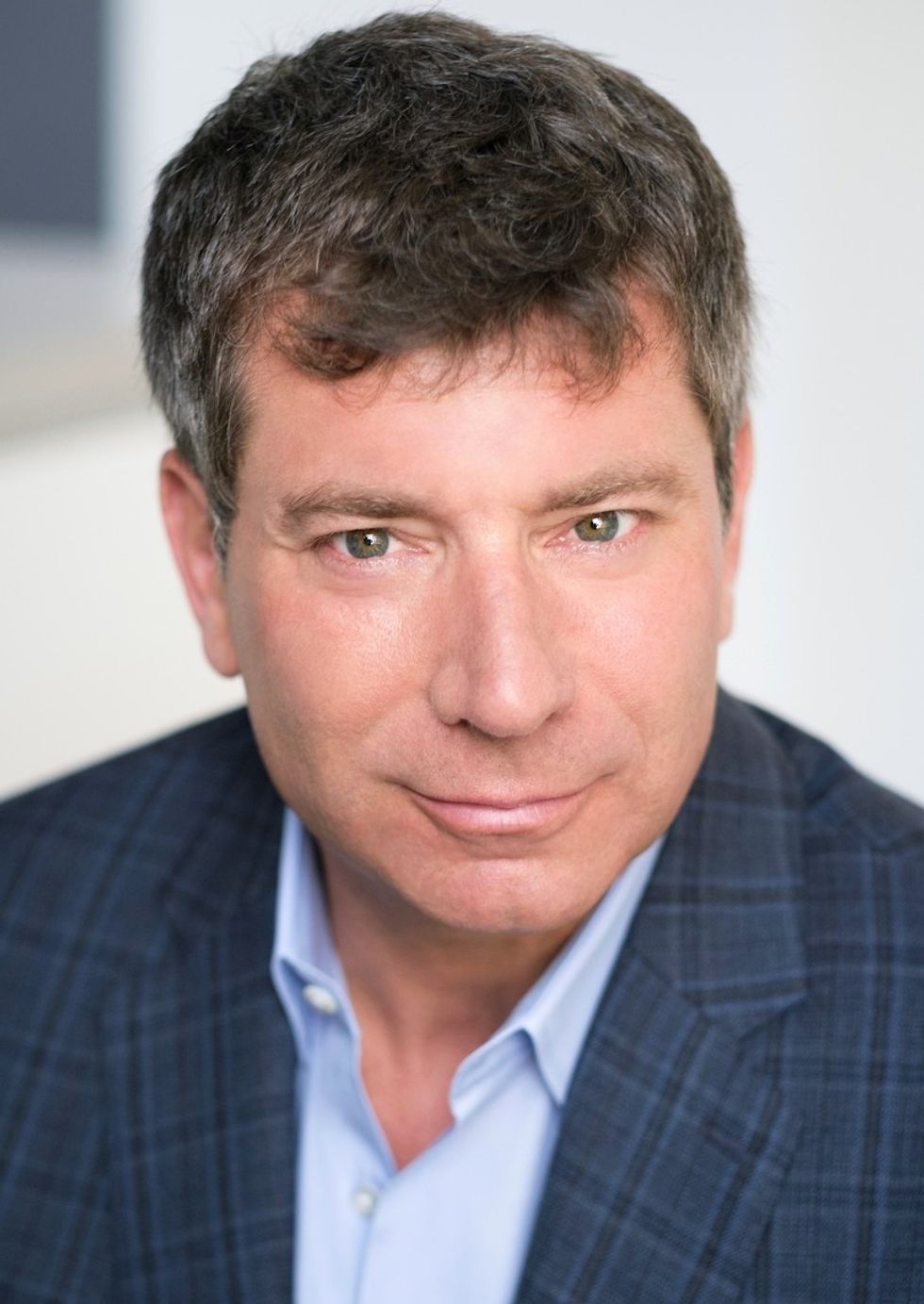 Peter Y. Levin
Peter serves as Managing Director at Griffin Gaming Partners, an early and late stage investment vehicle singularly focused on the video game sector.
Prior to Griffin, Levin served as President of Interactive Ventures, Games & Digital Strategy at Lionsgate.
He is the former CEO & Co-founder of Nerdist Industries, a multi-platform creator of genre and popular-culture content, as well as the former Co-President of Digital Strategy at Legendary Entertainment.
Nerdist Industries was acquired by Legendary Entertainment in July of 2012. Levin serves as Chairman of Immortals Gaming Club and serves on the Board of Directors of N3TWORK, Wizard Labs and Next Games. He also serves on the Los Angeles Sports & Entertainment Commission Board of Directors.
Previously, Levin was founder and co-owner of the 2006 World Champion Chicago Rush of the Arena Football League. He was also a minority partner in and strategic advisor to Strikeforce, a mixed martial arts promotional entity, that sold to the Ultimate Fighting Championship in 2011. In June 2009, Levin served as the exclusive representative of Deadline.com in its sale to PMC. Levin is the founder of Course of the Force, an annual Olympic torch-style lightsaber relay in partnership with Lucasfilm Ltd. that led up to San Diego Comic Con International and benefitted the Make-A-Wish Foundation.
He also serves on the Board of Governors at Cedars Sinai in Los Angeles and co-teaches a competitive gaming course at the USC Annenberg School of Communication and Journalism.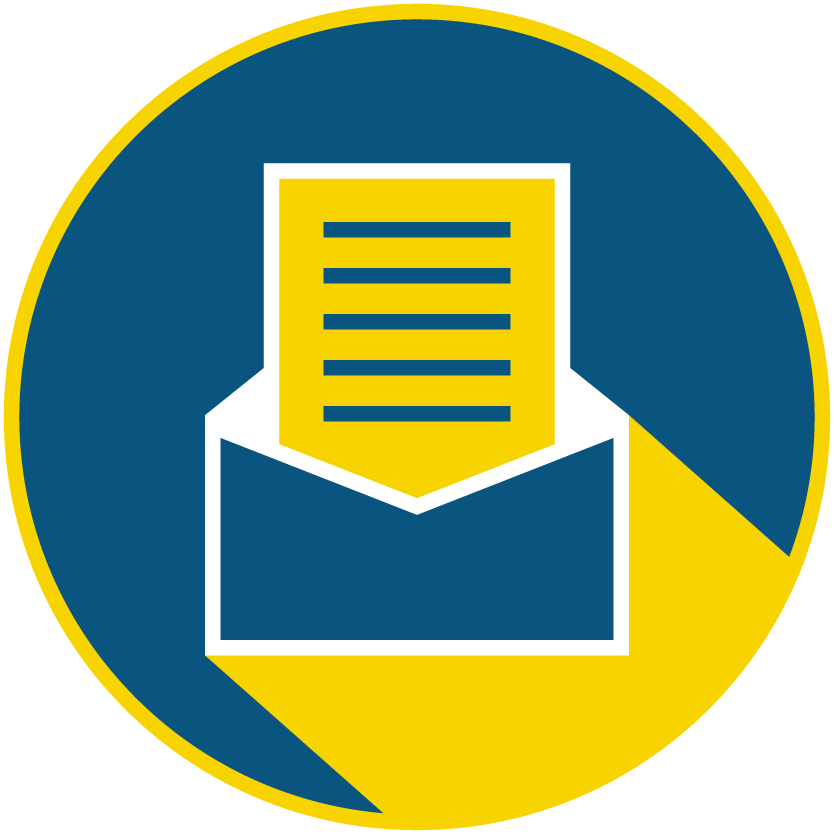 Subscribe to our newsletter to catch every headline.
The legal services industry has long been seen as slow to innovate. Two new products that interface directly with the U.S. Patent and Trademark Office aim to change that. Both are produced by intellectual property (IP) startup Brainbase.

File, one of those new products, applies to the beginning of a trademark's lifecycle, aiming to help companies apply for trademarks with the USPTO. Using AI and an API that plugs into the patent office's database, the technology searches the federal agency's data to ensure trademark availability, selects the proper classification among 45 options and completes the filing process.

The service is available to the first 2,000 users for a one-time fee of $199. That's on top of the $250 filing fee per registration with the USPTO. Hiring a lawyer to complete the trademark filing process can run several thousand dollars.
Brainbase's other new product, Vault, allows companies to import their trademarks – or a competitor's – from the USPTO into a dashboard. For a small monthly fee, users can track whether similar filings that may infringe on those trademarks enter the agency's data system, and can automatically trigger a cease-and-desist letter.
The two new products follow on the startup's beachhead product, Assist, which is already used by Buzzfeed, BBC and Sanrio among others to track the financial performance of their trademark portfolios and identify new exploitation opportunities.
Founded by mid-20s serial entrepreneur Nate Cavanaugh, Venice-based Brainbase sees itself as a technological disruptor of the stodgy IP space. The company has previously raised $15 million to automate intellectual property management, and was nominated one of L.A.'s hottest startups, according to the panelists in dot.LA's VC sentiment survey.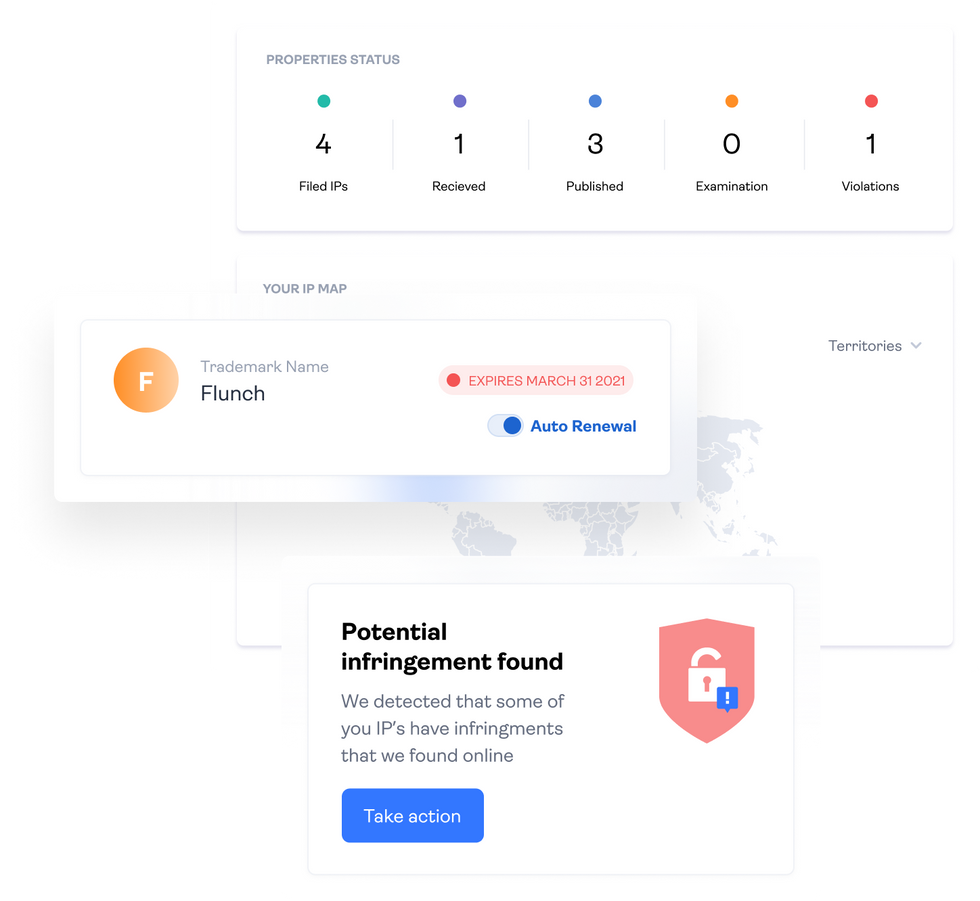 A screenshot of Brainbase's new Vault tool.
Image courtesy of Brainbase
The company's goal is to create an end-to-end suite of software that enables companies to manage the entire lifecycle of a trademark.
"To my knowledge this is the first trademark analytics offering that I've seen," said patent attorney Chris Palermo, who's worked extensively with startups in L.A. and Silicon Valley.
But, he cautions, relying exclusively on automated legal services could create more trouble than it's worth. In particular, sending a cease-and-desist letter without doing research may leave some companies wishing they'd ponied up for advice from a professional.
"Before you actually sign and send one of those, there's a lot you've got to think about," Palermo said. "For example, dispatching a strongly worded letter to another party may create declaratory judgment jurisdiction for that party, where they can sue you first."
Brainbase doesn't suggest its software should replace every company's legal team. In some cases, it highlights how it can help in-house lawyers work with other teams more effectively.
"We are unlocking this black box that is typically the domain of the lawyers and the legal team inside a company, and making the information easily accessible to anybody in the company: marketing, sales, HR," said chief product officer Gautam Godse.
"That allows for the revenue-driving folks and the legal folks to be on the same page," added communications director Greg Holtzman.
Making headway with companies that may wish to add visibility to their trademark portfolios outside the legal team could ruffle some feathers, however.
"They may see some pushback from in-house legal departments because, to some extent, this could threaten the business case for having a larger in-house practice," Palermo said.
Brainbase's new products took nine months to develop and were completed by a team of 15 developers, designers and product managers.
Now that it can offer end-to-end trademark services, Godse said Brainbase will look to expand into other countries, then to other forms of IP, starting with patents before moving to copyrights.
The company declined to disclose figures on its revenues or valuation.
After closing its first fund in December with $25 million in dry power, VamosVentures, which bills itself as the first Latinx-owned venture fund to focus on Latinx and other diverse founders, decided it could stretch its ambitions.
Companies like Apple and Bank of America were knocking on the door, and VamosVentures decided it might as well capitalize on the increasing desire of corporate America to show they cared about diversity as well as a loosening of regulations that made it easier for banks to invest in venture funds.
"We had a good group of folks that didn't make the deadline," said Marcos Gonzalez, founder and managing partner of VamosVentures, who has previously been an angel investor and worked in private equity." A couple new LPs showed up that were really motivated to do something in the DEI [diversity, equity, and inclusion] space and certainly the social justice space."
The fund plans to focus on health and wellness, future of work, consumer packaged goods and financial technology startups.
With the additional checks – which also come from Twitter, the Ford Foundation and the global alternative asset firm TPG, VamosVenture announced this week it has doubled its fund to $50 million. The new investors join PayPal, which signed on last year.
Rather than back more startups, the additional capital will mostly be used to write bigger checks of between $250,000 and $1 million.
"We will be able to take larger ownership positions," Gonzalez said, adding that he will also be able to hire more staff.
Just 2% of VC investment partners in L.A. identify as African American or Latino, according to PledgeLA. Nationally, a 2018 Deloitte study found 80% of investment partners at U.S. venture firms were white and only 3% were Black and 3% Latino.
Gonzalez said he is pleased to see companies like Apple recognizing the value of diversity and promoting more non-white managers.
"When I started this five years ago, there weren't that many. Now you run into one every week," he said. "There's been a lot more momentum around diversity."
From Your Site Articles
Related Articles Around the Web
One day after the family of Carson Bride filed suit against Snap Inc., accusing it of failing to protect the 16-year-old from cyberbullying, the Santa Monica-based company said it would suspend the anonymous messaging apps — YOLO and LMK — Bride was using before he killed himself.
"In light of the serious allegations raised by the lawsuit, and out of an abundance of caution for the safety of the Snapchat community, we are suspending both YOLO and LMK's Snap Kit integrations while we investigate these claims," the company said in a statement.
Bride endured scores of lewd, mean-spirited messages from anonymous senders via the two apps on Snapchat, according to the lawsuit. Both apps have been integrated into Snapchat since 2019 through the company's Snap Kit software.
Snap representatives noted that Snap Kit apps like YOLO and LMK are not a default part of Snapchat, but rather must be downloaded by users.
They added Snap sets safety standards that Snap Kit partners must comply with, which include ostensible safeguards against cyberbullying of the sort to which Bride was subjected. Among other charges, the lawsuit alleges Snap fraudulently misrepresented its safeguards regarding Snap Kit, claiming the company did not live up to its own standards.
Correction: An earlier version of this post said Snapchat had banned the apps. YOLO and LMK have been suspended.
From Your Site Articles
Related Articles Around the Web