Netflix's Live Streaming Woes: Love is Late, but Will It Be Worth It?
Samson Amore
Samson Amore is a reporter for dot.LA. He holds a degree in journalism from Emerson College. Send tips or pitches to samsonamore@dot.la and find him on Twitter @Samsonamore.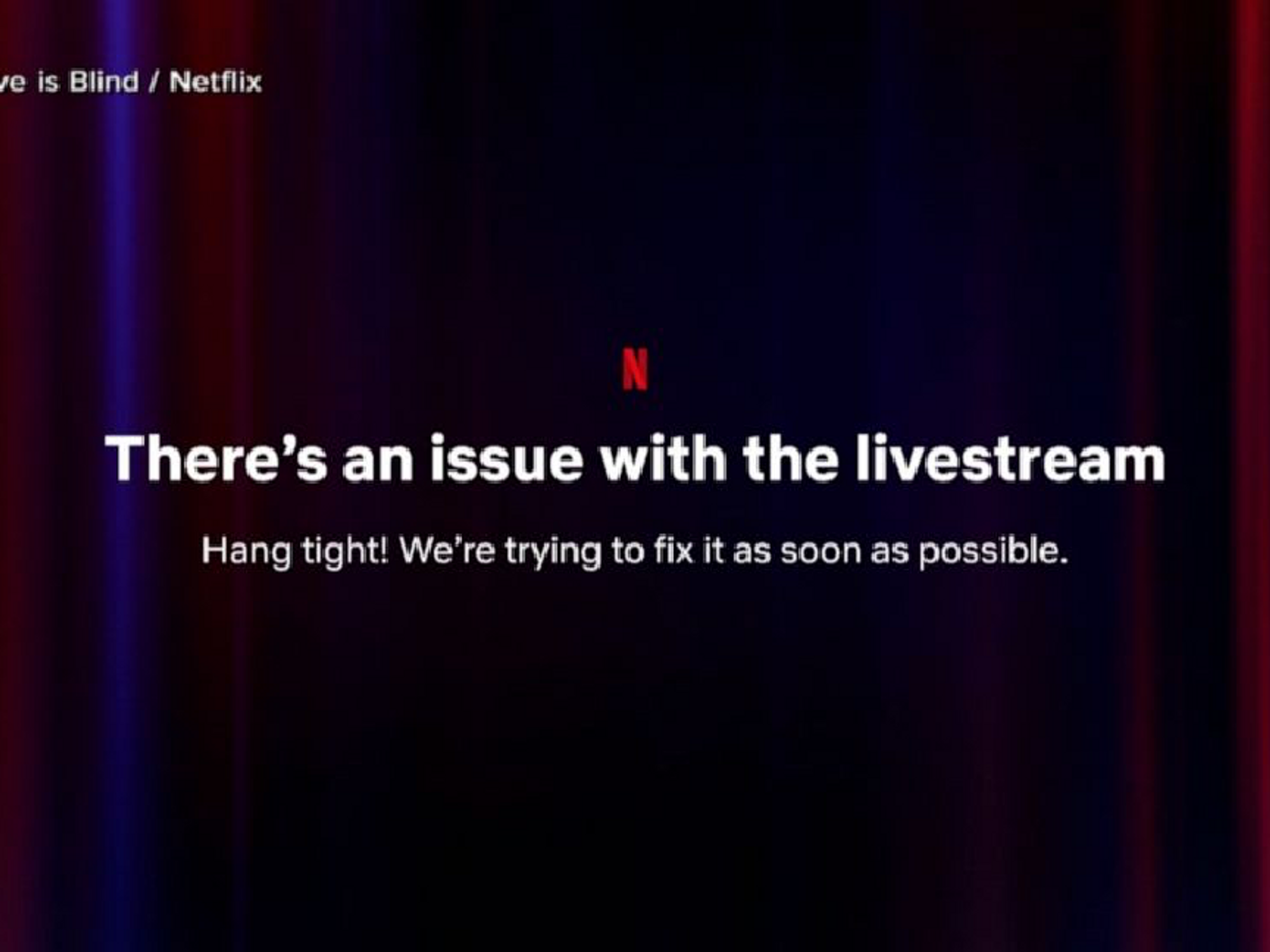 Netflix
This is the web version of dot.LA's daily newsletter. Sign up to get the latest news on Southern California's tech, startup and venture capital scene.
Netflix learned the hard way this weekend that livestreaming a massive global event isn't as easy as simply dialing in.
On Sunday night, the streaming giant promised fans of its reality show "Love is Blind" a live show reuniting past cast members with hosts Nick and Vanessa Lachey. The broadcast was set to begin at 8 p.m. eastern time, but didn't kick off until an hour later – inconveniently for Netflix, the time that rival streamers HBO and Showtime both release their current prestige dramas, "Succession" and "Yellowjackets." And, ironically for Netflix, the delay forced subscribers to consider the fact that cable could have executed the event better.
---
The livestreaming issue even affected Netflix's stock slightly – it was down as much as 3% Monday.
The event was Netflix's second attempt at livestreaming. The first was a live taping of Chris Rock's standup special "Selective Outrage" which debuted in March. This second go was not as smooth as the first.
Instead of immediately playing the live event Sunday, Netflix viewers were treated to over an hour of delay messages promising "it's almost time!" More than an hour after the supposed start time, the company admitted to the technical difficulties, noting, "There's an issue with the livestream. Hang tight! We're trying to fix it as soon as possible." Netflix's Instagram page hosted a live chat with a graphic that read, "love is late. It will be worth it."
Eventually, the live episode was uploaded to Netflix on Monday. And for those tuning in live, people who'd already left the app had to return to fast-forward through about 70 minutes of a loading screen to get to the content. It wasn't the most seamless experience for fans, and it was also an all-too-easy opportunity for Netflix haters and competitors to pile on the criticism. Between price hikes and new restrictions on password sharing, this was another reason for frustrated consumers to air their grievances.
Even Blockbuster rose from the grave to lob shade at the company which helped take it out of existence, tweeting at Netflix Sunday night, "remember renting vhs' from us. You could start it on time no problem… This is what we get."
Reality TV network Bravo also tweeted, "we would never keep you waiting for a Reunion," reminding viewers that cable TV remains the king of live broadcasting.
Even lawmakers had jokes. In reference to a woman who fixed a "Love is Blind" cast member's slacks last-minute during a wedding episode, New York representative Alexandria Ocasio-Cortez tweeted Sunday night, "Someone call Lucia the seamstress to fix this. I believe in her."
Cheesecake Factory made jokes. Kentucky Fried Chicken too.
It's unclear what caused the drastic delays. It's possible that the company didn't account for how many people would try and watch the live stream. If the system hosting the stream isn't set up to handle a large amount of data requests from people trying to watch the content, then it can crash. And while Netflix didn't say how many people tuned in to the "Love is Blind" livestream, the show has a massive global following. According to Nielsen, people watched over 13 billion minutes of the program in 2022, making it the eighth most-watched streaming series in the U.S.
It's worth noting that plenty of other live events have hiccups when it comes to streaming. Cable, while the best at it, is not immune, especially to latency issues, which in particular frustrates sports fans during big events. Even some of the larger carriers will be slightly delayed compared to the action in the stadium.
For its part, Netflix did address the issue, going so far as to apologize to anyone who tuned in for the liveshow for wasting their afternoon in a statement it posted an hour and a half after the livestream was supposed to begin.
That said, Netflix is eager to grow its advertising business, and it recently offered a lower-priced tier with ads that has so far been well-received by customers. In addition, the company knows that live events are what its real clientele – the advertisers – want to buy into, and its keen to prove it can handle it. With a deal to livestream the 2024 Screen Actors Guild awards, Netflix now has a deadline for figuring out its technical issues before this debacle repeats itself.
Samson Amore
Samson Amore is a reporter for dot.LA. He holds a degree in journalism from Emerson College. Send tips or pitches to samsonamore@dot.la and find him on Twitter @Samsonamore.
https://twitter.com/samsonamore
samsonamore@dot.la