sports
sports
Rocky Collis grew up playing baseball—but once he hung up his cleats to become an attorney, he found that his passion for sports still needed to be filled. He found some of that fulfillment by watching his younger brother Luke, a quarterback, train with renowned throwing mechanics guru Tom House.
Those sessions gave birth to Mustard, which was founded in 2019 by the Collis brothers, House and performance coach Jason Goldsmith. Mustard is a sports training app that allows users to capture their training on video via their mobile devices, evaluates their mechanics and performance and provides them with coaching and feedback on how to improve.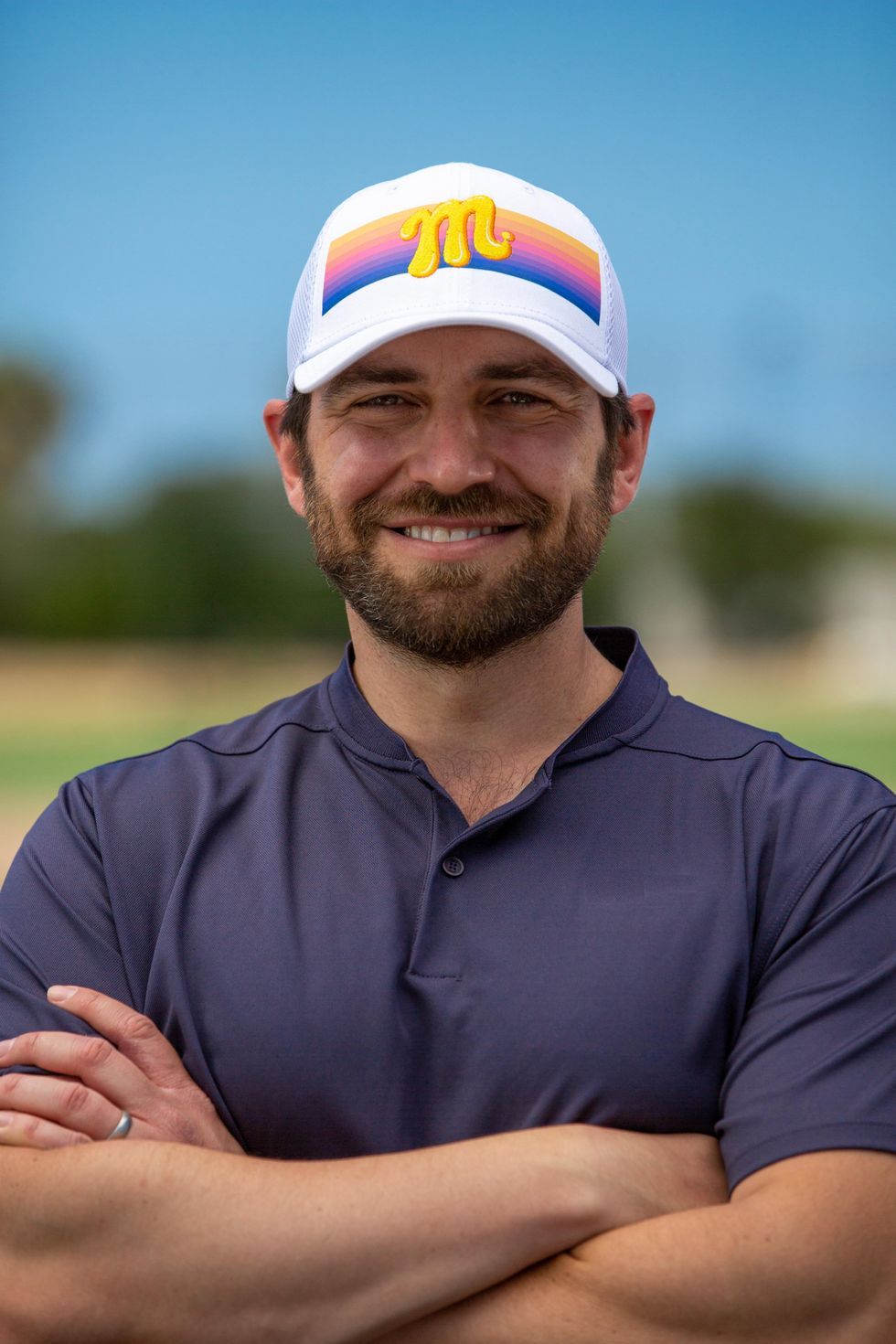 Rocky Collis, CEO of Mustard.
Courtesy of Mustard
On Tuesday, the Los Angeles-based startup (which is not to be confused with the food video app of the same name) announced that it has raised a $3.75 million seed funding round led by the Lake Nona Sports & Health Tech Fund. The round included investors from across the world of sports like Dallas Mavericks owner Mark Cuban, NFL legend Ronnie Lott and pro golfer Justin Rose, who joined existing investors like former NFL quarterback Drew Brees and baseball legend Nolan Ryan.

The funding takes Mustard's total capital raised to $6 million. That money will be used to grow the startup's tech team, and expand its training offerings beyond its core sport of baseball and into football, golf, soccer, tennis and basketball.
While Major League Baseball pitchers are among those who use Mustard, Collis said the app's target audience is adolescent athletes who are just learning their craft.
"If we can get this technology and elite coaching in the hands of kids when they're a little bit younger than 14, we think that's where we can really make a difference in their lives and help them keep playing sports that they're passionate about longer than they otherwise would," Collis told dot.LA.
Mustard will also offer its users mental performance training, in the form of live and recorded content led by Goldsmith and other advisors.

Unlike other sports training offerings, Mustard offers most of its features at no cost. While it plans to add premium features for a subscription fee in the coming months, "the soul of the company is to help kids regardless of resources, and that's what we're going to continue to do," Collis said.
From Your Site Articles
Related Articles Around the Web
Fan Controlled Football, a pro football league that lets spectators who own crypto call the plays in the game, has raised a $40 million Series A funding round as it looks to double its team count ahead of its upcoming second season.
Animoca Brands and Delphi Digital led the round, which included participation from investors Gemini Frontier Fund, 6th Man Ventures, Jump Crypto, Red Beard Ventures, Spartan Capital, NGC Ventures, executives at GoldenTree Asset Management and The Sandbox co-founder Sebastien Borget.
Additionally, Hermosa Beach-based FCF reported that all of the investors who backed its $11 million seed round in June 2020 joined the Series A, including Lightspeed Venture Partners, Talis Capital, Verizon Ventures, Correlation Ventures and Basecamp Fund.
Fan Controlled Football had raised $11.4 million in capital prior to the Series A, according to PitchBook data, which means the new funding would take its total amount raised to date to more than $50 million.
Representatives for FCF did not immediately return requests for comment.
FCF allows fans who hold NFTs to vote on the plays being called in real-time during games; the more engaged that a fan is, the more their voting power increases. The league's matches are played in Atlanta at a studio arena that is set up to livestream the action, with games streamed on NBC's Peacock app and NBCLX digital network, Twitch and DAZN.
The league debuted last February with four teams owned by celebrities and pro football players including former NFL star Marshawn Lynch, Los Angeles Chargers running back Austin Ekeler, Tampa Bay Buccaneers cornerback Richard Sherman, Minnesota Vikings running back Dalvin Cook and Migos rapper Quavo.
With the new funding, FCF said it is doubling the size of the league from four teams to eight, with two of the new teams owned by leaders of popular NFT communities Bored Ape Yacht Club and Gutter Cat Cang. Another team, Knights of Degen, is led by the likes of "Entourage" actor Jerry Ferrara and former NFL players (and twin brothers) Ronde and Tiki Barber, while Team 8OKI is led by DJ and crypto advocate Steve Aoki.
"The successful strides that FCF is making within web3 are exciting...it's a privilege to be involved," Aoki said in a statement, adding that he is "really looking forward to building out our NFT community of passionate fans that'll be calling all the shots for our team."
FCF's upcoming second season begins on April 16.
From Your Site Articles
Related Articles Around the Web
A new year offers a fresh start, and as COVID concerns persist, staying healthy is at the top of everyone's mind. But lots of people have trouble meeting their fitness goals; according to one study, 73% of people abandon their New Year's exercise resolutions before hitting their target.
Masters, a new fitness app that launches today, is betting it has the formula to keep people committed to their workout regimens: training with pro athletes.
The Los Angeles-based startup offers anyone the opportunity to train with world-renowned athletes like former NBA sharpshooter JJ Redick, WNBA All-Star A'ja Wilson, and Olympic snowboarding champion Shaun White. Now available on iOS and slated for Android release later this year, Masters allows users to chat with the pro athlete leading their fitness program—a feature that founder and ultrarunner Greg Drach believes will encourage lasting fitness routines.
"Pro athletes actually calculate this idea extremely well because they don't train just to train—they train to be able to perform and succeed in their specific disciplines," Drach told dot.LA. "There's a lot of research to show that if you model your routine after somebody who's been successful, then you're more likely to establish healthy habits for yourself and remain engaged over a longer period of time."
Drach is no stranger to fitness success. Together with Christian Dörffer, he created Midnight Runners in 2015, a group that hosts weekly running events in over a dozen cities around the world, including L.A. The inspiration for his new venture came from the social component of the urban running community that Midnight Runners helped foster.
"Many people have found their friends and loved ones from those communities that are now spanning five continents and 15 global cities," he said. "We just derive so much joy from seeing all the benefits that people have when they're actively engaging in training and fitness."
Alongside its launch Wednesday, Masters announced that it closed a $2.7 million seed funding round led by Sweet Capital; the round also included participation by several of Masters' athlete-instructors, including White and Wilson. Drach said any new money raised would focus on further enhancing the training experience for subscribers, adding more training programs in existing sports, bringing on new athletes in new sports categories, and building out the app's personalization and community features.
Similar to fitness tracking apps like Strava, Masters offers a gamified interface that displays metrics such as total time trained, daily streaks, and milestone badges. Though the programs vary by athlete, user fitness level, and fitness goals—for example, some are focused on cardio, while others are centered around strength training—each is built around a training regimen of three-to four hours per week, with programs lasting between 28 to 30 days.
"There are lots of great training apps but they are all too specialized in my opinion," according to Olympic skier and Masters instructor Gus Kenworthy. "My training doesn't just involve lifting weights, riding a bike, or meditating—it's so much more than that. Masters is really the first training app I've seen that gives people access to holistic programs."
Masters subscriptions run monthly ($39.99), quarterly ($79.99) or semiannually ($99.99). The app's athletes-slash-instructors dole out the week's exercise routines every Sunday—a steady enough clip to encourage regular exercise, Drach believes. "There's something to be said about committing to your training, and that's really something that we're also trying to communicate," he said.
From Your Site Articles
Related Articles Around the Web