sports
The orange Gatorade cooler is a staple on the bench of nearly every professional sport. But according to Mubarak Malik, the former New York Knicks training director, there are few athletes who actually drink the cooler's offerings.
"It's a marketing ploy," Malik said. "I'd say about 80% of players just drink water, the other half just just drink hydration tablets."
About 10 years ago, Malik started creating his own sports drinks at home. "Back then, I felt like we were just way behind in nutrition," he said. He started a pilot project, creating different formulations and giving them to athletes for testing. Last year, he met Kyle Kuzma, the Lakers' small forward, through a mutual business partner. He gave Kuzma a beverage to test out during the NBA finals. "We decided to become business partners soon after," he said.
This year, both Kuzma and Malik are taking that drink public, with the launch of a beverage company called Drink Barcode (the drink itself is just called Barcode). The company has six full time employees, is headquartered in Los Angeles and raised $5 million in funding (Malik said Drink Barcode isn't seeking additional funding at the moment). The drink is currently available online through Barcode's website, but Malik said it will be available at six Erewhon locations in Los Angeles on June 1.
Barcode consists largely of a combination of coconut water, regular water, and three key ingredients: vitamin D, magnesium, and adaptogens, which are plant and mushroom extracts. It's a bit of a departure from traditional sports drinks, but Malik is betting that athletes, professional or otherwise are looking for something different.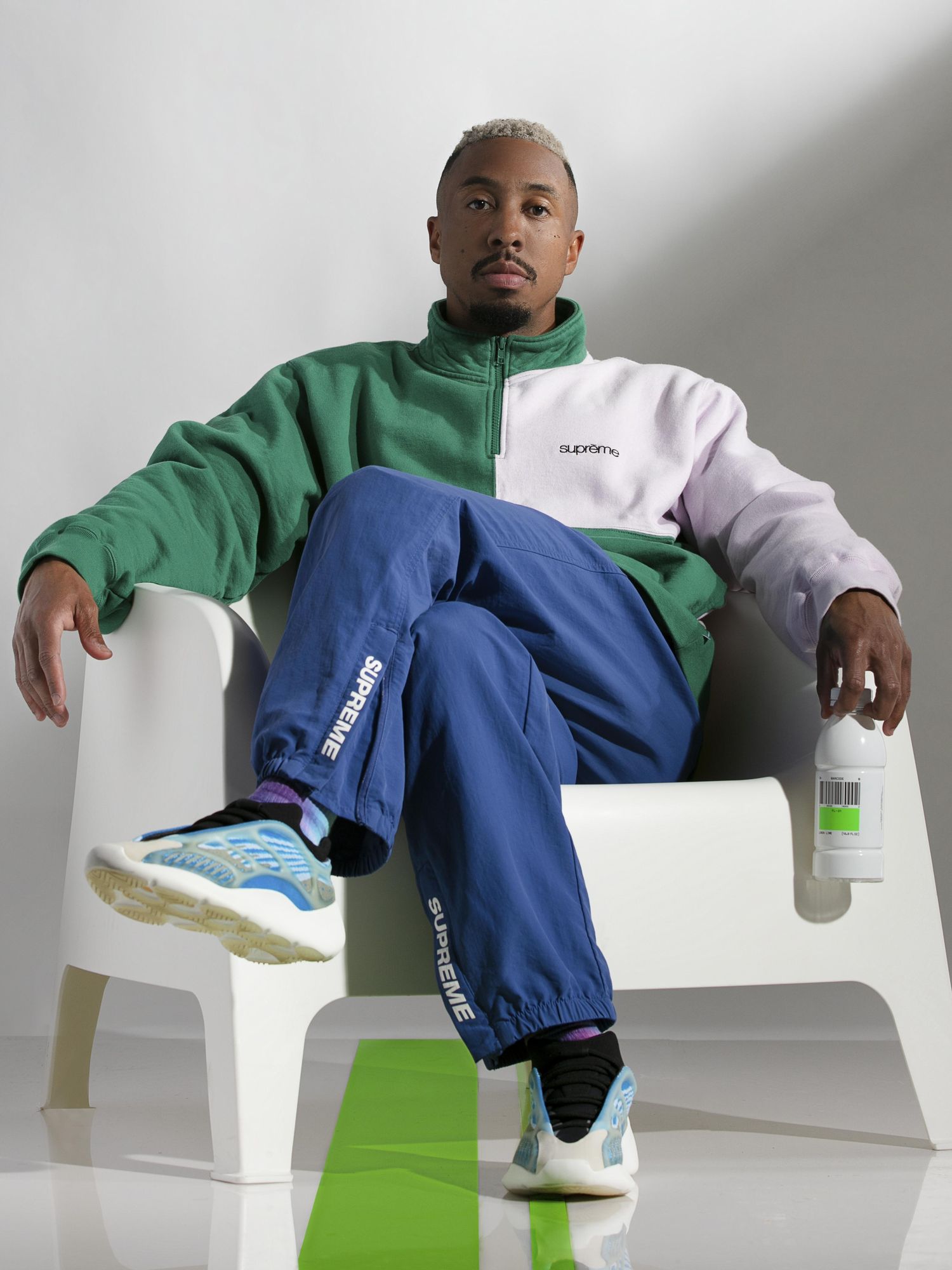 Former New York Knicks training director Mubarak Malik
Traditionally, sports drinks either help provide a quick burst of energy during a workout, like a traditional Gatorade, or are used to help aid recovery, like Gatorade's G Series Recover. Depending on what niche the drink wants to occupy, it might lean more heavily into one camp or the other. The in-game options might provide sugar and carbohydrates. The post-game option might combine carbohydrates with protein to aid recovery.
A newer generation of drinks, like Barcode, is looking to do things differently. Barcode, Malik said, is supposed to be used during games, before games, or by non-athletes who aren't working out. Carbohydrates, sugars, and proteins aren't the focus – Barcode contains just 2 grams of sugar, 6 grams of carbohydrates and no protein. Malik explains the protein's absence: "The recovery inducing properties come from the adaptogens and vitamin D."
The concept that adaptogens and vitamins might be the next frontier in performance drinks, though not definitively proven, is spawning a new cadre of drinks.

There's Gatorade's Bolt24, which advertises high levels of vitamins A and C, or BodyArmor Lyte, which has no added sugar. These are "functional beverages," intended to be light on carbs, calories and sugar, and, in theory, made for drinking during exercise or during the day, just as Barcode is.

Traditional Gatorade still commands 72% of the sports drink market share, but "functional beverage industry"—performance-oriented drinks that include nutrients —is expected to grow at a compound annual growth rate of 8% after 2021. The largest segment of the functional beverage industry, according to Research and Markets Report, is the health and wellness sector.
Barcode leans especially hard into the wellness aspect of its formula. Barcode's "adaptogen-rich" descriptor refers to the presence of mushroom and plant extract that have been studied in herbal medicine circles, but are relatively new to sports performance drinks. The watermelon version of the drink contains a cordyceps fungus extract. The lemon lime flavor contains extract from a plant called rhodiola rosea, Malik said.
There are a handful of scientific studies on the efficacy of mushroom extracts, particularly for cordyceps. Some do suggest anti-inflammatory properties and immune boosting potential. As for rhodiola rosea, the European Medicines Agency does note that it "can be used for the temporary relief of symptoms of stress, such as fatigue or sense of weakness."
Still, this research is relatively anecdotal. Guillermo Escalante, a professor of kinesiology at California State University, San Bernardino cautions that research into adaptogens is in its early stages. "I would say it's way too early to completely say that they don't work, but it's way too early to say that they're the next greatest thing, he said. "I think the verdict is still out."
Adaptogens aside, Barcode may be able to bridge the gap between sports drink and wellness drink because of its low sugar content. One of the most common criticisms of sports drinks is that they're more like sodas than performance beverages, and not needed by the majority of athletes, especially adolescents.
If most people have eaten about two hours before exercising, "that's going to cover you during your workout," said Escalante. Those athletes might not need a quick bit of carbohydrates or sugar to keep going.
Barcode, which aims to keep one foot in the world of elite athletics and one in the regular world, does seem to have kept sugar and calorie levels low enough to stay out of soda territory.
It contains about 2 grams of sugar and 30 calories compared to Bolt24's 19 grams of sugar and 80 calories, and BodyArmor's 21 grams of sugar and 90 calories.
"Athletes are being funneled to healthier food during the season, so their palettes are being trained to have a healthier product that's not super sweet. But it also is sweet enough to feed that need of having a sugary drink that they've been relying on for years," he said.
Barcode's sweetness has been refined to reflect the increasingly picky palettes of elite athletes, an important step, because it's their reactions to the drink, and use of it that will probably dictate its success—as would on-court achievement.
Sports drinks often become household names through association with athletic achievement. In 1965, Gatorade was invented at the University of Florida. In 1966, the Florida Gators won the Orange Bowl for the first time. In 1969, the Kansas City Chiefs were the first NFL team to use Gatorade. That year they also won Super Bowl IV.
Barcode could have a similar origin story. Malik said he's tested the drink in real games, and confirms that Kuzma was drinking Barcode during last season's NBA finals.
"This product has won a championship," he said.
From Your Site Articles
Related Articles Around the Web
There's finally a media company that will make women's sports a top priority.
Olympic medalists Alex Morgan, Chloe Kim, Simone Manuel and Sue Bird are launching TOGETHXR, created specifically for Gen Z and millennial women. The four hope to elevate the stories and voices of women in sports, as well as intersecting areas like activism, culture, wellness and beauty.
Although women make up almost half of all participants in sports, they receive less than 5% of sports coverage, according to a report by the United Nations Educational, Scientific and Cultural Organization.
"We have our individual legacies as athletes through championships and medals, but what's most important to us is championing for the next generation of women — because that will be the legacy that lasts," said the co-founders in a release announcing the launch.
The company will debut its premiere video series on YouTube, the first being "Fenom," a docuseries that follows 17-year-old boxing champion Chantel "Chicanita" Navarro, as she trains for the Olympics. "Kaikaina," which means "little sister" in Hawaiian, will be the company's second series. It launches next month and features a group of young Hawaiian surfers.
The company is also planning content that features female athletes and sports journalists like Maya Brady, Ibtihaj Muhammad and Taylor Rooks.
TOGETHXR is backed by Magnet Companies with a "mid-seven figure investment," according to the New York Times. It comes as women's sports has drawn a growing audience and with it a greater appeal for advertisers.
Morgan was captain of the U.S. Women's National Soccer Team last year and has won two World Cups and an Olympic gold medal. Bird has won four gold medals as well as four WNBA titles. Manuel won four gold medals at the 2016 Olympics and was the first Black woman to win an Olympic swimming individual event. Kim was the youngest gold medalist in the 2018 Olympic Games snowboarding half pipe competition.
The new company joins a growing number of media and entertainment companies founded by athletes, including Kevin Durant's Thirty Five Media and LeBron James's Springhill Company, but TOGETHXR stands apart in being entirely female founded.
Related Articles Around the Web
Honey has inked a deal with the L.A. Galaxy to be stitched on their right sleeve. The online shopping and discount platform will also be an online deals partner, offering discounts for L.A. Galaxy fan merchandise, and it will be featured in the Galaxy's online marketing content.
The L.A. Galaxy will launch its secondary jersey on Wednesday with the Honey logo. Herbalife Nutrition will continue to be featured on the jersey front, as it has been for the past few years.

It's the first time the team has partnered with Honey.
"We are always looking for brands that are headquartered in Southern California to align ourselves with to help communicate a message of community and SoCal atmosphere to our fans," said Robert Vartan, vice president of AEG Global Partnerships, which owns the L.A. Galaxy. "Honey was [a partner] that we felt was the right time, the right place."
Honey is a free online platform that notifies users about price drops and discounts on ecommerce sites. The Los Angeles-based startup was acquired by PayPal in 2019 for $4 billion. The Galaxy is not its first sports team partner — last year it expanded a partnership with the L.A. Clippers, and the Honey logo was also stitched onto their jersey.
The NBA was the first major U.S. sports company to let teams display partners on player jerseys, and prior to being on the Clippers' sleeve, Honey had its logo on practice jerseys and the Clippers' training center. Last season was the first time the MLS allowed sponsored sleeve patches. Vartan said that the featured jersey icon is one of the most impactful ways for sponsors to advertise their brand.
"I think the idea is to always start somewhere," he said. "But to start somewhere impactful, and we felt like in our sports kit, being on our jersey, on the sleeve is a great way to launch in a really impactful way for them."
The Major League Soccer season begins on April 17, and will have a regular 2021 season, but without fans in the stands.

"Just like every sports team, we are following all the rules and regulations and guidelines set by the public health department locally and with the state," said Vartan. "Our goal is just optimistically to be there when we do get the approval to [have fans back]."
From Your Site Articles
Related Articles Around the Web