Plenty Farms via Samson Amore
In the middle of downtown Compton, California, fresh produce is scarce. According to the Compton Chamber of Commerce, the city is both a food desert and also a food swamp.
Drive through Alameda St. or Rosecrans Ave., and you'll notice that grocery chains are sparse but fast food joints are numerous: Jack in the Box, McDonald's, Popeye's, IHOP. With the exception of a Walmart Supercenter off Long Beach Blvd., I couldn't identify anywhere else to get fresh produce, unless it was a small, local corner store.
Agricultural tech startup Plenty, co-founded in 2014 in San Francisco by chief science officer Nate Storey, aims to help the city of Compton access healthier food by installing complex indoor vertical farms in warehouses and industrial areas that otherwise don't have farming land.
Plenty's intricate vertical farming operation in Compton opened May 18. It's the company's second farm after a test facility in San Francisco and the largest yet—the farm produces roughly 20 times the output of the Bay Area facility, according to Plenty spokesperson Erin Santy. Once it's running at full capacity, Plenty's indoor Compton farm is expected to produce 4.5 million pounds of food per year on about 1% of the land a regular terrestrial farm would need.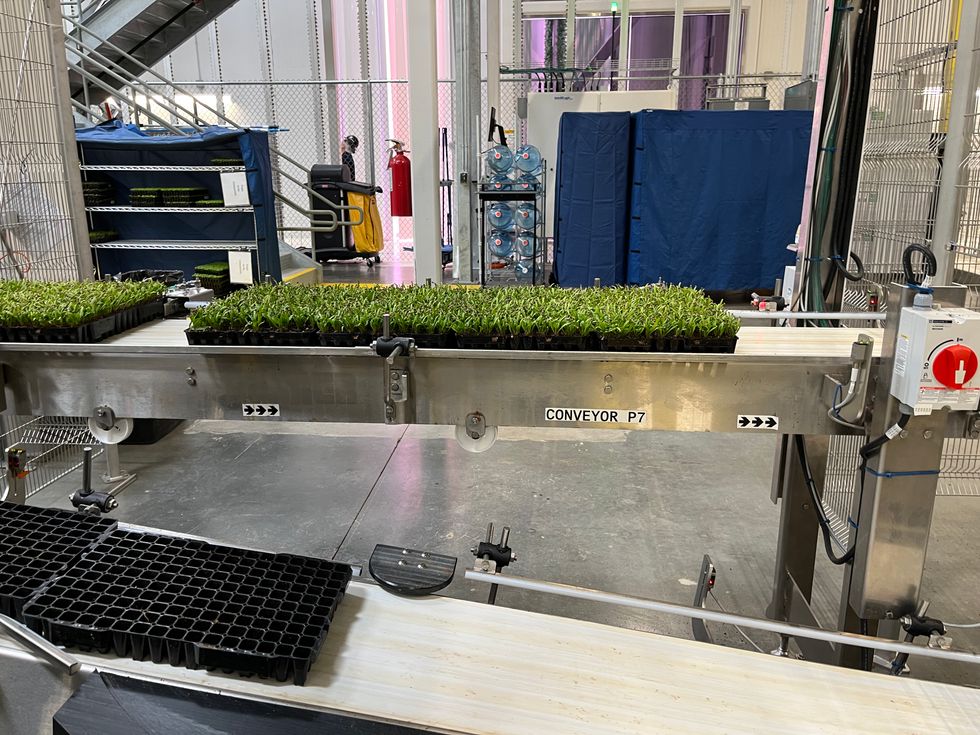 Plenty Farms
Plenty's connections with local grocers
The Plenty farm I toured in Compton was nearly 100,000 square feet and home to roughly 80 full-time employees — 30% of whom are local hires. And, unlike seasonal agriculture work, these locals can work at Plenty's indoor farm year-round.
Right now the Compton farm only grows leafy greens (baby kale, baby arugula, crispy lettuce, spinach) with plans to expand to crops people want to eat year-round regardless of growing seasons. "Greens are pretty simple from a lifecycle standpoint," Storey explained. "They're relatively inexpensive to grow, there's not a whole lot of risk because they grow really fast."
Storey said that Plenty is working with local grocers in Compton plus big-name brands like Bristol Farms and Amazon's Whole Foods to distribute its produce to their neighboring stores. It also recently inked a deal to sell its vertically farmed greens directly to Walmart.
Right now, Plenty's produce retails at health food stores for about the same price as other organics but Storey said he hopes to see that price drop so more people can afford it. "Over the next couple of years, it's going to become cheaper to build our farms, and it will be [cheaper] to buy the land that can produce the same amount of food… and cheaper if you compare on quality," Storey said.
How the robot-powered farm works
Walking into Plenty's Compton farm, I passed by a chute pushing composted produce out into a bin in the parking lot. From the outside I caught a whiff of an overpowering smell of fresh spinach and lettuce, which somehow still smelled fresh despite sitting in the beating sun. The entire air around Plenty's farm seemed to me to carry the scent of arugula.
Before touring the hydroponic farm, which is a large series of maze-like rooms filled with heavy machinery, I readied myself in what felt like a hazmat suit getup: Hair and beard nets, hard hat, goggles, coveralls, shoe coverings and plastic bags over them. Santy directed me to thoroughly sanitize my hands before we entered the facility – removing any lingering germs helps negate the need for pesticides.
Unlike other farming outfits which usually stack horizontal shelves of seedlings, Plenty uses metal pylons about two stories high to grow its greens vertically. Plant roots run down the long hollow center of the towers and the nutrient-rich water they produce runs off into a trough below to be recycled. Storey told me that Plenty uses about 90% less water than field-based growers—a clear advantage for Plenty, since it operates in a drought-stricken state and the Colorado River, California's main source of water for agricultural operations as well as in other western states, is drying up.
When Plenty's greens are ready to harvest, a huge bright yellow robotic arm brings the towers down from their hanging places on the ceiling, and harvests the greens to be packed.
Plenty's indoor LED lights are staggeringly bright, and designed to mimic the sun's peak output, around the clock. "The big problem in these farms is energy," Storey said. "Plants will use a lot more energy than we give them, so if we give them more energy per plant, we'll get twice the growth rate."
But the lights aren't even the most high-tech part of the facility. Most of the processes at Plenty's plant, from planting seeds to watering them, cleaning, harvesting and packing them, are all done by robots with trained human operators wearing earplugs standing by to oversee the processes every step of the way..
Most of the robots Plenty uses were bought off the shelf rather than customized, Storey said. All of Plenty's robots are made by Fanuc, a Michigan-based supplier. During my tour, Santy pointed out that Plenty's engineers had developed special tweezer-like pincers as "fingers" for some robots tasked with sorting through produce. The size of these bots varies immensely from smaller mechanisms used to feed seeds into small trays and pack them down, to large armlike robots that move the large vertical farming towers with greens around the facility and harvest them.
"The ideal for us is to be able to buy things off the shelf, because it's cheaper and it's easier if someone else is responsible for the design and manufacturing," Storey told me. "The vertical plane architecture is fundamental to who we are as a business because we can put way more energy and light into the system."
Storey likened Plenty's footprint to a soccer field: The goal box of the field would be how much land Plenty uses to produce the same amount of food as the rest of a typical farm's land.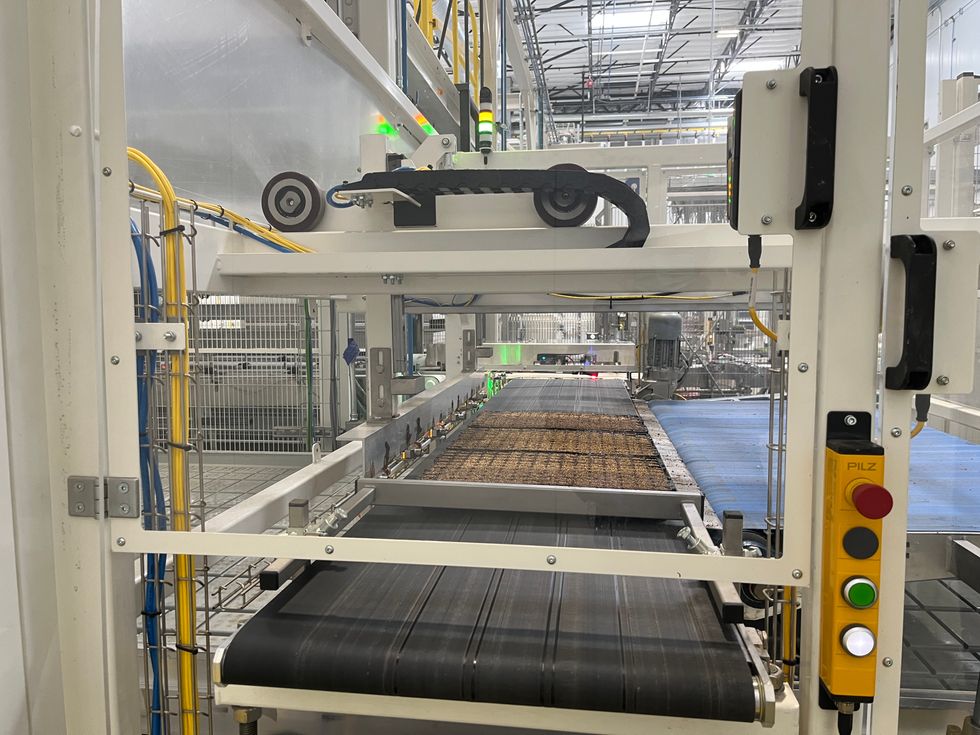 Samson Amore
The challenges of vertical farming
Even though Plenty recycles much of its water, the electric bill isn't cheap. Storey said he thinks the overall agricultural industry has to invest more in tech to bring prices of equipment down.
"A major challenge for the industry is, they just expected to ride all of the gains from other industries, like LEDs. They haven't done enough internal investment, to kind of work out the ideal economics," Storey said. This cost curve is steep especially as global energy prices continue to rise. "The amount of money that it takes to stand up farms is high enough that it's going to select for a few large businesses, rather than lots of teeny tiny competitors all over the place," said Storey."It's an awfully tough business."
Plenty has raised roughly $1 billion to date, Storey said. Funding came from investors including SoftBank, Walmart, and One Madison Group. Most recently, Plenty raised a $400 million Series E round last January.
Storey said he aims to transition Plenty's operations to renewable energy once it's cost-effective. "Energy is becoming more sustainable at a pace that no one expected," he noted. "We're betting on a future that's much more renewable than it is today when it comes to electrical power… We're super concerned about power, it's a major part of our costs."
There's indications that the vertical farming market is on the rise. Grand View Research reported last year that the global vertical farming industry is expected to grow more than 25% to $33 billion by 2030. And farms like Plenty's are leading the charge, a separate study estimated North American operations make up 35% of vertical farming done today.
How the produce tastes
Being grown in a clean environment means no pesticides, so the greens could be eaten without washing and were both tastier and crisper than anything I've ever found at a grocery store. Those I took home lasted about a week.
I'm no professional food reviewer, and I'm also not typically one to eat greens on their own. But the sheer density of taste (and smell!) packed into a small leaf of arugula from Plenty's farm was remarkable. I found myself eating handfuls of it raw. And as someone who's usually a fan of dressing, I must add that Plenty's produce really didn't need it – a splash of lemon juice and a bit of fresh black pepper, if I was feeling spicy, was sufficient.
According to Storey, arid areas like southwestern deserts can especially benefit from farming indoors. "The world is entering a phase where the fields will become less dependable," he said. "People will have less reliable access to fresh produce, in particular [as] fresh water is more scarce."
Which is why Plenty is ambitiously expanding. It recently made a deal with real estate firm Realty Income for up to $1 billion in financing to build more facilities. The first investment from the investment will be $40 million dedicated to securing land and building the infrastructure for Plenty's planned third operation, a strawberry farm that's a joint venture with Driscoll's and will open in Virginia in 2024.