Another Round of Layoffs Points to the Growing Tension Within the Tech Industry
Lon Harris
Lon Harris is a contributor to dot.LA. His work has also appeared on ScreenJunkies, RottenTomatoes and Inside Streaming.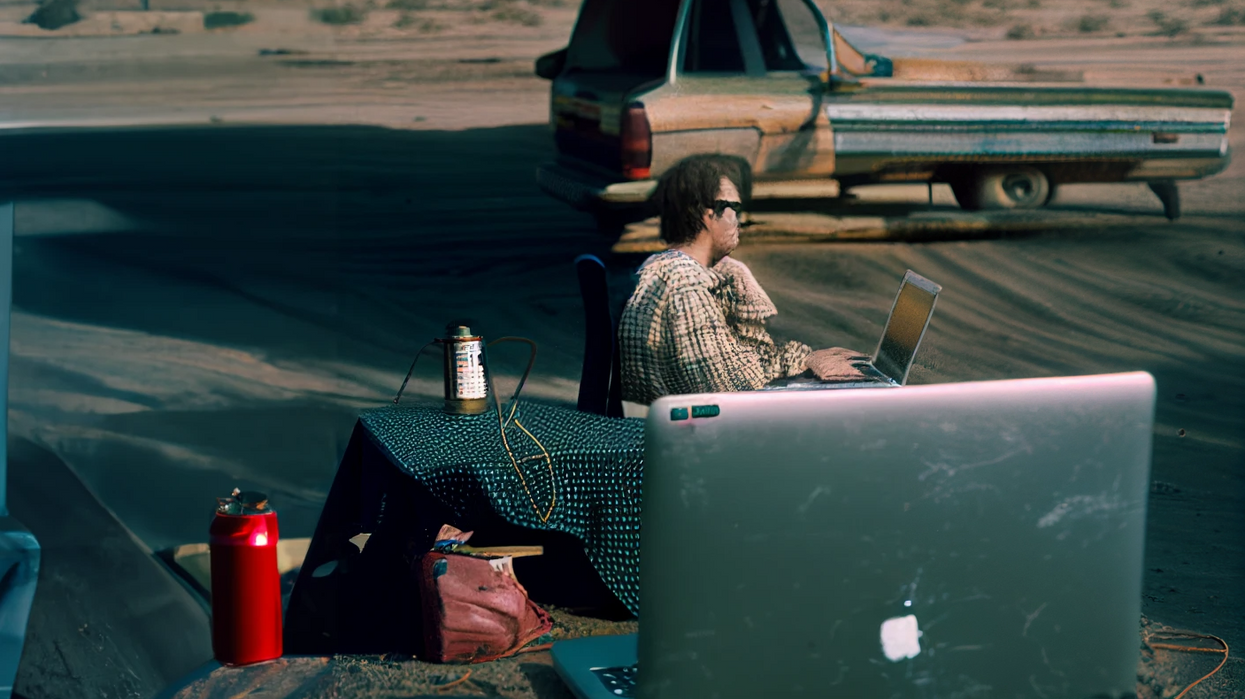 Drew Grant Midjourney
According to a new report from Bloomberg, Facebook and Instagram owner Meta are planning a fresh, significant round of layoffs that could happen as soon as this week. Thousands of employees are expected to lose their jobs, and that's after the company cut 11,000 workers – 13% of its total workforce – in November of last year.
The November cuts were part of an ongoing project Meta leadership has dubbed "flattening," an attempt to reorganize the entire company from the top-down to make it more "nimble." CEO Mark Zuckerberg has dubbed 2023 Meta's "Year of Efficiency," in an attempt to familiarize employees with his thinking and prepare them for the changes to come. Broadly, the thinking goes that, while multiple layers of management and supervision make organizations more predictable and reliable, the bureaucracies ultimately stifle innovation and individual employee development. As well, they make the organizations slower to react to change, because so many different individuals on so many layers have to re-evaluate and alter their workflows.
The latest round of cuts is not directly connected to the flattening plan, according to internal sources who spoke with Bloomberg, but will be made out of necessity, due to a downturn in ad revenue and a shift in focus toward the Metaverse. They're the latest indication of Meta's increasing desperation for new revenue streams. (Fortune reports that the layoffs ALONE likely cost Meta around $88,000 per employee.)
Regardless of the specific motivations behind the layoffs, and beyond their immediate costs, dropping so much staff in so little time is bound to have some ongoing consequences and ripple effects. Even before Bloomberg's report about new layoffs, Meta's flattening project and "Year of Efficiency" announcement was already being blamed for a downtown in productivity at the company. In February, the Financial Times reported that Meta managers lacked clarity around their team budgets, headcounts, and other important information, making them functionally unable to plan for their workloads and ongoing projects. Some staffers told FT that "zero work" was being done amid all the uncertainty, adding that the Year of Efficiency began with "a bunch of people getting paid to do nothing."
Elon Musk's Twitter has also entered the "Find Out" phase after F*cking Around with layoffs over the past several months. On two separate recent occasions, minor code changes to the microblogging platform and social network caused widespread problems and outages. Most recently, on Monday, what Musk described as a "small API change" behind the scenes interrupted Twitter users' ability to post both links and images. Musk blamed an "extremely brittle… code stack" which will ultimately require a "complete rewrite" to fully repair, but it's worth pointing out that Twitter rarely had these kinds of widespread major outages before letting go of a considerable chunk of its engineering squad.
Beyond the organizational and practical impacts of losing so many people so quickly, there are also bound to be long-term implications for recruitment and morale. On Monday, the same day that links and images broke platform-wide, Musk was confronted publicly on the app by an Icelandic employee (or former employee, depending on who you believe) named Haraldur Thorleifsson, or Halli for short.
Thorleifsson – who has muscular dystrophy and uses a wheelchair for mobility – founded a creative agency named Ueno in 2014, which had partnered with Twitter on a number of design and product experiences over the years. In 2021, well prior to Musk's direct involvement with the company, Twitter acquired Ueno and brought in Thorleifsson as an employee. He explained in a series of tweets to Musk on Monday that he'd lost remote access to Twitter's system, and was unable to confirm with HR whether or not this was because he'd been terminated from the company. Musk responded aggressively, with a string of questions and challenges implying that Thorleifsson's work was not providing value, and even referring to his disability as an "excuse." He added "you can't be fired if you weren't working in the first place." Thorleifsson's stinging response, sent on Tuesday morning, now has nearly 30,000 retweets and over 200,000 likes, at the time of this newsletter's publication.
PR-wise, it's probably a bad look for Musk, and he may even be potentially running afoul of some Californian and international labor laws, if the thread's many commenter-spectators are to be believed. But the situation also points to a larger tension within the technology industry, between managers who rely on what they view as essentially an infinite supply of fresh young talent eager to work for big brands and hot startups, and a pandemic-hardened workforce that has come to expect more equitable treatment and compensation.
University College of London professor Anthony Klotz – who originally coined the term "The Great Resignation" in May 2021 to refer to all the people who quit their job during the pandemic – predicts that the trend will finally even out this year, as labor shortages abate and more people gradually return to offices. (Klotz cites the potential for a recession, which will potentially force some people to return to jobs they were maybe happy to have left, as a major factor.)
But while most charts, including data from the US Bureau of Labor Statistics, show the resignation trend becoming more "muted," there are signs that the Great Resignation may still be influencing overall decision-making on both sides of the employee-employer divide. According to HR Digest, companies that invested in employee development and efforts to attract and keep talent saw a 58% increase in employee retention in 2022. On a recent LinkedIn survey, 61% of US employees said they were considering resigning from their jobs in 2023.
In the aggregate, it's probably too soon to tell whether or not the pandemic and Great Recession were a blip on the labor market radar or a significant milestone event that with any kind of real long-term impact.
Lon Harris
Lon Harris is a contributor to dot.LA. His work has also appeared on ScreenJunkies, RottenTomatoes and Inside Streaming.