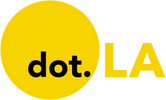 Get in the KNOW  
  on LA Startups & Tech  
X

Image courtesy of Crypto Cannabis Club
Marijuana and the Metaverse: How LA Cannabis Startups Are Lighting Up the Virtual Realm
07:00 AM | May 17, 2022
With West Hollywood becoming a hub for cannabis consumption lounges and many Silicon Beach companies embracing virtual reality, it was only a matter of time before two of Los Angeles' two burgeoning industries started mingling.
---
While many cannabis firms are still figuring out how to incorporate the metaverse and Web3 applications like NFTs, Canoga Park's Saucey Farms & Extracts has become one of the first business to offer THC products in the metaverse as part of a dispensary in Cryptovoxels, a virtual platform build on the Ethereum blockchain. Local weed brand Califari, meanwhile, recently sold NFT artwork to support the cannabis-oriented criminal justice nonprofit The Last Prisoner Project. Then there's groups like the Crypto Cannabis Club (CCC), an organization centered around 10,000 "NFTokers" that gives holders discounts on cannabis products and has hosted weed-themed meetups in the Decentraland metaverse.
According to Crypto Cannabis Club CEO Ryan Hunter, about 20% of the community is based in California, with the organization's most active chapter located in Southern California. Hunter said that CCC uses different metaverses based on its needs; if the Club wants to host virtual 4/20 or 7/10 gatherings for all of its members, those would take place in Decentraland because it's "more of a wide-open space," while interactive gaming experience would be on The Sandbox platform, where noted weed entrepreneur Snoop Dogg has already staked a claim.
Hunter views the metaverse as a bridge between real-world cannabis enthusiasts and those who are passionate about virtual experiences.
"We're trying to intentionally create a community of folks that are part of the cannabis community in the real world, and want to be a part of the cannabis community as it expands into the metaverse [and] these virtual communities that are developing," he said.

In addition to cannabis ventures, artists are also exploring how the metaverse and Web3 can help them connect with new audiences. Reece Kinsbursky, art director of the The Artist Tree dispensary chain, told dot.LA that he has received interest from artists about showing their NFT artwork on the dispensary's walls; one even explored marketing a piece for sale via a QR code that would be displayed in the dispensary. (While The Artist Tree does not currently display NFT art at its stores, Kinsbursky didn't rule it out in the future.)
"It certainly has the capabilities to change a lot in how the ecommerce space functions," he said of the overlap between NFTs and cannabis. "But it's too soon to tell."
Cannabis aside, the metaverse is blossoming into a major focus for tech companies in Los Angeles. From social media companies like Snap to entertainment giants like Disney, there are no shortage of players leveraging virtual reality to grow their businesses and expand how they interact with audiences.
Likewise, Hunter and other cannabis entrepreneurs hope that engaging with metaverse platforms can expand their brand awareness and ecommerce presence. In addition to launching a direct-to-consumer offering—featuring collectible NFTs—in partnership with delivery company CampNova, CCC is building a dispensary in Cryptovoxels to display products from partner brands. In time, Hunter wants the virtual dispensary experience to mirror the real one, complete with a cultivation space where visitors can learn about the growing process.
As for cannabis consumers who may doubt the metaverse's potential, Hunter believes a little skepticism is healthy."I think there's every reason for them to be suspicious, and that's a great way to approach it," he said. "I'm not trying to convince anybody. We're trying to create a community that earns its place—and hopefully we'll find folks who are open-minded, and they'll tell friends who are less open-minded and convince them."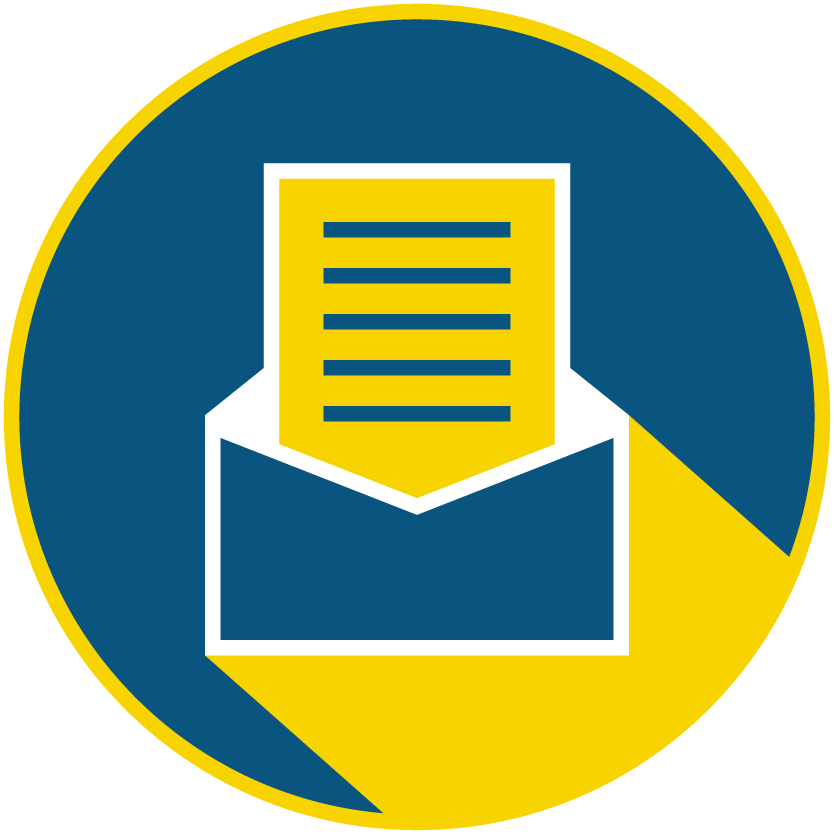 Subscribe to our newsletter to catch every headline.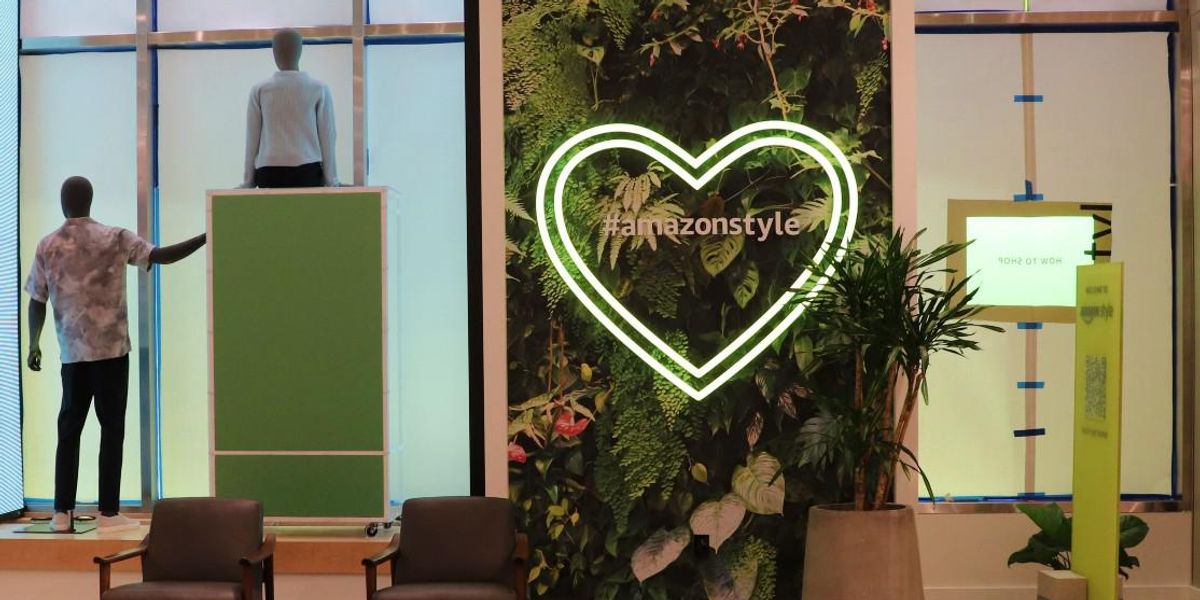 Image by Joshua Letona
Starting today, Glendale's most meme-able outdoor mall, The Americana at Brand, will be home to the Amazon Style store—the ecommerce giant's first foray into brick-and-mortar apparel retail. We got an early sneak peak inside the new digs (located on the corner with Sprinkles Cupcakes, next to H&M and the Apple store) and were able to try out some of its tech-enabled features, which—as ever with Amazon—seek to make the act of shopping as easy as possible.
1. It's Bigger Than It Looks—Even From the Inside

The floor is massive—laying out original products from Amazon's own apparel lines alongside name brands like Theory, Adidas and Calvin Klein, as well as several other lines that have up until now only existed online. But the actual store is much larger than the two floors that most customers will only ever see.
Amazon Style is just the front—the homepage, if you will—behind which a large warehouse facility keeps a gigantic surplus of inventory. A floor-to-ceiling glass window on the main floor gives shoppers just a peak behind the scenes, as employees help load industrial-sized elevators with racks of goods to send upstairs to the dressing rooms.
2. Online Shopping IRL

When perusing the store's bouquet of cottagecore maxi dresses, Kendall & Kylie blazers and, yes, a whole section dedicated to Y2K apparel, one doesn't just pick an item off the rack and take it with you while you shop. Instead, each rack has a barcode that you can scan via the Amazon Shopping app, which has your sizes pre-loaded from previous purchases. (You can opt for a different size if you choose.) That cues an AI-enabled algorithm to start searching through the store's warehoused catalog and zip the desired item over to the second floor, where the dressing room provides its own glimpse into the future of shopping.
The store also boasts a version of The Drop, an Amazon staple that allows online customers to shop entire influencer-curated collections for a 30-hour flash window.
3. Changing Stations of the Future—Today
Your phone also acts as your keycard to get into your personal dressing room. To prevent waiting, you are put in a virtual cue the moment you scan your first item; should the Amazon app prompt that your room is ready while you're still shopping, a tap of your screen allows you to hold your spot in the queue while freeing up the room for someone else. (And if your phone dies while you're waiting, Amazon says a Style employee on the floor will be happy to help you keep your place in line, or hook you up with a charge.)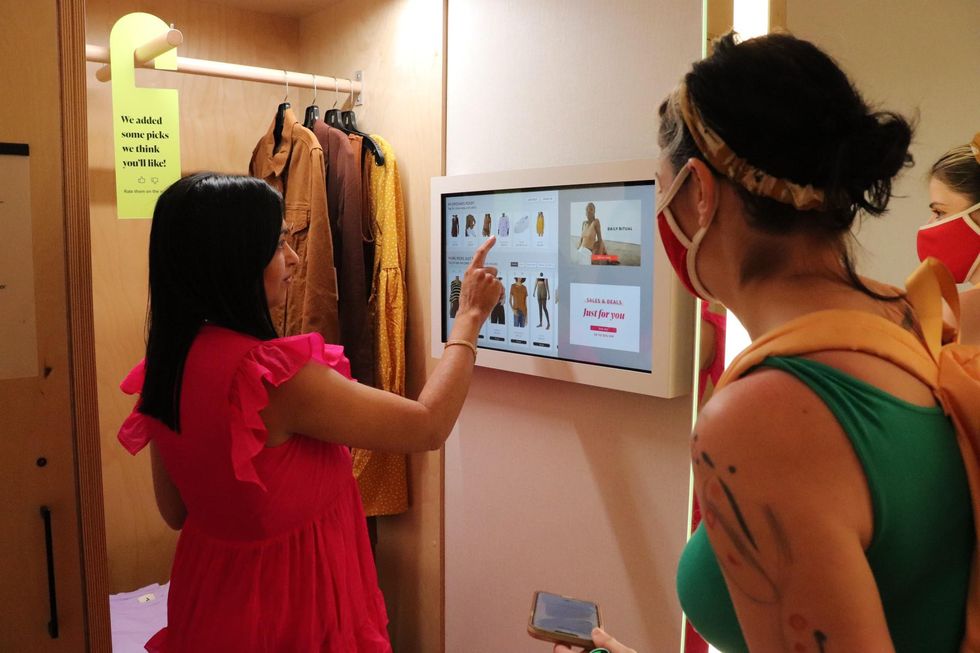 Amazon Style's dressing rooms offer a tech-enabled twist to trying on clothes.Image by Joshua Letona
The changing room is like its own parlor trick. Designed to look like a walk-in closet, one wall has a full-length mirror and a giant touchscreen while another has all the clothes you scanned in your style and size preference. Expect to see a few surprises in there, as Amazon's algorithm picks out other stuff you might want to try on based on your picks. It would be spooky if it wasn't so convenient—an IRL mashup of the online retailer's "Recommended Based on Your Purchases" and "Frequently Bought Together" features.
If an item doesn't fit quite right or you want to see how a skirt looks in blue instead of black, just tap the touchscreen to request a variant. Or an entirely new outfit, as the screen makes available everything in the facility. Then just bring it down to checkout—perhaps the wildest part of this ride.
4. Palming the Bucks
Checking out of Amazon Style's flagship store is what really blew my mind—although apparently it's because I haven't been to one of the Amazon Go, Amazon Fresh or Whole Foods locations where cashless checkouts have been an option in select stores since 2020.
I assumed you could just walk out the door with your purchase, because I watch "Saturday Night Live" sketches for news. While the Go payment option isn't available at Amazon Style, there are several checkout options to keep the experience as frictionless and non-cumbersome as possible.
One way is to take the clothes you want out of the dressing room and go directly to Amazon's palm-enabled checkout kiosks. That's right: Register on the spot for an Amazon One account, and you need merely to wave your hand over a little black device that reads your palm and charges your on-file payment method. It's super convenient for everyone except $10 boardwalk psychics, who just may be put out of business by such technology.
For the more traditional set, you still have the option of paying via credit card or cash.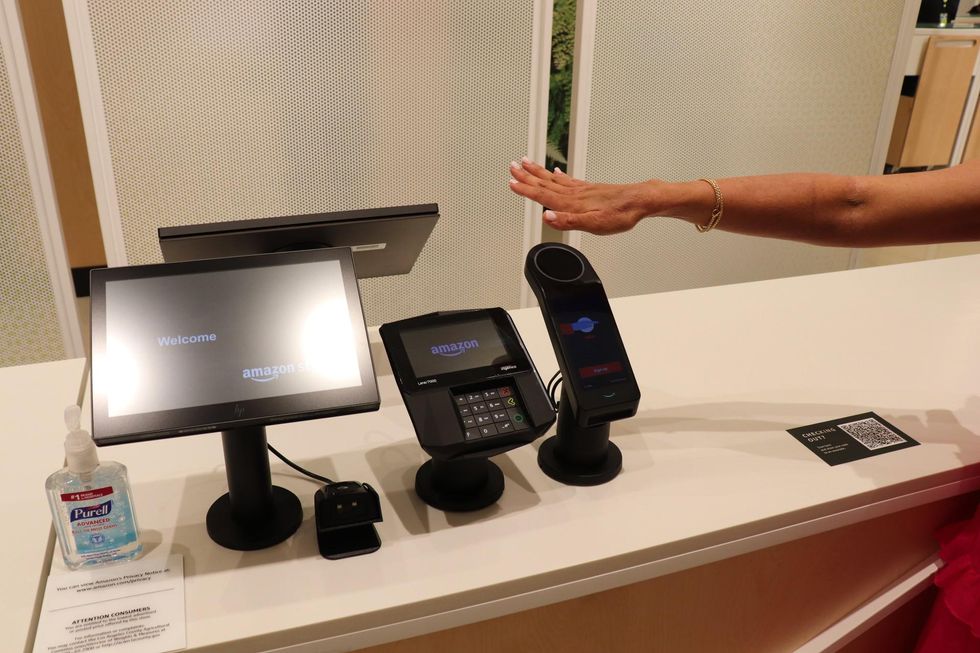 Shoppers can check out of Amazon Style with the wave of a palm. Image by Joshua Letona
5. Supply & Demand & Return
Amazon Style's brick-and-mortar location opens up a variety of new ways to shop, return and exchange clothing. For instance, you can order a load of clothes online and pick them up in the store; anything you don't want can be returned in the store without you ever having to print a shipping label.
See something you like but don't have time to try it on? Just scan the barcode, pick it up at the front of the store and pay on your way out without ever going into a dressing room.
The Amazon Shopping app also boasts a Deals feature, which automatically sorts for the best price on items to help customers either save money (or believe they are).
While Glendale is home to the only Style store so far, Amazon isn't ruling out more locations. With fewer retailers able to afford rents on America's main strips and shopping malls, Amazon's resources—and its unique position at the intersection of tech and retail—make it easy to envision more Style stores on the horizon.
Drew Grant
Drew Grant is dot.LA's Senior Editor. She's a media veteran with over 15-plus years covering entertainment and local journalism. During her tenure at The New York Observer, she founded one of their most popular verticals, tvDownload, and transitioned from generalist to Senior Editor of Entertainment and Culture, overseeing a freelance contributor network and ushering in the paper's redesign. More recently, she was Senior Editor of Special Projects at Collider, a writer for RottenTomatoes streaming series on Peacock and a consulting editor at RealClearLife, Ranker and GritDaily. You can find her across all social media platforms as @Videodrew and send tips to drew@dot.la.
Image courtesy of Camille Styles
Camille Styles thought she had her dream job — until she started to crave more creativity.
On this episode of Behind Her Empire, the serial entrepreneur talks about how she learned to take risks, dealing with burnout and gaining the confidence to pursue her passions.
Styles runs Camille Styles, a digital publication that grew out of a blog she created as a hobby and, over time, became a business.
Styles says she grew up adapting. As a young girl, she lived in Fort Worth Texas where her mother exposed her to art, nature and cooking. When she turned eight, her family moved to a small town in Missouri. Eventually, her family moved once more, leaving Styles to once again find her footing in a new environment.

"I can remember screaming at my parents that they were destroying my life," she says. "But in hindsight, I am so thankful for those experiences that really started to build that sense of independence and determination to kind of find my own path and carve out a place for myself."
That skill of adaptability helped Styles to stay afloat through her professional life — from New York, where she worked in the fashion industry as a college student, to Texas, where she got her start in event planning, to her journey into becoming an entrepreneur at 24.
"I talked to basically every small business owner that I knew, I asked for their advice and to talk to them about some of the mistakes they made," she says." "And I launched Camille Styles Events with one intern and myself working out of the basement of our little 1,000-square-foot bungalow."
She didn't stop there; "On the side, I launched a blog," she adds.
That blog has been the focus of her career for over a decade. Throughout that time, Styles had to adapt to keep up with the rapidly-evolving internet, growing her audience, monetizing her content and refining it for social media platforms– all while being a mother to her two children.
Styles says she avoids feeling overwhelmed by doing what feels natural to her—changing.
"Instead of quitting, I pivoted and I changed," she says, "which I think is really important when anyone feels burnout—to not just keep doing what you're doing."
Thirteen years after starting her blog, Styles is once again changing route. Her new business hasn't yet been named or announced, but Styles says she is learning how to build and ship physical products to customers, something she has never done before. But starting from scratch is nothing new for Styles.
"It's nice to be able to kind of let it unfold naturally and take my time with each step of the process," she says.
Engagement and Production Intern Jojo Macaluso contributed to this post.
Hear more of the Behind Her Empire podcast. Subscribe on Stitcher, Apple Podcasts, Spotify, iHeart Radioor wherever you get your podcasts.
Yasmin Nouri
Yasmin is the host of the "Behind Her Empire" podcast, focused on highlighting self-made women leaders and entrepreneurs and how they tackle their career, money, family and life.
Each episode covers their unique hero's journey and what it really takes to build an empire with key lessons learned along the way. The goal of the series is to empower you to see what's possible & inspire you to create financial freedom in your own life.