Civic Tech
Browse the latest news about civic tech in Southern California from dot.LA.
Like creativity or inclusivity, innovation is the buzzword people cannot get enough of these days. After all, who could possibly be against innovation?

The trend actually originated more than two decades ago after the publication of Harvard management guru Clayton Christensen's seminal 1997 book,"The Innovator's Dilemma."
After becoming gospel in corporate America, it has since found its way to some of the biggest bureaucracies – state and local governments – where chief innovation officers are being appointed to get the job done.
Los Angeles hired a chief innovation officer in 2014, San Diego added the position in January and in February, California Governor Gavin Newsom appointed former Google executive Rick Klau as the state's new chief technology innovation officer.
Klau is not concerned about tech companies fleeing to Texas or Florida and he was reluctant to wade into criticism of California's chaotic rollout of COVID vaccine distribution, which is how he first got involved in state government.
On one thing, Klau wants to be absolutely clear: He has no intention to Googlefy California's state government and its vast workforce of 210,599 full time employees.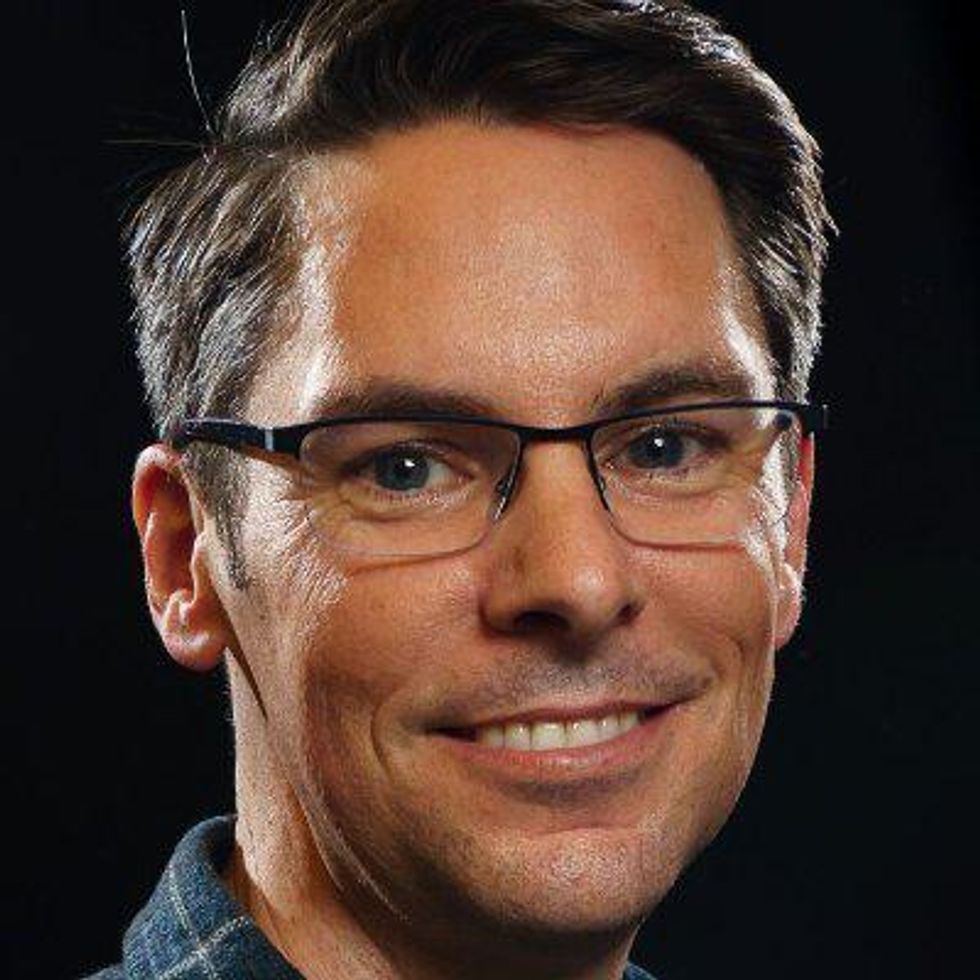 California Chief Technology Innovation Officer Rick Klau
"I'm not here to turn what my team does into what the private sector does," he said.
Klau joined Google's business development team in 2007 after the company acquired the blogging tool FeedBurner, where Klau served as an executive. Google has never done much with the product – it has even been likened to a zombie – but Klau eventually rose through the ranks to become a senior operating partner at GV, formerly Google Ventures, Alphabet's venture arm.
He departed last October and said for his next act, he was looking for something that imbued former Google CEO Eric Schmidt's ethos to tackle difficult, important problems.
He found that in public service, where mutual friends put him in touch with Amy Tong, the state's chief information officer. She enlisted him to be what he describes as an "on-call volunteer" to aid the state's COVID vaccine distribution.

"I had no specific mandate so much if there were things that needed doing or even just calls being made I was the extra help," Klau said.
A few weeks later, Tong asked Klau if he wanted to work for the state full time. Klau said he had "zero hesitation" about joining.
"Apart from his innovative work, a lot of Rick's efforts at Google centered on team development, which has been so important to the state," Tong explained. "By bringing new ideas and a fresh outlook to the state, he will help us realize our goal of using technology to power a compassionate, human-centered government ."
What exactly will Klau be doing in his new role? He's not quite sure yet.
"I think it's too early, candidly, to tell you what my top three priorities are, because I'm still figuring what work has been done that needs to continue and what projects we should wind down or hand off," Klau told dot.LA in his first extended interview since starting his new job in February.
dot.LA spoke to Klau about his new role as well as the discontent that's been brewing in California's tech community that has led to a string of high-profile departures. Answers have been edited for clarity.
There's been this narrative that's been accelerated this past year of tech people fleeing California for other states, especially Texas and Florida. There's Oracle, Tesla, Peter Thiel and other examples. Does that concern you?
I was born in California. I'm raising my children in California. I intend to stay here. I don't have much of an opinion on those who choose to leave the state. I'm committed to those who are here.
You are staying but a lot are leaving. Do you think there are things the state should be doing to retain or attract more people in tech?
I think that's probably outside of my responsibility.
California has a long history of innovation. Are you concerned about it losing its place?
No
Why not?
I think the state and the region have a lot going for it. I happen to live in the East Bay – not on the peninsula specifically – and it's been extraordinary to watch over the last decade how much more activity there is outside of the concentric circles that have historically been the seat of innovation. So while things are not slowing down on the peninsula nor in the city of San Francisco, there's even more capital being invested, more jobs being created in other regions – in L.A., in San Diego, here in the East Bay. So am I concerned now? No. If anything, I think we'll see the next decade be even faster growth in those regions.
I think most people probably love Google and they ask, "Why can't we just make Google run the DMV or run various state websites?" Is that something that you're going to be able to accomplish?
It's easy to fall in the trap of assuming that what any Silicon Valley company could build is exactly the right answer to what a state government needs to deliver, but I don't think it's the right way of thinking about what the state's obligation is. Do I want to bring approaches of how to design products, how to think about accelerating the pace at which we build? Absolutely. But I think it's also important to recognize that we're fundamentally in a different business. I mean, we're not in business at all.
What are the top three things that you want to do in this position?
I think the first couple of months is to learn what work the team has in progress. What are some of the successes we've done in the past that we want to build on? What I'm fascinated by is the scope of the work that's being done on fairly lean staff numbers and the impact across the state. That gets me excited because if we can continue to do that work, but do it faster, bring metrics to help us compare projects that don't have anything to do with each other, but can start to be things that we can evaluate on a relative basis, I think then I'll have I've done good for the team and we'll start to be able to show what the impact of that work is.
Has it been a culture shock after spending so long at Google to be in state government now?
Less than most people assume it would be. I keep thinking at some point somebody is going to tell me, "that's just not how things are done here," but there's been such an appetite to say, "look, if you've got a good idea, bring it because there's more than enough work to go around." Probably, the most exciting part of all of it is a number of people from tech who have reached out, wanting to know if I'm hiring. I think I will be and I don't think tech has all the answers. I think there will be people inside of government who would be appropriate for some of the roles.
Related Articles Around the Web
The Alliance for Southern California Innovation is LongLA, as regional investors and boosters like to frame their investment outlook.
Launched three years ago in a bid to help build a hub for technology that can rival Silicon Valley, the nonprofit has been slowly building up a network of tech companies, backers and entrepreneurs beyond Silicon Beach.
"We felt like we are under-appreciated because Hollywood and Silicon Beach are such a strong part of the story and there is so much more than that," said executive director Andy Wilson.
This week, the nonprofit announced a partnership with Verizon Media that will build out a digital hub for regional communities to connect. Already their site hosts boards and events.
The platform centers around so-called microsites such as Pasadena, home to Caltech; downtown Los Angeles where Honey and Soylent are based; Long Beach, a burgeoning center for space development; Ventura County/Thousand Oaks, home to several pharmaceutical outfits and it also has what it calls a Space Ventures Coalition.
The communities can independently manage content and relationships on the site, but the idea is to create a network for the region's diverse companies.
Backed by local universities, research institutions and tech companies, Silicon Valley entrepreneur and former state Insurance Commissioner Steve Poizner co-founded the nonprofit to ignite startup growth and draw the kind of big venture money that helped make the region's northern neighbor the nation's technology epicenter.
As the pandemic devastates small businesses and creative freelancers, Los Angeles is hiring designers and artists in a novel bid to help the local economy recover.
Mayor Eric Garcetti last week launched a new program of online tools for small businesses, along with a plan to hire creative professionals to match with owners impacted by the pandemic. Graphic designers, artists and others will be given a $500 city grant in exchange for services to brick-and-mortar businesses that have been harmed by the stay-at-home orders.
"COVID-19 has changed everything — the way we communicate, work, socialize, and shop — and our brick-and-mortar stores need to rapidly rethink how they reach their customers, market their goods, sell their products, and thrive when so much business is happening online," Garcetti said in a statement.
The program, called LA Optimized, will funnel over $1.5 million in funds to about 1,000 businesses across the city over the next year, with an emphasis on those serving low-income communities, the mayor's office said. It's a partnership between the city and the ArtCenter College of Design and verynice, an L.A.-based design strategy firm that allots half of its work to nonprofits.
This year, revenue generated by small businesses in California fell by 29.3%. According to a September report, Los Angeles holds the highest number of permanent closures in the nation since March 1.
Small business leaders of color have been disproportionately hurt by the pandemic, but those that remain open attribute their reliance to having embraced technology, according to a report produced by Google and the Connected Commerce Council.
The precipitous drop in foot traffic on Black Friday, traditionally one of the busiest shopping days, exposed just how the deep economic impact has been for traditional retail as the economy has been pushed further online.
California is pushing its own effort to encourage small businesses to get online. In September, the state launched a series of workshops with Google to help companies grow their digital presence.
Garcetti's initiative launched Nov. 25 will focus on getting companies online with digital marketing tips and help building or improving websites to boost ecommerce sales.
A creative advisory board including verynice will make matches between graphic designers and small business owners. Roberto Martinez, the mayor's recently appointed entrepreneur-in-residence, will oversee the program.
"It's next-level pro bono," said verynice founder Matthew Manos. "It could be an initiative that ignites the creative community as well as small businesses."
He said creatives can apply for the project later this month.
Small business owners can apply with just their company name, address and business tax registration certificate number. They must operate in L.A. city, generate less than $5 million and have started operations before March 2020.
Businesses that qualify for the program will be selected beginning January 2021.