Civic Tech
Browse the latest news about civic tech in Southern California from dot.LA.
On this week's episode of the L.A. Venture podcast, meet Raina Kumra. She recently joined The Fund L.A. as a partner, where she works alongside last week's guest, Anna Barber.
Kumra is also a serial entrepreneur, and has over 15 years of branding and scaling expertise. She is the co-founder of Mavin, a "mobile startup focused on affordable internet access" in India.
She's also the CEO of Santa Monica-based Juggernaut, a company focused on "digital design and disruption" that has worked with both The Walt Disney Company and the federal government.
Kumra has a history of working in civic tech. She worked with the Obama administration, and was the senior new media advisor in the State Department's Office of eDiplomacy. She also worked with the Biden-Harris transition team, advising on leadership within the U.S. Agency for Global Media.
Despite her various ventures, she remains focused on building up ethical tech, sustainability and prioritizing the L.A. startup community.
On the rest of this episode, Raina shares some projects she's currently working on, thoughts on the future of ethical tech, and some questions she likes to ask entrepreneurs.
Raina Kumra is the CEO of Juggernaut, a partner at The Fund L.A., serves as an advisor for the moonshot factory, and is on the board of Nix Hydra Games. Her work has also been published in several journals and is part of MoMA's permanent collection.
"I think it's the 'terms of service' that is one of the most depressing norms in the tech industry of everyone just copy-pasting some sort of generic terms of service instead of sitting down and really thinking about it as an opportunity for your brand, an opportunity for your product to make a deeper connection and be more honest and transparent." — Raina Kumra
dot.LA Engagement Intern Colleen Tufts contributed to this post.
Want to hear more from L.A. Venture? Listen on Apple Podcasts, Stitcher, Spotify or wherever you get your podcasts.
From Your Site Articles
Related Articles Around the Web
As airlines start to pick back up, the demand for fast internet connectivity in travel hubs is expected to become a central concern for travelers. And that bodes well for Boingo Wireless, the Wi-Fi company that might sound vaguely familiar to anyone who's ever been in an airport or a ballpark and needed a network.
In the innovation-obsessed battleground that is the tech world, Boingo is an old, grizzled veteran.
They're an infrastructure company — one of those things that's everywhere but you never notice until it stops working.
With Boingo's networks in use in places including The Hollywood Bowl, the company continues to be a main portal to the digital world for Angelenos and the rest of the world. Boingo claims its networks reach more than one billion consumers a year and there's an upgrade coming, for all those frustrated with bad signals.
Early in June this year, DigitalBridge, a digital infrastructure company based in Boca Raton, FL, purchased the two-decade-old Boingo for $854 million. The move will help the 463-person Westwood-based wireless company build its operational expertise and gain access to capital to "supercharge" its business.
"We're still Boingo. It's business as usual," said Boingo CEO Mike Finley in an email to dot.LA.
But that business is getting a makeover to match the superspeed demands of consumers streaming, texting and sharing posts - often at the same time. Boingo announced last week a new partnership with AT&T to bring the telecommunications giant's new 5G+ technology to 12 airports across America, including John F. Kennedy International, LaGuardia and Chicago O'Hare International.
Of course, the network will only be available to AT&T customers, but Boingo has already partnered with Verizon for similar networks in other airports and unlicensed Wi-Fi options are available at all these airports through Boingo's network.
The company's vision is to remain technology and provider agnostic, said Finley.
But don't expect perfect service.
Both Wi-Fi and cellular signals, at their core, are radio waves. AT&T's 5G+ leverages the shortest end of the radio wave spectrum to deliver extremely fast internet with extremely low latency to large numbers of devices at once. The catch is that these smaller wavelengths do not travel as far and do not penetrate walls or other barriers very well, meaning the technology works best in open indoor spaces. How much of these airports in terms of volume will be covered by 5G+, Finley said, is a matter of how many antennas AT&T chooses to install. "I think they're going to start with the high traffic areas—you know, the gates, where you have three or four hundred people getting ready to board a plane." Food courts and security checkpoints also seem like natural targets, he said Finley.
The other catch is that hardly any devices support 5G+ connectivity yet. "This is a plan for the future," says Dr. Kevin Ramdas, Director at TelecomTRAIN, and a professor at Humber College. Ramdas says that, for now, this announcement is mostly marketing hype since so few users will be able to leverage the power of the new technology. But he also points out that networks and technology are the foundation on which innovation is built. We don't necessarily yet know what applications 5G will allow just like we didn't know that 4G LTE would enable live video streaming. "You can't build services without infrastructure," Ramdas says.
Beyond Wi-Fi Signals
One domain that Finley and Ramdas both see as ripe for 5G is autonomous vehicles. Airports, Finley says, are beginning to explore the concept of robotic cleaners — like an industrial-grade Roomba. The low latency afforded by the next generation Wi-Fi will be critical to keep the robots functioning safely and securely. Finley also thinks the improved network will help airports meet many of the new client demands driven by COVID. Specifically, he points to the new desire for contactless services like venue entry and concessions. With tickets, boarding passes, concession and merchandise orders all moving away from person-to-person models and onto devices, COVID has — in some ways — brought the future here even faster.
For Finley, who grew up in Cincinnati, Ohio, the move to Los Angeles came organically as he transitioned from Qualcomm's San Diego branch to a CEO at Boingo.
"L.A.'s been incredible. We've built this company up from L.A. What we find as you go across LA and meet with a lot of the tech companies is that it's a great scene." If Finley has his way, he'll be there to keep them connected with the nearly invisible Wi-Fi company with the weird name.
Correction: An earlier version of this post erroneously included Los Angeles International Airport and Dodger Stadium among Boingo's clients, as reported by a company representative.
When Los Angeles Mayor Eric Garcetti took office he pledged to be the city's first "high tech mayor," but did President Joe Biden's pick for the next ambassador to India make good on that?
Biden officially named Garcetti as his pick to the ambassadorship last week, after months of speculation. If confirmed by the Senate, the mayor who oversaw an ever worsening homeless crisis and lured the Olympics back to Los Angeles will cut short his term ending in December 2022.
Paul Bricault, who co-founded and is the managing director of venture capital firm Amplify.LA, said Garcetti was the city's most engaged mayor on tech in at least the last 25 years.
"He used his bully pulpit frequently to promote L.A. as a tech hub and he made himself widely available to drive interest in L.A. tech," Bricault, who sits on Garcetti's tech innovation council, said.
But did this engagement produce results or was Los Angeles ripe for an explosion of the tech sector on its own?
Bricault said it's almost impossible to measure, but he said the mayor's proselytization of tech helped.
Elected in 2013, Garcetti took the helm before creator houses emerged in the Hollywood Hills and the Uber-fueled gig economy roiled the state. Once confined to "Silicon Beach," the tech industry has erupted throughout the region during his tenure.
Silicon Valley behemoths like Google, Apple, Facebook and Netflix have opened offices in L.A. in addition to homegrown giants like SpaceX and Snap Inc.
Garcetti called it a "once-in-a-lifetime moment" for this global tech capital. In some ways, it is true the forces that have shaped Los Angeles over his tenure have also reshaped the world.
And he hasn't been shy injecting himself in the industry and pushing for public-private partnerships such as Urban Movement Lab, a transportation accelerator that's encouraged the development of delivery robots. Amid a furor in Hollywood over the lack of diversity, last year he created "L.A. Collab" with Eva Longoria to push for more Latinos in the industry.
But part of the journey has been a lot like those electric scooters that dot street corners from Venice to Eagle Rock — loved by many, but questioned by others who've seen Garcetti's grand vision sometimes careen out of control.
At times, Garcetti has faced backlash from residents who are not ready for some of the innovations he embraced and the City Council has been forced to respond to disgruntled constituents by enacting regulations to tamp down those technologies.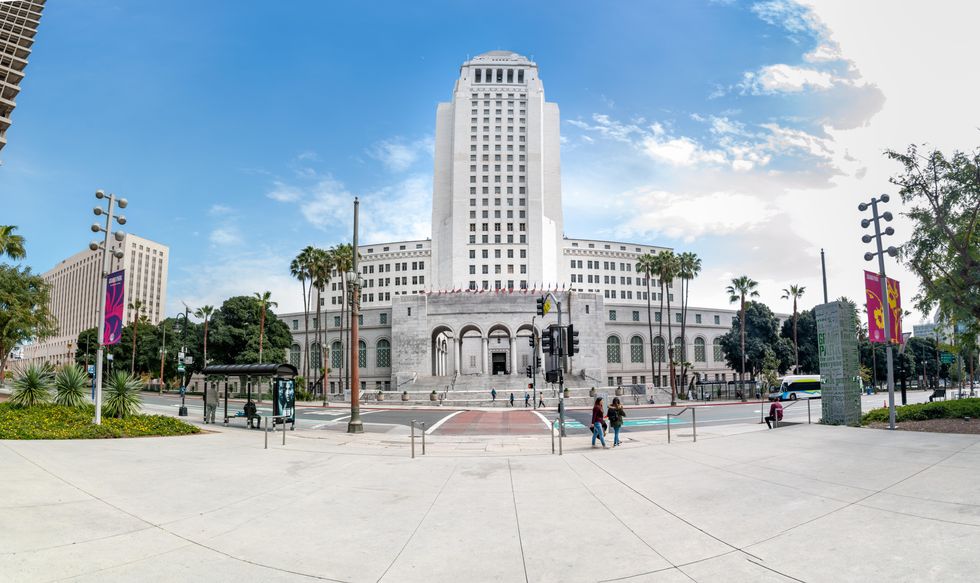 Photo by David Vives on Unsplash
And civic problems that have plagued Garcetti's tenure like the homelessness and housing affordability crises have interfered with the tech industry from thriving, observers say.

"The only failure I would say that the political leadership has made in L.A. is really making a truly affordable city to make sure you have talent that want to move here and to really flourish," said Taj Eldridge, who used to lead investment at the Los Angeles Cleantech Incubator and now has launched his own venture capital fund. "We should have learned from what's happening in San Francisco with a lot of displacement of not only just employees, but the support staff for employees."
Top talent graduating from UCLA and USC may rethink their plans to stay and work by the beach in sunny Los Angeles because the visibility of homelessness has grown beyond Skid Row in recent years, Eldridge said. And many of those tech companies and VC funds are attracted to L.A. because of the elite universities in the region, not necessarily because of what the mayor has done, he said.
Garcetti championed private efforts like L.A. Tech Talent Pipeline, which brings together the public and private sectors to expand training and job opportunities for future tech workers as well as PledgeLA, an effort to encourage diversity in the tech industry.
Open Data, Scooters and the Shared Economy
Less than one year after Garcetti took office, he installed the city's first chief innovation technology officer to implement "new tools and technologies" within City Hall and also to work with the city's tech leaders to "deploy innovative technology and promote local job creation."
A self-described, "amateur coder," Garcetti said he would publish data like city employee payroll records to make the bureaucracy of City Hall more transparent. But his chief data officer Abhi Nemani left a year after the city launched its open data portal in 2014. Garcetti's office bragged that it included more than 100 data sets, and although the cache of data has grown, some of it is outdated or incomplete.
Worse, said Dana Chinn, a lecturer at USC Annenberg School for Communication and Journalism, the data sets weren't helpful.
"It was like the data sets that were chosen to be on the portal were the most user friendly as opposed to the ones that were really the ones that we needed to attack social issues," said Chinn, who researched open data in Los Angeles County. "Nobody was paying attention for the quality of data, as to whether or not we were getting the data sets that we really needed."
And she said Los Angeles has struggled to engage the tech community in ways that New York was able to.
Garcetti faced similar problems when he embraced electric scooters. Critics decried the city for shortsightedness.
At first the zippy scooters were hailed, but soon they flooded city streets largely concentrated on the Westside. Residents complained users of the wheeled vehicles were speeding, collided with pedestrians or were parked in front of doorways or in the middle of sidewalks.
It took months to come up with regulations as residents' frustration grew.
Garcetti said "people have loved" the scooters, but acknowledged safety concerns.
Garcetti faced an even more critical hurdle in the sharing economy.
Before short-term rentals were legalized, the Garcetti administration negotiated a deal so that homeowners who rented out their residences on platforms like Airbnb would pay a 14% tourist tax to the city. It was estimated in 2017 the rentals would generate $37 million annually.
But outrage ensued in many residential neighborhoods as short-term rentals proliferated.
And after three years of debate, city councilmembers heeded those constituents' calls and approved regulations that limited hosts to renting out their homes to 120 days a year. Amid pressure, Garcetti ultimately supported the new rules, even though Airbnb said the city would lose out on millions of dollars.
Playing Nice
Garcetti's bullishness on tech sometimes conflicted with the conciliatory tone that the mayor often took.
"Sometimes he was willing to say, 'Okay be upset with me,' like Airbnb, and sometimes there were moments where it looked like he didn't want to make the tough calls," said Loyola Law School Professor Jessica Levinson.
The Airbnb battle was an example of how L.A.'s weak mayor system stymied Garcetti's power and forced him to rely on the bully pulpit, she said. He lured in businesses with promises, but ultimately it was the City Council that set rules and regulations that could undermine those relationships.
Judith Goldman, co-founder of Keep Neighborhoods First, which is part of a broader coalition working to track enforcement of the city's home sharing ordinance, accused Garcetti of working behind the scenes to entice Airbnbs and others into L.A. to generate tourism dollars.
"I think he encouraged it and I think he was hypocritical because he knew that we were trying to regulate it and he was obstructive in the regulation and he has been obstructive in the enforcement," she said.
Green Initiatives
Garcetti, who co-founded the Climate Mayors, has promoted himself as an environmental steward. Shortly after taking office he appointed Matt Petersen to a new post as chief sustainability officer.
And in 2019, he introduced a "Green New Deal'" that would make the city's power supply 100% renewable by 2050. But it was met with criticism by activists who said it didn't go far enough.
A year later, he updated the plan to accelerate the city's goals.
With L.A.'s legendary traffic and pollution generated by gas-powered vehicles, Garcetti has sought ways to reduce emissions.
The city made history last year when it purchased 155 electric buses last year, making it the largest-ever single order for electric buses in the U.S. and Garcetti pledged to make L.A.'s bus fleet entirely emissions-free in time for the 2028 Olympic Games.
"Mayor Garcetti really prioritized inviting the world to deploy their innovations to Los Angeles and I think he lived up to that," said Petersen, who now leads LACI.
Last year Garcetti announced the formation of a new Transportation Technology Innovation Zone, under the auspices of Urban Movement Lab, at the Warner Center in the West San Fernando Valley. Described as a testing ground for new mobility technology, it is helping develop robots and drones that will deliver food and other goods across the region.
But already, there are questions about the technology taking jobs from people and what it will mean for robots to flood communities.
Still Valley Industry Commerce Association President Stuart Waldman gives Garcetti credit for carving out tech as an issue.
"I can think of a lot of failures but not in the context of the tech industry," he said. "When the bar is so low because of the previous administrations, just doing anything would be considered movement and he had quite a few successes."
Rachel Uranga and Francesca Billington contributed to this story.
This story has been updated to correctTaj Eldridge's former role at LACI.