Civic Tech
Browse the latest news about civic tech in Southern California from dot.LA.
On this episode of the LA Venture podcast, Untapped Capital, Alltruits and Kiva founder Jessica Jackley talks about her experience supporting entrepreneurs across the world, and offers advice to founders on what to do when encountering doubt -- from themselves or others.
"The pursuit of an opportunity, a vision, like an imaginary world that you want to make real. You're running after this thing, you're pursuing it without regard to what you have in front of you," she said. "So there's always going to be something wrong."

Jackley's journey as an entrepreneur started when she founded Kiva, a nonprofit that lends money to low-income entrepreneurs. She started the company and moved to East Africa where she heard stories of people starting businesses with just $100.

"I wasn't asked to swoop in and help or save. I was asked strategic questions about where they could access loan capital, where they could access business training," said Jackley. She added that the individuals she met through the service didn't want handouts.
Kiva offered $200, $300 loans at no interest. That model helped build successful small businesses. Every year, they saw a raise on how many loans they could offer. The company has so far facilitated $1.5 billion in loans since the business started in 2005.

More recently, Jackley founded Untapped Capital and Alltruits. Untapped gave her opportunities to invest in unexpected companies and watch them rise, much like Kiva. Alltruits was born out of the pandemic.
"I really wanted to figure out a way, especially as we were on lockdown, like how do we not just have our lives be waiting for the doorbell to ring and another package is dropped off and we just consume it, right? What, what would it look like to reach back out into the world in a way that is helpful," said Jackley.
She created a box subscription service that provides kids with activities that can benefit them and the world. The company's last box focused on making a pollinator hotel for bees.
From her ventures, Jackley recognized when pursuing your dreams, something will always go wrong.
"There's going to be days when you are told, or you're telling yourself, 'well, I'm not old enough', 'I'm too old'. 'I don't have enough experience'. 'I have the wrong experience', whatever," said Jackley. "Just take more steps anyway towards that thing. Cause that's what great entrepreneurs do."
Hear more of the episode, in which Jackley talks about her goal to disrupt the volunteer economy and more.
From Your Site Articles
Related Articles Around the Web
During the pandemic, California schools and nonprofits found themselves in desperate need of technical equipment to stay connected to their communities, clients and students.
Meanwhile, hundreds of thousands, if not millions, of laptops, monitors and keyboards began collecting dust in tech offices across the state after Gov. Gavin Newsom ordered office workers in non-essential roles to stay home.
The disconnect gave Will Bumpus pause.
Tech companies were offering employee stipends so they could buy an ergonomic chair or an extra monitor to furnish a home office. On a 'listening tour' to C-Suite leaders of California companies, it became clear some of the gear that was being replaced in home offices throughout the state, was not going to be needed.
That's when he had an idea: What if some of that valuable equipment could go to Black and Latino students who were missing classes and had no sure way to reconnect with their schools? Or to nonprofits that serve these communities?
In August 2020, Bumpus founded reWerk, a not-for-profit company that receives corporate donations and redistributes them to nonprofits and schools to close the digital divide. So far, major companies like Disney, Twitter and Yelp have donated equipment.
"You were reading stories about some of these organizations where students were going to Taco Bell to get internet, going to Starbucks to get internet," Bumpus said. "And it just made it so much clearer that the digital divide is only getting worse as it relates to COVID."
The digital divide is generally a reflection of socioeconomic and racial inequities.
A 2020 UCLA study found Black and Latino households were 1.3 to 1.4 times as likely as white households to experience limited digital access, while two in five low-income households had limited access to a computer or the internet.
In practice, it can mean the difference between a student who has access to multiple devices at home and high-speed internet and one who has to share one device among the entire family and has slower internet speeds.
And as classes moved online and teachers began embracing technology, a shift that is expected to continue as classrooms reopen, the digital divide is growing even starker.
On that listening tour, Bumpus, an early-stage investor and partner at Concrete Rose Capital -- which works with tech startups that are led by or targeted toward people of color -- and the son of TV host Gayle King, asked these tech companies if they wanted to donate excess equipment.
Disney recently donated nearly 400 MacBooks and PC laptops and more than 200 monitors to reWerk, which then distributed them to Loren Miller Elementary School in South Los Angeles, Digital NEST and StreetCode Academy.

Jacob Martinez, founder of DigitalNest, a reWerk partner, described the tech offices as "office utopias," Bumpus said. They had everything you needed to work, but sat empty.
Bumpus said not only will the donations of computers and monitors give those children access, it can help inspire them to aspire to a job in tech.
"A story I would love to tell in a year or so is one of the laptops that was donated from Disney was brought to a Black kid in Crenshaw, who then can not only develop something on there, but learn that that same engineer at Disney made a new film on this, and now I want to go into film production," Bumpus said. "I want them to understand, hey, you have the same machine, you have the same access to that opportunity to do the same thing."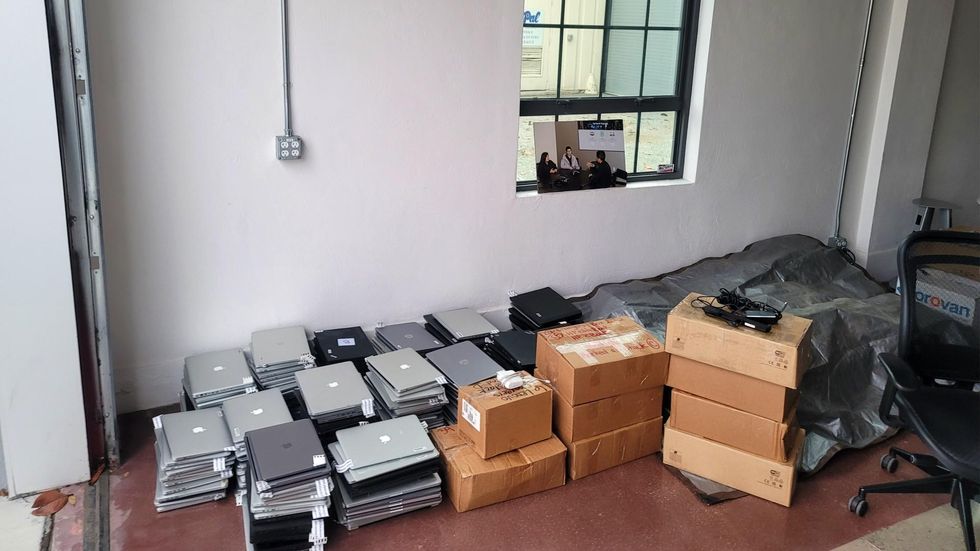 Since it launched, reWerk has donated more than 2,000 items valued at more than $2 million to nonprofits, schools and community organizations.
Twitter, the first company to donate, gave furniture and TVs. It required five 52-foot semi-trucks to move the gear from its San Jose offices and deliver it to a new tech center in Salinas.
Cruise donated more than 100 items of office furniture to SoLa Impact's The Beehive, a business campus designated as an "opportunity zone." The site houses a new Tech & Entrepreneurship Center which held a free technology and entrepreneurship youth camp for middle schoolers in the summer.
Sherri Francois, SoLa's chief impact officer, said the center's Mac Lab didn't have desks until reWerk stepped in.
"We want the students in South Central, when they come to our center to not only be immersed in an experience of what it would be like to work in a professional environment, but while they're learning, sort of establish that love of learning. And we think it's important when they walk in, they feel the whole 'wow' factor," she said.
"They feel a bit of empowerment because they're working at workstations that mimic what would be at these large tech companies and they're middle schoolers. It's pretty cool for them."
Correction: An earlier version of this post mischaracterized reWerk as a nonprofit. It is a not-for-profit company.
From Your Site Articles
Related Articles Around the Web
Charity fundraising platform Omaze, which offers celebrity meet-and-greets and other fundraising experiences, landed its most high profile client this year: billionaire Richard Branson. Now it's hoping to take off.

Omaze announced on Thursday it raised $85 million in a Series C funding round led by Louis Bacon's Moore Strategic Venture along with high-profile investors, including singer Bono, actress Kerry Washington, football star Tom Brady and Reddit co-founder Alexis Ohanian.
The company promises nonprofits that it can raise far more money than traditional galas or other fundraising events with their star-studded online campaigns — which have included celebrities such as Michelle Obama and Oprah — and prizes like a custom tiny home or a Lamborghini blessed and signed by Pope Francis.
Omaze organizes the campaigns and handles the marketing, content and outreach. The Culver City-based company works with the Charities Aid Foundation America and says it has raised about $150 million for over 400 charities. Omaze estimates on its website that its cut averages about 12% to 20% percent of all donations, regardless of the campaign.
"By offering everyone the opportunity to win a $5M house or go to space, we can fund the causes creating opportunities for the underserved," said CEO and co-founder Matt Pohlson in announcing the raise. "This funding empowers us to expand our prizing and donor base internationally."
Earlier this year, Branson launched a sweepstake on its platform to win a seat on the Virgin Galactic VSS Unity, the same spacecraft that carried him into space in July. The winner has yet to be announced.
Launched in 2012, the company began offering travel and one-of-a-kind cars in 2019 and has boasted 100% percent growth since. It competes against companies like GoFundMe, which also offers fundraisers but mostly appeals to individuals trying to raise funds for friends and family. Another fundraising platform, Arizona-based RallyUp, works with charities to build out their events online.
Other investors include FirstMark Capital — which led a $30 million round in August 2020 — along with Wndrco, Telstra Ventures, Causeway Media Partners, Mockingbird Ventures, BDMI and Pegasus Tech Ventures.
From Your Site Articles
Related Articles Around the Web