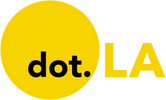 Get in the KNOW  
  on LA Startups & Tech  
X
Image by Candice Navi
Here Are LA's Top VCs, According to Their Peers
Ben Bergman
Ben Bergman is the newsroom's senior finance reporter. Previously he was a senior business reporter and host at KPCC, a senior producer at Gimlet Media, a producer at NPR's Morning Edition, and produced two investigative documentaries for KCET. He has been a frequent on-air contributor to business coverage on NPR and Marketplace and has written for The New York Times and Columbia Journalism Review. Ben was a 2017-2018 Knight-Bagehot Fellow in Economic and Business Journalism at Columbia Business School. In his free time, he enjoys skiing, playing poker, and cheering on The Seattle Seahawks.
08:00 AM | January 11, 2021
Though Silicon Valley is still very much the capital of venture capital, Los Angeles is home to plenty of VCs who have made their mark – investing in successful startups early and reaping colossal returns for their limited partners.
Who stands out? We thought there may be no better judge than their peers, so we asked 28 of L.A.'s top VCs who impresses them the most.
---
The list includes many familiar names. Dana Settle, founding partner of Greycroft, and Mark Mullen, founding partner of Bonfire Ventures, garnered the most votes.
Settle manages West Coast operations for Greycroft, a New York firm with $1.8 billion in assets under management. She is one of only nine of the top 100 VCs nationally who are women, according to CB Insights.
Mullen is a founding partner of Bonfire Ventures, which closed a $100 million second fund in September to continue funding seed stage business-to-business (B2B) software startups. Mullen has also been an angel investor and is an LP in other funds focusing on other sectors, including MaC VC and BAM Ventures.
Below is the list of the top ranked investors by how many votes each received from their peers. When there was a tie, they appear in alphabetical order according to their last name: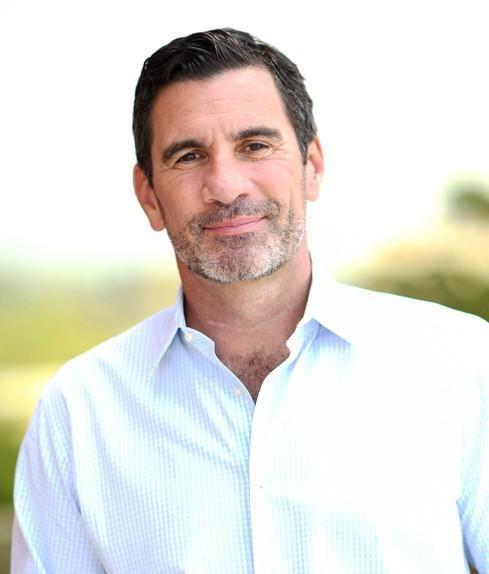 Mark Mullen, Bonfire Ventures
Mark Mullen is a founding partner of Bonfire Ventures. He is also founder and the largest investor in Mull Capital and Double M Partners, LP I and II. A common theme in these funds is a focus on business-to-business media and communications infrastructures.
In the past, Mullen has served as the chief operating officer at the city of Los Angeles' Economic Office and a senior advisor to former Mayor Villaraigosa, overseeing several of the city's assets including Los Angeles International Airport and the Los Angeles Convention Center. Prior to that, he was a partner at Daniels & Associates, a senior banker when the firm sold to RBC Capital Markets in 2007.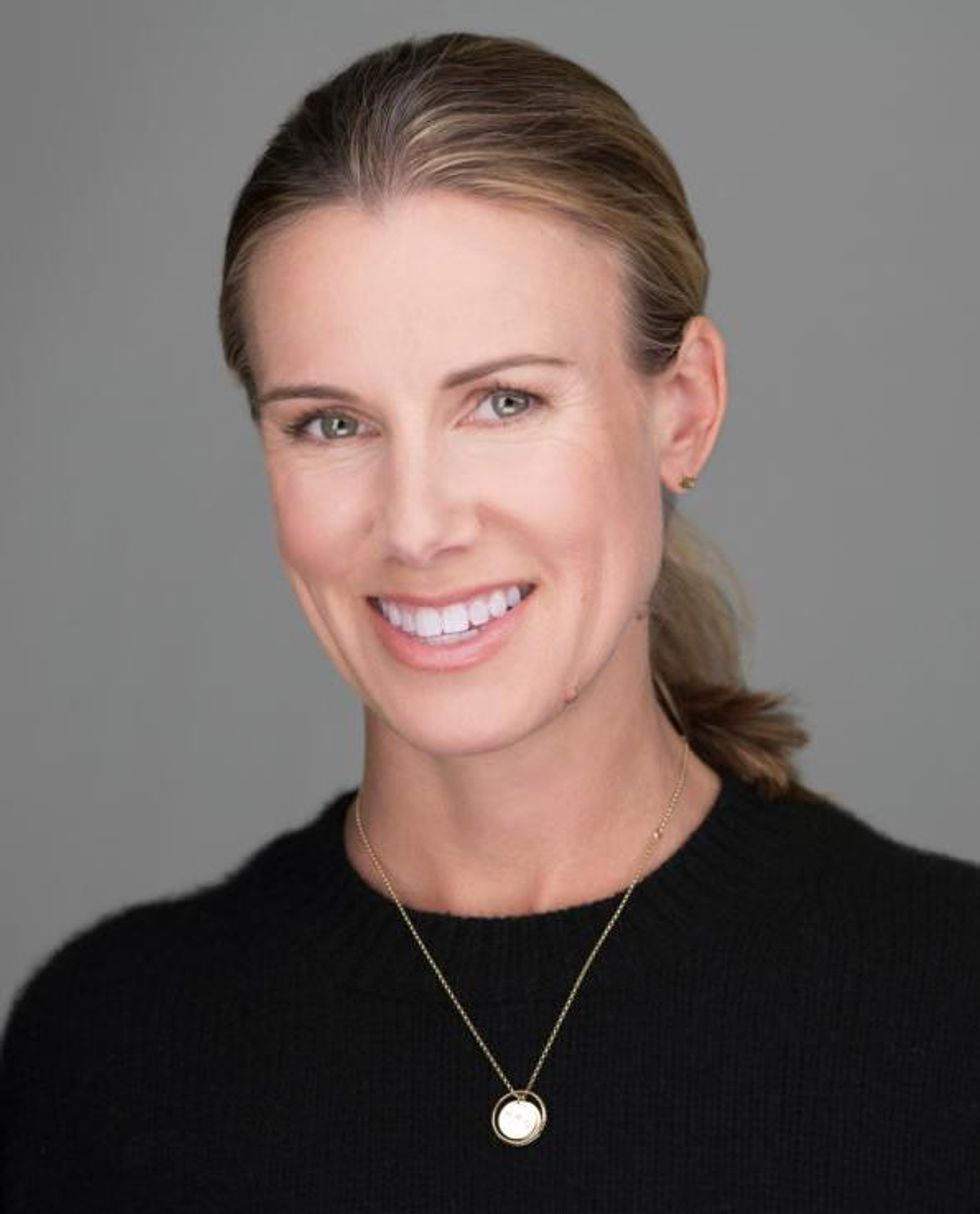 Dana Settle, Greycroft
Dana Settle is a founding partner of Greycroft, heading the West Coast office in Los Angeles. She currently manages the firm's stakes in Anine Bing, AppAnnie, Bird, Clique, Comparably, Goop, Happiest Baby, Seed, Thrive Market, Versed and WideOrbit, and is known for backing female-founded companies.
"The real change takes place when female founders build bigger, independent companies, like Stitchfix, TheRealReal," she said this time last year in an interview with Business Insider. "They're creating more wealth across their cap tables and the cap tables tend to be more diverse, so that gives more people opportunity to become an angel investor." Prior to founding Greycroft, she was a venture capitalist and startup advisor in the Bay Area.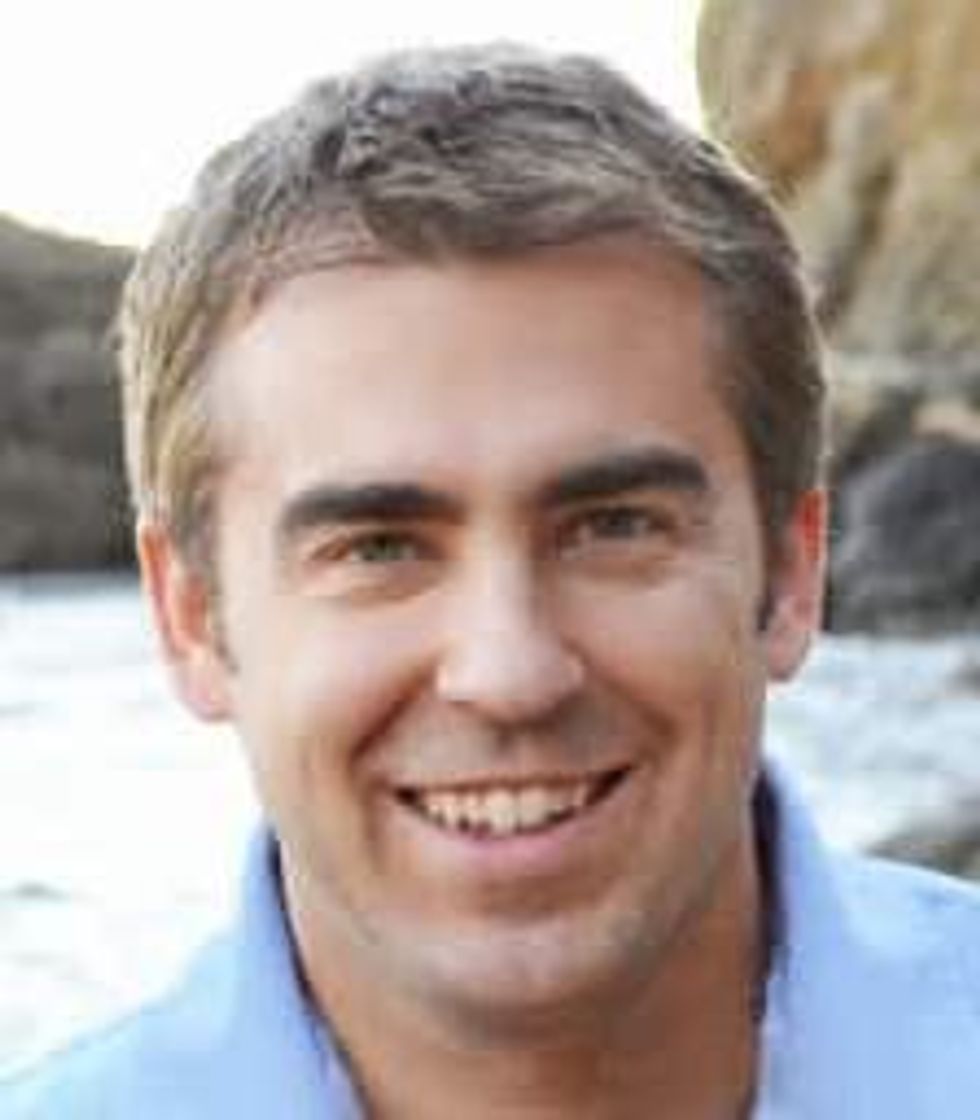 Erik Rannala, Mucker Capital
Erik Rannala is a founding partner at Mucker Capital, which he created with William Hsu in 2011. Before founding Mucker, Rannala was vice president of global product strategy and development at TripAdvisor and a group manager at eBay, overseeing its premium features business.
"As an investor, I root for startups. It pains me to see great teams and ideas collapse under the pressure that sometimes follows fundraising. If you've raised money and you're not sure what comes next, that's fine – I don't always know either," Rannala wrote in a blog post for Mucker.
Mucker has a portfolio of 61 companies, including Los Angeles-based Honey and Santa Monica-based HMBradley.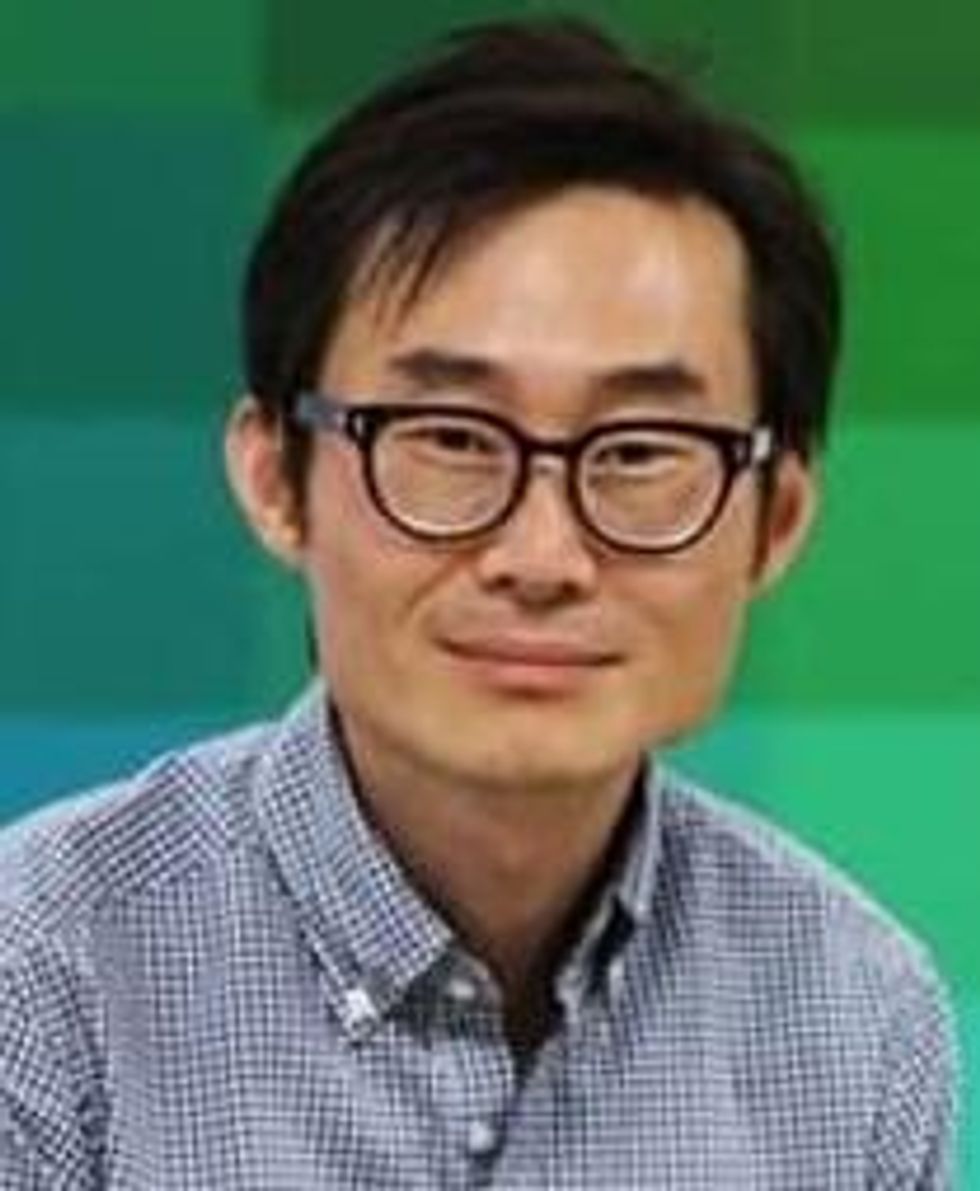 William Hsu, Mucker Capital
William Hsu is a founding partner at the Santa Monica-based fund Mucker Capital. He started his career as a founder, creating BuildPoint, a provider of workflow management solutions for the commercial construction industry not long after graduating from Stanford.
In an interview with Fast Company, he shared what he learned in the years following, as he led product teams at eBay, Green Dot and Spot Runner, eventually becoming the SVP and Chief Product Officer of At&T Interactive: "Building a company is about hiring correctly, adhering to a timeline, and rigorously valuing opportunity. It's turning something from inspiration and creative movement into process and rigor."
These are the values he looks for in founders in addition to creativity. "I like to see the possibility of each and every idea, and being imaginative makes me a passionate investor."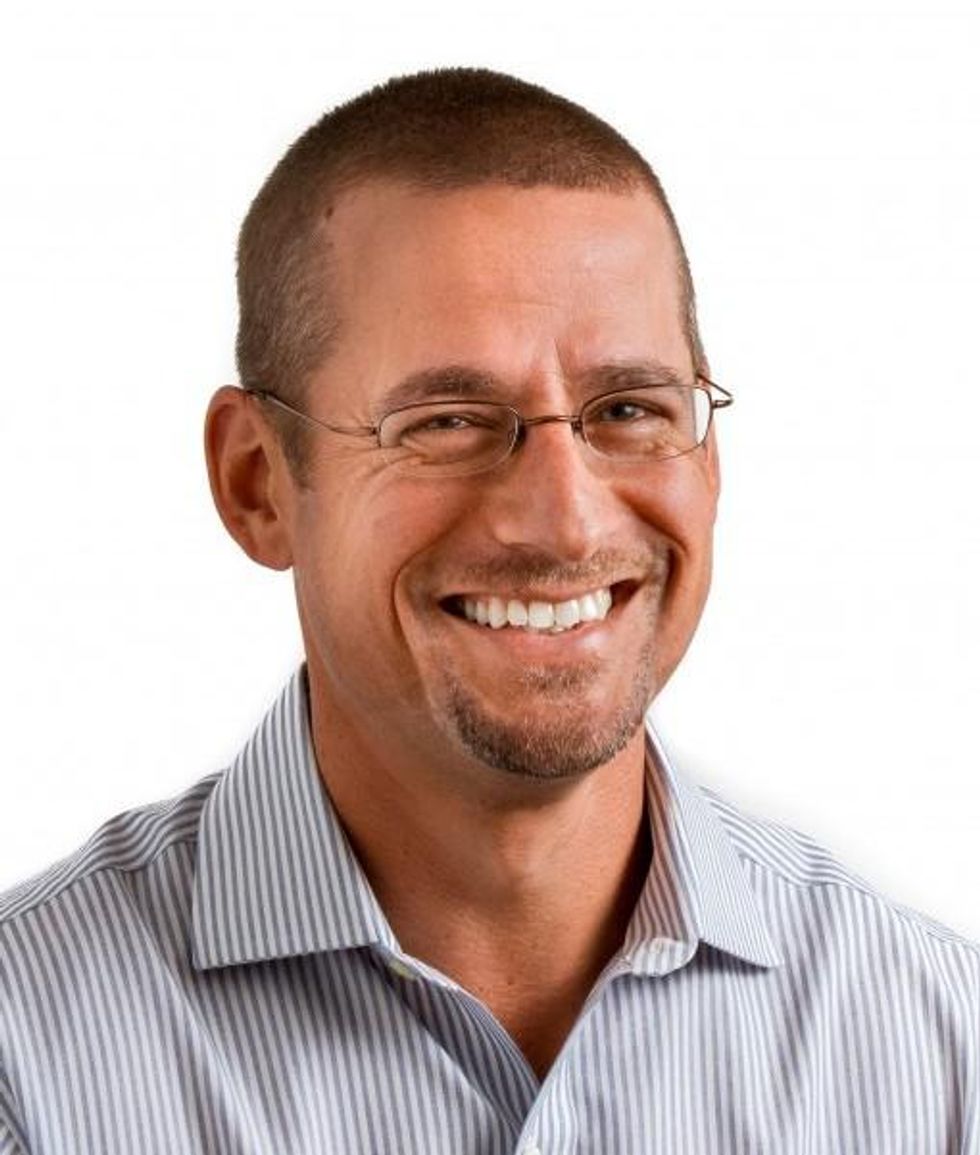 Jim Andelman, Bonfire Ventures
Jim Andelman is a founding partner of Bonfire Ventures, a fund that focuses on seed rounds for business software founders. Andelman has been in venture capital for 20 years, previously founding Rincon Venture Partners and leading software investing at Broadview Capital Partners.

He's no stranger to enterprise software — he also was a member of the Technology Investment Banking Group at Alex. Brown & Sons and worked at Symmetrix, a consulting firm focusing on technology application for businesses.
In a podcast with LA Venture's Minnie Ingersoll earlier this year, he spoke on the hesitations people have about choosing to start a company.
"It's two very different things: Should I coach someone to be a VC or should I coach someone to enter the startup ecosystem? On the latter question, my answer is 'hell yeah!'"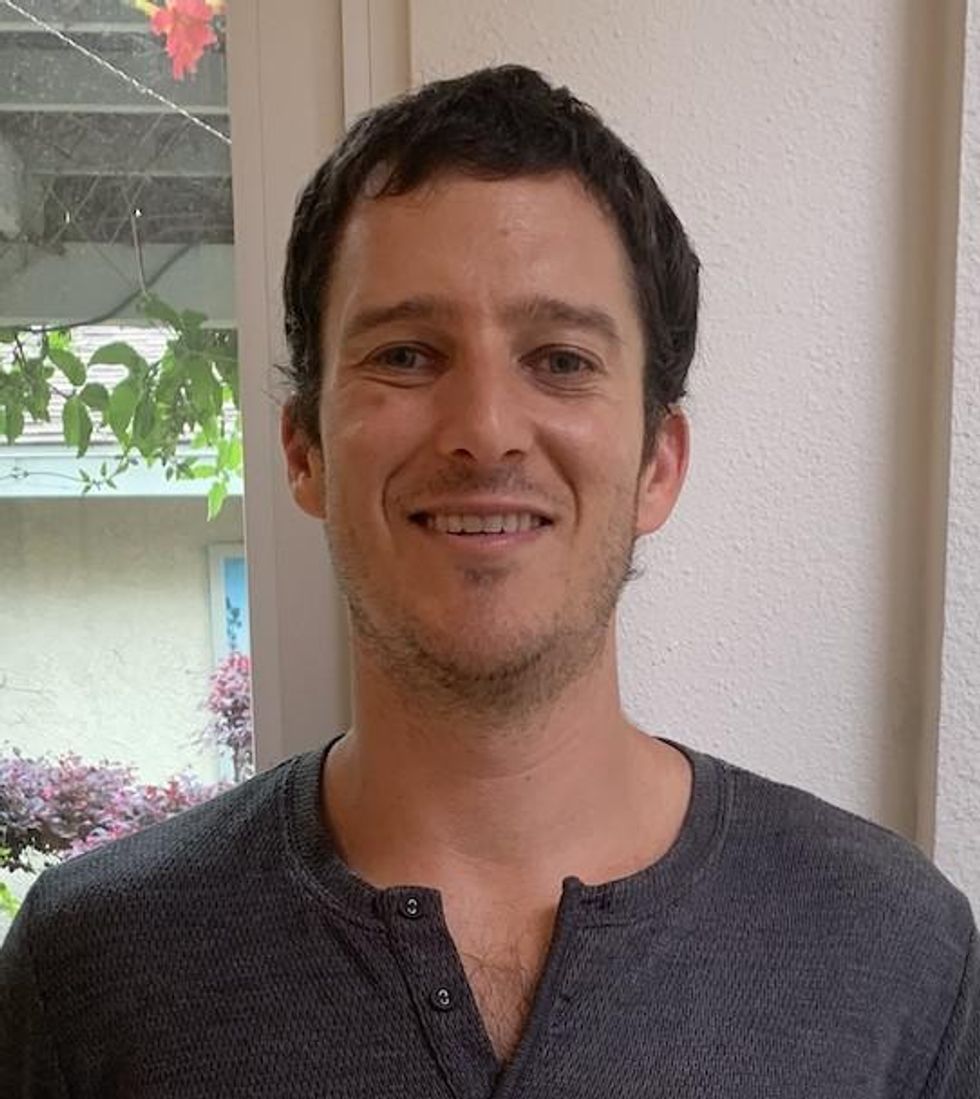 Josh Diamond, Walkabout Ventures
Josh Diamond founded Walkabout Ventures, a seed fund that primarily focuses on financial service startups. The firm raised a $10 million fund in 2019 and is preparing for its second fund. Among its 19 portfolio companies is HMBradley, which Diamond helped seed and recently raised $18 in a Series A round.
"The whole reason I started this is that I saw there was a gap in the funding for early stage, financial service startups," he said. As consumers demand more digital access and transparency, he said the market for financial services is transforming — and Los Angeles is quickly becoming a hub for fintech companies. Before founding Walkabout, he was a principal for Clocktower Technology Ventures, another Los Angeles-based fund with a similar focus.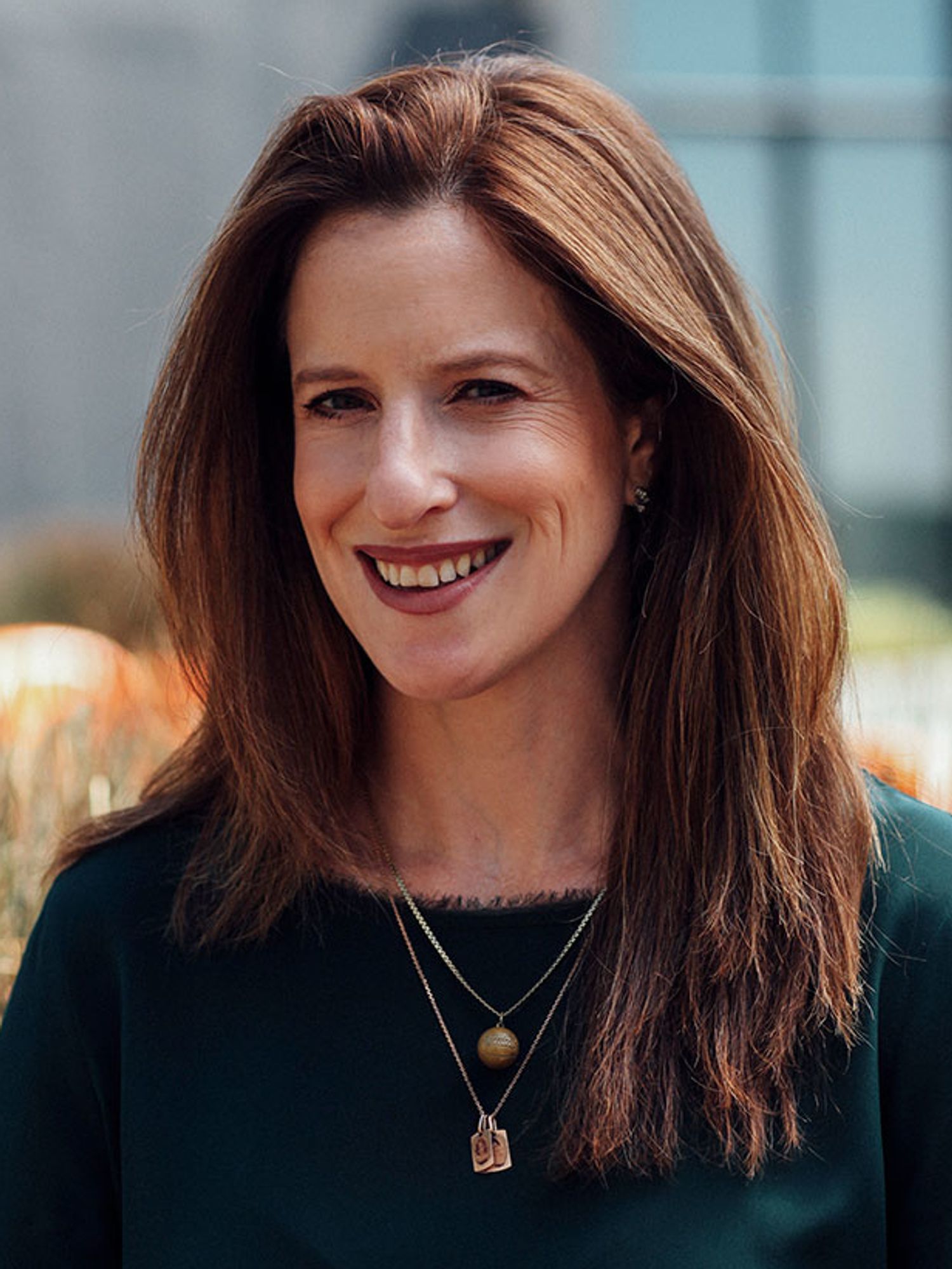 Kara Nortman, Upfront Ventures
Kara Nortman was recently promoted to managing partner at Upfront Ventures, making her one of the few women – along with Settle – to ascend to the highest ranks of a major VC firm.
Though Upfront had attempted to recruit her before she joined in 2014, she had declined in order to start her own company, Moonfrye, a children's ecommerce company that rebranded to P.S. XO and merged with Seedling. Upfront invested in the combination, and shortly after, Nortman joined the Upfront team.
Before founding Moonfrye, she was the SVP and General Manager of Urbanspoon and Citysearch at IAC after co-heading IAC's M&A group.
In an interview with dot.LA earlier this year, she spoke on how a focus for her as a VC is to continue to open doors for founders and funders of diverse backgrounds.

"Once you're a woman or a person of color in a VC firm, it is making sure other talented people like you get hired, but also hiring people who are not totally like you. You have to make room for different kinds of people. And how do you empower those people?"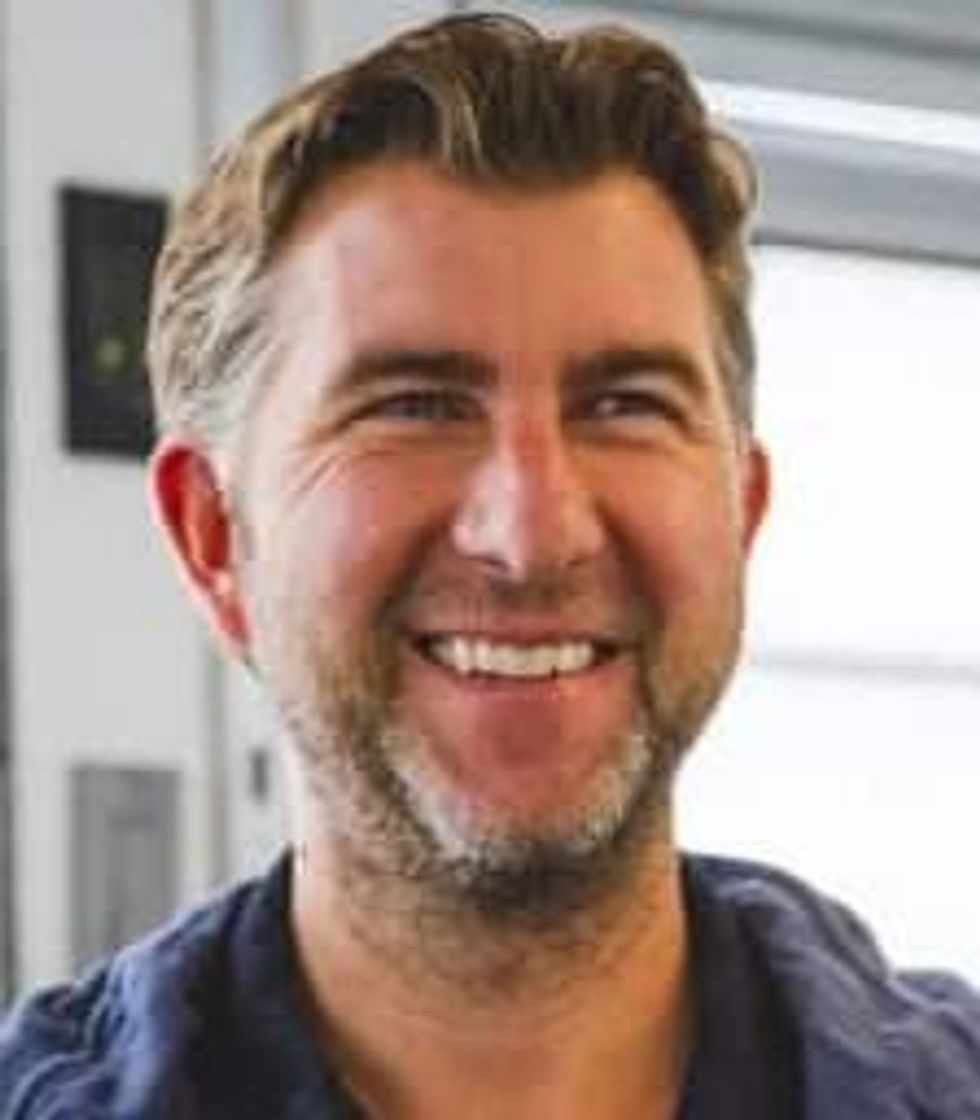 Brett Brewer, Crosscut Ventures
Brett Brewer is a co-founder and managing director of Crosscut Ventures. He has a long history in entrepreneurship, starting a "pencil selling business in 4th grade." In 1998, he co-founded Intermix Media. Under their umbrella were online businesses like Myspace.com and Skilljam.com. After selling Intermix in 2005, he became president of Adknowledge.com.
Brewer founded Santa Monica-based Crosscut in 2008 alongside Rick Smith and Brian Garrett. His advice to founders on Crosscut's website reflects his experience: "Founders have to be prepared to pivot, restart, expect the unexpected, and make tough choices quickly... all in the same week! It's not for the faint of heart, but after doing this for 20 years, you can spot the fire (and desire) from a mile away (or not)."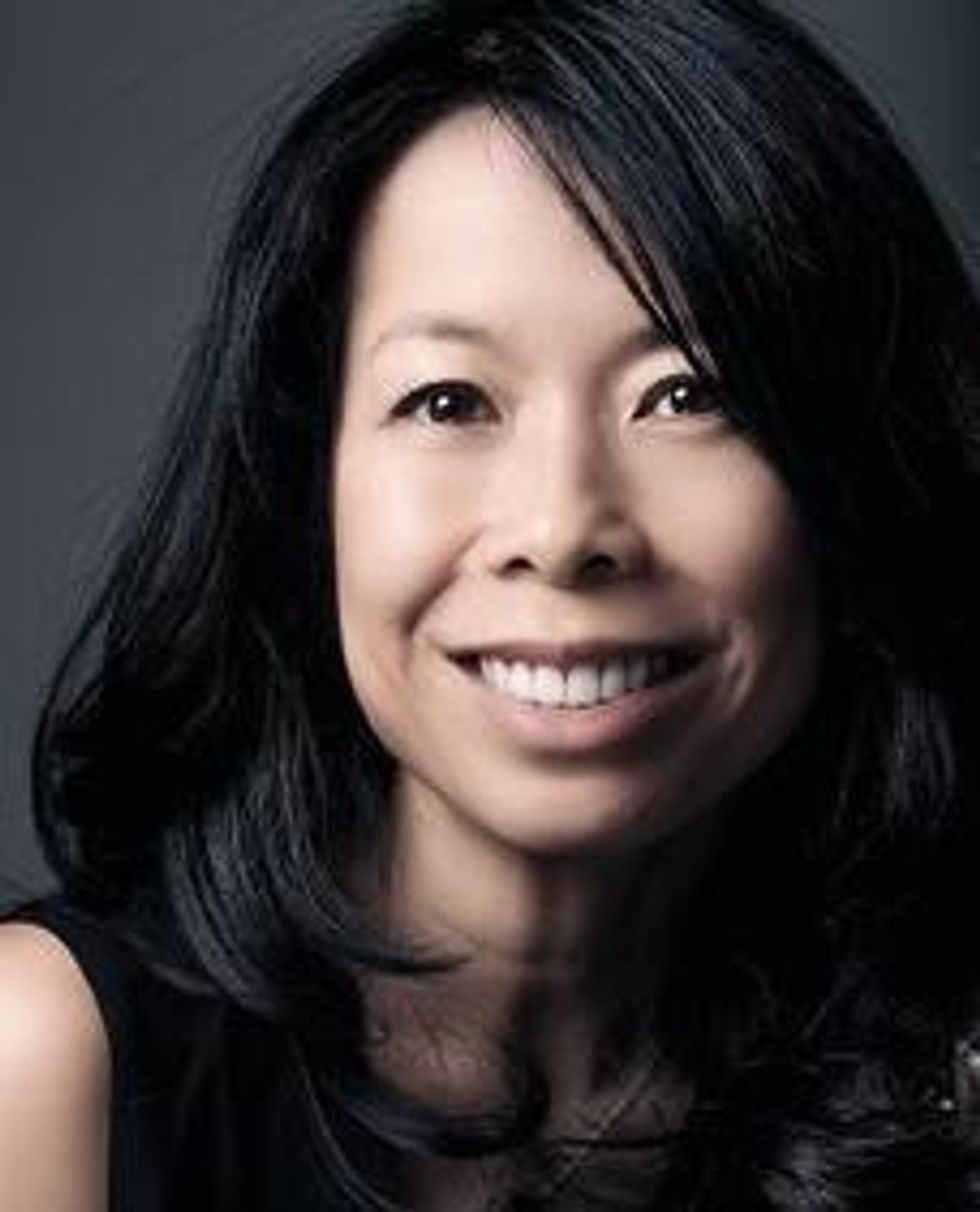 Eva Ho, Fika Ventures
Eva Ho is a founding partner of Fika Ventures, a boutique seed fund, which focuses on data and artificial intelligence-enabled technologies. Prior to founding Fika, she was a founding partner at San Francisco-based Susa Ventures, another seed-stage fund with a similar focus. She is also a serial entrepreneur, most recently co-founding an L.A. location data provider, Factual. She also co-founded Navigating Cancer, a health startup, and is a founding member of All Raise, a nonprofit that supports and provides resources to female founders and funders.
In an interview with John Livesay shortly before founding Fika, Ho spoke to how her experience at Factual helped focus what she looks for in founders. "I always look for the why. A lot of people have the skills and the confidence and the experience, but they can't convince me that they're truly passionate about this. That's the hard part — you can't fake passion."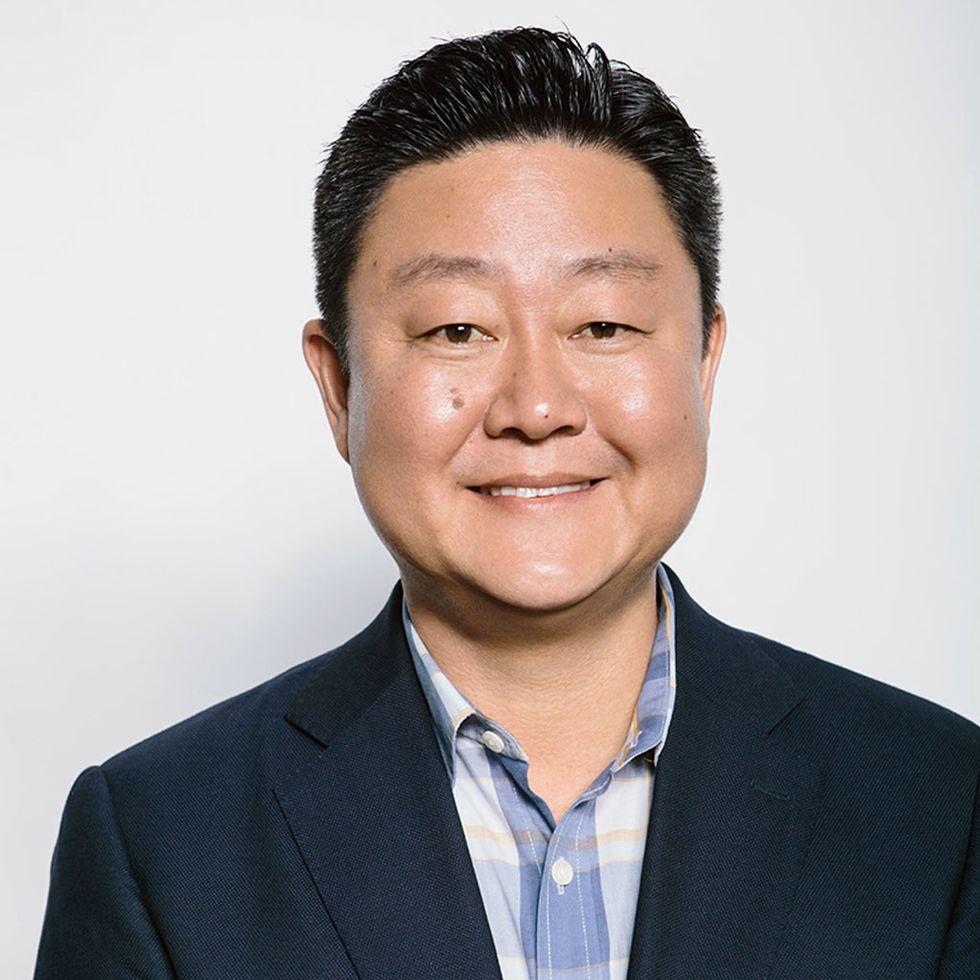 Brian Lee, BAM Ventures
Brian Lee is a co-founder and managing director of BAM Ventures, an early-stage consumer-focused fund. In an interview with dot.LA earlier this year, Lee shared that he ended up being the first investor in Honey, which was bought by PayPal for $4 billion, through investing in founders and understanding their "vibe."
"There's certain criteria that we look for in founders, a proprietary kind of checklist that we go through to determine whether or not these are the founders that we want to back…. [Honey's founders] knew exactly what they were building, and how they were going to get there."
His eye for the right vibe in a founder is one gleaned from experience. Lee is a serial entrepreneur, founding LegalZoom.com, ShoeDazzle.com and The Honest Company.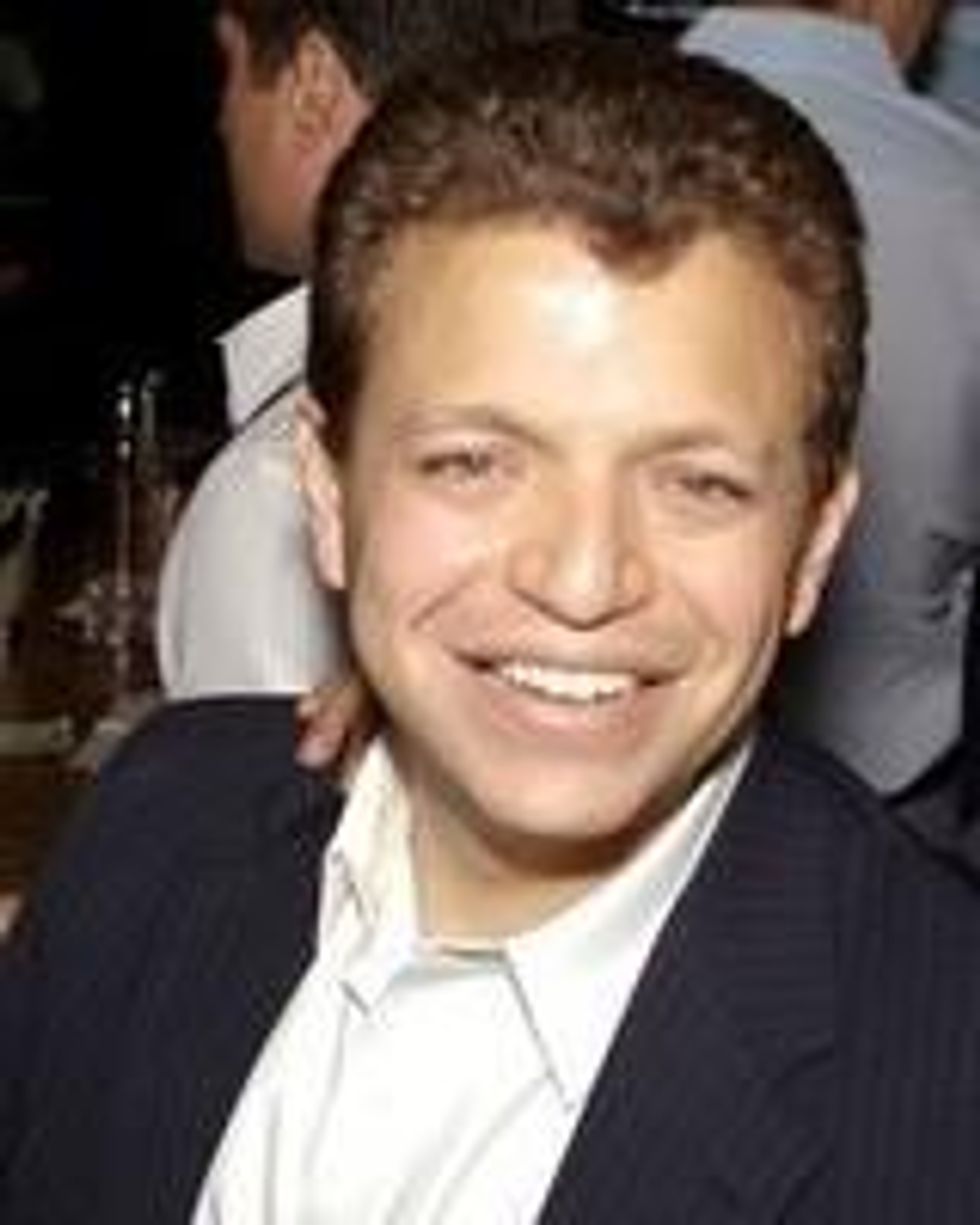 Alex Rubalcava, Stage Venture Partners
Alex Rubalcava is a founding partner of Stage Venture Partners, a seed venture capital firm that invests in emerging software technology for B2B markets. Prior to joining, he was an analyst at Santa Monica-based Anthem Venture Partners, an investor in early stage technology companies. It was his first job after graduating from Harvard, and during his time at Anthem the fund was part of Series A in companies like MySpace, TrueCar and Android.
He has served as a board member in several Los Angeles nonprofits and organizations like KIPP LA Schools and South Central Scholars.
"Warren Buffett says that he's a better businessman because he's an investor, and he's a better investor because he's a businessman. I feel the same way about VC and value investing. Being good at value investing can make you good at venture capital, and vice versa," Rubalcava said in an interview with Shai Dardashti of MOI Global.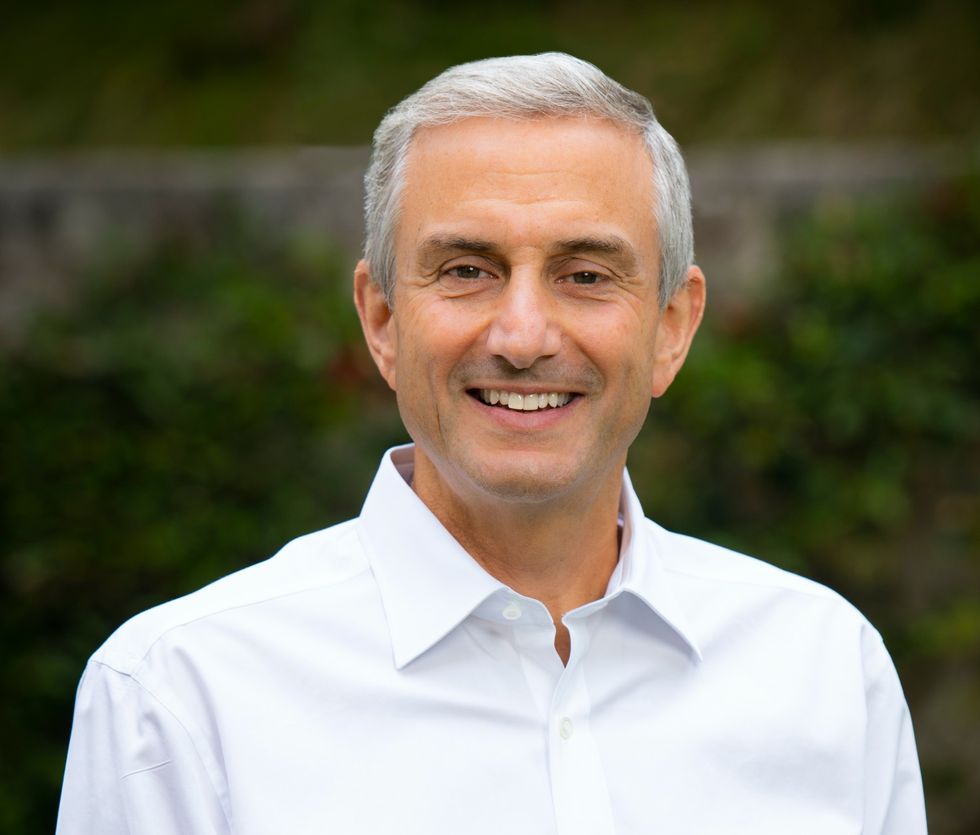 Mark Suster, Upfront Ventures
Mark Suster, managing partner at Upfront Ventures, is arguably L.A.'s most visible VC, frequently posting on Twitter and on his blog, not only about investing but also more personal topics like weight loss. In more normal years, he presides over LA's biggest gathering of tech titans, the Upfront Summit. Before Upfront, he was the founder and chief executive officer of two software companies, BuildOnline and Koral, which was acquired by Salesforce. Upfront backed both of his companies, and eventually he joined their team in 2007.
In a piece for his blog, "Both Sides of the Table," Suster wrote about the importance of passion — not just for entrepreneurs and their businesses, but for the VCs that fund them as well.

"On reflection of the role that I want to play as a VC it is clearly in the camp of passion. I really want to start my journeys only with people with whom I want to work closely with for the next 5–7 years or more. I only want to work on projects in which I believe can produce truly amazing change in an industry or in the world."
Lead art by Candice Navi.
Ben Bergman
Ben Bergman is the newsroom's senior finance reporter. Previously he was a senior business reporter and host at KPCC, a senior producer at Gimlet Media, a producer at NPR's Morning Edition, and produced two investigative documentaries for KCET. He has been a frequent on-air contributor to business coverage on NPR and Marketplace and has written for The New York Times and Columbia Journalism Review. Ben was a 2017-2018 Knight-Bagehot Fellow in Economic and Business Journalism at Columbia Business School. In his free time, he enjoys skiing, playing poker, and cheering on The Seattle Seahawks.
https://twitter.com/thebenbergman
ben@dot.la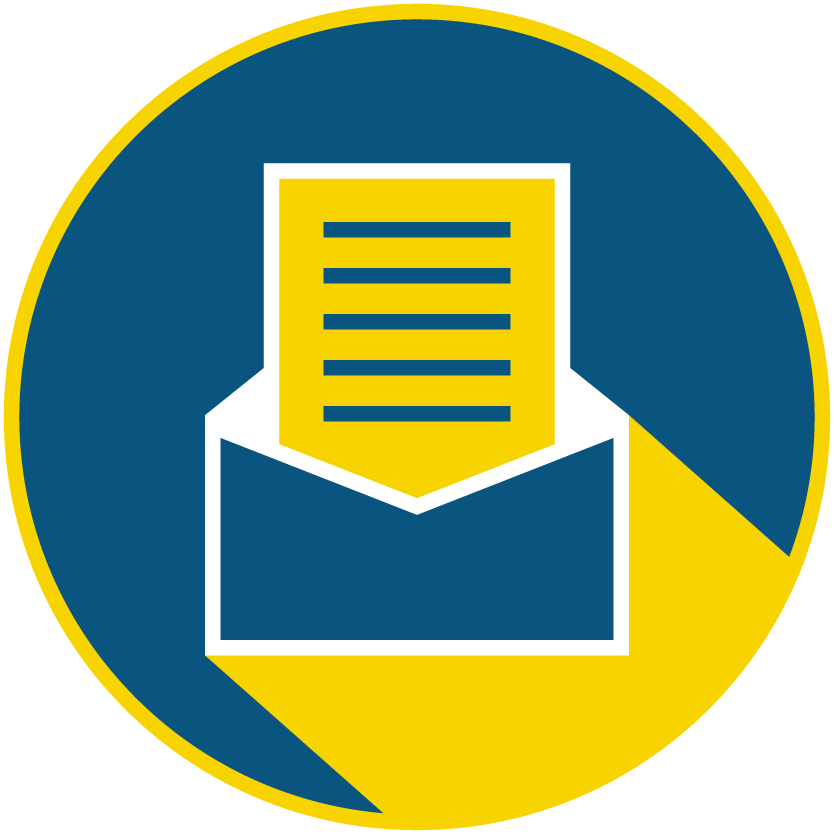 Subscribe to our newsletter to catch every headline.
06:00 AM | August 24, 2022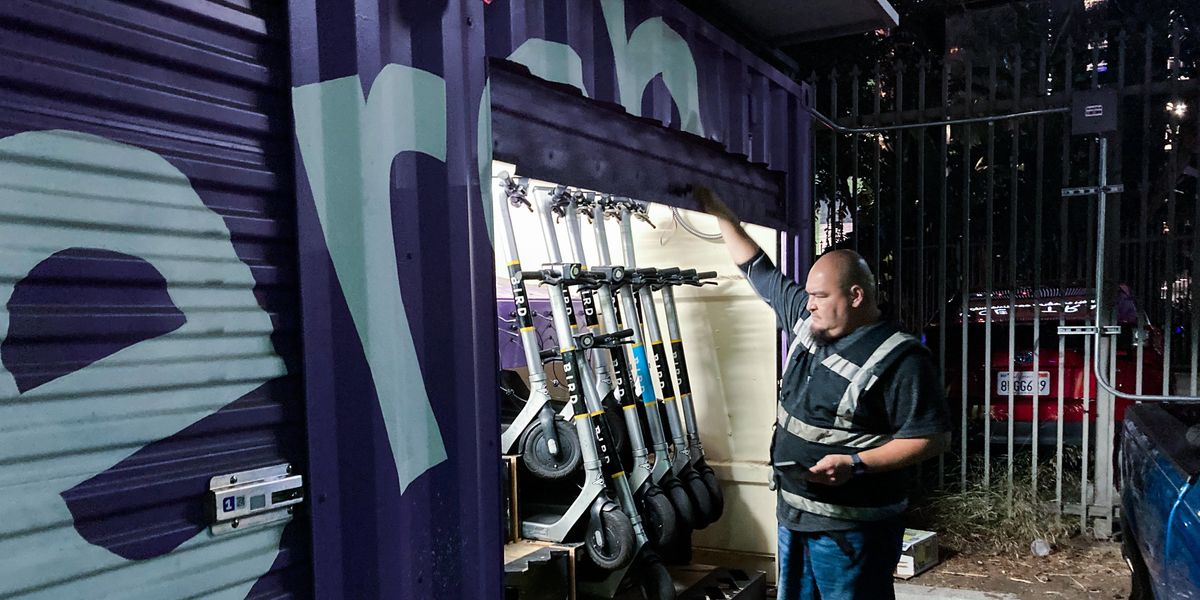 Photo by Maylin Tu
It's Friday night in Downtown Los Angeles and fleet manager Adan Aceves is cruising the streets in his Ford Ranger pickup truck looking for a bird — not an e-scooter, but an actual bird.
"First time I saw the bird I was wondering what the hell is it doing in Downtown?," said Aceves. "It doesn't seem like a city bird, like a pigeon or a seagull…The second time I realized, 'Damn, I only find this fool in Skid Row.'"
We never come across the mysterious bird who acts like a human. Instead, we drive the streets of Downtown, dropping off and picking up scooters — a different type of Bird — under the bright lights and amid throngs of people, many of them dressed to the nines and out on the town, looking for a good time.
By day, Aceves, 41, works in his family's business repairing power tools in South Central. By night, he deploys, charges and rebalances e-scooters for Bird, one of eleven fleet managers located Downtown. The zone that he covers includes Dignity Health on Grand Avenue (once called California Hospital) where he was born.
He wears a security vest that reads "Bird Ambassador" and it's a fairly accurate description of his role in the hustle and flow of the city at night. In all the chaos, he's a steady presence.
When the COVID-19 pandemic hit in March 2020, Aceves was already charging scooters for Bird, Lime and Wheels, making pretty good money, about $100 for three hours of work a night. But when the virus shut down his family business and prompted companies to pull their scooters from the streets, he suddenly had no work and no income. Then, he got a call from Bird.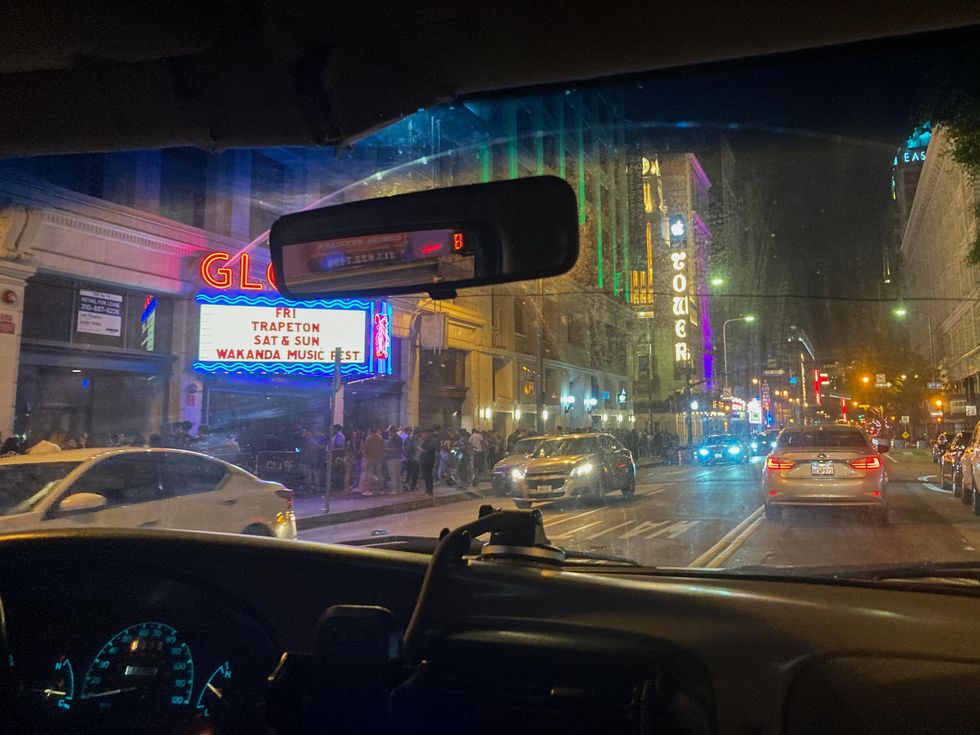 Photo from inside Adan Aceves's car. His responsibilities at night range from deploying e-scooters, charging and re-balancing the e-scooters. Photo by Maylin Tu
From Flyer to Fleet Manager
For deploying, charging and fixing a fleet of about 150 scooters, 100 of which are on the street at any given time, Aceves takes home on average $4,500 per month after expenses. Bird deducts a city fee, an insurance and hardware services fee and something called "contra."
"If someone claims, 'Hey, the scooter doesn't work,' they get a discount. So that goes against me," Aceves explained. His contra normally comes out to about 1% to 2%, while for other fleet managers it can run as high as 7% or 8%. After everything is deducted, Bird and Aceves split the remaining profit 50-50.
As for expenses, he spends $1,200 a month renting a charging container from portable charging infrastructure Perch — an investment he says has reduced the amount he spends on gas by 50%. If he only needs to cover a short distance, he'll sometimes use a scooter to pick up other scooters, saving himself even more money on gas, an expense that currently comes out to about $100 per week. He also purchases parts directly from Bird to make repairs, another expense.
Aceves starts every night at 10 p.m. and works for four to five hours. Between repairing power tools and managing a fleet of scooters, he works 11 to 12 hour days to put his two daughters, 15 and 19, through college.
It's physically taxing work — a Bird Two, the model in Aceves' fleet, weighs 46 to 47 pounds. "After you pick up 40, 50 scooters, then you start to feel it," he said.
As one of the top flyers, Aceves is a perfect fit for the role.
Born in and raised in South Central and Downtown L.A., Aceves said both sides of his family were from Guadalajara. His grandfather on his father's side helped build the railroads in California. His father died when he was 11 and he mostly lost touch with that side of his family.
He went to Cathedral High School in Chinatown, an all-boys Catholic school, before attending Los Angeles Trade Technical College for industrial technology and machining, skills that have come in handy in his work repairing power tools — which he's been doing for the past 30 years.
"So I would go from South Central to Chinatown and I was always in Downtown. Though I gotta tell you, when I was in high school in the 90s — Downtown was not the place to be."
When he turned 18, his mom told him, "You're out of high school, figure it out." Now, he's working to get his daughters through college without taking on student debt.
He knows Downtown's streets inside and out. This gives him an advantage when scooters go missing, trapped in parking garages or parked under bridges where the GPS is spotty. He uses the Bird fleet manager app to track, fix and release scooters. In a sense, Bird also uses the app to track fleet managers.
"Bird sees everything. I wouldn't be surprised if they're listening to us right now."
When Bird launched the fleet manager program, he was excited to start repairing scooters.
"As a mechanic, I take a lot of pride in my work. So I'll keep mine to where they're working 100%, if not better."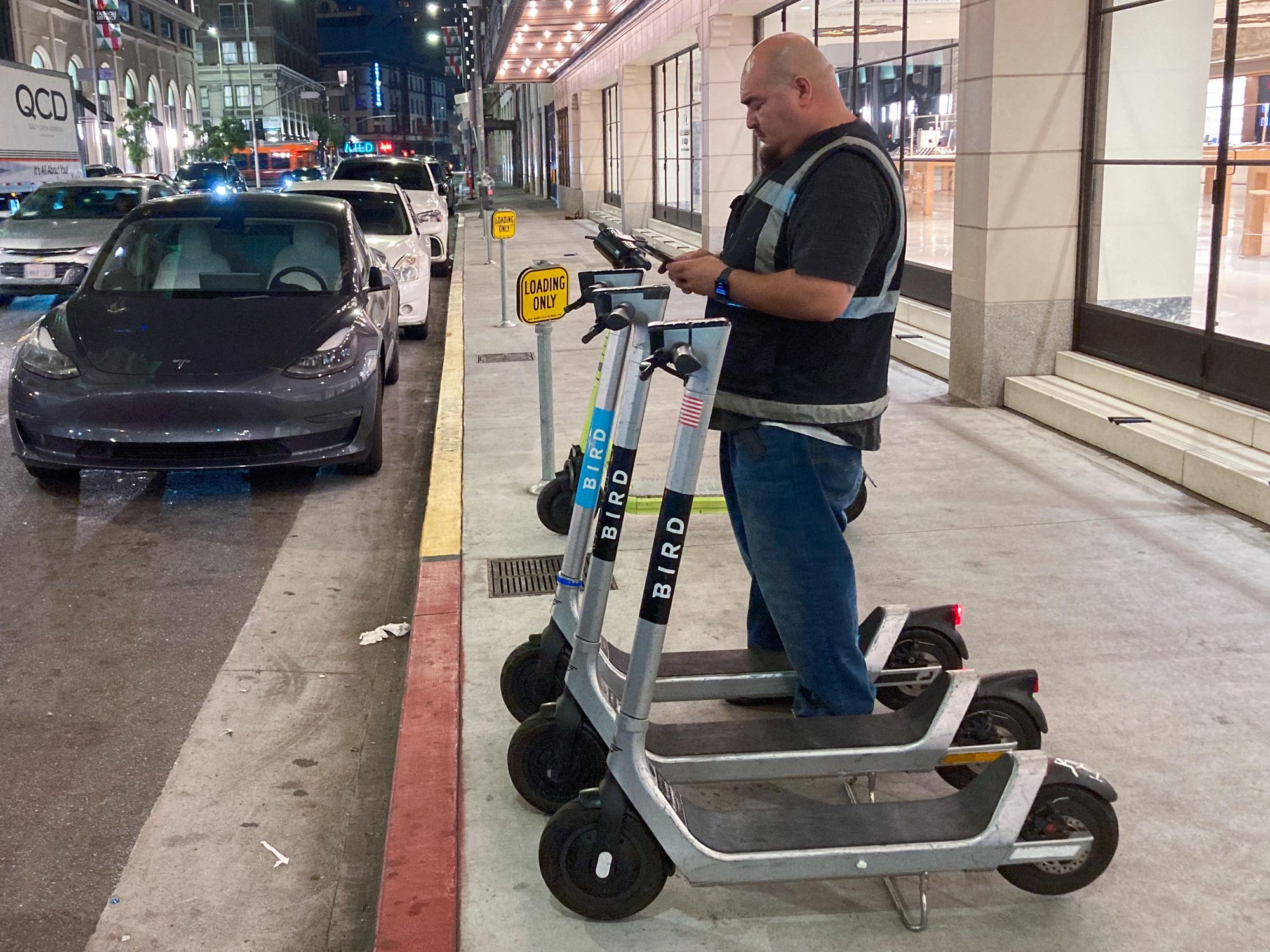 Photo of Adan Aceves, working on this fleet of Bird e-scooter. Photo by Maylin Tu
The Pokémon GO Era of E-Scooter Charging
Back in the early days of the e-scooter boom, companies offered a "bounty" for retrieving, charging and redeploying scooters. You could make up to $20 per device — companies paid a premium for devices that were harder to find. According to multiple sources, it was like a grown-up version of Pokémon GO. People would hunt scooters with their partners, friends or kids.
This cadre of independent scooter wranglers and chargers — Bird called them "flyers" and Lime called them "juicers" — made good money and had fun doing it. But it wasn't a sustainable solution for Bird, Lime and their successors — or the environment.
"The thing about the independent contractor model is that it's great for high growth," said Harry Campbell, founder of The Rideshare Guy. Companies could launch rapidly in cities without going through the trouble and expense of hiring local employees — showing up with a truck full of scooters and using gig-workers hired through Craigslist to charge and deploy them. Bird, flush with investor cash, was willing to shell out a premium for this new job.
But that model was short-lived, partly because the micromobility startups realized that while using independent contractors was great to help them rapidly scale in unfamiliar cities, it also left them with little control over workers. Some flyers also started to cheat the system by hoarding scooters until the bounty on them went up, Campbell said.
When he started as a flyer, Campbell was making between $40 to $50 an hour. "I was like…I know that this isn't sustainable," he said, "because this has happened over and over in the gig economy."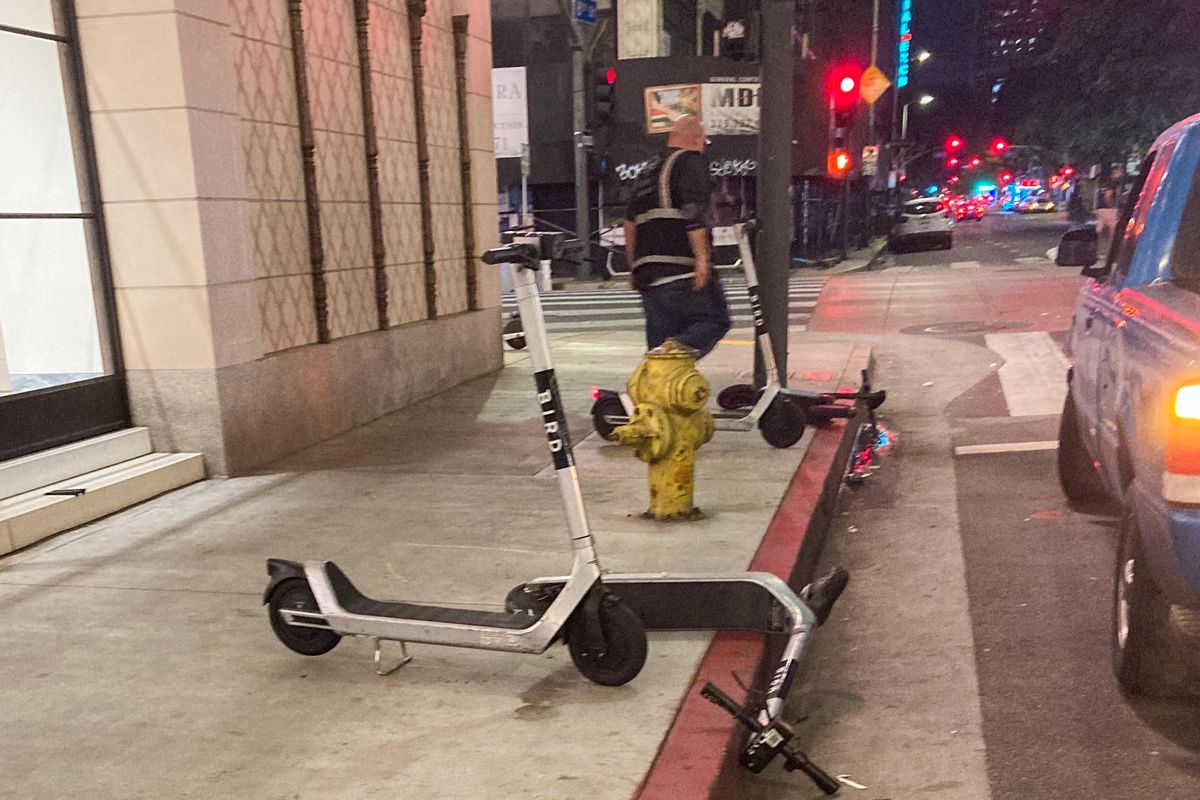 Bird's independent scooter wranglers and chargers are called "flyers" and used to be able to make $20 per device wrangled. Photo by Maylin Tu
How AB5 Impacted E-Scooter 'Flyers'
In 2019, California passed AB5, a bill targeting companies who misclassify employees as independent contractors.
In response, Uber and Lyft and other companies that rely on gig-workers spent $200 million to pass Prop 22 in California, exempting themselves from the law's requirements.
E-scooter companies were forced to take a different route. Bird launched its fleet manager program in early 2020. The program employs small businesses like Aceves's to manage e-scooters while giving them a cut of the profits. To become a fleet manager, individuals must register their businesses as an LLC. Lime uses logistics partners, while competitors like Superpedestrian and Veo make a point of hiring W-2 workers from the local community.
As municipalities ratchet up their regulations around micromobility services, they tend to look favorably on companies that employ W-2 workers. Los Angeles, for instance, is an "open permit" city, which means there is no competitive request for proposal (RFP) process, but companies must submit an annual permit application and a $20,000 fee. Campbell points out that for many cities, including Santa Monica and Long Beach, operators are required to submit detailed applications that are scored on multiple metrics, including community investment.
"It also makes them stand out relative to Bird or Lime that [aren't] using that type of employment setup," said Campbell.
Critics of AB5 say that gig-work is actually ideal for parents, caregivers or anyone looking for flexible work with a low-cost of entry.
"It'd be great to have these easy entry, easy exit jobs, where you can hustle when you want and put them down when you don't," said Erin Hatton, professor of sociology at the University of Buffalo. But some employers take advantage of workers by offering flexible work without employee rights and benefits, which Hatton calls a "false construct."
The "hybrid" fleet manager model was a logical next step for e-scooter companies, according to Campbell. As the rapid growth in the shared micromobility market started to slow, there was also regulatory uncertainty with AB5.
"Bird probably had hundreds of thousands of chargers at a certain point, so it would have been really hard for them to do a 180 and pivot to an employee model," said Campbell.
The new fleet manager program seemed like a win-win for both Bird and the independent contractors it hired. No longer were contractors hunting down devices for a bounty. Instead, they would become responsible for the care, charging and placement of individual scooters. The better a fleet manager's e-scooters perform, the more money they can make. On its recruitment page, Bird advertises that fleet managers can make up to $1,500 per week (with fine print caveats).
At the same time as it offloaded risk and gained more control, Bird didn't have to invest in hiring W-2 employees.
Bird did not respond to a detailed list of questions about its fleet manager program, but confirmed to dot.LA that it employs 40 "independently owned businesses" in the city of L.A. who are "deeply invested in the communities they serve" and offer "bespoke block-by-block operational expertise."
"I do not represent or speak for Bird or on their behalf," Aceves read from his phone while sitting in the driver's seat of his pickup truck in the parking lot outside of the Perch container. "So, I'm only speaking for my LLC, which is called Up Now." He added that, per this message received from his engagement manager at Bird, "My relationship with Bird is as a logistics service provider."
It's not just about money. Going from "flyer" or "juicer" to "fleet manager" can be a source of pride. Aceves said that some flyers were ashamed to be charging scooters and that it was stigmatized as the "Millennial's way of collecting cans." But after they became fleet managers, those same people started bragging about how much money they were making.
"They have hustle," said Perch Mobility co-founder and CEO Tom Schreiber. "They want to build a better life and have all the dreams everyone else does."
In 2020, Medium's tech-focused OneZero publication released an investigation into the program, claiming that Bird was "luring" fleet managers into thousands of dollars of e-scooter debt. However, a follow-up by Smart Cities Dive offered a different picture, focusing on some fleet managers who said they were happy with the program and making good money.
Bird is careful to refer to fleet managers as independent small businesses (not employees) and to emphasize the autonomy that fleet managers have to manage their own fleet. While fleet managers are responsible for repairing damaged scooters, Bird owns the scooters and fleet managers are not financially liable for lost or stolen scooters. But if owning your own business is part of the American dream, that dream can also be exploited by companies who promise one thing and deliver another, according to Hatton.
"Being able to realize a dream of being an entrepreneur — especially when you're coming from such a background — is really powerful," she said. "And if it pays off for them, I'm all for it. But if they're being taken advantage of under the guise of a dream, then that's deeply problematic."
From Bounty Hunter to Fleet Shepherd
Adan Aceves has seen things as a Bird fleet manager working nights in Downtown L.A. He jokes that he should start wearing a body cam to capture it all. At 2 a.m. when the bars and clubs get out, things start to get interesting.
Last week, he broke up a fight between two men in front of Union Station. One man was accusing the other of raping his niece.
"And I said, 'If this dude's a rapist. I'm gonna help you beat him up. When and where?' And he said it happened 20 years ago in Compton."
The man being accused said he didn't know the other man and that he was sleeping when he was attacked.
He's been in some tense situations while trying to retrieve scooters, including being threatened by a guy with a stick and pulling out his knife in self-defense.
At night, Aceves functions as "eyes on the street" In Downtown L.A., providing a kind of crucial, if unrecognized, public service, in keeping the city safe and vibrant (as urbanist Jane Jacobs outlined in her book "The Death and Life of Great American Cities").
There are the drunk people who think it's funny to knock over a row of scooters like so many dominoes or tangle them up in a torturous triangle for fun. He only lines up three to four scooters at a time because he's found that people are less likely to mess with them.
People have left scooters on the freeway or under bypasses, and once, someone threw a Bird onto a street sign, where it hung suspended like an upside down "L."
"They'll leave them in places where it's like, 'Why? Why would you put it here?' Not only is it time-consuming but sometimes it can be dangerous," he said.
Sometimes an enterprising user will ride a Bird scooter all the way to Venice or Marina del Rey, where he has to go to retrieve it, cutting into his profit margin.
One Bird recently made its way all the way to Mexico. "I told Bird, "Hey — this bird decided to migrate."
All told, he's lost about 130 scooters since he started. And while e-scooters are extremely visible on the streets of L.A. — much to the chagrin of some Angelenos — Aceves works mostly behind the scenes, not only recharging and rebalancing scooters, but also making sure that they are legally parked and not blocking the public right of way.
"That is one thing I would like people to know — that there [are] actual humans behind each scooter," Aceves said.
For Lack of a Safety Net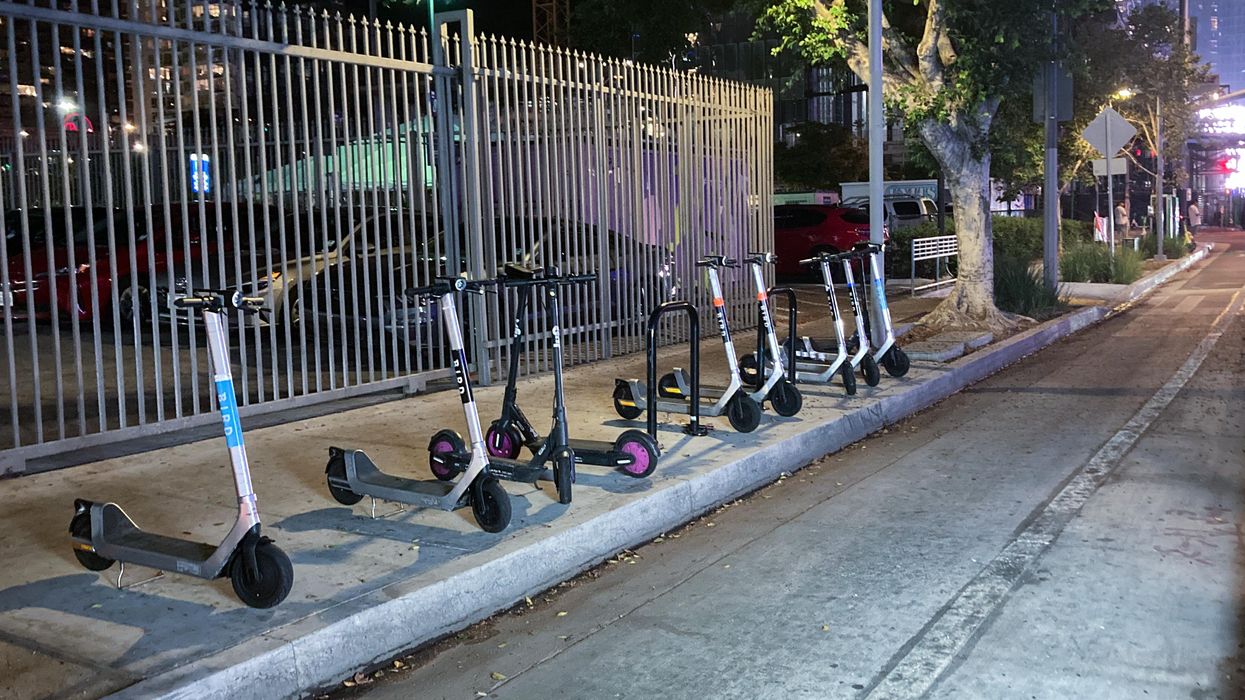 Photo by Maylin Tu
Aceves works with two other fleet managers (one is his brother). He said they help each other out. Otherwise, it can be hard to maintain a grueling, seven-nights-a-week schedule, with no vacation pay or sick days.
He makes more money than he would as a so-called gig-worker, but he doesn't receive either the legal protections afforded employees under federal and state law, nor the types of perks tech companies often offer.
"One of the things that is quite tricky about the independent contractor model is that the costs of that model are not readily apparent," said Hatton.
Nonetheless, for many workers, the trade-off is worth it and Aceves says he enjoys the flexibility.
"I enjoy the freedom. I enjoy driving Downtown. I like the fact that the scooters are providing a service to a city without majorly giving us pollution and decreasing traffic," he said. "I always think to myself, 'I gotta leave this planet better than when I came in. Because my kids are here and possibly their kids'."
Aceves grew up during "some of the worst years in South Central'' and wants to write a book about the experience. He thinks he has enough material — the kind of stories you wouldn't believe if he told them to you — for two or three seasons of a TV show.
He was 11 during the 1992 Los Angeles Riots, when the streets were on fire.
"I was like, 'What the hell's going on? Is it the end of the world?'."
As a teenager, he said he had a few run-ins with the LAPD's infamous Rampart Division . Aceves said corrupt cops would try to shake down gang leaders for money and retaliate against people in the neighborhood when they refused — doing everything from beating them up, to trying to plant drugs or guns on them, to picking them up and leaving them in a rival gang's neighborhood.
"So basically expecting you to get killed 'cause it wasn't like they were going to greet you — or offer you a ride back. So I would be running home at 2 a.m. down Central Avenue, as fast as I could. People would think I was on drugs and I was just running home for my life."
Today, Aceves cruises through the streets of Downtown L.A. every night, to put his daughters through college and to make the world a better place.
In working with cities, companies like Bird straddle the line between private enterprise and public service — claiming to make cities greener, safer and more equitable. And shared micromobility has changed the landscape of Downtown L.A., arguably for the better. But it's people like Aceves who deal with the best and the worst the city has to offer.
At one point, Aceves leans down to pick up a LINK scooter that's lying with its handlebars in the street. "We're not supposed to touch competitors' scooters," he explains. "But normally, if they're in a situation like this, I pick it up…I feel like it's my community."
Maylin Tu
Maylin Tu is a freelance writer who lives in L.A. She writes about scooters, bikes and micro-mobility. Find her hovering by the cheese at your next local tech mixer.
03:30 PM | October 11, 2022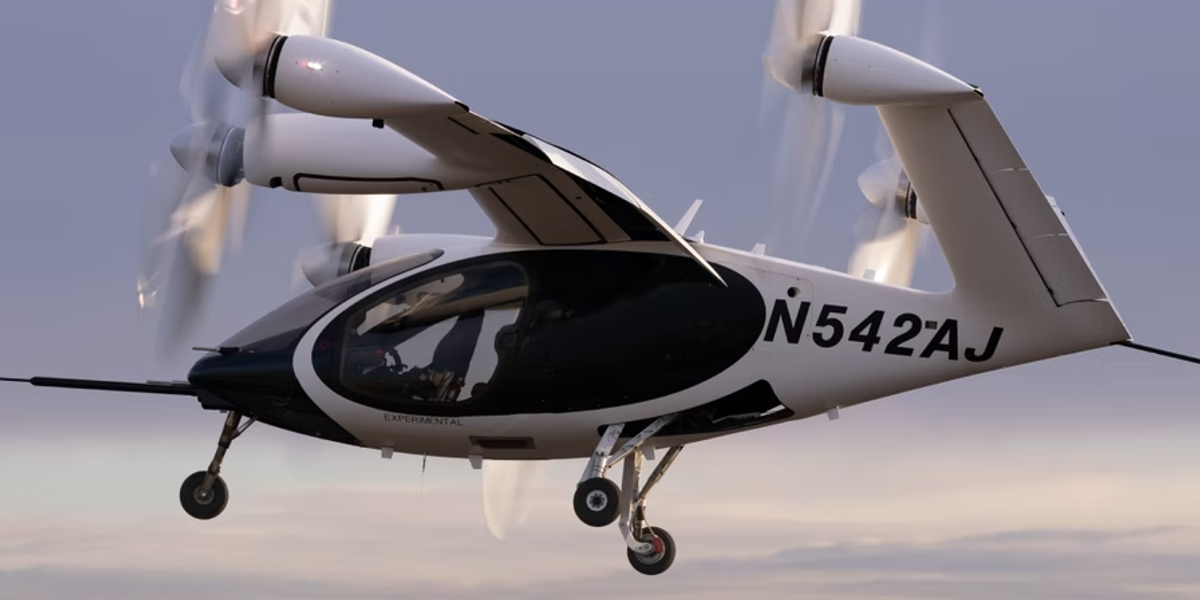 Photo courtesy of Joby Aviation
Delta Airlines invested $60 million in Santa Cruz-based electric aircraft startup Joby Aviation Tuesday as the major airline begins to seriously consider using electric air taxis as a way to shuttle people to and from their airport destinations.
The deal sees Delta investing $60 million in exchange for a 2% stake and a seat on Joby's board, but it could be worth much more.
Delta is dangling a golden carrot in front of the electric aircraft firm, and promised its investment could swell to a total $200 million if Joby hits certain "substantive milestones on the development and delivery of the service" – though it didn't specify what those milestones would be, and Joby and Delta didn't immediately return dot.LA's requests for comment.
Delta plans to integrate Joby's air taxi services into its network of services to give passengers access to short-range flights to and from city airports starting with Los Angeles and New York. Joby previously stated it plans to open air taxi travel to the public as soon as 2024, though it's unclear if that's exactly the same timeline Delta is targeting for its flights.
In May, Joby received certification from the Federal Aviation Administration (FAA) to begin its testing of commercial air taxi services, but currently holds only one of the three certifications it'd need to be sanctioned for widespread use (it still needs to certify its production and aircraft).
According to Joby, the Delta deal is mutually exclusive in the U.S. and U.K. for the first five years following Joby's commercial launch. This means neither party can seek alternate deals with competitors, a sign that Delta is certainly serious about exploring the air taxi space as part of its long-term business plans. Delta CEO Ed Bastian told reporters the deal is a good one for Delta, since it will rely on Joby to be the operator and figure out the tech, while all Delta has to do is cut checks, ready the airport infrastructure and, theoretically, wait for the cash to flow in.
Joby Aviation CEO JoeBen Bevirt told The Verge Tuesday that he predicted his service could drastically reduce friction in getting to the airport, claiming that a normally 50-minute trip from Manhattan to JFK International Airport outside Queens could be shaved down to just 10 minutes with one of Joby's air taxis. This is partly because Joby's aircrafts are designed for electric, vertical takeoff and landing (nicknamed eVTOL), which means they don't need a full runway.
"Delta has invested billions of dollars in airport infrastructure and has really deep and important relationships with the airports in both New York and L.A.," Bevirt told TechCrunch.
Still, Delta isn't the first household name to back Joby since its launch in 2009 – the company also received investments from Toyota and has a deal with Uber. Uber first invested $50 million in Joby's Series C round in January 2020 and contributed another $75 million in December 2020. Joby also bought Uber Elevate, Uber's floundering attempt at an air taxi service launched in 2016, which didn't work out. Joby said it had plans to revamp it, with the goal to "integrate their respective services into each other's apps, enabling seamless integration between ground and air travel for future customers."
In September, as part of a similar arrangement, United Airlines announced that it invested $15 million in Brazilian startup Eve Air Mobility, and also placed an order for 200 of Eve's electric air taxis.
As such, Joby faces stiff competition in the burgeoning air taxi industry. One such, well-funded startup in California is San Francisco-based Archer Aviation. The Joby competitor is also backed by United Airlines, which paid $1 billion to order 200 of its aircraft last year.
Like Joby, which went public on the New York Stock Exchange through a blank-check merger last August at a $4.5 billion valuation, Archer Aviation was on a similar track and went public last July. But Joby's SPAC deal was criticized by some, including analysts at Bleecker Street Capital, a hedge fund, which argued in a lengthy report that Joby was over-inflating its ability to produce enough aircraft to hit its 2024 targets.
"Unfortunately, as much as we hate traffic, we believe Joby has severely overstated what it can do," the report noted. "We believe Joby is publicly overstating how many planes it can produce… We believe the project will be massively delayed and miss timelines by years."
Nonetheless, shares of Joby Aviation jumped by as much as 16% after the Tuesday announcement. Tuesday to as much as 16%. The stock closed the day up roughly 8% to about $4 per share.
Samson Amore
Samson Amore is a reporter for dot.LA. He holds a degree in journalism from Emerson College and previously covered technology and entertainment for TheWrap and reported on the SoCal startup scene for the Los Angeles Business Journal. Send tips or pitches to samsonamore@dot.la and find him on Twitter @Samsonamore.