tesla
tesla
On Wednesday, California Gov. Gavin Newsom signed into law a bill that targets Amazon's surveillance of warehouse employees. Earlier this month, another bill appeared on his desk, this one allowing restaurants to provide customers an itemized breakdown of the fees charged by delivery apps.

Both bills aim to take on Big Tech. And both were authored by Lorena Gonzalez.
The Democrat and assemblywoman from San Diego has emerged as one of the California legislature's fiercest critics of Silicon Valley's giants.
In 2019 she drafted Assembly Bill 5, which codified a state Supreme Court ruling reclassifying gig workers as employees. It also raised her profile. While Prop 22 overturned Assembly Bill 5, labor chalked up a victory last month after a California Superior Court judge ruled the ballot initiative unconstitutional.
All three bills threaten not only to change how these tech giants do business, but cut into their bottom line.
Gonzalez knows that tech companies feel victimized by her office. AB 286, her bill providing the itemized fee breakdown, is her latest salvo against them. The legislation would ensure delivery services pay the entire gratuity to their drivers, following a lawsuit alleging that DoorDash had stolen drivers' tips.
"We've been asked a lot, 'Why are you picking on us?'" she said. "But I just want people to remember that transparency in transactions is always good. We don't allow people to sell you something and not point out the taxes on it. We don't allow you to buy a car without knowing the add-in. So it's normal for us to look at transactions that have been kept secret, that keep the consumer from making educated decisions, we tackled that and that's what we're trying to do here."
Although a permanent cap on delivery fees failed to make it into the final version of AB 286, the bill still provides enforcement mechanisms to ensure workers receive their tips. It also allows the attorney general, city attorneys or district attorneys to pursue a civil court case, while another complementary bill says an employer can go to jail for stealing tips, Gonzalez told dot.LA.
"It's putting it in the penal code but it's also ensuring that adding into the discussion of what is a wage, it includes tips for independent contractors," she said. "So I think those bills together will make people think twice."
The bill Newsom just signed would require Amazon and other companies to reveal details of the quota systems they use to ramp up productivity in their warehouses.
At Amazon warehouses, workers have blamed the pressure to meet demands on unsafe working conditions and high injury rates. And a 2019 investigation by The Verge showed that Amazon had fired hundreds of workers at a single fulfillment center in one year for failing to meet productivity quotas.
For Gonzalez, a former labor leader who has turned her enemies' anti-union smears into badges of honor, her battle for gig workers' benefits follows over two decades of organizing. She unionized workers at Tri-City Medical Center in Oceanside, where her mother once worked long hours, and was banned from all Wal-Mart stores following a demonstration demanding higher pay.
Her latest fight temporarily sidelined her from the Capitol: she was diagnosed with breast cancer in early August and underwent a bilateral mastectomy weeks later, announcing on September 13 that she was cancer-free.
Her work as an assemblywoman has earned her both a national reputation as a progressive darling—and detractors within her state's business community, including Rachel Michelin, head of the California Retailers Association.
"She's been very vocal about who she's targeting, similar to what she did with AB 5," Michelin said. "She goes after a few companies but sets out this large net and it has unintended consequences."
Michelin who called the bill "overly broad": also took umbrage at Gonzalez's political style, noting that the assemblywoman prefers to take to social media—where she once tweeted "F*ck Elon Musk"—rather than come to the table with the state's business interests groups.
"She responded to some of our comments online through our digital campaign, but not directly to me or any of our coalition partners," Michelin said.
California Assemblyman Alex Lee, who represents the Silicon Valley area, co-authored the bill aimed at delivery fees with Gonzalez. The young politician has known her since his time as a legislative staffer in Sacramento and decided to team up with Gonzalez after he heard similar complaints from his restaurateur constituents about delivery apps.
A self-described "Gen Z-er," Lee not only takes little offense when Gonzalez pops off on Twitter, he applauds it.
"She's an absolute fierce champion for the working class," he said. "There are other politicians who see themselves as great dealmakers, Lorena's more like, 'How do I get the most for working people?'"
As a former gig worker himself, Lee said he knows how AB 5 revolutionized the tech industry for those who labor in what he describes as "new serfdom."
At the same time, he points to the impact the legislation made on his peers from college, many of whom worked in contracted positions at Google, Facebook and Apple. While their white-collar jobs offered a lucrative salary, the companies didn't offer full-time benefits.
"For our generation, organized labor is like a foreign concept now. Just getting money in the bank is so important that you'll forgo dental and health insurance," Lee said.
"That's why big things like AB 5 and what Lorena does are so important. We are in this race to the bottom and it's not just the stereotypical person who works in the factory, it's people who have white collar jobs in offices, they're all in the same boat and that's why her work is so profound."
After a string of funding problems that have delayed the release of its first car, Faraday Future announced Tuesday that production would start by July 2022 at an assembly plant in Central California.
Irvine-based architecture firm Ware Malcomb is set to finalize the building's design and engineering for an automobile plant in Hanford, California. Faraday says the 1.1-million square-foot building can produce 10,000 vehicles per year when it's up and running.
Faraday Future, which announced a $3.4 billion SPAC merger in January with Property Solutions Acquisition Corp (PSAC), said last March a $100 million debt financing would allow it to begin production on the FF91 electric vehicle in Hanford. Until now, it hasn't delivered on its production promises for the consistently delayed luxury EV.
"FF has already completed significant investment at our Hanford manufacturing facility, and with the additional funding from our merger with PSAC, we anticipate that the plant will be up and running in the near future," CEO Carsten Breitfeld said in the announcement.
Faraday Future's Facility in Hanford, California
The luxury FF91 SUV is set to compete with vehicles like the Tesla Model X. Faraday promised the FF91 would go from 0-60 mph in 2.4 seconds, while it featured a tech-heavy interior. Customers were asked to put down $5,000 for a refundable deposit for the car that most recently was supposed to begin production at the end of 2020.

The Gardena-based startup will also work with Tesla manufacturing partner Myoung Shin to make more vehicles in South Korea, including models other than its 1,050-horsepower debut electric car. Faraday said it secured a former General Motors plant there for additional production capacity, although it didn't specify on production capacity.
The company was founded in 2014 and showed a high-performance electric supercar at the 2016 Consumer Electronics Show in Las Vegas. But the following year, it unveiled the more mainstream FF91.
It leased the Hanford facility in 2017 after canceling plans to build a $1 billion plant near Las Vegas, even though construction had already started. But money problems had beset Faraday Future since 2016 and continued to delay the start of production for the FF91 and other models were dropped from its plans. The company furloughed hundreds of workers in 2018 and sold its Gardena headquarters in 2019 to raise cash.
Its co-founder and former CEO, Jia Yueting, was also caught in a financial scandal. His assets in China were frozen and he moved to California permanently, where he spent millions on homes and other purchases. Jia filed Chapter 11 bankruptcy in the United States in 2019.
The controversy with Jia also resulted in then-chief technology officer Ulrich Kranz and chief financial officer Stefan Krause to leave the company. Kranz and Krause later founded Torrance-based Canoo Inc. (Kranz recently left Canoo for Apple).
Faraday Future didn't elaborate on how many additional vehicles it hopes to produce in South Korea or how many additional markets it plans to enter, but the company said it's brought on key people to ramp-up assembly. In March, the company hired a former Jaguar Land Rover executive to establish operations in China.
Los Angeles provides one of the best models for creating incentives to encourage people to buy electric cars — even if those various programs and qualifications can be confusing to navigate.
Nationally, the electric vehicle (EV) sector is growing at a rapid clip. President Biden continues his efforts to add electric vehicle chargers across the country and speed up EV adoption, and a number of new electric vehicles are coming to market in the near future, with established automakers like General Motors, Honda and Volvo setting deadlines to go all-electric. Meanwhile, startups like Fisker, Lucid and Rivian are slated to start delivering vehicles to reservation holders over the next year, and Tesla continues to report sales gains every quarter.
The push for EV is especially strong in California, where Governor Gavin Newsom signed an executive order last year banning the sale of new cars with internal combustion engines by 2035.
Among the most significant barriers to EV is price; even Elon Musk admits the vehicles have to come down in price before they'll see widespread adoption. Yet while electric cars have considerably higher price tags than comparable gasoline-powered models, a slew of manufacturer incentives and government subsidies have helped offset the cost.
"Some states have a more welcoming approach, while others only complicate the matter and make it harder for consumers to make the switch," said Robby DeGraff, an auto industry analyst for automotive marketing research firm AutoPacific. "There's a lot of work that needs to be done by the Biden administration and thankfully there's ambition for change to happen."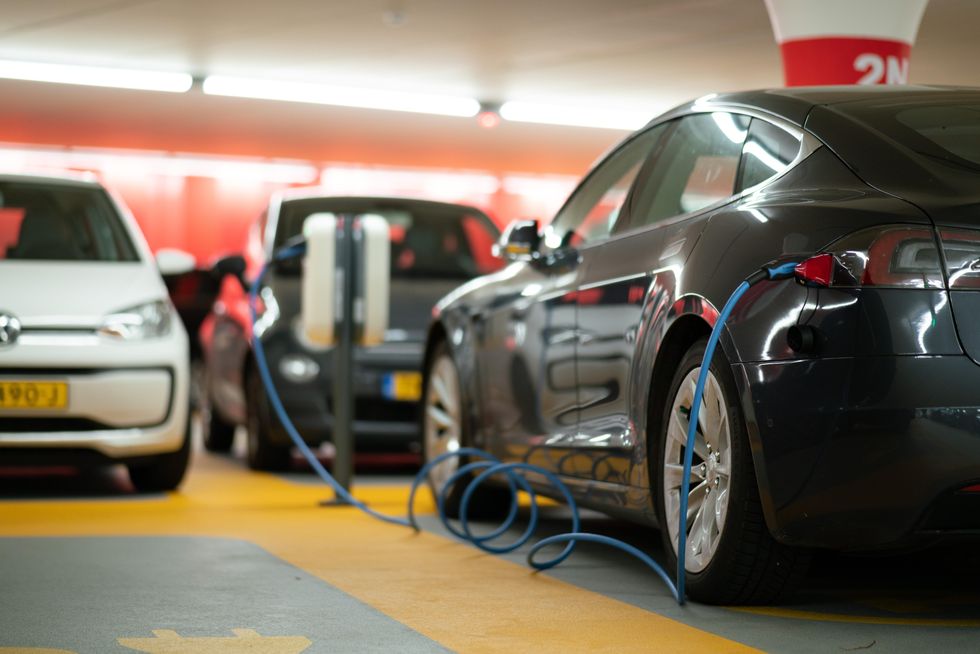 electric vehicles Photo by Michael Fousert on Unsplash
Southern California residents — especially those living in L.A. — are best positioned to take advantage of existing rebates and incentives. In addition to the maximum $1,500 California Clean Fuel Reward and $7,500 maximum federal EV tax credit, L.A. residents can get a $500 rebate toward the purchase of a Level 2 EV home charger through the the Los Angeles Department of Water and Power (LADWP), which replenishes a battery pack far more quickly than a standard 120-volt household outlet. LADWP also kicks in an additional $250 if EV owners install a separate meter for the vehicle charger — an offer that takes advantage of a discounted electricity rate of 2.5 cents per kilowatt hour on base period charging. That period runs on weekends and between 8 PM and 10 AM on weekdays.

"There are a number of barriers to adopting electric vehicle technology, including affordability," said Kianiwai Jones, LADWP's assistant supervisor of electric transportation programs. "More incentives at every level will be key to adoption."
As far as Jones can see, people seem to be latching onto the incentive programs. She says she fields fewer questions from customers concerned about the cost of a home charger than in years past.
But the learning curve around charging still exists, Jones says, particularly when it comes to managing power usage during peak hours. "You charge based on what you need, and not as fast and as quick as possible," Jones said. "If you're going to charge overnight and you have 8 to 10 hours, it's going to impact your bill differently. If you increase your electric usage, you're going to increase your bill. But that's offset by the fact that you're not using gasoline."
LADWP offers a $1,500 rebate towards the purchase of an EV between 2 and 8 years old. (Some used EVs can be a bargain on their own: A five-year-old Nissan Leaf, for example, can cost under $10,000.) Applicants don't have to have utility bills in their name, but must prove they live in the utility's coverage area and use the service.
"We're very focused on equity, not only to increase (EV) adoption in general, but so that low-income and disadvantaged residents have access," Jones said. "The used EV market is the more affordable market and we want to promote that further."
LADWP customers have taken notice of the used EV rebate program, with 1,106 participants in 2020 versus just 634 in 2019.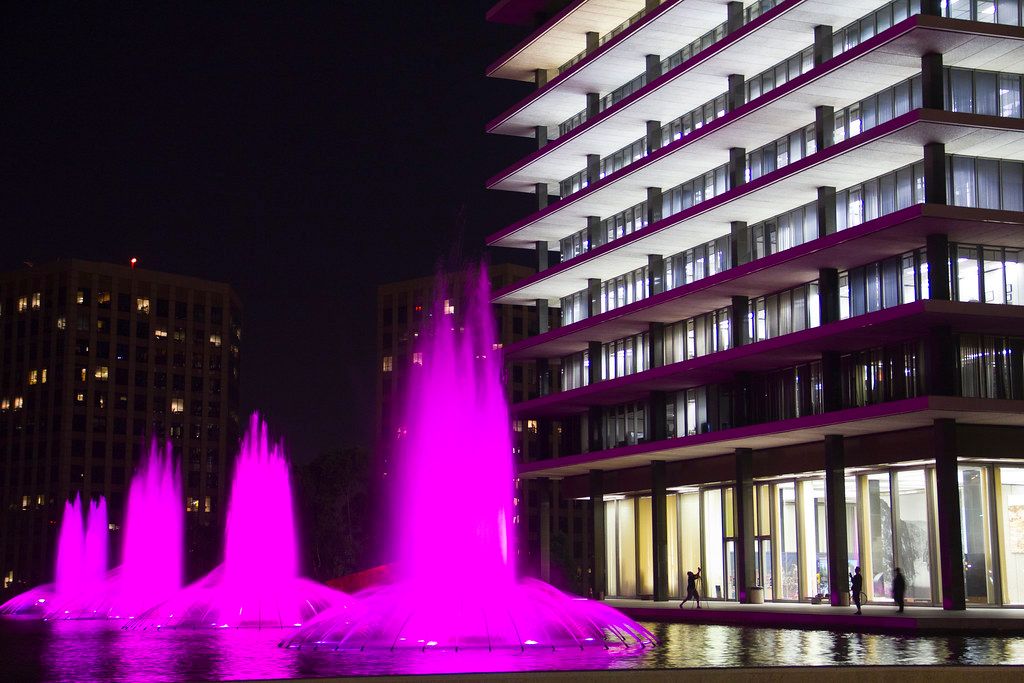 Used EVs have some limitations, the first of which being that these older EVs were originally designed to go around 100 miles on a full charge, not the 200-plus that's rapidly becoming the perceived minimum. And the batteries aren't new, either.

"Battery degradation has been and will continue to be somewhat of a concern for used EVs, but then again not everyone needs 200-300 miles of range, especially if you have a home charger," DeGraff said. Electric cars have historically counted for barely 1% of all vehicles in the U.S., so the pool of used examples is vastly smaller than that of conventionally powered cars.
But there's a potential downside to EV buyers' wide range of subsidy options: With all of the different agencies offering different programs, customers may find themselves in a maze of qualifications.
Electric cars from General Motors and Tesla no longer qualify for the $7,500 federal tax credit because those automakers have reached the 200,000-unit cap for that incentive. Nissan, which will add the electric-only Ariya SUV to its lineup next year, is likely to hit that ceiling next.
The GREEN Act, introduced in Congress in February by California Rep. Mike Thompson (D-St. Helena) would lower the tax credit to a $7,000 maximum but raise the cap to 600,000 cars. But there hasn't been movement on the bill since it was introduced. President Biden also wants to give direct rebates to EV customers, but that's also stuck as part of his $2.25 trillion infrastructure plan.
In California, the incentive of up to $2,000 under the Clean Vehicle Rebate Project has been exhausted as of April 23 and a waitlist has opened up until the state Legislature decides what to do with it. It's effectively been replaced by the California Clean Fuel Reward, with a rebate of up to $1,500 for any new plug-in vehicle. (The California Clean Fuel Reward grants a rebate at the point of purchase and allows the buyer to apply the rebate upfront, rather than issuing the rebate weeks later—as most programs do.)
The LADWP home charger program was set to expire this month and the used EV incentive next year, but Jones says both programs are expected to be renewed. LADWP's board of water and power commissioners has given the go-ahead to the agency to fund the programs until 2028 or until they're no longer deemed necessary.
The utility company programs are also funded with assistance from the California Air Resources Board and its low-carbon fuel standard and cap-and-trade programs. CARB currently runs the Clean Cars 4 All program that offers low-to-middle income residents in various counties including Los Angeles County up to $9,500 to scrap their qualifying gasoline vehicle and replace it with an EV. The Clean Vehicle Assistance Program offers those customers grants of as much as $5,000 and lower finance rates towards the purchase of a plug-in vehicle. But CARB anticipates those programs will run out of funding by July without indication they will be renewed.
Jones says LADWP has worked with Plug In America, a nonprofit group advocating electric vehicles, to help consumers and dealers navigate the qualifications for the various incentives before any sale of a vehicle is completed. Dealers around LADWP's service area can become certified as EV experts to better inform customers looking to purchase a plug-in vehicle.
"Understanding your specific situation and your behavior is going to be important," Jones said. "We do have people who are ready and willing to help the customers. It's just a smart way to reduce the impact."
Lead illustratio by Ian Hurley.
From Your Site Articles
Related Articles Around the Web