dodgers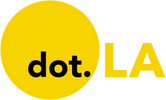 Get in the KNOW
on LA Startups & Tech
X
dodgers
Photo provided by Mercury
Sports and entertainment startup Vaunt—which partners with athletes and artists to stream content, sell merchandise and offer NFTs—has raised $5 million in new funding, the company's co-founder and CEO, former NBA player Roger Mason Jr., told dot.LA.
Vaunt's Series A round saw participation from Elysian Park Ventures, the investment arm of the Los Angeles Dodgers' ownership group. Other investors included metaverse firm InfiniteWorld and True Culture Fund, as well as former New York Giants star Justin Tuck and Michele Roberts, the former executive director of the NBA Players Association.
Based in Miami, Vaunt produces "alternative sports competitions" and content such as a FIBA three-on-three basketball tournament and a beer-less pong league pitting rapper Post Malone against other celebrities. The company streams these competitions online, often incorporating sports betting elements into the presentation.
Vaunt is currently considering deals to air its content on traditional linear TV, Mason told dot.LA. It's also planning to take its intellectual property into the realm of NFTs, via non-fungible tokens that fans could buy to get front row seats or face-time with professional athletes.
"We're excited about the fact that we can really create some unique experiences around the NFTs, as well, with superstar athletes," he said.
Mason played 11 years in the NBA and served as deputy executive director of the NBA Players Association, the league's labor union. While negotiating collective bargaining agreements between players and team owners, he got a crash course in licensing rights for things like video games or trading cards.
"It was during that process that I realized there's a huge opportunity to monetize the rights of the players off the court," Mason noted.
He co-founded Vaunt in 2015 alongside Omari Ware, a startup and tech executive. The company, which has now raised $11 million to date, plans to use the new funds to grow its six-person team and stage upcoming sports competitions.
"We want to be the leader in alternative sports competitions in the world," Mason said.
From Your Site Articles
Related Articles Around the Web
Have you always dreamed of scarfing down a Dodger Dog while sitting in your pajamas on your couch? You're in luck. The Los Angeles Dodgers have teamed with Postmates and Home Team Kitchens to deliver stadium grub to your doorstep.
There are certain rules in life. You consume a giant tub of popcorn and a large soda when you go to the movies, a bowl of chili when you're skiing, and a hot dog and all manner of other sodium rich foods in order to distract you from the dullness of a four-hour baseball game. But this is 2020, where any normal rules have long since gone out of the window and people are craving for any way to have a taste of pre-pandemic days – as long as it can be done from the safety of their home.
Using Postmates or its competitors, one is free to choose from a vast selection of food - sushi from Sugarfish, chicken burgers from Howlin' Ray's, tacos from Guisados. So I was curious to know why anyone would want to order items they normally get only because they are confined to the stadium with nowhere else to go.
"It's comfort food and the kind of thing we need these days," said Mike Jacobs, founder and CEO of Home Team Kitchens.
Interestingly, the Dodgers starting working on a plan to deliver food in February, before the coronavirus starting causing havoc in the U.S.
"The coronavirus accelerated what we thought was a cool brand extension for us," said Tucker Kain, president of Dodgers Business Enterprise, who sees delivery as a good way to keep front of mind for fans. "We want to build a bridge with fans in a meaningful way given that the live experience isn't available."
The Dodgers and Home Team Kitchens think people will want stadium food even when they are not watching a game. "It's great food to have if you're watching Netflix or if you're at work and you want a big serving of nachos," Jacobs said.
The program quietly soft-launched on opening day and started marketing this week when the Dodgers travelled to Houston. Food is prepared out of a single ghost kitchen in Hollywood, but there are plans to expand it to 25 locations throughout Los Angeles so deliveries can be faster and fresher. Jacobs also wants to partner with sports bars to open several dine-in options.
"Demand has been greater than my projections," said Jacobs. "It's double what I was expecting. We're hiring new staff and expediting getting more locations. It's a lot of Dodger Dogs." (Dodger Dogs have also been available in select ampm locations since 2016.)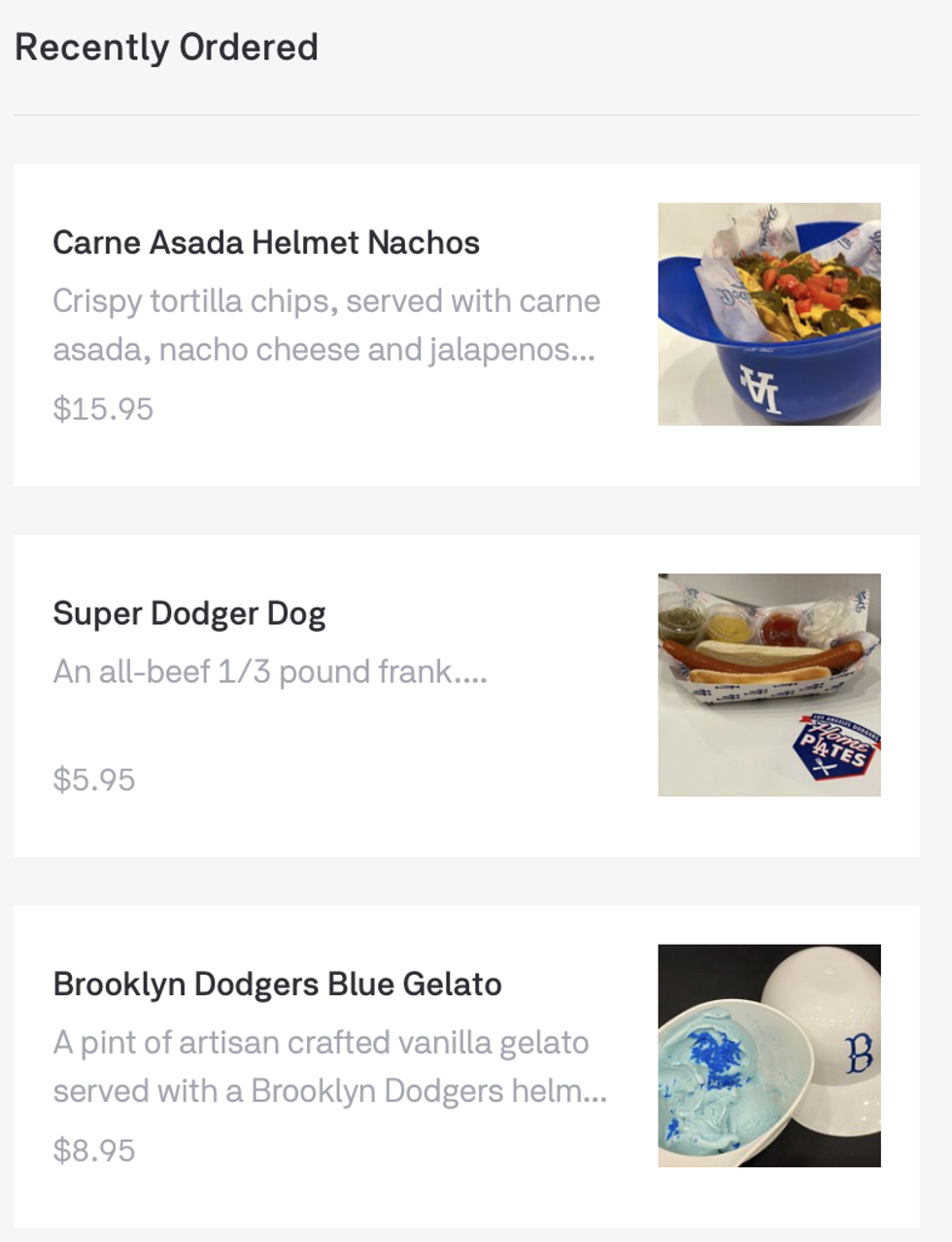 What It's Like Ordering a Dodger Dog at Home
Yesterday, as the Dodgers were preparing for their final game against the dreaded Astros, I opened up Postmates and ordered $30 of food (which came to $50 after taxes, fees, and tip.) Here's how it went.

No standing in line or worrying about missing an at-bat. First pitch was scheduled for a little after 4 p.m. I placed my order at 3:16 p.m. Postmates said my food would arrive no later than 4:20 p.m. to my apartment in downtown L.A. That turned out to be slightly optimistic, as I didn't get a text until 4:24pm notifying me that my order had arrived.

Jacobs sighed when I told him how long it took for me to get my order.
"We're hoping for 30 minutes, but it takes some time to get that right," he said, adding that with more locations the wait times will come down and the food should be hotter.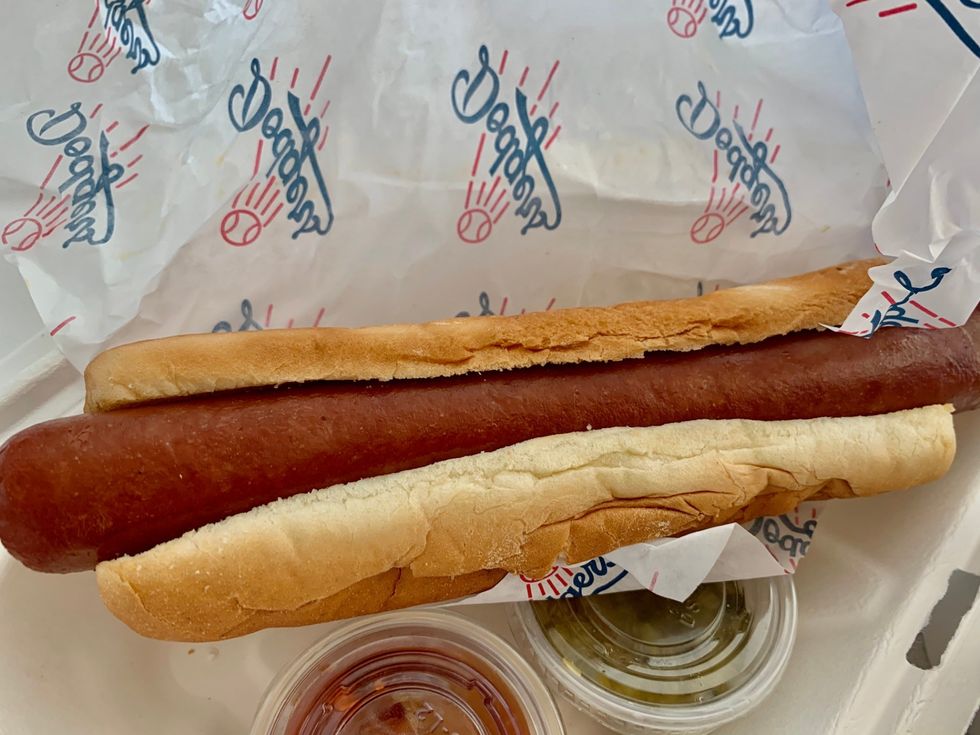 Super Dodger Dog

They don't call it a cold dog and unfortunately the dog was not even lukewarm. Maybe I should have stuck it in the microwave? I missed the warm foil wrapped version from the ballpark but once I doused it in the ketchup and onions provided, it wasn't bad.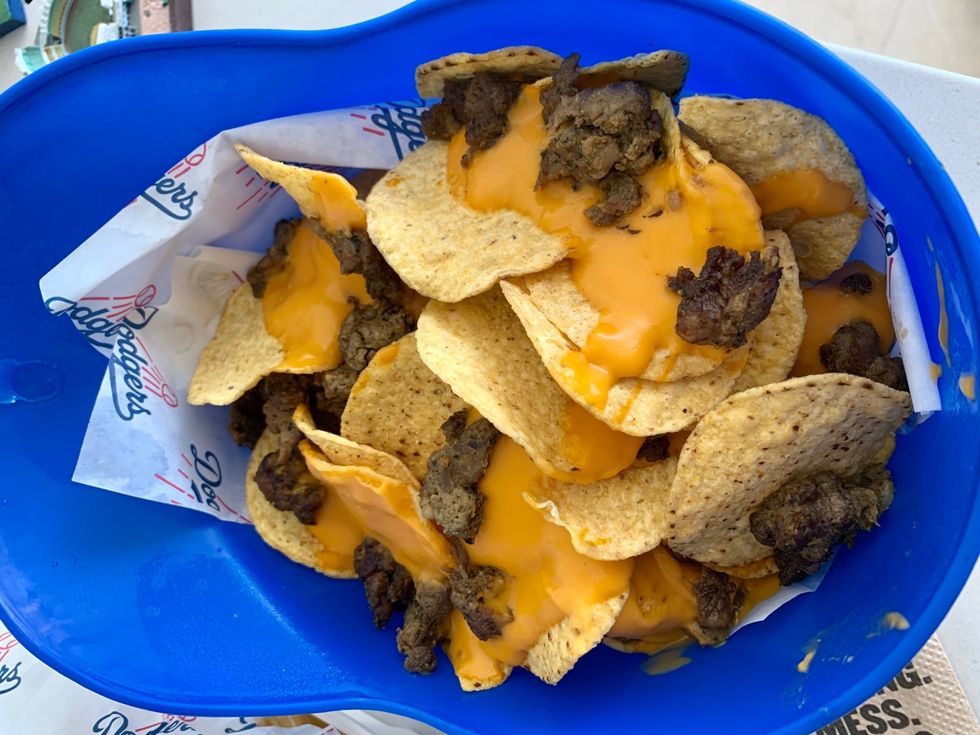 Carne Asada Helmet Nachos

At $15.95, this was my splurge of the night, but I could not resist eating out of a batting helmet and the portion size could probably feed a whole family. The tortilla chips were soft but fortunately not soggy, covered in cheese and generous chunks of asada. But again, the dish was cold so instead of getting the hot cheese you get at the stadium, it had coagulated into globs.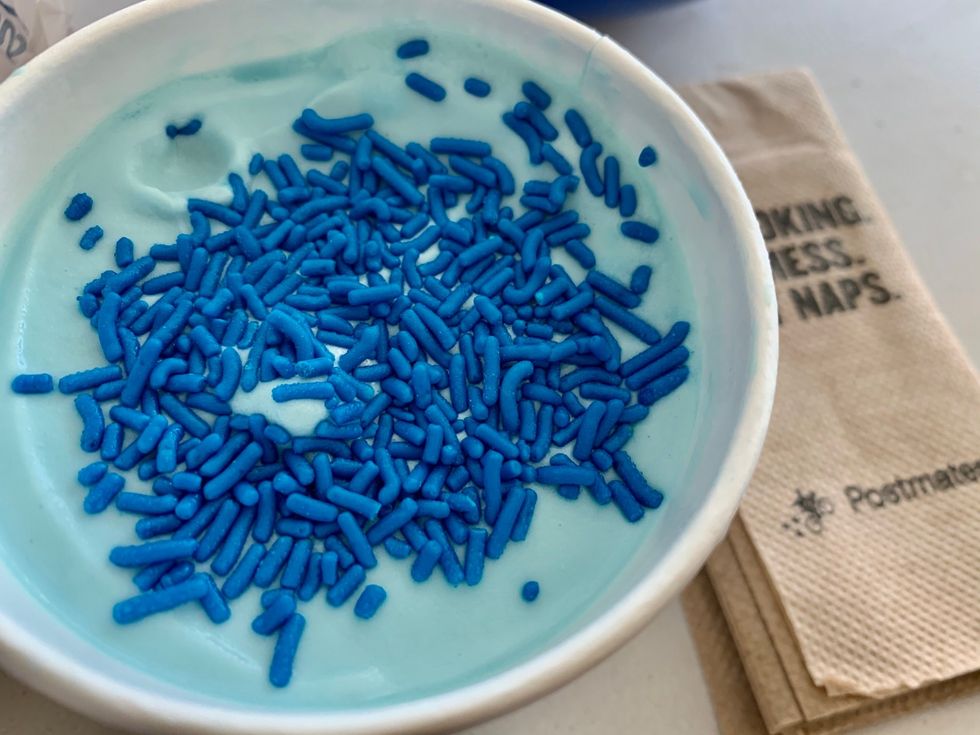 Brooklyn Dodgers Blue Gelato

I was excited to order this because it was advertised as coming in a mini Brooklyn Dodgers helmet but instead mine came in a much less exciting white plastic cup. At least this was the correct temperature though. Proving it's easier to keep cold things cold than hot things hot, the gelato was surprisingly cool and creamy. I took a few small bites and then stuck it in the freezer — one thing you can't do at the ballpark.
The game
Couldn't tell you. I don't get Spectrum SportsNet so I was planning to watch on ESPN, but the game was blacked out there. (I later read the Dodgers won 4-2 in a 13 inning thriller.)
Overall
Eating a cold Dodger Dog at home is an experience everyone should try at least once, but probably no more than that. Delivering warmer food would definitely help, but we are lucky enough to have a lot of great restaurants to choose from in L.A., so the next time I spend $50 on stadium food will be at the stadium.
From Your Site Articles
Related Articles Around the Web
When Dodger Stadium hosts its much-delayed opening day on Thursday, there will be a new $100 million centerfield plaza featuring food, entertainment, and play areas for kids and a host of less visible tech upgrades, including blazing-fast 5G wireless connectivity and an improved point-of-sale system allowing fans to order food and drinks without having to wait in line.
But, of course, there will be no fans on this strangest of opening days, just cardboard cutouts and piped-in crowd noise designed to make the cavernous stadium feel slightly less eerie.
"It feels like I got stood up for prom," said Ralph Esquibel, the Dodgers' Vice-President of Information Technology, who has been working on the upgrades for years. "I got all dressed up and ready to go and my date didn't show up. It's definitely a little bit disheartening that you have this beautiful new, shiny stadium. I want people to enjoy it."
The improvements were originally scheduled to coincide with the Dodgers hosting the 2020 All-Star game, which they have now been awarded for 2022.

Anyone who has ever tried to text or browse Instagram during a game – Dodger Stadium has the distinction of being one of the most Instagrammed places on Earth – will appreciate the wireless updates. The team installed over 1,000 5G access points and will be the first MLB team to feature next-generation Wi-Fi 6.
Dodgers Opening Day (2020) www.youtube.com
The team also installed new point-of-sale cloud software from Appetize, a Los Angeles startup founded in 2011 that went through the 2016 Dodgers accelerator, and is already used at Yankee Stadium and Fenway Park.

"The three of us co-founders are our massive Dodgers fans, and to have the Dodgers, to us, is that trifecta of having the three biggest brands in baseball," said Kevin Anderson, Appetize's co-founder and chief strategy officer.
Anderson says the last two months have easily been the busiest in the company's history as teams use the shutdown to upgrade their systems.
"Whether you believe that stadiums will have fans in their seats in August, in October or February, that's still a fairly short window of time to change your operating model to meet how fans want to order today, which is in a more touch free digital fashion," said Anderson.
As part of the switch to Appetize, the stadium hawkers who roam the aisles of Dodger Stadium selling cotton candy and peanuts will now carry handheld devices, which means the days of handing crumpled up bills down your row and hoping you get handed back change are over. All the hawkers will now accept credit cards.
The new system will also allow fans to use Postmates to preorder stadium food so they do not have to wait in line for Dodger Dogs, expanding a program the team piloted last year in the upper decks.
"Postmates is a big deal because every venue has always tried to do mobile ordering but I've never heard of it being successful," said Esquibel.
For baseball purists or even more casual fans, the idea of people spending more time staring at their phones rather than being engaged in the game may not sound so appealing. A growing number of concerts and comedy shows have banned smartphones. There is also a much more serious problem of fans distracted by phones getting seriously injured after being hit by foul balls. But the MLB, whose average fan is 53 years old, wants to stay relevant and appeal to a younger audience.
"I feel the romance of Dodger Stadium," said Esquibel, who grew up near the ballpark. "There is a lot of history, but at the same time we want to evolve and keep up with technology."
Esquibel also believes that, far from taking fans out of the game, technology will bring them closer to it because they can track advanced analytics and play fantasy on their smartphones. The next logical step: Fans will someday be able to make in-game bets, as is already commonplace in the U.K. and Europe.
"It could be very exciting," said Esquibel. "Wagering is coming."
Already this season
MLB is encouraging fans to bet on games and plays to win contests that offer cash prizes
, though the league is careful to point out it does not yet allow actual betting.
From Your Site Articles
Related Articles Around the Web