downtown la
downtown la
Silicon Valley-based Plug and Play is coming to downtown L.A.
The organization, known for its accelerator programs and status as a VC firm, held an event announcing the news on Tuesday at 1010 Wilshire Blvd, where its newest cohort will be based.
Plug and Play aims to match local startups up with corporations that can help them develop. It has already invested in several L.A.-based startups, including browser extension coupon service Honey and real estate marketing startup Zentap.
The organization plans to devote 100 units in the building to startups involved in the program as well as to invest in more L.A.-based companies. Ten startups that are accepted to the program will receive six months free rent.
"We want to bring startups here, we want to bring corporates here, and we want to make everybody work together and we want to see relationships flourish," Plug and Play Senior Associate Tanya Ma said in an interview before the event. "That's kind of the ultimate goal of this project."
A consortium of civic and business groups that includes the Downtown Center Business Improvement District (DCBID), the Los Angeles Area Chamber of Commerce and the Alliance for SoCal Innovation say they'll aid the project through things like research, technical assistance and connecting local startups with Plug and Play.

The partnership has been a long time coming, said the DCBID's Executive Director Nick Griffin.
"[This project is] almost like formalizing what was already happening," he said. "There's already a great deal of innovation and collaboration and cross pollination going on in the downtown ecosystem."
Downtown L.A. has the resources to be one of the region's largest startup ecosystems, according to a report by the Alliance for SoCal Innovation, but very little recognition. Upon making this realization in 2018, the Alliance began working with other organizations such as the DCBID on a plan to create housing, office spaces and leisure activities in the same areas, often in the same buildings.
Their work, according to Alliance's Director of Ecosystem Development Eric Eide, helped lure Plug and Play downtown, in part because the company's holding company already owns a series of live-work developments throughout Southern California, including the one at 1010 Wilshire.
"And here we are, connecting the dots," said Eide. "This smaller group really has a lot of the firepower to make this a reality."
Plug and Play has launched similar projects in cities like Topeka, Kansas and Munich, Germany.
From Your Site Articles
Related Articles Around the Web
The Los Angeles-based disposable camera app Dispo, whose co-founder stepped down after one of his crew members was accused of sexual assault, confirmed it closed a Series A.
The boost for an undisclosed amount is a comeback for the startup marred by the scandal. Alexis Ohanian's Seven Seven Six, Unshackled Ventures, Endeavor, 35 Ventures and F9 Strategies led the round.
Absent from the round is Spark Capital, which said in March that it would "sever all ties" with the startup following an investigation from Business Insider about a woman who said she was sexually assaulted by a former content creator in Dobrik's vlog crew.
Dobrik also cut ties with the company in March and issued a YouTube apology for his behavior.
After the report, Seven Seven Six tweeted that it would "donate any profits from our investment in Dispo to an organization working with survivors of sexual assault," but added that it would continue to support the company. The firm did not immediately respond for comment.
Among the company's new backers are celebrities Kevin Durant, Andre Iguodala, Cara Delevigne and Sofia Vergara — plus photographers Annie Leibovitz and Raven B. Varona, who "will hold us to a higher standard of photographic excellence," Dispo's CEO David Liss said in a blog post announcing the raise.
The app works like a plastic disposable camera, releasing a user's photos 24 hours after taking them. An updated version, which launched in February, introduced social functions like "Rolls" for users to scroll through each other's pictures.
Like the founders of new L.A. photo app Poparazzi, Dispo's team is pushing for a social media experience that feels less orchestrated and curated. In Tuesday's blog post, Liss pointed to big tech's reach on "body dysmorphia and mental health."
"Imagine a world where Dispo is the social network of choice for every teen and college student in the world," he wrote. "How different a world would that be?"
"Our resolves are strengthened. With our product, team, and community we have a chance to build differently, creating a company on our terms and our values. Hope springs eternal, and Dispo is ready."
Sashee Chandran made brewing tea as instant as dissolving a heart-shaped tablet into boiling water.
The founder and CEO of Tea Drops calls her product the "bath bomb of tea." With a line of bagless blends like chocolate Earl Grey and pineapple chamomile, Chandran is eying the "legacy-driven industry" she said hasn't changed in years.
"The tea industry is where the coffee industry was 10 or 15 years ago," said Chandran. "You still have these huge, old conglomerates like the Liptons and Bigelows, but there really hasn't been much innovation at all."
On Tuesday, the Downtown Los Angeles-based company closed a $5 million Series A round led by BrandProject, the venture fund behind prepared food delivery service Freshly and cookware brand Our Place.
Chandran was raised in a "tea-centric household" — her mother is Chinese and her father grew up on a tea estate in Sri Lanka — but rarely found time for the ritual during her quick-paced marketing job at eBay.
"You need a lot of props and you need to wait for it to steep," she said. "By the time it's ready, you might have to run to your next meeting."
Tea bags weren't the solution. Chandran said they're typically made from "tea dust" — bland scraps leftover from whole tea leaves — and contain microplastics that seep into your drink.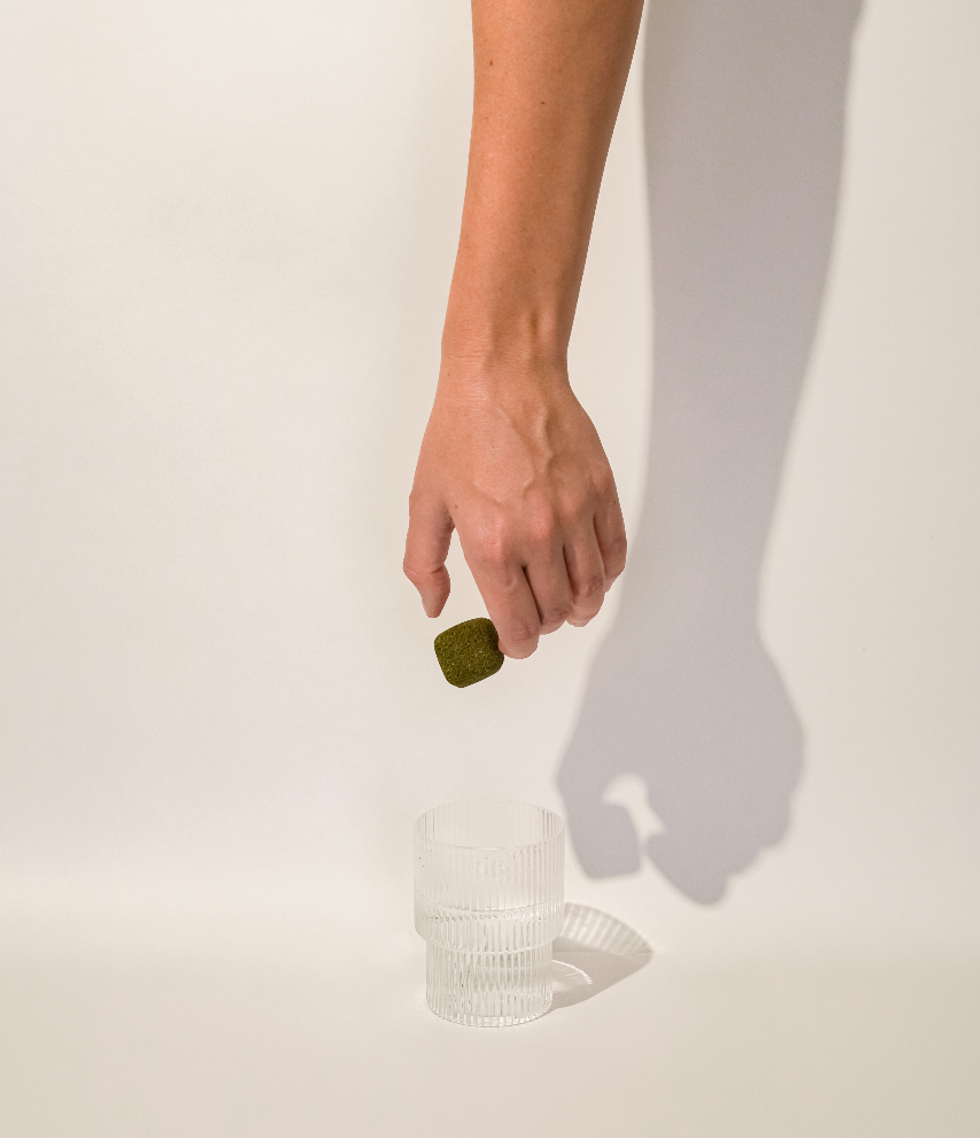 From her kitchen in the Bay Area, Chandran spent weekends and nights after work blending and grinding tea leaves. In 2015, she patented the invention: a dissolvable tea pellet that does away with the bleached white tea bags dominating most of the packaged tea market.
"Tea is the world's most-consumed beverage, next to water," BrandProject founder Andrew Black said in a statement, "and yet the overall category has lacked innovation in both experience as well as packaging."
Loose leaf and bagged tea sales hit over $1.3 billion in May of 2020, a 9.4% jump from the previous year, according to Information Resources Inc. data published by the Beverage Industry. Lipton and Bigelow remain top players in the market.
Chandran sources organic, fair trade tea from farms across Japan, China, India and Sri Lanka, but blends and packages the drops in the United States. They're sold both direct-to-consumer and at national retailers like Costco and Whole Foods. By the end of 2021, she hopes to stock shelves in 2,500 stores and turn a profit.

The company has now raised $8.4 million in VC funding to date. This last round, Chandran said, was especially challenging. She's spent years convincing investors her product is not just a "gimmicky novelty item," but one that consumers have incorporated into their daily routines. Her direct-to-consumer sales remain up 350% year-over-year.
Siddhi Capital, AF Ventures, Cue Ball Capital and Halogen Ventures also contributed to the round.
From Your Site Articles
Related Articles Around the Web