techstars la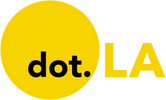 Get in the KNOW  
  on LA Startups & Tech  
X
techstars la
Courtesy of Techstars
Earlier this month, Techstars announced that their 2023 accelerator program will have two simultaneous cohorts–Techstars health care and L.A. As previously reported on dot.LA, Techstars has brought on board returning partners Cedars Sinai, United Healthcare, along with new partners that include UCI Health and Point32Health for its health care cohort.
"For our healthcare program, this is the first time we've had multiple partners as sponsors," Managing Director Matt Kozlov said. "This allows us to support and mentor a wider diversity of companies than we've been able to help historically."
The in-person program is taking place in Los Angeles and two out of the twelve companies accepted into the health care program are based in Southern California.
Kneevoice
Gustavo De Greiff, Dr. Carlos Leal and Felipe RigbyTechstars
The first is Santa Monica-based Kneevoice, a company that has developed a noninvasive medical device that diagnoses cartilage deterioration in joints. The health care company was founded in 2015 by orthopedic surgeon Carlo Leal, Gustavo De Grieff and Felipe Rigby. But the trio didn't officially start until 2020 and a year later raised $2 million in capital.
De Grieff said that Kneevoice was born out of need. Dr. Leal reached out to him and Rigby for help to design a microphone that will be placed on the kneecap of his patients. The device was intended to verify if the treatments that he gave them were working.
De Greiff said the small device, "contains sensors that take good data from vibrations and sounds so that we can pinpoint exactly where the cartilage is deteriorating, what degree of deterioration and also noninvasive, and there is no radiation involved."
The sensors are attached by an adhesive patch to the skin over the joint. The audio and vibration sensors are recorded through the acoustic emissions emitted from the joint and in less than 5 minutes, physicians can analyze the data and provide an exact diagnosis.
Currently Kneevoice is undergoing FDA clearance, but De Greiff said that participating in Techstars will provide them with even more opportunities.
"We need TechStars to give us the seal of approval, which is very important," he said. "Second, their connections to be able to help bring the product to market and obviously like any startup, hopefully have access to funding, VCs, angels and prospective investors for our product."
iCardio.ai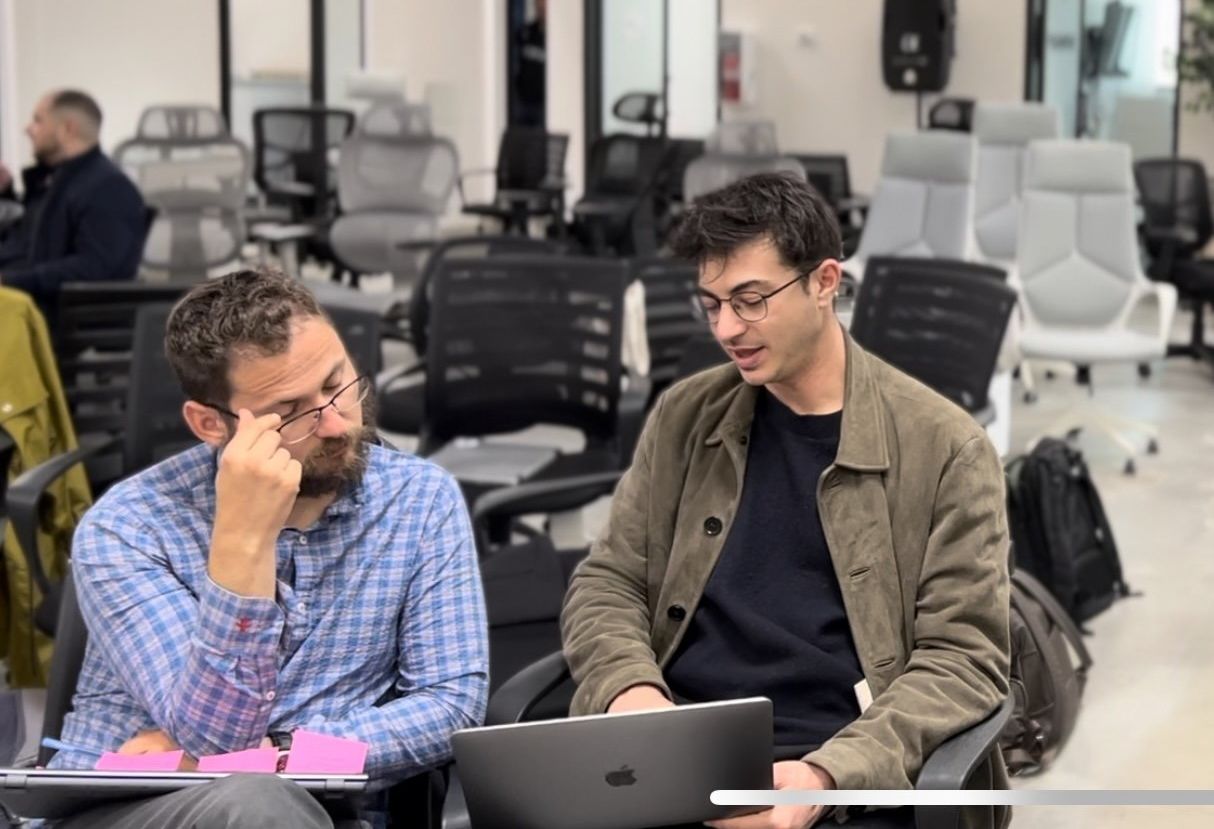 iCardio.ai co-founders Roman Sandler and Joseph Sokol. Courtesy of Techstars
The second company joining the cohort is Los Angeles-based iCardio.ai, a developer of deep learning echo tools designed for echocardiographic analysis. The company got its start in 2019, when OlehPay founder Joseph Sokol teamed up with Intellisense Systems executive Roman Sandler and iCardio Corporation CEO Dr. Joshua Penn to build and develop a cardiologist brain using AI by leveraging the data set of over 200 million echocardiograms.
"When a cardiologist sees a person's heart, in an ultrasound image, it's a very complex exam, and requires decades of experience to be able to look at this and understand acute diseases or abnormalities that you might see in those images," Sokol explained, "and what we've done at iCardio.ai is we've developed a cardiologist brain that can do that function automatically."
So far, the company has developed over 60 neural networks that comprise the iCardio.ai brain. The startup has also released iCardio.ai brain V1 on their website, which Sokol said allows "anyone in the world can upload an echocardiogram today and receive a report."
Still, iCardio.ai is in the process of submitting a portion of the capabilities of its product to the FDA that will require clinical trials.
Sokol said he has been part of other accelerators, but none of them are like Techstars.
"It's an extremely prestigious accelerator and unlike Y Combinator, TechStars has a healthcare specific segment," he said. "So we said okay, this is something that we need, so we applied, got in and we're really excited about that."
Every company participating in the program will receive $120,000 and Techstars will take 6% stock in each startup. In addition to funding, the startups will also have access to the Techstars network of over 10,000 founders, alumni and mentors globally.
"This class includes both medical devices and digital healthcare companies, addressing some of the most pressing needs across so many different stakeholders in healthcare: widely diverse patient populations (pediatrics, maternal, geriatric, chronic, etc.), clinicians, payors, hospital administrators, and beyond," Kozlov said.
Andria Moore
On Wednesday, Techstars' fall 2022 class gathered in Downtown Los Angeles to pitch their products to potential investors in hopes of securing their next big funding round. dot.LA co-sponsored the demo day presentation alongside Venice-based space news website Payload.
Managing director Matt Kozlov explained that unlike previous years, this year Techstars combined two cohorts, merging its space accelerator program and Los Angeles program into one demo day. The result was a comprehensive pitch day where investors, founders and press could hear from 12 creative and intriguing companies working across a variety of industries.
What's New In Space Startups
On the space side, two local firms were introduced, including Fenix Space, a San Bernardino startup that got off the ground in 2017 and is looking to wrestle control of the commercial air launch market away from local rival Virgin Orbit.
Fenix Space has a different model of air launching rockets than Virgin; instead of strapping the rockets to a large plane like Virgin does, it plans to tow them through the air. During the Techstars demo day Fenix CEO Jason Lee told Payload co-founder Ari Lewis that Fenix conducted one sub-orbital test flight last year, and is working on making a second craft that will be tested at New Mexico's White Sands Missile Range by second quarter of next year.
During his pitch Lee said, he sees a wide variety of tow launch applications including terrestrial logistics (think an alternative to ground shipping for e-commerce, as one example) but noted, "we're starting with space because corporations and governments looking to put assets into space are relying on ground launch operations from only five orbital space points in the United States… . As a result, the wait time to launch is up to two years, customers are subject to fixed schedules, are being delivered to limited orbital destinations, and are often delayed weeks or even months."
Lee said Fenix's crafts can carry 75 times more payload per launch and can launch payloads to orbit 1000 times faster than its competitors. The company has raised $9 million in funding over five years, said Lee and has memorandums of understanding with "major commercial customers" that account for at least $32 million in potential revenue. He also noted Fenix has existing partnerships with the Air Force Research Lab and commercial space operations support agreement with Vandenberg Space Force Base.
Fenix also has a Space Act Agreement with NASA to develop its tow-glider launch platform and an exclusive license agreement with the agency.

Fenix Space CEO Jason Lee. Photo: Fenix/Techstars LA
In Orbit Aerospace CEO Ryan Elliot was clearly passionate about the company's mission to make manufacturing in space as easy as possible. "Today, the only way to manufacture in space and recover products back on Earth is through the International Space Station," Elliot said. Elliot is betting that In Orbit can help reduce the high wait times and correspondingly spiking costs of space manufacturing by helping customers set up their own space factories.
All of which is a tall order, but not as far-fetched as it might seem. In Orbit developed a custom orbital satellite it calls the Haven Shepherd to launch customers' cargo to space for manufacturing. Once the mini-factory is operational, In Orbit's second module, a capsule called the Haven Retriever, will bring raw materials to the factory and swap that payload for the new, finished product to return it back to earth.
Elliot also noted the company is the only one trying to tackle the challenge of building a permanent orbital station that can interface with Earth, and has some $180 million in potential contracts in the pipeline. Adding that In Orbital has a Space Act Agreement with NASA and is planning a test mission as soon as 2024.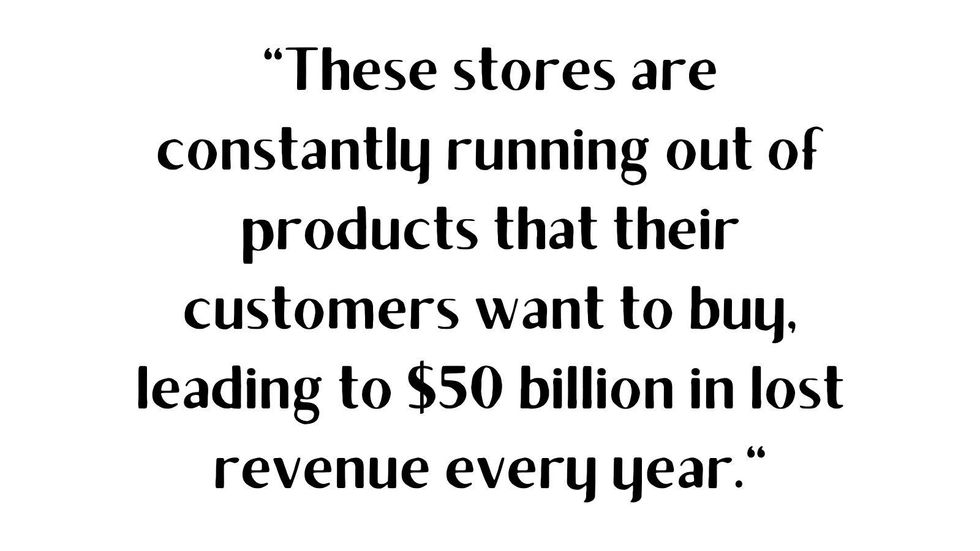 Apps Focused on Food and Drink
One overarching theme of this year's Techstars LA cohort was a focus on the food and beverage industries, as well as the intersection those industries have with the healthcare market.
Rotender was one of the splashier startups in this Techstars cohort, because, well, who doesn't think the phrase "robot bartender" sounds cool. Sure, this robot won't listen to you gripe about your partner during happy hour, but it will pour you a G&T in under 30 seconds. At least, that's the gist pitched by CEO Ben Winston.
Rotender could work a large private event, but Winston said the company's focused on getting into sports stadiums and entertainment venues. Capitalizing on the one thing all fans hate – long lines for concessions – Rotender is aiming to convince venues that spending $35,000 annually on a robot to pour drinks is worth the spend. "One Rotender unit operating 18 or more hours a week will earn a venue over $700,000 a year in drink revenue," Winston said, adding that it could also save a venue over 175,000 annually in spillage fees.
On the business-to-business side, Techstars-backed app Bevz is trying to "save your local convenience store," as CEO Jason Vego put it. Bevz is basically an order management system for bodegas that helps them avoid running out of top-selling products. The app syncs with the store's custom point of sale system and sends users notifications to purchase more products before it runs out. It also consolidates input from various delivery apps to give the store a clear picture of what is sold and how frequently.
"These stores are constantly running out of products that their customers want to buy, leading to $50 billion in lost revenue every year," Vego said. "Most stores don't have any technology… this [platform] is a game-changer.


Bevz CEO Jason Vego pitches his app for convenience stores. Photo: Bevz/Techstars LA
Startups Targeting Mental and Physical Wellness
While a number of local startups backed by TechStars are looking to innovate in the food and beverage market, two in particular were focused on fitness coaching.
Founded by Liz Dickinson in 2020, San Diego-based wellness app Relish Life is an app-based clinic that connects people with clinicians for medication-assisted weight loss therapy supplemented by mental health treatment. Dickinson said during her pitch that Relish participants reported "11% body weight lost by six months compared to only 5% in 12 months, twice the weight in half the time of our competitor and we've clinically validated that the weight stays off," Dickinson said. "Anything that stress triggers, we can treat," she added, noting the platform could be used to help modify other unhealthy behaviors like smoking or even possibly addiction.
Another wellness-focused app pitching at the demo day was Liberate, a Brentwood-based coaching app focused on mental fitness. CEO Olivia Bowser said during her pitch that she quit her "dream job" six years ago after quickly burning out. The experience prompted her to found Liberate, which companies can choose as a benefit for their workers.
The platform works by connecting people with counselors and guided stress management and wellness exercises to complete throughout the day. There's also a Slack channel for team-wide guided wellness exercises and morale boosting. "At less than two years old, we've serviced hundreds of companies through monthly and annual contracts… [and] helped nearly 5,000 employees feel happier and more productive at work," Bowser said.
Clarification: This story has been updated to reflect that Rotender's CEO said its technology could "earn a venue over $700,000 a year in drink revenue."

Courtesy of Techstars.
On Tuesday, Techstars L.A. announced the relaunch of its health care accelerator program and the application for the new cohort is now open. The three month long program will begin March of 2023. The deadline to apply is on November 30, 2022. Techstars has brought on board returning partners Cedars Sinai, United Healthcare, along with new partners that include UCI Health and Point32Health.
Matt Kozlov was brought on to build Techstars L.A.'s first dedicated healthcare program with Cedars Sinai seven years ago. A few years later, Cedars decided to run their own independent accelerator program without Techstars' involvement.
Kozlov told dot.LA that the relaunched program "will be a really remarkable ecosystem and resource for health tech founders who are looking to get product market fit and start scaling their company as rapidly as possible."
He added that it's extremely difficult to scale up in health care because most providers don't have the time or risk tolerance to work with early stage companies.
The new accelerator will accept 12 seed-stage health care companies. In addition to the intensive 13-week program, mentorship and access to Techstars' network, every startup will receive $120,000 in capital. In exchange, Techstars will take 6% stock in each company.
Kozlov said that in the past they brought on a few startups that didn't know what they were building yet. In both instances, Pasadena-based clinical trials platform Deep 6 AI and Los Angeles-based medtech startup Regard Health had very high success rates.
"They were really strong teams with a really strong technical AI background," Kozlov said. "But we felt that through our program we would give them access to the customers that they would be able to interact with, and they'd find something really compelling to build."
In general, the companies chosen for this cohort must demonstrate traction and have a product in the pipeline. Maternal health, chronic disease management and clinical trial innovations are some of the areas that Kozlov and his team are looking for in the incoming class.
The in-person program will take place in Los Angeles, but companies do not have to be based in Southern California. Kozlov said that the companies must focus their efforts in the U.S. market.
Another company that participated in the program when Techstars first started its health care accelerator is Los Angeles-based virtual reality treatment platform AppliedVR.
Building any business is extremely lonely," AppliedVR co-founder Josh Sackman said. "If you're not connected through a network like TechStars or don't have close relationships, people really aren't as vulnerable about their experience."
Sackman said that it can be challenging and stressful especially when founders are expected to stay strong for their team, but through his experience within the program, Techstars has cultivated a network that allows you to build upon yours.
"The national ecosystem we put together really focuses on companies and helps them build really compelling solutions that can change access and quality of health care for patients and systems in the United States for the next several years," Kozlov said.