Miss Techstars L.A. 2020 Demo Day? You can still catch the full presentation below.
The ten companies who made up this year's Techstars class were focused on creating a more equitable healthcare system, providing more access in education and economic opportunity.
Techstars L.A. 2020 Demo Day -- in Partnership with dot.LA www.youtube.com
The companies chosen for each accelerator class receive three months of intensive mentoring and a $120,000 investment from Techstars, which takes a 6% cut of equity. Usually the companies work together in person, but this year, the pandemic prevented that, so they primarily worked from home.

The awards program, too, was intended to be held at the historic El Rey Theater, but — as Techstars' Managing Director Anna Barber said in her introduction "it was just not in the cards this year." Still, she said, the community surrounding the program went out of their way to make it a success.
"When we started TechStars L.A. four years ago, we knew that diversity, equity and inclusion had to be a pillar of our program, Barber said. "Sixty percent of our portfolio companies are led by female founders and 20% have a Black or Latinx CEO."
L.A. Mayor Eric Garcetti offered a few words of praise for the accelerator and the startups its grown. saying "Techstars has helped power L.A.'s tech renaissance."
"In this moment of so many unprecedented challenges," he continued. "Techstars along with startups and tech leaders across Los Angeles are leading the way. Matching their innovation and ingenuity with care and compassion."
The mayor went on to describe the leaps that L.A.'s tech community has made in providing PPE in the earliest days of the pandemic, in creating new therapeutics and innovative approaches to COVID testing as well as creating new ways for businesses to stay afloat using contactless payment and other approaches. "At the heart of our innovation economy is the never-ending push to make life safer and healthier and better for people throughout our city, and across the world," Garcetti said.

Techstars holds three accelerator programs in L.A., including Techstars Music and Techstars Starburst Space Accelerator.
From Your Site Articles
Related Articles Around the Web
For a lot of youth, 2020 was a lost summer. No internships, summer jobs looked bleak and graduation was dampened.
Joseph Hernandez Terrejon was one of them. Now, he runs a platform that connects barbers, hair stylists and makeup technicians with their clients in a safe environment.
Hernandez Terrejon, a 21-year-old Pasadena City College student, came up with the idea after his sister's hair salon closed and she began booking at-home appointments.
The app became a reality thanks to EmbarcLA, an entrepreneurship program for youth, developed with pre-accelerator program Startup Boost, the Los Angeles Area Chamber of Commerce and the Los Angeles mayor's office.
The program is run by Tania Mulry, co-director of Startup Boost LA, and Moaz Hamid, founder and CEO of health tech startup MVMT.AI. It aims to demystify the world of tech to youth who often don't get access to such training. Judene Small, the managing partner of CHIENET and co-founder of RootsxWings Digital, is also a co-director.
"Many said they are the first in their family to go to college and some had a family member running a small business," Hamid told dot.LA.
Hamid has run incubator programs and accelerators before, but those usually accept around 10 internships or 30 people per class. Within 24 hours of announcing EmbarcLA, over 110 students had applied. The program accepted all of them and began class the next morning.
To build a program schedule, Hamid took cues from the students. Over 90% of them came from low-income households and a few from foster care, he said.
The five-week workshop connected students, aged 16 to 24, with entrepreneurs and company founders through virtual classes, panels and mentorship. It was such a hit that Hamid said he expects the sessions to keep monthly sessions going until the next summer program 2021.
By the time Hernandez Terrejon joined, he had already sketched the prototype of an app that would essentially run like a ride-sharing platform for barbers, hair stylists and makeup technicians.
"[My sister] started doing hair appointments at home, getting more clients than she would in the salon," Hernandez Terrejon said. "And right away something in my head clicked."
At the end of August, he pitched the idea over Zoom to L.A.'s mayor during a demo day hosted by EmbarcLA.
Hernandez Terrejon learned about the program after the Chamber of Commerce canceled their 'LA Tech Pipeline' summer program. He had applied for a position at Snapchat through the program. He said workshops at EmbarcLA taught him how to research the market and demographics of his app idea, "so I could be able to present it to anyone, whether it be the mayor, investors or a business."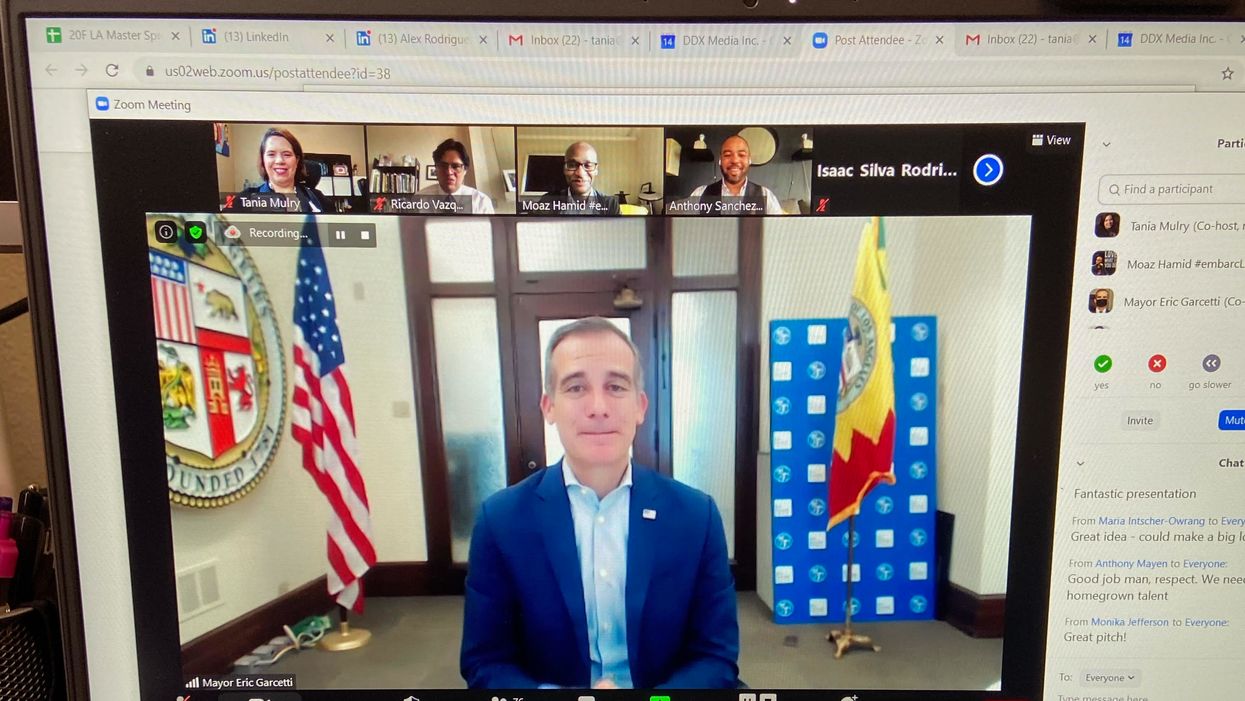 EmbarcLA participants pitch L.A. Mayor Eric Garcetti their ideas over Zoom..
One panel explored how to become an innovator while working a job at a big company. Another talk led by actor, musician and playwright Marcus Harmon took up writing as a form of entrepreneurship.

Some students tuned in from bathrooms or closets, wherever they could find quiet space. And when Hamid heard several relied on their phone's data plans to join sessions, the directors switched from a data-heavy program to Zoom, which requires less bandwidth.
Hernandez Terrejon, who studies design, recently passed his app design along to programmers. One company, called Squire, offers a similar product to his but so far it only books appointments for barbers.
"I'm never going to forget when one of the guest speakers that said 10 years ago nobody thought strangers would be picking up strangers to drop them off places," Hernandez Terrejon said. "Nothing is impossible in the tech industry, especially when you're an entrepreneur."
Two other participants in EmbarcLA, Alan David and his brother Orlando Leon, plan to apply what they learned this summer to their family's food truck business. UCLA grad Rayvonn Anthony Sanchez Rodriguez Lee, now a student at Santa Monica College, developed an idea for a nonprofit college and career mentorship program for high schoolers.
The program was supported by investors, executives and programs including Techstars Los Angeles, Los Angeles Cleantech fund and Grid 110.
***This story was updated to include future program dates, the L.A. mayor's office and co-director Judene Small.
From Your Site Articles
Related Articles Around the Web
Ten companies. Three months. One Demo Day. But what makes the Techstars L.A. experience so transformative? And how will that translate to the current remote world? In this installment of dot.LA Dives In, we talk with Anna Barber, managing director of Techstars L.A., for a behind the scenes look at what the Class of 2020 can expect from the accelerator experience.
Meet the Techstars L.A. Class of 2020
<span style="display:block;position:relative;padding-top:56.25%;" class="rm-shortcode" data-rm-shortcode-id="cc070c5f773d48cb69efaccc58bc5a90"><iframe lazy-loadable="true" src="https://www.youtube.com/embed/NaOLE9iIWSI?rel=0" width="100%" height="auto" frameborder="0" scrolling="no" style="position:absolute;top:0;left:0;width:100%;height:100%;"></iframe></span>

<p>"We have had a (Techstars) that is all virtual for a few years now, so we had some precedent. Essentially what we are trying to do is bring that community, that connection, and all the learning and the value of mentorship, but just do it in a virtual environment with the same level of effectiveness," says Barber</p><p>Since the inception of Techstars L.A., Barber has been cultivating supportive environments for startups to grow. </p>

<p>Some of her favorite stories are the "before and after" transformations where, by the end of its journey, the company is almost unrecognizable. Many of the accelerator participants go on to raise seed rounds after an intense three months of iteration.</p><p>"The reason people are successful fundraising coming out of the program is because they do the work of understanding the drivers of their business and moving them so that investors can see they are building on a strong foundation, and therefore their business becomes investable," says Barber. "It's not because they build a fancy powerpoint or rehearse their pitch a lot. It's because they did the work."<br/></p><p><span></span>Barber <a href="https://dot.la/heres-the-one-thing-techstars-anna-barber-looks-for-in-founders-2646414750/particle-2" target="_blank">looks for a certain type of founder</a> that can undergo such a transformation. Each member of the Techstars L.A. 2020 class is there because Barber could envision herself working for their company. But what is it specifically that makes her say yes to a founder? Passion and an open mind.<br/></p><p>"I'm looking for that founder who literally can't be doing anything else because they can't rest until this thing that they've envisioned exists in the world," says Barber. "Then you couple that determination with a really open-minded viewpoint of how you get there. And a willingness to learn, and a willingness to be wrong."</p><p>In addition to her role at Techstars, Barber serves as a coach and strategic consultant to founders, as well as a partner at The Fund, an early stage venture capital fund made up of local founders and operators that <a href="https://dot.la/the-fund-los-angles-venture-capital-2645878184.html" target="_blank">expanded to L.A. this year</a>. With so much engagement in the local tech and startup community, it is no surprise that Barber has a specific vision for L.A. tech's future. Five to ten years down the line, she hopes for a Los Angeles that is contributing to the sustainability of our planet and for a community where diversity, equity and inclusion have become core components - and she plans to help make that vision a reality.</p><p>"I think, 'what is the change I want to see in the world and have L.A. be a leader?' I would love to see advances in sustainability, which I think is the pressing issue of our time," says Barber. "And I would love to see a Los Angeles where we have made meaningful progress on diversity, equity and inclusion — both on the funding side and the founding side."</p><p>Watch the full interview to learn more - in this conversation, we dive deep into how Techstars empowers startups to create impact, what it is about a founder that makes Barber say yes! and what she envisions for the future of L.A. tech. Get ready for an intriguing look at the L.A. startup scene from the woman uniquely positioned to help bring about that future.</p><p class="shortcode-media shortcode-media-youtube"> <span style="display:block;position:relative;padding-top:56.25%;" class="rm-shortcode" data-rm-shortcode-id="b3c1131bbffeafa5b7134553e41076cb"><iframe type="lazy-iframe" data-runner-src="https://www.youtube.com/embed/JrBrZxf_7Aw?rel=0" width="100%" height="auto" frameborder="0" scrolling="no" style="position:absolute;top:0;left:0;width:100%;height:100%;"></iframe></span> <small class="image-media media-caption" placeholder="Add Photo Caption...">Anna Barber: Techstars and the Future of L.A. Tech</small> <small class="image-media media-photo-credit" placeholder="Add Photo Credit..."> <a href="https://www.youtube.com/watch?v=JrBrZxf_7Aw&feature=youtu.be" target="_blank">www.youtube.com</a></small> </p><p>---</p><p> <em>Kelly O'Grady runs video and serves as the chief host & correspondent for dot.LA. Find her on Instagram <a href="https://www.instagram.com/kfogrady" target="_blank">@kfogrady</a> and email her at <a href="mailto:mailto:kelly@dot.LA">kelly@dot.LA</a>.</em></p>

From Your Site Articles

Related Articles Around the Web