techstars la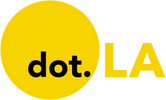 Get in the KNOW
on LA Startups & Tech
X
techstars la
Courtesy of Techstars LA
Techstars Los Angeles hosted its annual Demo Day on Thursday, featuring a cohort of 12 startups from across the world that are working in health care, space, ecommerce and more. The event capped a three-month accelerator program that all of the companies attended in person in Los Angeles, allowing a virtual audience to discover the seed and pre-seed ventures searching for funding and potential partners.

While the startups spanned from commerce to quantum computing, many of them had one thing in common: data collection. All of us are familiar with what data collection means for consumers: Spending just a couple days with my new cat-owning roommate, for instance, once spiraled into a deluge of kitty litter ads whenever I scrolled through my phone. For the startups, data collection means opportunities for creating solutions that can save companies money and help ease bottlenecks.
Showcases like Demo Day usually demonstrate the kinds of technology that investors think will have resonance in the market. The cohort's health tech ventures, as an example, were largely spurred by issues in the health care system that were exposed by the pandemic.
Matt Kozlov, managing director of Techstars L.A. and a longtime investor in these industries, told dot.LA he specifically looked for companies that didn't need to raise that much money—either by bootstrapping, becoming profitable early on or a mix of both. The startups leave the program with a $20,000 investment from Techstars; in return, Techstars gets a 6% stake in each company.
Rwazi, a Mauritius-based startup and Techstars L.A.'s first investment in Africa, was one of the presenting companies tapping into consumer habits of the developing world, which contributes $5 trillion to the global economy every year but lacks comprehensive data because a lot of digital transactions are not traceable.
The seed-stage company aims to collect and share consumer data from regions that conduct a large portion of transactions through cash. Using Rwazi, companies can analyze customer data like which demographics are buying their products, and the company's "mappers" collect that information from small and large businesses and share it through the platform. Rwazi, which currently operates in Africa plans on expanding into South, Southeast Asia and South America. Joseph Rutakangwa, CEO of Rwazi, called that region alone a "$40 billion opportunity."
Then there's Pear Suite, a Seattle health startup serving the elderly population. Health care organizations lack data about patient behaviors that may allow them to provide preventative care before a grandparent falls ill or ends up in the emergency room, adding money to the already expensive health care economy. Pear Suite collects and leverages patient data that healthcare organizations can use to predict and avoid potential issues down the road.
Lastly, San Francisco-based Squid iQ came onto the scene after the pandemic's upheaval of the antiquated hospital system, where ventilators and beds could not keep up with demand for care, and physicians had to make difficult decisions about who to treat. Poor medical equipment inventory has long plagued hospitals who deal with an array of emergencies and sometimes can't locate a life-saving device. Squid collects data on the type of technology, how long it has been used as well as where it is located when not in use. The process may allow health care staff to spend more time caring for patients and help hospitals save money.
By and large, health care has fallen behind on optimizing data collection for the purpose of improving care, reducing costs and saving lives. Data collection, in some cases, is a game-changer—and it will be interesting to see if industries operating with archaic technology will embrace these startups, or if these new companies will hit the same bottlenecks as the ones before them.
From Your Site Articles
Related Articles Around the Web
Shutterstock
Sign up for dot.LA's daily newsletter for the latest news on Southern California's tech, startup and venture capital scene.
In recent years, Techstars Los Angeles managing director Matt Kozlov has witnessed local investors pour more and more capital into health care startups across the region. It's this sector—not entertainment or the creator economy—that he hopes to spotlight through the startup incubator's next accelerator program.
Health care, after all, is a difficult market for startups to break into "if you don't have support of the large institutional players," said Kozlov, who helped Cedars-Sinai Medical Center launch a health-tech accelerator in partnership with Techstars several years ago.
On Monday, Techstars L.A. officially unveiled its spring 2022 accelerator class—and in line with Kozlov's belief in the health-tech space's massive potential, five of the 12 companies involved are developing digital health tools.
The 13-week program will bring early- to mid-stage startups from places as far-flung as London, Singapore and Mauritius to the accelerator's new offices in Culver City. After meeting with some 250 mentors and potential investors in the Techstars community, the founders will select a core group of "board members" to help them prepare for a demo day where they'll ideally secure investor capital.
The program offers each startup a $20,000 investment from Techstars L.A. in exchange for a 6% equity stake in their company. By the time it wraps, some founders will have already started fundraising; two companies in the spring 2022 cohort have already closed funding rounds since being accepted, Kozlov noted.
Beyond digital health, the founders selected for the spring class are building hybrid rockets, SaaS companies, proptech applications and services for e-commerce and retail enablement. Kozlov hinted that the accelerator's next cohort, slated to start in September, will center around Southern California's booming aerospace industry.
Here are the startups in Techstars L.A.'s Spring 2022 Class:
Aware Health partners with employers to provide muscle, nerve and joint pain care to their employees.
Bean is a marketplace and workflow management platform for accounting services.
Equatorial Space develops hybrid-engine rockets designed to make space launch more affordable.
E-commerce retailers can integrate GoFlyy's platform to support customers making on-demand deliveries and returns.
Hormona is a digital health startup offering at-home hormone testing and a hormone management platform for women.
Max Retail (formerly SwapRetail) helps independent retailers and brands sell unsold inventory through a market network that includes B2B, B2C and liquidation channels.
Mind-Easy partners with employers to provide their workforce with culturally sensitive mental health resources.
Modal Living designs, manufactures and installs modular backyard dwellings and offices.
Next Generation Quantum is a quantum computing hardware and programming company.
Pear Suite's cloud-based platform that assesses "social drivers of health" for older adults.
Rwazi is a data services company providing organizations with on-ground data on products, services and activities from Africa.
SQUID iQ is a SaaS company offering hospitals a health care technology management platform for medical devices.
The 12 companies will show off their work, which ranges from a stroke-detecting wristband made by Alva Health to a social network for stock traders called Cheres and Renno, an app for home renovations. If you're about to go to small claims court and need help filing paperwork, there's an app for that, too – Techstars also backed PeopleClerk, which uses its system to help California residents file in any one of the state's 58 counties.
For the past three months, each company has been working under the guidance of Techstars mentors remotely and at their Culver City offices to develop its final product, which will be shown off to investors and interested potential customers Oct. 14 during an investor showcase at the Petersen Auto Museum.
In addition to each company receiving a $20,000 grant at the onset of the program in exchange for giving Techstars 6% equity in the company, the pitch day is potentially a very valuable opportunity to court new investors and keep the business' momentum going.
Of the dozen companies that have participated in the accelerator, Techstars L.A. Managing Director Matt Kozlov said about half have– or are in the process of closing – funding rounds outside the Techstars model.
"A couple of the companies will have actually already closed rounds by Demo Day, which is pretty exciting," Kozlov said. "Some of the companies are so hot that the deals kind of ran away with themselves before the rest of the world got a chance to meet them, which is great for our founders and we're proud of them."
One of those companies is Sanity Desk, which makes software for small businesses to help them manage marketing and customer service. Sanity Desk CEO Samuel Cook said the company raised $116,000 during the program from investors outside Techstars and $1.9 million since launching in 2019.
Cook said that working with Techstars helped Sanity Desk boost its revenue by focusing on offering its product at a free or discounted price to reel in new customers. He noted Sanity Desk's monthly revenue grew 15% in September and expects the startup to hit $1 million in annual revenue by January 2021.
"The biggest breakthrough we had from the program was learning through our mentors how we could grow our revenue to $1 million in annual recurring revenue before we raised our Seed round," Cook said. "The advice we received in raising and how to raise will greatly increase our valuation at the time we raise. Plus the network and skills we have to raise will make it much easier than it would have been."
The demo day is virtual because of the ongoing coronavirus pandemic, but Techstars LA embraced a virtual and in-person hybrid model this year. The investor showcase will be in-person, and throughout the three-month mentorship period startups met both in-person and online -- Kozlov said one mentor even moderated a class while docked on a yacht.
Kozlov said Techstars will likely continue a hybrid model of in-person and virtual experiences in its future classes regardless of the pandemic, because it allows more companies to participate.
"We came to TechStars because we were looking to raise money, but the real value we got was from the mentorship and the confidence we gained to grow our business with these mentors," Cook said. "Also, the other founders in the program are a huge source of strength and inspiration to me that I can rely on them for advice, connections, and support through our journey after the program."
From Your Site Articles
Related Articles Around the Web