Courtesy of Techstars
Earlier this month, Techstars announced that their 2023 accelerator program will have two simultaneous cohorts–Techstars health care and L.A. As previously reported on dot.LA, Techstars has brought on board returning partners Cedars Sinai, United Healthcare, along with new partners that include UCI Health and Point32Health for its health care cohort.
"For our healthcare program, this is the first time we've had multiple partners as sponsors," Managing Director Matt Kozlov said. "This allows us to support and mentor a wider diversity of companies than we've been able to help historically."
The in-person program is taking place in Los Angeles and two out of the twelve companies accepted into the health care program are based in Southern California.
Kneevoice
Gustavo De Greiff, Dr. Carlos Leal and Felipe RigbyTechstars
The first is Santa Monica-based Kneevoice, a company that has developed a noninvasive medical device that diagnoses cartilage deterioration in joints. The health care company was founded in 2015 by orthopedic surgeon Carlo Leal, Gustavo De Grieff and Felipe Rigby. But the trio didn't officially start until 2020 and a year later raised $2 million in capital.
De Grieff said that Kneevoice was born out of need. Dr. Leal reached out to him and Rigby for help to design a microphone that will be placed on the kneecap of his patients. The device was intended to verify if the treatments that he gave them were working.
De Greiff said the small device, "contains sensors that take good data from vibrations and sounds so that we can pinpoint exactly where the cartilage is deteriorating, what degree of deterioration and also noninvasive, and there is no radiation involved."
The sensors are attached by an adhesive patch to the skin over the joint. The audio and vibration sensors are recorded through the acoustic emissions emitted from the joint and in less than 5 minutes, physicians can analyze the data and provide an exact diagnosis.
Currently Kneevoice is undergoing FDA clearance, but De Greiff said that participating in Techstars will provide them with even more opportunities.
"We need TechStars to give us the seal of approval, which is very important," he said. "Second, their connections to be able to help bring the product to market and obviously like any startup, hopefully have access to funding, VCs, angels and prospective investors for our product."
iCardio.ai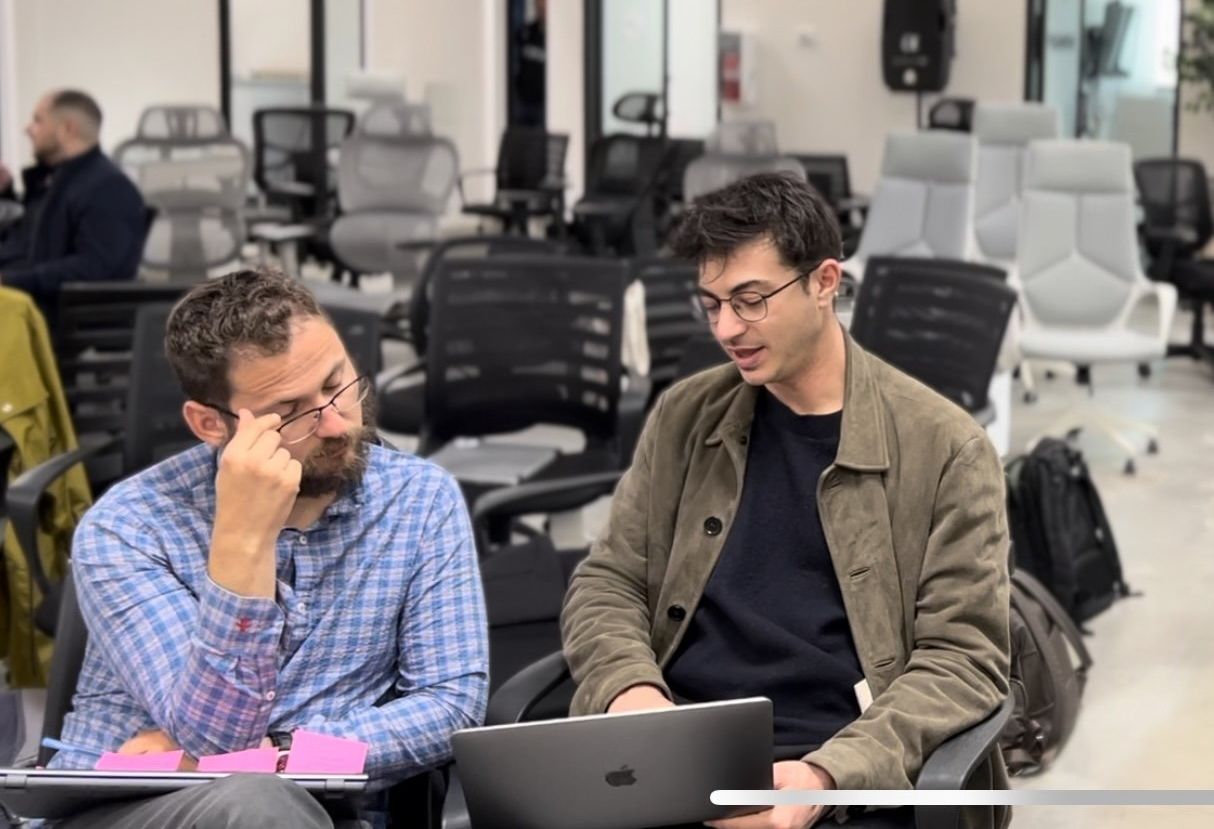 iCardio.ai co-founders Roman Sandler and Joseph Sokol. Courtesy of Techstars
The second company joining the cohort is Los Angeles-based iCardio.ai, a developer of deep learning echo tools designed for echocardiographic analysis. The company got its start in 2019, when OlehPay founder Joseph Sokol teamed up with Intellisense Systems executive Roman Sandler and iCardio Corporation CEO Dr. Joshua Penn to build and develop a cardiologist brain using AI by leveraging the data set of over 200 million echocardiograms.
"When a cardiologist sees a person's heart, in an ultrasound image, it's a very complex exam, and requires decades of experience to be able to look at this and understand acute diseases or abnormalities that you might see in those images," Sokol explained, "and what we've done at iCardio.ai is we've developed a cardiologist brain that can do that function automatically."
So far, the company has developed over 60 neural networks that comprise the iCardio.ai brain. The startup has also released iCardio.ai brain V1 on their website, which Sokol said allows "anyone in the world can upload an echocardiogram today and receive a report."
Still, iCardio.ai is in the process of submitting a portion of the capabilities of its product to the FDA that will require clinical trials.
Sokol said he has been part of other accelerators, but none of them are like Techstars.
"It's an extremely prestigious accelerator and unlike Y Combinator, TechStars has a healthcare specific segment," he said. "So we said okay, this is something that we need, so we applied, got in and we're really excited about that."
Every company participating in the program will receive $120,000 and Techstars will take 6% stock in each startup. In addition to funding, the startups will also have access to the Techstars network of over 10,000 founders, alumni and mentors globally.
"This class includes both medical devices and digital healthcare companies, addressing some of the most pressing needs across so many different stakeholders in healthcare: widely diverse patient populations (pediatrics, maternal, geriatric, chronic, etc.), clinicians, payors, hospital administrators, and beyond," Kozlov said.