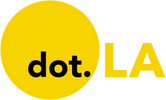 Get in the KNOW  
  on LA Startups & Tech  
X
TikTok Ventures Deeper Into Music With New Sound-Editing App
Kristin Snyder
Kristin Snyder is dot.LA's 2022/23 Editorial Fellow. She previously interned with Tiger Oak Media and led the arts section for UCLA's Daily Bruin.
12:41 PM | April 20, 2022
TikTok is continuing its foray into the music industry by testing a new sound-editing app for musicians and creators called Mawf.
The Culver City-based video-sharing app and its Chinese parent company, ByteDance, are currently beta-testing the sound-editing tool throughout Europe and the U.K., Business Insider reported Wednesday.
---
Mawf transforms users' vocals and other audio inputs into instrumental sounds like trumpets, saxophones and flutes. A series of levers allows users to modify the sounds, which are sourced from the machine-learned analysis of recordings by professional musicians, according to the app's website. Music production platforms, such as Ableton Live and Logic Pro, can integrate Mawf's features as a plugin, which allows users to incorporate the app's audio into their projects.
TikTok's experiment with Mawf comes after the social media firm launched its own music distribution platform, SoundOn, last month. The platform lets artists directly upload their music to TikTok and earn royalties when that music is used in videos.
TikTok has carved out an increasingly influential role in the music business, with the video-sharing platform popularizing music by new and established artists alike and launching several successful music projects. "The Unofficial Bridgerton Musical"—which originated as a TikTok passion project—won this year's Grammy Award for Best Musical Theater Album, March, while pop star Olivia Rodrigo took home the Best New Artist award after her hit song "Drivers License" was featured in more than 1.4 million videos on the app. TikTok also recently backed its first musical theater production, "For You, Paige," which premiered last week in New York.
Kristin Snyder
Kristin Snyder is dot.LA's 2022/23 Editorial Fellow. She previously interned with Tiger Oak Media and led the arts section for UCLA's Daily Bruin.
https://twitter.com/ksnyder_db
02:16 PM | March 02, 2023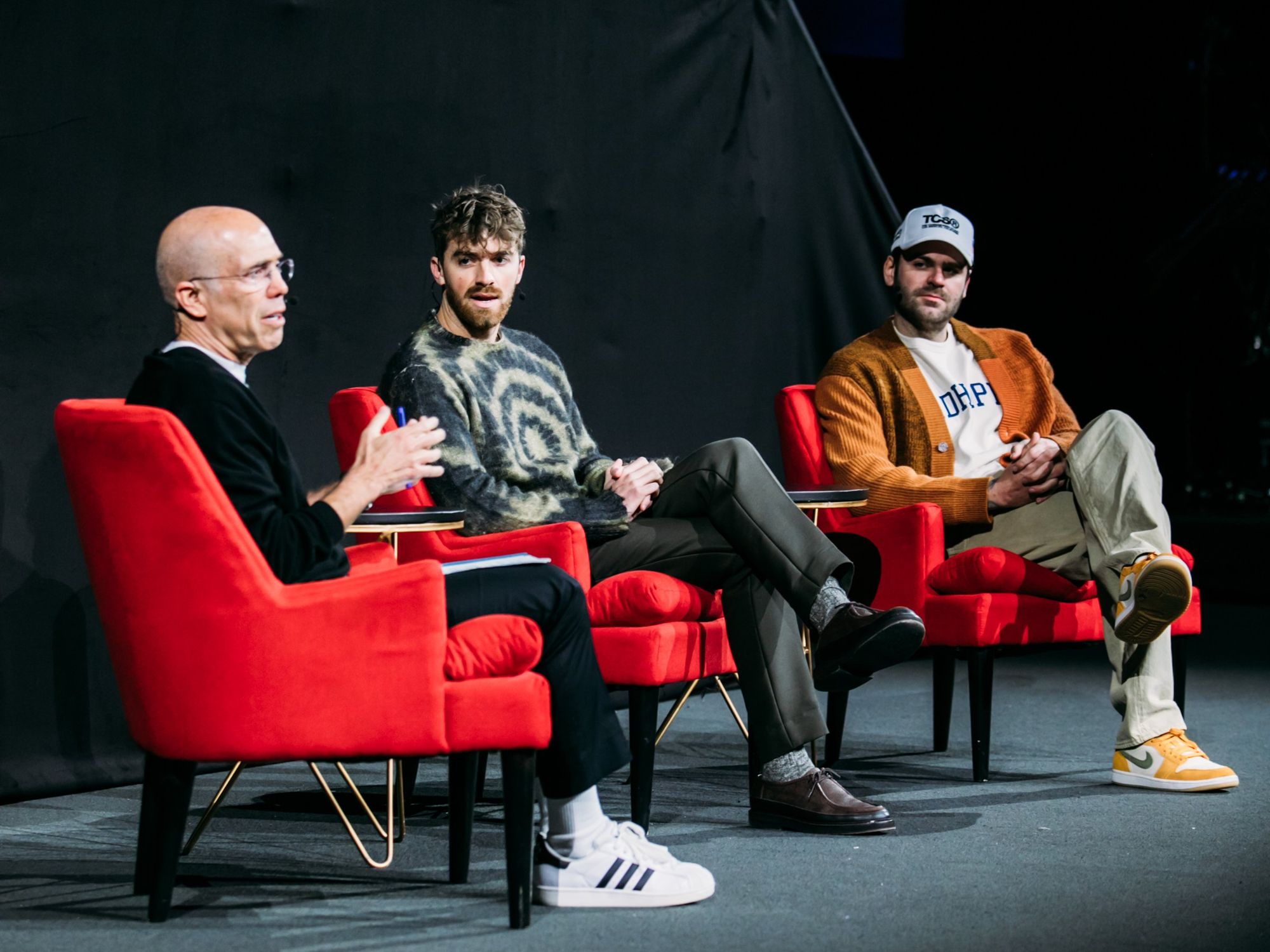 Clark Studio
On Thursday, Upfront Ventures hosted its 2023 Summit and music icons Alex Pall and Drew Taggart of The Chainsmokers hit the stage, not to perform, but instead to discuss their venture journey.
The duo launched MantisVC, a Marina Del Rey-based early stage tech venture fund in 2019.
Pall and Taggart shared the stage with WndrCo's managing partner Jeffrey Katzenberg to dive deeper into what their music career has taught them and how it translated over to their venture firm.
Here are some of the most important takeaways:
The duo believes hustle is more important than talent to achieve success.
"There's just so much content out there that's just happening all the time for no reason," Taggart said. "There's just so much to pay attention to and if you have to wake up every day, and think out what your angle is going to be, try stuff, have it not work. You have to accept defeat so frequently and still get up and do it."
Creating music was their foray into building communities.
"I think we have some real insight into how to build that community and tell that story because essentially, that's all we're trying to do," Pall said. "No matter what your business is, you're telling the story about something that you think is important that someone else needs and will enjoy."
Building connections and having conversations with pioneers in the space helped them launch MantisVC.
"Humility and being self aware are two of our strengths," Taggart said. "I think knowing what we don't know is a big part of how we've gotten to where we are, and with the support of people around us, and the relationships we built, we understood that we were going to have to go out and prove to the world that we were serious about this and we respected the people that have come before us and the people that are doing it right now."
VCs should offer all their founders support.
"When you're building something early on, you want that support, that hands-on feeling and the purpose of Mantis isn't necessarily right now to replace the incredible institutional investors that exist out there and have been around for a while," Pall continued.
"But we want to be the Robin to their Batman, and we think there's a way that we can kind of partner with everybody in the space and provide our founders that holistic support they need. It's inspiring to work alongside people that share that same energy and we're constantly working on ourselves and I feel like it takes a really special type of human being to be successful in this world. Level of grit and determination and something that's continually fueled us and we want to invest in people like that."
Feedback is necessary and essential to create successful products and businesses.
"Similar to products or services that you're building, it's important to get real life feedback out there and iterate on those things," Taggart said. "And there's really just no substitute for that."
Pall added, "I think for some reason in our culture, it's become an issue for people just to be straightforward and say no, about things and give honest feedback and, and move on. I think we can all learn a lot from just having more honest conversations with each other."
Never lose sight of your core audience and mission as a company.
"Never forget what your core product is and what people love about that and make sure that every piece of innovation is derivative of that," Taggart said. "I see a lot of friends of ours that have had really successful companies start to build ancillary projects that don't really feed their core audience that they're just making to compete with their competition. We do the same thing in songwriting, and you can never lose sight of what people love about you."
Decerry Donato
Decerry Donato is a reporter at dot.LA. Prior to that, she was an editorial fellow at the company. Decerry received her bachelor's degree in literary journalism from the University of California, Irvine. She continues to write stories to inform the community about issues or events that take place in the L.A. area. On the weekends, she can be found hiking in the Angeles National forest or sifting through racks at your local thrift store.
08:54 AM | April 13, 2023
Closing the gap. Expanding capital opportunities in LA.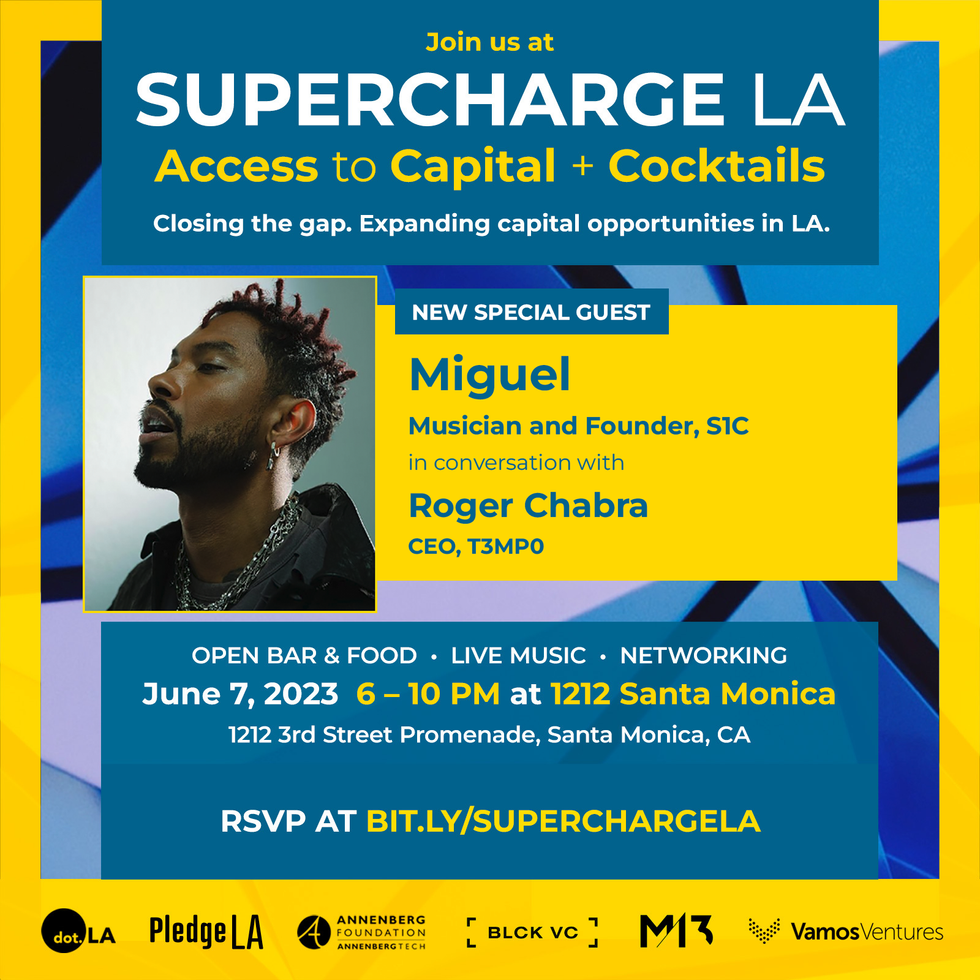 This event is a part of #TechWeek - a week of events hosted by VCs and startups to bring together the tech ecosystem

For all other event inquiries, reach out to events@dot.LA

If you would like to Sponsor our event, reach out to partnerships@dot.LA
Hosted by:
dot.LA, PledgeLA, and The Annenberg Foundation
Event Sponsors:
Bank of America, Amazon Web Services, Justworks, Riot Games, Perkins Coie, Alto, 1212 Santa Monica
Community Partners:
BLCK VC, M13, VamosVentures, Grid110