women in stem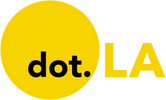 Get in the KNOW
on LA Startups & Tech
X
women in stem
Image by Carolyn Figel
The pandemic exacerbated a problem that has been long bubbling in the U.S.: childcare.
According to a survey of people in science, technology, engineering and mathematics (STEM) careers conducted by the city's WiSTEM Los Angeles program and shared exclusively with dot.LA, the pandemic exposed a slew of challenges across STEM fields. The survey—which consisted of 181 respondents from L.A.County and was conducted between March 2021 and 2022— involved respondents across medical fields, technical professions and science industries who shared the pandemic's effects on their professional or education careers.
The survey found 60% of the respondents, primarily women, were balancing increased caretaking roles with work or school responsibilities. And while caretaking responsibilities grew, 49% of respondents said their workload also increased during the pandemic.
"The pandemic threw a wrench into lots of folks' experiences both professionally and academically," said Kathryne Cooper, a health tech investor who sits on the advisory board of WiSTEM. "So we need to acknowledge that."
In the L.A. area, an increasing number of childcare startups are aiming to address this massive challenge that is a growing national crisis. The U.S. has long dealt with a crippling childcare infrastructure plagued by low wages and a labor shortage in preschools and daycares, but the COVID-19 crisis made it worse. During the pandemic, women left the workforce due to the lack of childcare and caretaking resources. By 2021, women made up the lowest percentage of the workforce since 1988, according to the National Women's Law Center. Despite the pandemic forcing everyone indoors, caretaking duties fell disproportionately on women.
"I almost actually left my job because everything that I looked at was either waitlisted or the costs were so astronomical that it probably made sense for me to stay at home rather than pay someone to actually look after my child," said Jessica Chang, the CEO of childcare startup WeeCare.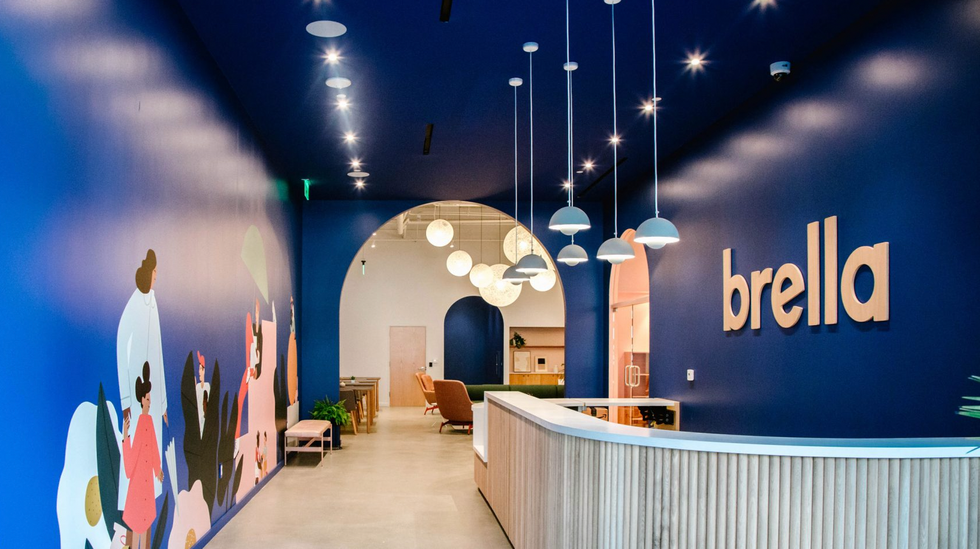 Brella's Playa Vista-based childcare center lobby. Photo courtesy of Brella
The Marina del Rey-based WeeCare, one of the startups that helps people open their own childcare facilities, announced it raised $12 million in April (to go along with an additional $5 million in bridge funding raised during the pandemic). The company helps people build daycare centers and works with employers to provide access to WeeCare centers and construct childcare benefits programs.
Some of these startups strive to boost the number of daycare centers by helping operators with financial costs, licensing fees and scheduling. Wonderschool, a San Francisco-based childcare startup, raised $25 million in January and assisted with hundreds of childcare facilities in L.A.-based Playground, which raised $3 million in seed funding last year per PitchBook. Playground acts as an in-house platform for childcare providers to communicate with staff and parents, track attendance, report student behavior and provide automatic invoicing services.
L.A.-based Brella, which launched in 2019, raised $5 million in seed funding in January to create a tech-enabled daycare scheduling platform that could meet the demand of flexible childcare as parents navigate a hybrid work environment, and recently opened a new location in Hollywood. The startup aims to address the labor shortage among childcare workers by paying its workers roughly $25 an hour and offering mental health benefits and career development opportunities for its educators.
"It's this huge disconnect in our society because these are really important people who are doing arguably one of the most important educational jobs," said Melanie Wolff, co-founder of childcare startup Brella. "They often don't get benefits. They don't have a lot of job security."
Venture capital funding has poured into the relatively new childcare sector. A slew of parent-tech companies aimed at finding flexible childcare and monitoring children saw $1.4 billion worth of venture investments in 2021, according to PitchBook, largely to meet the demands of parents in a pandemic era who have more flexible work commutes and require more tech-enabled solutions.
"I think a lot of it has to do with what employers expect for workers," said Darby Saxbe, an associate professor of psychology and family relationships expert at USC. "There's still a lot more stigma for men to build their work around caregiving responsibilities–there's a lot of evidence that men are often discouraged from taking paternity leave, even if it's available."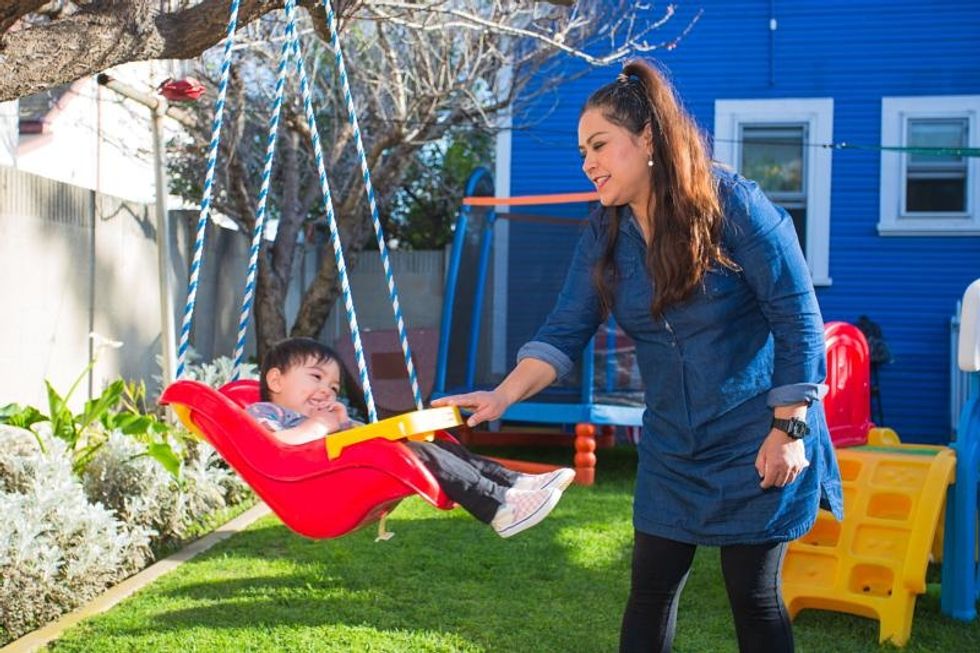 WeeCare is one of several startups updating the childcare space with technology and flexibility. Photo courtesy of WeeCare
Childcare benefits are also becoming a more attractive incentive as workers grapple with unorthodox work schedules in a hybrid setting.
"Employers, because of COVID, were having a hard time retaining and recruiting employees," said Chang. "And they were actually incentivized to actually find a solution to help the employees."
WeeCare primarily partners with employers of essential workers, like schools, hospitals and grocery stores, and the benefits programs account for the majority of WeeCare's revenue.
Childcare works are part of a massive labor shortage in caretaker roles that also include nurses, and health aids for the eldery. These workers, which allow women to maintain careers in STEM and other high-paying industries, are vital, according to Saxbe.
"Women can advance in the workplace," Saxbe said. "But if there's no support at home and there is no one who is helping take care of kids and elderly people, women can't just advance in a vacuum."
The maker of World of Warcraft and Diablo, Activision Blizzard fostered a pervasive "frat boy" culture where women employees were subjected to constant sexual harassment, lower pay and retaliation, according to a lawsuit filed this week by the California Department of Fair Employment and Housing.
The agency sued the game company on Tuesday after conducting a two-year investigation into the Santa Monica-based company's workplace culture that found male workers and bosses tormented women and executives didn't seriously deal with complaints.
In the office, women were subjected to "cube crawls" where male employees drink "copious" amounts of alcohol and crawl to various cubicles in the office and "often engage in inappropriate behavior toward female employees," including groping them, the lawsuit filed in Los Angeles Superior Court stated.
The complaint said male employees "proudly" came into work hungover and played video games at the office, delegating their work to female employees. The behavior also included engaging in banter about their sexual encounters, talking openly about female bodies and joking about rape.
"Female employees almost universally confirmed that working for (Activision) was akin to working in a frat house, which invariably involved male employees drinking and subjecting female employees to sexual harassment with no repercussion," the complaint stated.
Women employees have to fend off unwanted sexual comments and advances by both their male colleagues and supervisors. The lawsuit cited one example where a woman employee, who was subjected to harassment, took her own life during a business trip with a male supervisor.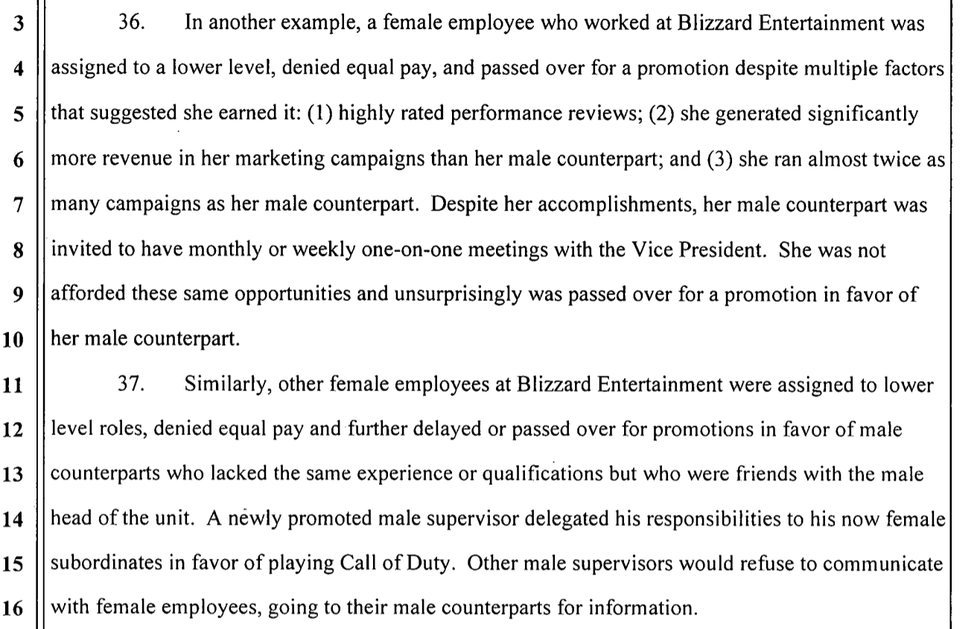 The top leadership of the 9,500-employee company is exclusively white males, the lawsuit states, and very few women ever reach top roles and those who do, earn less than their male counterparts.

Women make up 20% of the company's workforce.
Despite complaints made to the company's human resources department and executives, remedial measures weren't even taken, according to the complaint. The women who complained were retaliated against, including being passed over for work on projects, transferred to other units and selected for layoffs.
The state agency is seeking an injunction forcing compliance with workplace protections as well as unpaid wages, pay adjustments, back pay and lost wages and benefits for female employees.
In a statement, the company accused the agency of using distorted and false descriptions of Blizzard's past.
"We value diversity and strive to foster a workplace that offers inclusivity for everyone. There is no place in our company or industry, or any industry, for sexual misconduct or harassment of any kind," a spokesperson for Activision Blizzard said. "We take every allegation seriously and investigate all claims. In cases related to misconduct, action was taken to address the issue."
The problem of sexual harassment and workplace discrimination at tech companies is not new. The Communication Workers of America is behind an effort launched last year to unionize video game and tech companies for working conditions as well as ethics and culture.
Read the full complaint here: