famtech
Two of Mate Fertility's founders — brothers Oliver, 28, and Gabriel Bogner, 25 — intimately know about in vitro fertilization. Gabriel Bogner, who is gay, was born though IVF and Oliver's wife went through IVF to genetically screen out a gene that could pose a risk for cancer.
Both were struck by a system that favored wealthy, straight urbanites.
"A lot of the queer community has been locked out of some of these reproductive services due to some specific discriminatory policies," said Gabriel Bogner, the younger of the two.
Insurance policies sometimes require people try to conceive for a certain number of months before they're qualified to be covered, effectively making it impossible for same-sex couples or individuals to get insurance to cover fertility treatments. And clinics are notoriously costly. Of the 480 in the U.S., most are concentrated in urban centers, catering to wealthier residents, he said.
The two started Mate Fertility with Dr. Jeffrey Steinberg, an endocrinologist who studied under the doctors that conceptualized IVF, to counter that, with lower cost services and in rural and suburban areas. Mate Fertility offers egg freezing, surrogacy, genetic screening and in vitro fertilization. The Los Angeles-based startup just clinched a $2.8 million funding round led by Struck Capital. The cash will be used to add more employees and establish clinics in smaller cities, including Bakersfield.
The company joins a slew of startups in the fertility space tackling cost-prohibitive procedures. She's Well, a San Francisco-based startup, offers subscription plans for egg freezing and IVF treatments, and Stork Club is an insurance add-on for companies to make the cost of fertility treatments cheaper for employees. But Mate Fertility aims to build clinics that can operate at a lower cost.
Mate Fertility has yet to open a single clinic but has begun accepting patients in Oklahoma City, where it plans to open a center next month. Clinics are planned in South Arkansas, Anchorage, and L.A. areas including Downey, Long Beach, San Bernardino and Bakersfield.
"We've kind of gone public with our vision that we want to open 1,000 clinics in the next ten years," Oliver Bogner said.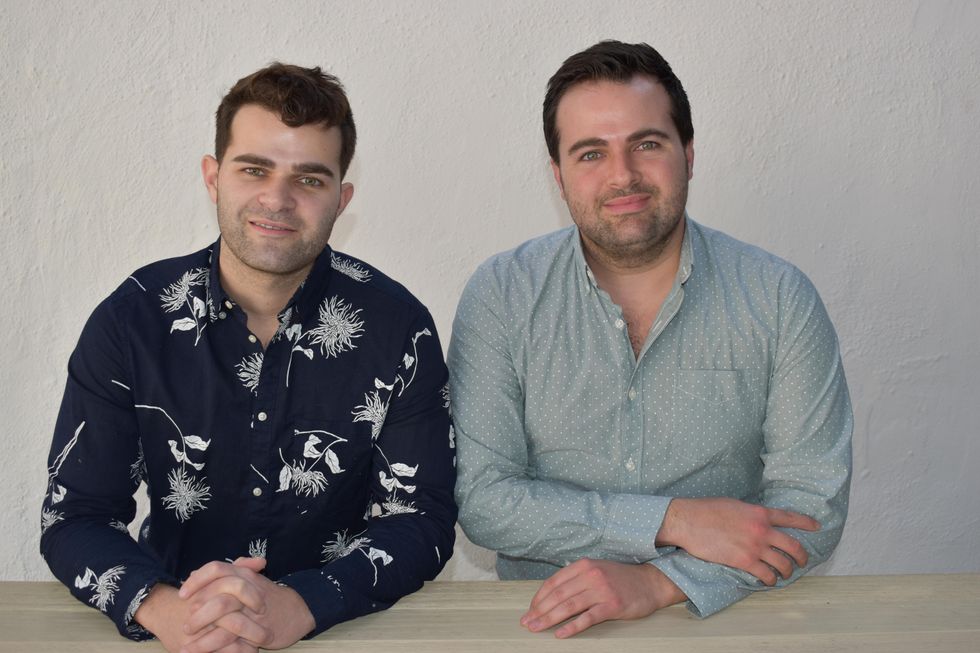 Brothers Gabriel and Oliver Bogner created Mate Fertility to make IVF treatment cheaper and more accessible in rural areas.
Gabriel said for many families looking to conceive, there are not many low-cost options. And people often turn to these clinics at a vulnerable time in their life when they are desperate. He said clinics take advantage of this and often charge high prices.

"It allows these clinics to start price gouging," said Gabriel Bogner. "And so it makes these services extremely unaffordable because people are willing to pay a really high price to have kids when there's a really high demand for it."
It's difficult to find an average treatment cost, since insurance and external factors severely impact how much a treatment can cost, but Mate Fertility said it's $41,000, which it's aiming to bring down the average cost by 40% by subverting market expectations.
"The sad reality is more than half of all those legacy clinics are bought out by private equity firms," Oliver Bogner said. "So they do have very aggressive market expectations...none of these procedures are all that expensive to actually perform."
The company is leveraging technology to make its fertility clinics more efficient. Mate Fertility uses a custom electronic health record, or EHR, to centralize patient data and better share information. The company also has patient portals that aim to make the process of paying for treatments easier and an e-pharmacy that delivers medication.
The technology, he said, will open up access to more people.
Related Articles Around the Web
When Joanna McFarland co-founded HopSkipDrive in 2014, she thought she had discovered the perfect low-risk business model – contracting with school districts to provide safe and reliable ridesharing for students.

"I always said this is the most recession-proof business there is because it's schools and schools don't close," McFarland recalls. "But apparently it's not pandemic proof."
With the raging coronavirus shuttering schools in most of the eight states it serves plus Washington D.C., McFarland says the company is bringing in "far less" than 20% of the revenue it did pre-pandemic. Though that's up from last Spring when revenue vanished practically overnight.
"2020 has been a year," McFarland said in a Zoom video interview last month. "I don't know what else to say."
McFarland attended The Wharton School for undergrad, and got an MBA at Stanford in 2005, before executive roles at OneWest Bank, AT&T Interactive and GM Consumer Finance. But nothing could prepare her for 2020.
"March, April and May was just crisis mode," McFarland remembers. "New information was coming in every single day. How do you possibly plan for next month or next quarter, let alone like tomorrow? How do you keep your team from freaking out?"
HopSkipDrive laid off 10% of its workforce in March, but thinking that schools would reopen by Fall, McFarland hoped to retain the bulk of her staff. The company received a $1.6 million Payroll Protection loan in April to retain 102 jobs – one of the largest given to an L.A. startup.
"That meant that we got to keep all of our operations team, our support team, our marketing team, our sales team," she said.
The funding ran out in August, and with most students still stuck at home, she laid off 60 people. Fewer than 50 employees remain.
"That was very, very difficult to do," McFarland said.
Joanna McFarland attended The Wharton School for undergrad, and got an MBA at Stanford in 2005, before executive roles at OneWest Bank, AT&T Interactive and GM Consumer Finance. But nothing could prepare her for 2020.
It was a major setback for the once fast-growing startup, which was started by McFarland and two other L.A.-area working moms desperate for a safe way to ferry their overscheduled kids to and from school, soccer games and violin lessons — activities that now seem like the relics of a bygone era.
"With eight children between us, we were constantly struggling with the need to be in multiple places at once," McFarland said soon after launching. "We designed HopSkipDrive to be safe enough for our own kids to use, and in doing so, have developed a scalable transportation solution that has been game changing for families."
Before COVID-19, HopSkipDrive had been on a significant hiring spree, relocating its offices to the trendy ROW DTLA in the Arts District, where Spotify has its L.A. headquarters.

HopSkipDrive raised $22 million in late-stage funding last February from two of L.A.'s most prominent venture firms, Greycroft and Upfront Ventures, to bring its total fundraising close to $45 million. (Upfront also got in on the 2015 seed round.)
"We're excited to invest in a L.A.-based company that's creating a whole new category and solving such a real problem for families," Upfront Ventures partner Greg Bettinelli said in 2015. "We see a real growth opportunity."
The timing of the most recent raise – a month before stay-at-home orders went into effect – proved fortunate in extending HopSkipDrive's runway when contracts dried up. Through it all, McFarland has given up trying to predict when students will be back in the classroom.

"In times like this, you look at what you can control and you look at what you can't control and obviously we cannot control when schools open or don't open," McFarland said.
What she can effect is HopSkipDrive's slimmed down operation, which she says will pay dividends when things return to normal.
"It gives you time to take a step back and look at every single process and every single thing that you're doing and figure out how we would do this a little bit faster, a little bit better, a little bit more efficiently," McFarland said. "Ultimately, we have a much faster path to profitability when sales do return than we had before."
And McFarland, who has had to navigate the crisis while her kids have been at home, too, takes a degree of solace in the fact schools will reopen at some point. When that happens she thinks they will need HopSkipDrive more than ever because of a nationwide bus driver shortage that has only gotten worse during the pandemic.
"They're going to need our help, and we're all gearing up for that," she said. "I'm excited for that day."
From Your Site Articles
Related Articles Around the Web
HopSkipDrive, the ridesharing company for kids and one of Los Angeles' most visible startups, laid off staff Tuesday as the pandemic ravaged growth plans.

Co-founder and CEO Joanna McFarland would not say how many of the 100-plus employees she laid off but told dot.LA that after delivering the news to the group affected over Zoom, managers held one-on-one meetings to review benefits and severance pay. Several departments were impacted including operations, branding, sales and customer support.
The latest round of layoffs follow an earlier one in March in which the company cut 10 percent of its staff, according to layoffs.fyi, a website tracking job loss.
"One of HopSkipDrive's core values is 'feel it', meaning empathy," McFarland said. "It was very important to us to show empathy to all employees and to communicate directly with both employees who were impacted and those that were not impacted."
The six-year old company, that's raised roughly $98 million, spent the summer building COVID-safe standards to prepare for an abnormal school year. Then, one after the other, school districts across the country changed plans from in-person or hybrid classes to a completely virtual curriculum.
"Schools closing has a direct and significant impact on our business," McFarland told dot.LA by email.
"These reductions are not in any way reflective of work performance but were unfortunately necessary due to the impact COVID-19 has had on our business, like many others," McFarland wrote on LinkedIn in announcing the decision.
Companies have been careful about letting go of workers remotely after startups like the e-scooter service Bird soured relationships with former employees after a poorly planned layoff round.
McFarland said that demand for this service will surge once schools reopen because it offers socially-distanced, safe transportation for schools looking to limit bus capacity.
"Schools will need to prioritize the students we primarily serve more than ever — students with special needs, students experiencing homelessness and students in the foster care system," she said. "These are the students who are likely to have the biggest learning gaps due to Covid."
LAUSD begins its entirely virtual school year on August 18.
"Schools will come back, and when they do, we are poised to take off. We will be in a position to create more opportunities for kids, for CareDrivers, for families and for our team than ever before."
Until that happens, McFarland says the company will continue operations with its partners in markets that have opened schools. It'll also support seniors with mobility needs and partners looking to use the service to fulfill meal and technology deliveries.
McFarland and two other L.A. working moms founded HopSkipDrive in 2014 to help parents juggling hectic schedules. Unlike rideshare companies that bar underage riders, HopSkipDrive was designed for children as young as six.
In February, HopSkipDrive announced a $22 million funding round to expand its operations in new cities, dot.LA reported. Months before, in November of 2019, the company relocated its office to ROW DTLA and began a sizable hiring push across departments.
The service, now offered in 14 markets across eight states and Washington D.C., is expanding to Midland, Texas this coming school year to support Midland Independent School District.

From Your Site Articles
Related Articles Around the Web