famtech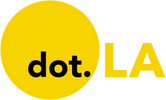 Get in the KNOW  
  on LA Startups & Tech  
X
famtech
Image by Carolyn Figel
The pandemic exacerbated a problem that has been long bubbling in the U.S.: childcare.
According to a survey of people in science, technology, engineering and mathematics (STEM) careers conducted by the city's WiSTEM Los Angeles program and shared exclusively with dot.LA, the pandemic exposed a slew of challenges across STEM fields. The survey—which consisted of 181 respondents from L.A.County and was conducted between March 2021 and 2022— involved respondents across medical fields, technical professions and science industries who shared the pandemic's effects on their professional or education careers.
The survey found 60% of the respondents, primarily women, were balancing increased caretaking roles with work or school responsibilities. And while caretaking responsibilities grew, 49% of respondents said their workload also increased during the pandemic.
"The pandemic threw a wrench into lots of folks' experiences both professionally and academically," said Kathryne Cooper, a health tech investor who sits on the advisory board of WiSTEM. "So we need to acknowledge that."
In the L.A. area, an increasing number of childcare startups are aiming to address this massive challenge that is a growing national crisis. The U.S. has long dealt with a crippling childcare infrastructure plagued by low wages and a labor shortage in preschools and daycares, but the COVID-19 crisis made it worse. During the pandemic, women left the workforce due to the lack of childcare and caretaking resources. By 2021, women made up the lowest percentage of the workforce since 1988, according to the National Women's Law Center. Despite the pandemic forcing everyone indoors, caretaking duties fell disproportionately on women.
"I almost actually left my job because everything that I looked at was either waitlisted or the costs were so astronomical that it probably made sense for me to stay at home rather than pay someone to actually look after my child," said Jessica Chang, the CEO of childcare startup WeeCare.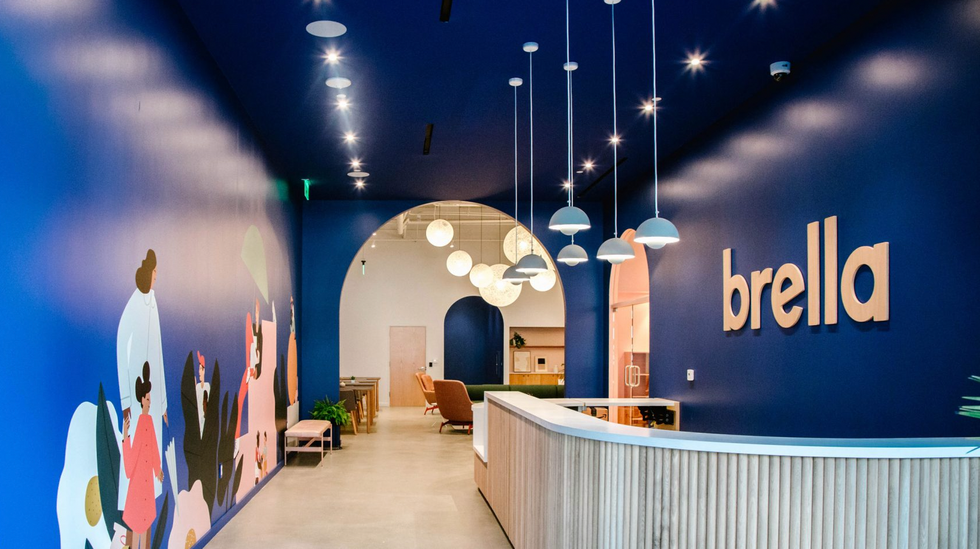 Brella's Playa Vista-based childcare center lobby.Photo courtesy of Brella
The Marina del Rey-based WeeCare, one of the startups that helps people open their own childcare facilities, announced it raised $12 million in April (to go along with an additional $5 million in bridge funding raised during the pandemic). The company helps people build daycare centers and works with employers to provide access to WeeCare centers and construct childcare benefits programs.
Some of these startups strive to boost the number of daycare centers by helping operators with financial costs, licensing fees and scheduling. Wonderschool, a San Francisco-based childcare startup, raised $25 million in January and assisted with hundreds of childcare facilities in L.A.-based Playground, which raised $3 million in seed funding last year per PitchBook. Playground acts as an in-house platform for childcare providers to communicate with staff and parents, track attendance, report student behavior and provide automatic invoicing services.
L.A.-based Brella, which launched in 2019, raised $5 million in seed funding in January to create a tech-enabled daycare scheduling platform that could meet the demand of flexible childcare as parents navigate a hybrid work environment, and recently opened a new location in Hollywood. The startup aims to address the labor shortage among childcare workers by paying its workers roughly $25 an hour and offering mental health benefits and career development opportunities for its educators.
"It's this huge disconnect in our society because these are really important people who are doing arguably one of the most important educational jobs," said Melanie Wolff, co-founder of childcare startup Brella. "They often don't get benefits. They don't have a lot of job security."
Venture capital funding has poured into the relatively new childcare sector. A slew of parent-tech companies aimed at finding flexible childcare and monitoring children saw $1.4 billion worth of venture investments in 2021, according to PitchBook, largely to meet the demands of parents in a pandemic era who have more flexible work commutes and require more tech-enabled solutions.
"I think a lot of it has to do with what employers expect for workers," said Darby Saxbe, an associate professor of psychology and family relationships expert at USC. "There's still a lot more stigma for men to build their work around caregiving responsibilities–there's a lot of evidence that men are often discouraged from taking paternity leave, even if it's available."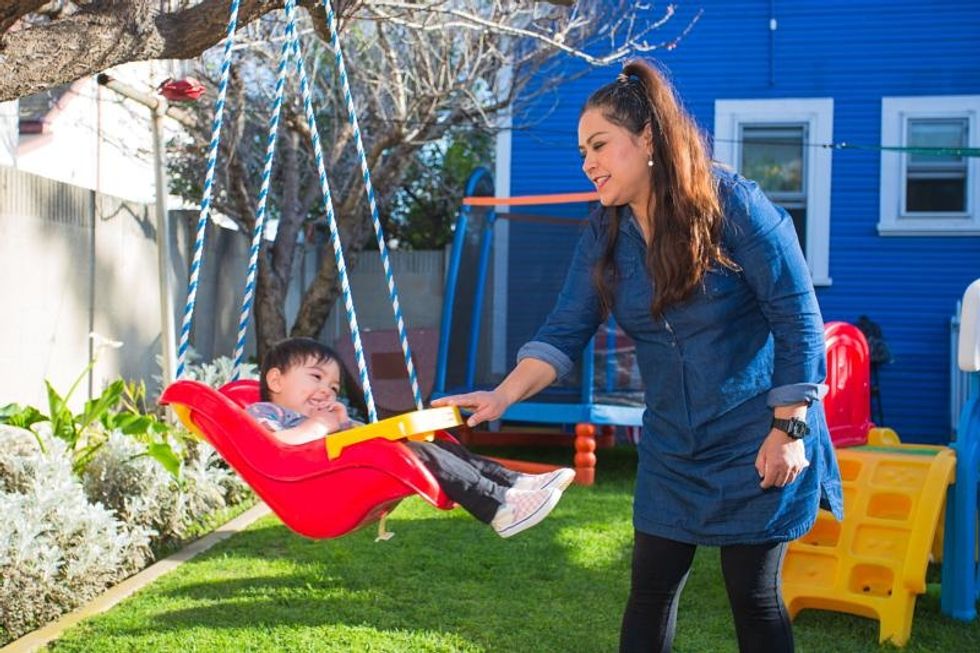 WeeCare is one of several startups updating the childcare space with technology and flexibility. Photo courtesy of WeeCare
Childcare benefits are also becoming a more attractive incentive as workers grapple with unorthodox work schedules in a hybrid setting.
"Employers, because of COVID, were having a hard time retaining and recruiting employees," said Chang. "And they were actually incentivized to actually find a solution to help the employees."
WeeCare primarily partners with employers of essential workers, like schools, hospitals and grocery stores, and the benefits programs account for the majority of WeeCare's revenue.
Childcare works are part of a massive labor shortage in caretaker roles that also include nurses, and health aids for the eldery. These workers, which allow women to maintain careers in STEM and other high-paying industries, are vital, according to Saxbe.
"Women can advance in the workplace," Saxbe said. "But if there's no support at home and there is no one who is helping take care of kids and elderly people, women can't just advance in a vacuum."
Courtesy of Jessica Rolph
On this episode of Behind Her Empire, the co-founder and CEO of Lovevery, an educational toy and play kit company, discusses how keeping in touch with her customers helps grow her business and how it takes a team to run a company.
The idea for Lovevery came from research Rolph did after her second child was born.

"I really am not somebody that has a lot of ideas," she said. "I was not a child with a lemonade stand."
Her experience as a founding partner at an organic baby food company helped her understand her first baby's nutritional needs, but not necessarily his cognitive developmental needs.
"There's so much happening in brain development between birth and age three; Eighty percent of the brain is developed [then]," Rolphe said. "But I didn't have a roadmap or have a path. And so I found myself with one of those plastic flashing lights, toys…. And all this is happening. And I wondered, 'Is this actually helping him?'"
Rolph did some research and discovered a doctoral thesis on infant brain development that helped her understand how her child was developing and what might help him thrive. She wanted to make that research easy and accessible for a large audience, just as her first company, Happy Family, had helped parents understand infant nutritional needs.
"We were able to translate all that nerdy research into something that was a mass appeal brand," she said. "So I wanted to do the same for Lovevery."
Rolph spent five years piecing together the business idea before co-founding her business with entrepreneur Rod Morris.
Based on her previous business experience, Rolph said she knew how important it is for co-founders to be aligned. She knew that having a female CEO in the baby industry was important, but she said working with Morris was critical to thinking through the early stages of Lovevery.
"We often like to think of the one founder. The one that did it; the one with the idea and the vision and the brilliance to make it happen," she said. "And it's so often a partnership or a team."
They started with educational toys including a popular play gym, but they wanted to foster a more direct relationship with their customers, beyond their products.
"Our real vision was not to be a toy company, or a one-off product company," Rolphe said. "Our real vision was to have an ongoing direct relationship with our customers. So the Early Learning Program was our ultimate vision."
Lovevery combined developmental research with play kits, creating a series of courses to help parents understand their babies' development.
"I wrote the first guidebooks in partnership with our writers and our product development people."
Rolphe said she worked with influencers and regularly talks with customers—including walking up to potential customers and offering them coupons in exchange for their thoughts—to tweak the company's ideas and bring their offerings more in line with what customers need.
"I don't want our customers to become numbers," she said. "And then of course we have a really rigorous research process at Lovevery that I'm very involved in—in understanding place studies and engineering designs and really getting to the root of what parents and children really need from us and how we can best serve [them]."
Hear more of the Behind Her Empire podcast. Subscribe on Stitcher, Apple Podcasts, Spotify, iHeart Radioor wherever you get your podcasts.
dot.LA Editorial Intern Kristin Snyder contributed to this post.
Courtesy of Yohana
Who do you call when three simultaneous Zoom meetings have throttled your internet connection for the fifth time this week and your child has a last-minute project that needs to be completed?
Yohana—a company positioning itself as a household concierge service that helps families address the various issues and tasks that crop up in day-to-day life—wants to be that call. And after initially piloting in Seattle last year, the Palo Alto-based company is now making Los Angeles its second core market, officially launching in the city on Tuesday.
Deploying a membership model that costs $249 per month, Yohana promises to help its customers with everything from finding a plumber to planning a birthday party to buying baby food. The company partners with local piano teachers, handymen, flower shops and other service providers to provide such tasks. It also teams each family subscribed to its platform with a guide and researchers who help manage both short-term tasks like home repairs and long-term goals like travel itineraries.
Yohana is the brainchild of founder and CEO Yoky Matsouka, a former Google and Apple executive who served as chief technology officer of Google's Nest smart home division from 2017 to 2019. After leaving Google, Matsouka started Yohana in 2020 with the goal of creating family-centric technology. She opted to eschew Silicon Valley's traditional venture capital-backed startup model and instead partner with an old-school tech company: Panasonic, the Japanese consumer electronics conglomerate, which backs Yohana as a fully-funded independent subsidiary.
"[At Nest] it felt that it was very linear no matter how fast we moved; it was a startup with a brand that nobody knew about, and then it takes a long time to build that up," Matsouka said of her time at Nest prior to its $3.2 billion acquisition by Google in 2014. With the Panasonic partnership, she told dot.LA, "I have the ability with a larger company to utilize their brands to springboard much faster."
Yohana first launched in Seattle in 2021 via a pilot program involving more than 1,000 households, who it claims were able to save some 8 to 10 hours per week in household tasks by using the service. Through the pilot, Matsouka said the company was able to further refine its product in advance of forays into new markets like L.A. For instance, it built new security and encryption applications to help families manage their credit cards and other sensitive files.
"Initially before we launched in Seattle, we thought that people would not give us really personal tasks like passport renewal," Matsouka said. "It turns out people felt the need to have a lot of personal data passed on to us so that we can do more tasks."
In the future, according to Matsouka, the company will be able to leverage its hordes of data through the power of AI and machine learning to make life easier for customers and vendors alike—so that if multiple families are requesting the same service or experience, for example, Yohana's technology can help streamline the planning.
Yohana's tech-enabled platform nestles alongside more established ventures like TaskRabbit and Instacart in what's called the family-tech space, an emerging subsector that collected $1.4 billion in venture capital money in 2021, according to Pitchbook