famtech
famtech
When Darien Williams and Melanie Wolff opened Brella, their Montessori-inspired childcare center, in Playa Vista in 2019, they were inspired by the likes of WeWork and SoulCycle, which had multiple locations and easy-to-use apps for scheduling meetings and workout sessions. The pair found that parents juggling hectic day jobs with their children's preschool schedules were drawn to a tech-enabled, more flexible way to schedule childcare for their kids.
"The current system can be really punitive to [parents] because it forces them to pay for and schedule childcare that they don't always need, or to schedule childcare that doesn't actually support the workdays that they need to have," Wolff told dot.LA.
Months later, the coronavirus pandemic forced Brella to shut down. But rather than shuttering their company for good, the co-founders saw that the pandemic's new work-from-home paradigm only exacerbated the need for flexible childcare options. Brella reopened in June 2020, and today serves roughly 400 families whose kids, aged 3 months to 6 years, attend the Playa Vista facility for an average of four-to-five hours a day and twice per week.
On Tuesday, Brella announced a $5 million seed funding round that will allow the startup to open more facilities—it plans to expand to Hollywood and Pasadena by the end of this year—and improve its technology. The funding was led by Newport Beach-based Toba Capital and Brentwood-based Halogen Ventures, and takes Brella's total amount raised to date to $8 million.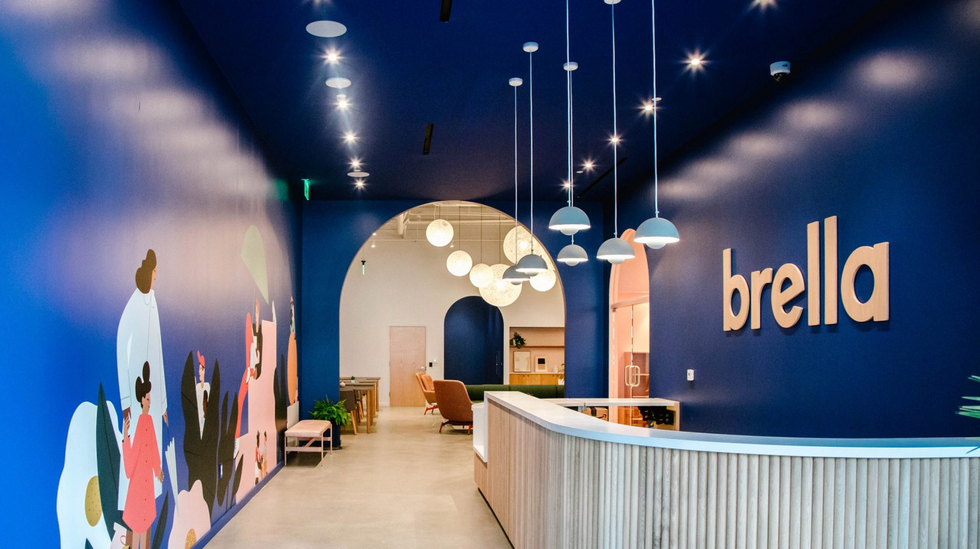 Brella's Playa Vista-based childcare center lobby.
"What we found is that even pre-pandemic, and now especially post-pandemic, families' work lives are really dynamic; they're not always working this 9-to-5, Monday-through-Friday kind of role," Wolff said. "Sometimes their childcare needs can vary day-to-day, week-to-week, and even month-to-month."
Brella is part of a growing industry of childcare startups leveraging technology to help families find childcare solutions. Its ranks include San Francisco-based Wonderschool, which helps families start their own preschools or daycares, and New York-based Otter, which allows parents to crowdsource babysitting resources from other parents.
Through Brella's app, parents can create a profile, upload necessary forms and documentation, and book times to drop their children off at the childcare center for a minimum of three hours. Brella offers different pricing packages depending on how far in advance parents want to schedule childcare and how often they need it.
As a licensed preschool, the curriculum that Brella teaches its pupils is inspired by progressive child development philosophies like Montessori, RIE and Reggio Emelia. The curriculum is adapted to how much time each child spends at the school; Brella's educators create "projects and learning opportunities that can engage a child that might be here for the very first time, or is coming three days a week this week and five days a week next week," Williams said.
From Your Site Articles
Related Articles Around the Web
Two weeks before her first son was born, entrepreneur Natalie Gordon became frustrated with the limited options for baby registries. So she created her own — as a side project.

That side project is now a fast-growing, multimillion-dollar business known as Babylist.
Gordon joined this week's episode of the Behind Her Empire podcast to discuss how she built her startup with little VC investment and how the "failure" of her previous business set her up for success at Babylist.
"One thing I've really learned over the years is actually putting that thing that you've been working on a really personal level out there into the world is such a test of vulnerability," Gordon said, adding that the process opened her up to trusting her early customers, and understanding what they needed.
"[It was] so good to realize that people are kind. People don't really care. It's only the very first step in a journey."
In 2011, Gordon closed down her first business and took on consulting projects to make ends meet. She came up with the idea for Babylist after becoming frustrated with the options available for baby registries at the time.
Over the past 10 years, she has grown Babylist into the best baby registry service for parents, according to Healthline, with relatively little VC funding. Babylist created 1.2 million registries in 2020 alone. The company has doubled its revenue each year for the past three years and is on track to make $250 million in revenue this year.
In the rest of this episode, Gordon talks about she balanced new motherhood with growing a new company, why you shouldn't compare yourself to others, steps she took to scale her company without significant VC funding, and so much more.
dot.LA Audience Engagement Editor Luis Gomez contributed to this post.
Want to hear more of the Behind Her Empire podcast? Subscribe on Stitcher, Apple Podcasts, Spotify, iHeart Radio or wherever you get your podcasts.

In this episode of LA Venture, Julie Wroblewski talks about starting Magnify Ventures and helping modern families.

Wroblewski worked with Melinda French Gates to start Pivotal Ventures. For Wroblewski, it was her dream job as she got to lead venture capital investment strategy for five years. One of the focus areas at Pivotal was around caregiving innovation and American family homes.
Wroblewski cites a report from one of Magnify's partners that estimates the care economy at $648 billion in the United States, already larger than the pharmaceutical market. Wroblewski's fund is writing up to $2.5 million checks into companies that will transform life, work and care for modern families.
"I started to see what I thought was a very exciting and still overlooked category of investment in venture capital around the care economy, and family-focused technology and was also seeing a lot of flow and founders," said Wroblewski.
As an investor, she is particularly interested in tools like household optimization that help families be both more efficient and joyful. She also wants to let parents know they don't have to be experts. Technology can help give them access to what they need, when they need it.
"Technology is moving closer into our lives all the time and solving increasingly human, complex, difficult problems, including, how we care for and manage care for children and our loved ones--the things that are most personal to us," said Wroblewski.
"We've seen such a wave of technology innovation in the workplace. You know, we now use so many different tools to help increase our productivity at work, to improve our health and well being in some cases in the workplace," she added. "And I think we haven't yet seen the same sort of investment in innovation move into some areas of family life and household management. And so I think that that's going to change."
dot.LA Audience Engagement Intern Joshua Letona contributed to this post.
Want to hear more of L.A. Venture? Listen on Apple Podcasts, Stitcher, Spotify or wherever you get your podcasts.