e scooter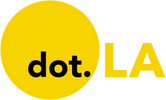 Get in the KNOW
on LA Startups & Tech
X
e scooter
Image courtesy of Wheels
When Los Angeles launched its micromobility pilot in 2019, it had big dreams for improving transportation equity for all Angelenos.

Three years later, less than 3,000 people make use of micromobility programs aimed at helping poorer sections of the city, despite stringent requirements on companies to provide these options and programs to help raise awareness. At issue, experts said, is a patchwork of rules and regulations between municipalities that can be a logistical headache for riders, infrastructure that doesn't offer much protection for scooter and bike riders in these areas and a public outreach campaign that has failed to gain traction.
"It's a big challenge because when you drive your car, for example, people don't pay attention to municipal boundaries. They just want to get from point A to point B in the most seamless way possible," said Will Sowers, director of public affairs at Wheels.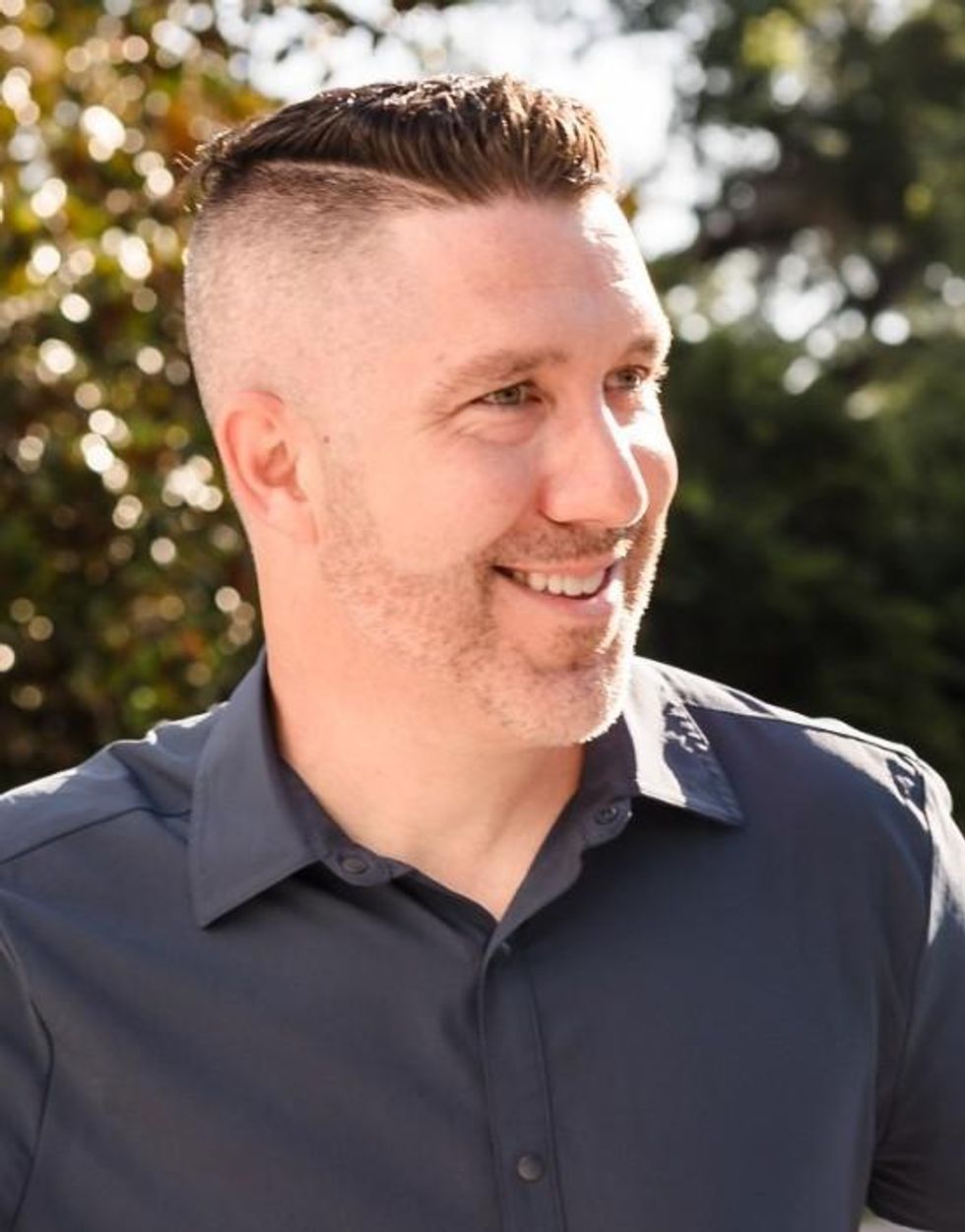 Wheels Director of Public Affairs Will Sowers.
Image courtesy of Wheels
While each city has its own equity requirements, the city of L.A. established its current program in 2021. Any operator deploying vehicles in special operation zones (including Venice, Hollywood and Downtown) is required to deploy 20% of its fleet in equity zones. There is no trip fee for rides that begin or end in these zones. The city also requires operators to offer a low-income option for riders, attend meetings with neighborhood councils and other local stakeholders, provide a non-credit-card and non-smartphone option for payment and partner with a community-based organization.
But those efforts haven't made as much an impact as the city might have hoped.
As of October 2021 there were 2,915 active users enrolled in low-income programs across all operators, according to information provided by L.A.'s Department of Transportation. That's just 17 more riders than the city reported a year and a half earlier–in a report which also noted that 85% of users did not know that equity programs were available.
Riders in L.A.'s underserved neighborhoods use micromobility differently than those in more affluent areas, according to Sowers. While a rider in Venice might ride to the beach or to a restaurant, riders in underserved areas often use e-scooters as a way to get from a transit stop to work and vice versa.
"We've even seen examples of people using our device as a courier," he added, "where they may — with one of many delivery apps — grab a short shift."

Wheels Plan to Go Further
Wheels is trying something different. The company has made an effort to design its scooter for the way that lower-income riders use them, and is one of the few scooter companies able to thread the requirements of multiple municipalities in L.A.
It currently boasts it has the most interconnected micromobilty network in the L.A. metro region, with permits to operate in the city of L.A., Santa Monica, Culver City and West Hollywood, as well as plans to launch in Glendale.
Practically speaking, that means a user could ride a Wheels device between municipalities to get to work or school without worrying about landing in a no-parking zone (Beverly Hills, for instance, is geofenced and off-limits for scooter riding and parking).
Wheels was founded in 2018 in West Hollywood by Jonathan and Joshua Viner, who previously co-founded pet-walking startup Wag. The company's scooters are designed for traveling longer distances. While a typical standup scooter goes one mile per ride, a Wheels seated mini-bike goes about one and a half miles. Along with its app-based service, the company also offers monthly rentals.
So far, the company has raised $96.3M in funding..
As part of its "Wheels for All" program, riders in all four municipalities who use state or federal benefits can ride at a steep discount. Currently, Wheels devices are $1.10 to unlock and then $0.39 per minute to ride. But underserved riders get unlimited rides of 30 minutes or less, paying only the unlocking fee.
The program is also more expansive than L.A. requires. In addition to low-income riders, people with disabilities and older adults who the city designates as "underserved populations," Wheels program is also available for unhoused people.
To qualify, applicants fill out a form online and provide proof of enrollment in a state or federal program.
In comparison, its competitor Lime offers rides for $0.50 to unlock plus $0.07 per minute plus tax through its Lime Access program; Bird offers 50% off rides for low-income Angelenos through its Community Pricing program.
Although Wheels has the most interconnected equity program, enrollment is low. Only about 1,000 riders are signed up across the greater L.A. area. The program has provided just over 23,000 rides in the last year.
Sowers said this is an issue his company is doing its best to address. He added that he frequently talks to social service workers and organizations to help spread the word. Many, he said, are initially skeptical of recommending micromobility options to their clients.
One such person called him after seeing someone with a disability riding a Wheels device:

"They called me and were like, 'That makes sense to me. It makes sense that someone can sit down and potentially have an accessibility challenge, but still be able to ride your device'."
Berkeley professor and co-director of the Transportation Sustainability Research Center Dr. Susan A. Shaheen told dot.LA over email that Wheels' approach to equity has potential.
"It could provide a more affordable alternative to private vehicle use, particularly during these times of high gas prices," she said.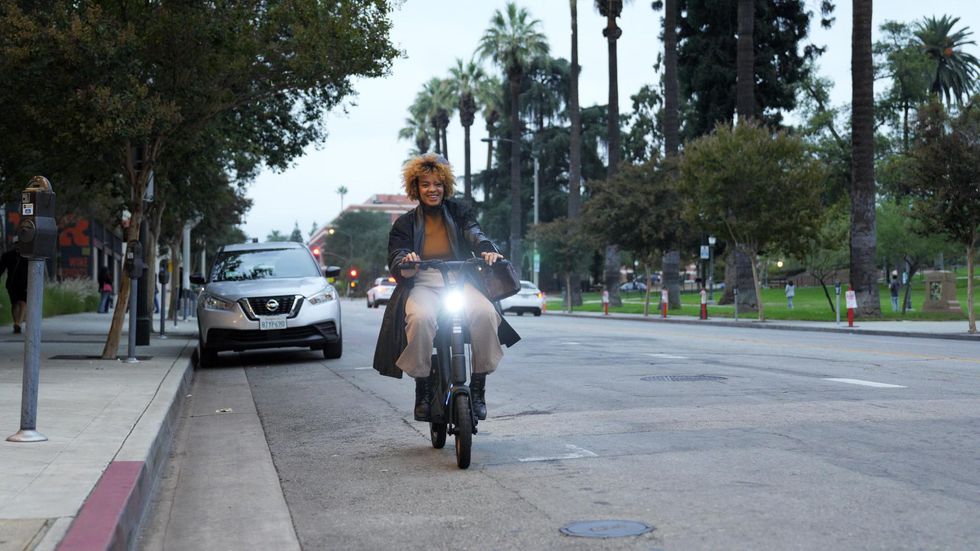 Image courtesy of Wheels
No Equity Without Infrastructure
Another challenge that Wheels, like its competitors, deals with is infrastructure. California law bans e-scooters from operating on sidewalks. But not everyone is comfortable riding an e-scooter or e-bike in the street, especially where there are no bike lanes and little infrastructure to keep riders safe. That's especially true in many low-income neighborhoods.
"If you want to prioritize equity, you need to build infrastructure for micromobility in the places that are the most dangerous to use micromobility, which is in the least-invested communities," said Michael Schneider, founder of advocacy group Streets For All. He added that providing equity means building interconnected cycling infrastructure throughout the city, especially along L.A.'s high injury network.
The city has said it's trying to address the disparity.
Los Angeles has brought in $4 million over two fiscal years through its micromobility permit program, according to the city's Department of Transportation. It's using some of that money to fund a redesign of the 7th Street corridor, including protected bike lanes, after data showed that this segment of Downtown was one of the busiest for e-scooters and e-bikes, Public Information Director Colin Sweeney said via email.
In the future, Sowers sees the potential for L.A. to use that funding, along with the data it collects from operators, to build better infrastructure in underserved areas.
"If someone in a transit desert is riding one of our devices, and I give the city good data and say, 'Hey, I've got tons of rides in this neighborhood, but there's no protected bike lanes,' then that creates a reason for the city to build that."
A new e-scooter startup is coming to Los Angeles streets, promising its technology allows it to prioritize rider — and pedestrian — safety.
Superpedestrian is rolling out 5,000 LINK e-scooters to Los Angeles' sidewalks today, joining Bird, Spin, Lyft, Lime and Wheels in a race to capture a share of the crowded market.
The startup will operate in downtown L.A., West Adams, Hollywood, Echo Park, Highland Park, North Hollywood, Koreatown and Venice.
Users can download the LINK app to rent a scooter or call the customer service line if they don't have a smartphone. Starting a ride costs $1 plus 39 cents per minute. LINK offers reduced fares through LINK-Up, its initiative for users enrolled in qualifying government assistance programs.
The company is also partnering with local nonprofits Homeboy Industries and Chrysalis to employ their clients.
It might seem like the new kid on the block, but Superpedestrian has spent years developing its technology that alerts riders to dangers. It rolls out months after Santa Monica-based e-scooter company Bird, which is preparing to go public, revealed that it's facing over a hundred lawsuits for bodily injury and death.
CEO Assaf Biderman co-founded the Senseable City Lab at MIT's Department of Urban Studies and Planning. In 2013, he founded Superpedestrian as a transportation robotics company devoted to building equitable and safe solutions for urban transportation.
"Think about us as a bunch of scientists and engineers," Biderman says, "We spent eight and a half years designing a software and technology platform."
Superpedestrian's LINK e-scooters might face challenges in a well-established, crowded market like L.A.. Bird dropped its first scooters in Santa Monica in 2017 and e-scooters are no longer the novelty they once were.
But in the current landscape, not rushing the process might be a competitive advantage.
"We're able to develop something that's almost like a vaccine for vehicles," says Biderman.
Superpedestrian's technology relies on an autonomous system built into the scooter, which Biderman says will translate to a safer experience for the user and more consistent availability of scooters to rent.
In addition, Superpedestrian says its Pedestrian Defense technology protects vulnerable pedestrians from rogue sidewalk riders and other bad actors (riding an e-scooter on the sidewalk is illegal in L.A.). The scooter uses AI technology to alert the user when they are breaking the rules.
Juan Matute, deputy director of the UCLA Institute of Transportation Studies, says that focusing on safety makes it easier for cities to adopt micro-mobility.
"Having self regulating technology like Superpedestrian has is really attractive to cities because they can approve scooters to go in without worrying so much about users behaving badly," he says.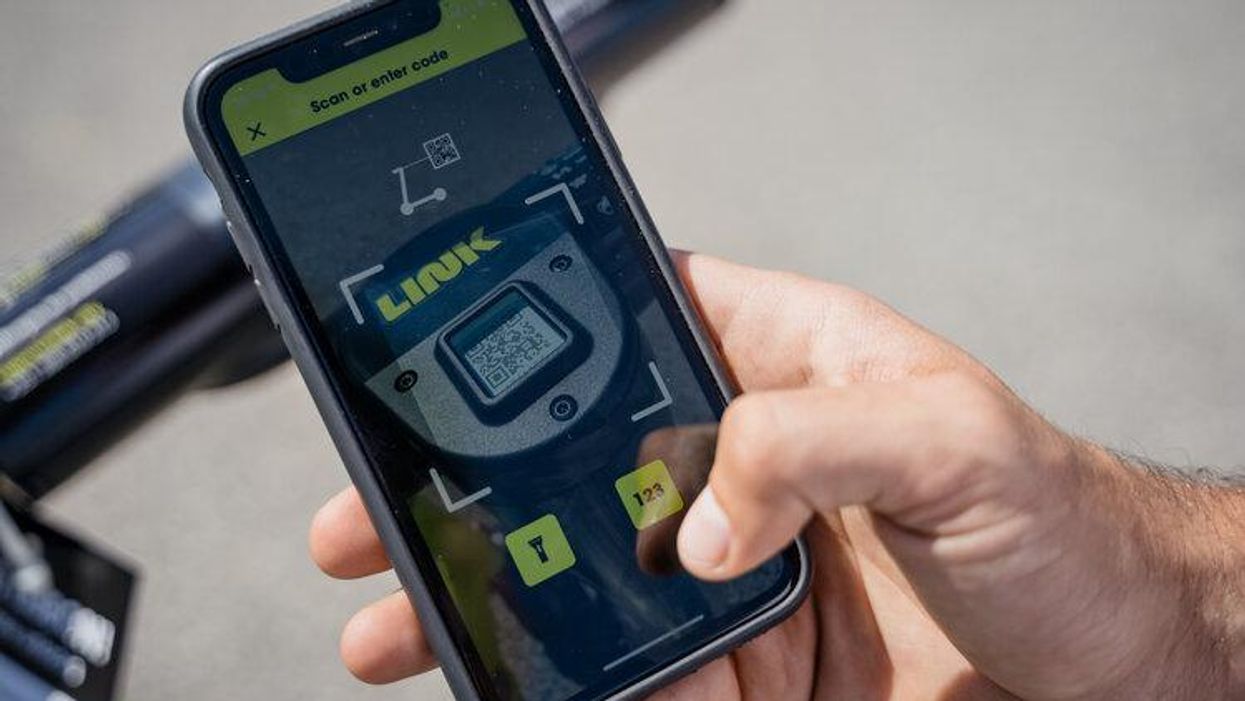 Superpedestrian's LINK app
Los Angeles is more lax in its permitting requirements than other cities, but does require that scooter companies share a good deal of their data in order to participate in its pilot program.

Matute points out that as scooters have become a viable form of urban transportation, deaths and injuries from them have increased.
It happened in part, because companies fought hard to get on the market as quickly as possible — and there were costs:
"People have died because of vehicle system failures, brakes not being up to snuff," he says.
Superpedestrian waited until 2020 to launch its LINK scooters in cities around the world. Biderman says that launching first and asking questions later was not an option:
"No, you can't do that. Now you're experimenting on people. We experimented in the lab, and we built our solutions on science and validated them over years of development, till we were sure that we have a vehicle that's the highest safety rating in the industry and that's roadworthy for people to get on."
Four years ago, Bird Rides Inc. boldly began parking its first-generation e-scooters on the sidewalks of Santa Monica even though it lacked the proper permits.
What started as a novelty has now become a $800-billion worldwide business, with the devices now ubiquitous throughout the world. The scooters also became one of the most visible symbols of Santa Monica's booming and carefree tech scene, with top VCs scootering into the office with the ocean air blowing through their hair.

But as Bird prepares to go public via a blank check acquisition, the company is facing the embarrassment of being kicked out of its hometown this summer just as the tattered micromobility business recovers from pandemic lockdowns.
With a population of less than 100,000 residents, Santa Monica is not a financially important market for Bird. But the clashes it has had with city regulators are emblematic of what it has encountered worldwide after expanding to more than 150 cities.
Even though Santa Monica's transportation department was authorized by the City Council to permit four scooter operators, it chose just three – Spin, Veo and Lyft – for the next phase of its shared mobility pilot program, which lasts from July 1 to March 30, 2023. Bird placed fourth.
Bird declined to make anyone available for an interview but in a statement sent to dot.LA, it indicated it plans to appeal the decision.
"We are disappointed by the current recommendation for the next phase of the Santa Monica Micromobility Program and look forward to taking the opportunity to further demonstrate Bird's commitment to the city during the comments and objections process," the company said.
Bird has not filed an appeal as of Monday but has until May 26 to do so, according to Constance Farrell, a spokeswoman for the city.
Santa Monica transportation staff made their selection based on 10 different criteria. Bird was dinged for affordability, customer service, durability, safety and maintenance/ operations.
It performed well in the local preference category, though Bird received the same ranking as Lyft, which is based in San Francisco.
Bird also originally did not make it into the city's first e-scooter pilot in 2018 but was later added back in because of its hometown presence, according to the Santa Monica Daily Press, which was first to report Bird's pending removal.
Though Bird is still based in Santa Monica, its presence has been greatly diminished over the past year. It laid off half of its employees there last year as the pandemic ground worldwide ridership to a halt and put its airy headquarters up for sublease in October.
Bird has had a rocky relationship with Santa Monica, ever since deploying its scooters there in 2017, before it received the city's permission.
"We felt we were in a gray area," Bird founder and CEO Travis VanderZanden said at the time.
The city disagreed and sued, contending e-scooters were endangering local residents and visitors. Bird signed a plea agreement with Santa Monica in 2018 and paid $300,000 in fines. It also agreed to bring down maximum speeds from 21mph to 15mph.
"With this agreement, Bird and VanderZanden acknowledge that they failed to comply with the City of Santa Monica's business licensing requirements which are designed to protect the safety of the public," Deputy City Attorney Eda Suh said in a statement announcing the settlement.
As part of going public, Bird revealed last week it has been involved in more than a hundred lawsuits involving "brain injuries, internal injuries, and death," many of which are still pending.