Amazon's New Smart Grocery Cart Will Debut in Woodland Hills
Todd Bishop, GeekWire
Todd Bishop is GeekWire's co-founder and editor, a longtime technology journalist who covers subjects including cloud tech, e-commerce, virtual reality, devices, apps and tech giants such as Amazon.com, Apple, Microsoft and Google. Follow him @toddbishop, email todd@geekwire.com, or call (206) 294-6255.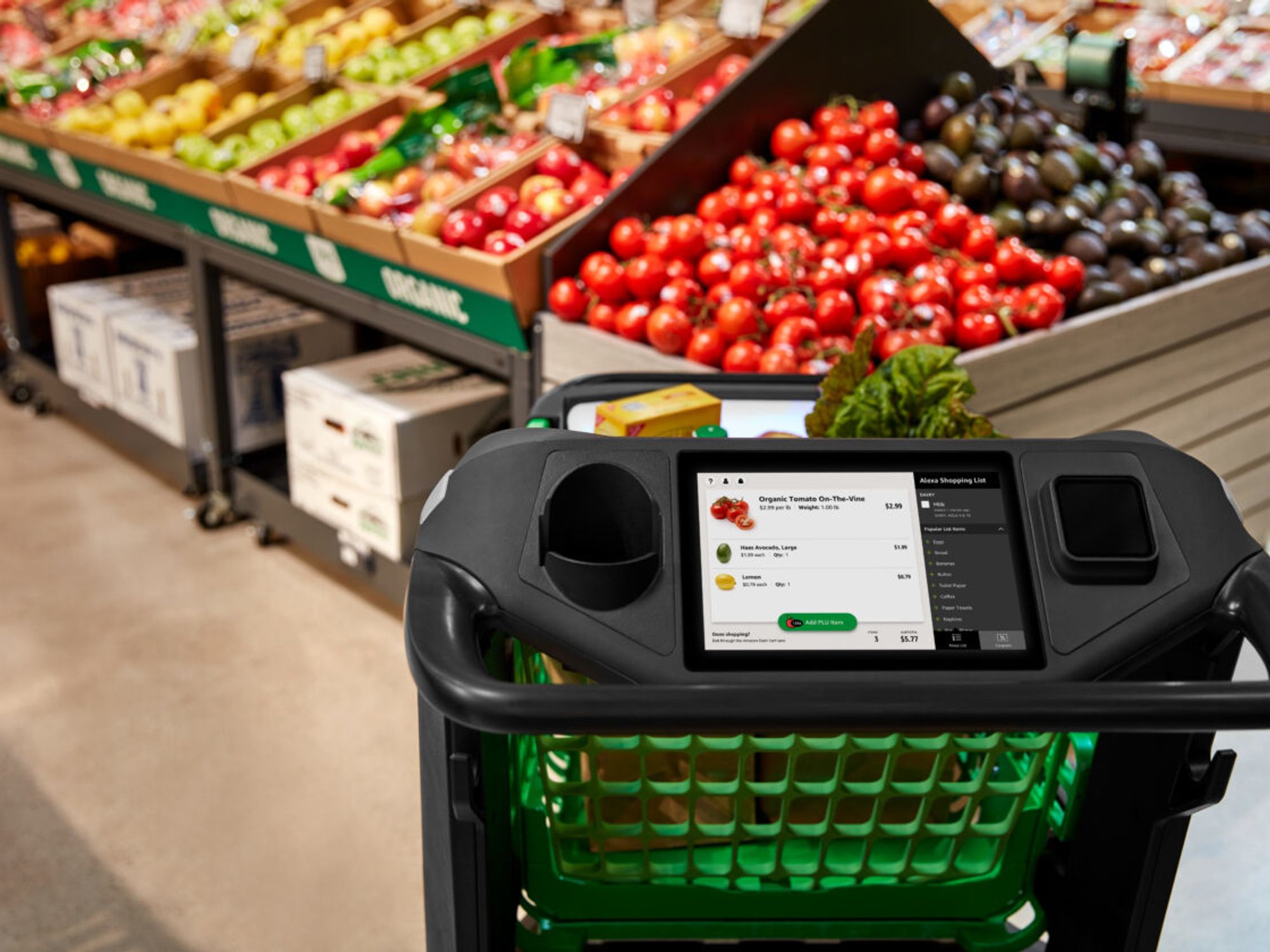 Can the company that popularized the online shopping cart reinvent the real thing?
Amazon unveiled its first smart grocery cart on Tuesday morning. The new "Dash Cart," as it's known, uses cameras, sensors and a scale to automatically detect and log items on a digital display behind the handle. The technology makes it possible for shoppers to leave the store without going through a traditional checkout line.
The end result is similar to the Amazon Go grocery and convenience stores, without the elaborate technical infrastructure of those stores. The Dash Cart works on its own, requiring no sensors in the shelves or specialized cameras overhead.
---
In that way, it solves at least part of the mystery of why Amazon has been developing conventional grocery stores, without the Amazon Go technology.
"We built this predominantly as an alternative to things like express checkout, where you still end up waiting in line, or fumbling with self-checkout machines," said Dilip Kumar, Amazon's vice president of physical retail and technology, in an interview this week. "The experience will be designed to be seamless, very convenient, very easy for customers to understand."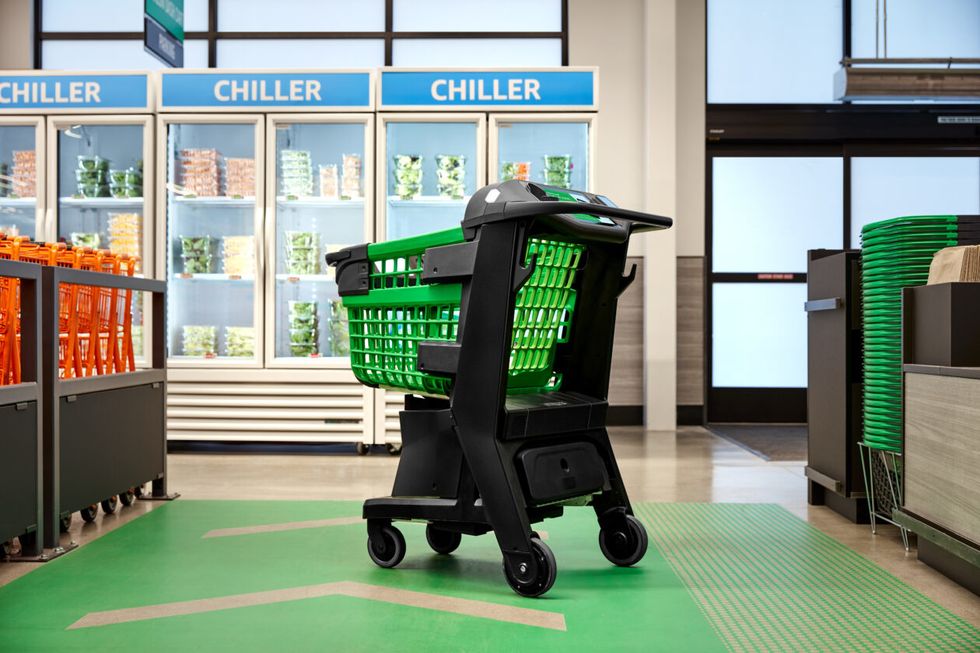 Amazon's new "Dash Cart" uses sensors to determine which items are placed in a cart, allowing shoppers to check out automatically, without going through a traditional line. (Amazon Photo)
The Dash Cart is slated to debut later this year at the company's new Woodland Hills, Calif., grocery store, which is currently being used to fulfill delivery orders.

Unlike the Amazon Go technology, the Dash Cart won't entirely replace traditional grocery checkouts in the stores where it's used. Amazon says it's designed for small- to medium-sized grocery trips. The cart fits one to two grocery bags.
Amazon is one of many retailers and technology companies looking to streamline the process of shopping and checking out in physical stores. Such initiatives are driven in part by a quest for new cost efficiencies given the traditionally razor-thin profit margins in the grocery business. The approach has taken on added significance given requirements for social distancing and contact-less transactions due to the global COVID-19 pandemic.
Smart shopping cart startup Veeve, for example, was started in 2018 by a team that includes two former Amazon employees who were among the first to experience the Amazon Go technology. They saw an opportunity to take the checkout-free shopping experience to a wider market with smart carts instead.
Microsoft and Kroger, meanwhile, have been testing a system that lets shoppers scan items with their smartphones as they shop, for a faster checkout experience.
The global market for smart shopping carts is projected to grow to more than $3 billion by 2025, from $737 million last year, according to a report by ResearchandMarkets.com.
It wouldn't be hard to imagine the Amazon Dash Cart ultimately making its way into Whole Foods Stores. It would be more of a stretch, but not entirely impossible, to conceive of Amazon licensing the technology to other retailers. It began selling its Amazon Go technology to other businesses earlier this year.
But the company isn't detailing its plans for the Dash Cart beyond the expected debut in Southern California later this year.
"We will see where this goes," Kumar said when we asked about those possibilities. "We think customers will love this experience, and then we'll just build from there."
Privacy and personalized ad targeting are two of the big questions surrounding this kind of technology. For example, if a shopper puts a can of tuna in the cart, then takes it out, will that same person later see an ad on Amazon.com suggesting a different brand of tuna? Kumar acknowledged that such targeting is possible "in theory," but said that's not the focus of the Dash Cart.
"The focus of the cart is to be able to generate accurate receipts and make sure that we save customers time," he said.
Another big question is the impact of this type of automation on jobs. On this topic, Amazon's retail automation has been a lightning rod for criticism.
The United Food and Commercial Workers International Union (UFCW) called Amazon a "clear and present danger to millions of good jobs" when the company unveiled its first Amazon Go Grocery store earlier this year. Amazon disputed that contention at the time, calling it "both incorrect and misleading to suggest that Amazon destroys jobs."
The company maintains that the smart grocery cart will not reduce the number of employees in the store, compared to traditional grocery stores of similar size. In addition to having traditional grocery checkouts, the company says it will have associates dedicated to helping customers use the Dash Carts.
Shoppers who use the Dash Carts will scan a QR code in the Amazon app to log in to the cart before they begin. The system will automatically charge them using the stored card in their Amazon account when they exit through a special "Dash Cart Lane." They'll get a receipt via email after they leave.
Similar to the Amazon Go technology, which knows if a product is replaced on the shelf, Amazon says the Dash Cart will also sense when items are taken out, removing them from the list.
In addition, the cart will integrate with Alexa Shopping Lists, showing shoppers the items they've saved to buy via Amazon's voice assistant, indicating the aisle in the store where the items are located, and letting shoppers check items off as they go.
Amazon's "Dash" brand has been used previously for products that automate e-commerce ordering, including the now discontinued Amazon Dash gadgets and its Amazon Dash replenishment service, which is embedded in household appliances and office equipment, automatically reordering detergent or ink, for example, when it senses that supplies are running low.
Todd Bishop, GeekWire
Todd Bishop is GeekWire's co-founder and editor, a longtime technology journalist who covers subjects including cloud tech, e-commerce, virtual reality, devices, apps and tech giants such as Amazon.com, Apple, Microsoft and Google. Follow him @toddbishop, email todd@geekwire.com, or call (206) 294-6255.