Here Are the 20 South LA Companies Selected for PledgeLA's First 'Founders Fund' Class
Justino Aguila
A graduate of Columbia University's Journalism School in New York, Justino Aguila is an L.A. native who contributes news, arts, culture and entertainment stories to media outlets such as Billboard, the Los Angeles Times and Netflix Queue, among others.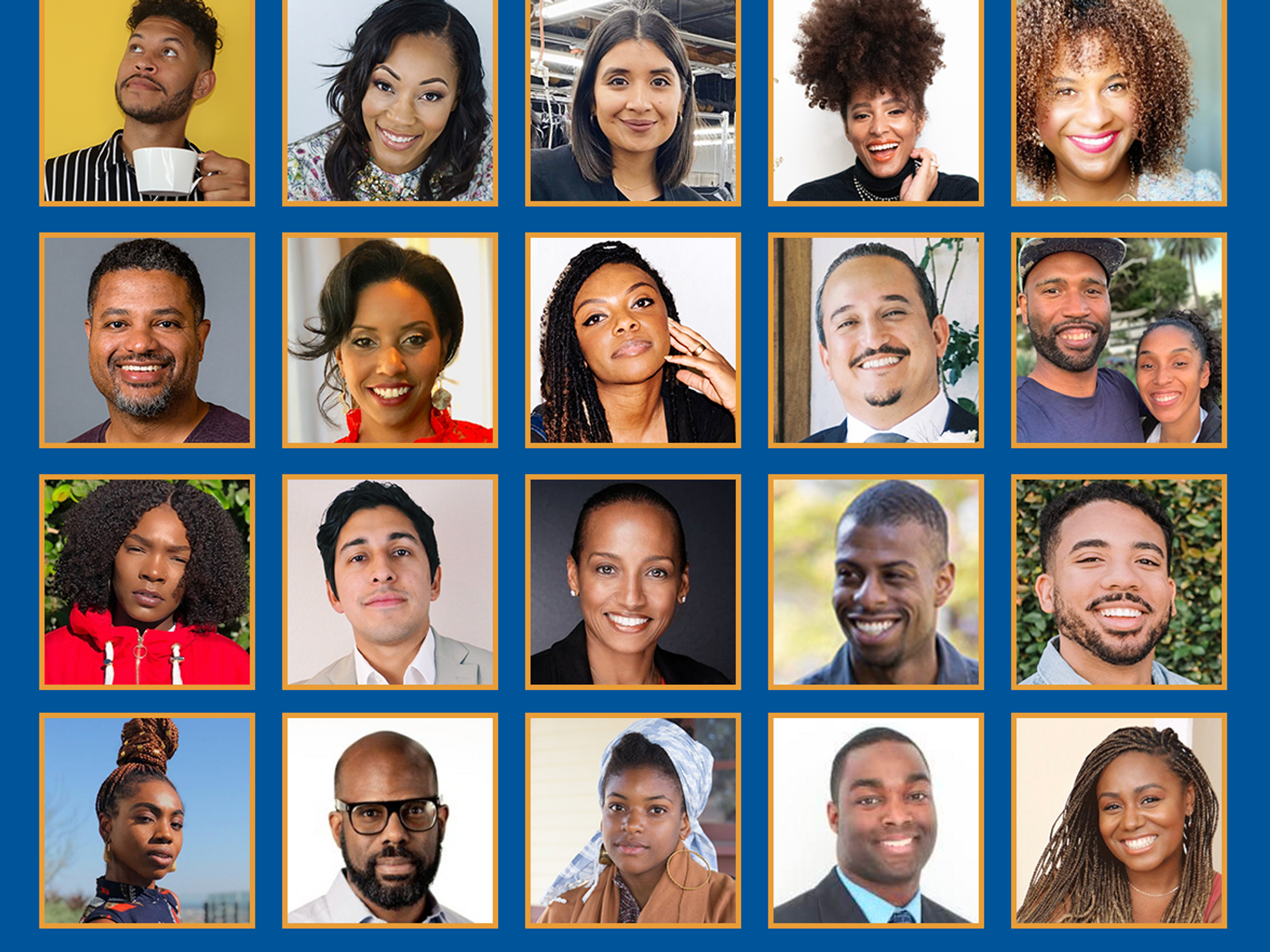 A new Fund for South L.A. Founders announced their first class of 20 Black and Latino entrepreneurs this week. The class represents a cross-section of tech-inspired entrepreneurs from bakers to social media purveyors. The cohort was selected from a pool of about 200 applicants, many of whom struggled during the pandemic era downturn.

The fund was created by PledgeLA to address racial inequity and the economic decimation among communities of color. The monies were awarded to rising, innovative entrepreneurs of color. Also, unlike some accelerators, the fund does not take equity in exchange.
---
"We want to hear the narrative of how they are building their communities," said Austin Clements, a partner at Slauson & Co., an early-stage venture capital firm "driven by its mission of intentional inclusion."
The program is a 12-week accelerator that begins in January with virtual weekly gatherings, including meetings, lectures and conversations with mentors as a way to help them define the direction of their business goals. Participants get a $25,000 grant.
The businesses involved will be tracked past the initial meetings to measure how many jobs were created and how much money was raised after their initial participation.
"The financing is great," said Craig Bowers, who — along with Samuel Chawinga — grew up in the area and whose South L.A. Beverage Company was picked to be part of the 20 businesses. "But bringing viable businesses to communities such as South Los Angeles is also a way to uplift people who live there. Seventy-five percent of our employees will be from our immediate local neighborhood and we want to provide livable wage jobs."
Bowers and Chawinga's company will ultimately house a craft beverage incubator, a production and packaging structure in South Los Angeles in a 24,000-foot-square facility. Sales from their first beer will go to purchasing Chromebooks for students in South Central, Bowers said.
PledgeLA's Fund for South LA Founderswww.youtube.com
PledgeLA's new Fund for South L.A. Founders is a project of AnnenbergTech, the L.A. Latino Chamber of Commerce, SLATE-Z and other community partners with startup capital funding Black and Latino founders based in South Los Angeles who have promise and have not raised much outside capital, according to Clements.

The first cohort of 20 businesses include 24 entrepreneurs, all of whom identify as either a person of color or a woman, according to a spokesperson with the Annenberg Foundation. Nearly 60% of businesses were founded by a woman, and all have connections to South Los Angeles.
The mentors of the program include CEOs of companies like Everytable, FabFitFun, Tala, and The Bouqs — they will provide feedback to support the entrepreneurs achieve their goals. The AnnenbergTech initiative is also funding the 12-week training program with Grid110, a nonprofit accelerator known for serving female entrepreneurs and people of color.
A panel of judges from L.A.'s tech, venture capital, and social impact sectors interviewed the finalists. The 20 businesses receiving the grants and final cohort include:
Coffee Del Mundo: Founded by Jonathan Kinnard, Coffee Del Mundo is a Black & Afro-Latino owned, vertically integrated specialty coffee company based in South Los Angeles.
ComplYant: Founded by Shiloh Johnson, ComplYant is software that helps entrepreneurs manage all of their tax requirements from one dashboard.
Esqapes Immersive: Founded by Micah Jackson, Esqapes allows people to reap the benefits of a mini-vacation by utilizing virtual reality, automation and traditional wellness practices.
Everlaunch: Founded by Michelle Heng and Alma Cook, Everlaunch is an interactive web app helping first-time entrepreneurs overcome fundamental challenges when starting their business.
Fun-Diggity Funnel-Cakes: Founded by Cheyenne Brown and Bernard Nicholson Jr., Fun-Diggity specializes in gourmet funnel-cakes made affordable and accessible all year round.
Guardian Lane: Founded by Kristina Jones, Guardian Lane is the world's first video-sharing platform for children's grief counseling with tele-counseling services for additional support.
GTLA Apparel Development Inc.: Founded by Guadalupe Tlatenchi, GTLA Apparel Development Inc. is an all-phase apparel manufacturer, capable of taking fashion designs from concept to completion.
Guided Compass: Founded by Creighton Taylor, Guided Compass is a comprehensive project and work-based technology platform for education providers and workforce development organizations, helping them onboard career-seekers to fulfilling careers.
JUMPWatts Inc.: Founded by Bryan Ovalle and Arun Gunasekaran, JUMPWatts has developed easy-to-install remote repositioning and parking compliance technology kits for shared micro-mobility vehicles.
La Create Space: Founded by Terell Johnson and Marisa Johnson, La Create Space is a creative co-working, production and meeting space located in the heart of Inglewood, CA.
On The Go LA: Founded by Gabriel Gamez and Enrique Loyola, On The Go LA is a full-service food truck rental company that offers daily rentals, access to high-traffic stops and operational support through an easy-to-use online platform.
Ownors Technologies Inc: Founded by James Jones Jr., Ownors Technologies Inc is an AI-powered analytics marketplace matching top entertainment industry executives with creatives for 1:1 live sessions and managed micro-advances.
Reparations Club LLC: Founded by Jazzi McGilbert, Reparations Club LLC is a retail and community space curated by Blackness, POC and a few good allies in L.A. - radicalizing retail through community and creativity.
Ride FRSH: Founded by Trey Brown and Garrick Mitchell, Ride FRSH is a subscription and retail-based air freshener brand that weaves iconic song lyrics about driving into their designs.
SKNMUSE: Founded by Ezinne Adeoye, SKNMUSE is a premium skincare brand that elevates the beauty experience for Black women.
Snojo: Founded by Nadiyah Ward, Snojo is an on-demand lesson management platform for skiers, snowboarders and mountain resorts.
South Los Angeles Beverage Company: Founded by Craig Bowers and Samuel Chawinga, South Los Angeles Beverage Company is a craft beverage incubator, production and packaging facility.
SÜPRMARKT: Founded by Olympia Auset, SÜPRMARKT is a low-cost organic grocery, making it easy and affordable to eat well in South L.A.'s food deserts.
Tea Botanics: Founded by Denise Pines and Dr. Pei Vuong, Tea Botanics creates premium high-performance life-stage specific, medicinal tea-based beverages and supplements that address what the body and brain needs, focusing on men and women's key concerns associated with aging.
The Honey Block: Founded by Branché Foston, The Honey Block is an online wellness education platform and community for and by Black, indigenous and people of color.
Justino Aguila
A graduate of Columbia University's Journalism School in New York, Justino Aguila is an L.A. native who contributes news, arts, culture and entertainment stories to media outlets such as Billboard, the Los Angeles Times and Netflix Queue, among others.