music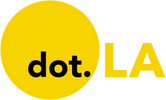 Get in the KNOW
on LA Startups & Tech
X
music
Talk about comebacks.
Bill Simmons, who was let go by ESPN in 2015 in an at times bitter separation, may have just made a huge payday selling his The Ringer podcast network to Spotify. Terms of the deal were not disclosed, but there have been numerous reports this year that Simmons was shopping the company with a $200 million asking price.
The Los Angeles-based sports and pop culture website's slate of 30 podcasts — including The Bill Simmons Podcast, The Rewatchables, and The Ryan Russillo Podcast — will now be streamed on Spotify. The Luxembourg-based company, which also has a huge presence in L.A., hopes to build out the franchise's content.
"Spotify has the unique ability to truly supercharge both content and creator talent across genres," Simmons said in a statement on Wednesday. "We spent the last few years building a world-class sports and pop culture multimedia digital company and believe Spotify can take us to another level. We couldn't be more excited to unlock Spotify's power of scale and discovery, introduce The Ringer to a new global audience and build the world's flagship sports audio network."
From Your Site Articles
Related Articles Around the Web
Amazon and Google failed to police their music marketplaces and allowed pirated recordings to proliferate, according to a series of lawsuits filed last week by organizations representing top songwriters.
GeekWire spotted three lawsuits filed Thursday that name Amazon in Washington state and three others in California against Google. Digital content distributor Valleyarm and an entity called Limitless Int. Recordings are also implicated in the cases.
The suits are nearly identical, alleging that Limitless sells pirated songs on Amazon and Google's music platforms from pretty much every major star from the 1930s through the 1960s, including Frank Sinatra, Ella Fitzgerald, Miles Davis, Louis Armstrong, Billie Holiday and more. The lawsuits lay out several instances of Limitless' "bootlegged" versions of popular albums on the companies' music stores appearing side-by-side in searches with the legitimate versions from record companies. Amazon and Google, the suits allege, are liable because they haven't cracked down on the pirated music sold in their stores.
"All of this should have made it obvious that Limitless is operating a huge music piracy operation," according to one of the suits against Amazon. "Valleyarm and Amazon chose to ignore the evidence of piracy and to participate in the infringement on a massive scale."
We've reached out to Amazon and Google for comment, and we will update this post if we hear back.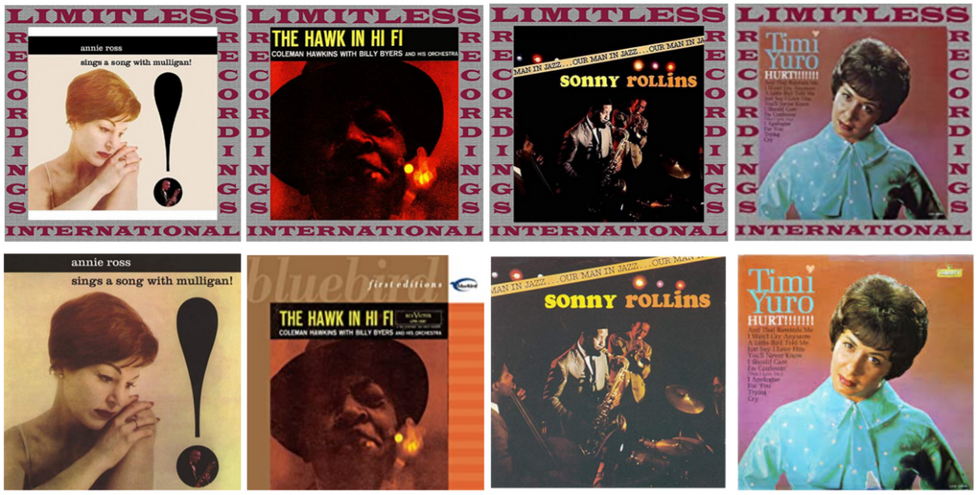 Court documents juxtaposed album covers with Limitless' alleged pirated offerings. Photos Via Court Documents
The plaintiffs represent legendary songwriters Harry Warren ("That's Amore," "Jeepers Creepers," Chattanooga Choo Choo"); Ray Henderson ("Life is a Bowl of Cherries," "Bye, Bye Blackbird," "Five Foot Two and Eyes of Blue"); and Harold Arlen ("Over the Rainbow," "It's Only a Paper Moon," "Stormy Weather").

Record companies and other organizations concerned about music piracy have gone after individuals who download songs online but have given larger offenders a pass, the lawsuits argue. The digital music stores are not doing their part to battle piracy the way a brick-and-mortar record store would in the past, according to the suits.
From the suits:
It is hard to imagine that a person walking into Tower Records, off the street, with arms full of CDs and vinyl records and claiming to be the record label for Frank Sinatra, Louis Armstrong and Ella Fitzgerald, could succeed in having that store sell their pirated copies directly next to the same albums released by legendary record labels, Capitol, RCA and Columbia, and at a lower price.
Yet, this exact practice occurs every day in the digital music business, where there is unlimited digital shelf space (for example, there are more than 50 million recordings in the Amazon music store) and a complete willingness by the digital music stores to seek popular and iconic recordings from any source, legitimate or not, provided they participate in sharing the proceeds.
The estate of Arlen previously sued Amazon, Google, Apple, Microsoft, and Pandora last year for a similar complaint.
Amazon's massive third-party seller marketplace place has astronomically increased the number of items available on the platform, but it has also made it tougher for the tech giant to identify and boot phony products from its digital stores. Amazon has stepped up its policing of counterfeiters in recent years, and now federal law enforcement officials are cracking down as well.
Amazon has said it spent $400 million on technology to battle counterfeits in 2018, and it has more than 5,000 people working on the issue. The tech giant is lobbying for stiffer federal penalties for counterfeiters. Amazon's consumer chief Jeff Wilke said in October the company needs to do more if it wants to continue to be a trusted retail brand.
"We have to be vigilant and willing to spend hundreds of millions and eventually billions of dollars to protect our customers," Wilke said at the Wall Street Journal Tech Live conference last year.

The plaintiffs in the lawsuits argue that Amazon, Google, Limitless and Valleyarm are infringing on their copyrights. They are seeking monetary damages as well as an injunction barring the defendants from continuing to sell the allegedly pirated music.
Digital music platforms and songwriters have battled in court over previous disagreements, such as last year's issue related to royalties. Spotify paid $1.6 billion in December 2018 to settle a copyright infringement case with music publisher Wixen Music Publishing.
Amazon announced last week that its Amazon Music service has surpassed 55 million customers, still a ways behind market leader Spotify, but inching closer to second place Apple Music.
Google's streaming service is called Google Play Music; Google-owned YouTube also operates YouTube Music.
Here is one of the lawsuits against Amazon and one against Google.